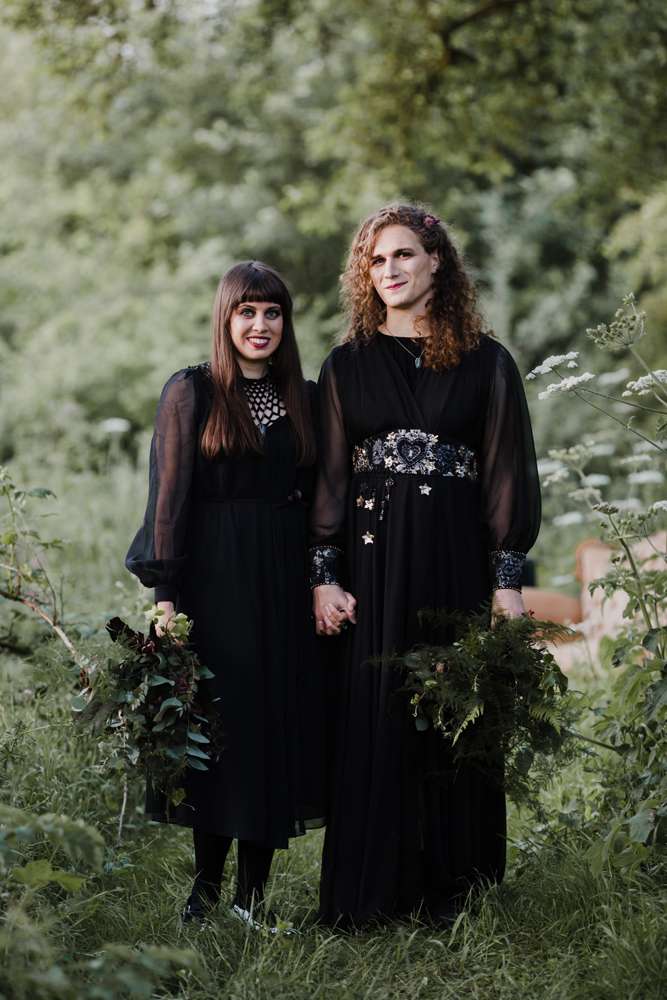 Amelia and Tess were married in 2016, before Tess' transition. Since their wedding, Tess has come out as bi-gender, sometimes having days when they identify as male, but others when they're female. The couple wanted to celebrate Tess joining their family, so with the help of daughter Ivy they had a gothic styled, handfasting vow renewal in the same place they were originally married, Whistlewood Common in Derbyshire.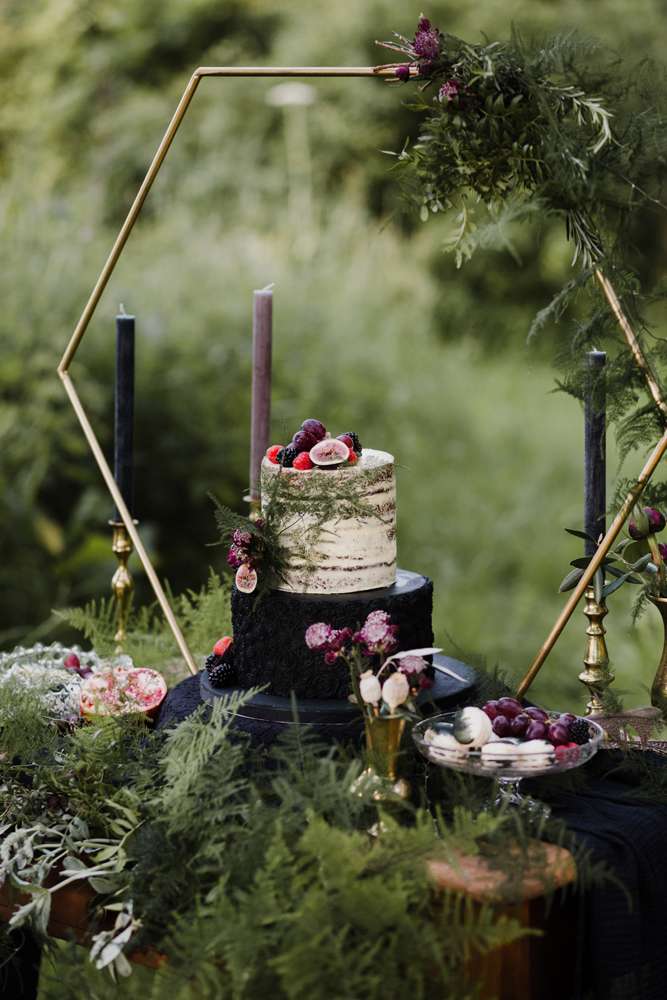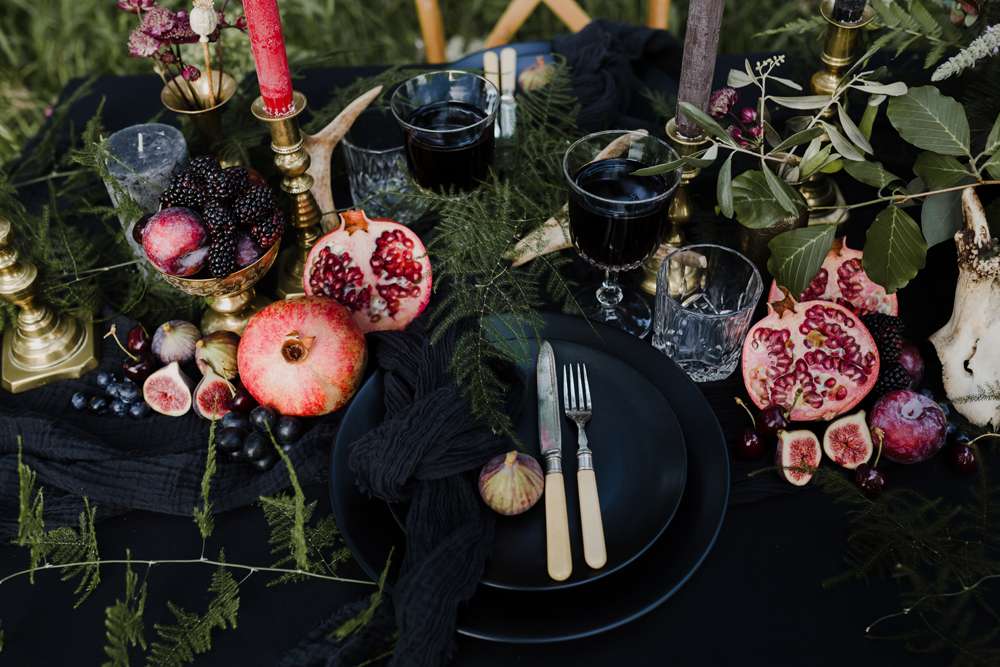 "Tess falls under the trans umbrella and is bi-gender – switching between two different genders, can be binary and/or non-binary genders", they explained. "They switch between the two binary genders of male and female. Tess found the term to explain how they feel and has since been 'out' for a year and a half."
The day had a gothic, pagan vibe and the woodland location set the tone for a lot of their stylistic choices. The day felt very 'them' but also complimented the surroundings perfectly. "We wanted to update our vows and wedding photos to include Tess", they continued, "to have a visual representation of how our family is now. Amelia is Pagan and wanted to keep some of our original woodsy themes but with a darker, older feel. Amelia performed the ceremony herself, incorporating parts of our original wedding. Ivy played a bigger role with her being old enough to want to join in with the handfasting this time around."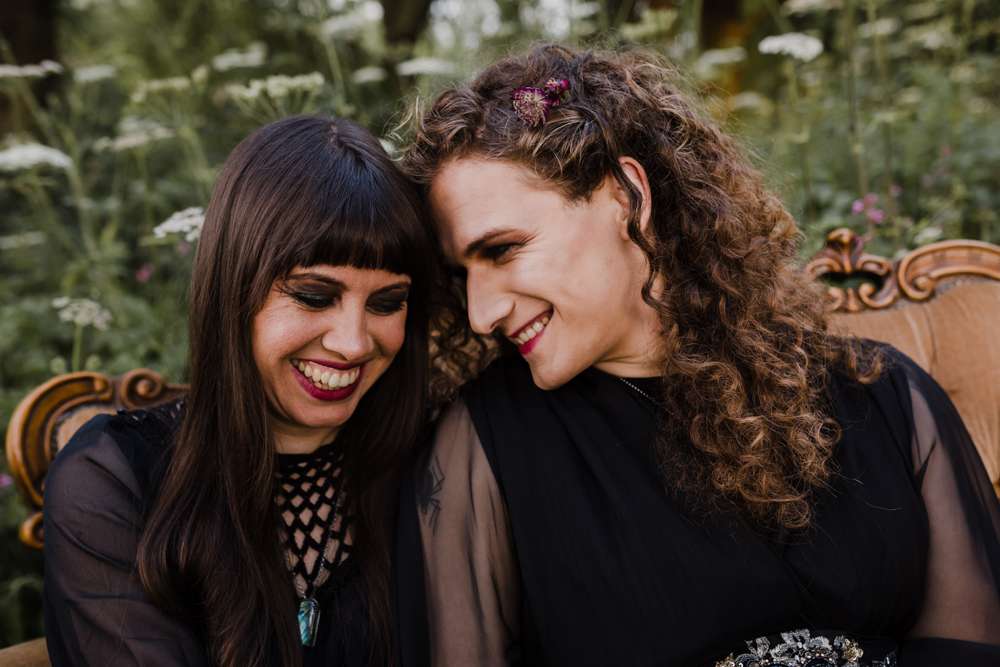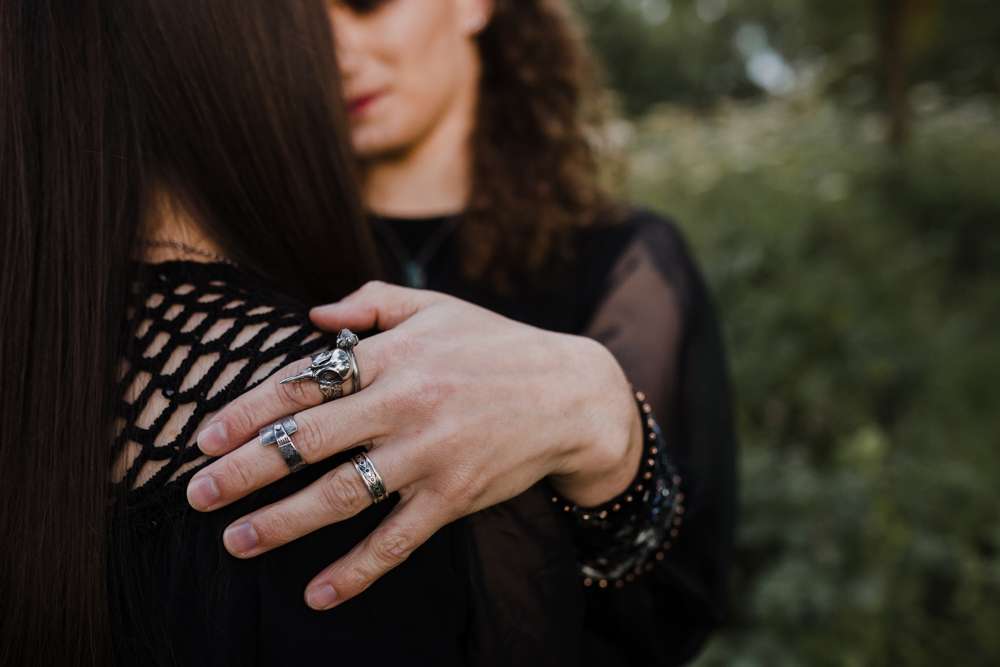 In-keeping with their original wedding, they had a mead ceremony and handfasting renewal. They used their original mead cup to take turns drinking non-alcoholic mead. "Honey is made by a family of bees working together and supporting each other, this symbolises our love and support of one other). We also used our original handfasting cords to renew our vows of being bound together for as long as love lasts. We then passed Ivy her original handfasting bracelet to symbolise our unbreakable bonds of parental love. Afterwards we threw herbs in the air akin to confetti, to bless ourselves with their attributes (rosemary for joyful memories, lavender for peace, chamomile for protection, rose for love – all from our garden or allotment)."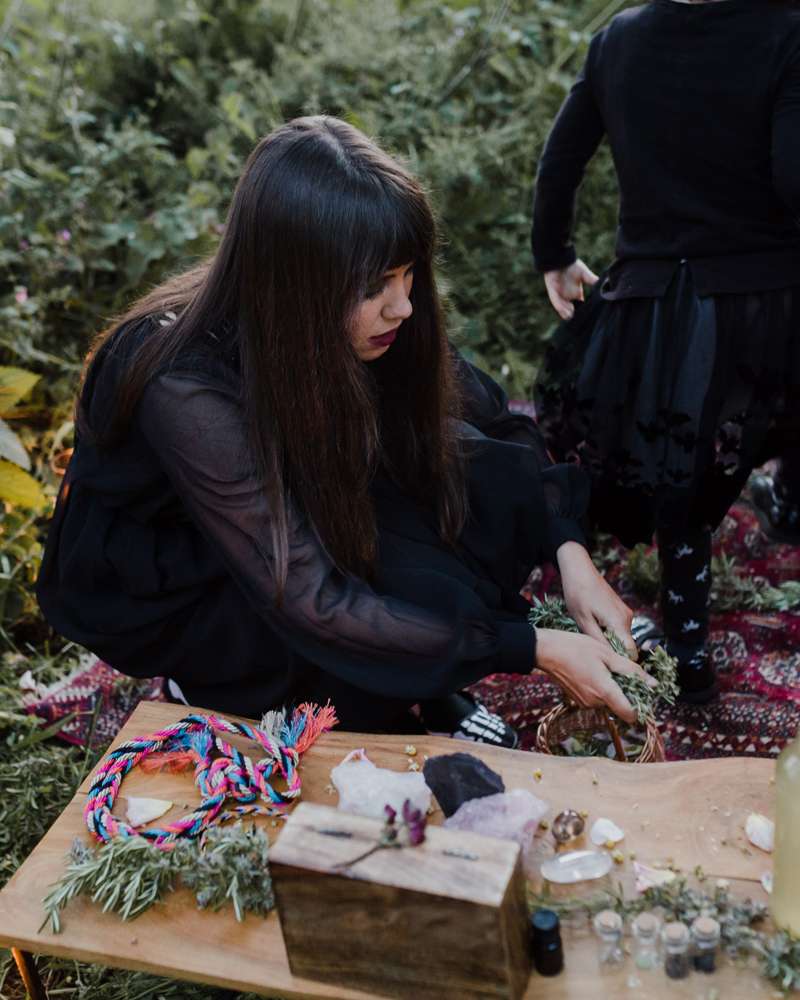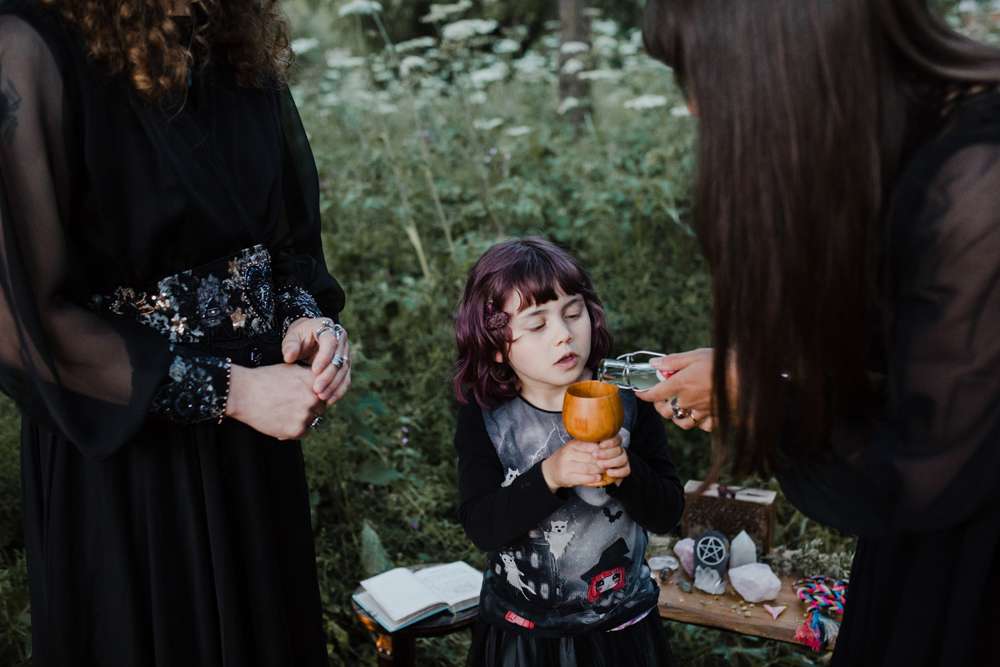 Amelia wore a vintage dress, once owned by her grandmother and Tess had a stunning gown created for her by The Couture Company. "We saved money on Amelia's dress because it originally belonged to her maternal grandmother who wore it for the wedding of Amelia's parents in the 70s. She originally jazzed it up with heels and a pink hat. Amelia gothed it up with skeleton shoes."
"The thing I looked forward to the most about out renewal was finally wearing a dress that fit and with my hair and make up done", said Tess.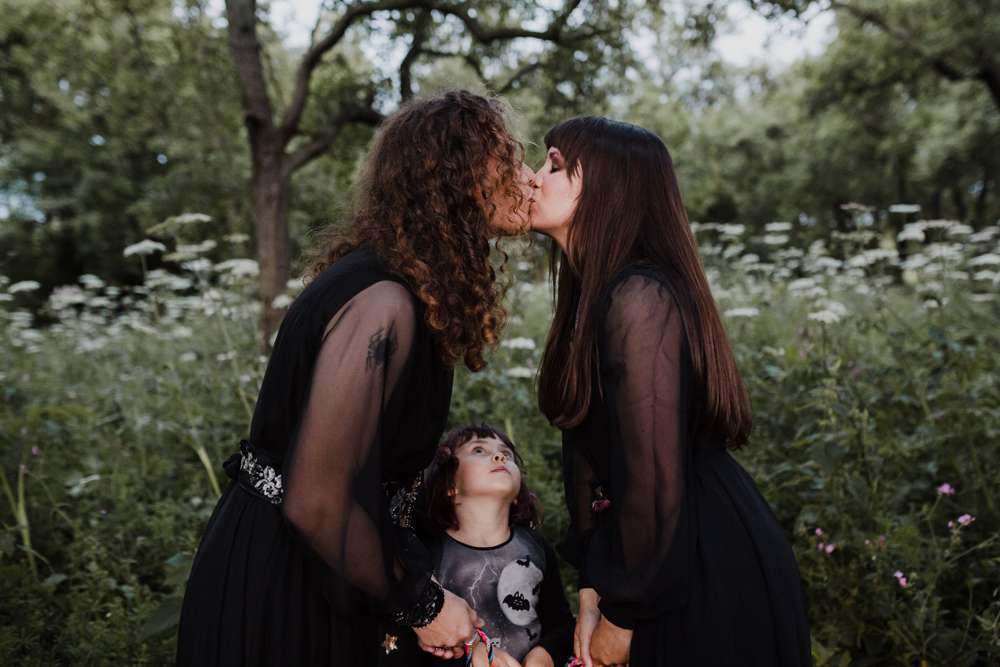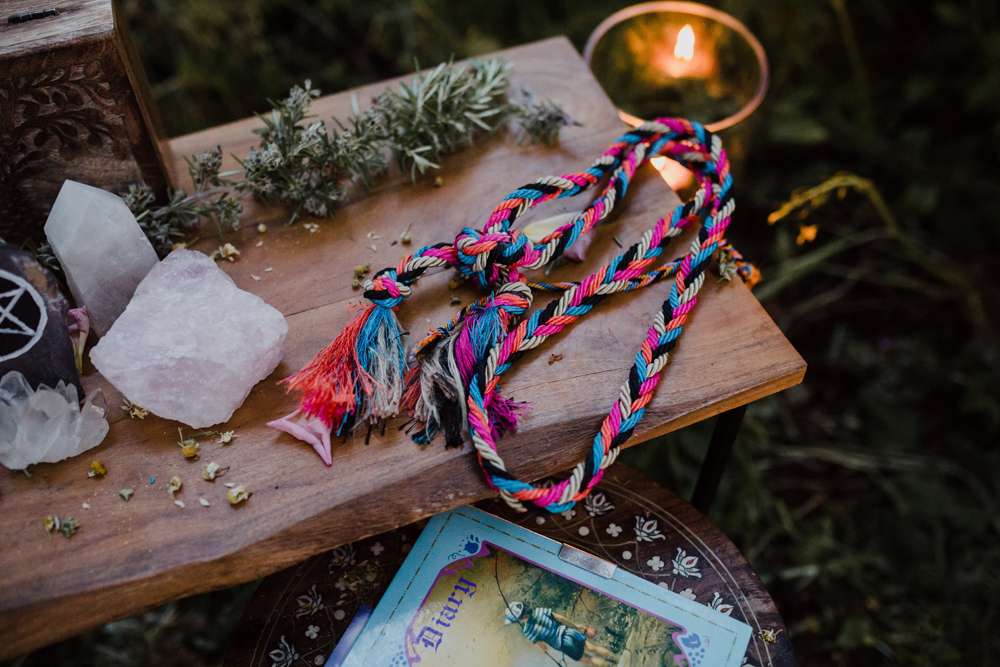 They booked the same photographer too, Jenny of Indigo and Violet Photography/. She not only shot their second ceremony, but helped them find inclusive suppliers that would work with them. Unfortunately, they did have some awful experiences trying to book suppliers, for example they couldn't locate anyone near them who would do hair and make up on Tess, so in the end they did her own.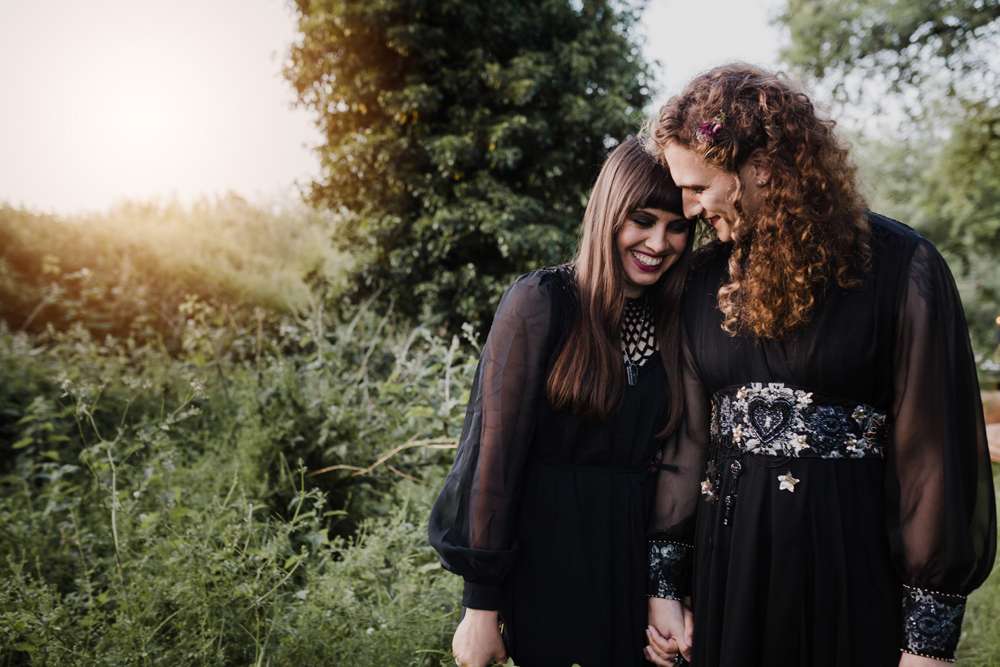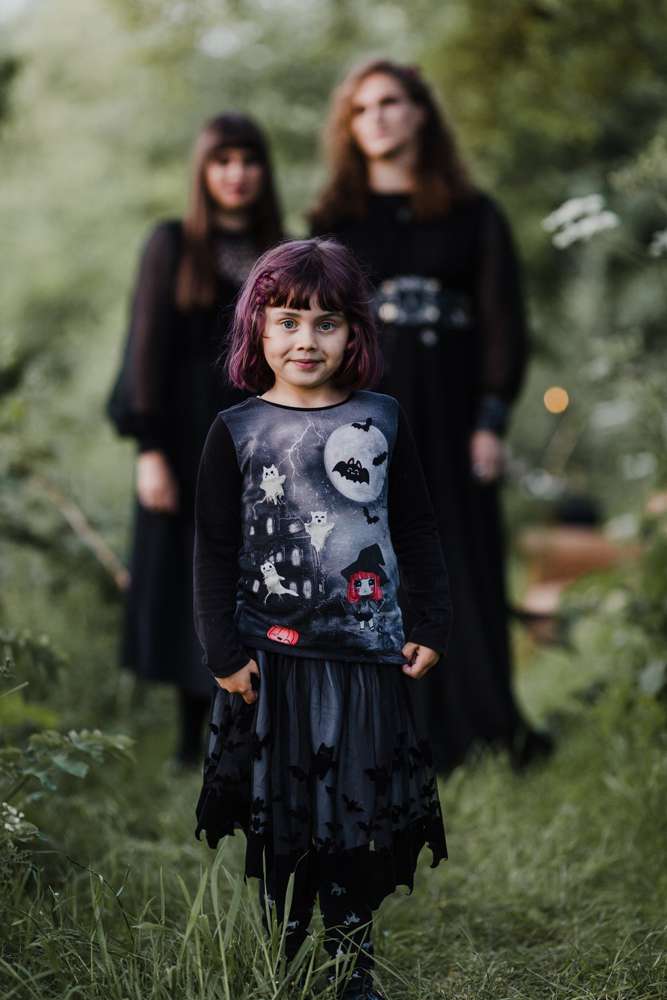 "We really struggled to find a make up artist who could not only do a gothic style, but would be able to use contouring to help with Tess's face feminisation", they said. "Having to wait for confirmation from one supplier meant we ended up losing on our first choice of artist. A week or two before the blessing we lost our second choice due to work commitments. At this point Amelia was freaking out and scouring YouTube for tutorials. We found a friend who offered to help us, but eventually was unable to come due to the time of the blessing be so late. We spent the day before the blessing going around town buying make up for us to use."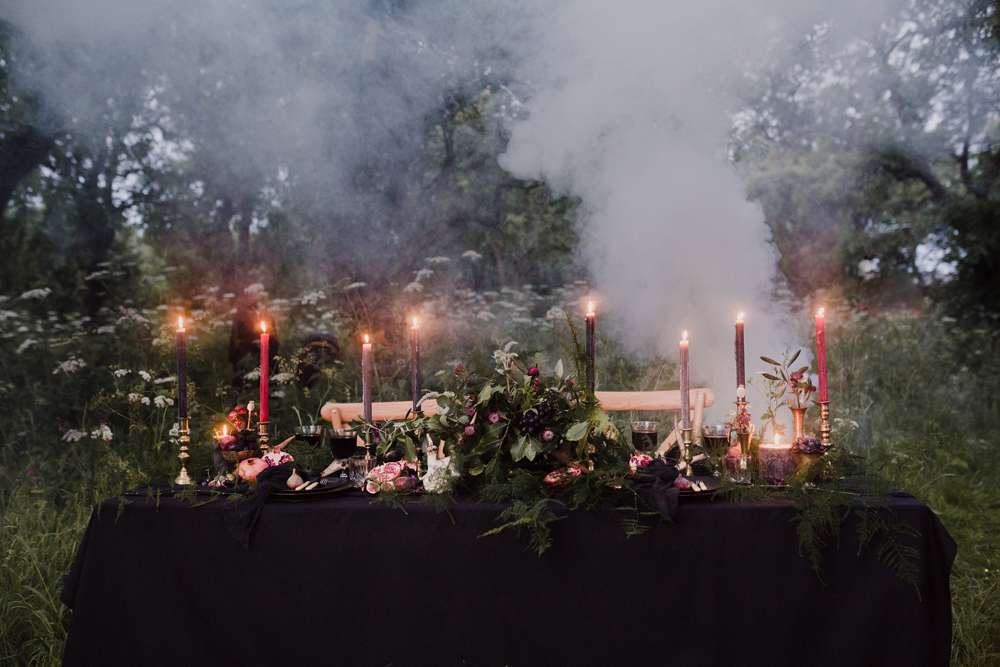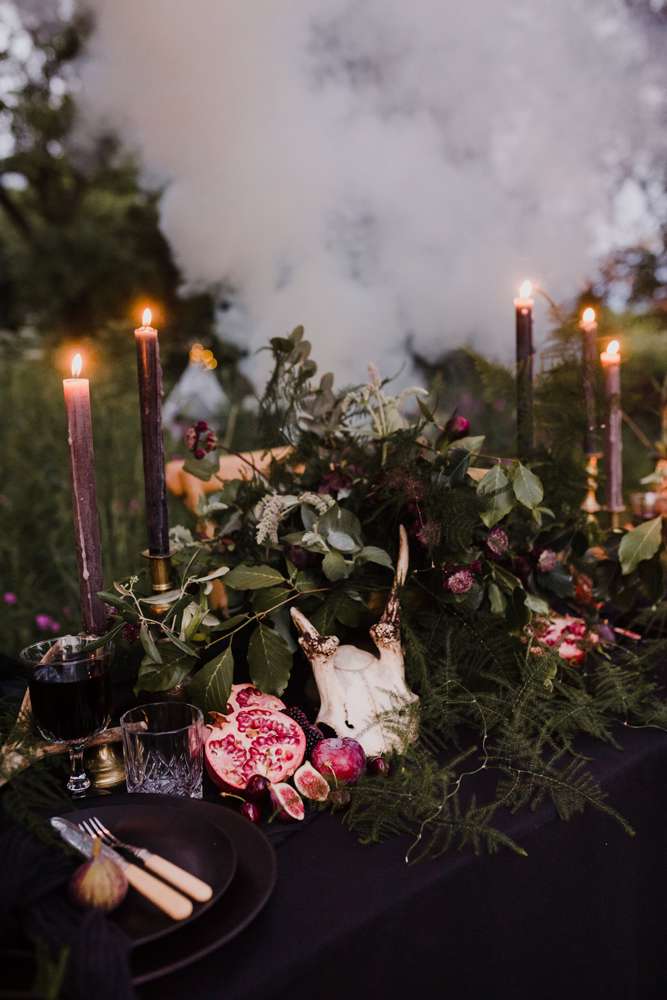 Although the planning was stressful, and they needed a back up plan for everything, they day was everything they ever wanted and was full of touching and funny moments. Cutting the cake for example… "Thankfully most people managed to get a piece, but we did manage to knock the cake off the stand and have it fall in the grass!" they laughed. "We also grossly underestimated the smokiness of the smoke bombs. We ended up having to run away from the smoke, while still trying to smile for photos and not run into everyone!"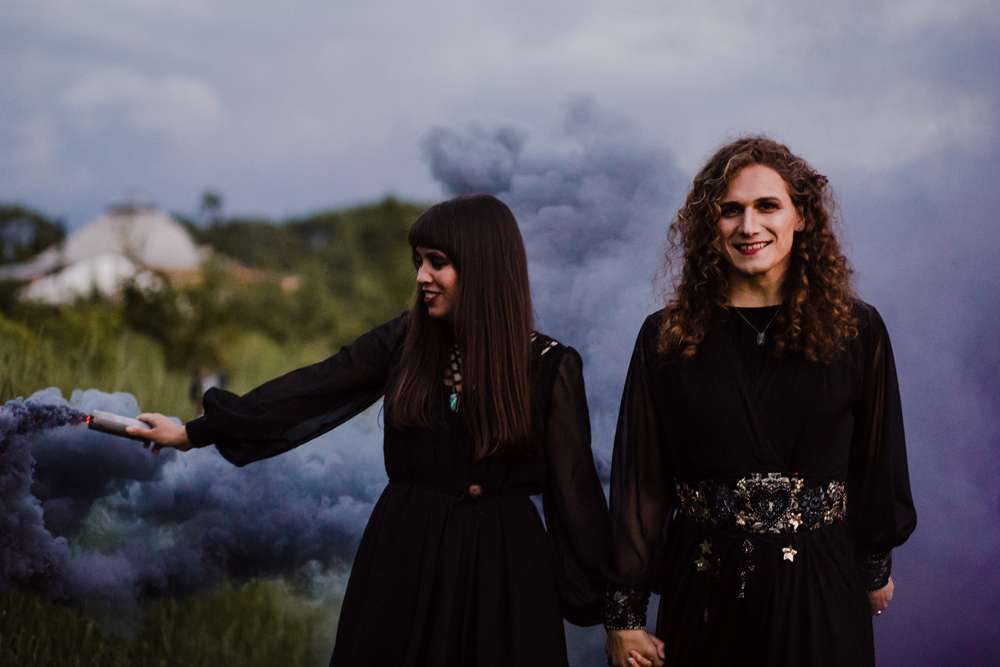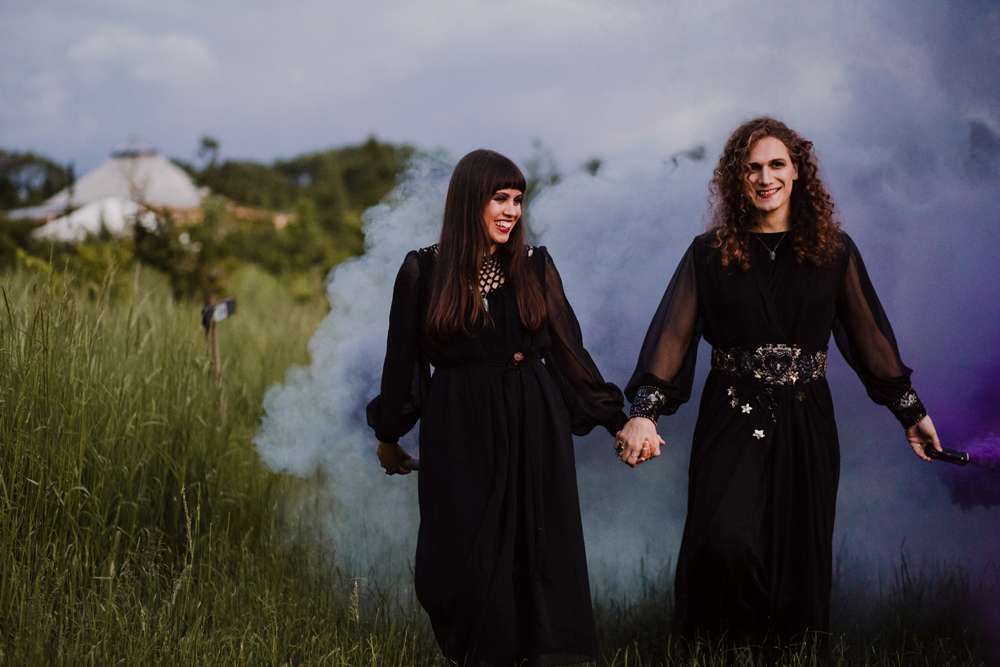 "I really appreciated being back amongst the ivy-covered trees where we originally hand our handfasting", Amelia concluded. "I loved holding hands in a circle with my family and feeling the peace and love surround us before we started our blessing."
"And I loved how happy Amelia looked to be doing the ceremony", Tess finished. "it was all genuine smiles from her which made it even better for me."