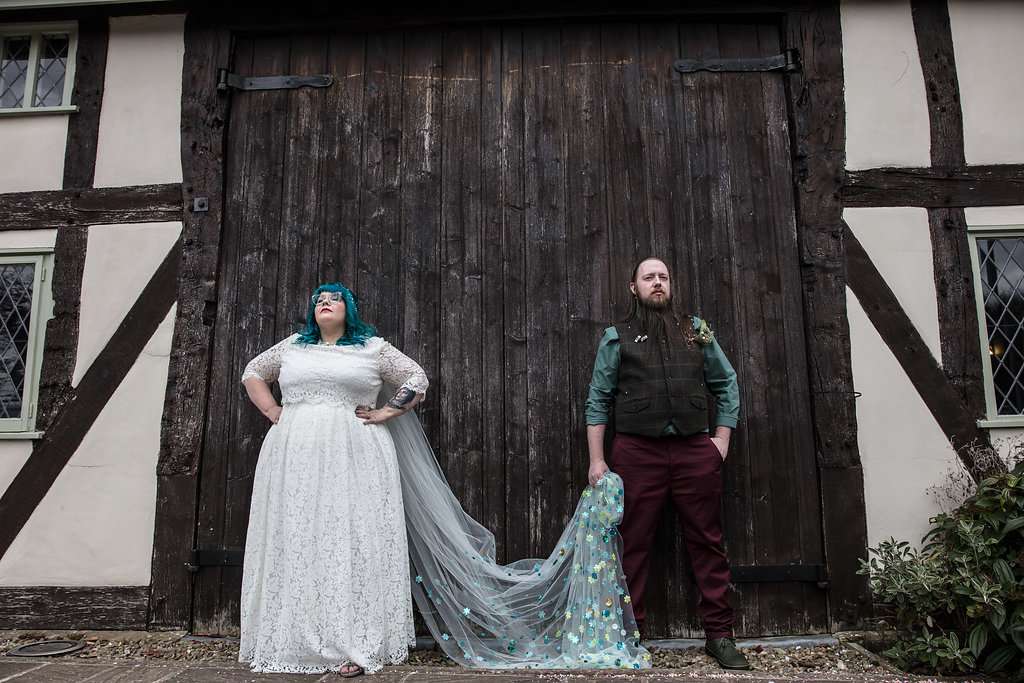 Aww Sas and Brandon! I love these two and their beautiful, quirky wedding. I know you will too! They were married in March, on their ten year anniversary. They had their day at The Plough Inn in Eaton, Cheshire.
They spent £6000 on their day, and one of the biggest savings was on their outfits. Sas wore an ASOS dress, shoes which she found for £13 in the sale and a veil from the Rock n Roll Bride x Crown and Glory collection! She even made her own brooch bouquet. "I had decided very early on that I didn't want to go down the avenue of visiting a wedding dress shop and buying a dress that way", she explained. "I was very insecure about the whole thing so I was adamant that I would find something online. I did, but like most brides changed my dress! The dress I eventually went with was an ASOS one which I had altered."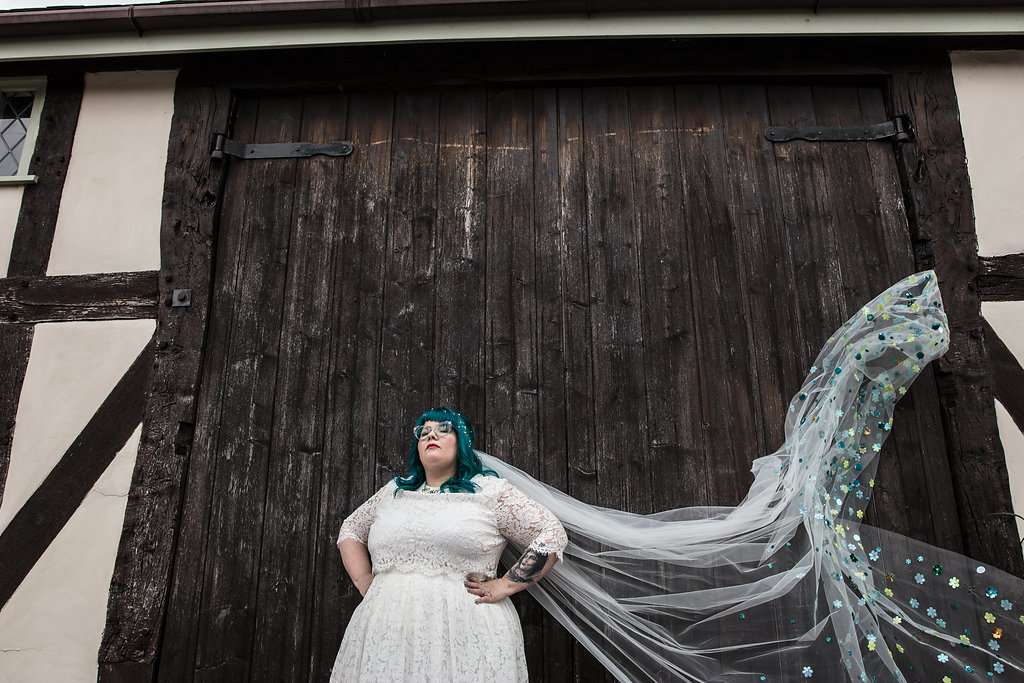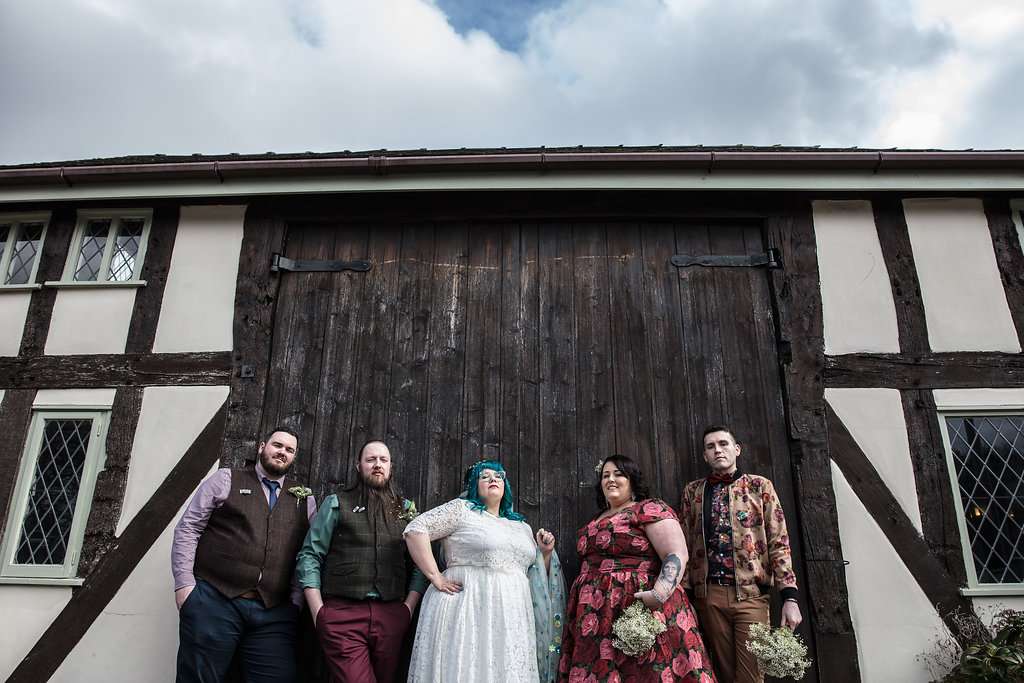 "And OMG my veil! I wanted Sophie of Crown and Glory to make it. I contacted her back in November 2017, she was super helpful and the veil I had decided on was a Nebula. However just like my dress I ended up changing my mind. The 2018 collaboration between Rock n Roll Bride and Crown and Glory had been sneak peaked and a noticed a glimpse of something so I emailed Sophie pretty much the same second enquiring about it. I think my email went something like 'OMG are you doing a flower veil? When will the collaboration be available and would I be able to change my original veil plan!?' She told me I might be right, that the collaboration would be released on the 8th January and if I wanted to change I could as my veil hadn't been started yet. Once the collection dropped I fell head over heels for the Magic Garden Veil which Sophie made for me in my chosen colours of teal, blue and green. It was EPIC and everyone loved it, it was the showstopper of the day! Sophie was amazing, kept in touch the whole time and I remember the day she sent me the first video of my veil, I sobbed! Sophie even went so far as making a tiny version of my veil for our Pop! Vinyl figure cake topper!"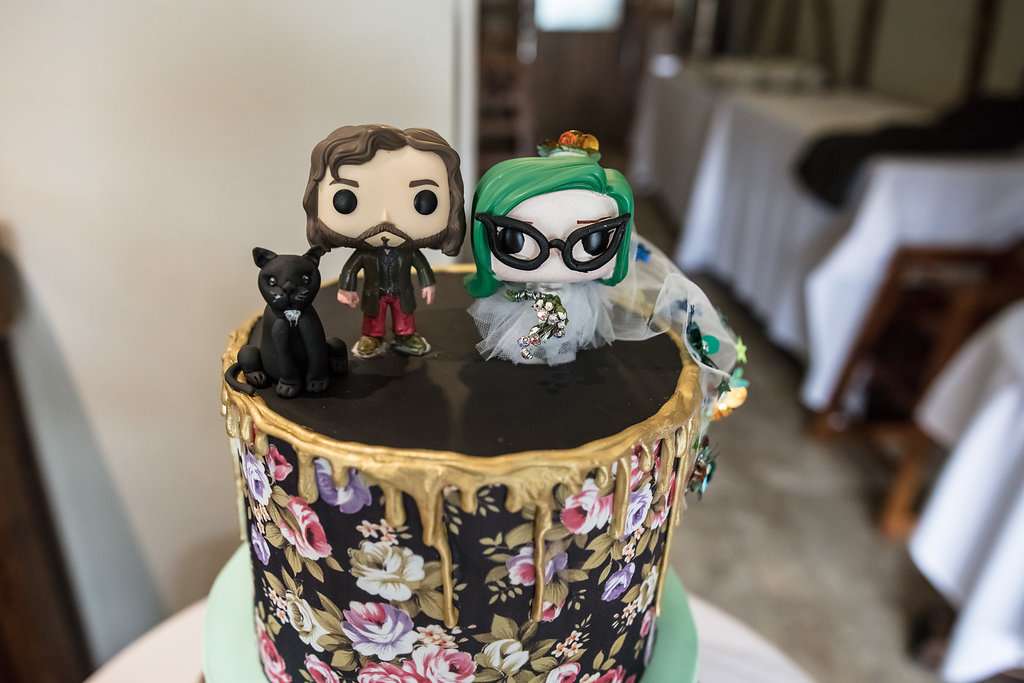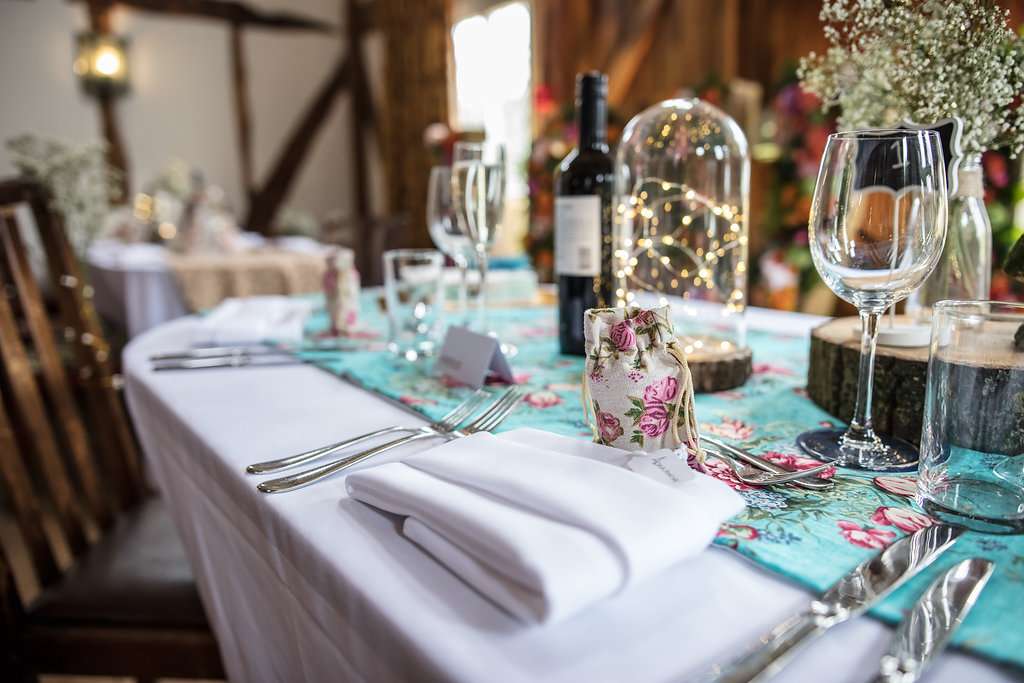 For this considerate pair, they really wanted their day to be enjoyable and stress-free for everyone involved. For the bridesmaids, Sas just told them to choose a floral dress they were comfortable in. They then reflected this mish-mashed floral theme throughout the decorations.
"We didn't want to go over the top with flowers as we were using a lot of floral material in our decoration so we only used gypsophila for centrepieces, buttonholes, bouquets for my wedding bridal party. We also used a bunch of faux flowers as accents on frames and the seating plan we made, I bought these from Hobbycraft as they had a sale on so got a bargain! Gypsophila is great too as it's pretty inexpensive, but really looks the part and you can do so much with it."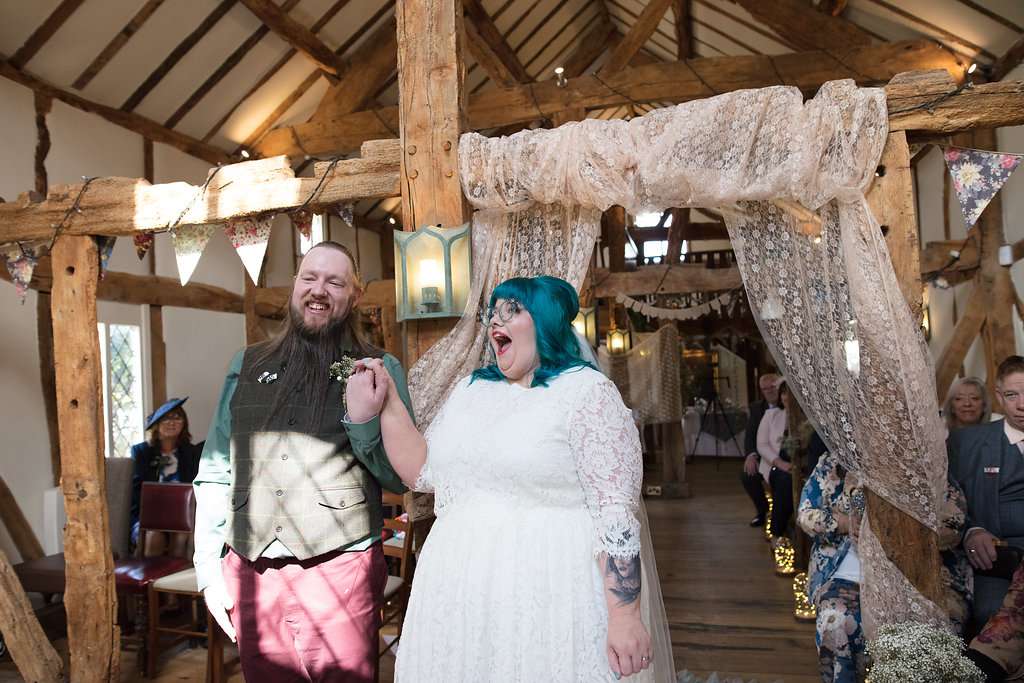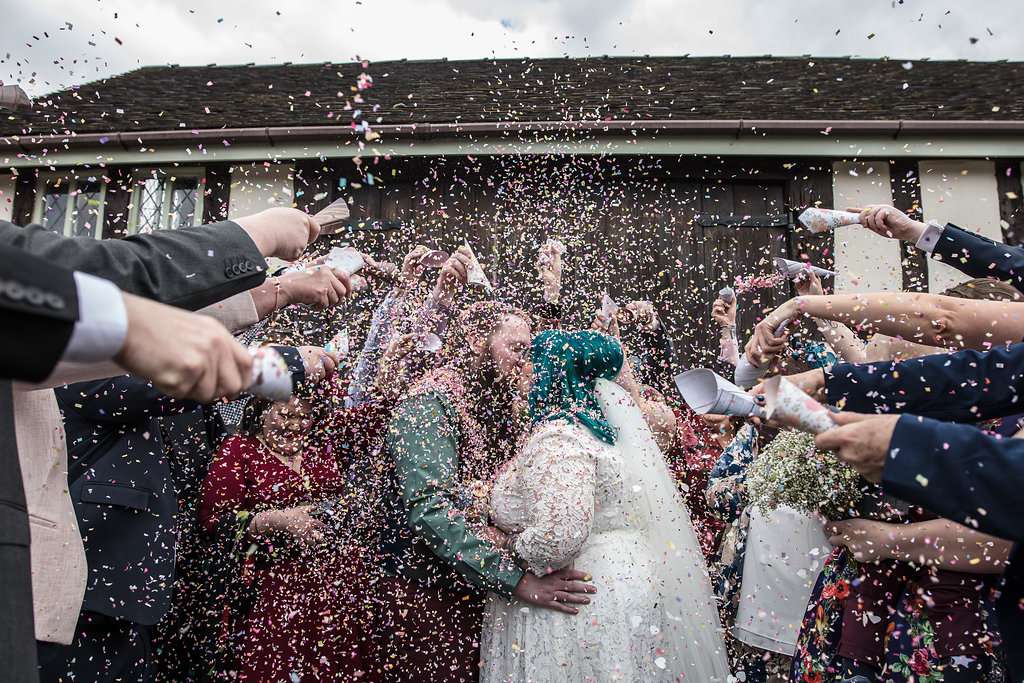 "The majority of decor was homemade. We made our own signs which I printed off and framed then hot-glued faux flowers on the corner of the frame. The venue has a rustic, old worldy vibe about it so we didn't want to lose that . Me, my mum and my sister handmade all the bunting and table runners. We were able to decorate the venue the day before. Seeing the vision you've had in your head for the better part of two years is indescribable, it honestly took my breath away."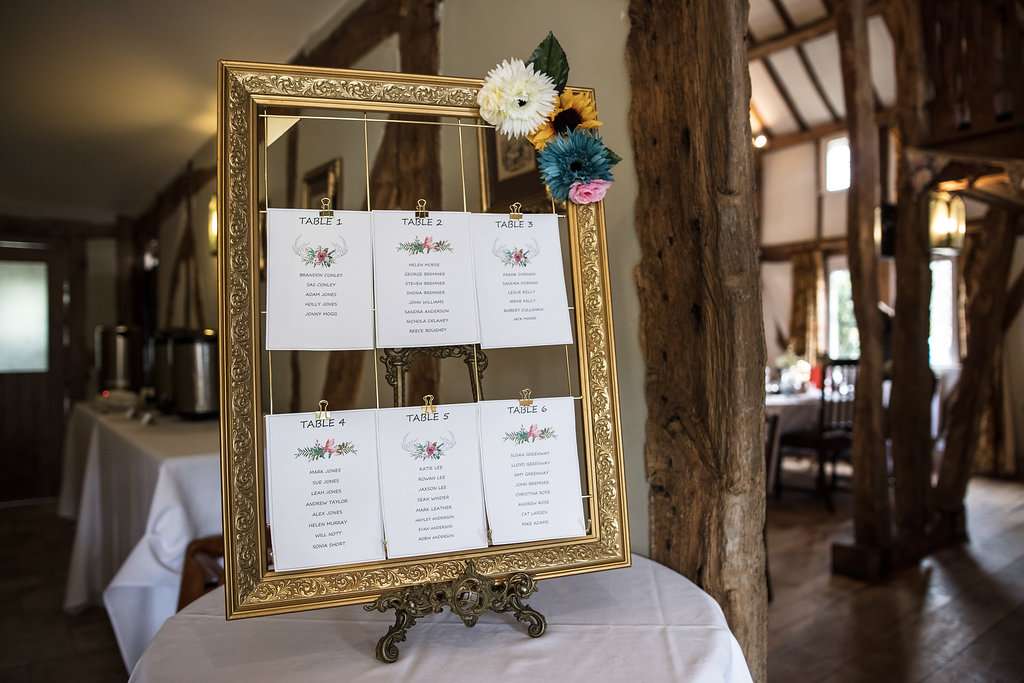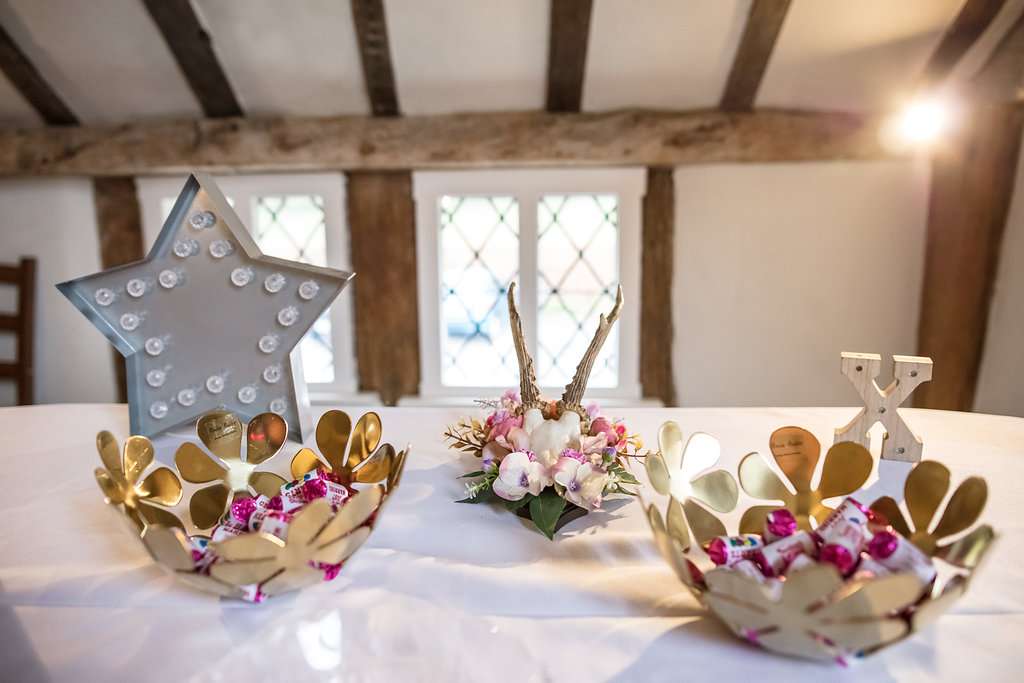 A highlight of the day for Sas was the speeches, not only did she and her mum do one, but her very nervous new husband did too. "For me, Brandon's speech stands out as the best moment of the day. He is a nervous guy who doesn't really like public speaking, but he was determined to do a speech and I did one too because I'm the opposite and can't keep my mouth shut! He read it from his iPad as that's what he did when he proposed to me. He spoke about the day he asked my mum for my hand. My mum's final toast at the end of her speech was also EPIC! She said 'I wish you the passion of Taylor and Burton, the longevity of Elizabeth and Philip and the bank balance of Kim and Kanye, cheers!'"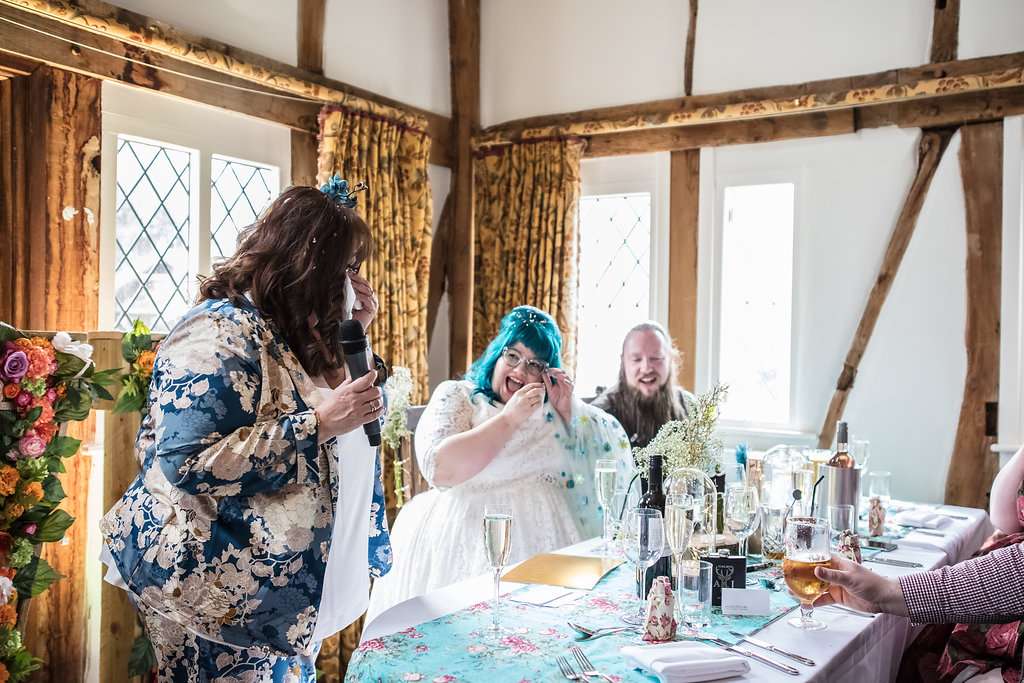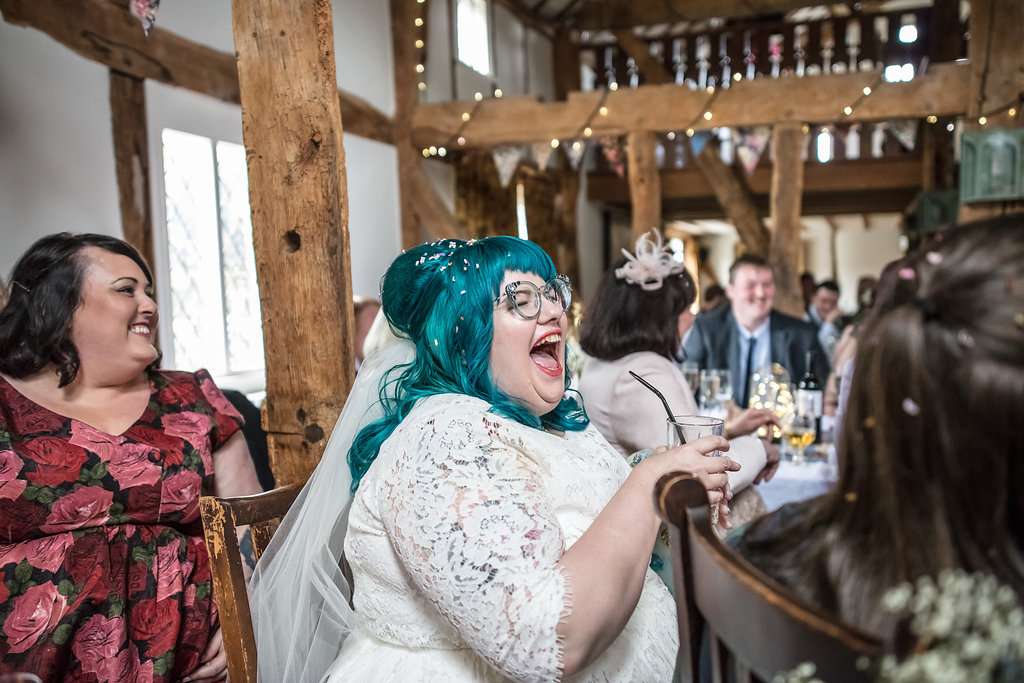 Their day was captured by Sassy of Assassynation, who they knew they wanted to book before even before they were engaged! "I love how Sassy can capture so much emotion and movement in a single image, her work is so original and breathtaking. When I got in touch with Sass to discuss her photographing our wedding I loved her instantly, she was the perfect fit for us. We arranged to do an engagement shoot which I highly recommend for any couples who feel nervous or vulnerable about being photographed. Shes had us totally relaxed in no time and it meant we knew exactly what she wanted from us on our wedding day. Guests commented on our wedding day that we looked so comfortable being photographed and we honestly believe meeting Sass before hand gave us that confidence and reassurance."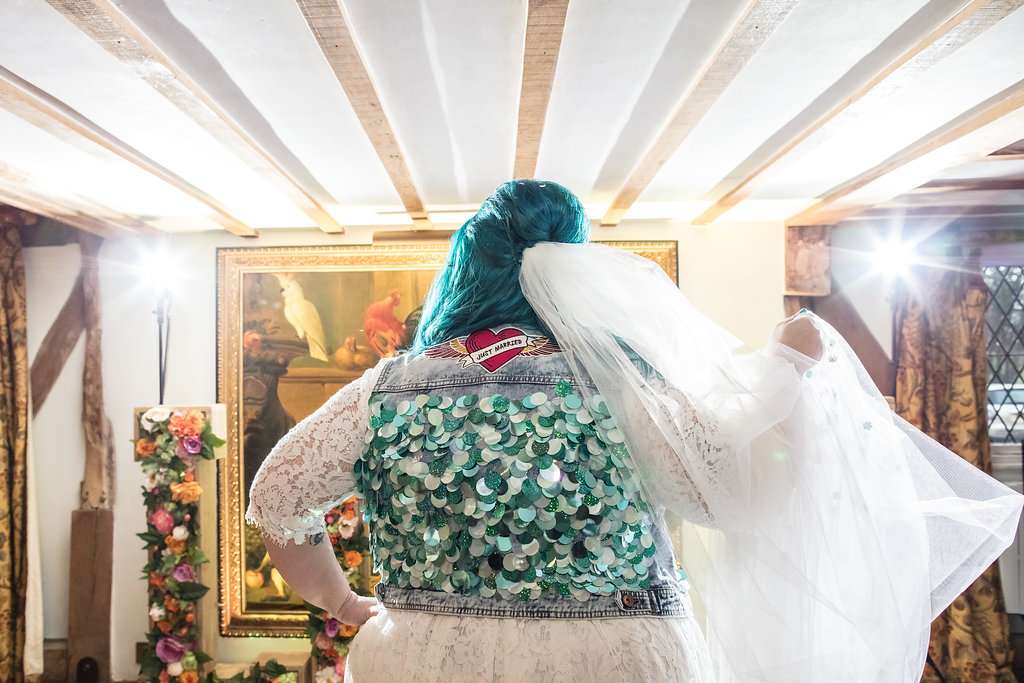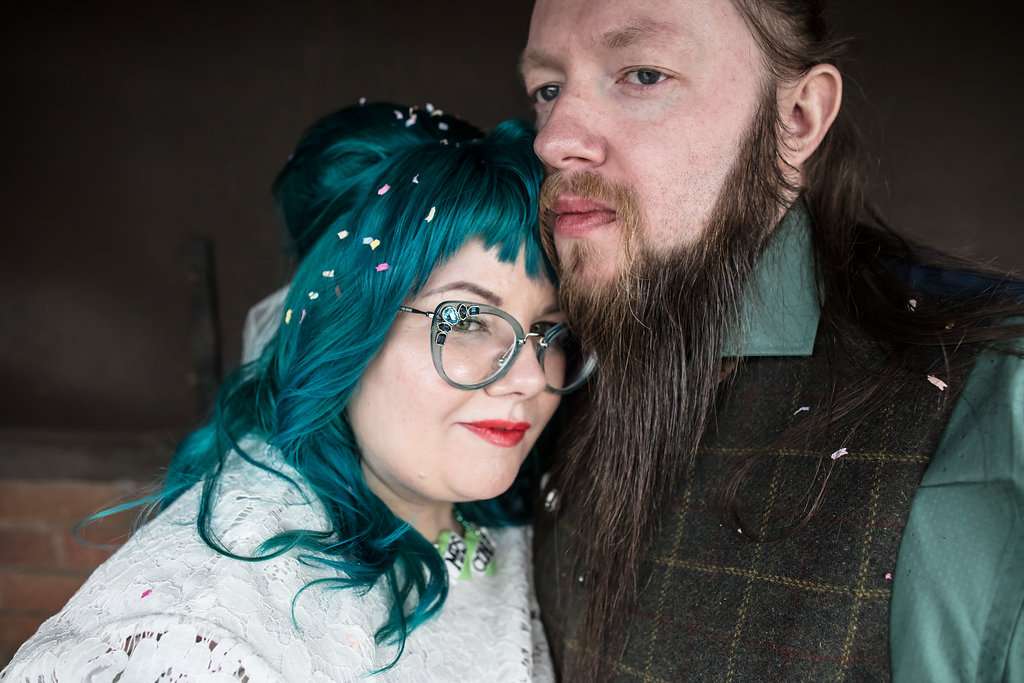 "If we could pass on some advice for future brides and grooms, I would say be kinder to each other throughout the planning process", Sas concluded. "I honestly never understood why people go through all the effort of planning a wedding only to cancel, but after planning a wedding I completely understand why! I'll be honest sometimes you go to bed and cry yourself to sleep, sometimes you can't even sleep due to the stress of everything and sometimes the last person you want to share that with is your partner, but you need to remember you're in this together. You both went into this process wanting the same outcome so don't forget to communicate. By the morning of your wedding you're marrying the love of your life, any worries will melt away once you see them."