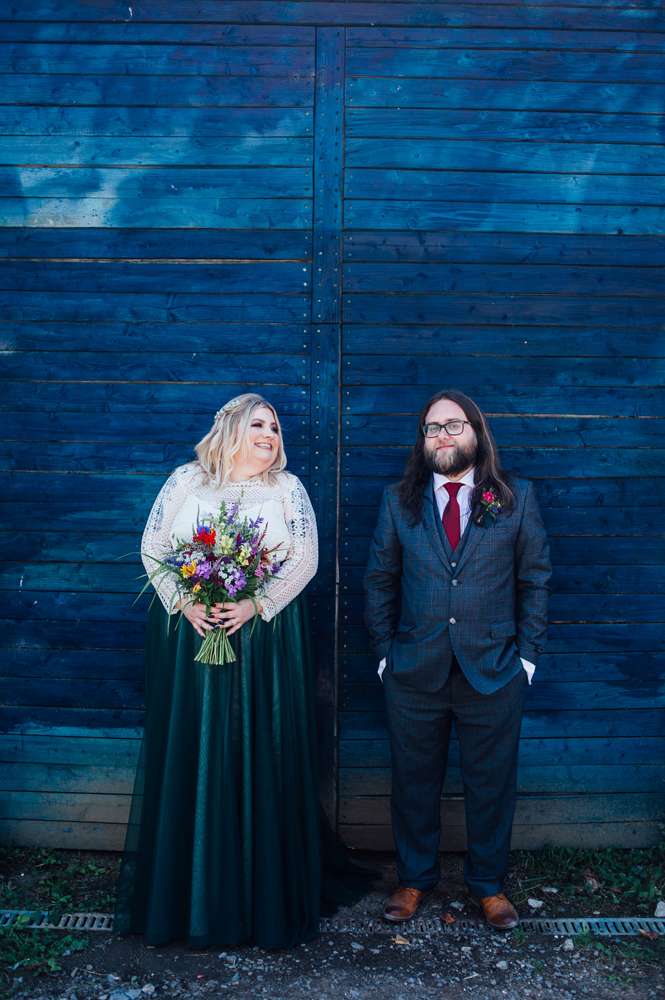 Lucy and Rob's wedding was inspirational for so many reasons – not only was it a whimsical-meets-punk festival wonderland, but it was also totally fat-positive and body-positive experience.
"Our wedding was 100% fat positive and body positive," Lucy explains. "I refuse to buy into this ridiculous notion that you can't possibly be fat and also happy to get married, and I didn't change my body to fit in with the impossible 'bridal ideal' pushed by the mainstream wedding industry. We went to a few wedding fairs and the lack of diversity, and the promotion of cosmetic surgery, was just depressing. It made me more determined to use as many independent suppliers as possible and reject the dominant narrative."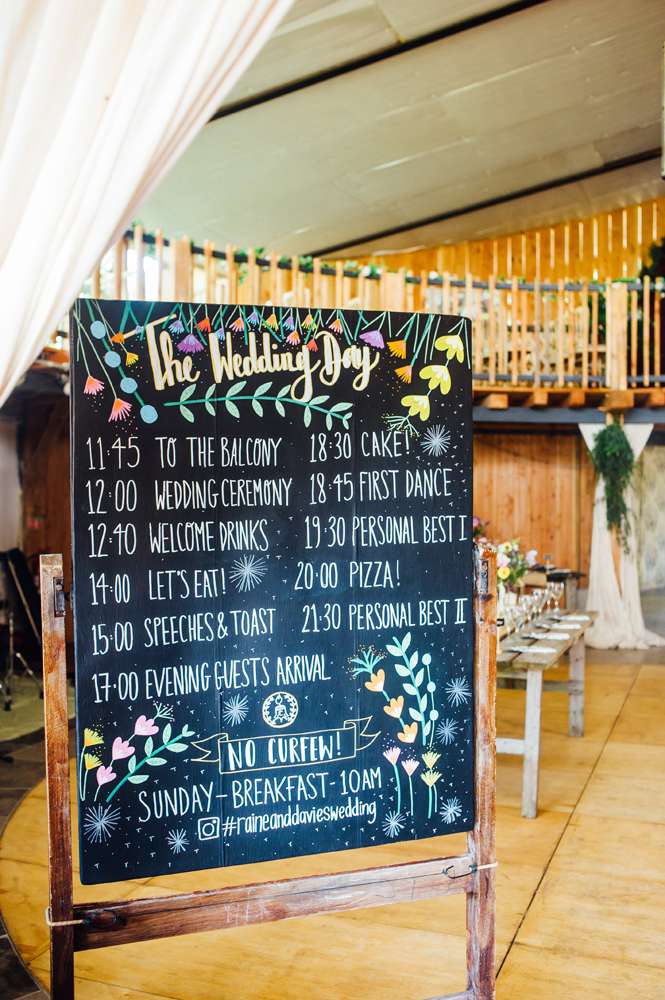 As as a plus-size bride, Lucy was worried that she'd feel uncomfortable or be body-shamed, but the bit of getting married she was most concerned about ended up as her favourite part! Her dress was a bespoke piece from E&W Couture which she found at Rachel Burgess Bridal Boutique, with a beautiful green skirt. "I knew I wanted to have colour in the skirt, and after some back and forth we decided green was the right choice," she says. "Sophie (from E&W) and Rachel were angels to work with!"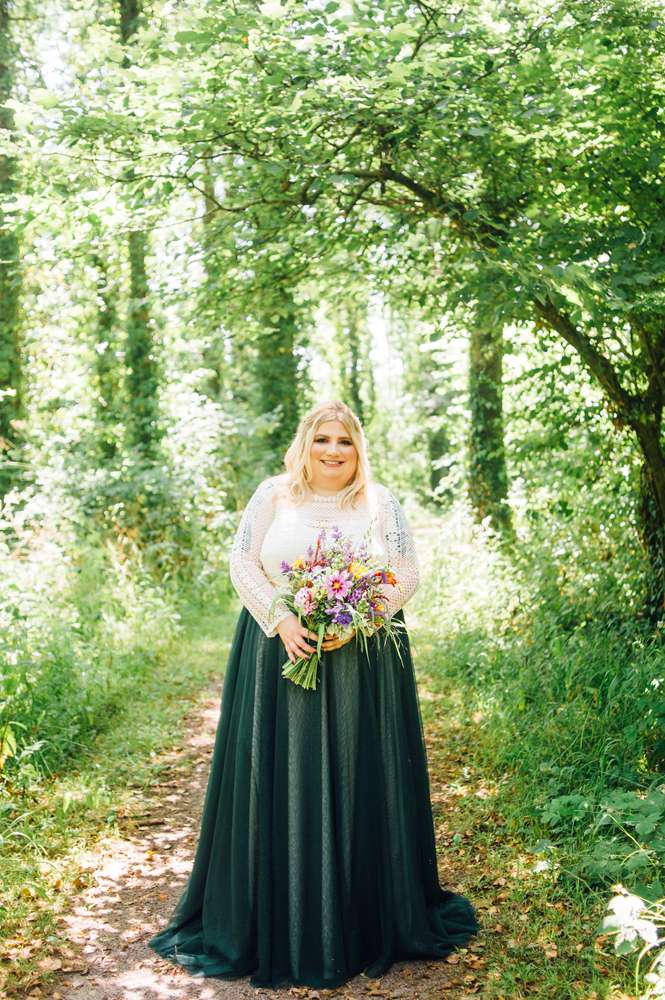 Their venue, Coed Hills Rural Artspace, is a huge barn surrounded by acres of stunning wild gardens and secret woodland, which was perfect for the relaxed plans they had envisioned. "One of the key considerations for us when we were planning the wedding was to eschew as much formality as possible, and have an ultra relaxed and fun weekend," she recalls. "We wanted everyone to feel chilled out and forget the pressures of the outside world for a couple of days. We created our own little festival-vibe with the venue, the beautiful surroundings, and our closest family and friends. We kept the atmosphere laid-back and the timings pretty loose."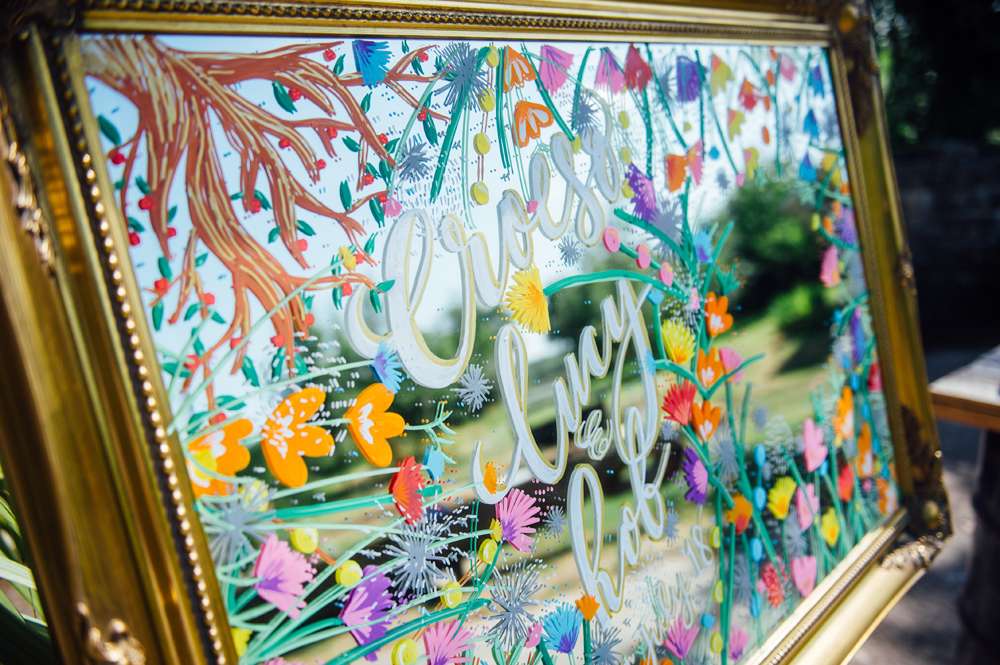 It was also the perfect venue for their whimsical woodland vibes – Lucy and Rob described it as a "Welsh woodland wonderland-meets-punk wedding! We were inspired by our shared love of music and the outdoors, particularly the Welsh countryside where we spend a lot of time (our table names were our favourite castles). Plus a sprinkling of folk horror and gothic influences. Coed has lots of offbeat and unusual decoration too that we could make use of. At one point I was a bit worried it would look too mismatched, but the flowers and greenery from The Flower Hive pulled together the space and I feel like the final product was beautiful."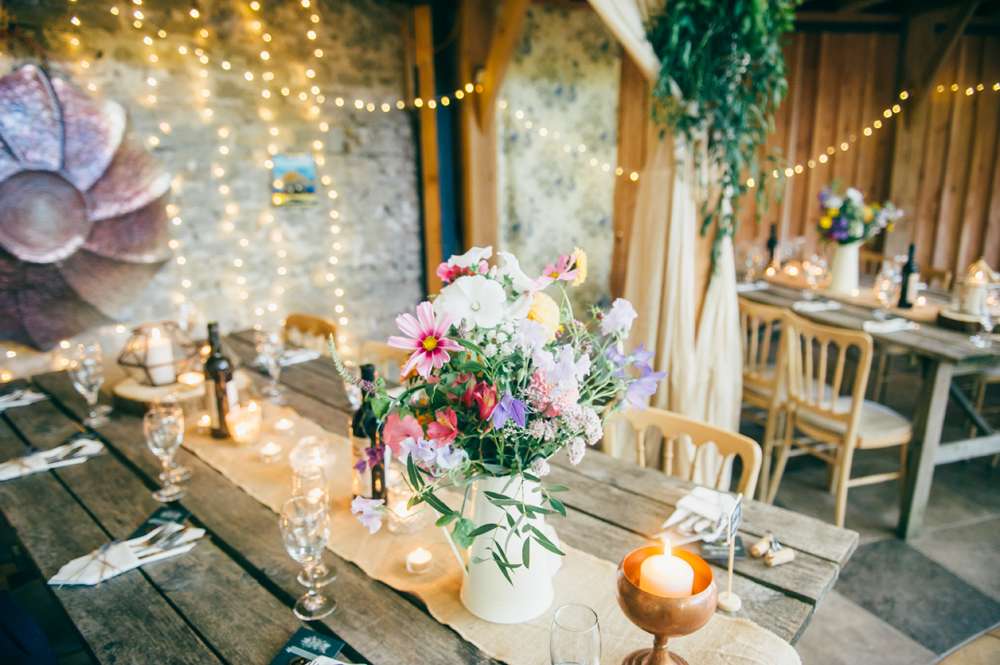 A lot of the amazing suppliers that Lucy and Rob had pulled together were friends. Lucy's best friend Teri is the artist and designer behind Deep Breaths Collective, and did their wedding stationery as well as a chalkboard seating plan and her piece de resistance, a giant gilt-framed mirror that acted as a welcome sign. Lucy's maid of honour has a punk band called Personal Best, who became a wedding band for one night only, playing Fleetwood Mac, Queen, Bonnie Tyler and many more (Lucy even jumped up behind the mike to join them in opening the first set with The Power Of Love!) Their favours were pin badges designed by their pal Lauren Cook, and best man Tim hollowed out an actual tree trunk to act as a cards chest.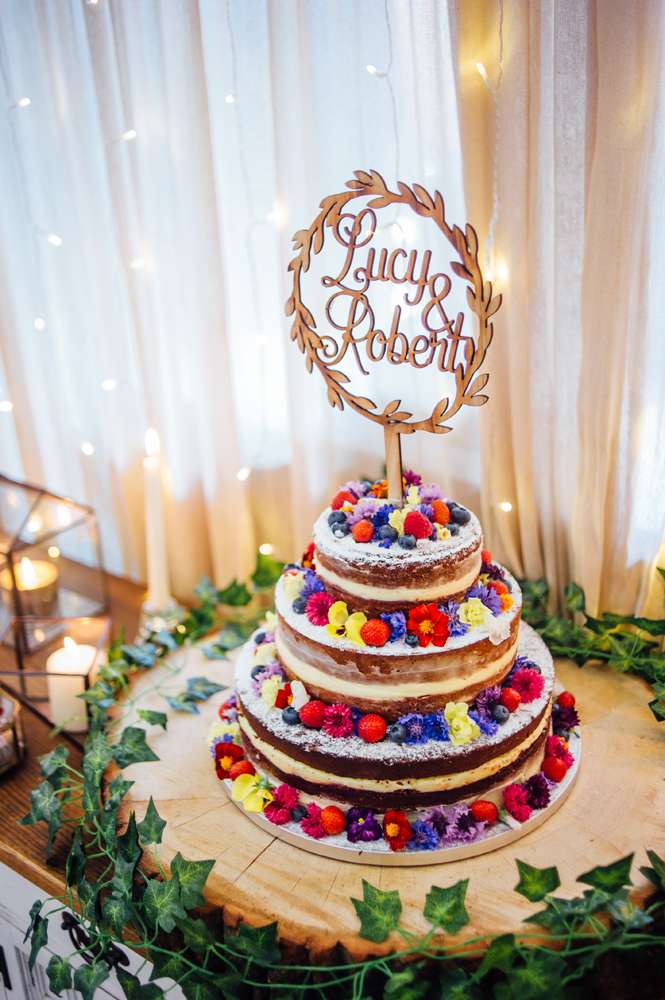 Not only do we love Lucy and Rob's wedding style but we love their attitude too – Lucy's so right about rallying against the horrendous body-shaming madness that wedding planning all too often descends into. And didn't she look divine?