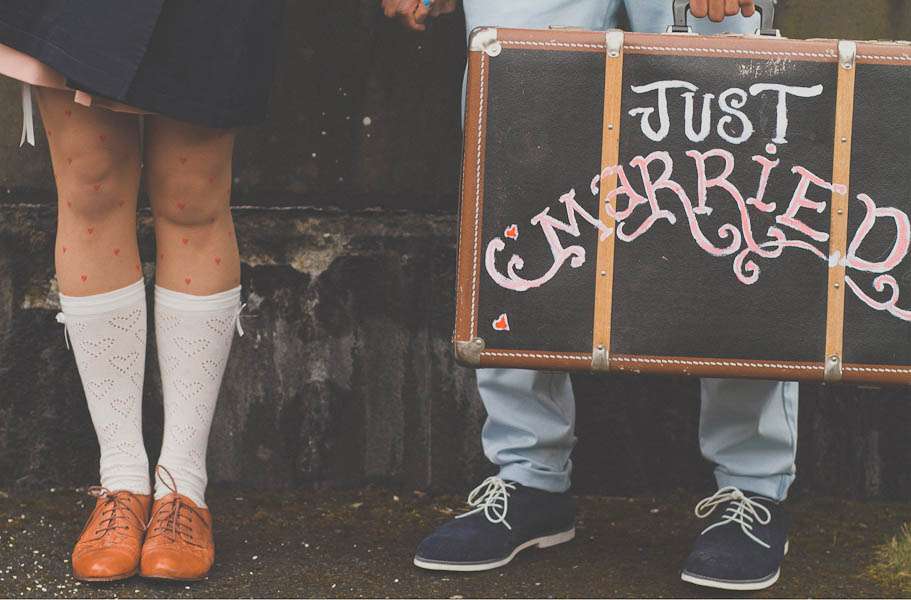 There are certain weddings that make me smile from ear to ear… OK well yes, all of the weddings I feature are flippin' awesome but there are some that just have that extra something. I think in this case it's the bride & groom themselves. I want to be BFFs with Bobby & Gitte please!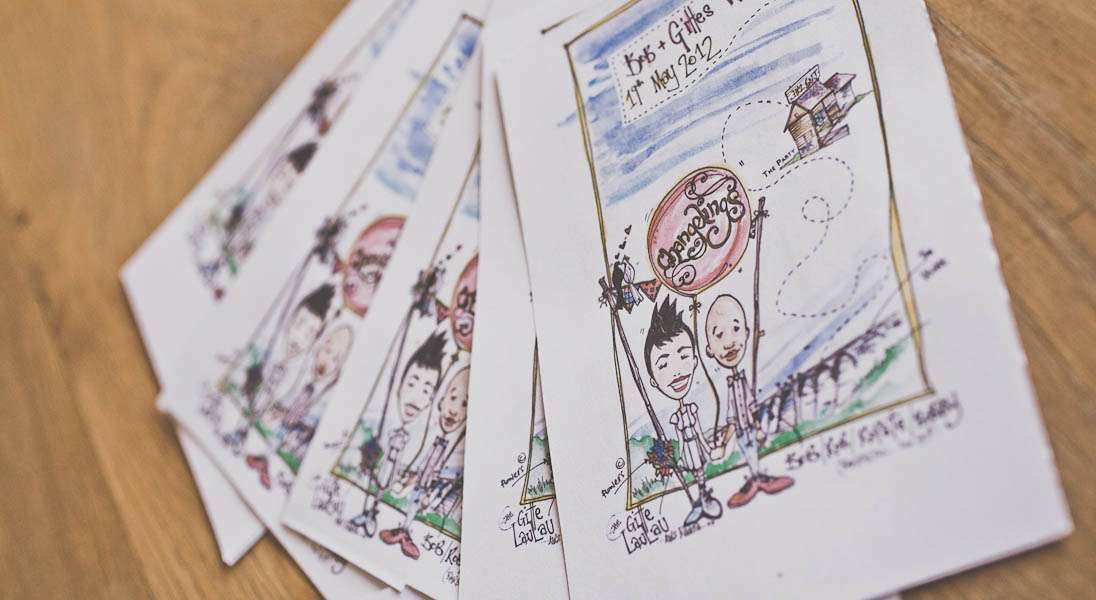 For their May wedding the couple knew they wanted to do something different – something low key and fun. They spent just £2500 pulling off the event. The ceremony was held on Claerwen Reservoir Dam in Rhayadar, Wales. Although not the most practical of choices, they wanted it there for sentimental reasons. The reception was on a friend's farm in Ballingham, Hereford. "It took us a few days to get the venue together, as there were literally cows and horses – and their muck – in it prior," wrote Gitte. "But once we saw it we had our heart set on it, and didn't stop until our hands were dirty and we were happy."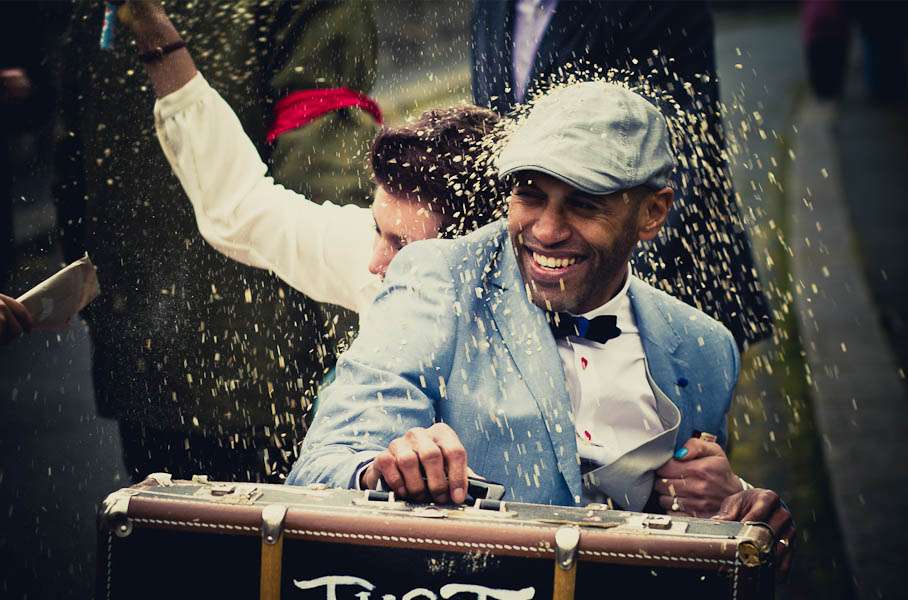 To save money as make their wedding as personal as possible, they DIYed everything. The cake was designed by the couple although made by a friend, the flowers were handpicked the day before and the stationery was a labour of love. They also made the photo booth stand themselves as well as literally everything you see decorating the barn! "For the bunting we bought some old books/lyric books, cut them up and stapled onto string. Our personalised vases were made from old jam jars and stencils. We made triangle bags out of brown paper and old newspapers to put oatmeal/rice in for makeshift confetti."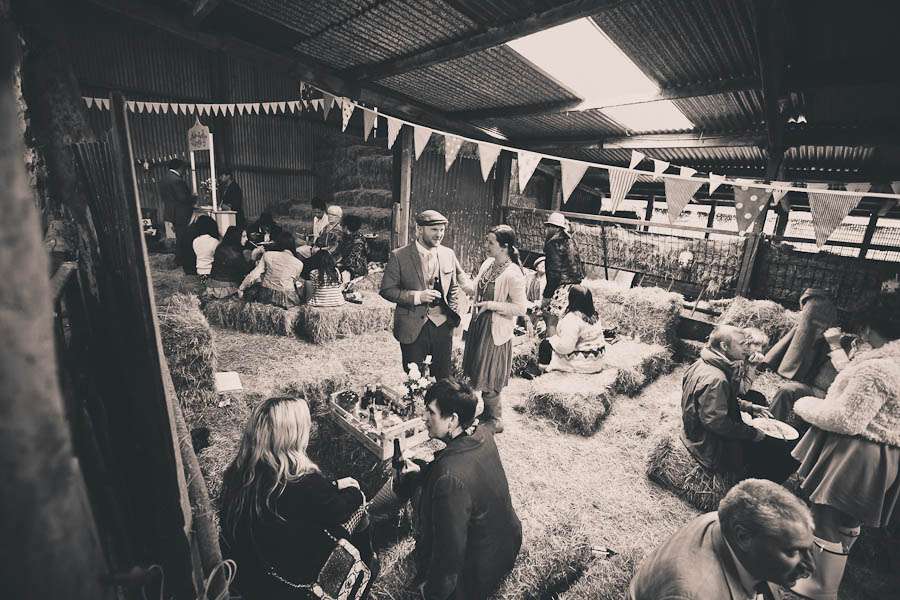 "Once we were set on the venue, we just knew it had to be an 'Olde English' theme as we felt it would work better with the surroundings and more importantly in the photos", continued the bride. "The dam then created a fluid transition for the reception to be held at the barn. Rustic, and with sense of low maintenance, we wanted to keep a real raw and organic atmosphere with nothing too polished or stiff upper lipped."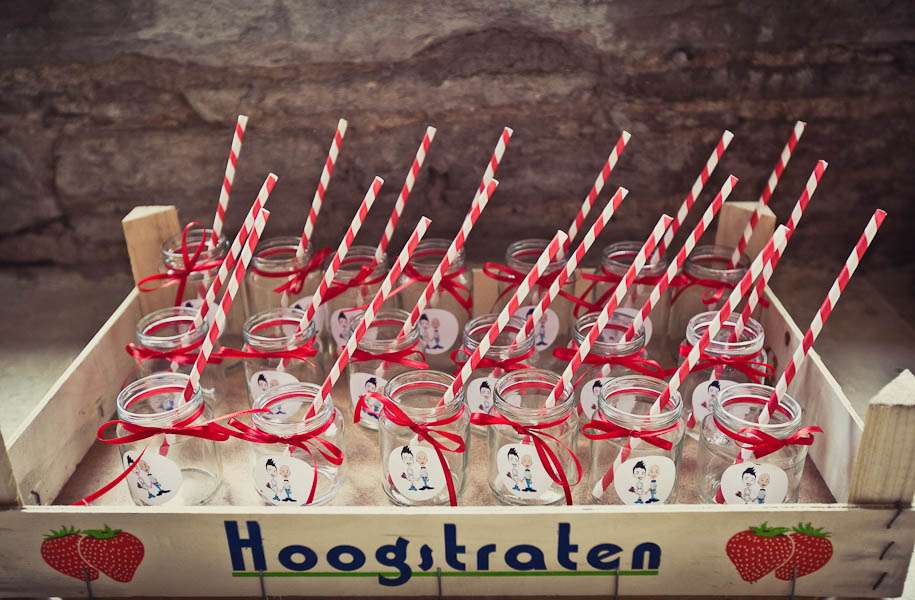 Neither the bride or groom wanted to wear traditional wedding attire. Gitte opted for a short pink skirt, white blouse, a blue coat, polkadot tights, pulled-up heart socks and tan brogues! The entire outfit was pulled together from her favourite high street shops. Bobby also wore and outfit which was bought from various high street stores and included an awesome flat cap which they embroidered their initials on.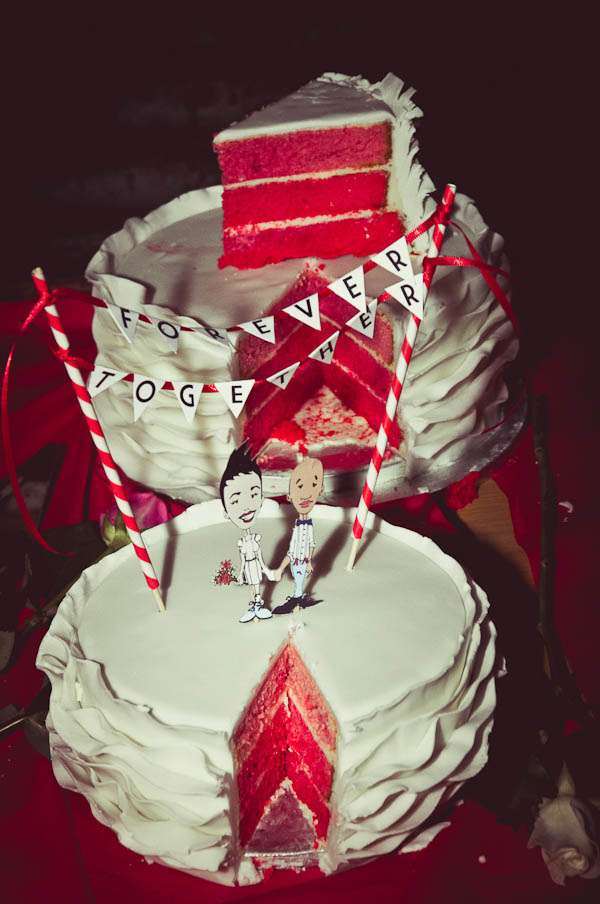 "My favourite part of our wedding was the vows", concluded Gitte, "as well as getting carried away on the trolley with friends and family throwing oatmeal over us, and eating food with our fingers during the reception. Bobby's best bit was not getting into debt straight out of the starting blocks! We put a lot of graft into our wedding, and in doing so created our dream wedding with everything that was 'us'. All our friends mucked in and helped out too, which contributed to the relaxed atmosphere. It's how we mean to go on."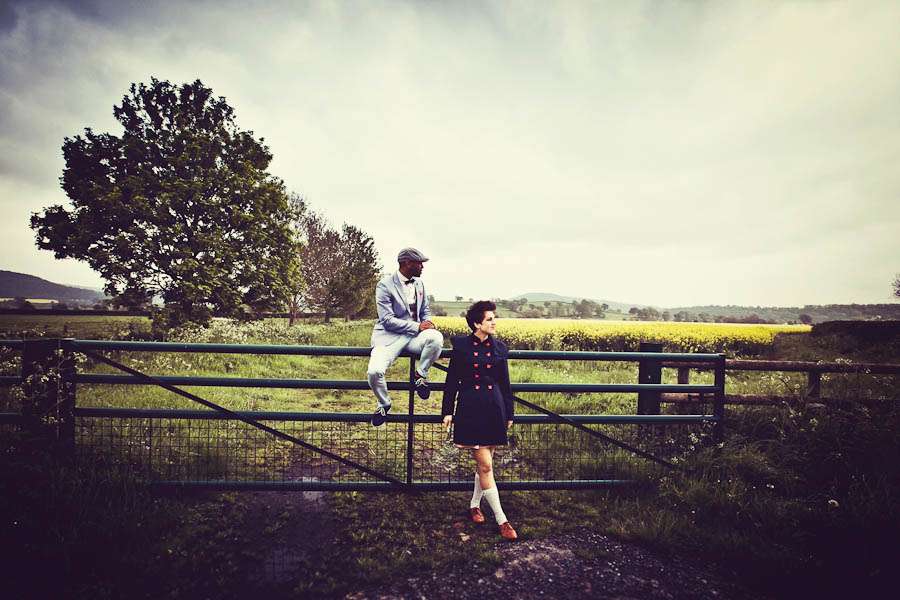 SO AWESOME! Aren't these guys the best? They are actually wedding photographers themselves, so they had friends who work with them to shoot the day and then they edited the photos afterwards. Thank you so much to you both for sharing. Let's be friends OK?
Supporting Cast:
Photography Credit: Kama Catch Me Photography
Ceremony Venue: Claerwen Reservoir Dam in Rhayadar, Wales
Reception Venue: Mayview Farm, Ballingham, Hereford dave@mayviewfarm.co.uk
Bride's Dress: Various
Bride's Shoes: Topshop
Bride's Jewellery: Amazon
Groom's Outfit: Various
Bridesmaid's Dresses: Vintage
Cake: Made by a friend irissteyn@tiscali.co.uk
Flowers: DIY
DJ: DIY
Stationery: DIY
Caterers: DIY