After a romantic proposal that involved a treasure hunt around London, culminating in the bride being led to Greenwich Park where her groom proposed with a hamper of treats under the Royal Observatory, Becci & David were married at Wise Wedding Venue, a woodland hideaway in Kent.
"We sat down together at the very beginning and made a list of what we both imagined the day would feel and look like", explained Becci. "We figured out what was actually important to us and what was just expected of us because it was a wedding. All we wanted was to be married in front of the people we loved and have a good old knees up, the rest was going to be a bonus. So we picked some traditional elements and some mixed them around until it felt like a day we'd like to go to. One of the best parts about planning the wedding was spending more time with our friends and family and getting to know them in new ways."
"A big part of the decisions we made was our fab guests; we wanted them to have a relaxed, fulfilled day. We had lots of children we wanted to be a part of it and a few mums to be, so picked somewhere that felt would be comfortable for lots of different types of people."
"I guess we hoped it would be a bit of a woodland wonderland adventure. When we visited the venue for the first time we knew instantly it was where we wanted to do it and that we were prepared to risk an outdoor wedding in the UK! Sam Wise, the owner of the venue has built two beautiful tree houses on the site, one for guests to explore and one for the honeymoon couple. As you wonder through the woods you find and host of swinging furniture and magical lighting brings the woods to life at night. Seeing the amazing colours and lights of the wood informed our colour choices. We admire and respect great craft and love the feeling of making something from scratch so wanted a handmade feel to the day."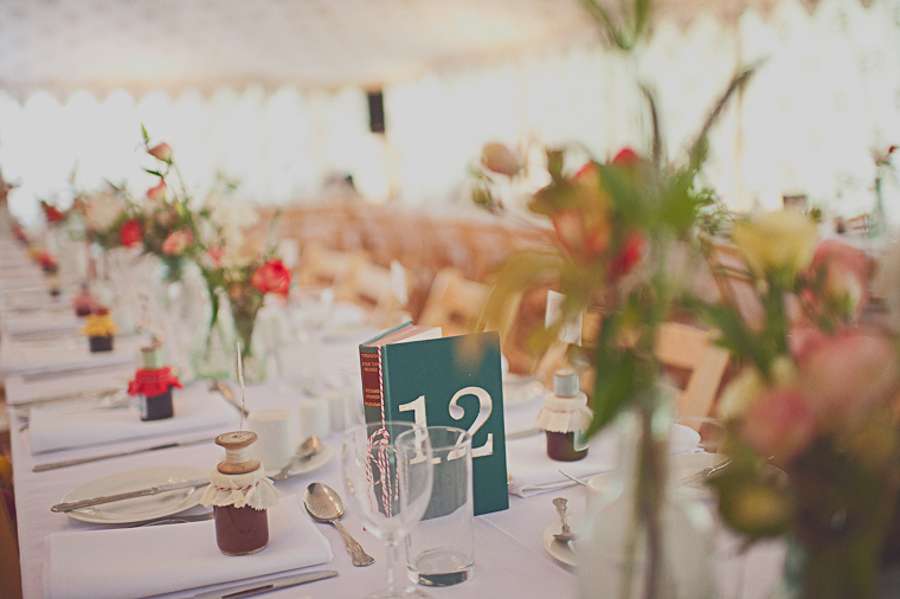 The venue was beautiful on its own, but the couple also had some handmade touches that they added themselves. "For our flower displays on the tables we bought a small selection of antique green glass from a vintage shop but to keep costs down we then stained regular jam jars to match", Becci continued  "It's really easy to do, you mix one part turquoise glass paint with 6 parts white spirit and using a good quality large paint brush, paint all over the outside of the jars. Leave to dry upside down for 24 hours then bake them for 40 mins at 220 degrees, this will seal the stain and prevent the colour from bleeding. When mixed in with the antique glass with our flowers in they looked beautiful. It also meant we could give them away to our guests the morning after so the flowers, which were in full bloom, didn't go to waste."
"We made all the bunting, place names, flower arrangements, cake stands, signs, treasure hunt for the children and table numbers ourselves. We also designed all our own wedding stationery."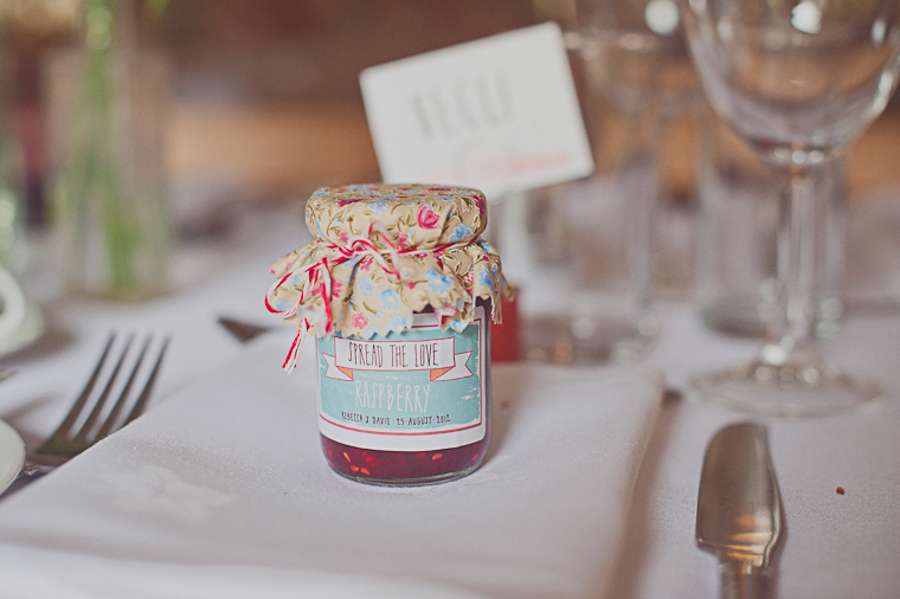 Becci wore a vintage dress from Elizabeth Avey and BHLDN shoes. Her bridesmaids were given free reign on their outfits, each picking their own dress from the high street. "We chose dresses that suited each bridesmaid but also looked beautiful when they came together", Becci explained.
"The day was jam packed full of happy memories, but there was one special moment when we'd just finished our vows where the sunlight started to burst through the trees", she concluded. "It had showered David and all our amazing family and friends in a dappled blanket of warm late summer sun. As I looked around at them all gathered in the woods, just as we had imagined it, I realised quite how lucky I was."
Utterly beautiful. Thank you to Becci & David and their wedding photographer Ellie Gillard for sharing with us today.
Supporting Cast
Photography Credit: Ellie Gillard Photography
Venue: Wise Wedding Venue
Bride's Dress: Elizabeth Avey 
Bride's Shoes: BHLDN
Groom's Outfit: Moss Bros Bespoke
Bridesmaid's Dresses: Various
Cake: DIY
Flowers: DIY
Hair: Belle of the Ball
DJ: Wedding Smashers
Catering: Greer Catering & The Cheese Board