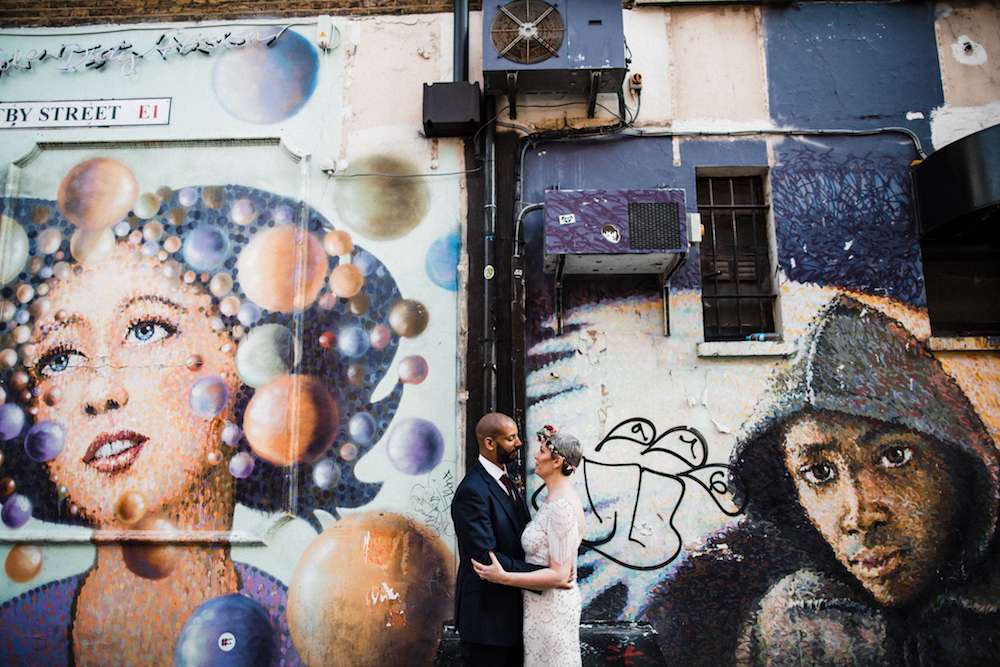 Sarah and Shaun's boho movie-inspired wedding is incredible, for many reasons. Their venue, Rich Mix Cinema, looked like SO MUCH FUN,  and their styling was sensational (any couple who gets married in front of Leonardo DiCaprio's face on a screen is a winner in my eyes). But above the awesome alternative styling and the delicious photos from faves Through The Woods We Ran, Sarah and Shaun's wedding is amazing because of their story and their planning approach in the face of major adversity:
"Shaun and I got engaged last April, and began planning our wedding immediately, setting the date, buying the dress etc," Sarah said. "However, in June I was diagnosed with breast cancer. After the initial shock had subsided, my response to the doctor was 'I am getting married in nine months so let's get this cracking!' Anyway, over the next few months I underwent a mastectomy, chemotherapy and radiotherapy. My treatment finished on 23rd February 2018, one month to the day before our wedding!" Although she was originally going to wear wig, Sarah decided against it – and we totally agree that she absolutely rocked being, as she described herself, a "cancer bride".
With this in mind, Sarah and Shaun chose 'love conquers all' as their wedding inspiration, as it was much more than a wedding – it was a celebration of life, and of them. "Throughout it all, we were both determined to have our wedding day and make it FUN! It involved a bit of everything we like – movies, Ibiza, Gatsby, boho and rock – I didn't want to have a theme other than us."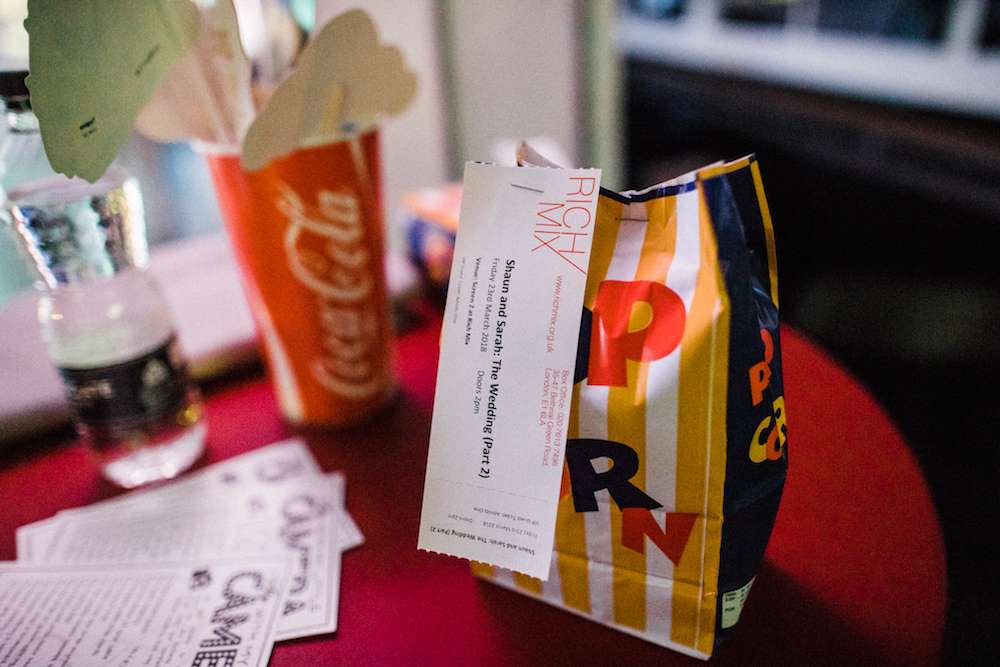 Their ceremony was held at Rich Mix Cinema in Shoreditch. "The whole cinematic experience was out of this world!" Sarah continued. "Although other weddings in cinemas that look more like theatres are beautiful, we preferred the intimacy of Rich Mix. The interior of the screening room had beautiful shades of blues and purples, and we had a moon and stars backdrop on the screen, which looked incredible. We also liked the fact that at Rich Mix, I got to walk down an aisle in the middle of guests, as opposed to down the side."
The cinema inspired loads of genius and fun finishing touches. "Guests were greeted with popcorn and a ticket stub, and created our own billboard posters from famous films by superimposing our faces. We also put together a short film to screen for our guests before the actual ceremony started, using our own version of the Star Wars opening crawl – Shaun was happy! We also replaced 'I do' in our vows with 'always' to add a little touch of Harry Potter magic."
After the ceremony – which finished with the end scene of The Great Gatsby on screen – they made their way to the foyer to celebrate with pizzas and a handmade Pimp Your Prosecco bar. Sarah's beautiful Eliza Jane Howell dress was Gatsbyesque too, with vintage-inspired beading. She had bought it before her diagnosis, but the lovely EJH team sewed a mastectomy bra into it for her.
Sarah and Shaun then spent some time exploring all the vibrant street art in Shoreditch before making their way to Gilwell Park for their reception. They chose Gilwell Park as Sarah's late mother used to work there, and has a memorial bench on site. "It was decorated with flowers and candles for the reception making it extra special."
"We didn't have a traditional reception in the sense that the day guests arrived at Gilwell Park for 6pm, the same time as the evening guests. This meant our evening guests heard the speeches and ate our Caribbean buffet at the same time as day guests – a few of them mentioned how nice they found this and felt much more included." Then came the dancing; DJ Winston Gordon was one of Sarah's favourites from her 20s, so he just kept the good 00s garage tunes coming, and they danced non-stop. Shaun's aunt also made some jerk chicken and patties for a late night snack – in Sarah's words, "We wanted to make sure our guests were well fed and watered. There is NOTHING worse than being hungry at a wedding!"
Working together to create something unique and magical and knowing that there was something positive to focus on during treatment was Sarah's favourite part of wedding planning, and if that's not something beautiful to end on, I don't know what is. Congratulations to Sarah and Shaun!