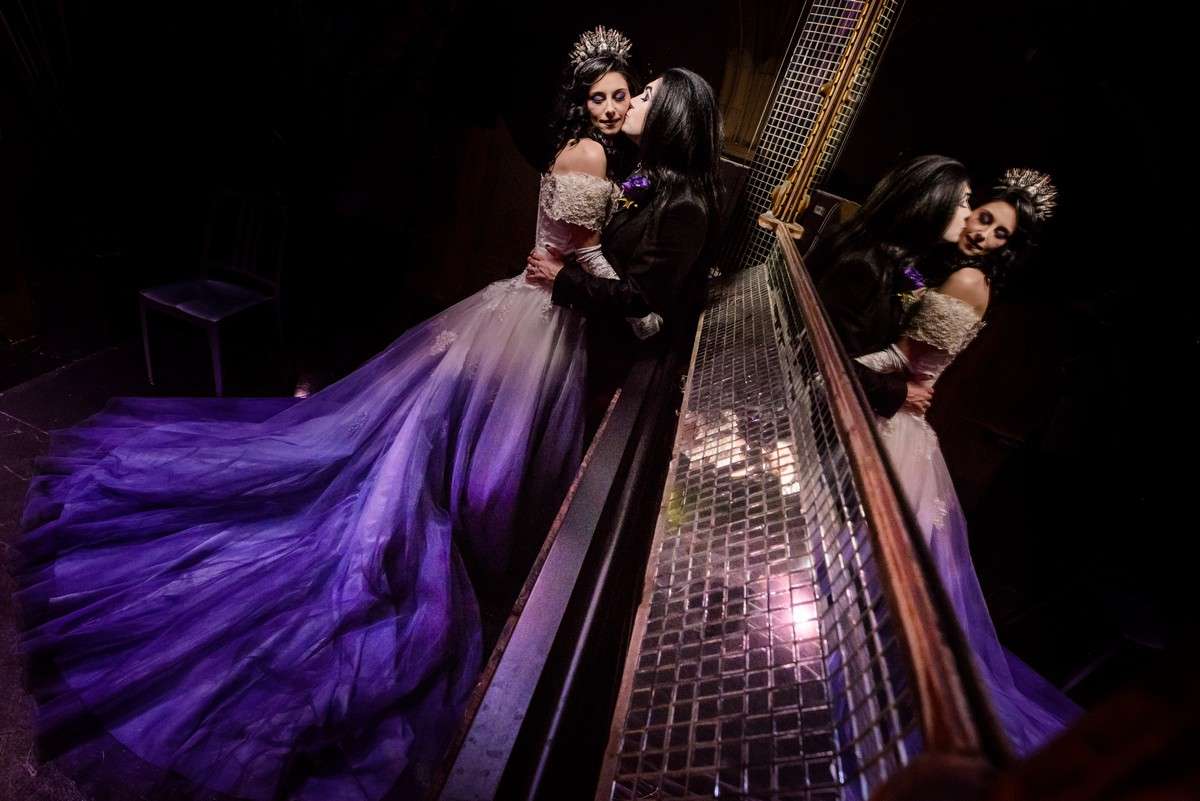 Catherine met Thomas at an alternative music festival called DV8 in York. Like something out of a fairy tale, Thomas, who's band were playing, spotted Catherine across a crowded room while he was playing from the stage. After his set he went over to talk to her. Although they didn't see each other again for 12 months, they reconnected exactly a year later at the same festival and started their relationship.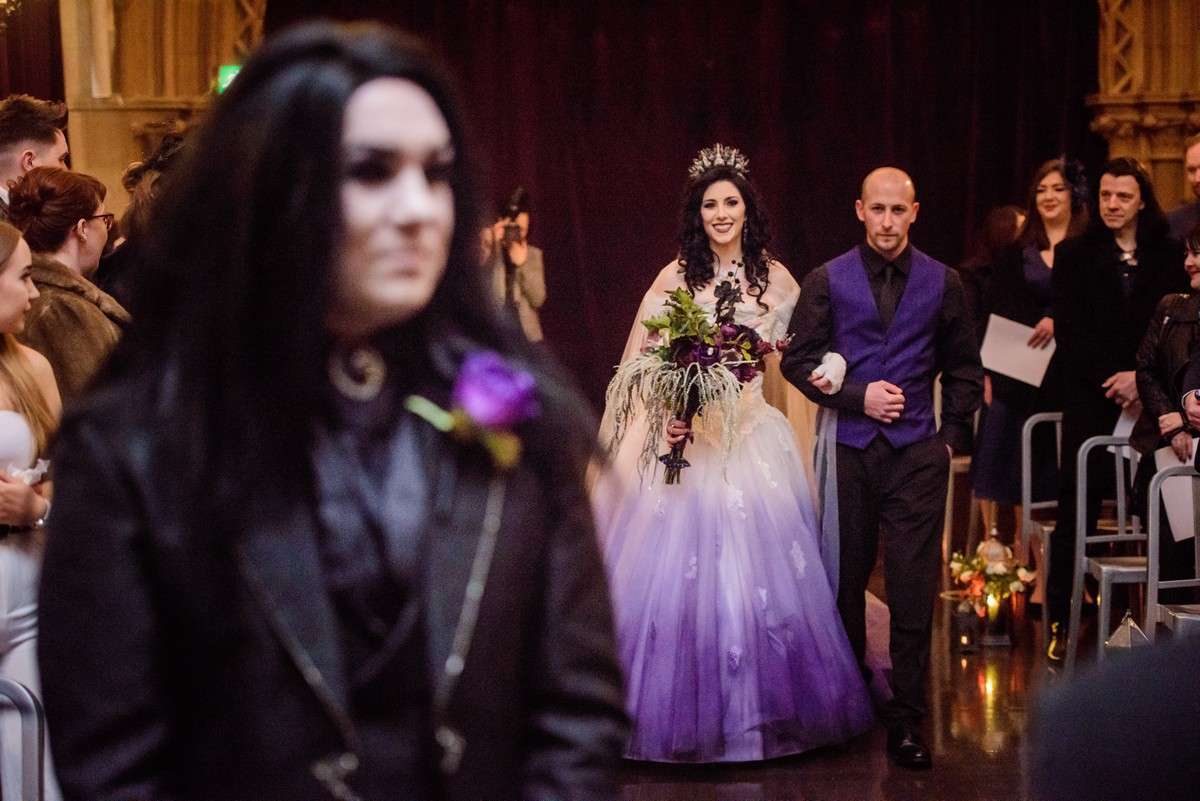 They were married in April at Ghillie Dhu, a traditional Scottish bar and restaurant in Edinburgh. The dramatic vaulted Georgian hall suited their gothic romance theme perfectly. "Our wedding theme was gothic romance meets enchanted garden", Catherine explained. "We both love gothic and dark romance books and film and so we wanted to draw inspiration from our favourites such as The Crow, The Addams Family, Edward Scissorhands, Bram Stoker's Dracula, Penny Dreadful and Edgar Allen Poe. We used music and decor throughout the day to incorporate this."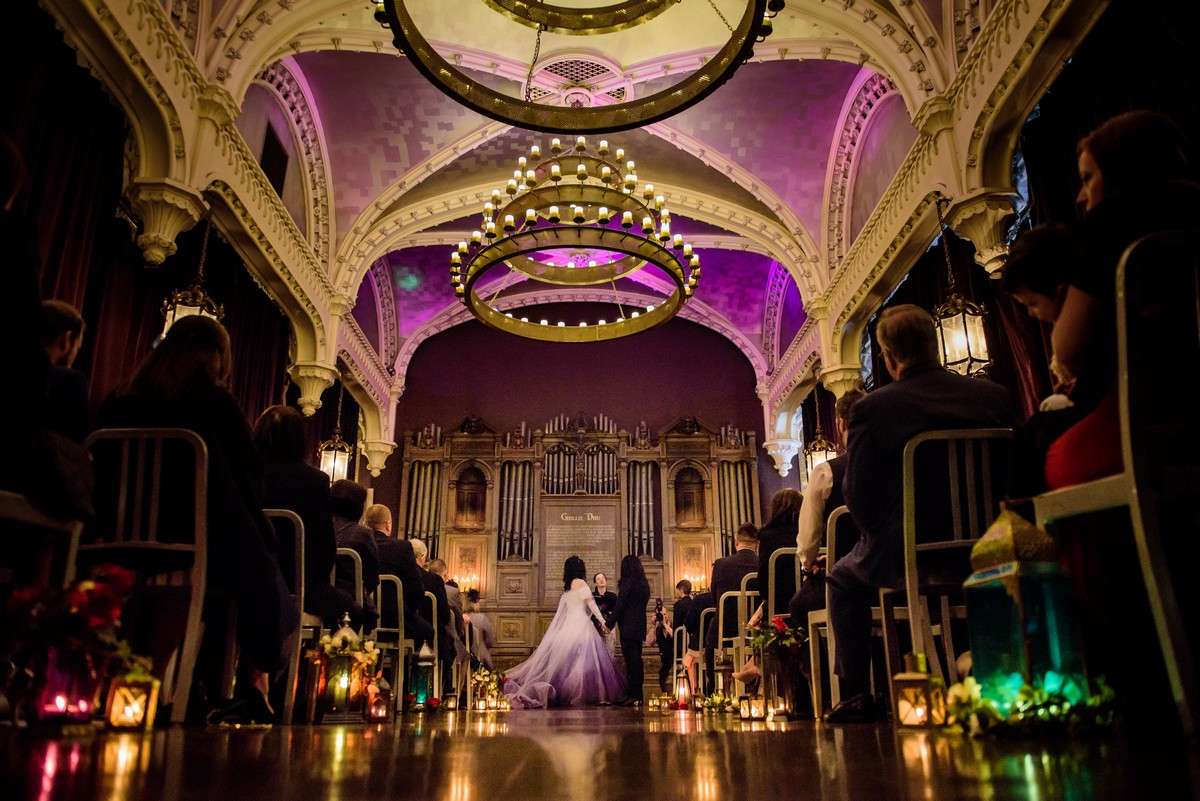 Although they live in York they opted for a Scottish wedding as the bride was born there and still has family nearby. It also meant they could have a humanist ceremony which aren't legal in England. "We fell in love with the venue but we didn't really realise how stressful the logistics would be with packing our decor and transporting it up the country with our two kids in tow!" she continued.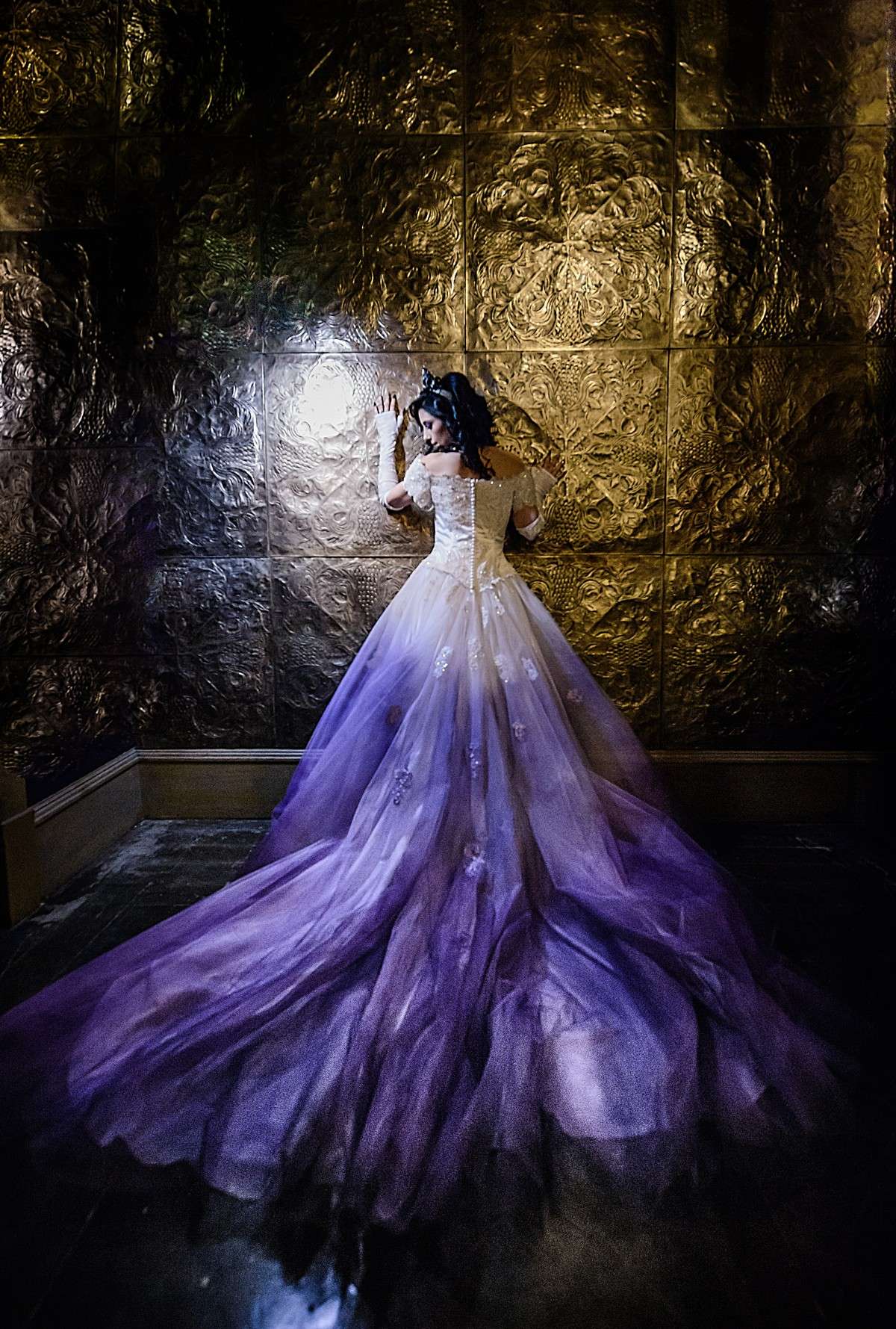 Being able to have the wedding they really wanted made up for the extra stress though! "We are not religious and wanted something more personal and no restrictions so a humanist ceremony was right for us. We wrote our own vows and kept them a secret from each other until the day. We included our immediate family in the ceremony by sharing a glug of whisky from a traditional Scottish drinking vessel called a Quaich. We had a hand-binding whereby we had our children bind our hands together with ribbon of their choosing to represent our love and commitment to one another. Thomas' family are from the Isle of Man so we had our niece sing a Manx folk love song in the Manx gaelic language as we signed the register. Our mothers did a joint reading that was made up of different writings from Carl Sagan, Neil De Grasse and Albert Einstein."
The bride bought her Alfred Angelo dress from a charity shop for just £60 and had it hand-painted by Bexbrides. "I made my bouquet, the buttonholes and the mum's corsages", she said. "My boots were Joe Brown, my headpiece was Hysteria Machine and my jewellery came from Darkling Beloved." In the evening she changed into a second dress by Lace Marry and shoes from the Gothic Shoe Company.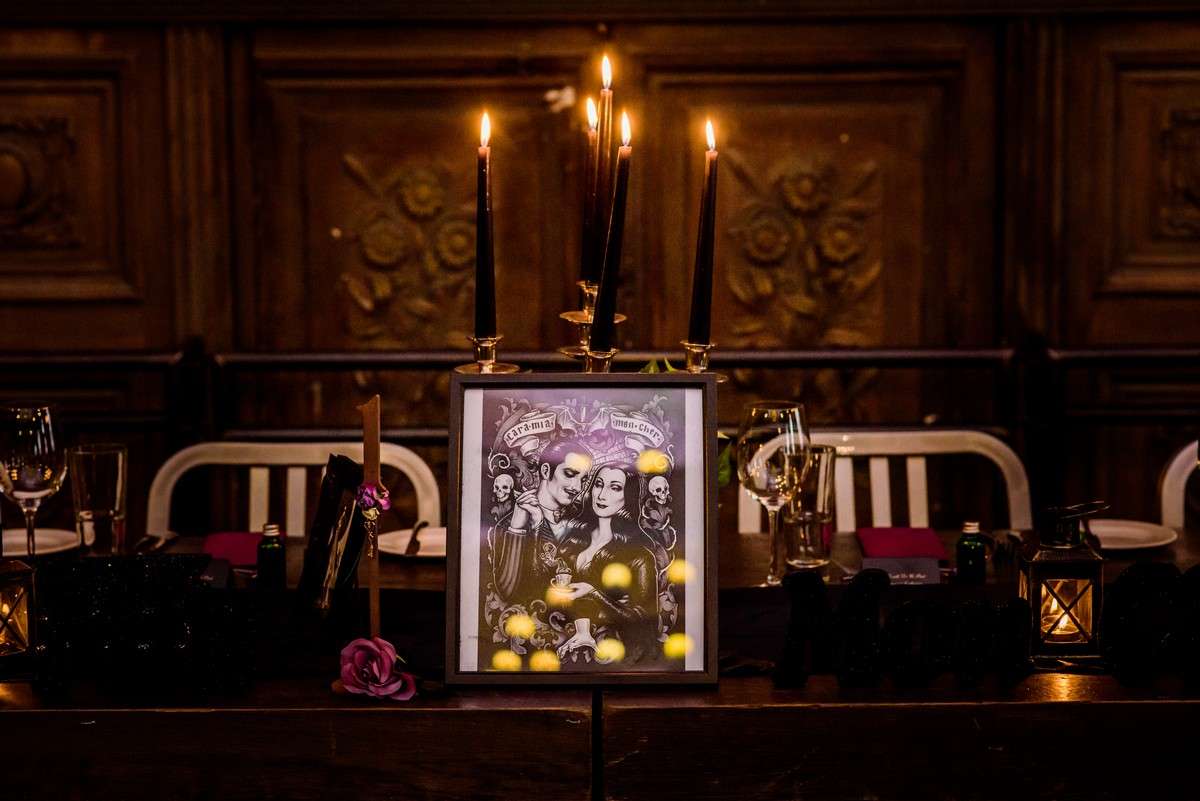 They also made plenty of homemade decor to gothic up the reception space. "For the sweetie buffet I made some jars to look Victorianesque by gluing crystal vases to candlesticks and labelling them with apothecary labels. I stuck some Monster High doll heads and flowers onto our table plan mirror to give it that enchanted garden/magic mirror feel. I painted over some hardback books and re-titled them with quotes from The Addams Family to use as centrepieces. The vows that we kept secret were my favourite part of the wedding but also seeing all my ideas on display. It all looked better than I imagined thanks to the venue's wedding coordinator who put it all together for us."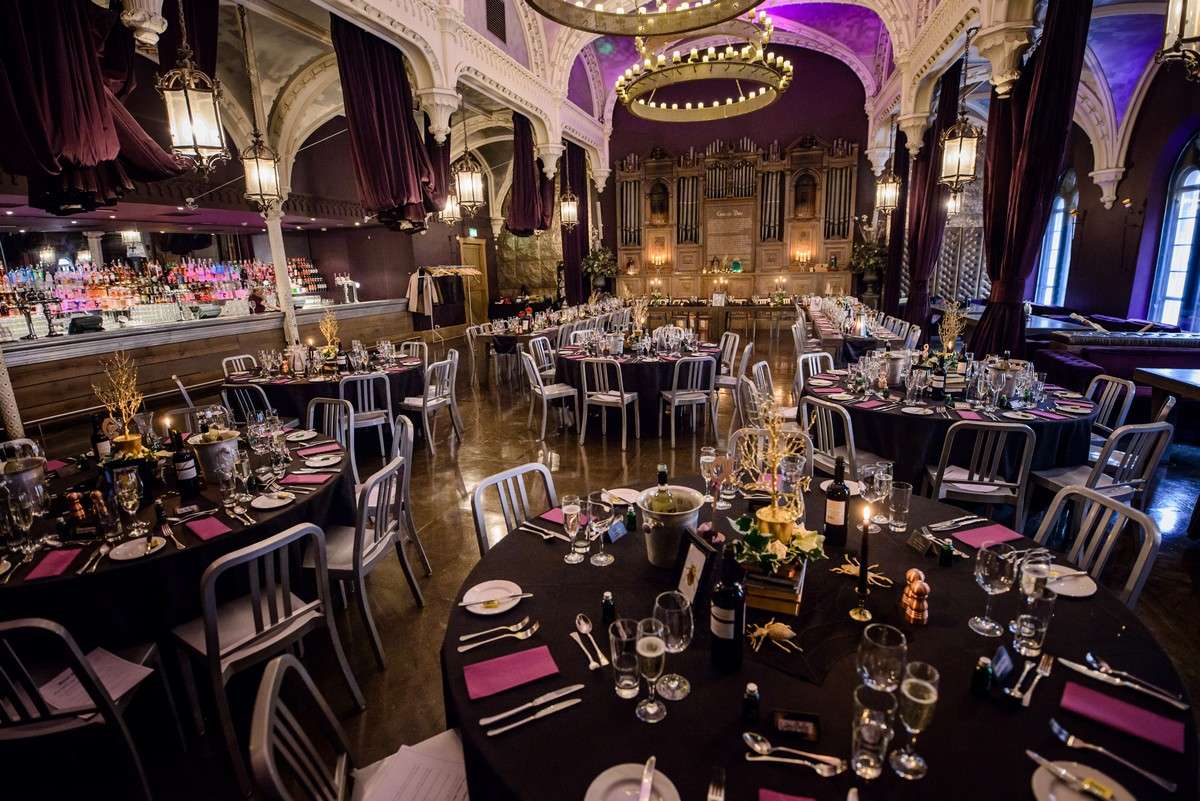 The only things the couple would do differently if they were to get married again would be to spend less on the evening buffet ("we had so much food and a most of it went to waste") and to have drunk more water! "I would have had my bridesmaids give me glasses of water periodically as I kept having alcohol put in my hand and felt worse for wear in the wee hours of the morning!" Catherine laughed. "My other advice would be that you don't have to have the usual people doing speeches. Ask the people closest to you and who know you best of all. I asked my brother to do one and his speech was beautiful and heartfelt, it reduced everyone to tears."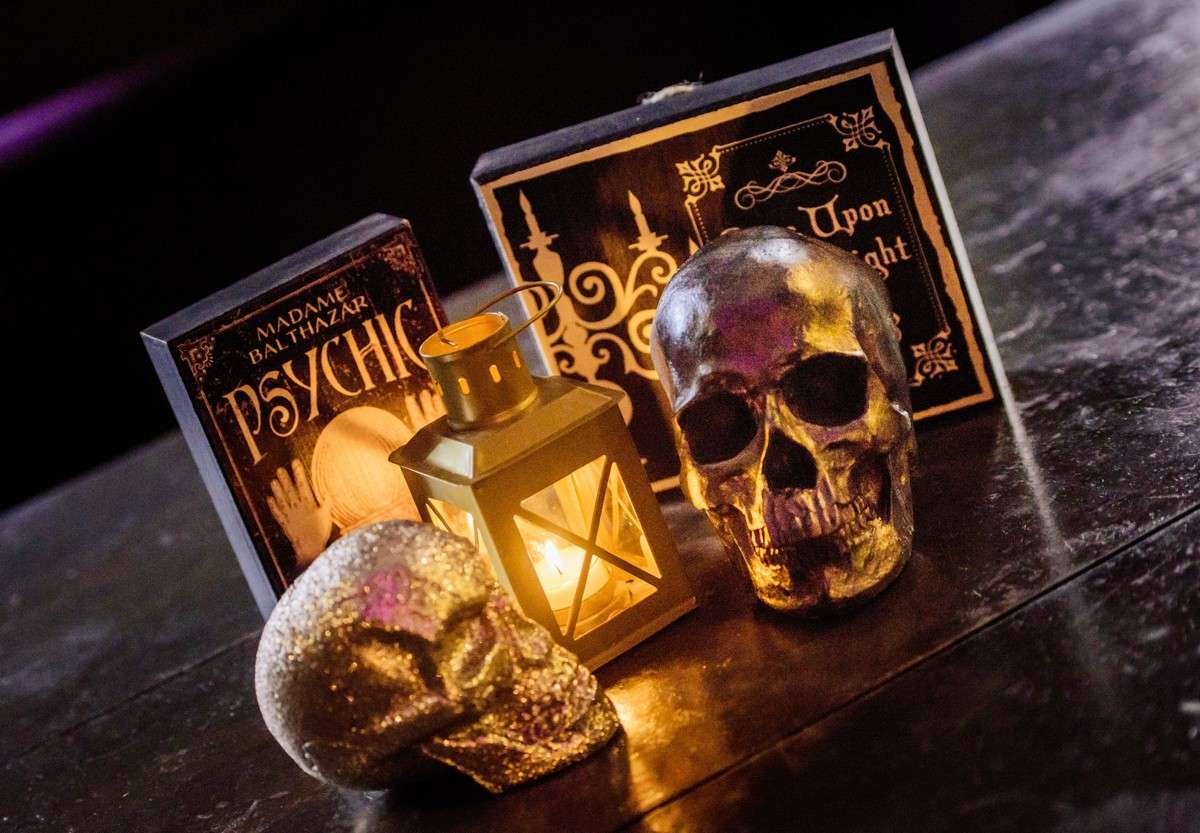 "Finally, if you are like my husband and have dreamt of your wedding day since you were a child and have an image of perfection in your head, you need to let that go because a lot of it is beyond your control. You do not have to run the show on the day. You will float about in a surreal dream state while everything carries on around you and just trust that it'll all happen as it's intended to. Let the groom's freak flag fly too! Thomas' outfit ended up costing way more than mine! If he wants to be all extra, let him crack on with it. Thomas wore more make up than me, had bigger hair than me, wore a massive skull chest piece and light up shoes on the dance floor. I wouldn't have expected anything less."