Gemma's 'Suits and Sequins' summary of her wedding to Guy is very apt, as in true Sinatra style they did things their way. Their Peckham wedding, shot by megababe Devlin Photos, was emotional and incredible from start to finish, from that sparkly green wedding dress (swoon) to the 'Silly Old Beans' sign they were married under, and the story behind their couples' amazing portraits…
"There wasn't a straight up inspiration for the wedding," explains Gemma, who works in events as a day job. "With any event I plan I can find that really restrictive, and the beauty of a wedding is that you don't have to have those boundaries. It can just be about you two, even if nobody else 'gets it'. Having said that, we did ask everyone to dress in suits and sequins, and it was amazing how everyone turned up – the best dressed bunch of wonderful people."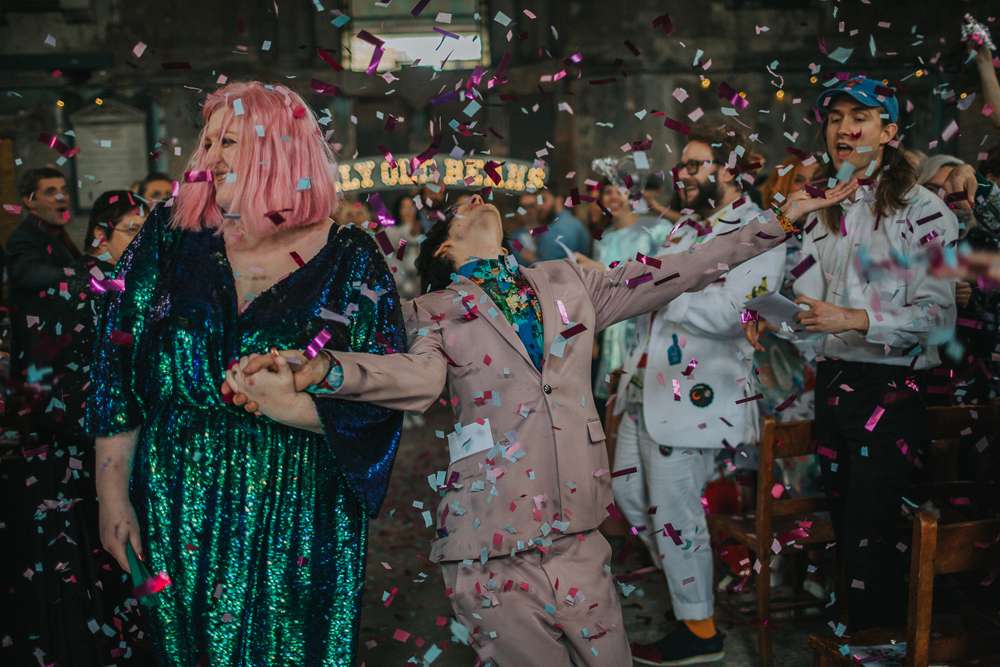 Speaking of sequins, Gemma looked every inch the glittery goddess in a spangly green number. "My dress was made by my bridesmaid, Nadia. I found the whole focus on what I was wearing quite overwhelming – it seemed to be everyone's first question! Even though I left making it until a few weeks before the wedding, we had been searching for the perfect fabric for a few months. I wanted the perfect deep green so I felt like a Supreme. The dress shape was taken from a £12 New Look dress I loved the shape of on myself, which we then adapted."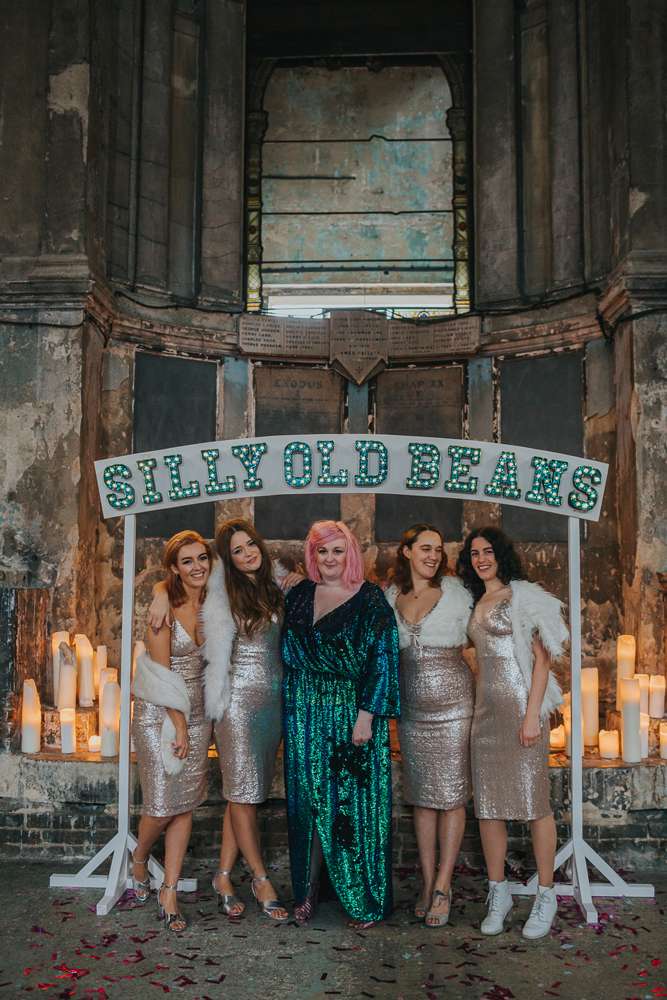 Her bridesmaids were also decked in sequins, wearing rose gold midi-length dresses from ASOS. "Originally we wanted them in white – think the Solange wedding crew, but nothing quite worked. I took a chance on this dress and all of the girls just looked great in them – they then put their own spin on it with white faux fur and their own shoes." They totally rocked them down the aisle, especially after Gemma's bombshell the night before that she wanted everyone to dance or strut their way down!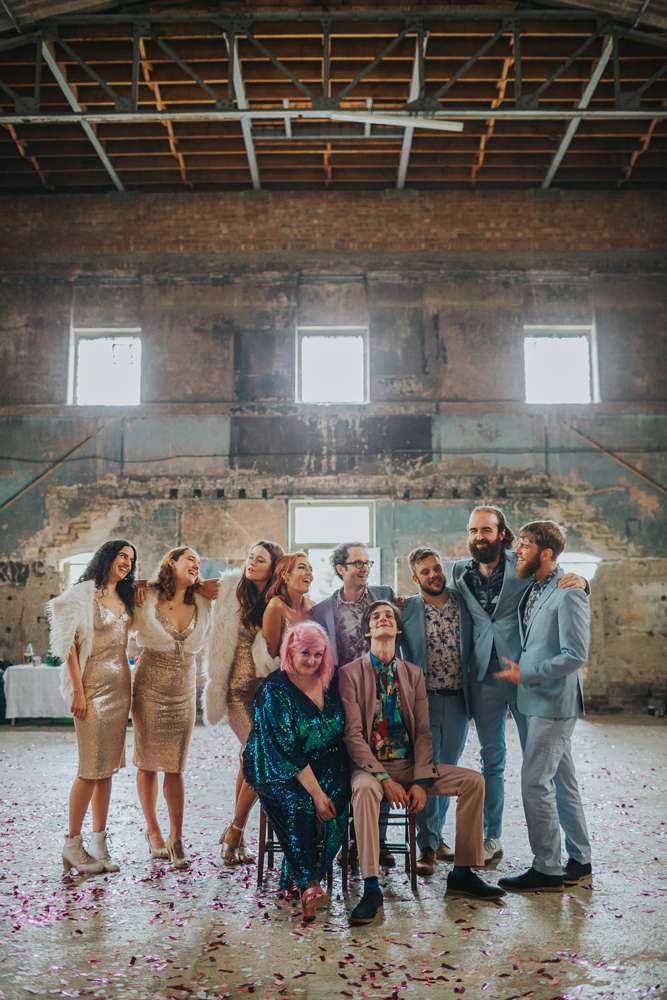 Guy's shirt is also a bit special, from the KENZO X Disney collaboration. "I think it was the most expensive clothing item of the wedding but I thought it was really important Guy had something special enough it would remain in his wardrobe forever, like my dress will," Gemma said.
The bride went to another long-term friend (and genius), Katie Knox at Butcher's Salon, for her milkshake pink hair. "Nadia had her hair done at the same time, and we basically moved into the salon for the day. It was the most fun and girly thing I did for the wedding. I got my perfect milkshake pink (and believe me I'm fussy about my pinks) and Nadia got her perfect rose gold – magic!"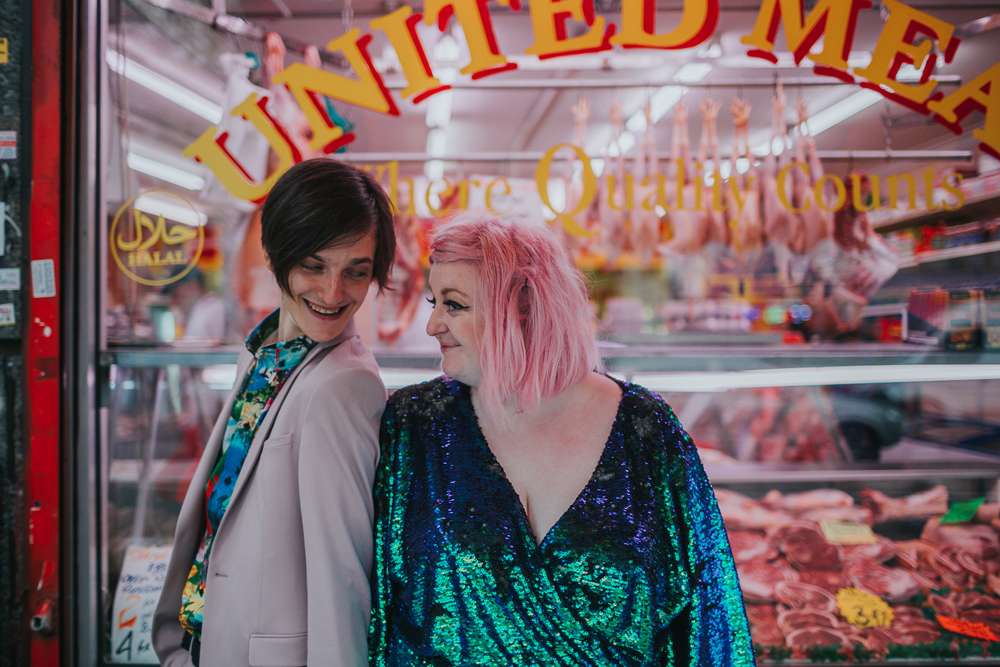 In lieu of flowers, Gemma wanted a really synthetic look instead, opting for glitter, lights and sequins. She used plastic instead of plants, describing it as a 'Vegas approach', which ran from the start. The invites went out in mirror gold envelopes filled with sequins, and the couple hand-cut their confetti to get the perfect tones for the awesome confetti shot.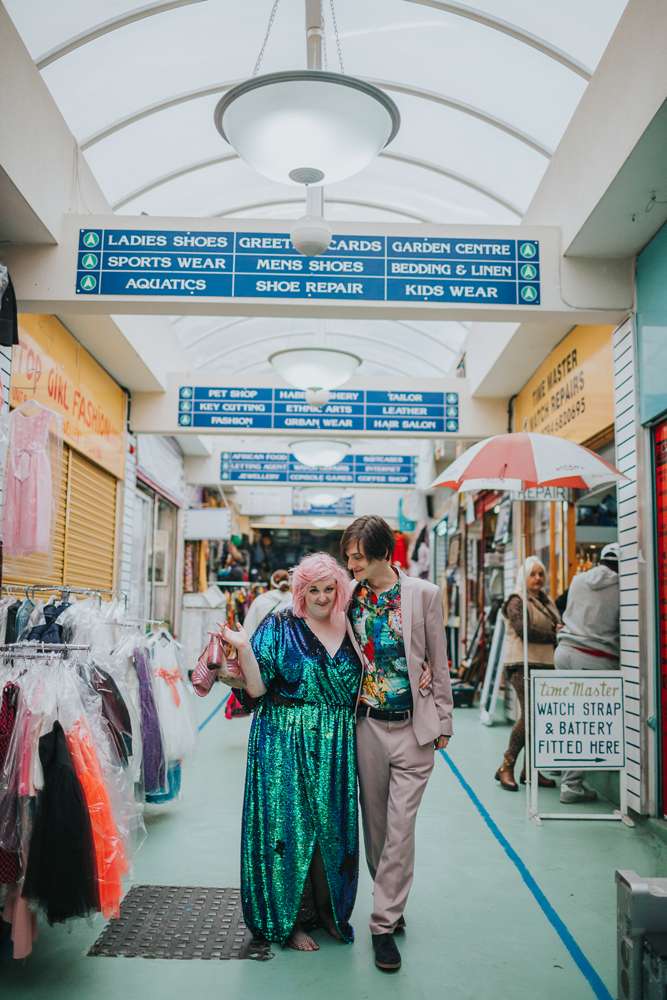 This Vegas approach continued to the decor, which Gemma wanted to make as much of as possible. "I'm training myself to sign-write and lots of time walking around together as a couple is punctuated by diversions for signs I've always wanted to snap. I knew that would play a part in the look." Their pretty unique sign wording is courtesy of their engagement. "We got engaged at Festival No. 6, which was gorgeous, but we weren't that sober! We didn't really have a 'family friendly' engagement story until we got back to the hotel. Guy is a prolific sleeptalker but what he was saying that night was completely new, including 'What's the worst that can happen? She's such a safe pair of hands' and 'We are such silly old beans, ah, silly old beans'. I thought this was super cute and so the sign look for the decorations then all became based on things Guy said in his sleep!"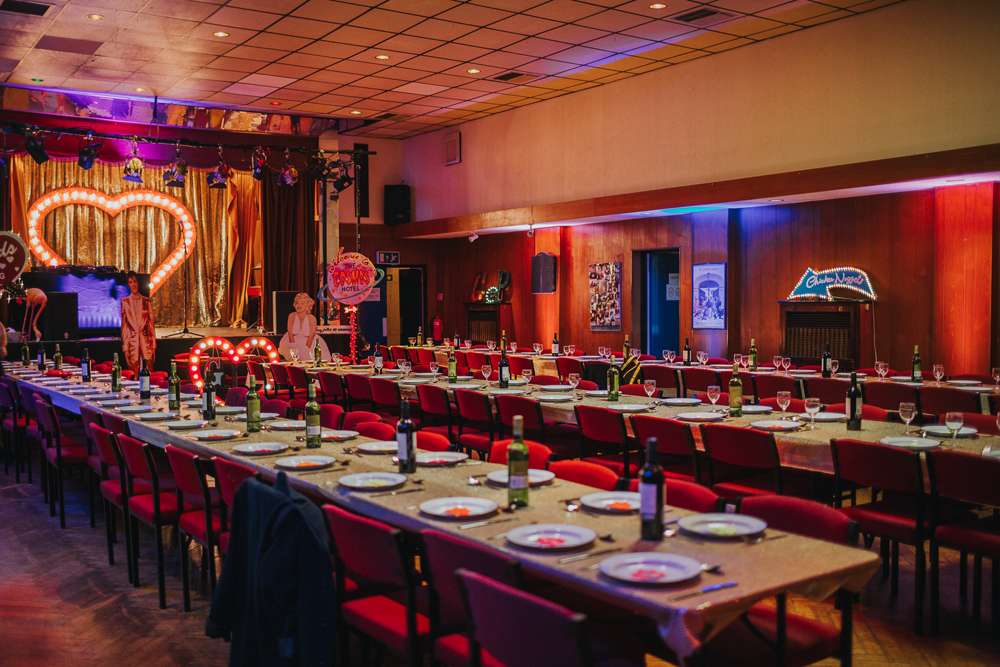 The reception, held at the Peckham Liberal Club (for only £400 for whole weekend hire!) was decked out in light bulbs and sequins. It featured Elvis and Marilyn Monroe in cardboard cut-out format, and the Pearly King of Peckham giving them a blessing in real-life form, as organised by Gemma's bridesbabes as a surprise. Old Dirty Brasstards opened the reception with a brass version of Crazy In Love, and the rest is wonderful, tipsy history.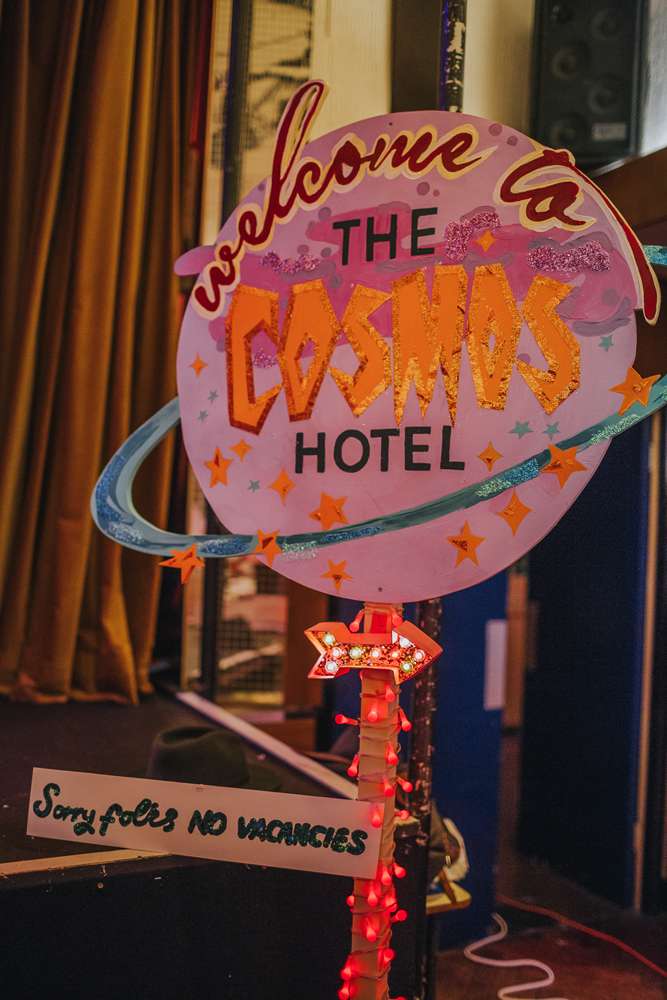 With an early 11am ceremony at the Asylum Chapel in Peckham, there were breakfast canapés from their friend Charlton Nicoll with apple mimosas and Bloody Marys, and the lunch comprised of big hearty sharing salads that were all vegan. "We had around 15 vegan guests and hate the idea they would get less/ fed late/ asked to hold up their hand/ accidentally served meat etc so we thought this was best. There was also a slow cooked pork dish but everything else for the meal was vegan."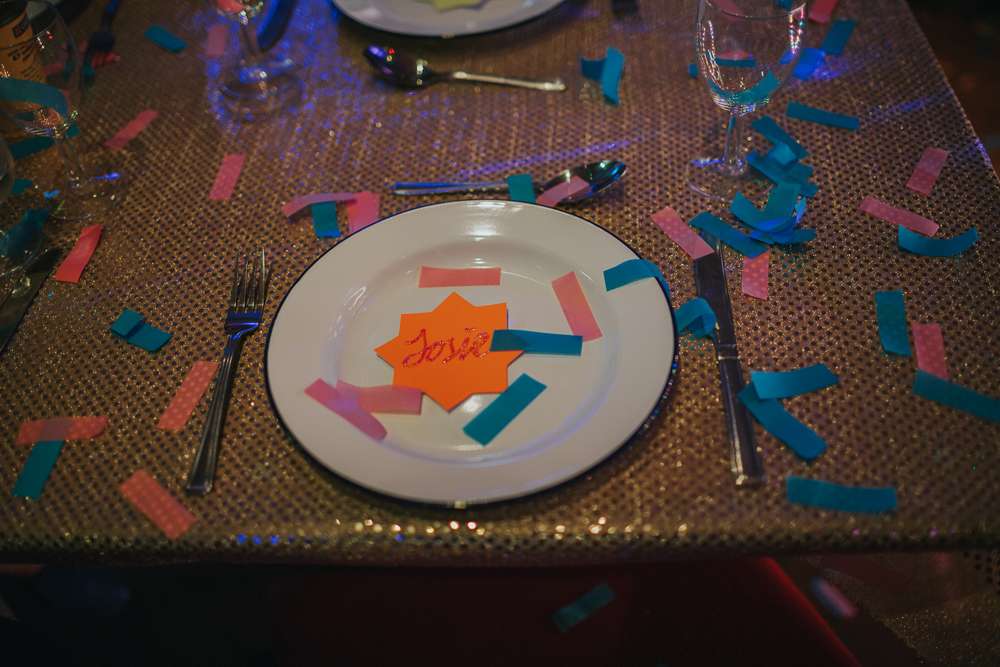 Gemma and Guy ate this at a sweetheart's table by themselves. "It was so precious to have that time to hold hands/ freak out/ look around the room and silently scream at the super awesome life we had started to build together with the help of our pals and families!" They left out the tradition of cake, and instead opted for towers of salt beef bagels and cheese after their band instead.
There was also a break between the two venues in order for guests to be able to get a pint or slowly wander on foot. "I was conscious that weddings can feel claustrophobic and overwhelming so there was lots of little nooks and crannies in both venues to get away," Gemma explained. This also gave them the opportunity to take some couples' portraits between the ceremony and the reception, which was super important to them.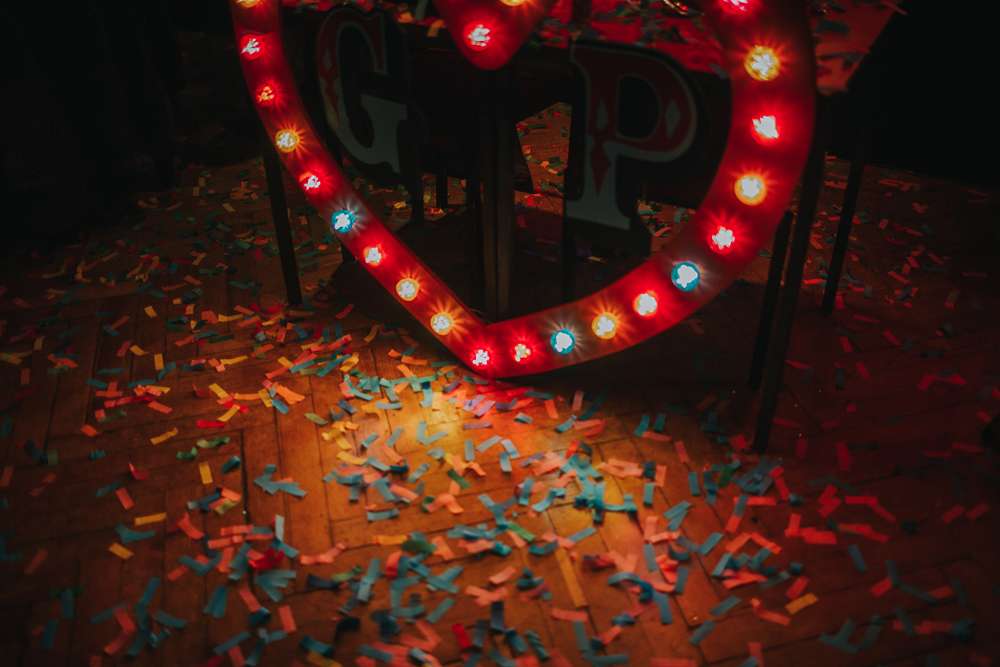 "I had been off work with bad depression the six months prior to the wedding. Looking back it was mad that we managed the day at all but it was such a joyous occasion, and luckily we got through it and had a blast. A huge part of surviving that was Lisa's calm on this shoot. I didn't want to be in front of a camera and my anxiety was riding pretty high in the midst of the big love feels (a pretty heady combo!) Now that I'm out the other side I am SO GLAD we pushed through. We got to show off some of the beautiful corners of our local high street, which of course includes lots of bright signage and an eclectic mix of shops. It being just us in the middle of day was very good for nerves and processing how awesome the day was, and I can't imagine a better person than Lisa to have got us through that!"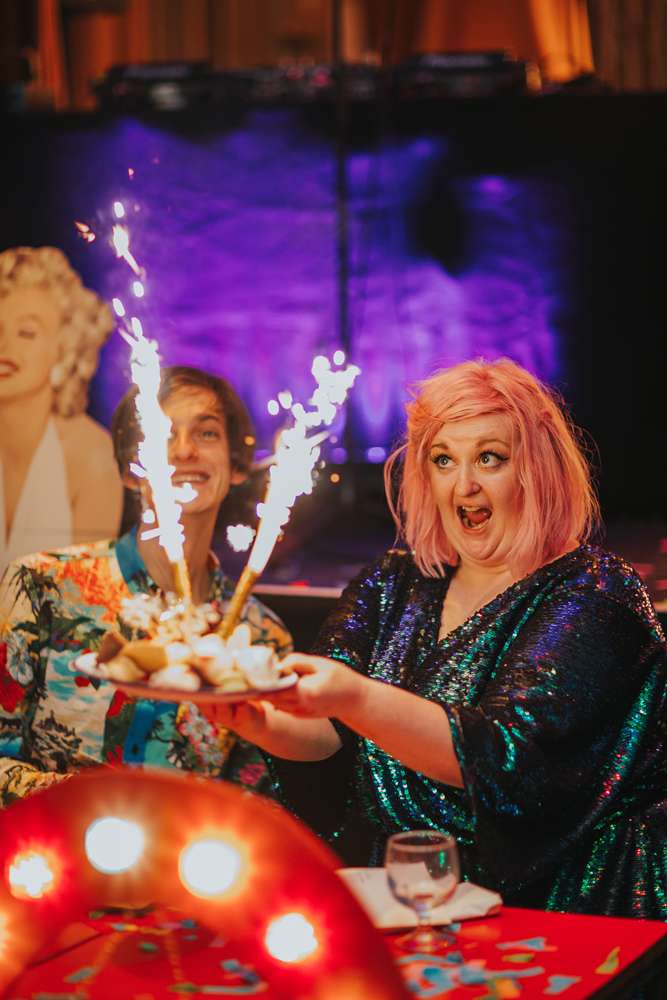 Most importantly, Gemma's advice for future wedding planning couples is, "To realise that life is still going on. It stunted me at first to accept that our wedding was happening in the middle of some depression and life changes, but in the end it was probably what gave us the strength to cut out bits that didn't feel right. Just do what you can what's comfortable for you. It is an important day, but remember it's about the rest of your time together, so only take on what's healthy and realistic. You have many more opportunities for celebration in your life together!"