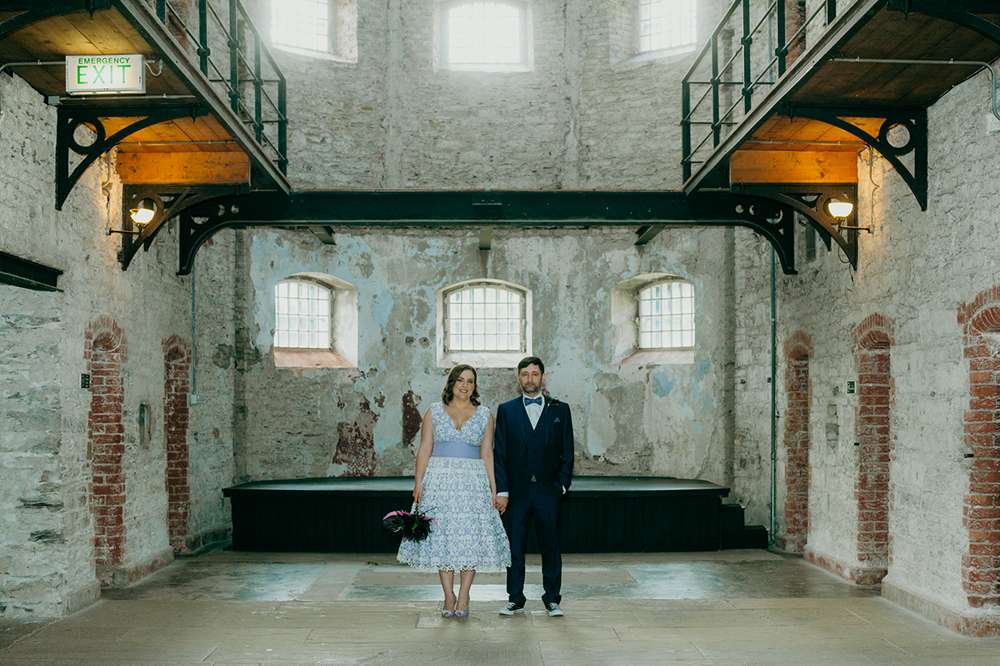 When a bride says she has a thing for skulls, you know she means it when they're right there in the design of her wedding dress! And when you hear the couple married in a jail, you imagine it to be a dark and moody setting. Not a bit of it! This is one beautifully light and airy wedding with just the right amount of edge.
Sam and Leo met through a roller derby. "Leo was a referee and I was a skater for Cork City Firebirds. Leo had joined the club about a year before I had. Even though we had never met before then, we quickly realised that we had actually moved in the same circles for many years, going to gigs and hanging out in the same bars, but our paths never crossed until that point."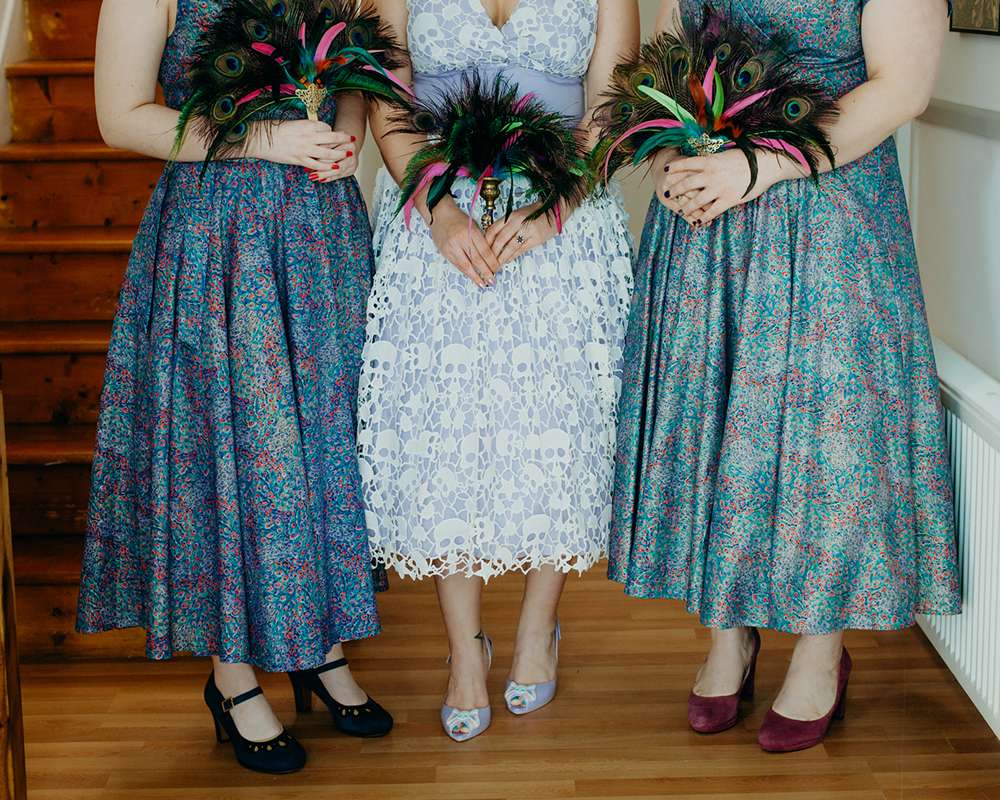 As with all good weddings, the day, held in the West Wing of Cork City Gaol, with the reception following at Jacobs on the Mall, mixed together elements that represent the couple, both together and as individuals. "We both have a love for anything alternative. I have a thing for skulls; my engagement ring has skulls on it. Leo is a huge heavy metal fan, so we tied the two of those things together and had a lot of colour and skulls for décor. The table names came from popular gig venues both local and abroad." And it also happened precisely the way they wanted it to, with a break from tradition, "We shied away from the typical Irish wedding of the church and hotel and did our own thing. We had a non-religious ceremony in an historical venue and held our reception in a restaurant, which we took over for the day. We had complete control from beginning to end."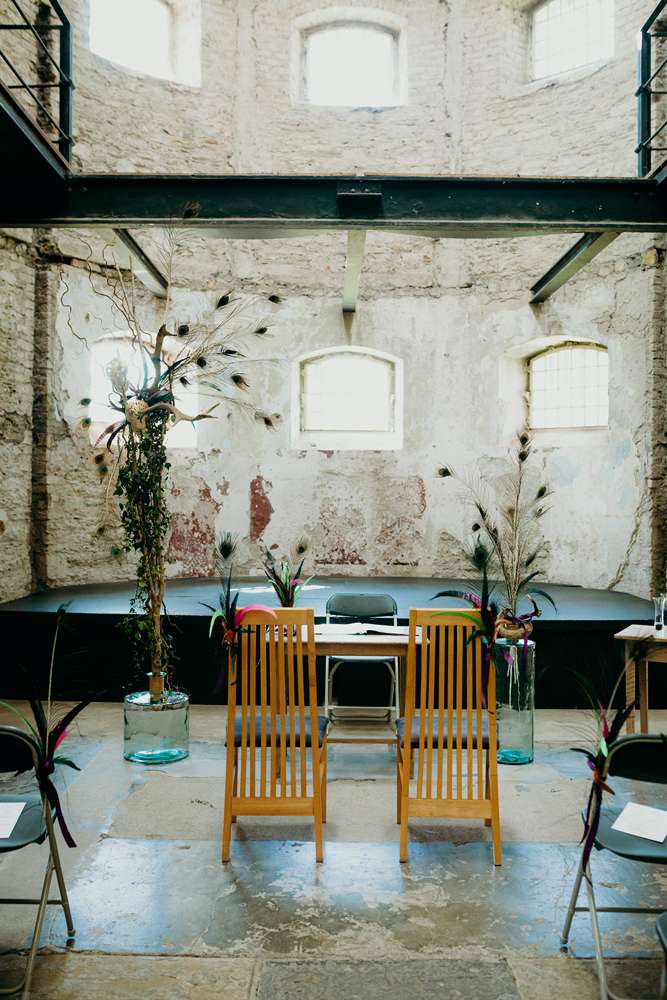 Sam said, "It's pretty difficult to get married legally, outside of a church, on a weekend day in Ireland. We decided to have a Humanist ceremony, which takes the religion out of it. It focuses on two individuals coming together without a supernatural or divine element to it. The venue, which is a former prison that opened in 1824, is now open to the public as a museum. I liked the connotations that went with a jail – locked up for life, ball and chain, etc. We don't take ourselves too seriously, and this reflected our sense of humour perfectly. We also mixed glass pieces together to symbolise our coming together and the unifying of two families. I picked a colour, Leo picked a colour, and both sets of parents picked a colour. The mixed pieces were then sent to Unity in Glass in France where they were blown into a glass sculpture, with two accompanying pieces for us and our parents to keep."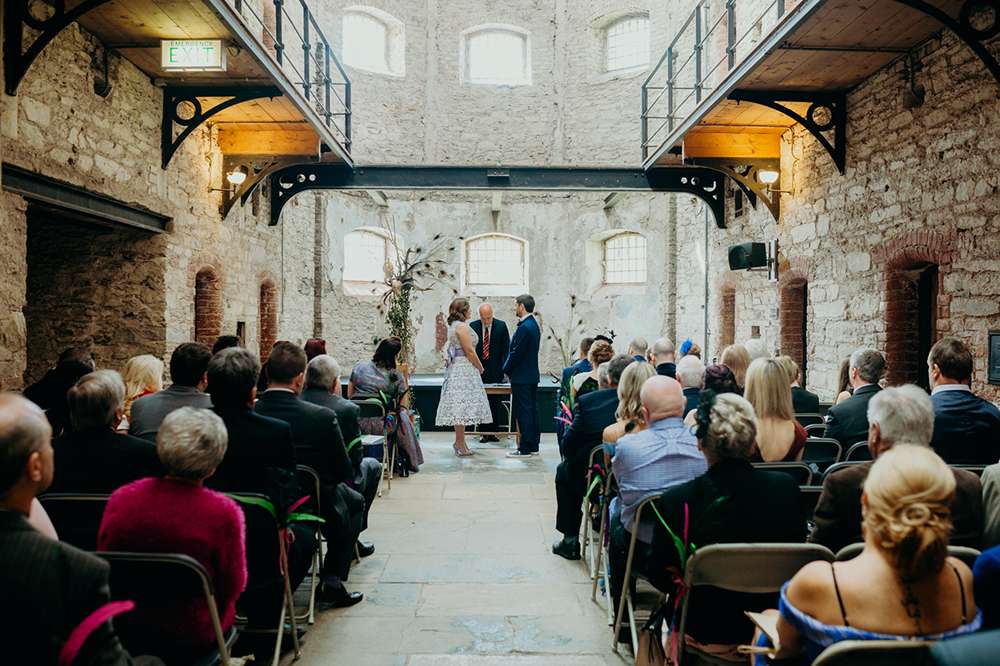 The bride's lilac dress, bridesmaids' dresses, ties and dickie bows were all handmade by Sam's mother, Gina. The bride said, "We saved so much money on all these, and somehow she also managed to make her own outfit as well!"
Sam complemented the dress with some awesome Vivienne Westwood shoes, hair accessories from Rock n Roll Bride for Crown and Glory, and jewellery by Rosie Bow UK. Upstyle Junkie did her hair and Andrea Murphy did her make up. Leo's outfit was from Next, Converse, and the handmade dickie bow made from the same fabric as the bridesmaids' dresses.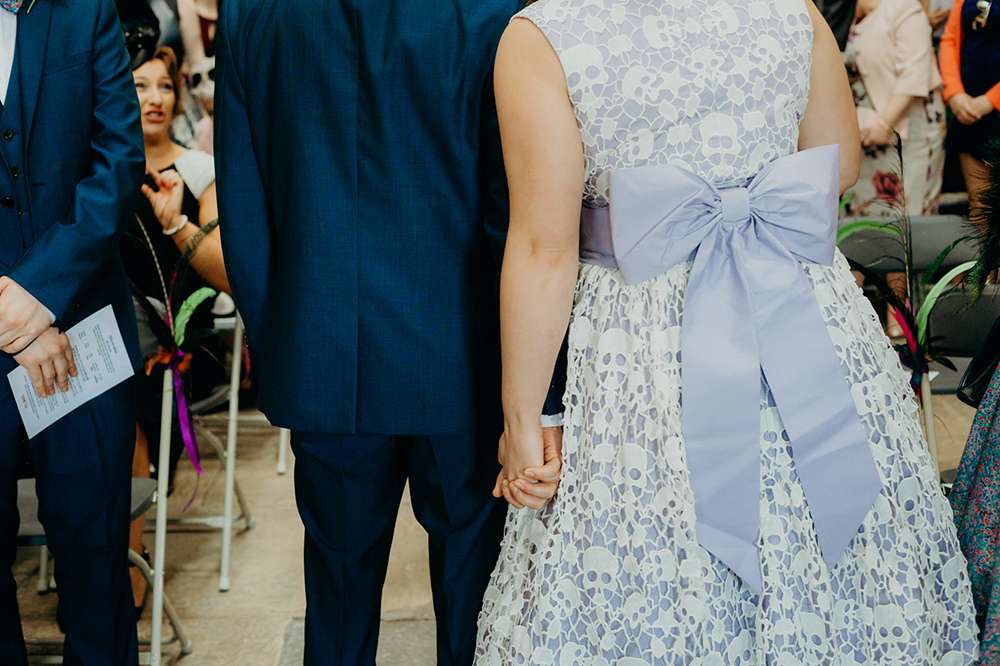 Sam and Leo's unbelievably adorable dogs, Zuki and Cookie, also made guest appearances. "Our very kind groomer and neighbour, Avril of Gabby and Miley's Grooming Studio, collected the boys and brought them to the jail for pictures and cuddles. She got them all suited up in matching dickie bows so they fitted right in with the wedding party."
The venue did the main catering, while Nom Nom Café provided a mobile coffee cart outside after the ceremony. Sam said, "They set up on the grounds of the jail and served our guests hot drinks and biscuits. It was perfect. We had amazing weather on the day, and there were picnic benches, so people were able to wander around and enjoy the weather and delicious treats."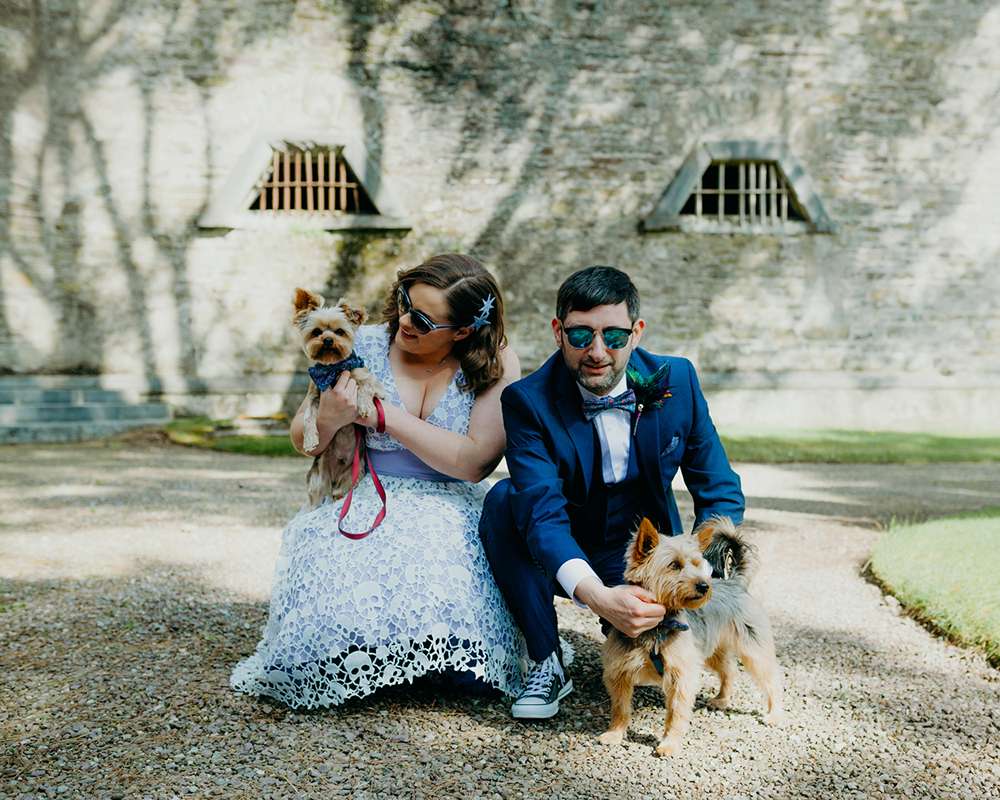 The DIY done by friends and family was a lifesaver. Sam said, "A lot of wedding décor and design relied on the skills of our family and friends. Whilst we didn't DIY any of the day ourselves, our fabulous friends and family worked their magic and created amazing pieces for our wedding, and for that we are forever grateful. With their help and talent, we were able to have an aesthetically beautiful day that we wouldn't have had the time to DIY ourselves, or have been able to afford." The cake was made by their friend Julie of Baked by Jules, a feather extravaganza instead of flowers by one of Leo's oldest friends, Jill O'Keeffe of Jill Wild, Flowersmith, stationery by very good friend Mark Slattery of Wall and Sundry, plus transport provided by a family friend as Leo's dad is a member of a vintage car club."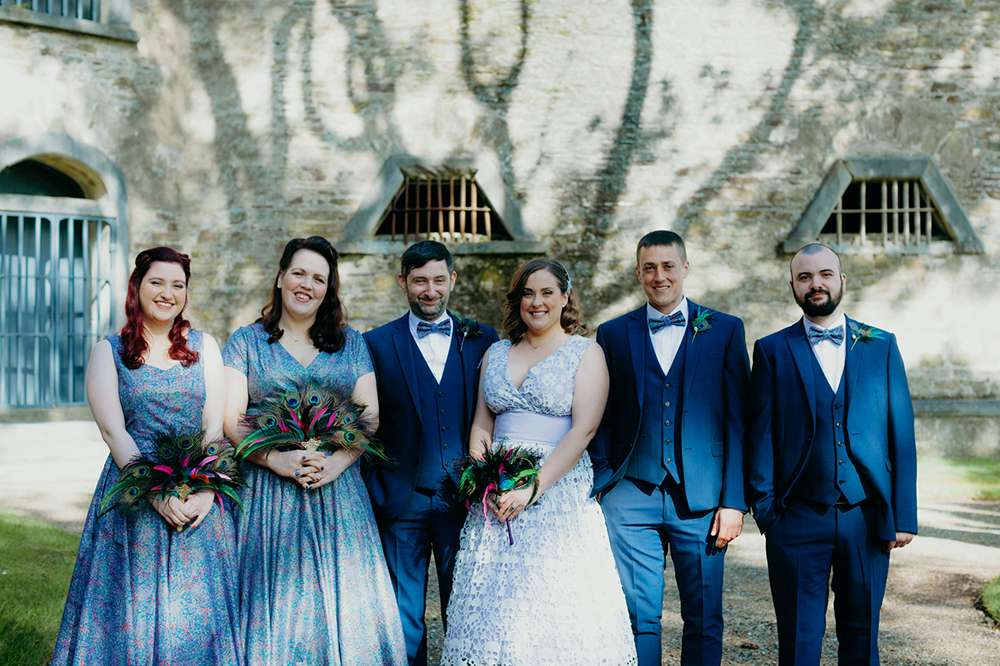 The couple even helped make their own wedding rings with a friend, Ronan of Ronan Hayes Designs. "Our wedding rings have ogham inscribed on them: My name on Leo's and Leo's name on mine," said Sam. "We spent an afternoon in Ronan's studio, learning about his work as a silversmith and he walked through the process with us. The result was two pretty unique and hand-crafted rings made by us."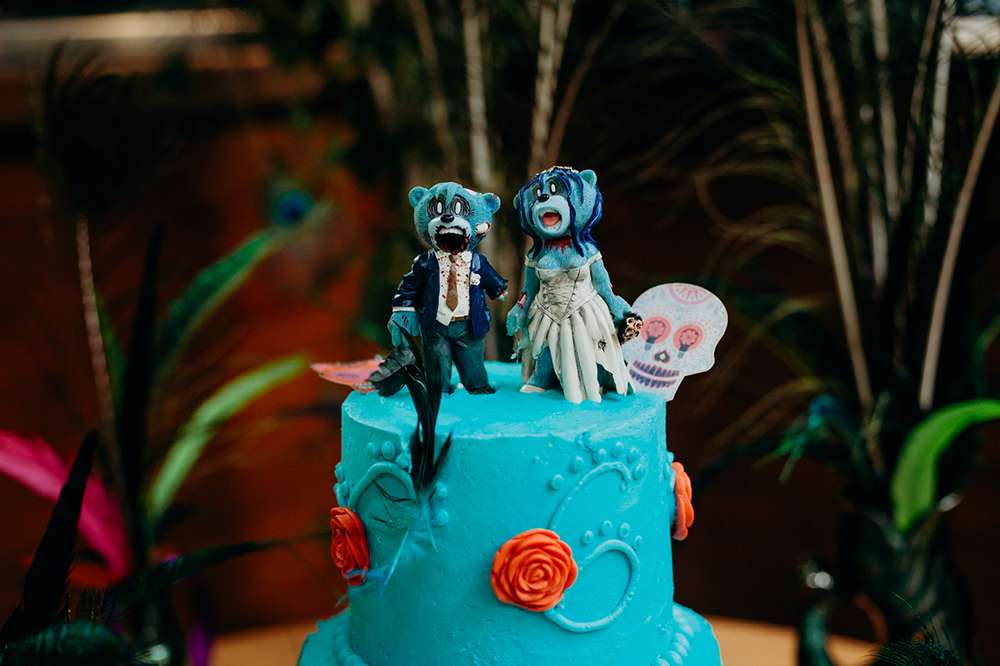 A lovely special and private moment of the day was spent at one of the couple's old haunts – a break from the wedding where they could take a breather. "After the ceremony we did an urban strut around Cork City and took most of our photographs there. We then popped into Fred Zeppelins, a rock pub where we spent a lot of our early relationship for dates and gigs. It's played a huge part in both our lives, even before we knew each other, so it was nice to go in for a drink with some of our closest friends, and then on our own before the reception – it was a nice way to catch our breath between venues."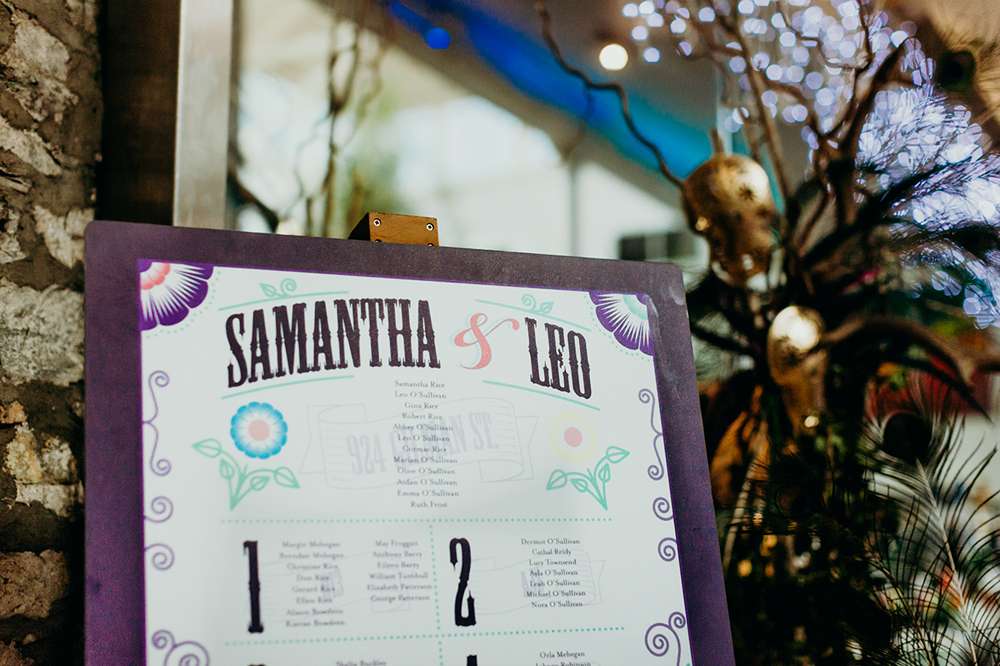 Sam said that the best thing about wedding planning was, "Doing it our way. We did exactly what we wanted. We did so much with our family and friends that it felt like one long hang out rather than a stressful year of meetings with organisers, etc. We trusted our friends, gave them guidelines, but let them do what they do best. We had no idea what our venue or cake would look like until the day of the wedding! It really was an amazing day. There isn't one part that we wish we did differently. It was exactly how we wanted it to be."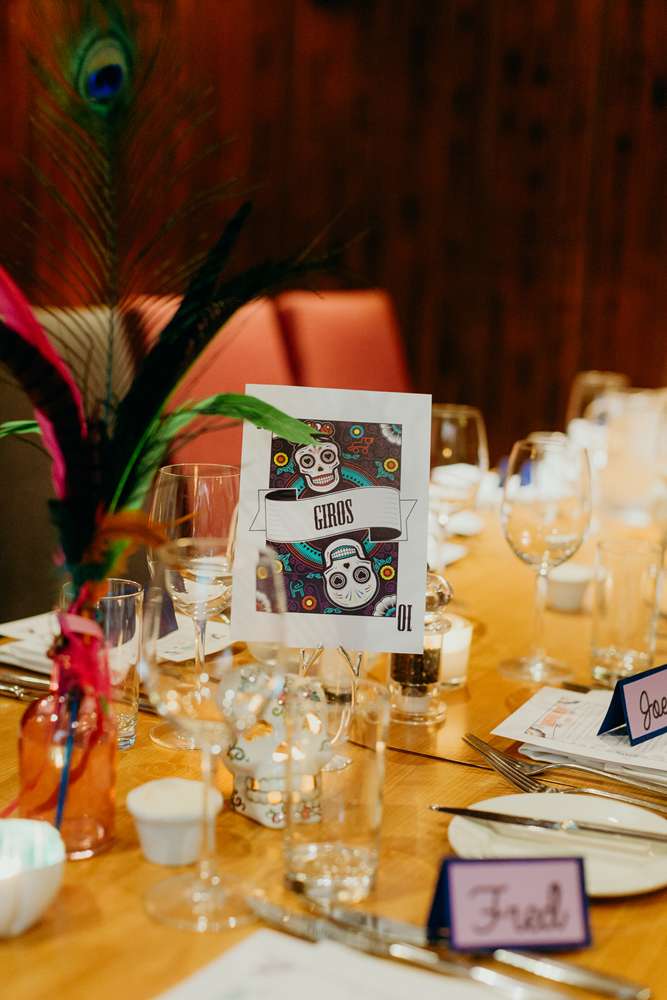 Sam and Leo's advice is, "People will always have an opinion about something. Ignore them!" And be mindful of the fact that, "No matter how on top of things you think you are, there's always more to do! Also, it's one day of your life, don't stress too much about it – the day will pass in the blink of an eye. Everyone is there because they want to celebrate you and your partner (and mostly for the free wine at dinner!)."