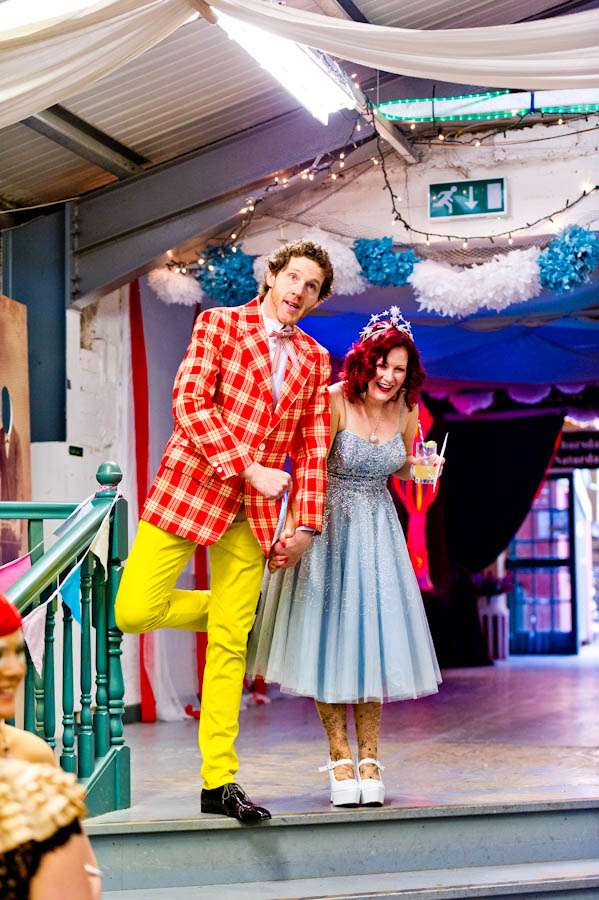 Running her own vintage boutique, Dirty Fabulous, in Dublin, Caroline was in the perfect position to plan her DIY circus themed wedding. She and fiancé Peter knew from the outset that they wanted something fun and unusual, and they had the perfect place in mind to host it. "We go to flea markets at the Dublin Food Co-op building and we always loved it", the bride began. "It's not particularly pretty by any stretch of the imagination but it always has a lovely vibe. We were at the market one Sunday and we both said that if we were ever to get married that it would make an awesome venue. It just went from there really, it took me about 6 months to convince the co-op to let us do it and we didn't have a back up plan if they said no."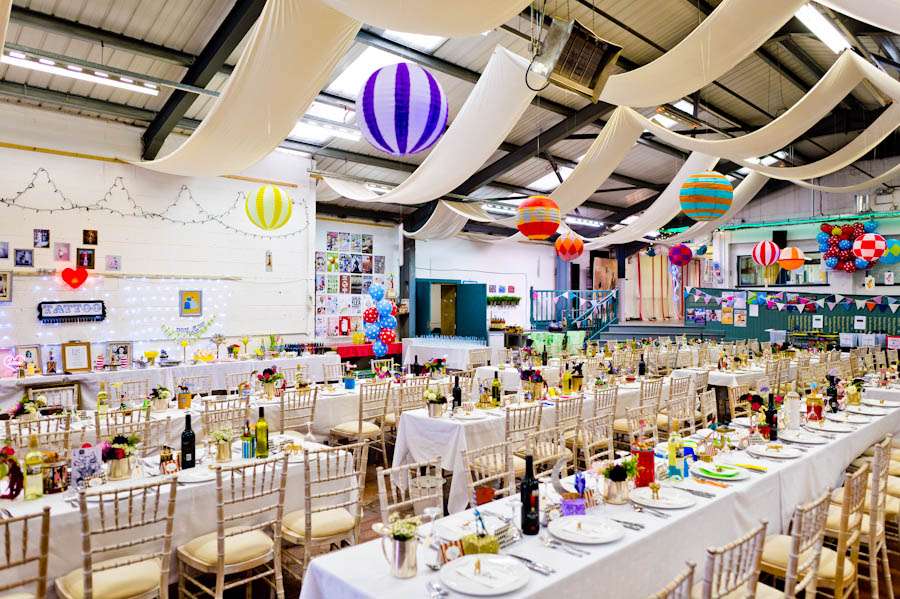 "We did everything ourselves and for about €5000 (with 120 guests!) using props from Dirty Fabulous" she continued. "We started the day with a 1940s girl band, The Bugle Babes, followed by a pre-wedding first dance to Cathy Davey & Neil Hannon singing a duet. Then we got married on stage, my brother dressed as a ring master reading Oscar Wilde, and as soon as we were pronounced husband and wife The Dublin City All Stars, a big brass band, marched in playing Louie Louie. They had never played at a wedding before and they are mostly kids and their parents but they learnt the song for us and it was AMAZING! Everyone went bananas! They then played for about thirty minutes while everyone went crazy. Oh and my husband sang a Fred Astaire song to me during our vows which was awesome."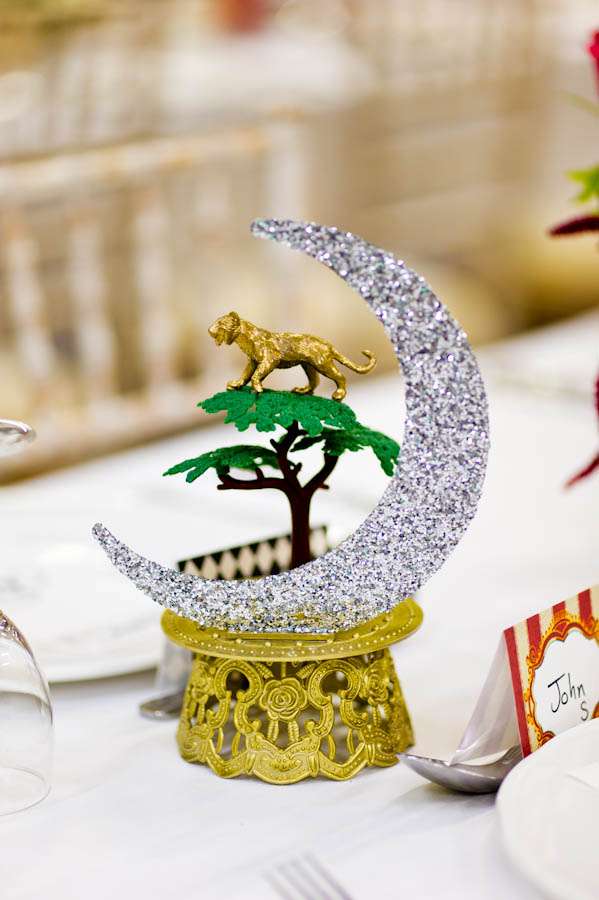 All the stationery and paper goods were designed and printed by the groom. "I knew I wanted golden tickets for the guests to bring but it took a while to figure out how to do it", Caroline explained. "I couldn't find gold enough paper that we could print on but eventually I found really glittery gold card and we printed and cut labels to go on the other side with the guests' names. The playbill style invitation image of the elephant is from a 1967 architectural magazine that belongs to Peter and is a design from 1758 for an elephant building in Paris with a ballroom inside it's belly. The RSVPs were postcards of classic penguin book covers. I then made a hanging of all of the returned postcards using hundreds of earring hoops and it was hung at the wedding too."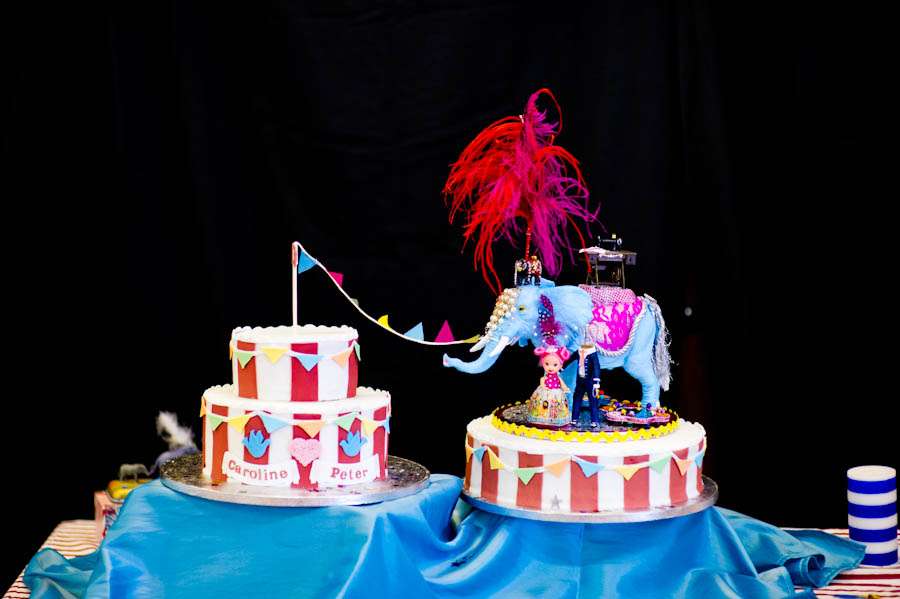 "I found two rubber stamps on Art from the Heart and I used these to stamp all of the napkins, alternating girls and boys. I also stamped all of the invitation envelopes and hand gilded them too. I made the place name cards and wrote them on the morning of the wedding in case there were any last minute changes. I used swing tags and earring hoops to make name tags for the wine glasses so people could wander about without constantly losing their drink and Peter designed and printed the menus – each one tucked inside a printed napkin, placed on their dinner plate with a gold animal representing the guest on top!"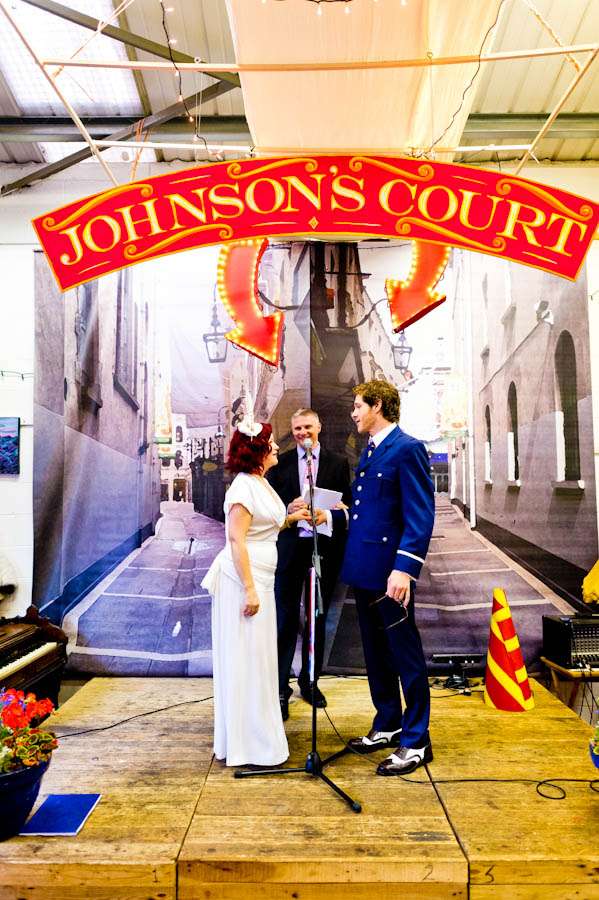 The bride wore two dresses – both vintage. The first was a powder blue sequin tulle prom from the 1950s and the second, the more 'bridal' of the two was from the 1940s. Peter also wore two outfits, the first comprised of a 1970s yellow & red check jacket which was purchased in New York with yellow jeans, braces and a DIY bow tie. For the ceremony he changed into a vintage US air force jacket which was bought at a charity shop and a 1940s golf tie.
"It was totally relaxed and crazy fun filled", Caroline remembered. "I made absolutely everything including the red lit up arrow backdrops pointing at our heads as we got married, 75 different circus themed table centres, the golden ticket invitations and two different headpieces. I hand printed the napkins and made felt moustaches for all the babies to attach to their soothers. I made a tattoo table, my mum and cousin made a spectacular steampunk elephant cake and my uncle and my brother made a vintage crescent moon for guests to sit on."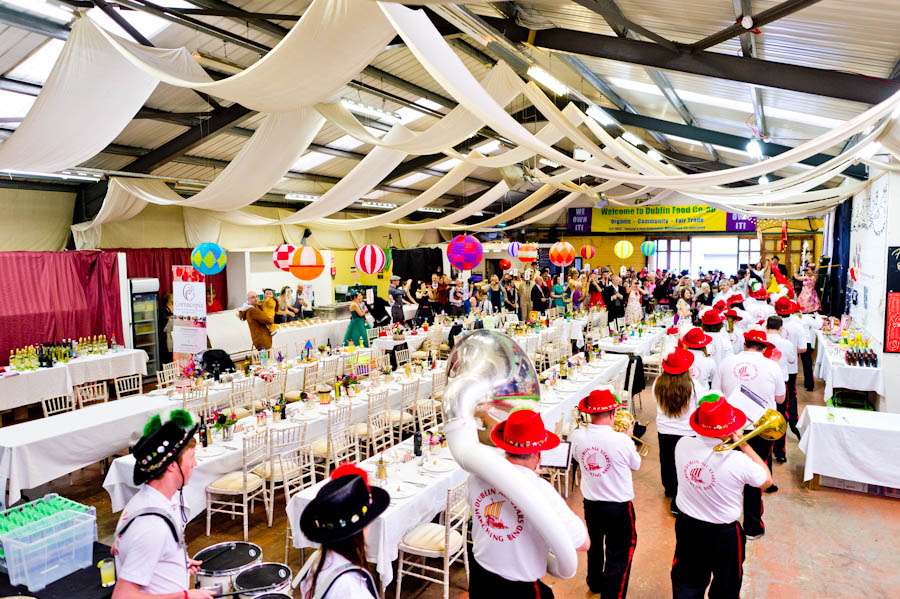 "I really just wanted the day to really reflect our style. Our flat is a mixture of vintage furniture, pop surrealist art, skip finds and kitsch. I wanted it to look like what is happening inside my head! Neither of us had ever thought marriage was for us, so I had never planned what my wedding day might be like prior to meeting Peter. Although we had been together less than three years before we got married, we are both 40 and we have a very strong sense of personal style. This made it easy for us to do exactly what we wanted without any concern for people's expectations and any sense of convention."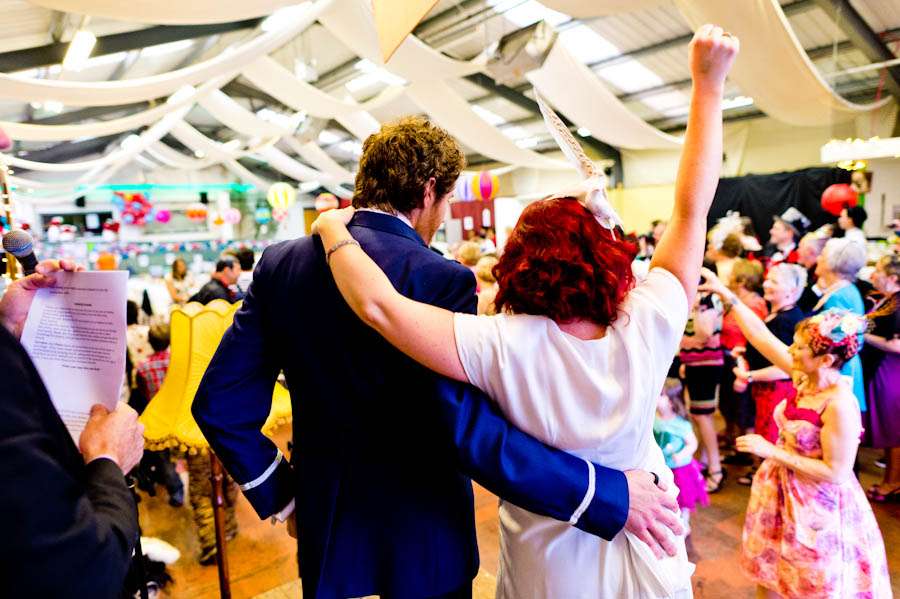 AMAZING! This has got to be one of the most show-shopping weddings I've seen in a long while – and all pulled together for under €5000! Huge congrats and thanks to Caroline & Peter for sharing their wedding with us today.
Supporting Cast
Photography Credit: Aspect Photography
Venue: Dublin Food Co-op
Bride's Dresses: Vintage via Dirty Fabulous
Bride's Shoes: eBay
Bride's Headpieces: DIY
Groom's Outfits: Vintage via Dirty Fabulous
Styling & Props: Dirty Fabulous
Flowers: The Informal Florist
Cake: Happy Wrappers (Sister)
Entertainment: The Bugle Babes, Cathy Davey, Neil Hannon & The Dublin City All Stars
Stationery: Peter Mccann
Hair: Sit Still
Catering: Cornucopia, Dublin
Rentals: Weddings at Home