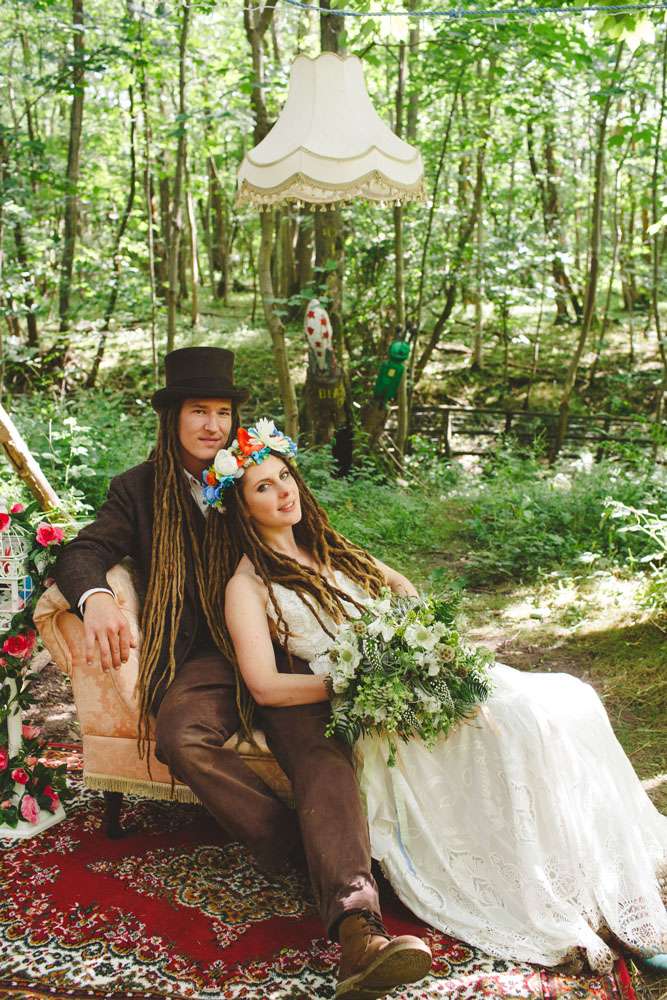 Today's wedding is pretty darn special because it's my sisters!!! It's also featured inside the current issue of Rock n Roll Bride magazine, but as the new issue goes on pre-sale tomorrow (eek!) I thought it would be the perfect opportunity to share it online as well. I really wanted show you a lot more of the photos that we weren't able to fit into the magazine spread.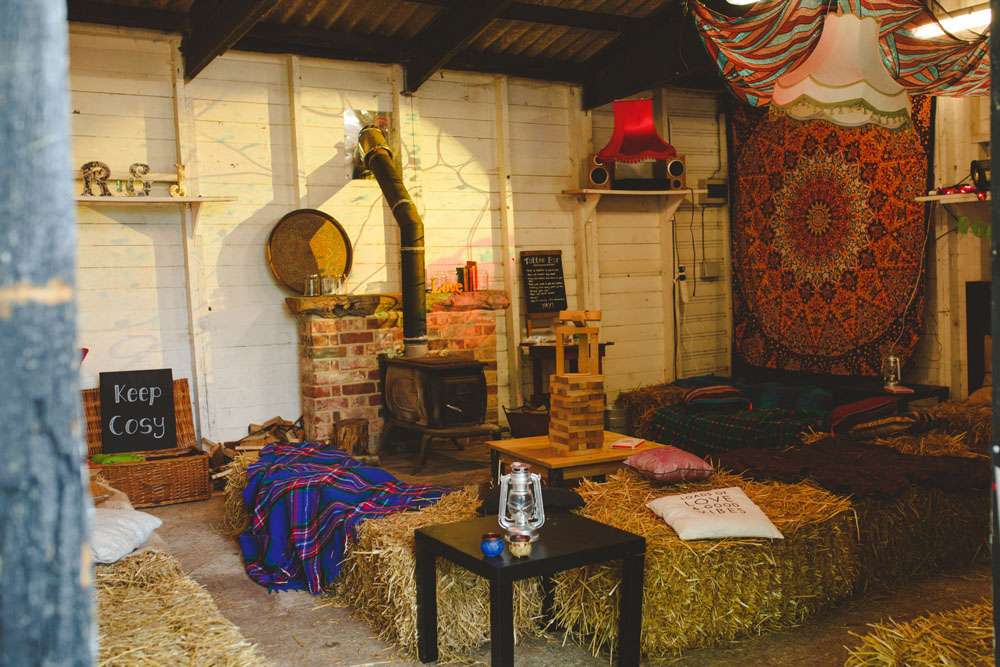 You'd think that when your big sister is the editor of Rock n Roll Bride, planning your wedding should be pretty straight forward. But Rachel and Jamie didn't want an ordinary or simple day, they wanted something creative, magical and completely homemade.
"The inspiration for our wedding was all the festivals we love to go to – Shambala, Secret Garden Party and Boomtown", Rachel explained. "I've been going to festivals every year since I was 13 and Jamie goes to at least two or three every summer! When we got engaged, we instantly knew that we wanted our wedding to feel like being at a festival."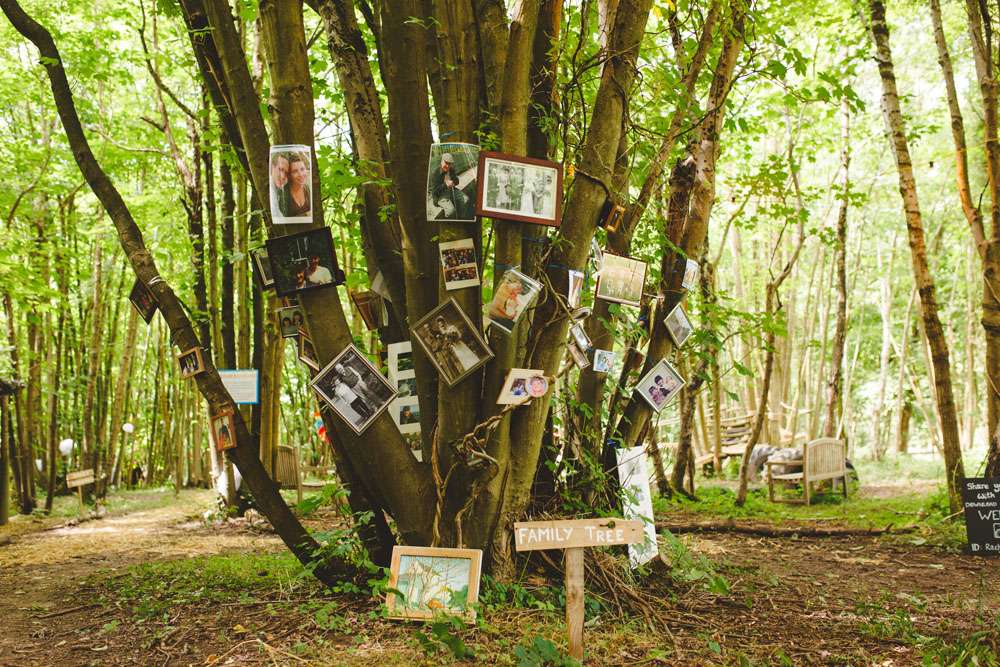 "I also love art and making things. It makes me so happy! I wanted to use the wedding as an opportunity to make lots of art installations. When we found our venue, The Outdoor Party Company in Padworth Common, we knew it was the perfect place to bring our vision to life. We both always wanted to get married in the woods and all the trees made an amazing location for us to set up our creations."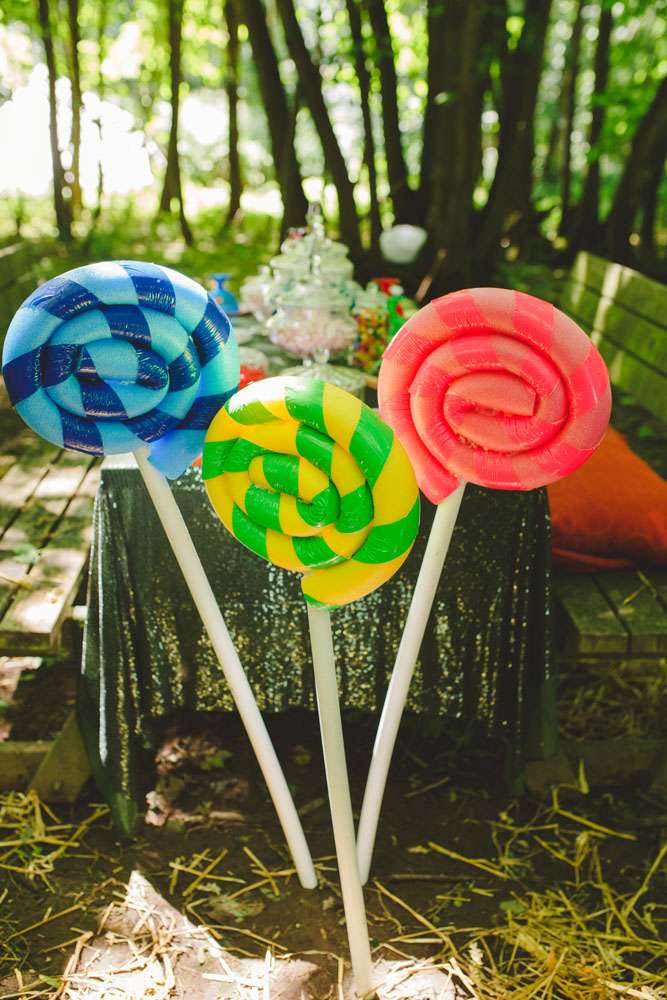 "Our main focus was how the wedding would feel for our guests", she continued. "We didn't want them to be bored at any point. We wanted to create a fun atmosphere with lots of interactive things for them to see and do. The thing I most love about festivals is wandering around, not knowing what you might come across next."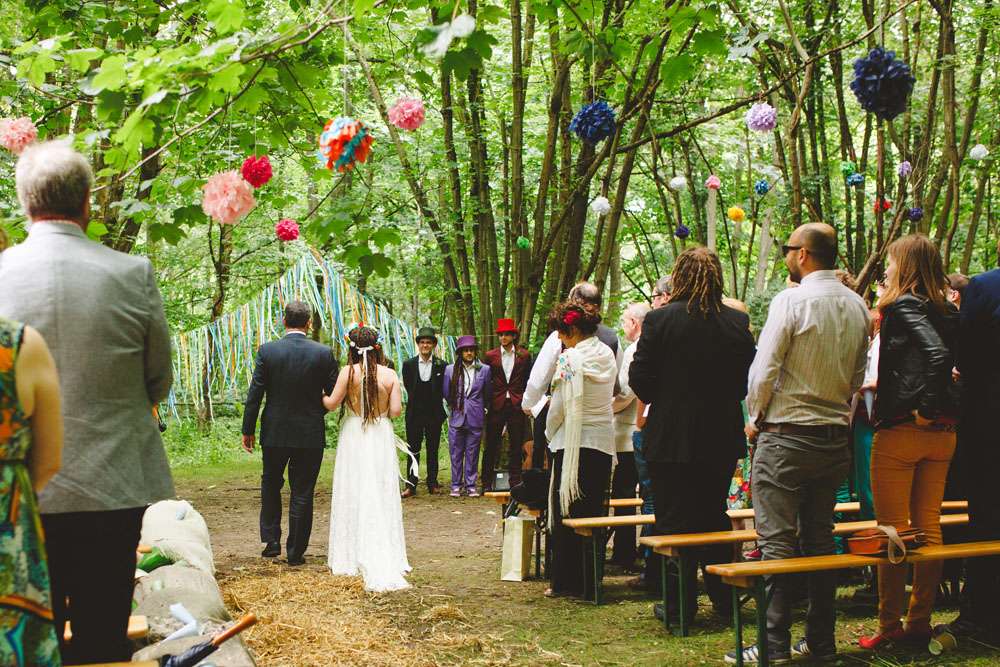 Some of Rachel's art projects included giant tulips, fairy houses hidden in the trees, an outdoor lounge, giant mushrooms and Stan – a stag made from a wooden frame, chicken wire, fake fur and plastic antlers! "All of the artwork ideas just came out of my brain. The fairy houses and doors idea came from this woods that I saw online where the trees are covered in little doors and houses. I've always loved doll's houses so I knew I wanted to make some for the wedding. They look a long time and each one was different but everyone loved them! Stan the Stag was a big hit with our guests too. One day I just said to Jamie 'I want to make a stag for the wedding!' He thought I was nuts!"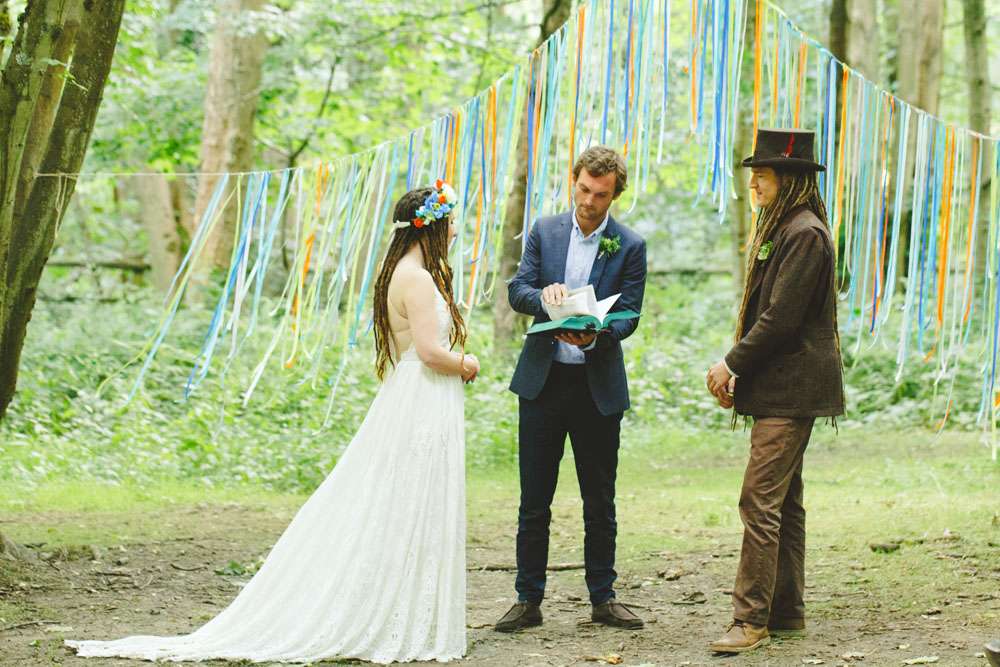 "I got a lot of inspiration from Pinterest, Rock n Roll Bride and of course, talking to my sister, Kat! Our 'family tree' idea came about because I liked the idea of displaying old family photos, but in a more unique way. I also made the word banners and we had some plastic flamingos that we dressed up as a bride and groom. I even made some giant lollipops from pool noodles to display by the sweetie table!"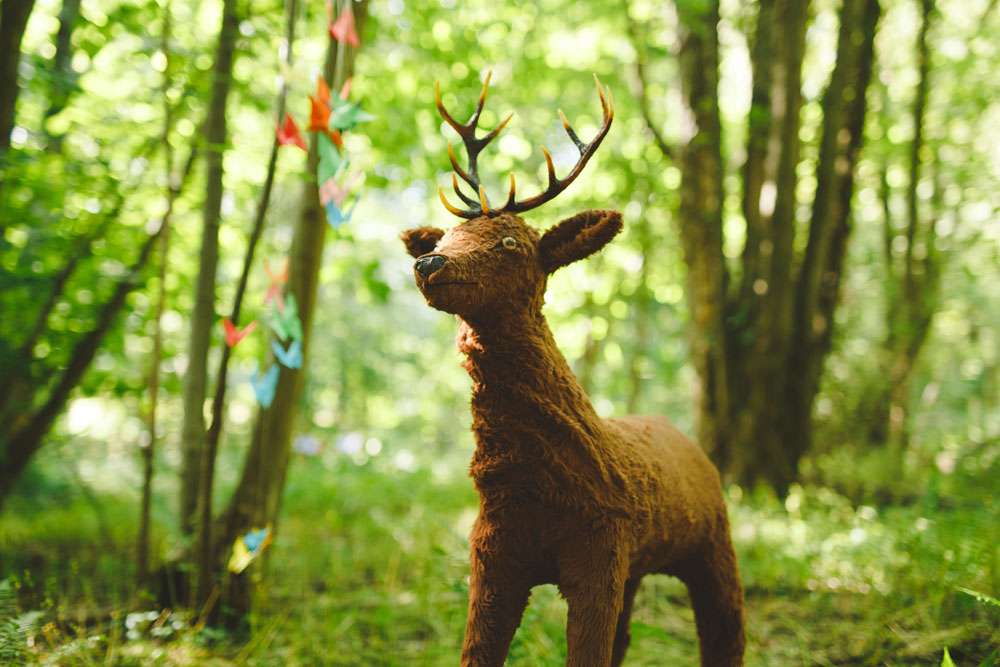 "Jamie made all the bars from pallets and I made all the signs. Jamie's sister made the pom poms and helped us set up the ceremony area. All the soft furnishings came from our house and we borrowed loads from our friends and family too. A lot of the lanterns, blankets and cushions came from Marrakech. Kat and I went on a trip to buy things especially for the wedding last year. It sounds extravagant but everything out there was so cheap it actually worked out more cost effective than buying them in the UK or even hiring them!"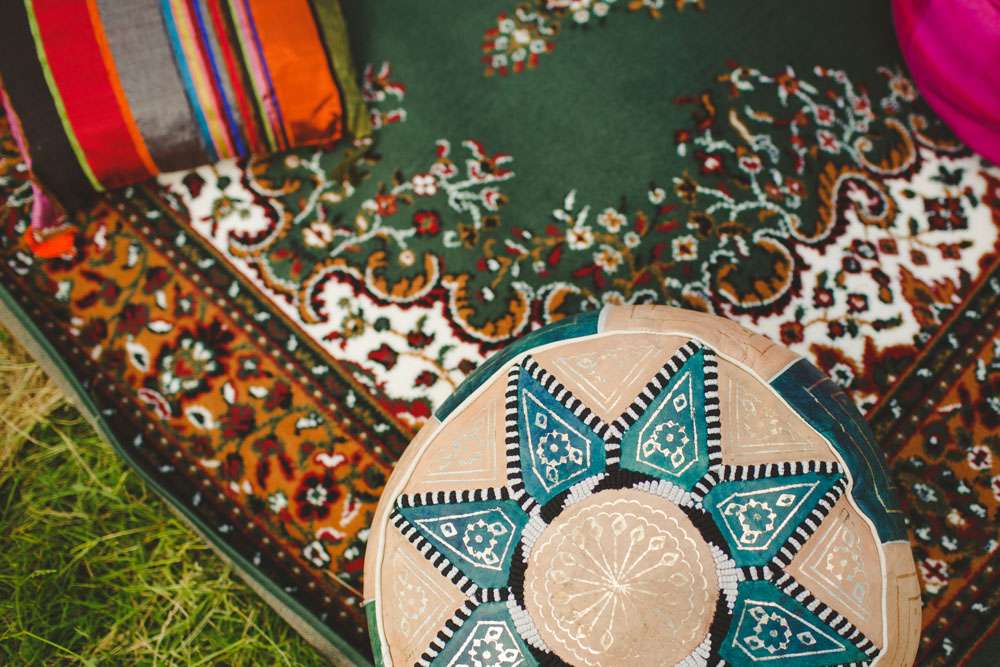 "One of the most popular elements with our guests was having Crown and Glory there to make everyone flower crowns. Everyone got SO involved, even the men! It was so lovely looking out during the meal and seeing everyone wearing colourful flowers in their hair. Another showstopper was our Choccywoccydoodah cake. Our guests could NOT stop talking about it. Everyone said it was the best wedding cake they'd ever seen!"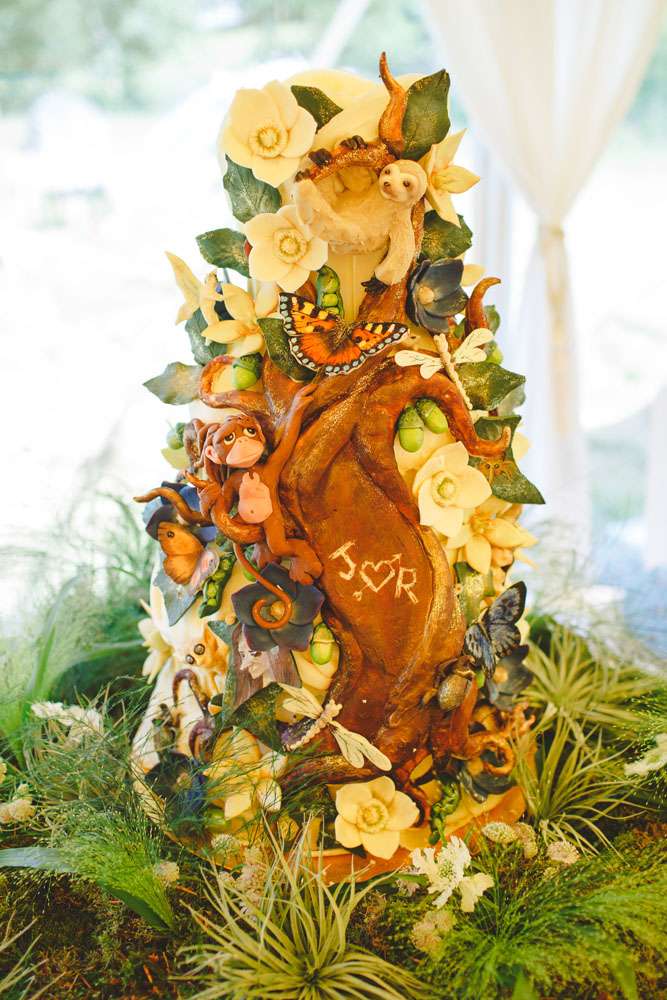 "We actually didn't do too much to the marquee itself. Redcrest Events had the option of having this amazing hand-printed lining which really added something to the space, and that, coupled with the incredible flower arrangements from Green Parlour was enough. We did hang a couple of the word banners on the wall though and for place names/ favours, we gave everyone individually potted succulents that my mum and one of her friends had been growing all year! We were sure we'd have loads left at the end but nearly everyone took them home… along with a lot of the bigger plants in the centrepieces (naughty!) I guess you could say they were a hit with our guests!"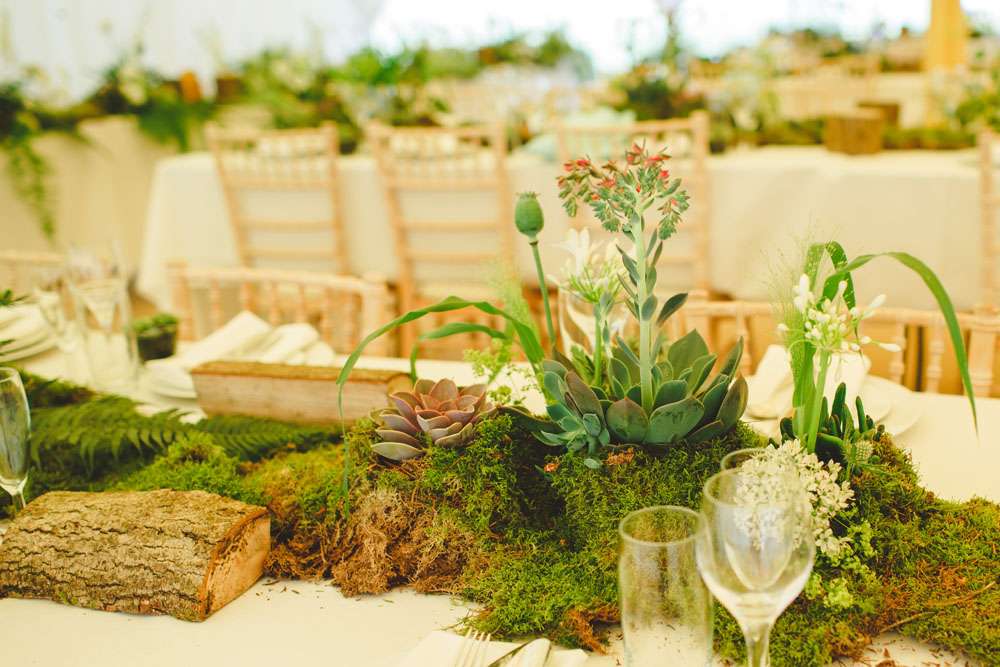 The couple had two ceremonies. The legal one at Reading Register Office in the morning, and a woodland ceremony conducted by a friend in the afternoon. "I wore a dress from ASOS for the legal ceremony because I didn't want Jamie to see my 'proper' dress before the woodland. I was so nervous about the ceremonies, but doing the legal one in the morning with just 20 people really helped me relax and made me less nervous about the woodland one."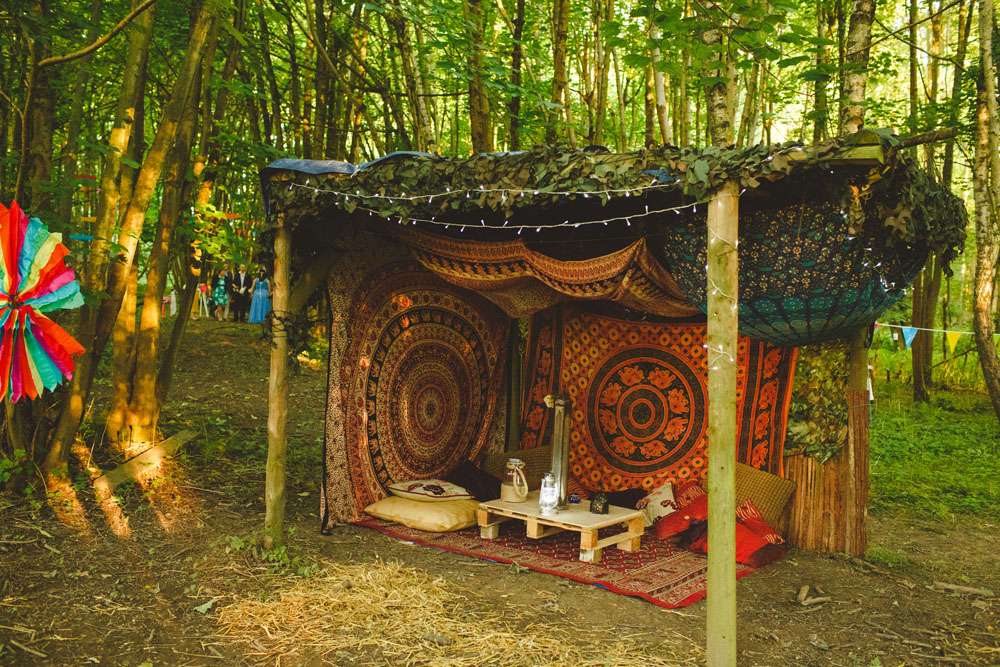 "We wanted to make the outdoor ceremony as personal as possible so we wrote the entire thing ourselves and my friend Nye conducted it. We had other friends performing songs, Jamie's sister read a poem she wrote for us, my mum did a reading and Jamie sang and played a song on guitar that he'd written for me."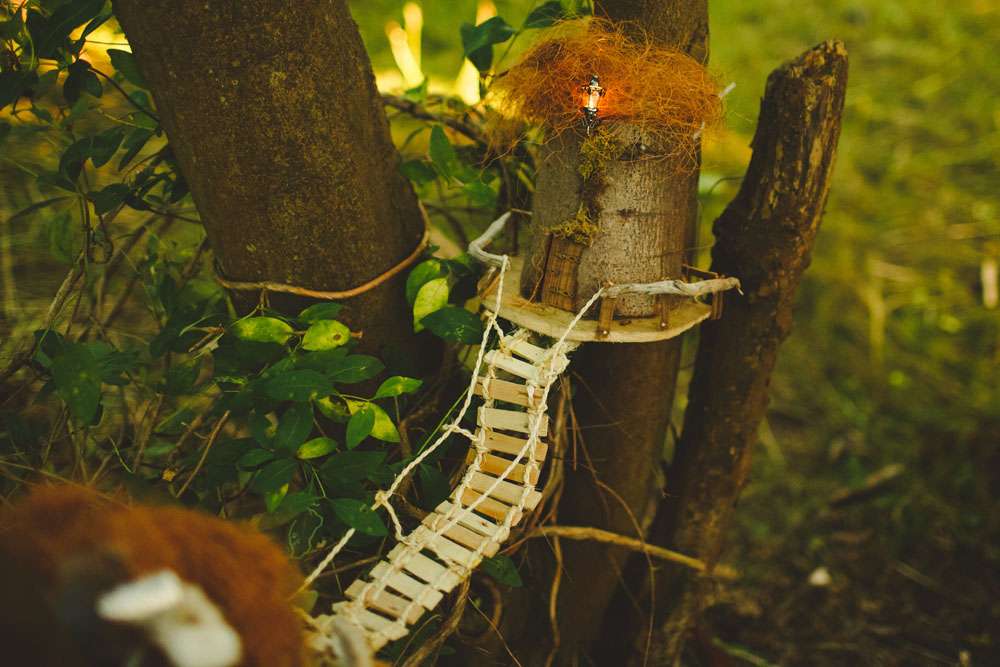 "We had an unplugged ceremony and asked guests not to take any photos during it. We didn't want to look up and just see a sea of cameras and phones. We also wanted our guests to really be in the moment and not for them to be watching it through their screens or worrying about taking photos. It was so magical and probably my favourite moment of the day. Everyone was really involved and paying attention to what was happening."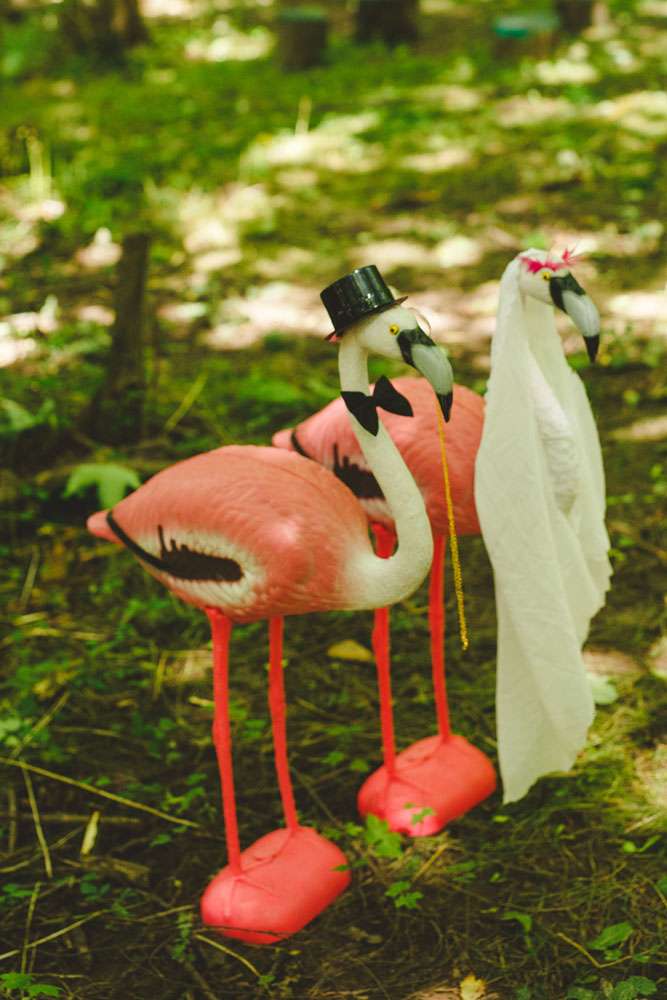 The wedding had 135 guests… including two unexpected ones! "I am obsessed with animals and I love llamas", she said. "We went llama walking on the hen do and it was amazing! Dad and I were in the car on the way to the woodland and when we were five minutes away he said 'Oh by the way mum has invited a two extra guests to the wedding… You don't know them but you know their brothers and sisters…' I was like 'WHAT? Who is it?' I was annoyed because I didn't want people I didn't know there! Then we pulled in and he said 'Oh yeah, I forgot to say, they're llamas!'"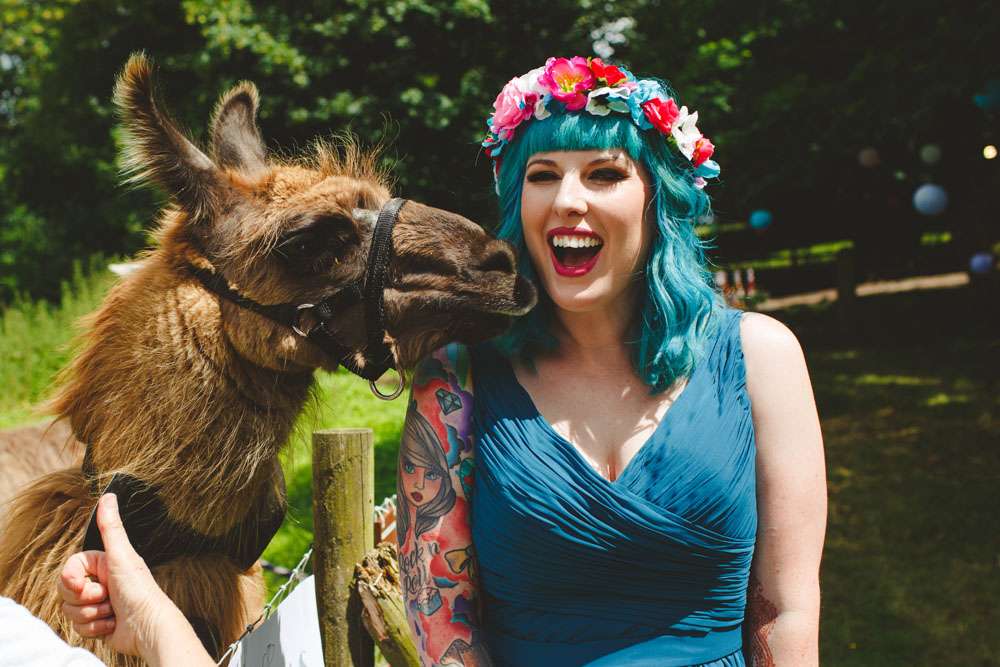 "When we arrived we had to stall for 15 minutes because one of our ceremony musicians was running late, but rather than being stressed or annoyed, we hung out with the llamas while we waited and they really calmed me down. They came from llama-training.co.uk and all they asked is that my parents made a donation to the British Llama Society and that they covered their costs. I can't tell you how happy they made me. Every wedding should have surprise llamas!"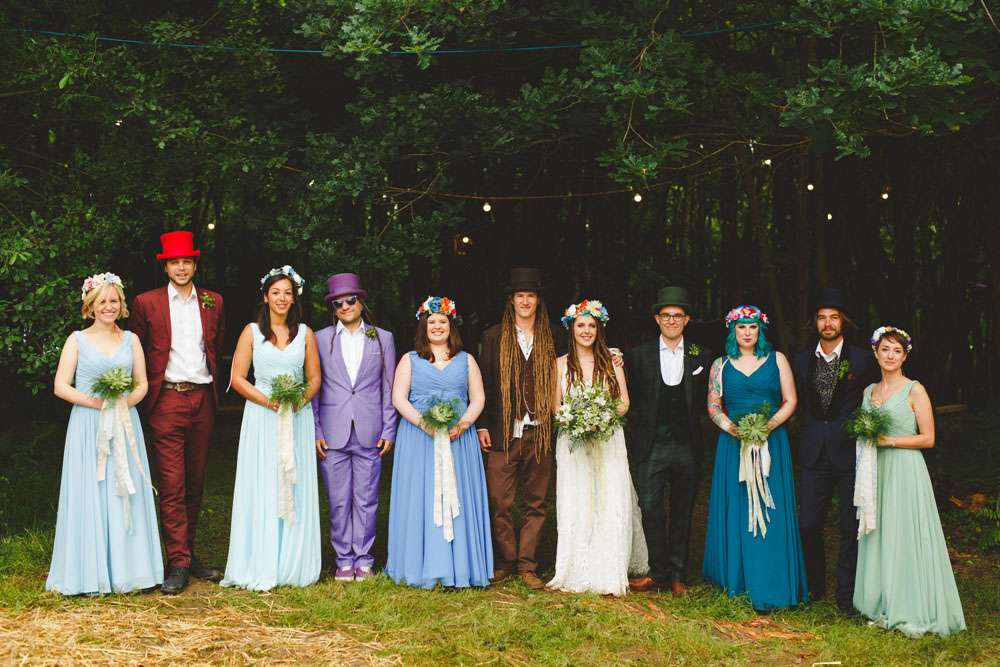 "The best part of planning our wedding was doing all the DIY. The details were SO important to me. There was a lot to do but I just love making stuff. In retrospect I should have started earlier (I began making things six months before but still ran out of time for a couple of little ideas) but I wouldn't have changed any of it. I even made each of my bridesmaids silver stud earrings with a leaf pattern on them."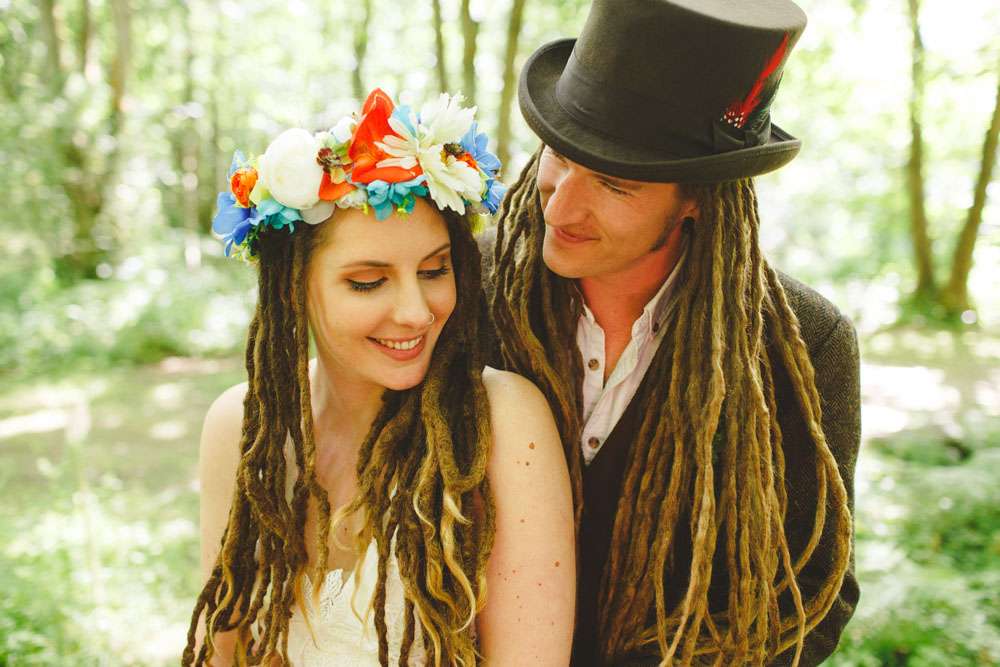 "We are so incredibly grateful to everyone that made our wedding so perfect. Olivia from Nitty Gritty Events was our day-of coordinator and she was invaluable! We planned everything beforehand but she was there the day before to help with the set up, and on the day she made sure everything ran smoothly. She was always so lovely and excited about our wedding when we spoke about it. She totally understood the type of day we wanted."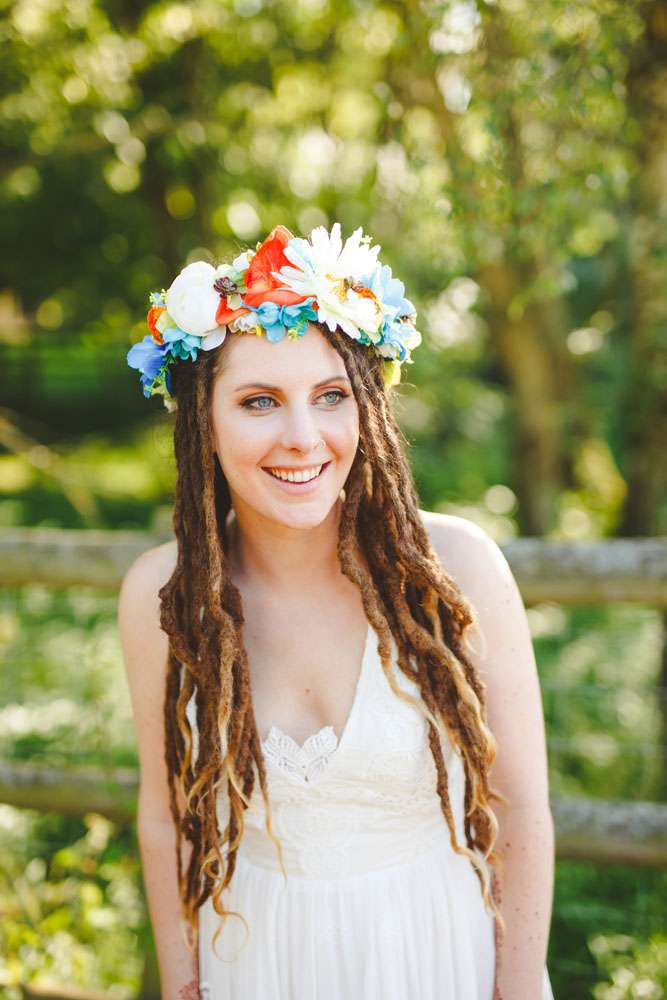 "I got my Rue de Seine dress from Leonie Claire Bridal Boutique in Brighton and they were also amazing. I found it quite hard to find a wedding dress I really loved. So many of the ones I tried on were nice but didn't really feel like me. They just made me feel like a child dressing up in grown up's clothes! I was quite indecisive when it came to picking one but Leonie and her team made me feel so comfortable and I'm really sad to not have an excuse to go back to their shop anymore. I want to live there!"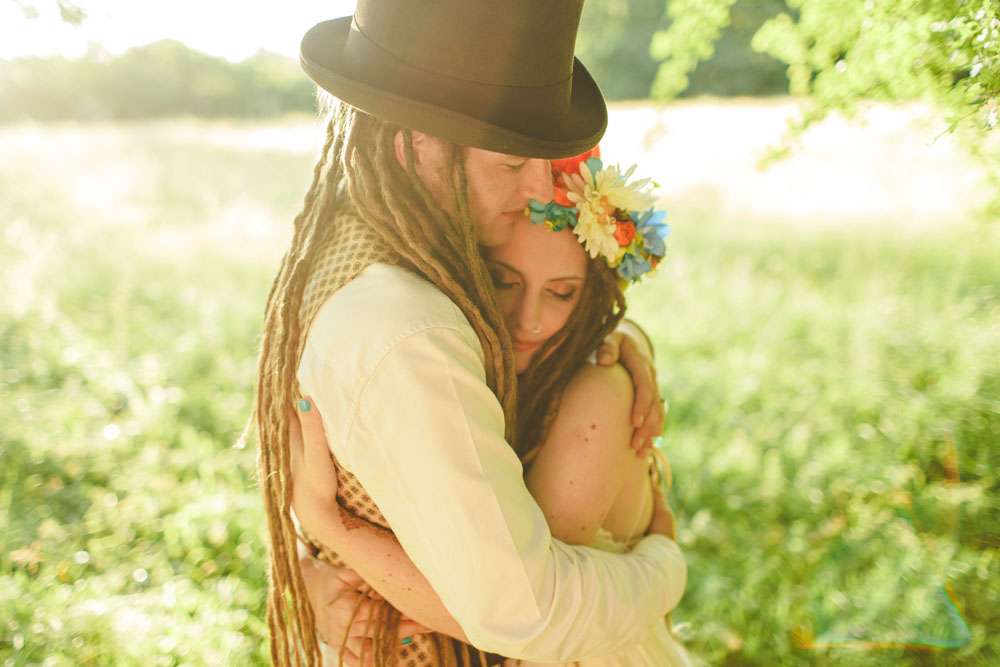 "Our photographer, Camera Hannah, was utterly amazing. Not only does she take incredible photos, but she really helped relax me in the morning and had lots of advice and practical solutions when we were having panicked moments! I'm not very confident in front of the camera, I always worry I'll look horrible in the photos, but I didn't think about this once when Hannah was photographing us. I knew she'd get incredible photos and she did! We did two photo sessions during the wedding, one during the drinks reception and the other mid-way through dinner. We both really enjoyed that time away from the craziness of the wedding. It was nice to have a few moments alone and we love all the photos SO much."
Hannah also made them the most awesome wedding video!
"Finally, we are so thankful that everyone came together and were in such high spirits. We are super grateful to everyone who helped with our wedding, particularly our friends and family who helped us set up and break down the site, and those that performed during the ceremony and in the evening. We could NOT have done it without them. We were also so lucky to have my sister Kat helping and advising us. I didn't have to worry about what I had to do next at any point. Having a wedding expert in the family really did help immensely! Finally, my parents were so amazing and supportive the whole way through, even though it might not have been the kind of wedding that would have chosen, and they were probably out of their comfort zone a lot of the time! We both feel super blessed to have such amazing families."
You can grab a copy of issue 10, featuring this wedding and way more (!) online or in stores until Nov 2nd.