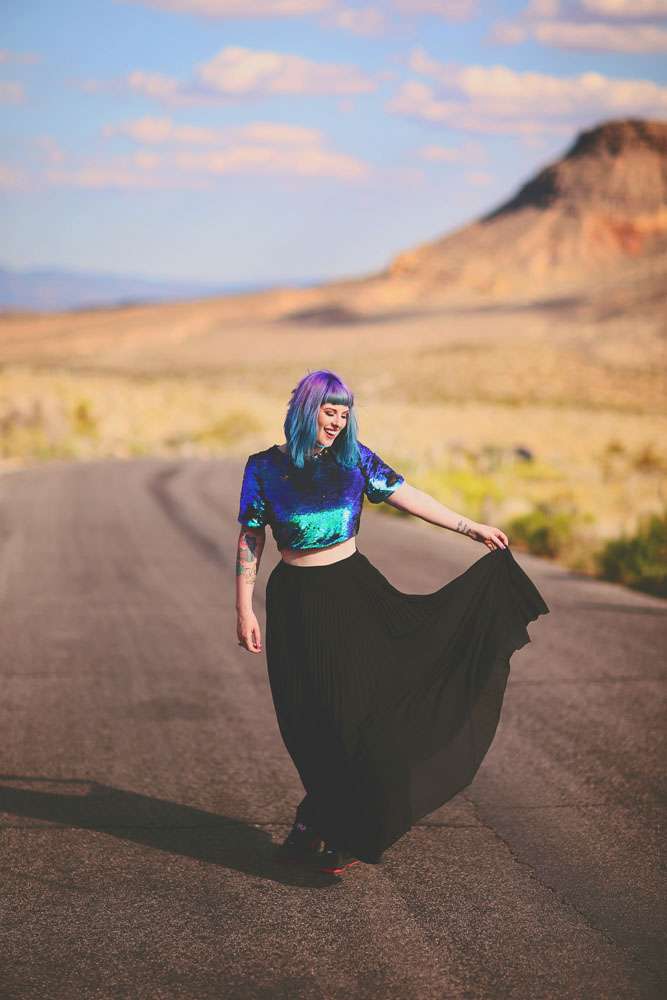 I've been meaning to write a definitive Las Vegas guide for ages – you guys are always asking me for recommendations of things to see and do! I've been there four times now and on each visit I find something new to entertain myself with.
I often hear people say they couldn't stay in Vegas longer than a few days, or that one trip is enough, but I completely disagree! Sure, if you're just there to drink, party and gamble you'll probably be ready to go home after a long weekend, but if you want to broaden your horizons a bit more then one visit is barely enough time to scratch the surface. Vegas is so much more than blackjack tables and nightclubs (although a little of both is a hell of a lot of fun!)
Las Vegas is a city like no other, with a slot machine on every corner, gargantuan hotels, amazing shopping and some of the hottest weather you will ever experience! Seriously, during this recent trip (in July – we were clearly having a moment of madness when we booked it, who the hell goes to the desert in the summer?!) the temperatures soared to a scorching 48 degrees celsius (and it was still over 30 degrees at night!) It felt like god had left the oven on, thank goodness for the ample air conditioning!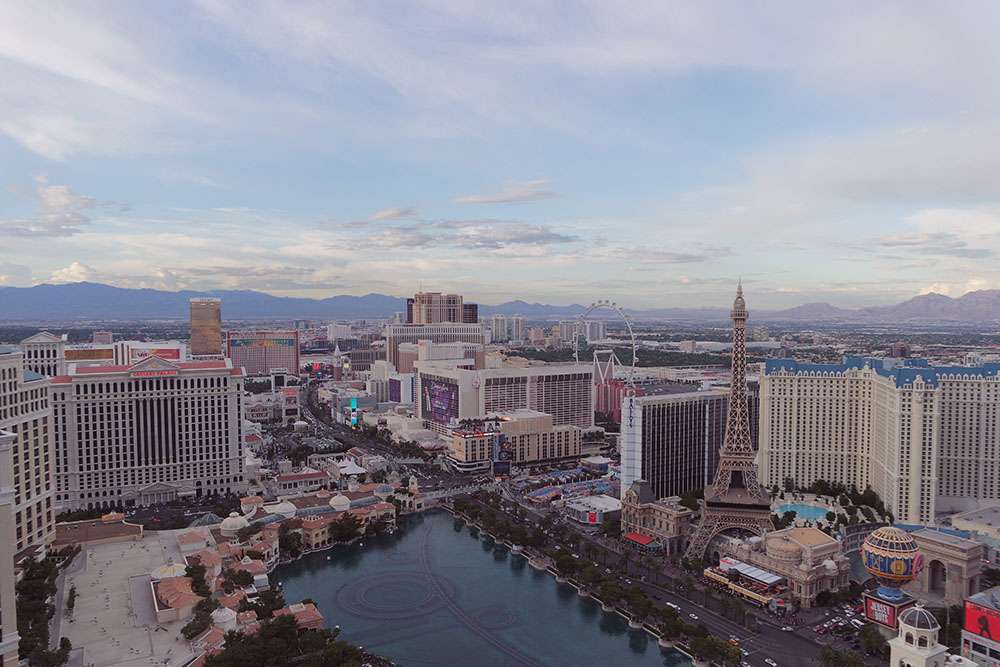 What to pack
This is one question I get asked I lot! I like to think my Vegas wardrobe is pretty similar to my at home one… but with more sequins! Definitely bring comfortable shoes for the day time if you're planning on walking up and down the strip, but for nights out pack your most OTT ensembles!
You see ALL SORTS in Vegas (some of them have to be seen to be believed) and its impossible to ever be overdressed. False eyelashes, glitter and your most extravagant shoes are a must. Plenty of swimwear too if you plan on lying by the pool or doing pool parties. I only bought one swimsuit on my last trip and I regretted it! Even lying poolside is a fashion moment opportunity.
Where to stay
Over my four visits I've stayed in five hotels – the Stratosphere, the Encore, the Cosmopolitan, the Flamingo and the Venetian. They all have their perks and downsides.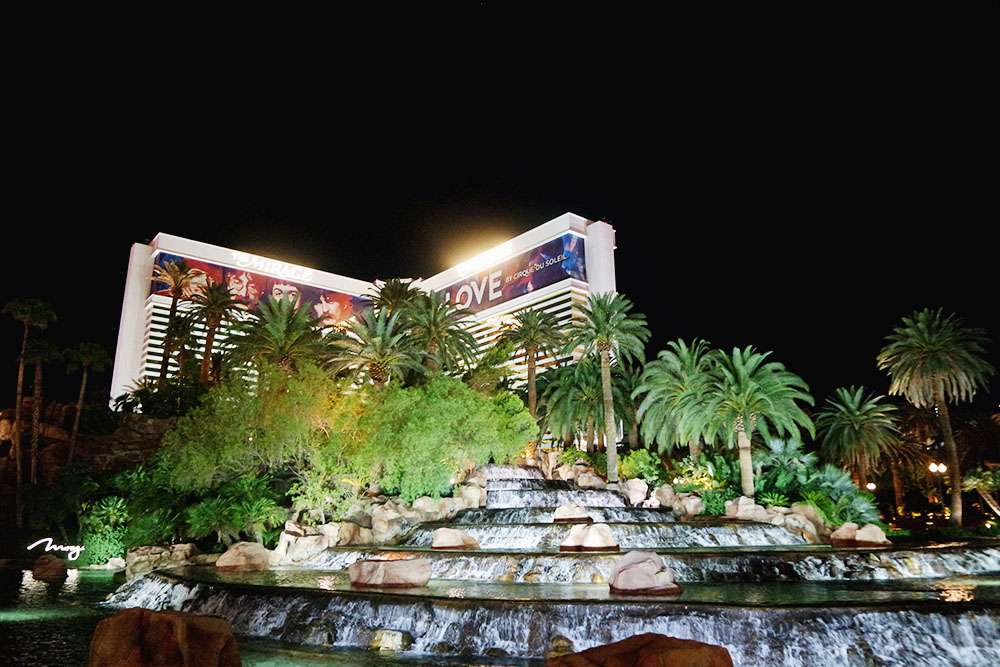 The Mirage is next on my list!
The Stratosphere is super cheap but waaaay the fuck down the far end of the Strip. You'll have to get cabs everywhere which can be expensive and inconvenient.
The Encore is fabulous, super glam and definitely one of my favourite hotels. It (and the Wynn which it's connected to) is a quite a bit more luxurious then a lot of the others so you pay a premium for it. The lobby interiors are stunning and there's lots of natural light which is rare in casinos. Our room was no bigger or better than any of the other hotels we've been to though.
The Cosmopolitan is in a GREAT location, right smack bang in the middle of the strip and within walking distance to a lot of the main sights. I found it overpriced for the size of the room and the lobby had a bit of a funny smell when we stayed there! The pools were disappointingly small and unexciting too, especially when you compare them to the pools at the Flamingo, Mandalay Bay (they have an actual beach!) and the Venetian (below).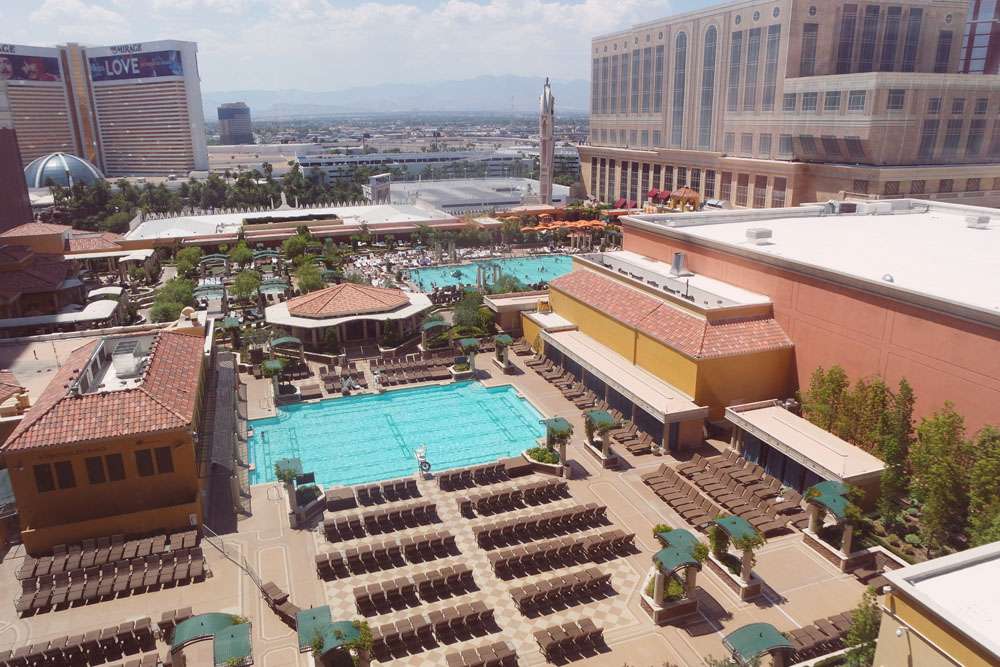 A view of the pools from our room at The Venetian
We stayed at the Flamingo for ONE night on our recent trip. We booked an enormous suite, which had just been modernised… but the WiFi didn't work! The receptionist actually told us that it hardly ever works in the new rooms which I found pretty shocking as they were advertising that all rooms had it. Although the room itself was huge (its an older, less trendy hotel which meant it was super cheap for the size) it was a little basic and had a bit of a Holiday Inn vibe. There was also nothing in the rooms – no bottled water, nothing. We also had to call down multiple times to get enough towels..!
We stayed at The Venetian for the majority of our most recent trip which, alongside the Encore might now be one of my favourites! Its in a better location than the Encore/Wynn although its a little older and the decor is a bitttt over the top… in the best way possible of course, it is a fake Venice after all!
However what really made this place fantastic was the service – we couldn't fault it! Everyone we came into contact with – from the receptionist to the guys at the bell desk, the security guards and the cleaners – everyone was super amazing to us and nothing was too much trouble. Our room was a nice big size and the pools and gym facilities were amazing. I would definitely stay here again.
I'd also love to stay at the Mirage next time I go. It's like a tropically decorated time-warp and we always end up going there because they have great restaurant options.
Things to do (other than drinking and gambling!)
Go out to the desert! The desert is such a weird and magical place, its certainly worth leaving the bright lights behind you for at least one day.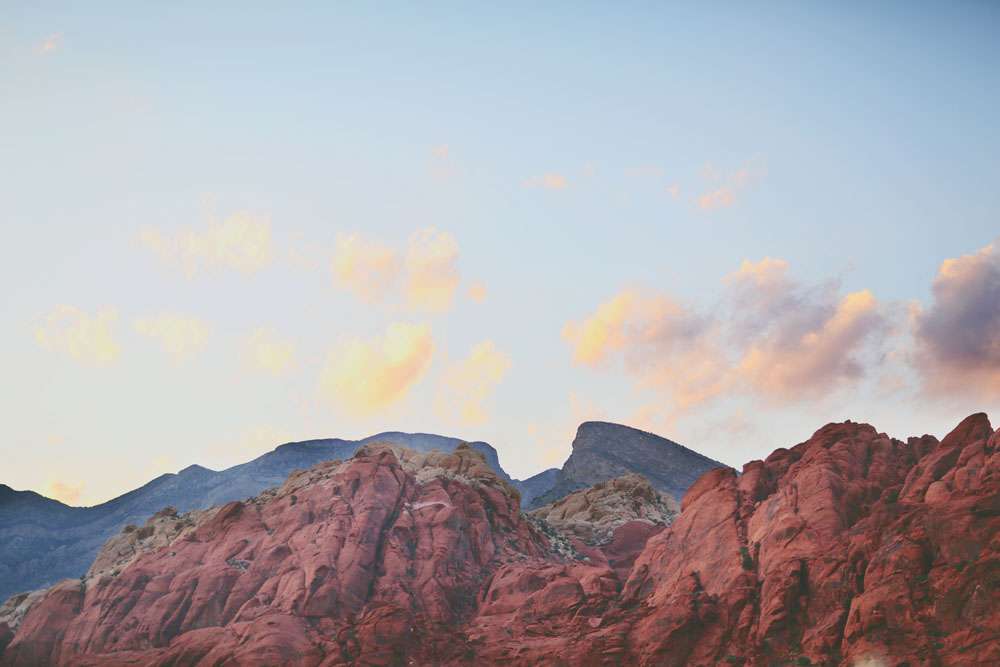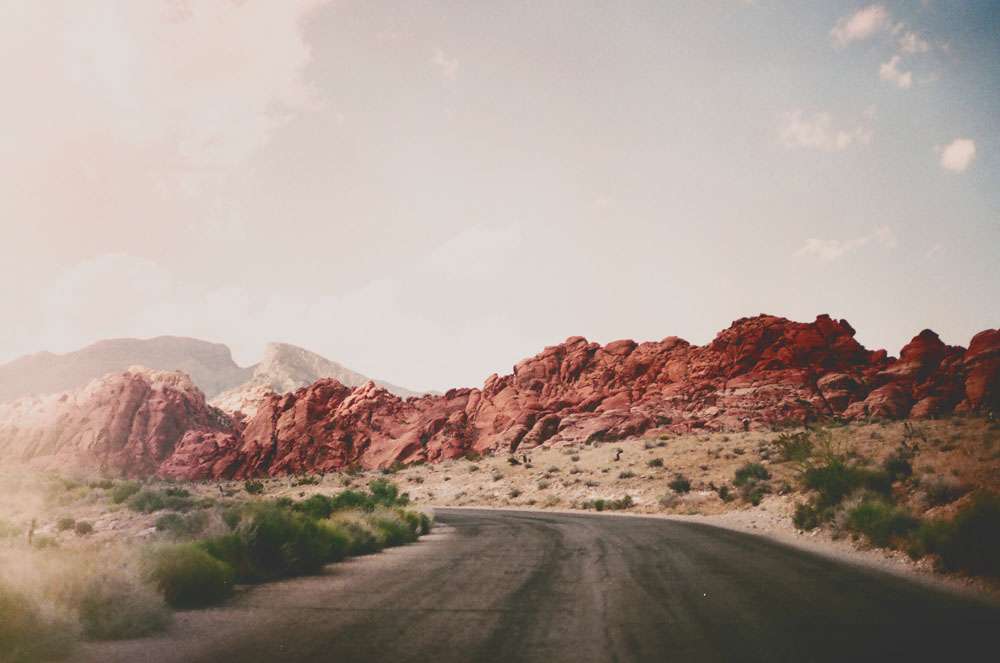 I've visited Red Rock Canyon (pictured above), a national conservation area about 15 miles away from the strip. Take a drive around the 13 mile loop road and stop off to have hike around or photograph the impressive trails. The red rock formations are pretty spectacular in real life and have been there for 180 million years. That literally blows my tiny mind.
Seven Magic Mountains is a large scale art installation in the middle of the desert and its so beautiful! There are seven rock formations, stacked high, which have been painted in neon paint. Its just as magical in person as the name suggests.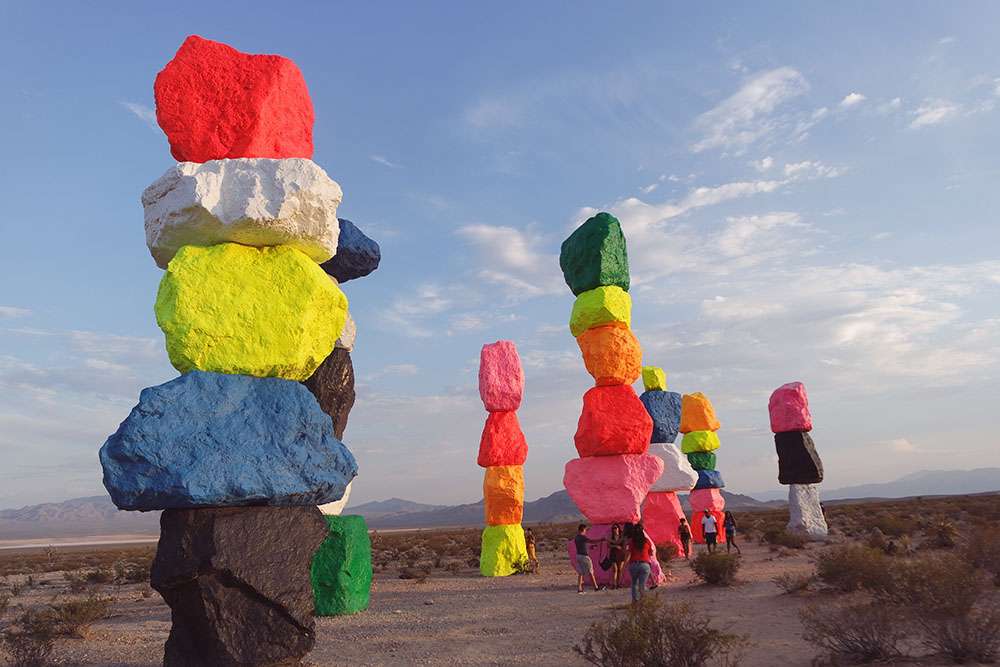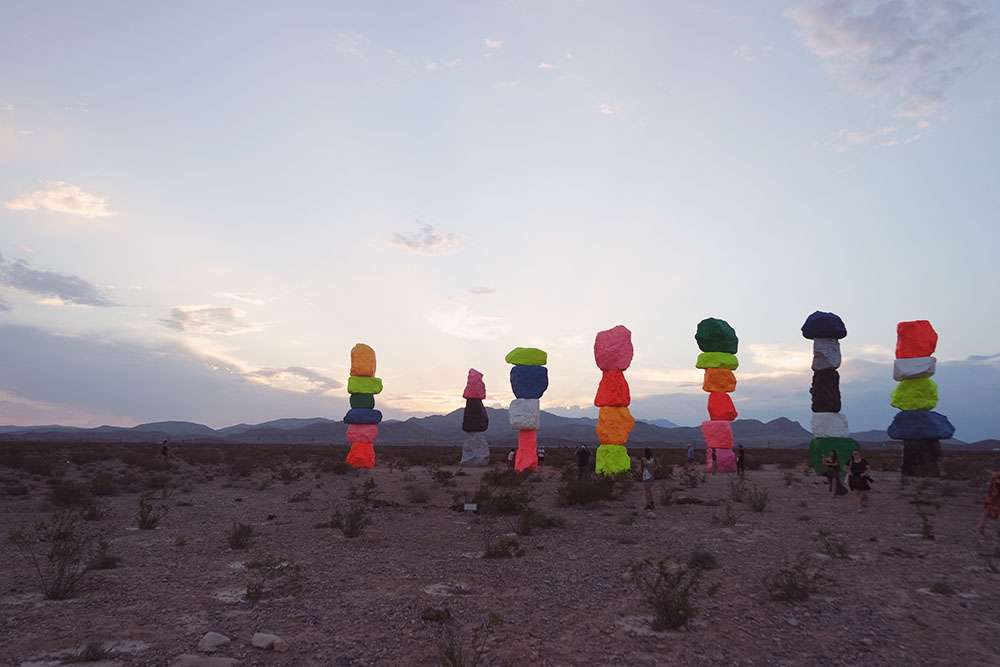 See a show. No trip to Vegas is complete without seeing at least one show! My friends and I have done a LOT of them and each visit we can't wait to see more. So far we've seen David Copperfield, Britney, Lionel Richie, Chris Angel and Michael Jackson Cirque! I'd recommend them all but my favourite was probably Britney (I have no shame!) In most cases you can book online up to the day, but if you want to secure really good seats, or for the super popular performances, you might want to book online in advance. There are a million ticket websites, just Google the show you want to see and search for the best deal.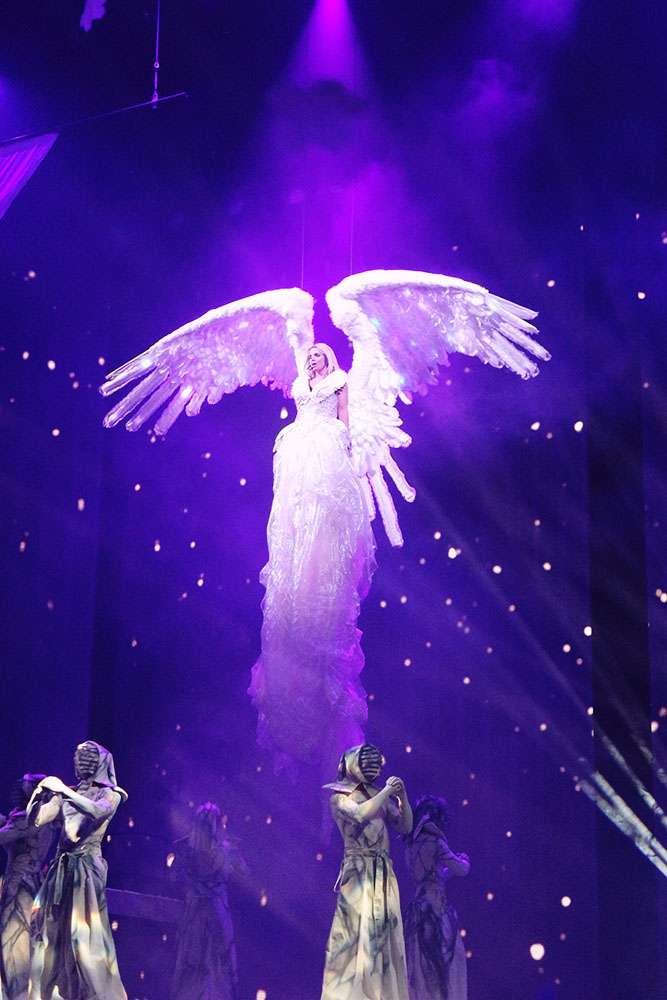 Pool parties are something I'd never done before and they are certainly a cultural experience. They're usually only on during the peak season (from about May-September) and happen during the day and at night!
They have their charms and their downfalls (one of the day time ones we went to at Tao Beach was SO BUSY that we had to leave because I started feeling very claustrophobic and anxious!) The best one that we went to was at the Encore Beach Club. The pool is beautiful and enormous and they have really great guest DJs. We saw Skrillex! We also had a great time seeing Major Lazer at XS.
The shopping in Vegas is amazing. You could probably go with an empty suitcase and still find everything you need (and way way more!) The Fashion Show Mall are the Forum Shops at Caesars Palace are my favourites, but Planet Hollywood also has loads of stores. Also pop by the James Turrell exhibition on the fourth floor of The Shops at Crystals mall. Ahh so many pretty lights!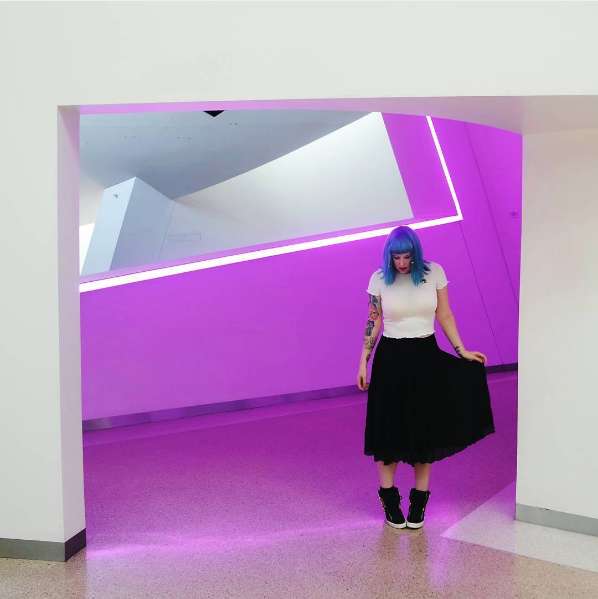 Places to eat
Vegas is the land of excess and you'll never be far from your next delicious meal. I've enjoyed Mon Ami Gabi, Serendipity 3, the all-you-can-eat Wynn Buffet (go for breakfast when you're starving), Pantry (its open 24 hours!), California Pizza Kitchen (the one at the Mirage is my favourite because its circular and in the middle of the casino so its great for people watching), Secret Pizza at the Cosmo (ask a staff member where it is because its hidden and there's no signage!) Tao (a bit expensive but really nice) and PF Changs (their shrimp dumplings are life!)
Things I've still not had time to do!
Yep, there are still so many things I haven't done in Vegas so I can't wait until I get to go back and tick them off my list! I still need to see the Neon Graveyard, spend some more time in the downtown area, do a helicopter ride over the Grand Canyon and see the Hoover Dam (every time I go my Dad is like "Go to the Hoover Dam, go to the Hoover Dam, go to the Hoover Dam!" Yes Dad I promise I'll make it there one day!)
I could literally bang on about how much I love Vegas and give you ideas of things to do all day long! You can read more of my advice and recommendations here. If you're going to Vegas to get married, honeymoon or just for fun, I hope you have an utter blast. Its actually almost impossible not too, I think its the most entertaining place ever!