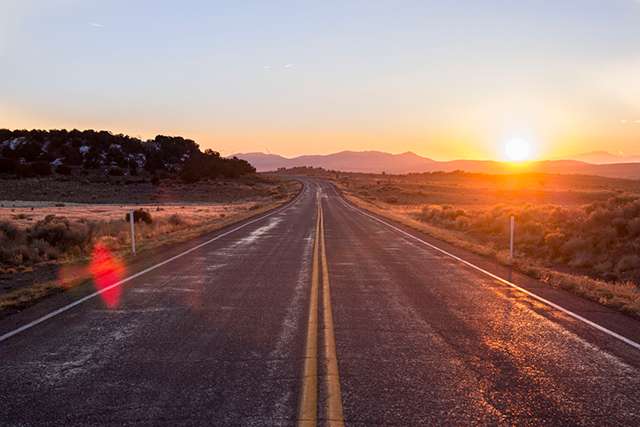 After all the stress and excitement of the wedding is over, your honeymoon is the perfect chance for you to kick back and relax. But what if the idea of lying on the beach in the Bahamas sounds frightfully dull? Don't you worry, my friends from Patchwork, an online alternative gift registry and honeymoon fund, are here to share their top five 2016 honeymoon destinations!
For this article I'm handing over to Patchwork founder Olivia Knight.
Speed through stunning Japan: Two weeks sightseeing on the bullet train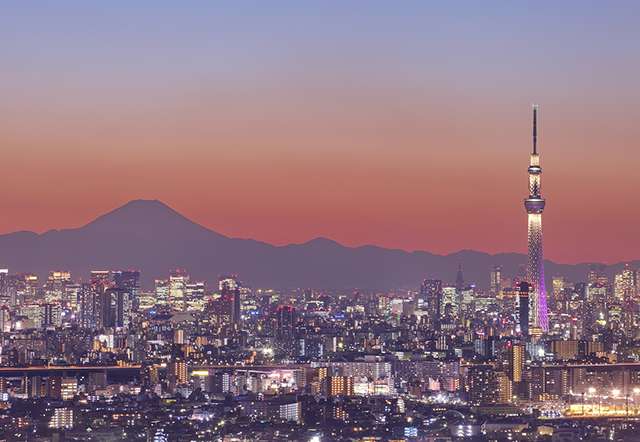 We've got tons of couples using Patchwork to plan and fund honeymoons to Japan this year. I know you've just been there Kat (always bang on trend) so you'll appreciate what an incredible culture trip it is. From the bright lights of Tokyo to the ancient temples of Kyoto and the paradise island of Miyajima, there's so much to see and do. And thanks to the speeding bullet trains it's actually possible to experience it all in a two-week break.
Japan is an expensive country to visit, especially if you want to see all the sites and travel in style! So if this is your dream honeymoon, it makes sense to ask friends and family for cash gifts to help make it happen.
Experience bohemian Berlin: One week living on a houseboat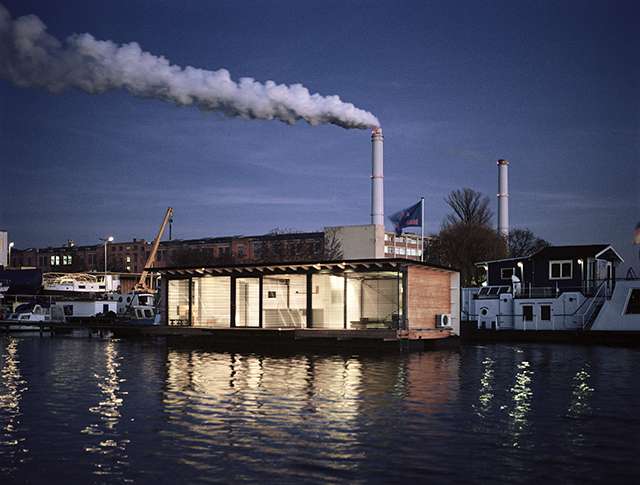 If you're planning a summer honeymoon and want a city break that's full of culture, colour, music and art, Berlin is where you need to be. If you want to experience the city's bohemian delights avoid hotels and live like a local in one of the many unique homes available to rent. My favourite place right now is a super stylish houseboat on lake Rummelsburg that offers a romantic and secluded escape for honeymooners with excellent access to the city.
I think the best way to experience Berlin is just to take your time to wander the East side, stopping off at the food stalls, pop up bars, flea markets and random arts events that all spill out onto the streets in the summer. But there are a few essential tourist-y things to include in your Berlin patchwork too: Dinner up the TV tower for £50, U-bahn tickets for £20, a guided tour of the Berlin wall for £40 and zwei bier for a fiver.
An epic adventure in Peru: For couples who can take some serious time out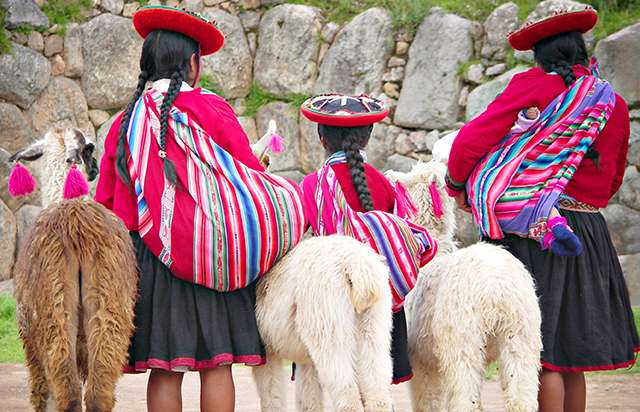 Most couples choose a honeymoon fund because they already live together, have built their nest and don't need department store gifts. Most Patchwork couples have also had a few holidays together by the time they get married too. So when it comes to their honeymoon, two weeks on a beach is not always enough. In the last three years we've seen an increase in the number of couples taking a month out to embark on an epic honeymoon adventure. And this year it's all about Peru.
It's a vast country and with the Amazon rainforest, the remains of the Incan Empire, mountain villages rich in tribal history and the vibrant capital city of Lima to explore, there's a lot to see and do. But given its size it's relatively easy to get around. With friendly locals, a decent range of quality accommodation, efficient transport and great street food, Peru is the ideal honeymoon for couples looking for a bespoke adventure tour or backpackers on a budget. Just customise this patchwork and invite friends to fund your trip – piece by piece.
Road trip around the UK: Travel at your own speed with pets and kids in tow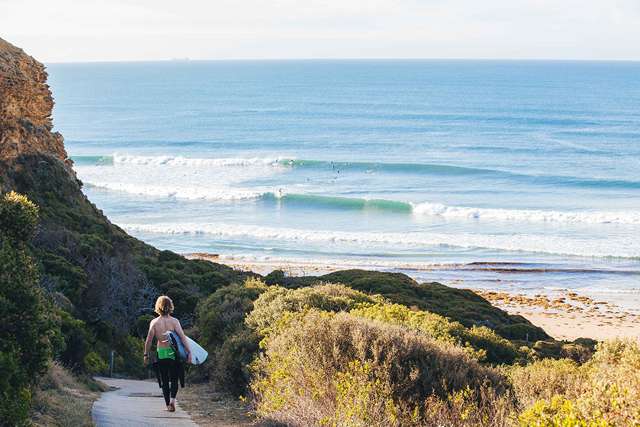 Last year the most popular road trip on Patchwork was definitely Route 66 in a Cadillac, but this year it's the Cornish coast in a Camper Van. Whether it's because of kids, a pet pooch or just a love of the Great British countryside, we're seeing lots of UK couples choosing to honeymoon at home.  Hiring a VW Camper Van is probably the most romantic and stress-free way to do it.
If you want gorgeous beaches, winding coastal roads and beautiful views head to Devon, hire 
a 1970s VW from O'Connors Campers, stock up on supplies and then just go wherever the mood takes you. The best bits are travelling at your own pace, waking up with a different view every morning and Bob Dylan, free wheelin'. Memories that last forever.
Escape to Cuba: Take three weeks to travel back in time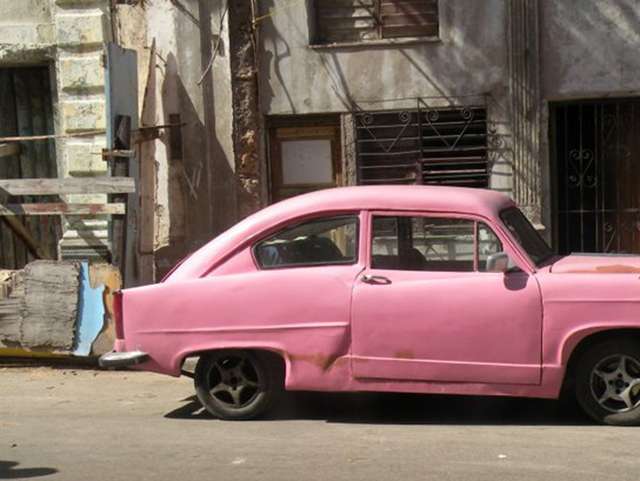 If you want to truly escape and unwind after the intensity of your wedding day, and are lucky enough to take more than a couple of weeks off work, I seriously recommend going to Cuba. It's not just the pace of life, the faded glamour of Havana, the gorgeous 1950s cars and the noticeable absence of adverts that take you back in time, it's the no-internet thing. It takes a while to adjust and unplug, but not being able to use your phone is a holiday in itself and massively liberating once you get used to it.
My one tip would be to avoid package tours and hotel stays in Cuba. Travel the island by bus and stay in the many homes open to tourists across the island. Offering clean rooms, simple food and stories of revolution, hardship and hope, you'll get a more interesting and intimate experience staying with families. Plus the accommodation is great value for money. No need to book your trip in advance. Just sort out your flights, grab your Lonely Planet and go.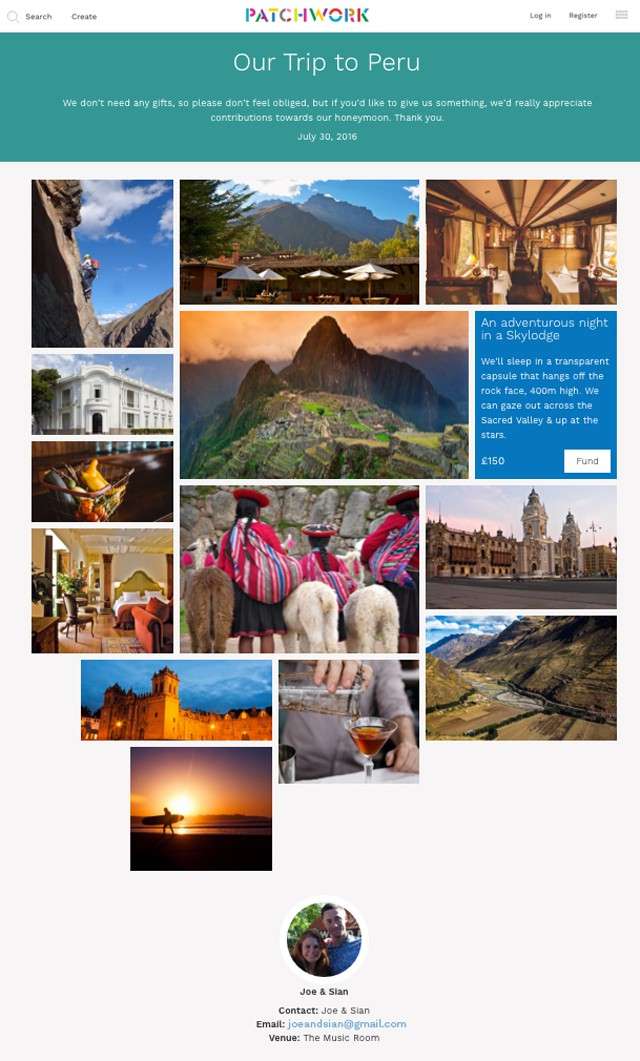 Patchwork are the perfect registry for you if you want flexibility in the gifts you're asking for. You can add literally anything to make your own 'patchwork' of experiences and gifts. If you're looking for honeymoon inspiration you can browse their ready made patchworks and customise one to make it your own. If you're feeling creative you can also make a patchwork from scratch using their gorgeous image gallery.
It's also totally free to set up! There's just a 3% commission on all purchases. However the truly great thing about using Patchwork for your alternative gift list is that they don't hold any funds. So if one of your guests contributes some cash, it goes straight to your PayPal account for you to spend when and how you like. Unlike some other services you don't have to wait until after the wedding to access it. For more information see their How it Works page.