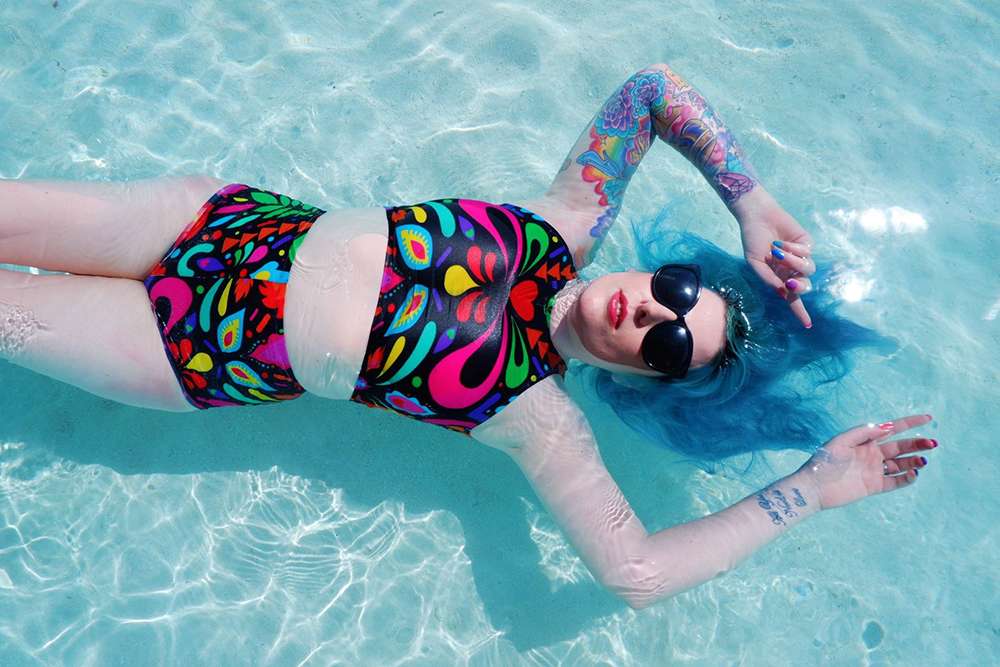 I've been sat, staring at a blank Word document for a good half hour or so wondering how I can put into words the experience of our recent adventure in the Maldives. Writer's block is REAL when you have so much to say but you're not quite sure how to adequately put such an incredible experience into words… The Maldives has been on my vision board for years so actually being able to go there… I mean wow, how did we get so damn lucky!? The whole trip was so magical, so perfect, and so relaxing that it almost feels like it was a goddamn wonderful dream.
Gareth and I were invited by Universal Resorts to experience two of their locations, Kurumba and Faarufushi. Completely different from each other but both equally amazing, Kurumba was actually the very first resort to open in the Maldives (47 years ago!) and Faarufushi opened just a month ago, so we really did get to have two very different experiences.
This holiday was a real once in a lifetime experience for us (although I really hope we get to experience something like it again!) The Maldives is the PERFECT place to escape to after you've had a busy or stressful time, making it the ideal honeymoon spot for those of you who just want to kick back and relax… in the most stunningly beautiful and luxurious surroundings!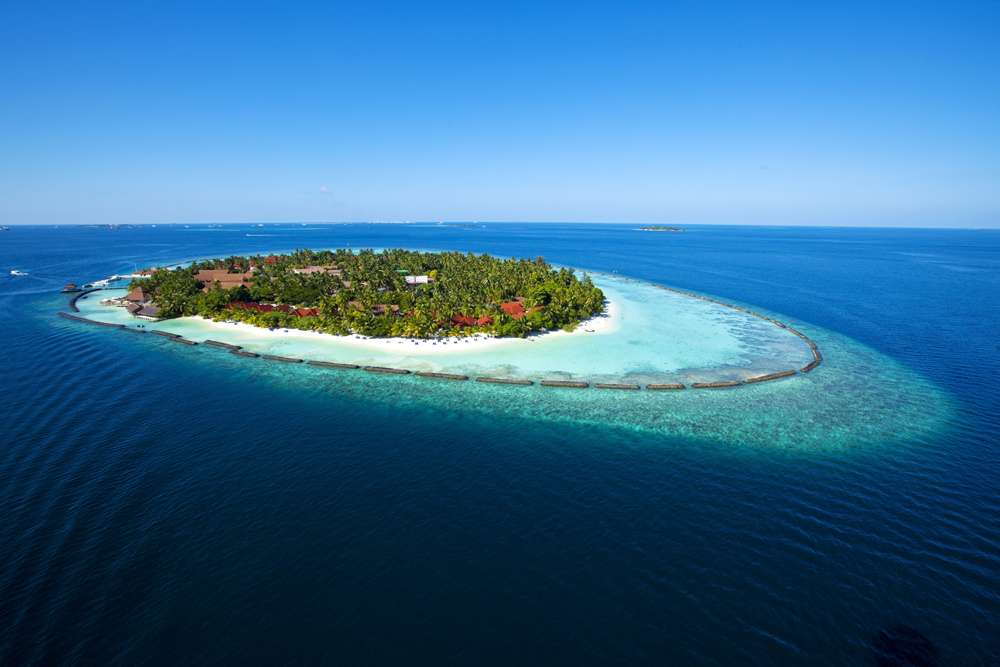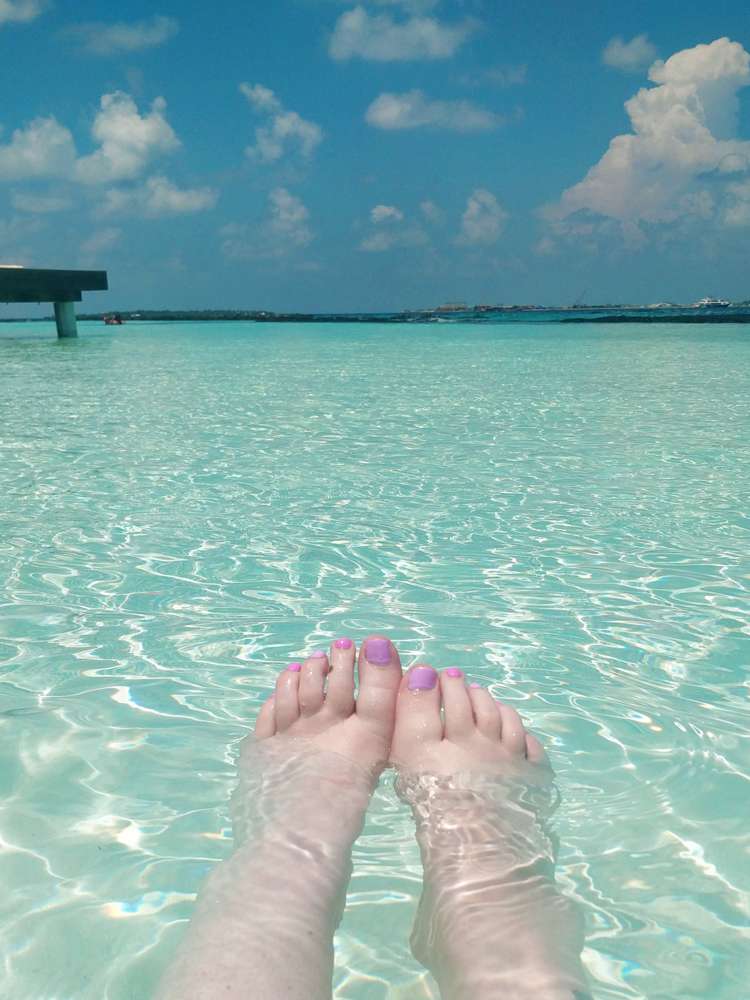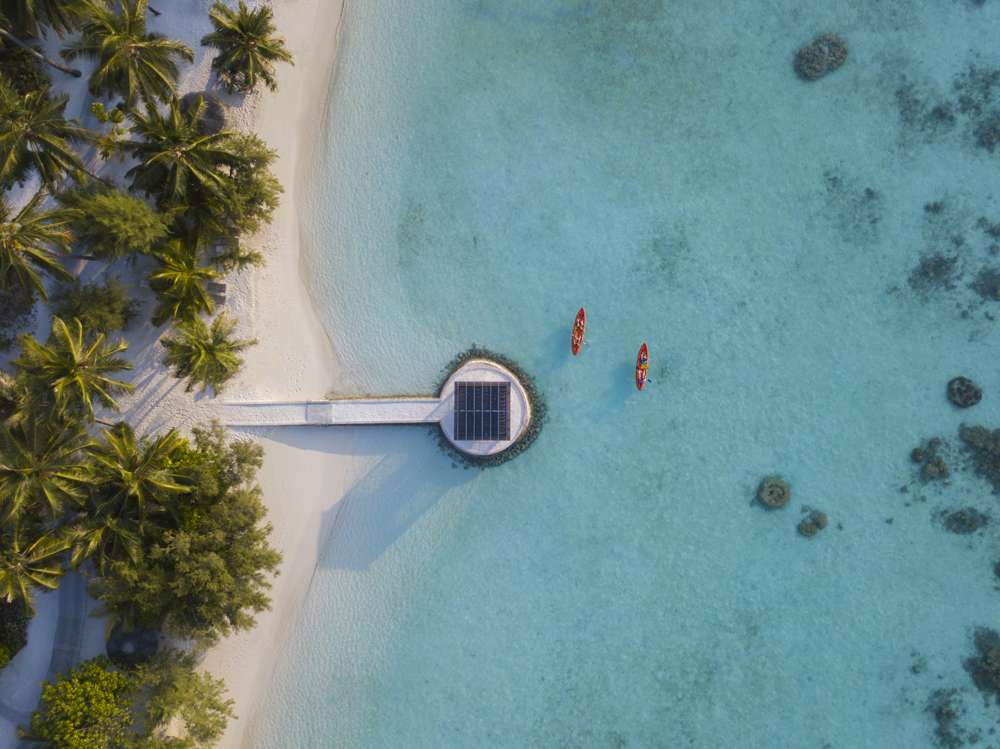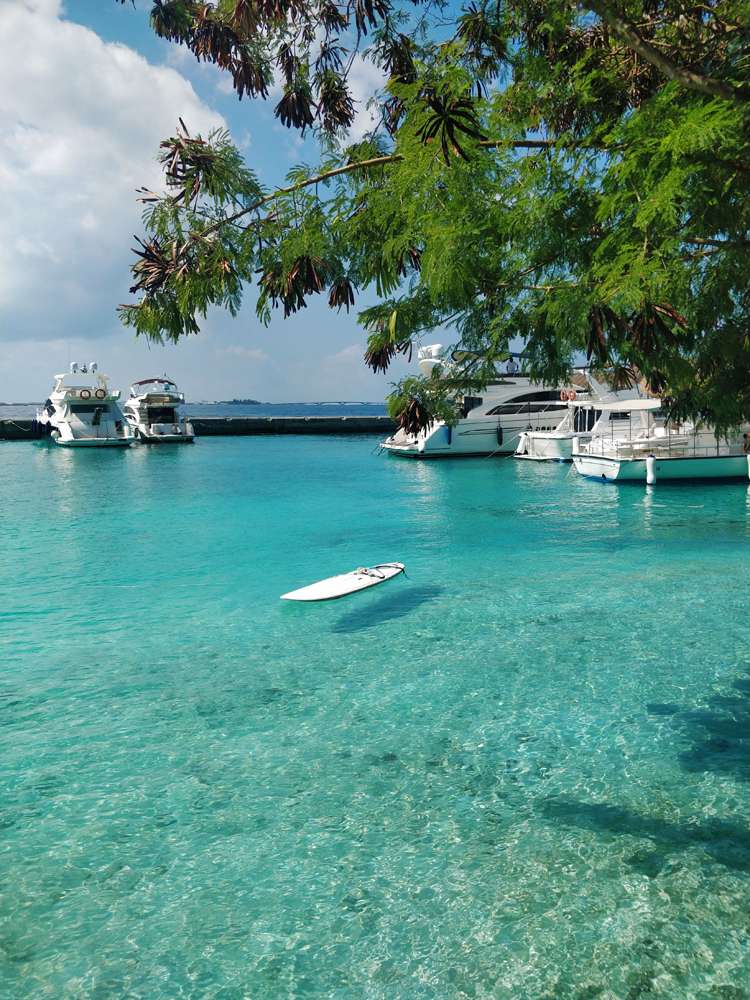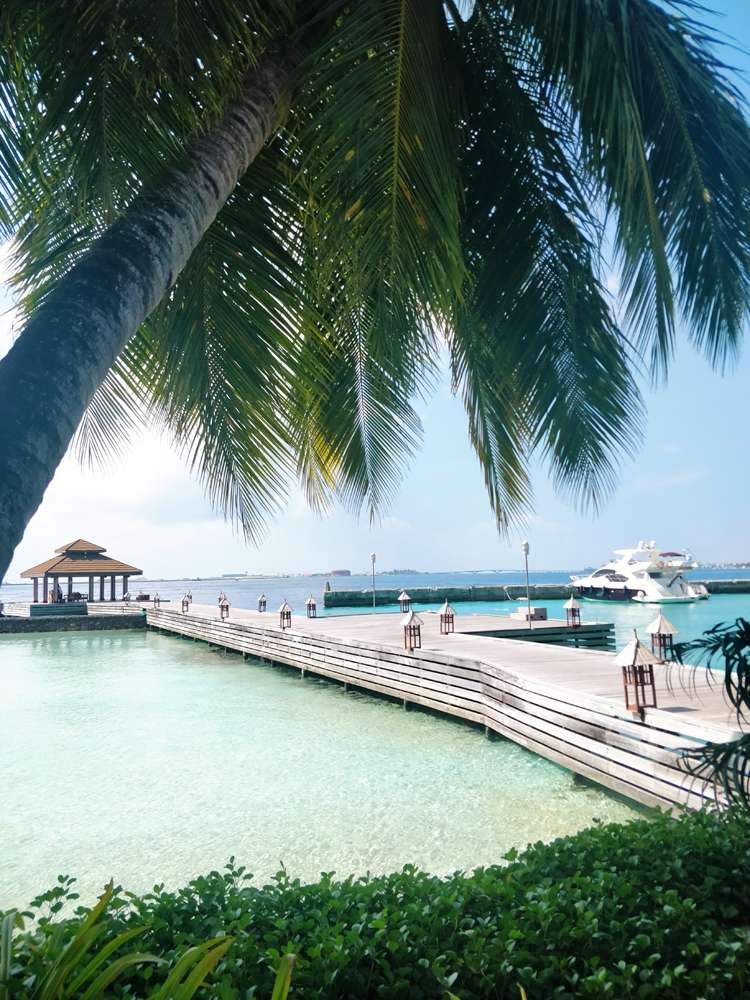 Today I'm going to start by sharing Kurumba with you. Later, I'll be covering Faarufushi and after that I'll be doing a more general post about the Maldives to answer all the questions I've received during this trip – things such as transport and transfers, food, activities/things to do, and of course, the big one everyone wanted to know – the cost!
We arrived at Male airport after a long journey from the UK (seven hours to Dubai then four down to Male) and were greeted by a Kurumba team member at the airport. Other than being told "They'll arrange everything for you" we really didn't know exactly what the transfers between resorts would entail, but I'm pleased to report everything was smooth sailing! The great thing about Kurumba is that it's just a ten-minute speed boat ride from Male airport, which is perfect if you're exhausted from your long-haul journey. The idea of getting on yet another flight as soon as we arrived was not something I would have been too thrilled about! The location also makes it great for anyone travelling with kids. If, like us, you'd like to visit a couple of different resorts on your trip, Kurumba really is the ideal place to start due to its location and the fact that so much is included for you, so you really don't have to think about or organise anything before you arrive (more on this below). We were greeted with coconut sorbet and cold flannels at check in, and after a short lounge by the pool while we waited for our room to be ready, we were golf-buggied to our villa.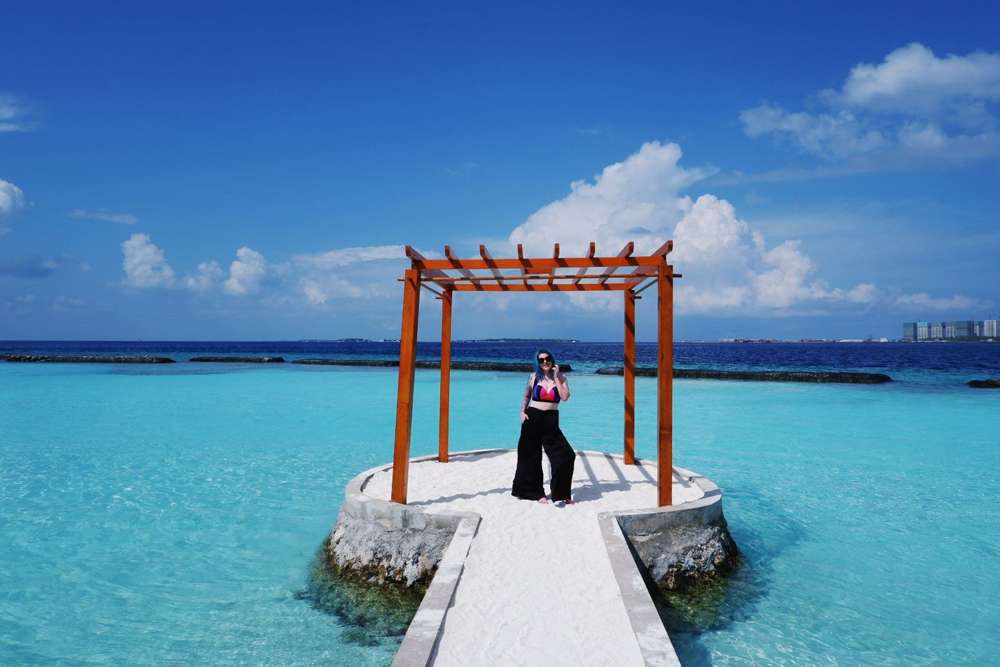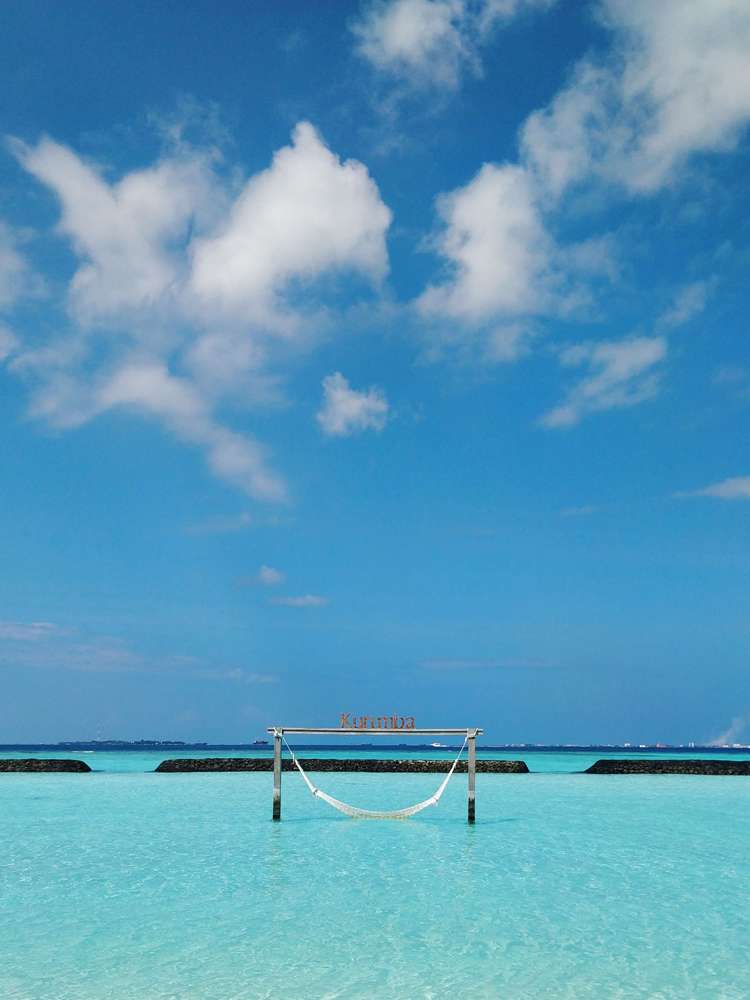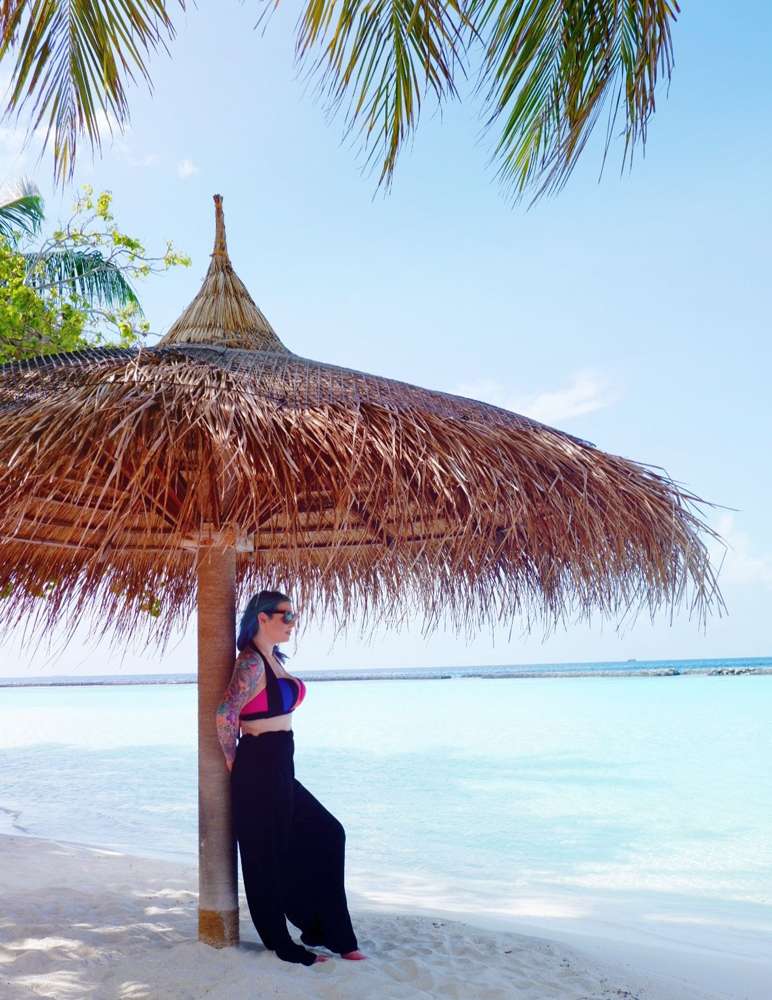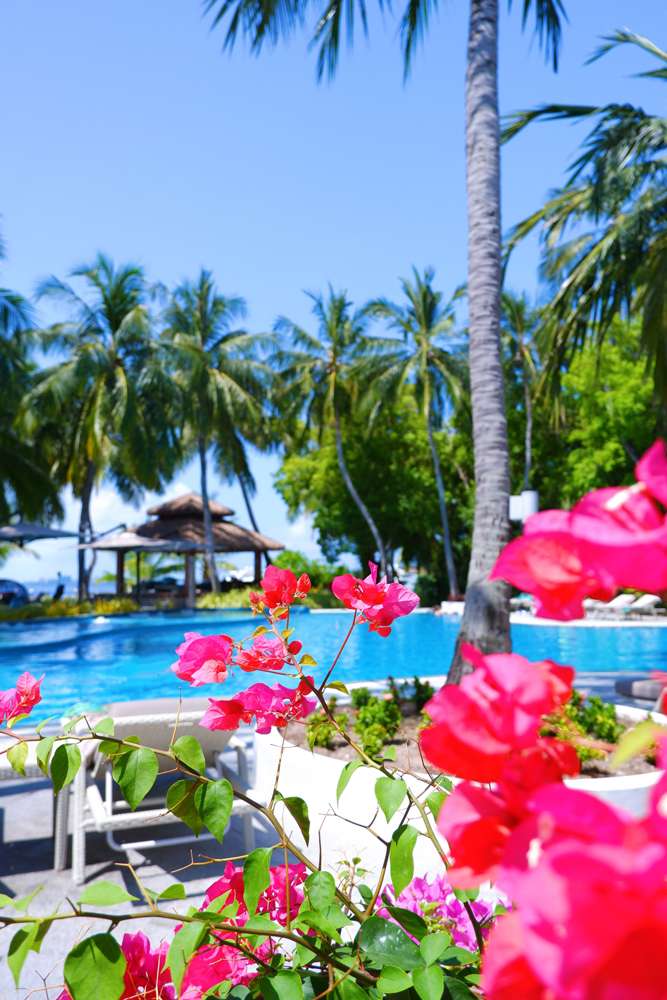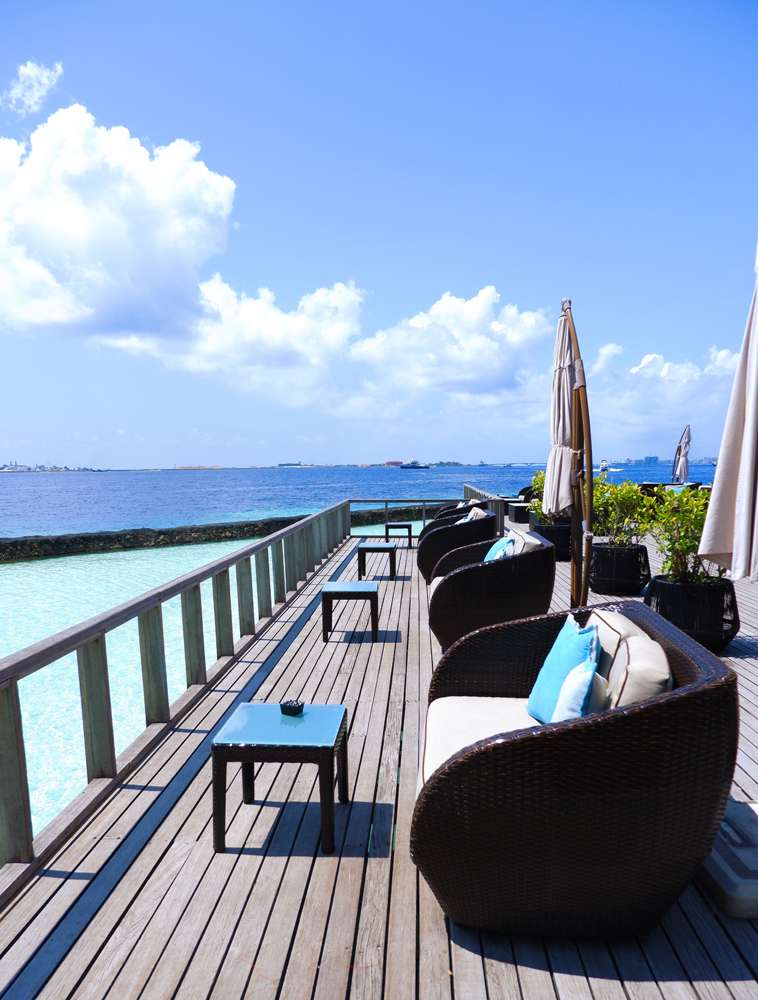 Our room was a Beach Villa with Jacuzzi which had a large bed and living room area, a dressing room and one of the most stunning bathrooms I've ever seen! There was an indoor AND outdoor shower and a hot tub in the little garden out the back (although in all honesty, it was just too hot for us to use it, even at night it's around 30°C so an icy plunge pool might have suited us better – ha!)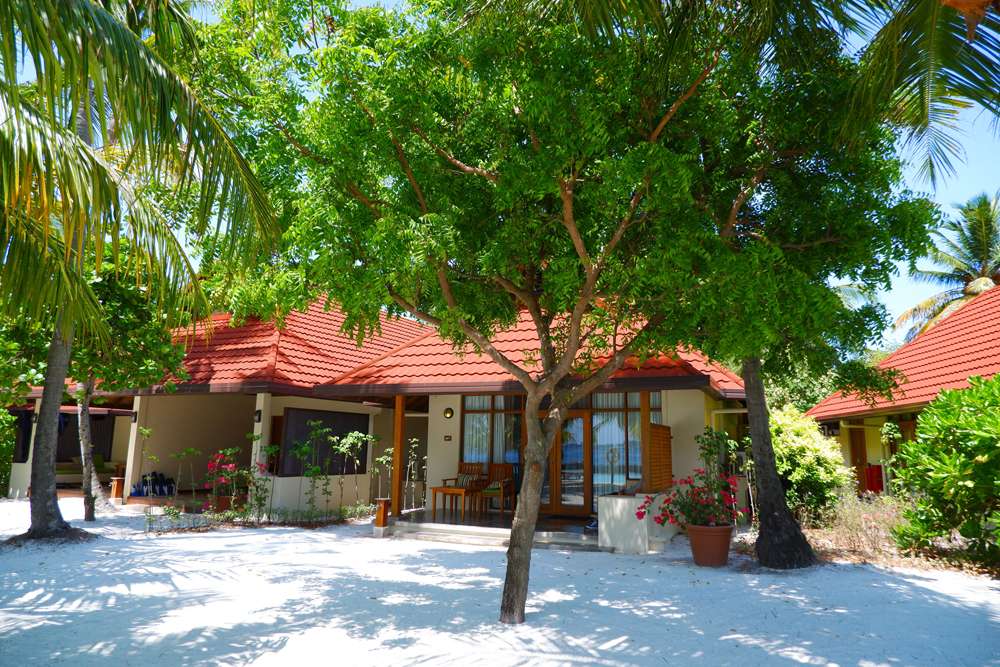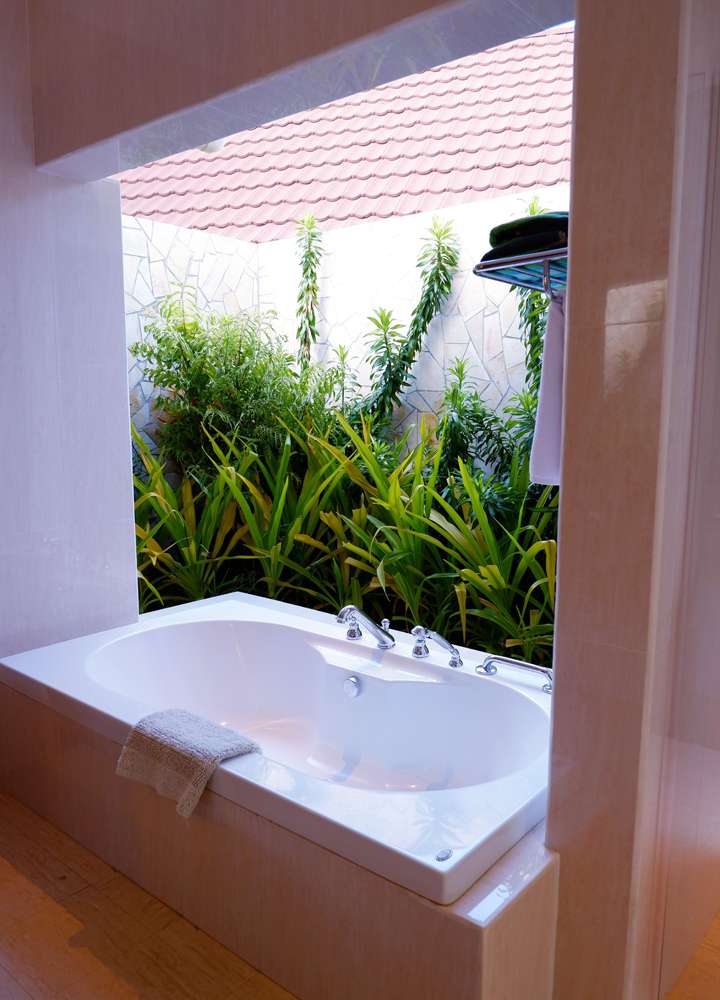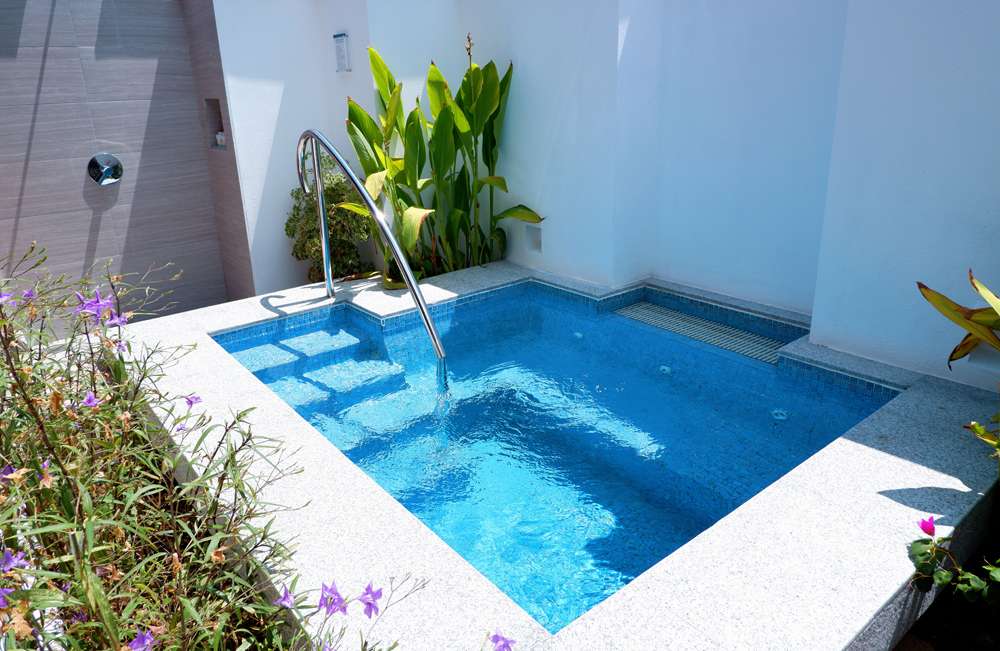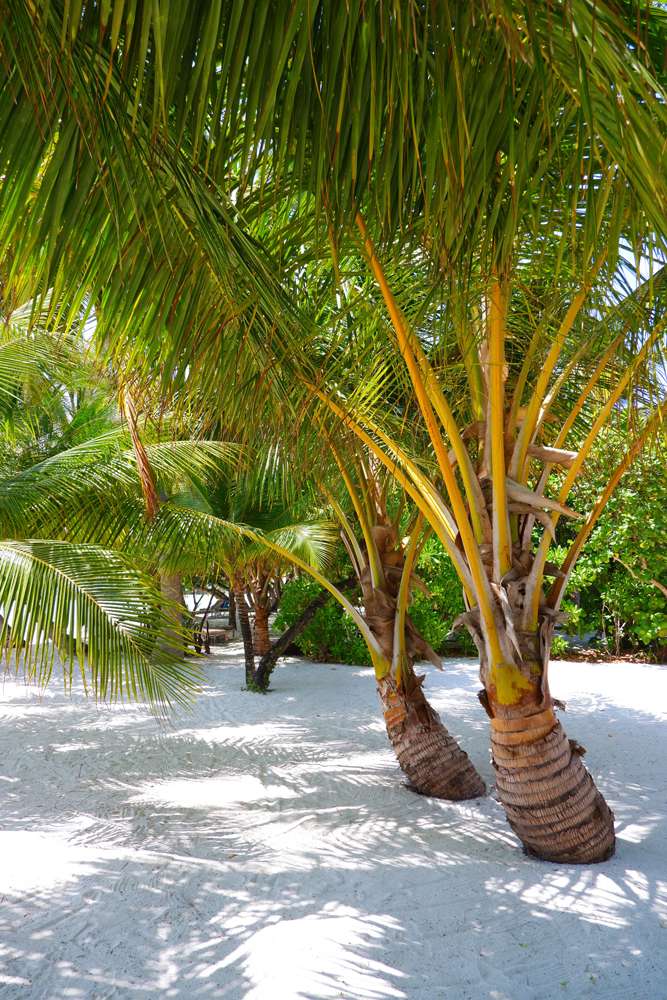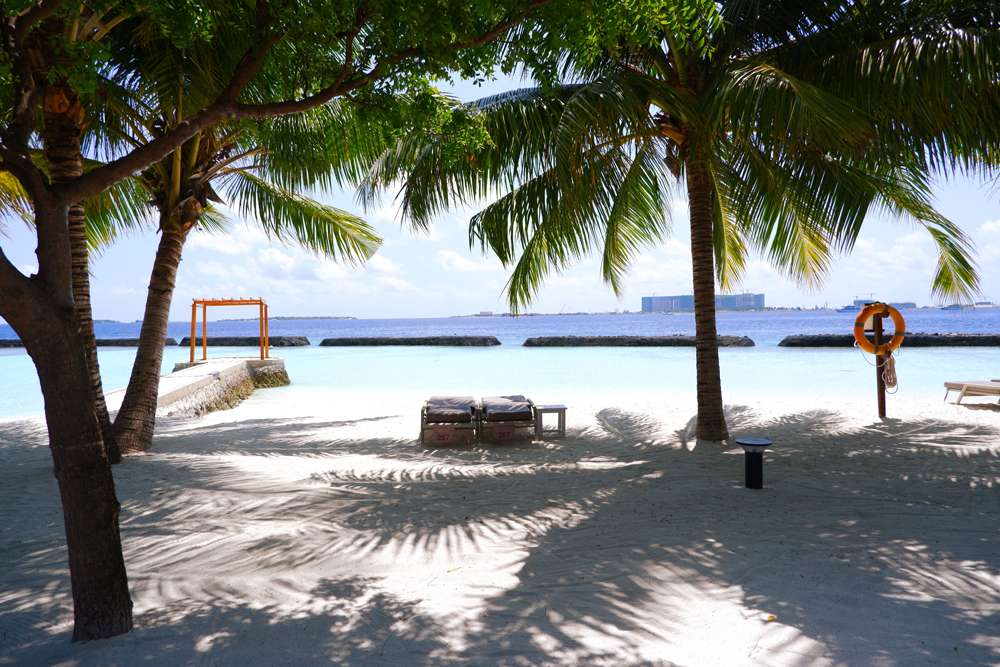 The thing we really loved about this accommodation was the almost-private beach out the back. Although not fenced off or anything, each beach front bungalow has a strip of beach behind it with sun loungers for your personal use, right in front of the lagoon. Even though the resort was apparently at 90% capacity, we hardly ever saw anyone else on 'our' part of the beach. For the rooms not on the beach, there are plenty of public beach areas to use as well as the main pool and bar area (with yet more beach).
One of the things many people have asked me about this trip is if it was boring… Well as someone who always likes to be on the go and gets bored very easily, I can wholeheartedly say NO! It's surprising how quickly the days slip away from you in between your all-inclusive meals, cheeky afternoon cocktails, swimming and snorkelling in the sea and joining in on one of the many activities that Kurumba puts on for their guests. As an internet addict I'm also pleased to report that the WiFi was excellent (#priorities).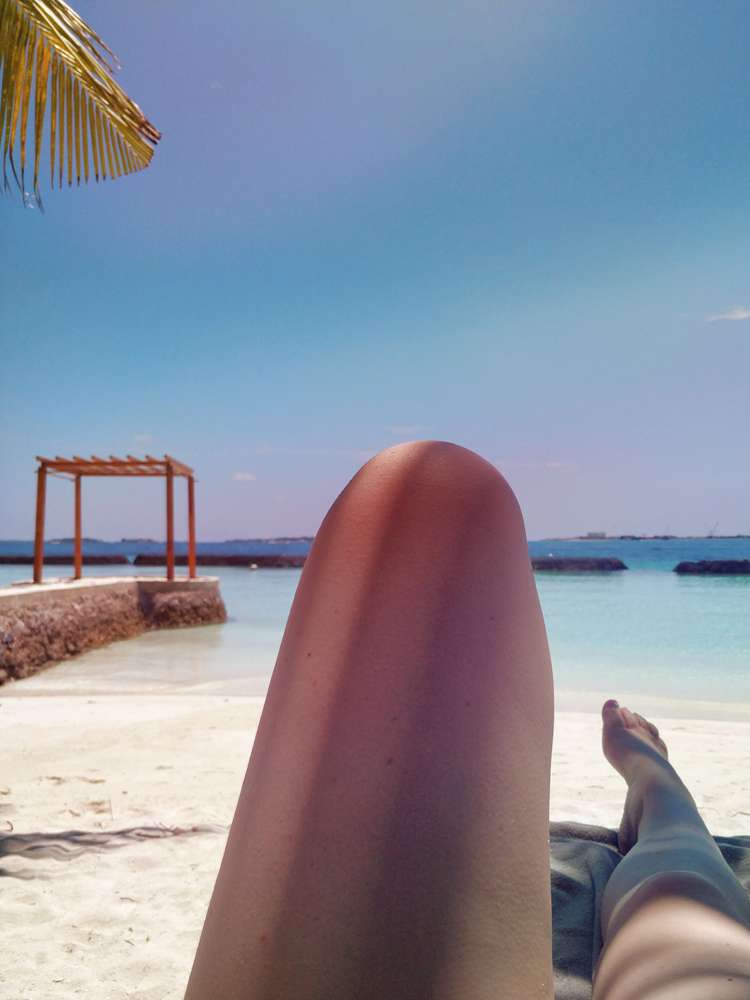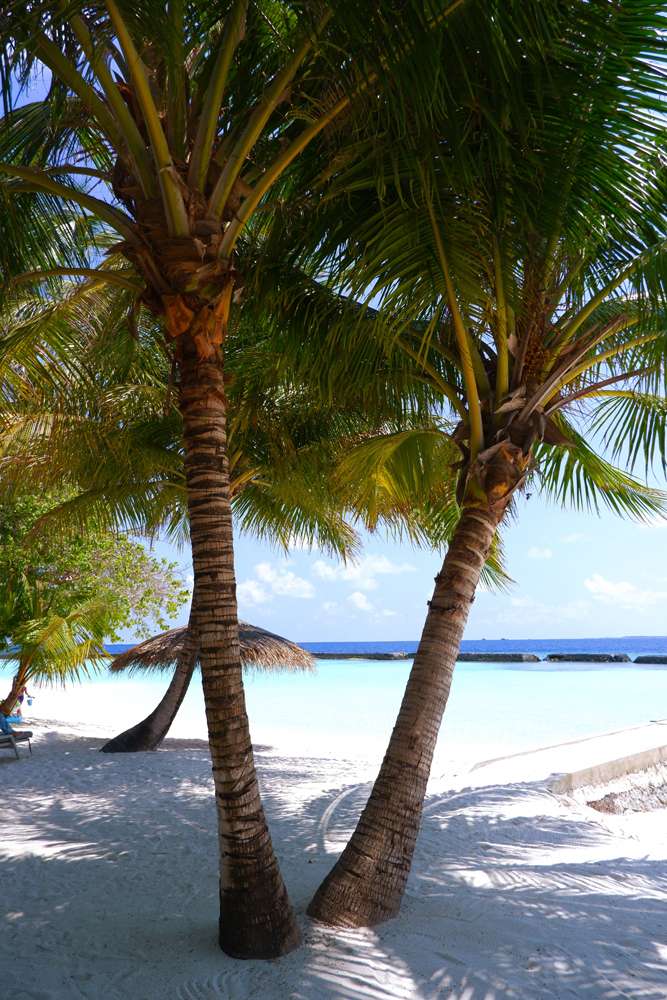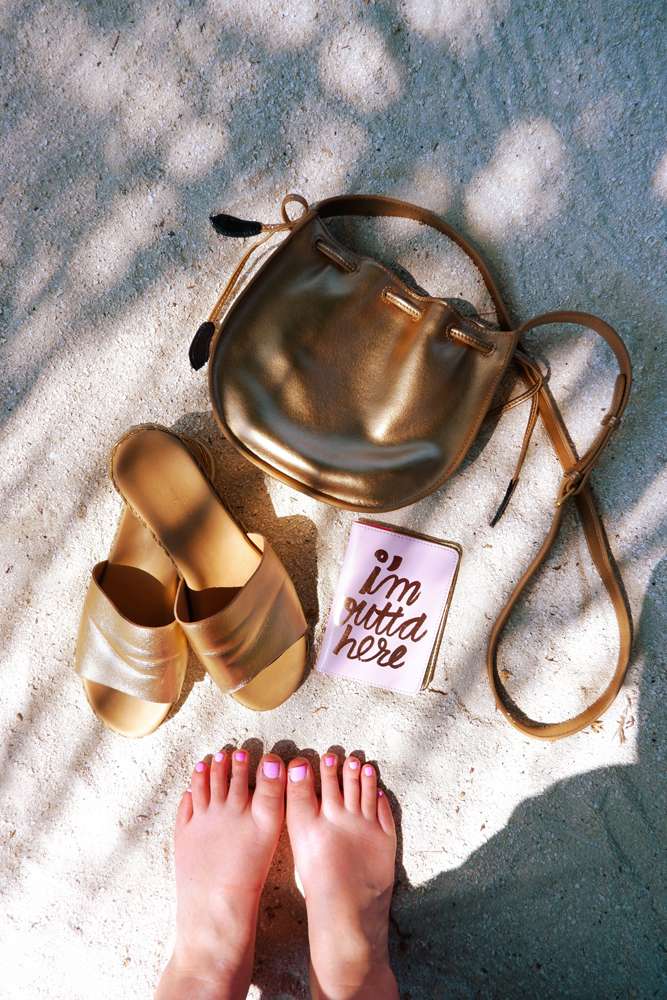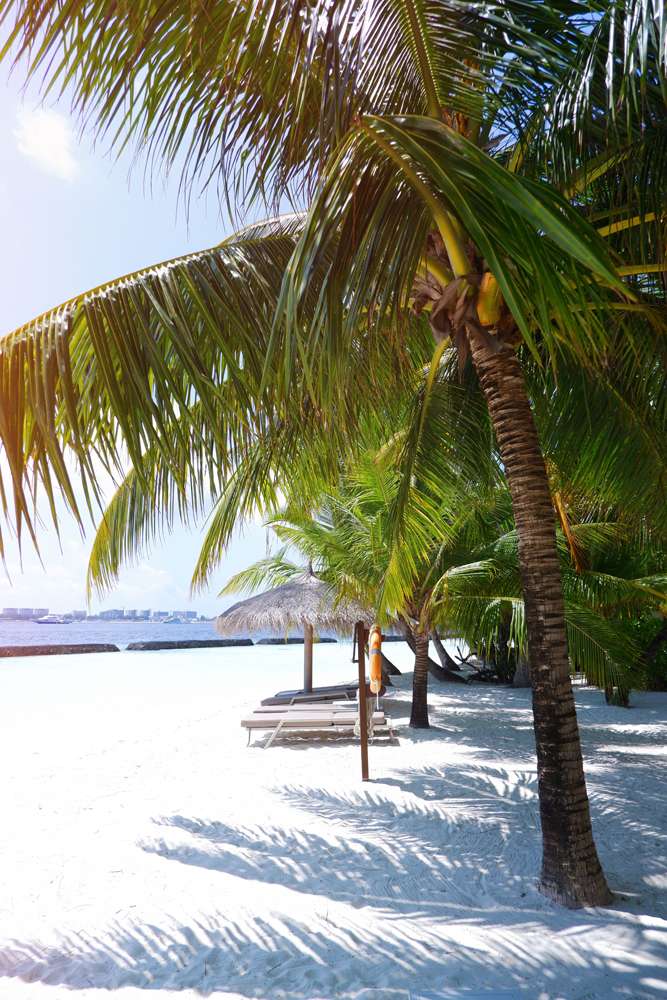 In fact, the wide range of activity options at really good prices is one of the main things we loved about Kurumba. They offer a number of excursions such as snorkelling safaris, scuba diving, a sunset dolphin cruise, water sports, glass bottom boat tours and so much more. There is even free yoga and they offer free snorkelling equipment hire to all guests. There's also an extensive kids club (with its own playground, cinema and supervised pool!) if you're travelling with little ones and would like some time to yourself…
We were lucky enough to experience the sunset dolphin cruise (on my birthday no less!) and the INCREDIBLE 'Spa under the Stars' – a sunset couple's massage the night before. WOW, what an experience that was! We were taken to the end of pier which was set up with two beds surrounded by candles and covered in local flowers. As we lay there with the Indian Ocean lapping around us, with one of the most incredible sunsets I've ever seen, we were massaged with warm coconut oil. After the treatment was over and the sun had set, we were served champagne and chocolate dipped strawberries on the beach. I mean, MY GOODNESS, what a way to welcome the start of my 36th year!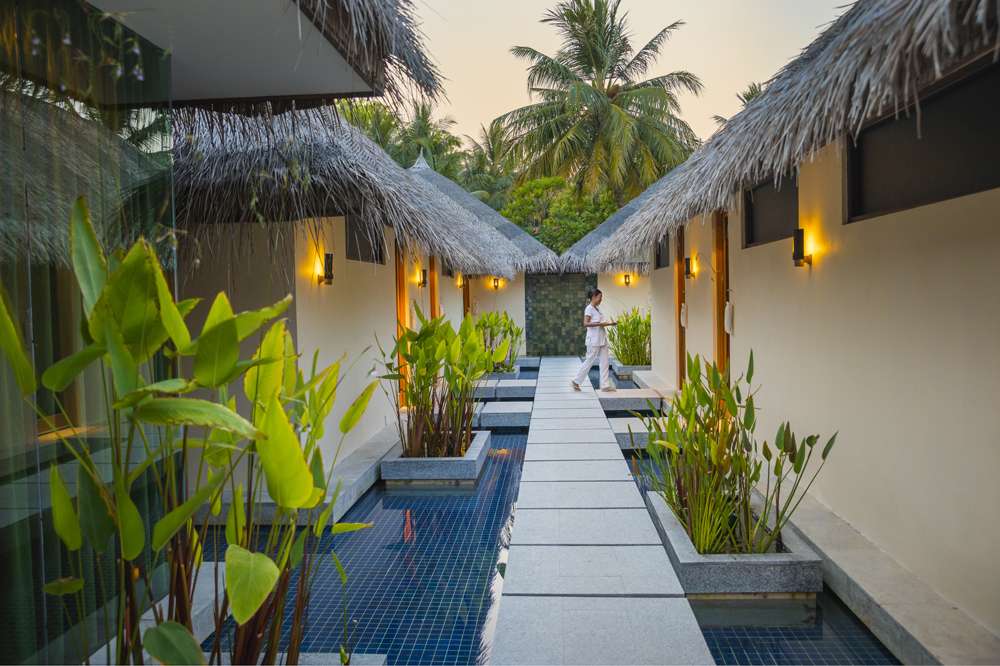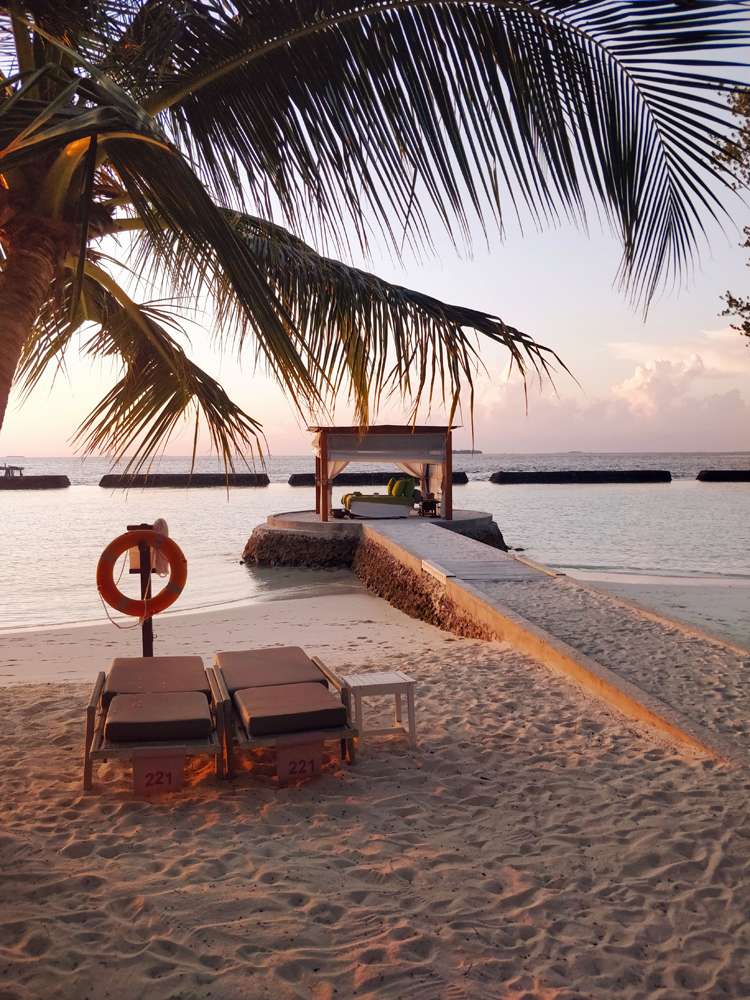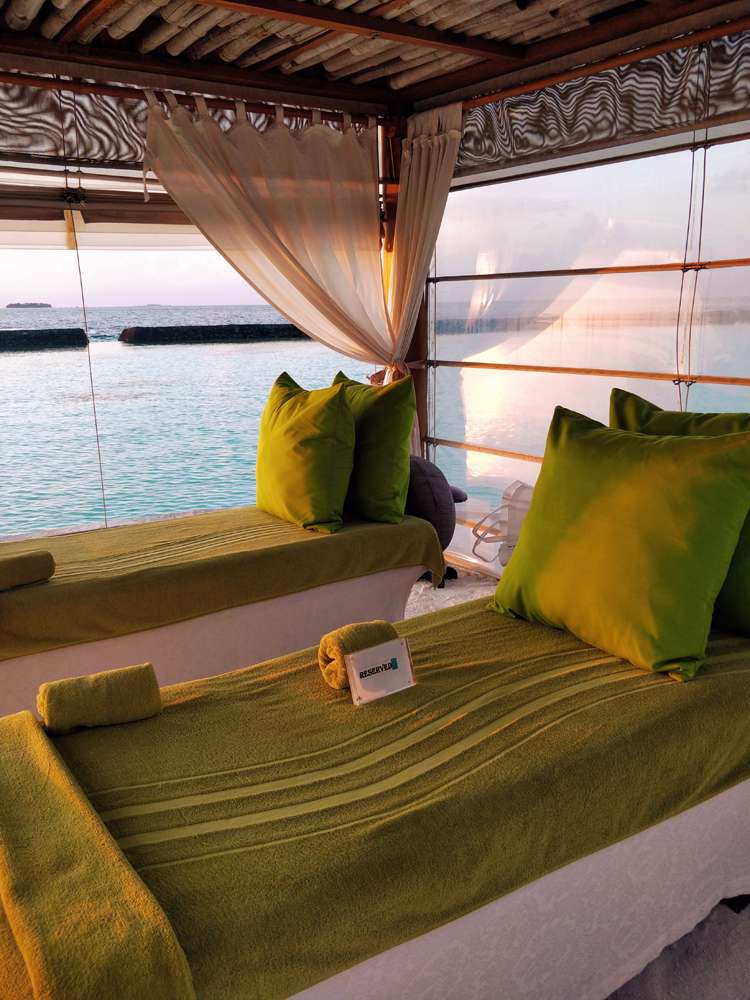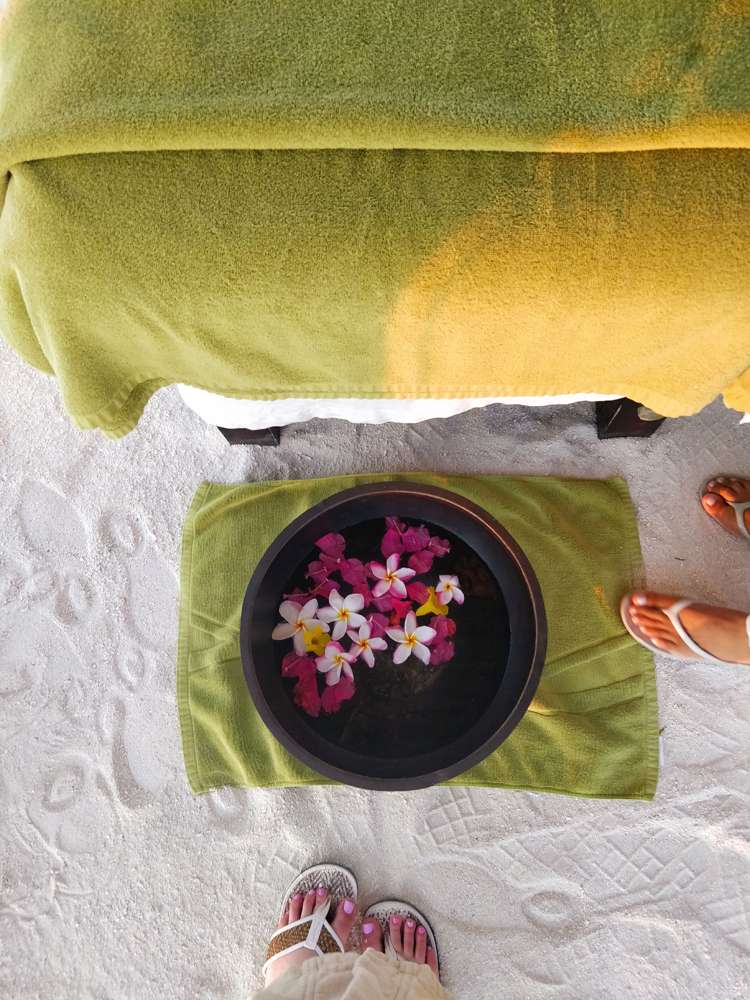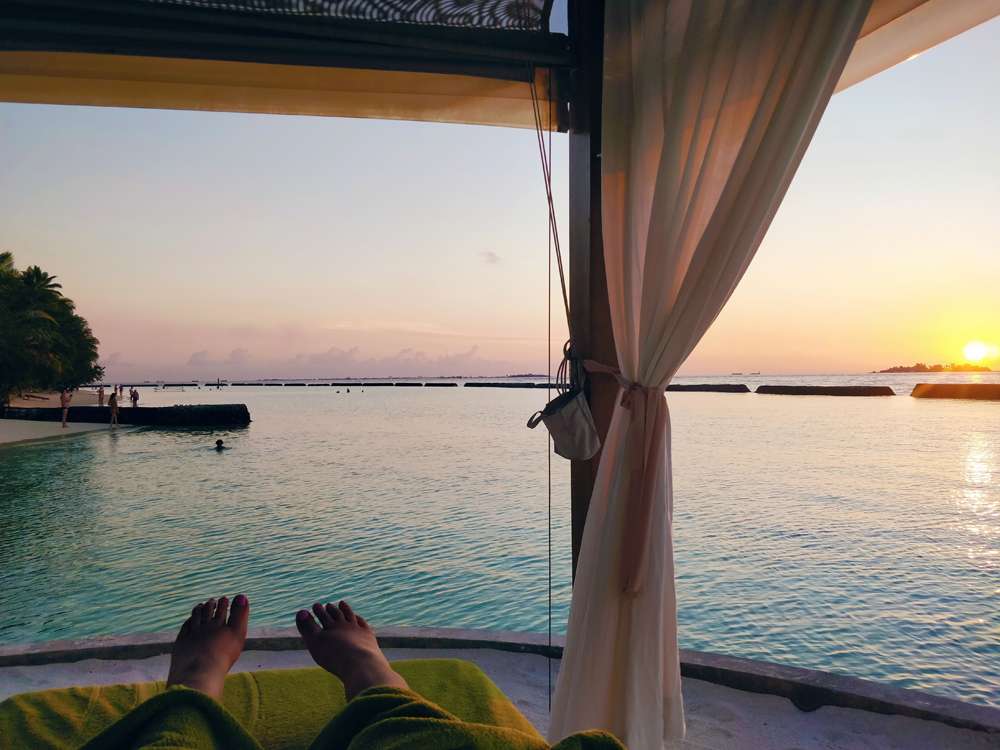 The dolphin cruise was also super fun. We were on a boat with about 12 other people and the guides who served us champagne, beer or soft drinks as we took the two hour round trip to visit the dolphins in their natural habitat. It was almost impossible to get decent photos but we saw them and it was magical! One woman on the boat with us cried!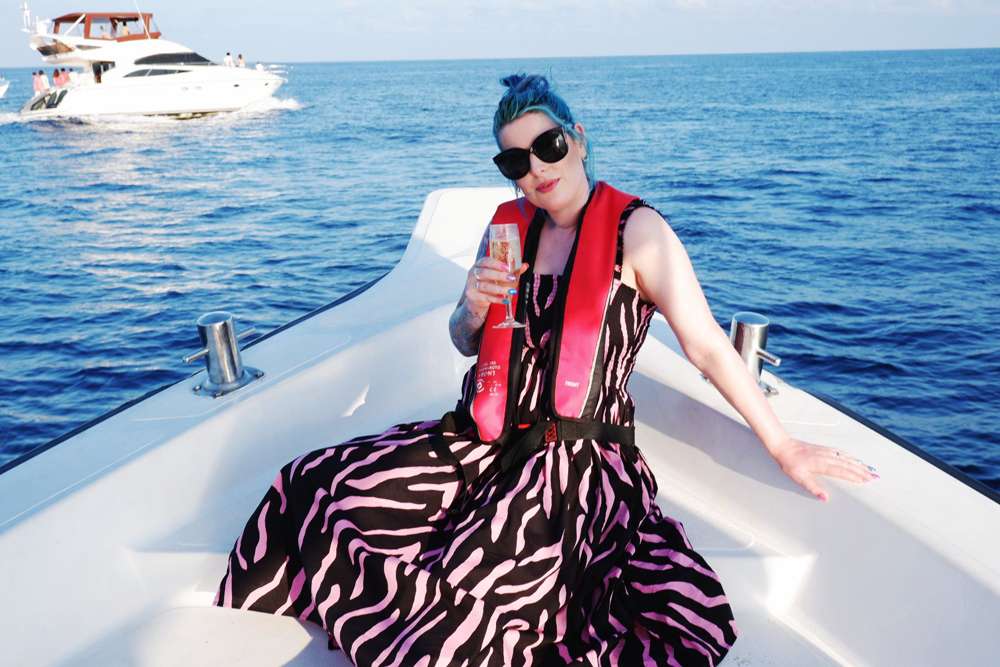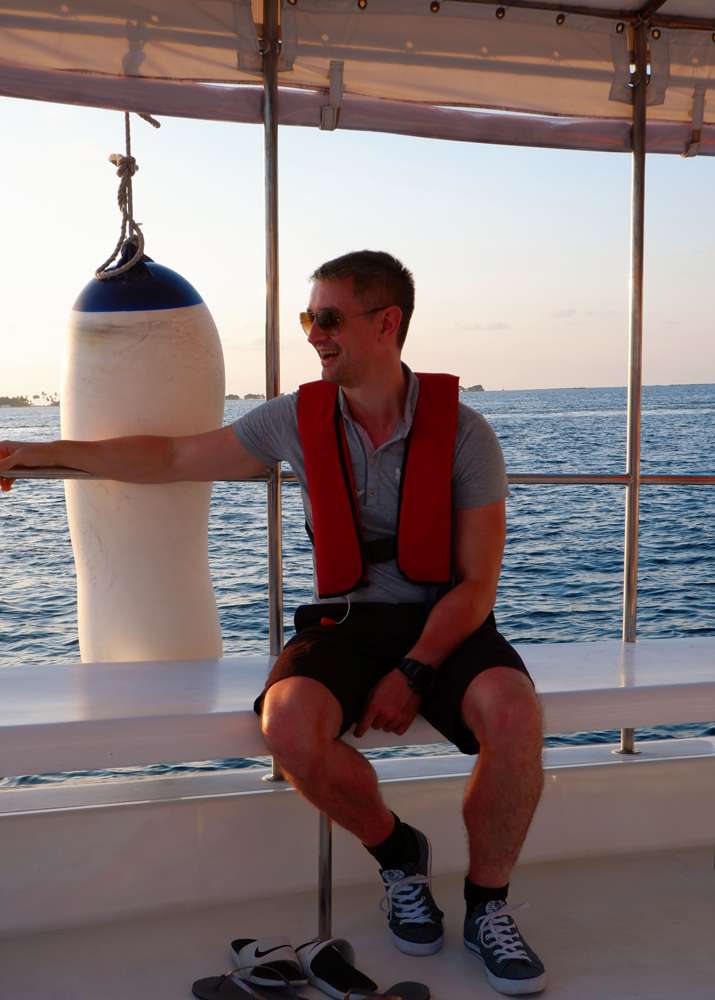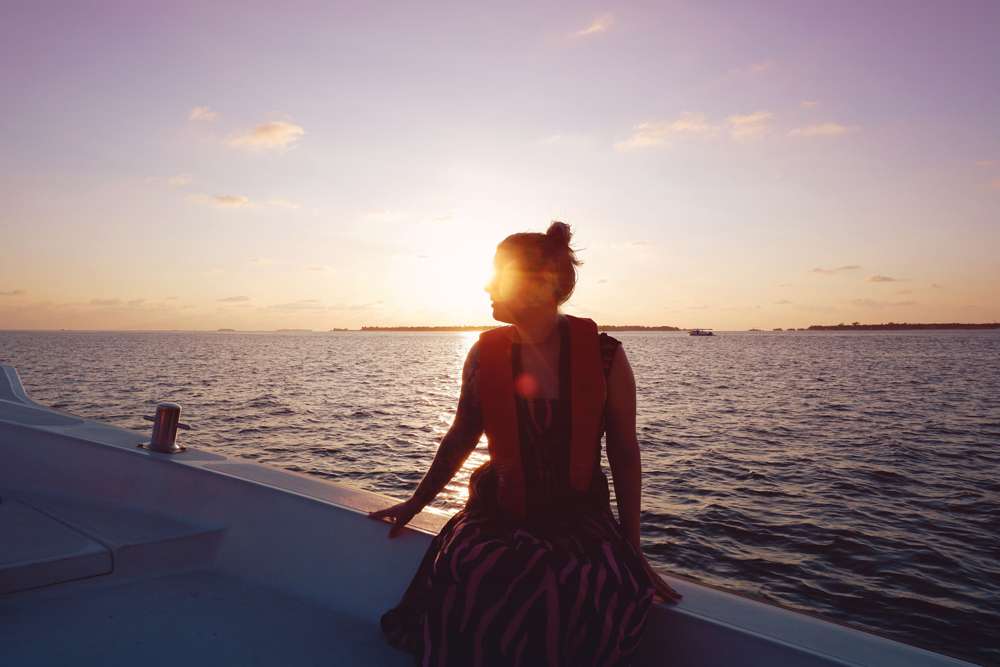 The other big thing we really loved about this resort was the food. We were on the Dine Around all-inclusive package which costs $155 per person per night which is actually really great value for what you get. Even if you're looking to do your trip on a budget, I'd encourage you to book an all-inclusive food and drink package. You'd definitely end up spending more overall if you had to buy everything individually. It was also nice to not have to worry about what we were ordering – we could get anything we liked! Of the eight restaurants our favourites were the Japanese Teppanyaki and Thila, their contemporary signature restaurant. There was also Thai, Italian, Indian, Middle Eastern, a shisha lounge, the main bar/cafe and Vihamanaa, their buffet breakfast and lunch spot.
The dine around package we were on included a premium breakfast, lunch and dinner at any of the restaurants we liked and all we could drink from their extensive wine, beer and cocktail menu. Kurumba also offer less expensive inclusive options (bed & breakfast, half and full board) if you're on more of a budget and you're happy to eat less (ha!)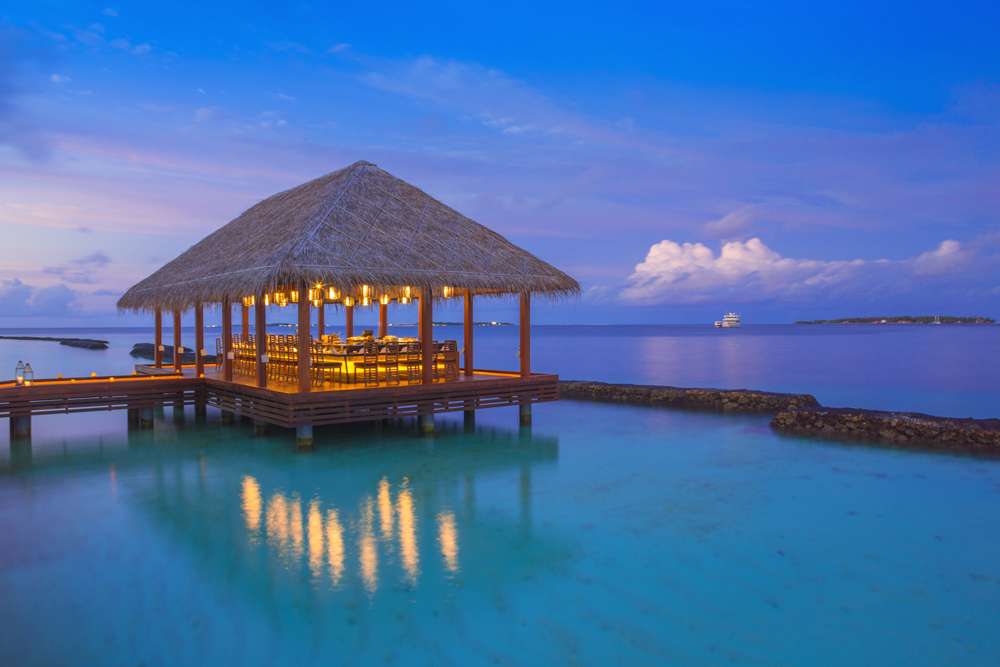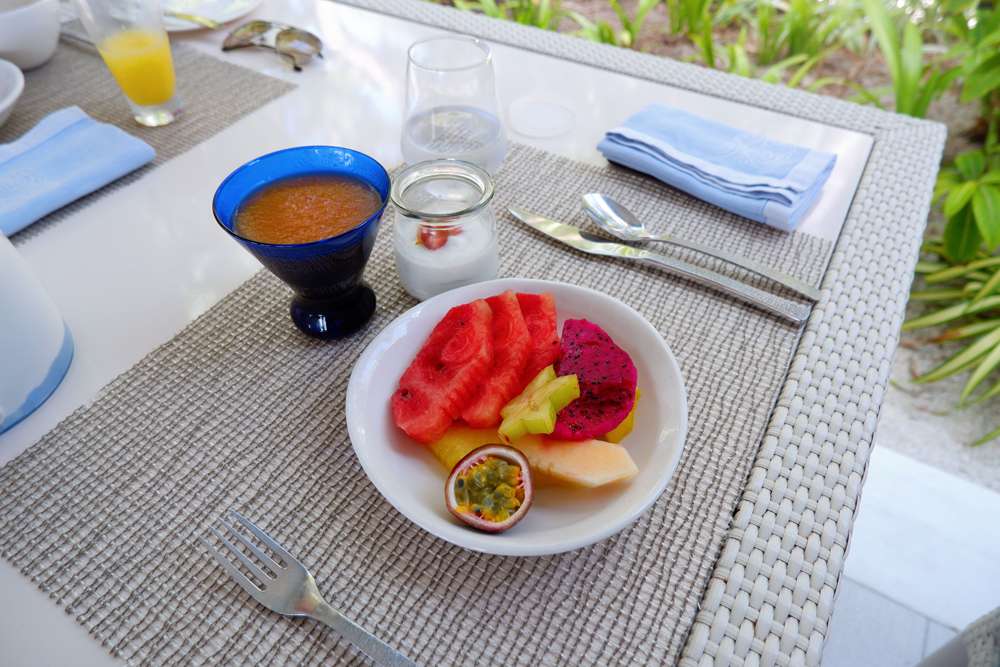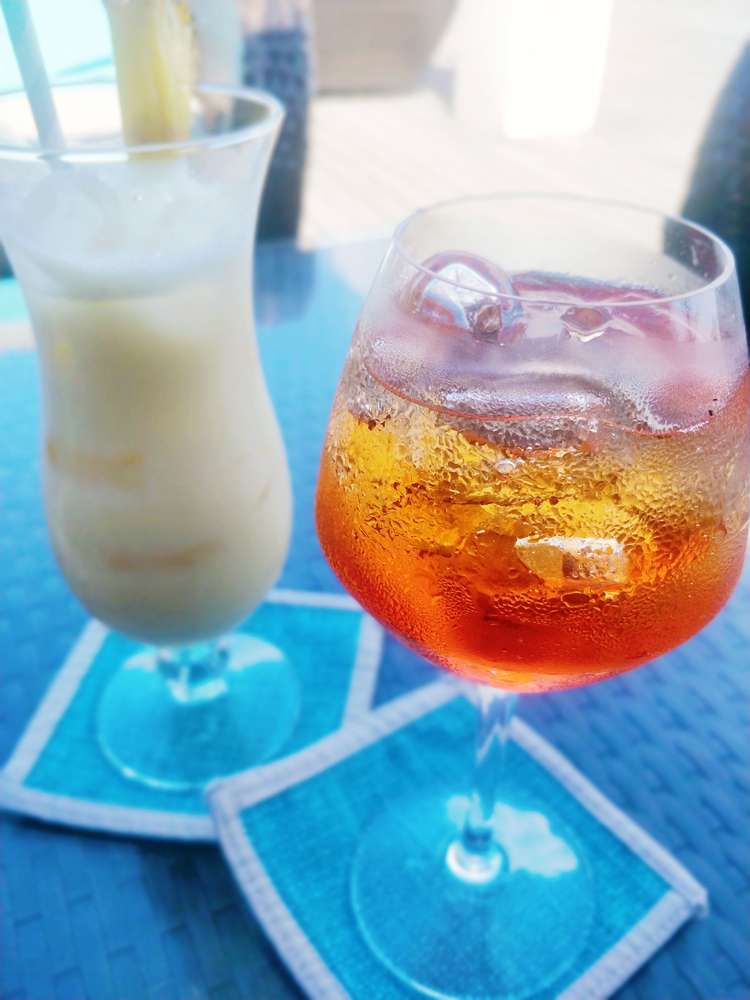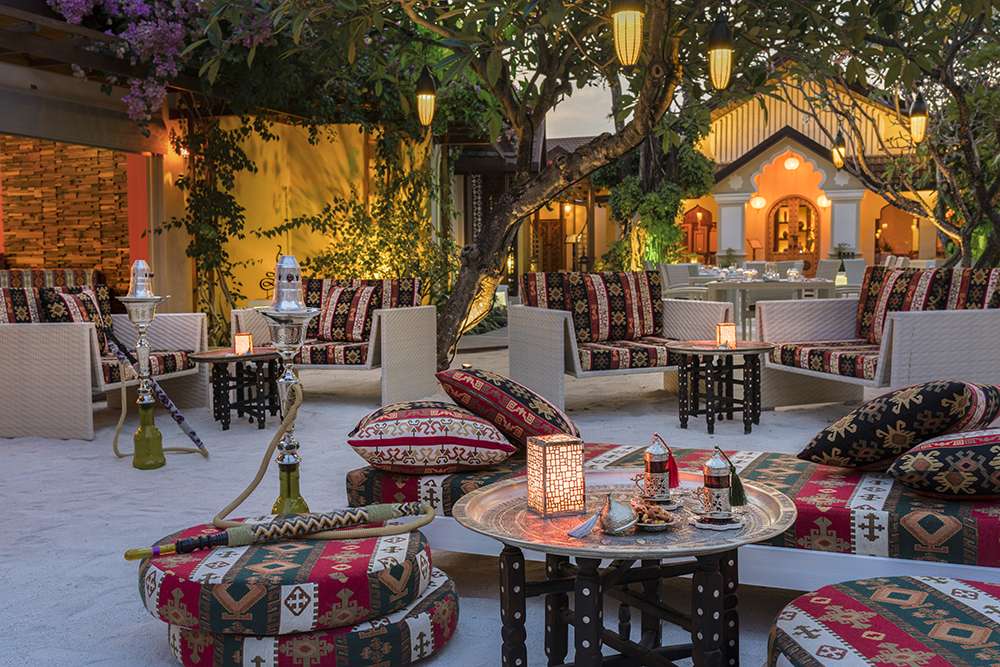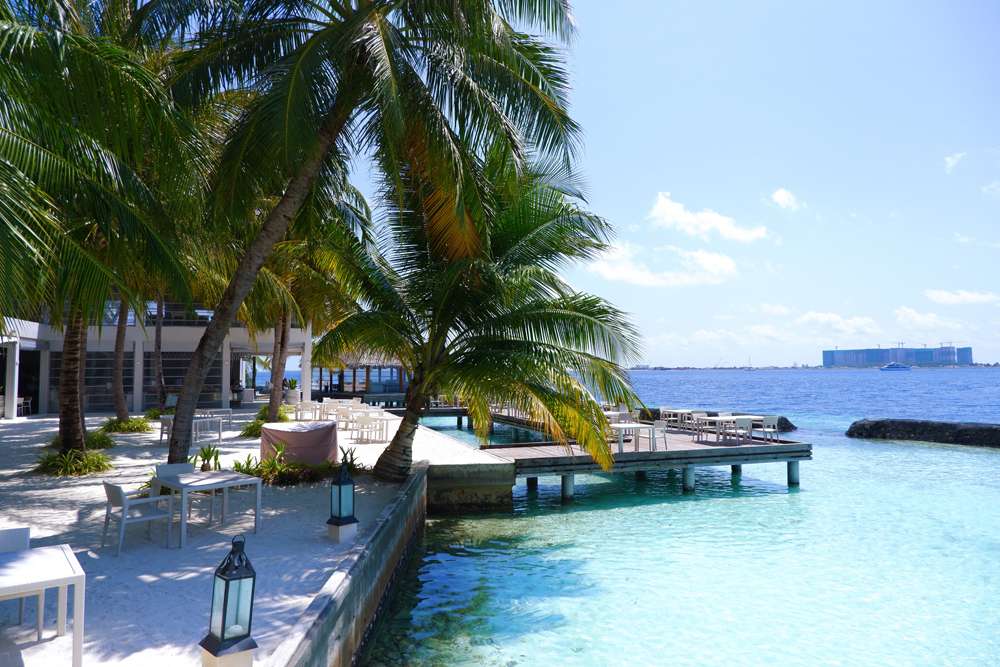 Gareth is gluten-free and Kurumba were so excellent at accommodating him too. The wait staff were able to tell him the things he was able to eat, and the day that we ate at the buffet lunch, when he really wasn't sure if he could have anything, the chef actually made some gluten free pasta (from scratch!) just for him. We got amazing service all-round from all the restaurant staff.
As I mentioned above, Kurumba, which means coconut in Maldivian, was the first holiday resort in the Maldives. It opened in 1972 with just 30 rooms and today it's still one of the most popular resorts with 180 rooms. However, despite their popularity and multiple award-winning status, it never felt busy… In fact, after sharing photos on Instagram one of my friends messaged me to ask if we had the whole place to ourselves! It really did feel like that, except for the evenings when we'd venture to the public pool and bar area for a cocktail before dinner. After dinner, the bar often had live bands which made it a highly entertaining place to hang out (if you saw my Instagram stories you'll know what I'm talking about!)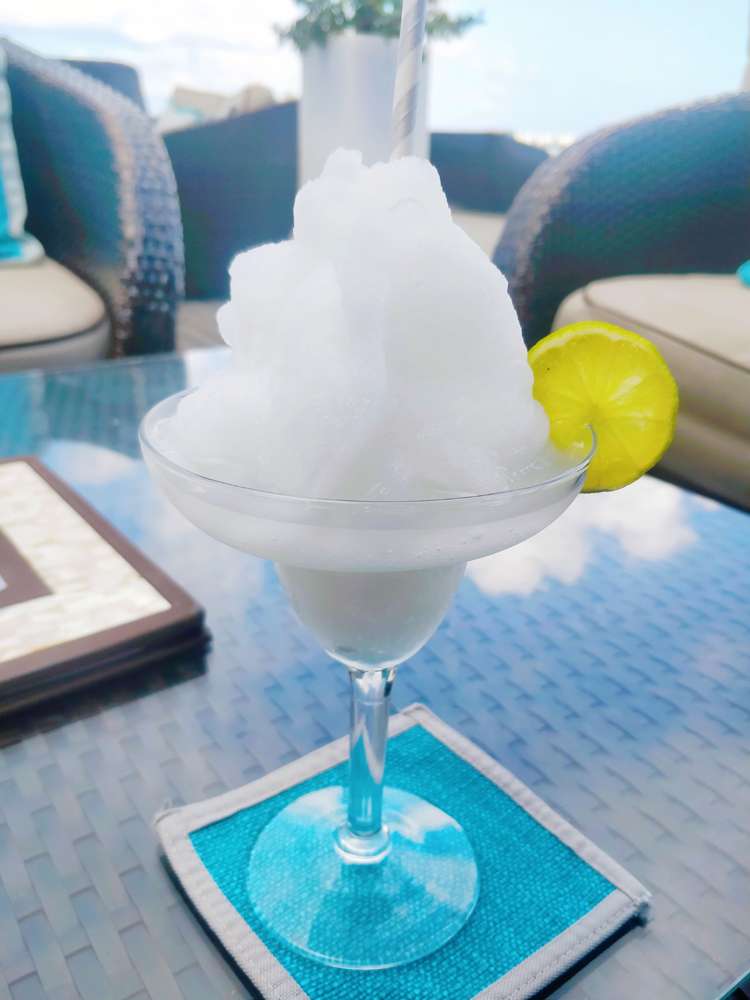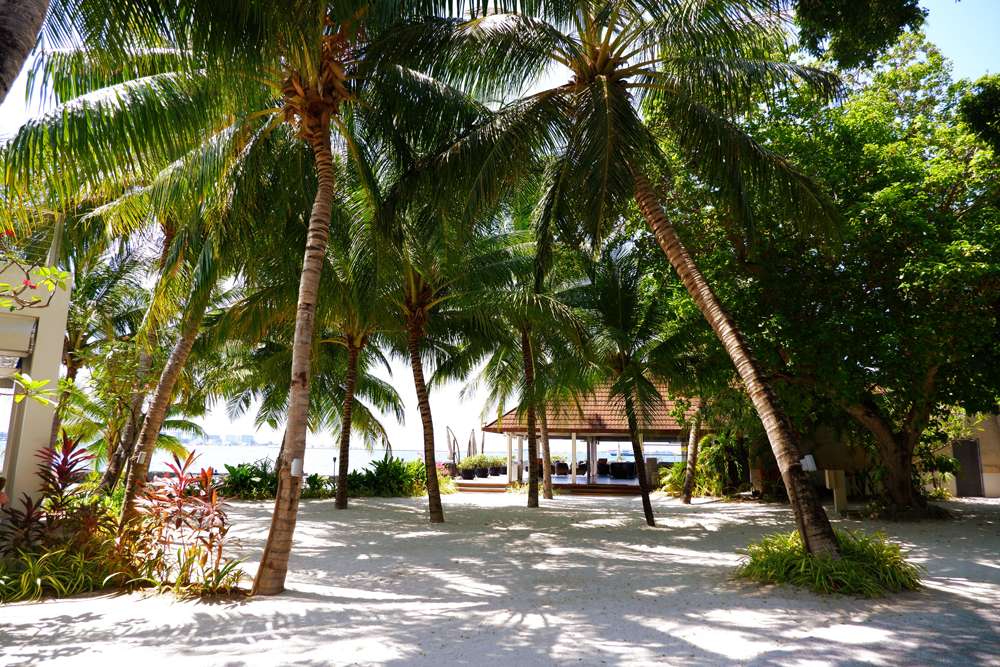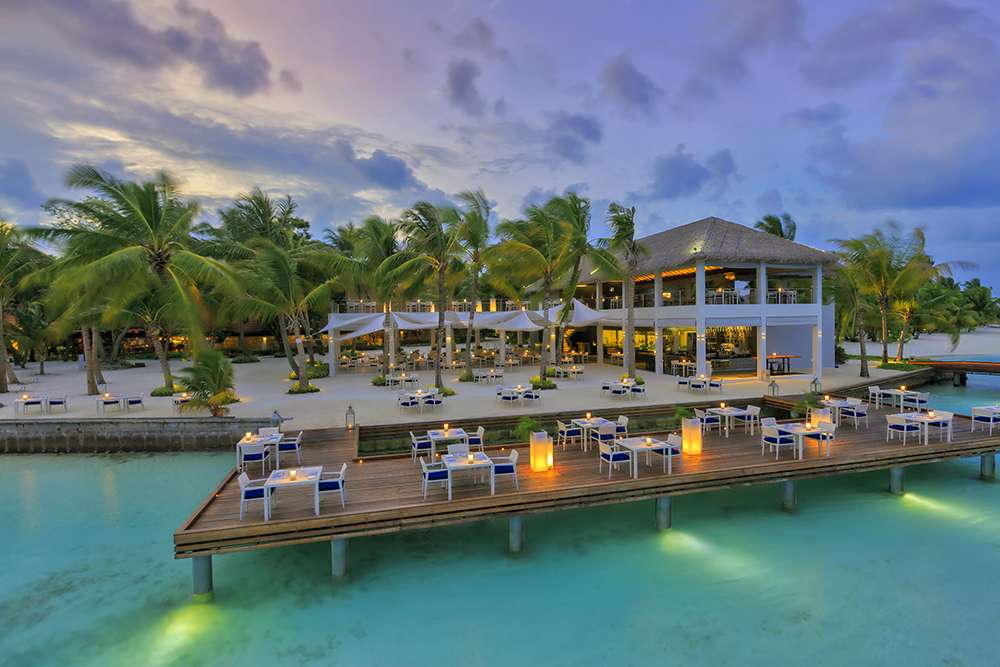 If you're looking for the quintessential desert island experience for your honeymoon, then Kurumba might not be the resort for you. Being so near the airport was a blessing and a curse as there were a lot of planes and boat traffic just outside the lagoon, but after just a few hours there it was pretty easy to tune it out. However, if you're looking to experience a real slice of Maldivian history, and be highly entertained with the people watching over dinner and in the bar (!) then you'll absolutely bloomin' love it.
We spent three nights at Kurumba before moving on to our next location and we could easily have stayed much longer. The island was the ideal spot for our first Maldivian experience and I would definitely recommend starting your trip here if you're planning to head further afield afterwards like we did.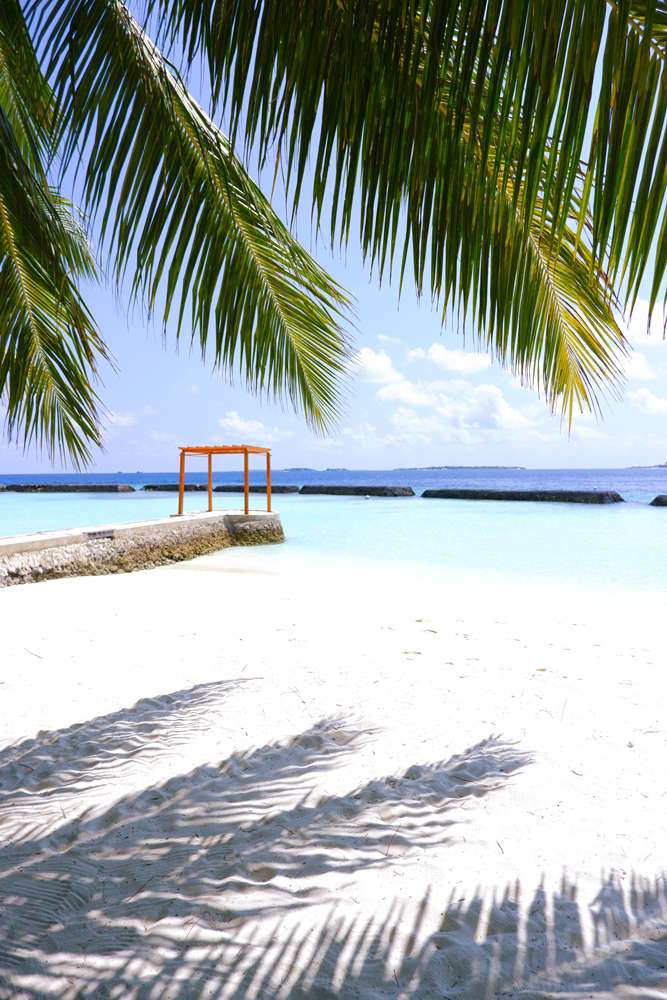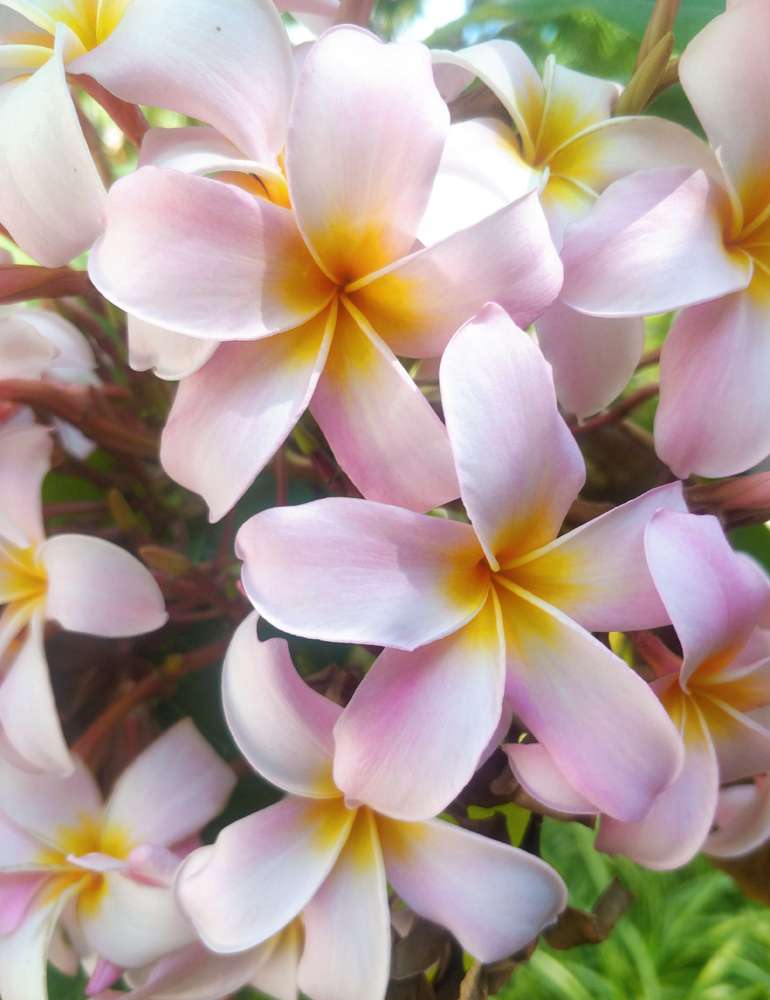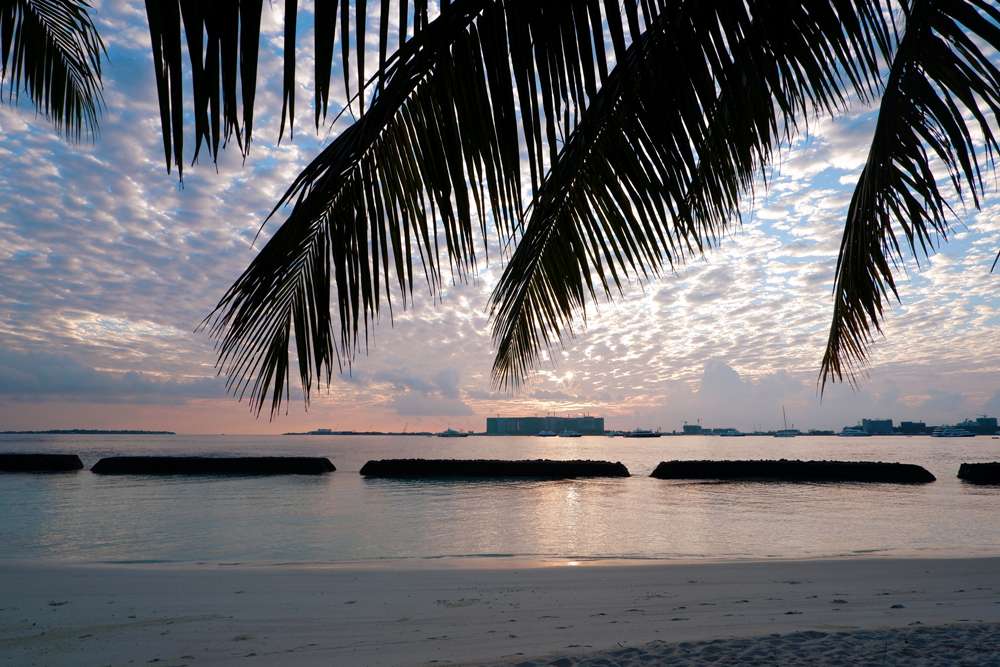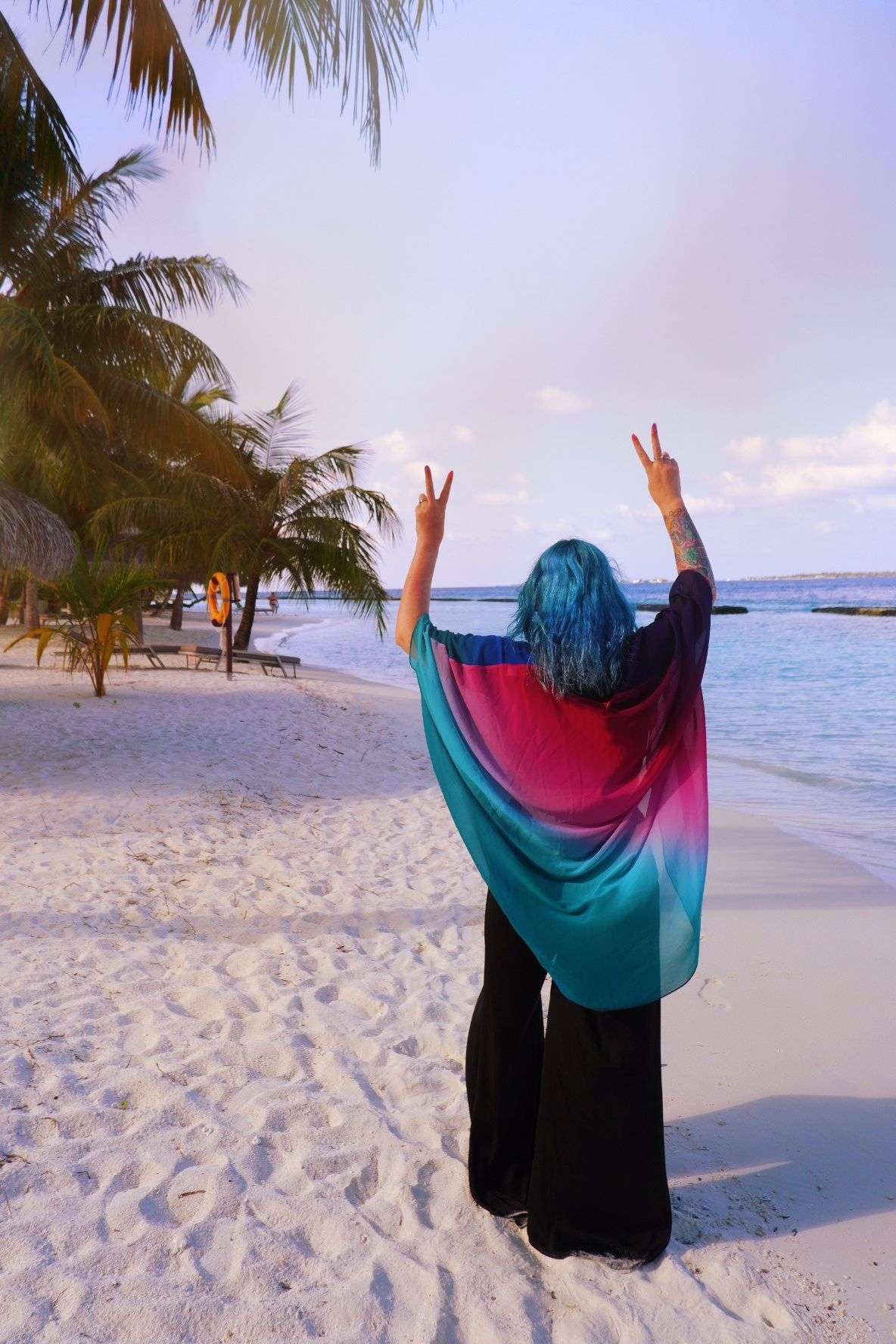 Thank you so much for having us Kurumba!
Kuoni (01306 747008) offer seven nights full board at Kurumba in a Superior Room including flights on Emirates from London Gatwick and transfers in resort. The price for selected departures in September 2019 based on two adults sharing is from £2199 per person, with a saving of up to £392 per couple. To book please quote tour ref: IO0020.