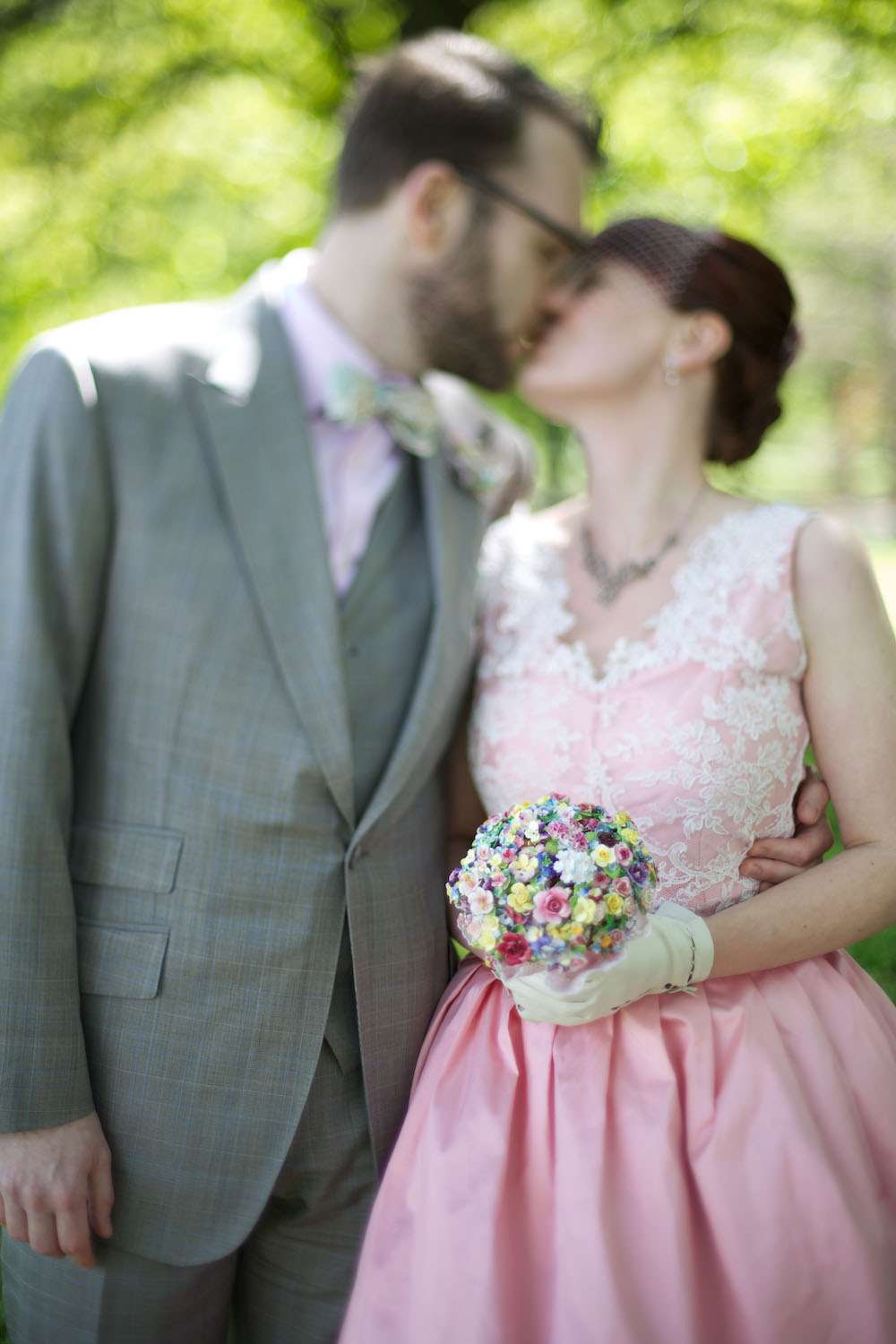 Emily and Adam were married in May in Hitchin. Their wedding had a vintage travel theme and was full of DIY details. The bride made her own dress from Nottingham lace and Indian silk which she wore with a DIY birdcage veil. Her bouquet was also made from around 50 antique fine bone china flower brooches, collected from various charity shops and car boot sales throughout the engagement.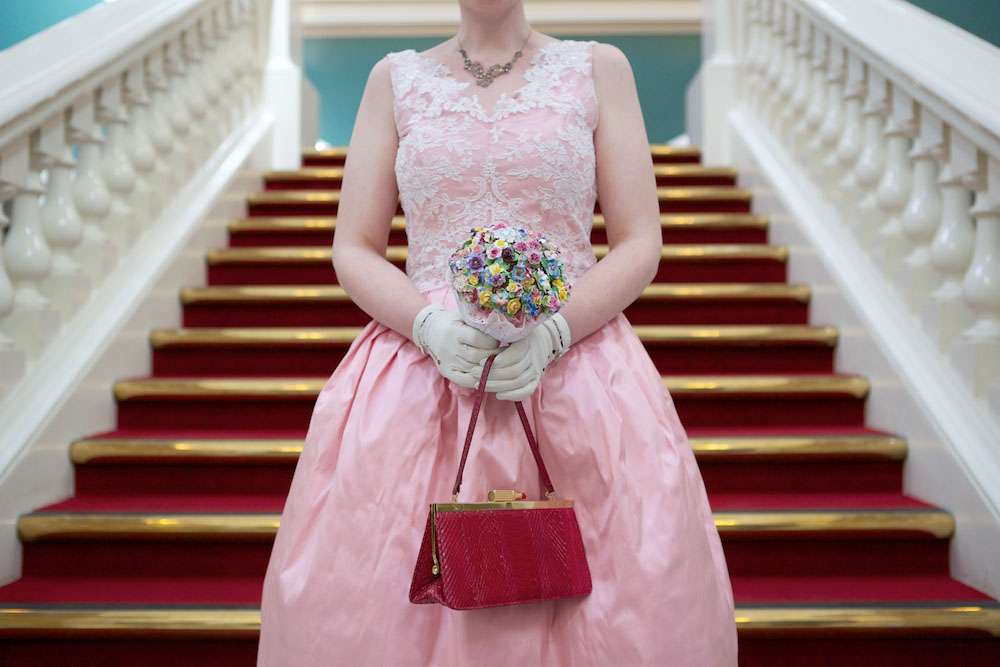 "We both love exploring new places, and Adam has done a great deal of travelling", Emily began. "I have a love for the Winnie the Pooh quote 'As soon as I saw you, I knew an adventure was going to happen' too, and the idea that our marriage will be a grand adventure! We also both love antique globes and old maps, and somehow all this fell into place as a theme. We came up with the tagline 'An Adventure Begins…' and I drew up a little logo to go with it."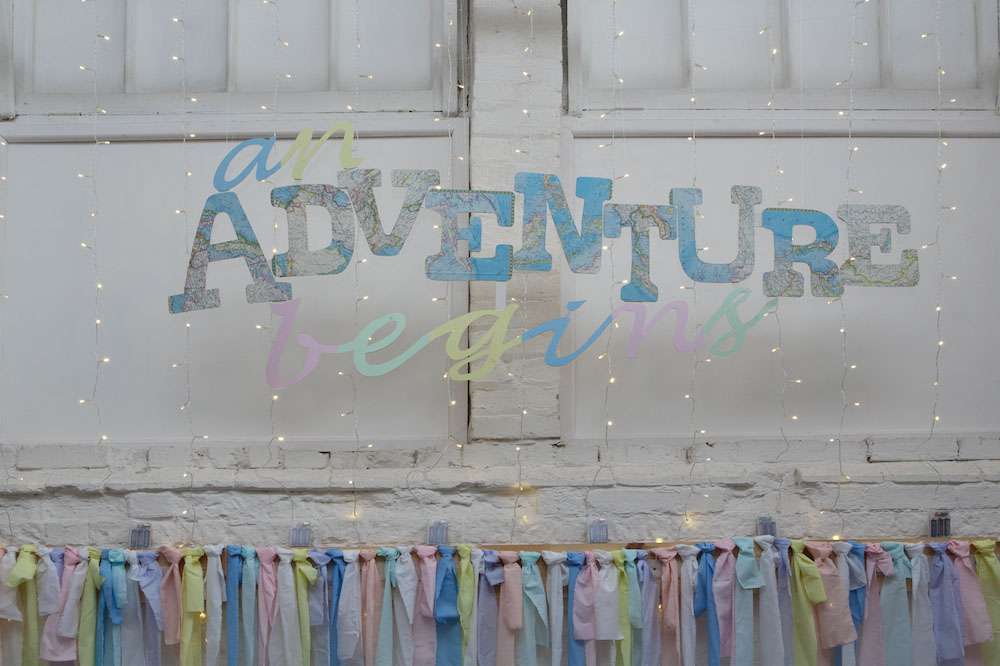 The ceremony was held at Greenwich Register Office the weekend before the reception. "We wanted to keep the ceremony very private and personal, but still wanting to have a kick-ass party to celebrate", Emily continued. "We opted to separate the two and have them on the two May Bank Holidays. This meant that the ceremony day was just for us and our family to enjoy. We didn't have to stress about receiving lots of guests and setting up the reception, and had loads of time for photos and catching up with our family."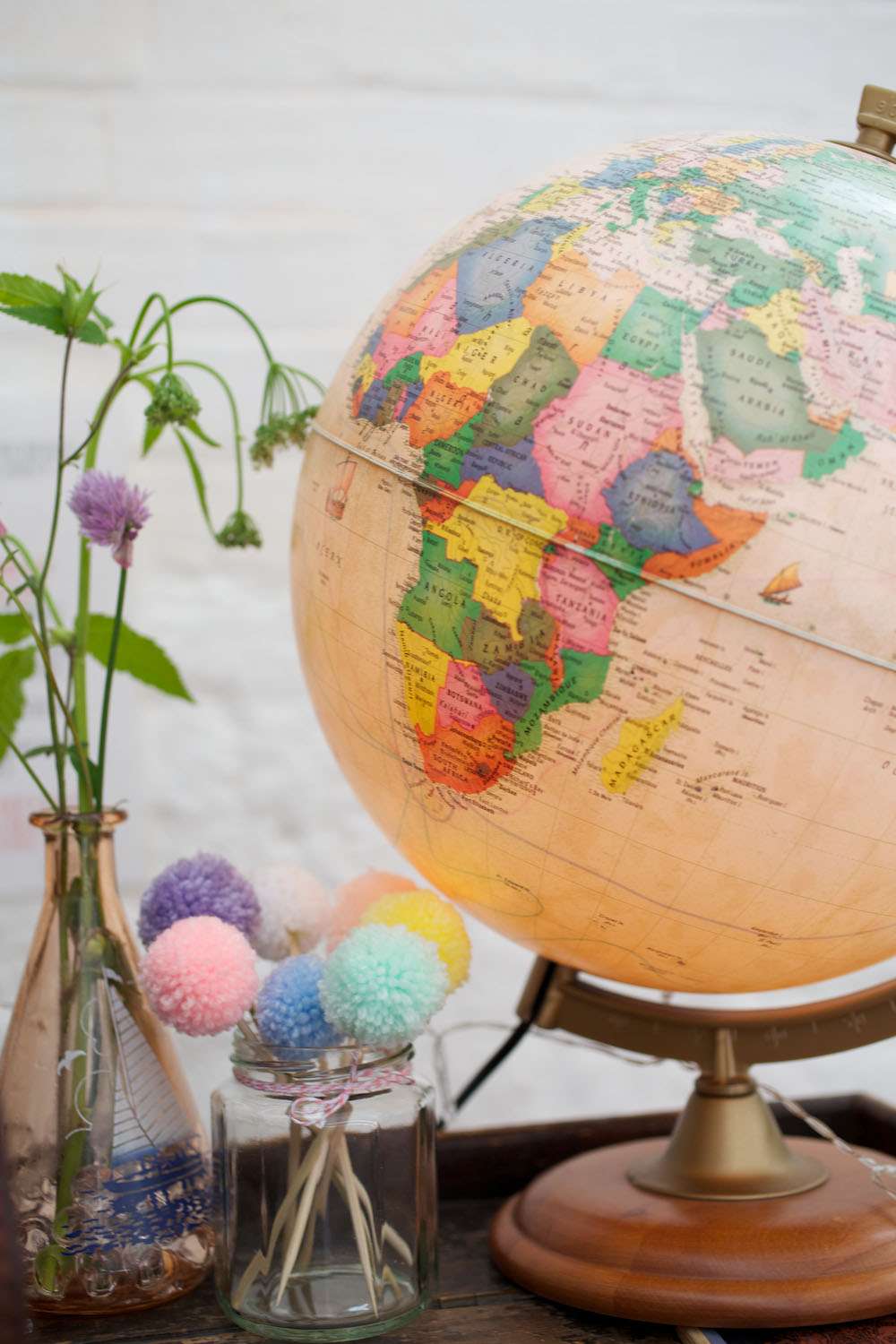 "The party was really the icing on the cake. It was great to be able to cater to all our friends separately from our family, and again have time to spend with them all. We excluded lots of the traditional things. We didn't want any speeches because they take up valuable drinking and dancing time, and we opted for an informal non-sit-down meal so that everyone had lots of choice and got to catch up with each other rather than being restricted to one table. It also meant none of the usual hassle about a table plan!"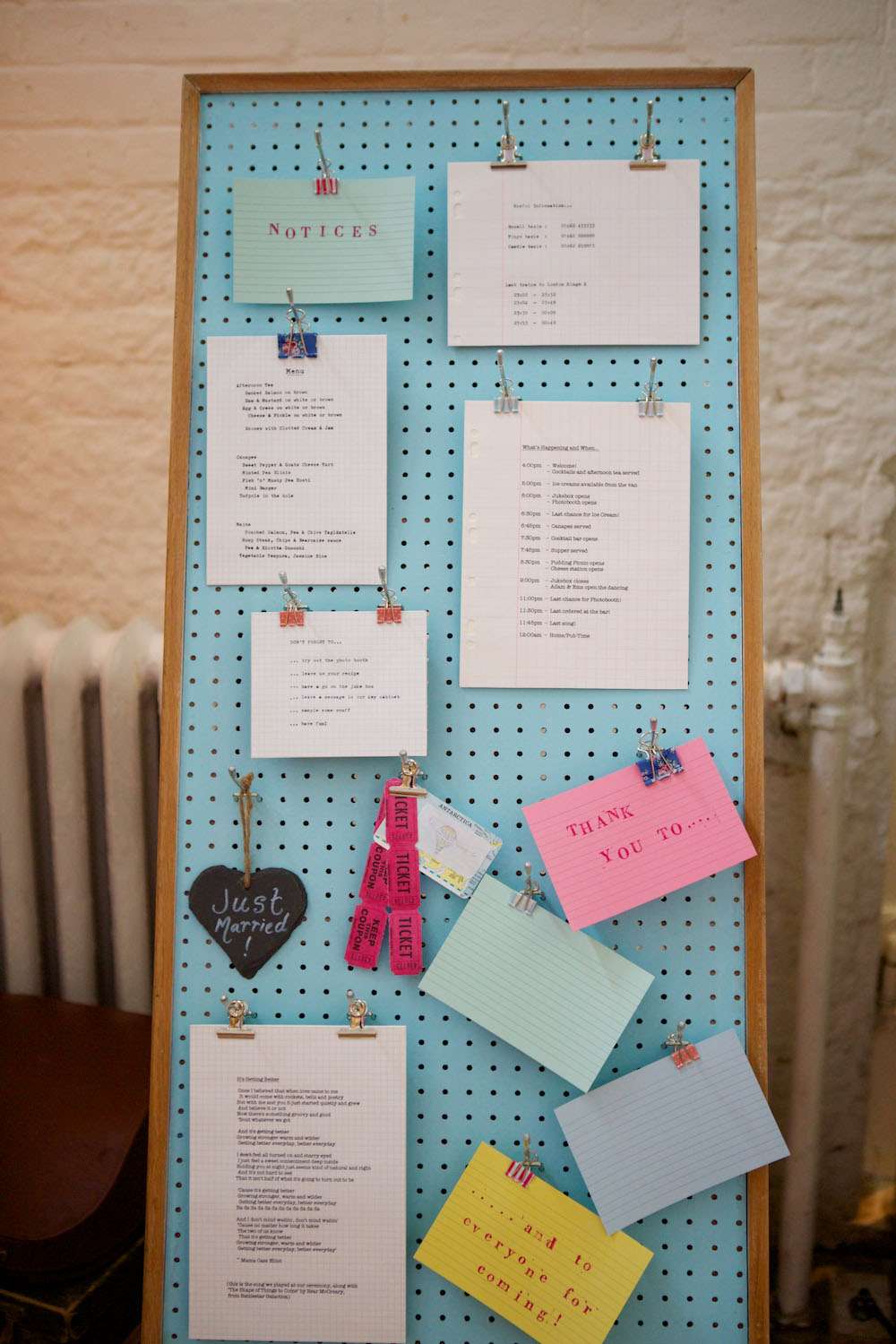 "We keep a guest book at home so wanted to do something a little different for people to leave messages. We looked at some great ideas on Pinterest but when we saw an old hotel key cabinet on the market one day Adam had the amazing idea to use it as a sort of guest book. We collected old keys and painstakingly cleaned them before attaching them to luggage tags with ribbon in our colours. Guests then got to write a message on them and we'll be able to hang it on our wall as a lovely reminder of the day and all our wonderful friends who were there."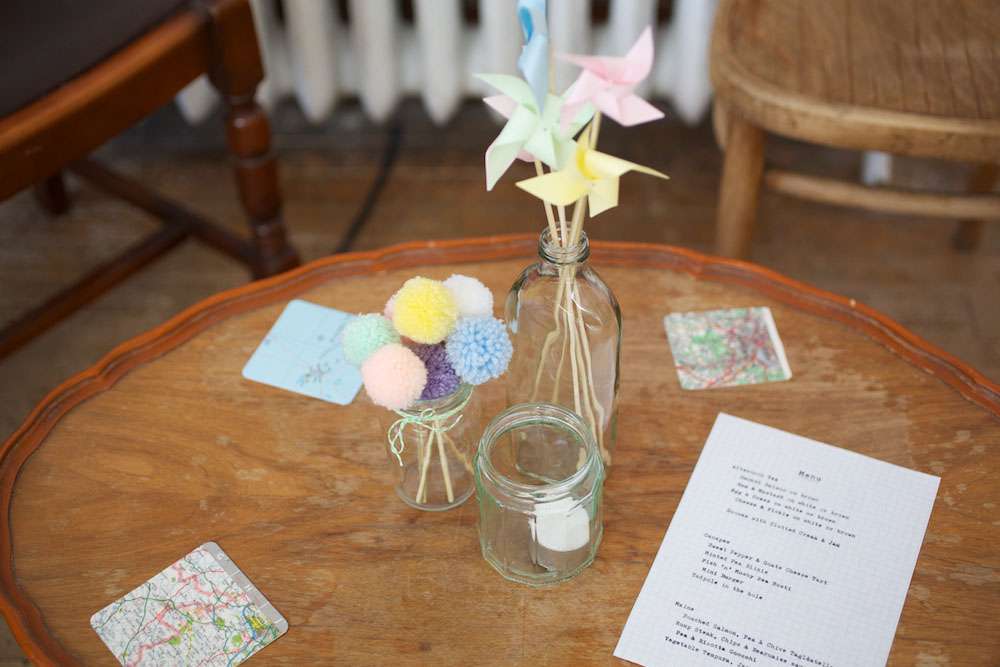 "We did a lot of DIY obviously", she explained. "We're pretty crafty anyway, and we had a big job to transform the venue. We couldn't have afforded to have hired in enough décor and the bonus of making things ourselves meant that it could be a bit different and exactly what we wanted. The ribbon banner was pretty time consuming and we both got rather bored of tearing up the fabric to make all the strips to tie onto the string. The effect was worth it though, especially for how little we spent on it compared to if we'd bought something."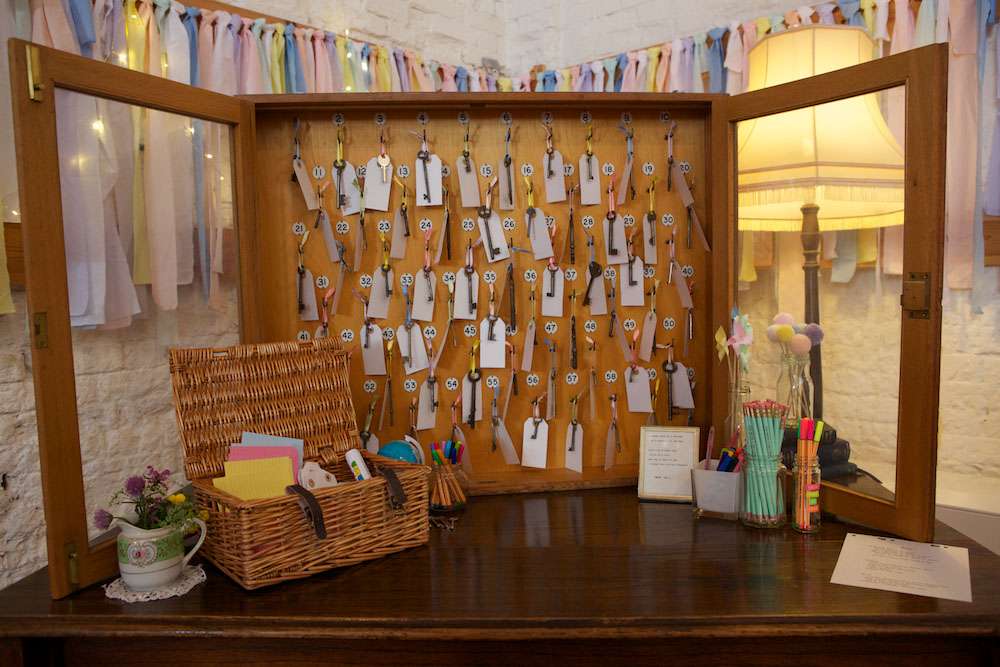 "We had a great time making the crazy golf together in the garden the week before the party, and I got pretty good at upcycling cheap furniture we found on the market, painting it in our colours and adding vintage maps to the tops. It's great that there are so many things we'll have around the house to remind us of our wedding."
"We also made our favours, although because I am such a big fan of a party bag they turned into a whole collection of bits and bobs. The bags were filled with party poppers that we re-branded with our own little logo, matches which we decorated with our hot air balloon motif and a banner, as well as bubbles, rainbow drops, popping candy and temporary tattoos! Oh, and those little red fortune telling fish you get in crackers, simply because they're fun and romantic, and I love them."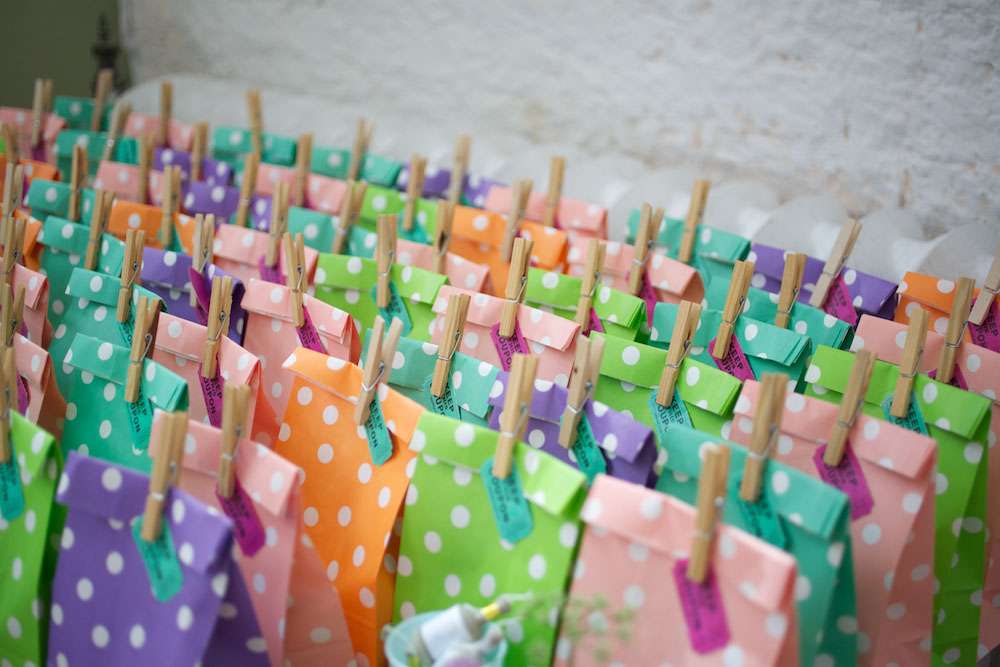 "In lieu of gifts, we asked a few friends to make us sweet things to serve up as a pudding picnic. I adore macaroons and we were very lucky to have our friend Hannah G make us lots in colours matching our theme in flavours of mint and white chocolate, rose, lavender, and lemon. Our friend Hannah P made us lots of yummy chocolate honeycomb, whilst Adam's mum made her signature flapjacks and meringues. We are also fortunate to count a professional pastry chef amongst our friends, and so the amazing Brigitte Taylor baked mini blueberry muffins, tiny victoria sponges, and chocolate lamingtons for us."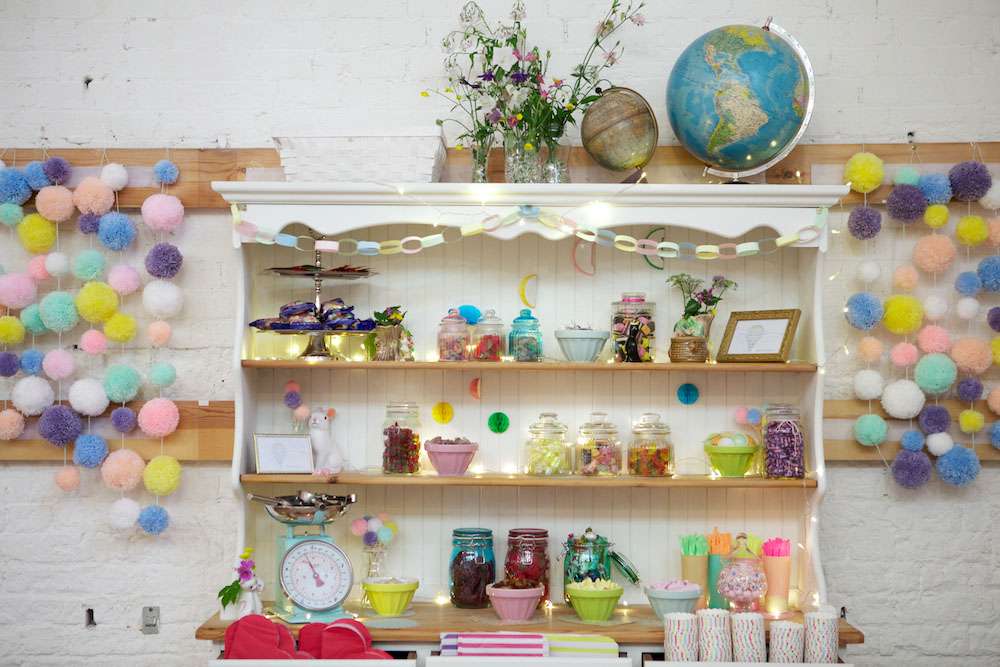 "We had a lot going on at the reception, and too many things to choose a favourite from, but really the best bit of the party for us was having all our friends there and seeing them have such a great time", Emily concluded. "It was wonderful after all the work we'd put in to see everyone's faces as they walked into the venue, and it was amazing to hear everyone's responses to what we'd planned. There were lots of 'wows' and comments about the attention to detail. The best compliment by far was from one friend who said 'it was like being in a very boozy Wes Anderson film'!".