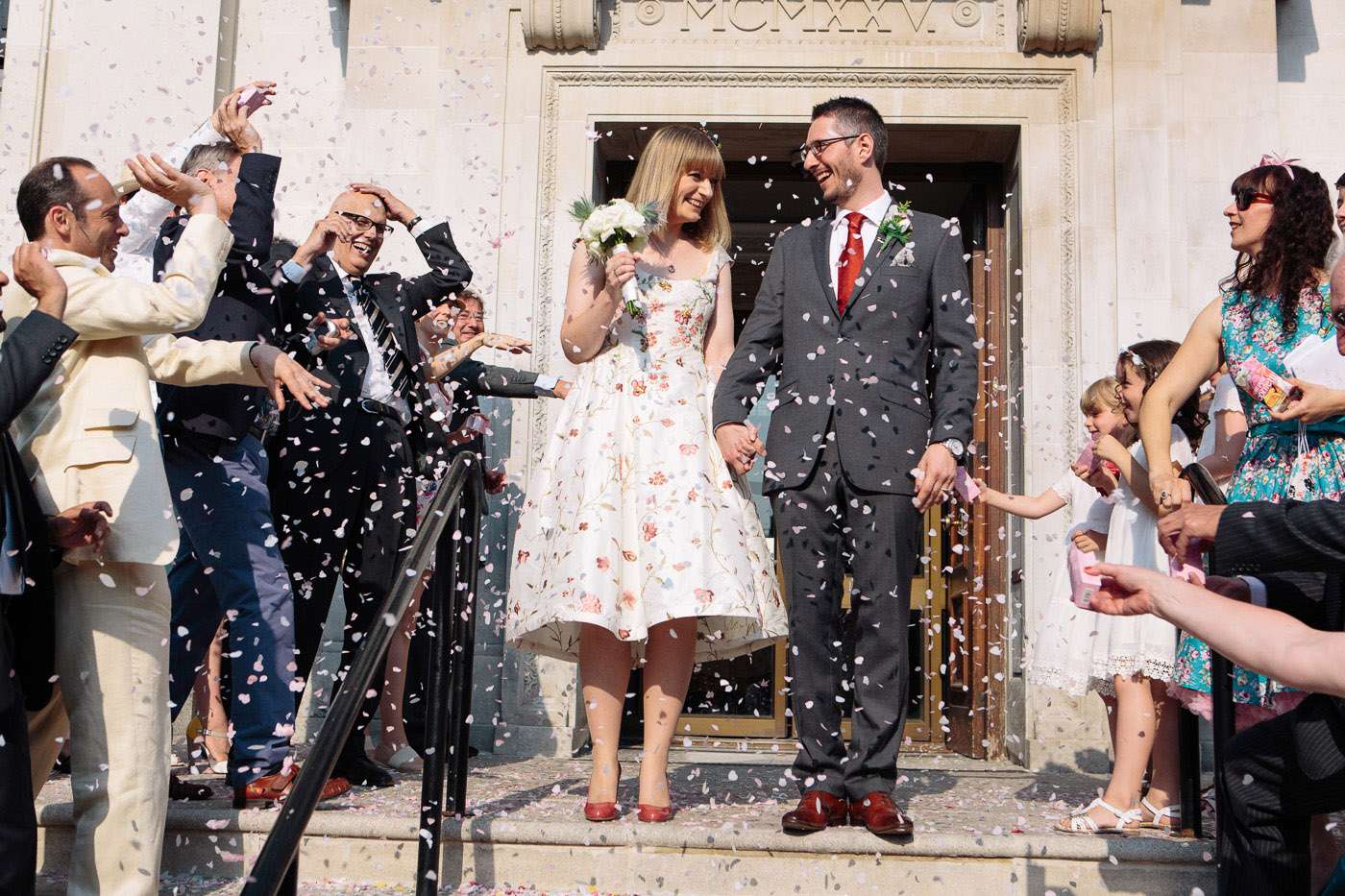 It's not everyday you see an insect themed wedding, so needless to say I was both grossed out and super excited (in equal measure!) when Tessa and Matthew's wedding landed in my inbox. The bride is an artist, known for her work consisting of insect carcasses, plant roots and other found materials. So, clearly, her wedding was never going to be 'normal'. Even the wedding cake had sugared caterpillars and insets crawling all over it and one guest even showed up with real ants and beetles stuck to his bald head!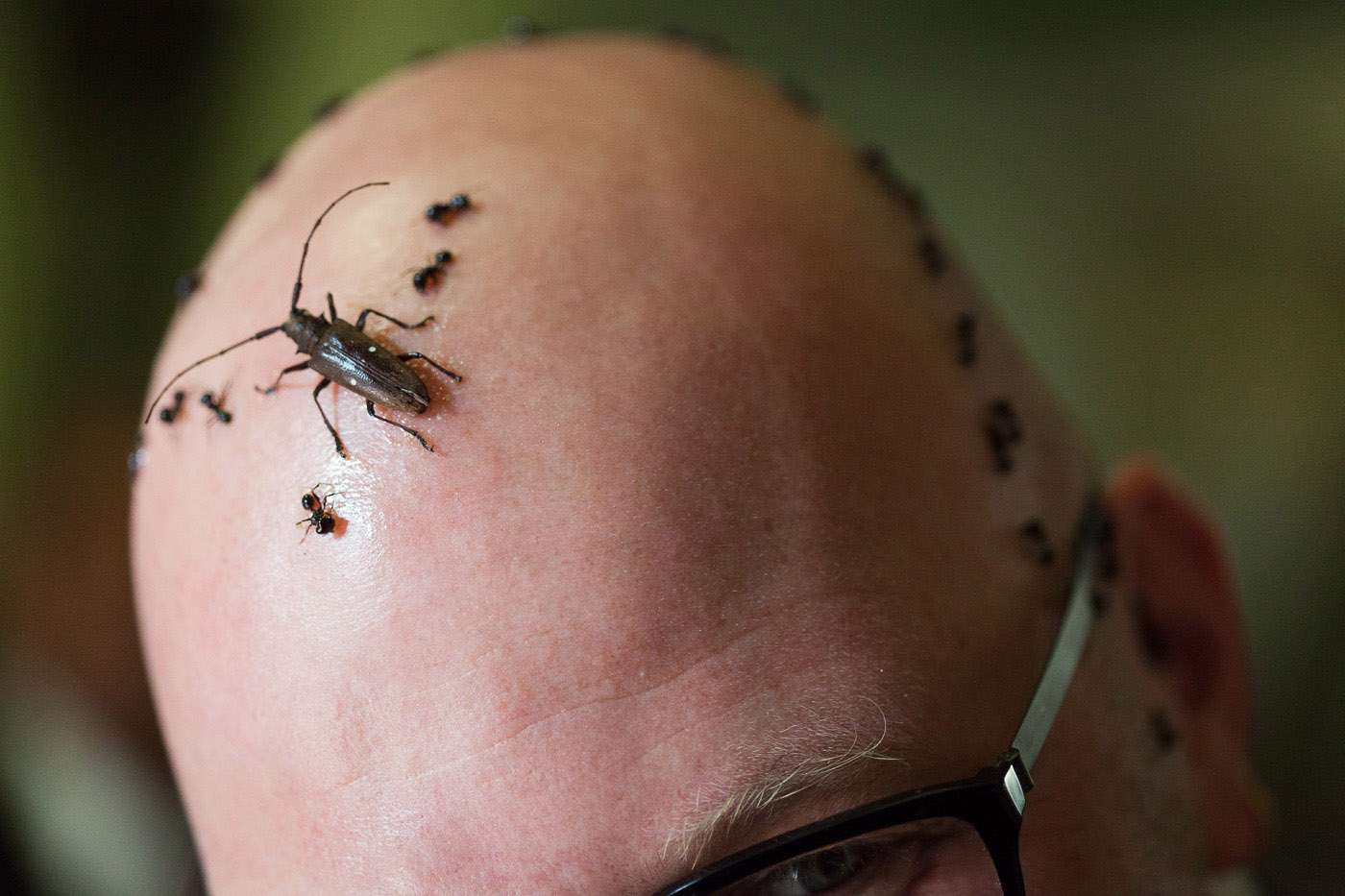 "Our wedding theme was entomological – inspired by insects!", explained Tessa. "It probably seems a bit weird to have an insect inspired wedding, but it seemed fairly normal to Matt and I. I don't think anyone was particularly surprised. I've been using insects in my sculptures for many years and am pretty obsessed with them… this has rubbed off on Matt who has learned to love (i.e. tolerate) my collections of dead things too. I always thought I'd get married dressed as a wasp (my favourite insect), and Matt already has a pretty convincing fly costume but when it came to it I wanted to look like a bride, not a giant wasp."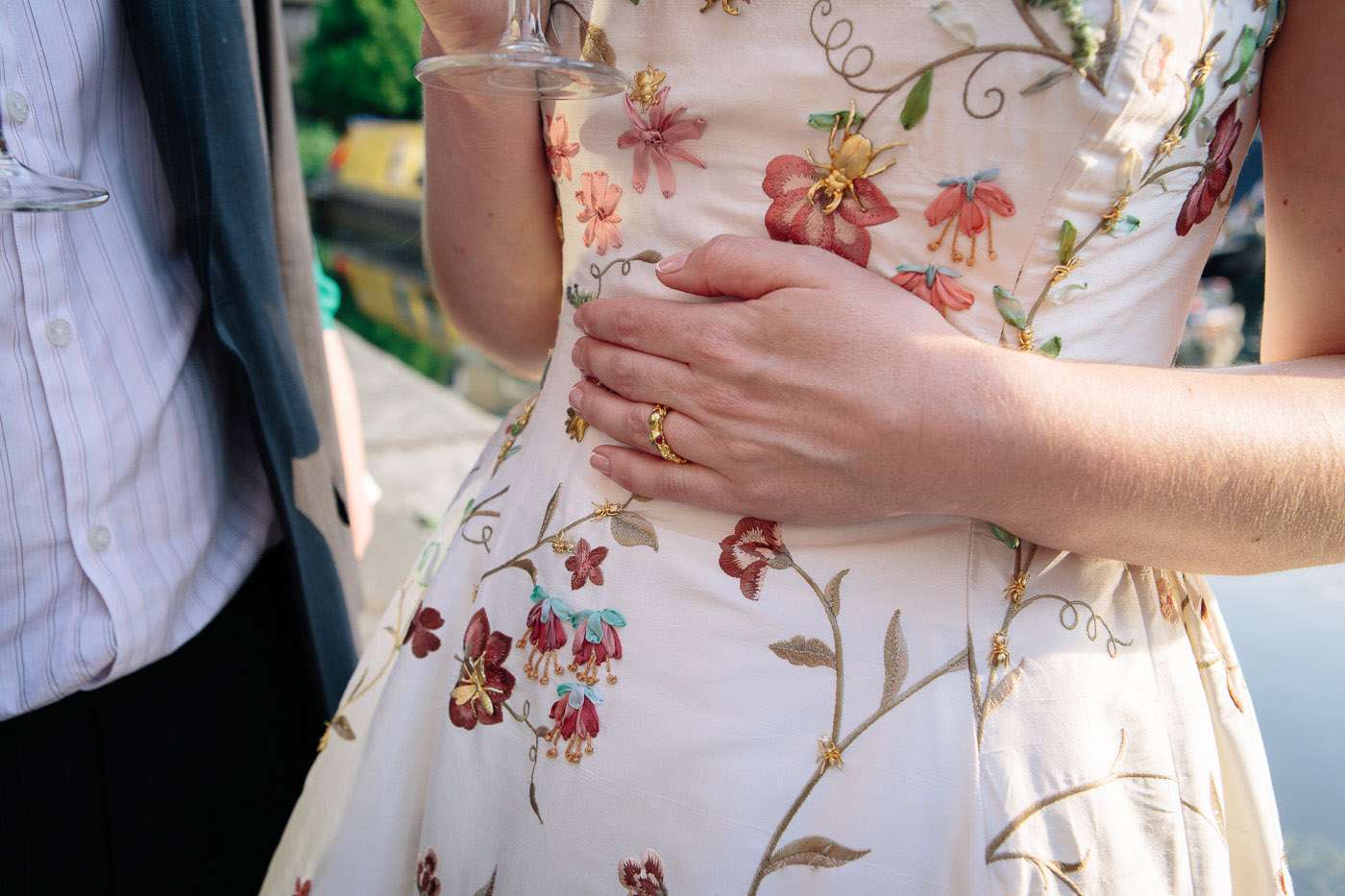 Tessa wore a custom made dress with brass beetles climbing up the embroidery topiary. Her handmade hair fascinator was made from Scarab beetles and adorned with and emerald green Elytra beetle wings. She also wore one of her handmade skeletal fairy-like creations in her grandmothers locket. Their rings were custom made too, cast in gold and silver, and were bird's skull's with rubies and emeralds inset into their eyes.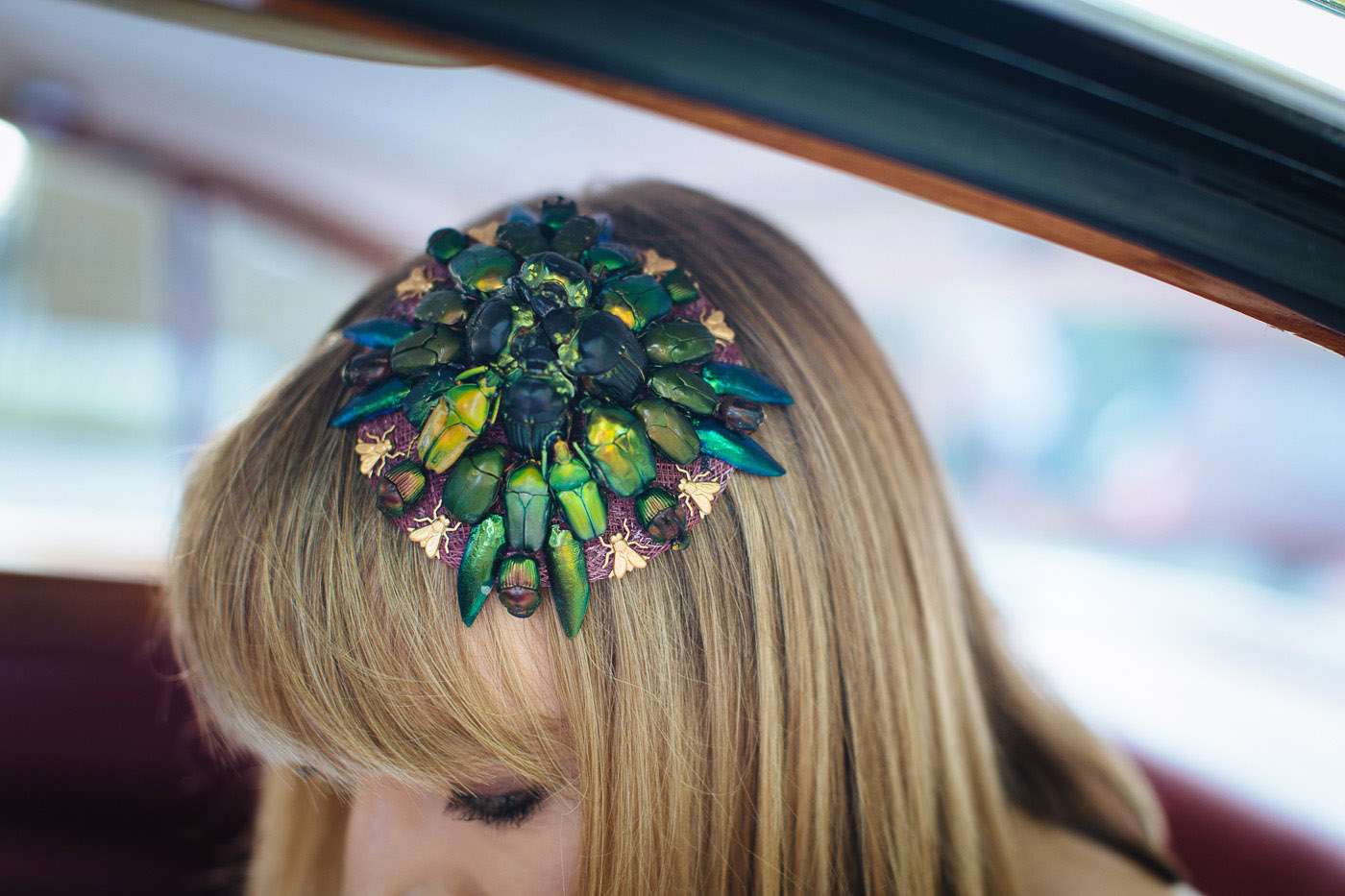 "I found Joanne Fleming on the internet and fell in love with one of her existing designs which was made with floral embroidered silk. Inspired by the entomological illustrations, I tentatively asked Joanne to incorporate some insect embroidered and embellishment amongst the existing foliage design on the dress. Thankfully she was really keen on the idea and added brass ants climbing up the vines from the hemline, brass bees, beetles and wasps flying amongst the flowers and even a spider on my shoulder! She also embroidered some lovely green caterpillars onto the stems."
"I took the dress as inspiration for the cake which I painted with the same floral design. I made realistic bees, ants, wasps, leaf insects and caterpillars from black sugar paste and fimo models of our heads to go on caterpillars."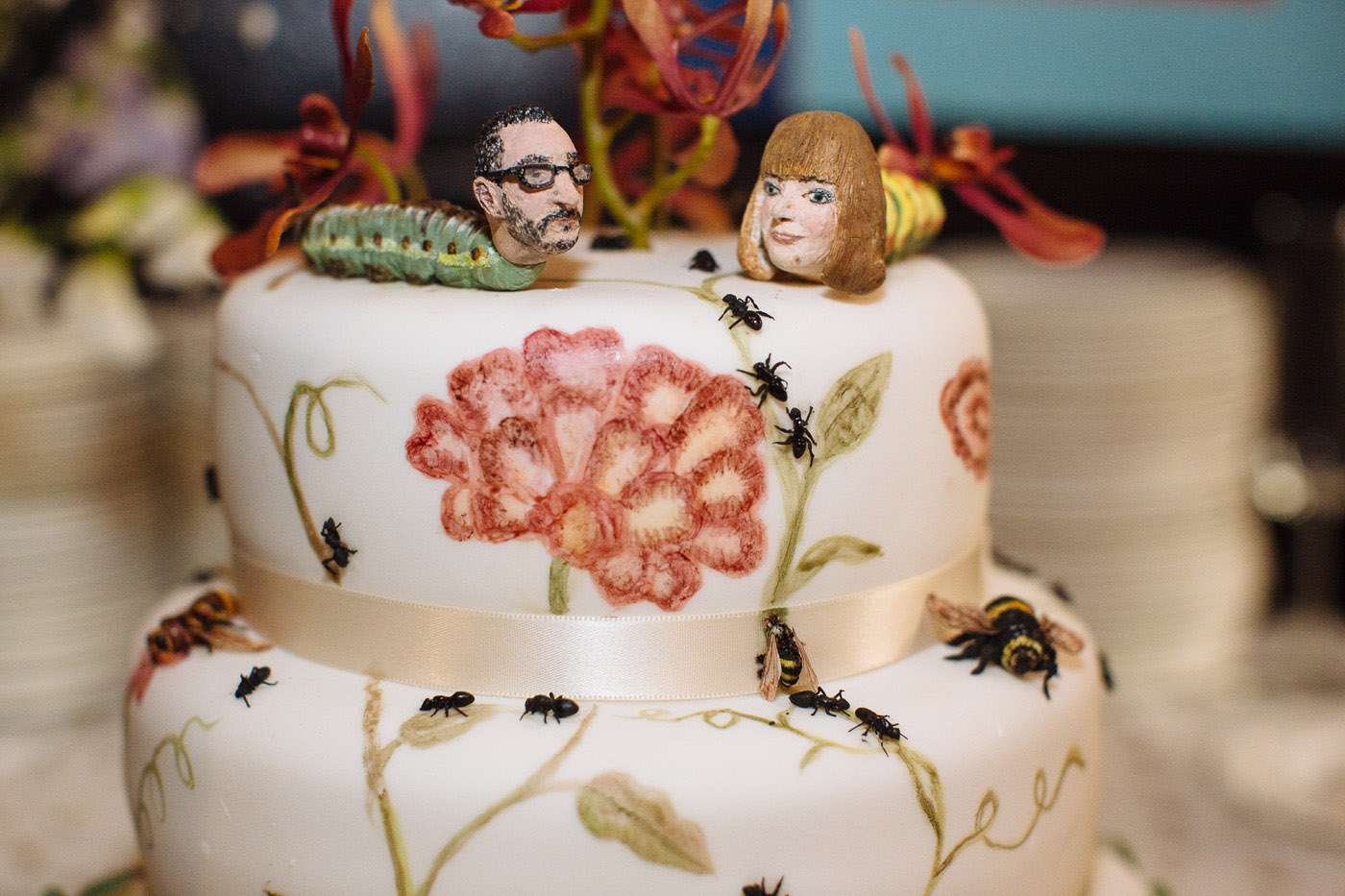 "The bridesmaids carried taxidermy ducklings, and my Dad wore one in his suit pocket. These were a last minute addition, a present (a box of about 20) from Tony who so kindly loaned us his beautiful car. While I waited nervously in a meeting room with the girls, they played with the ducklings, quickly named then and decided to incorporate them into their bridesmaid attire. We tried various positions (on their heads, in the bouquets etc) but decided upon their hands.
 We encouraged our guests to embrace the theme, though didn't want to dictate a fancy dress code, but many people wore insects in one way or another."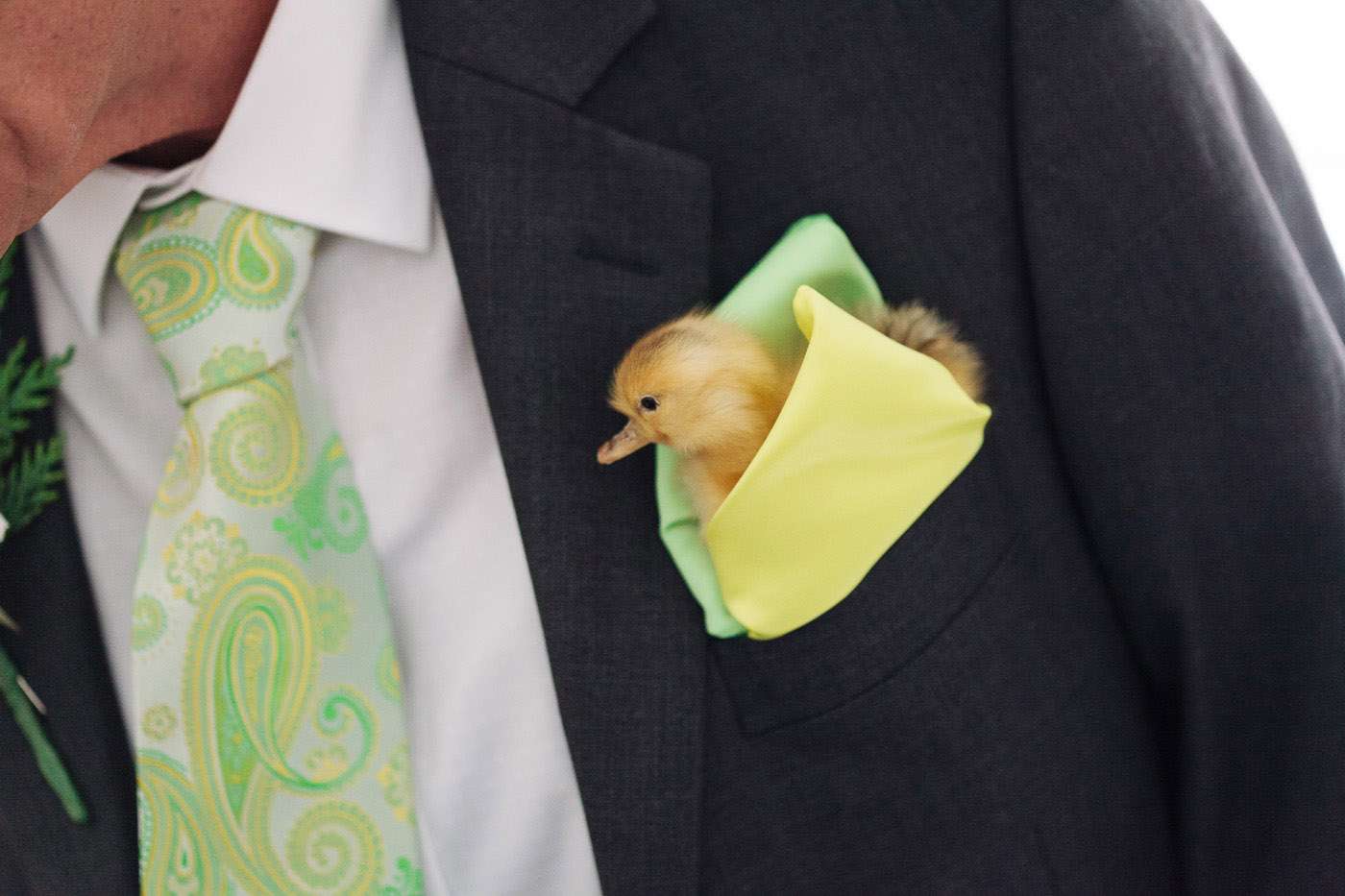 "One friend, Dietmar Rubel, wore real ants and beetles stuck to his head. Other guests who saw him from afar were relieved to later find out that these weren't staples and that he hadn't actually had serious brain surgery. Another friend, Em Johnson made her toddler Omri a stunning insect fabric waistcoat.
"
Even the entertainment fitted the theme. Tim Maynard of The Living Classroom provided brought along live arachnids – scorpions, spiders and lizards – for the guests to see, and if they were brave enough, handle!