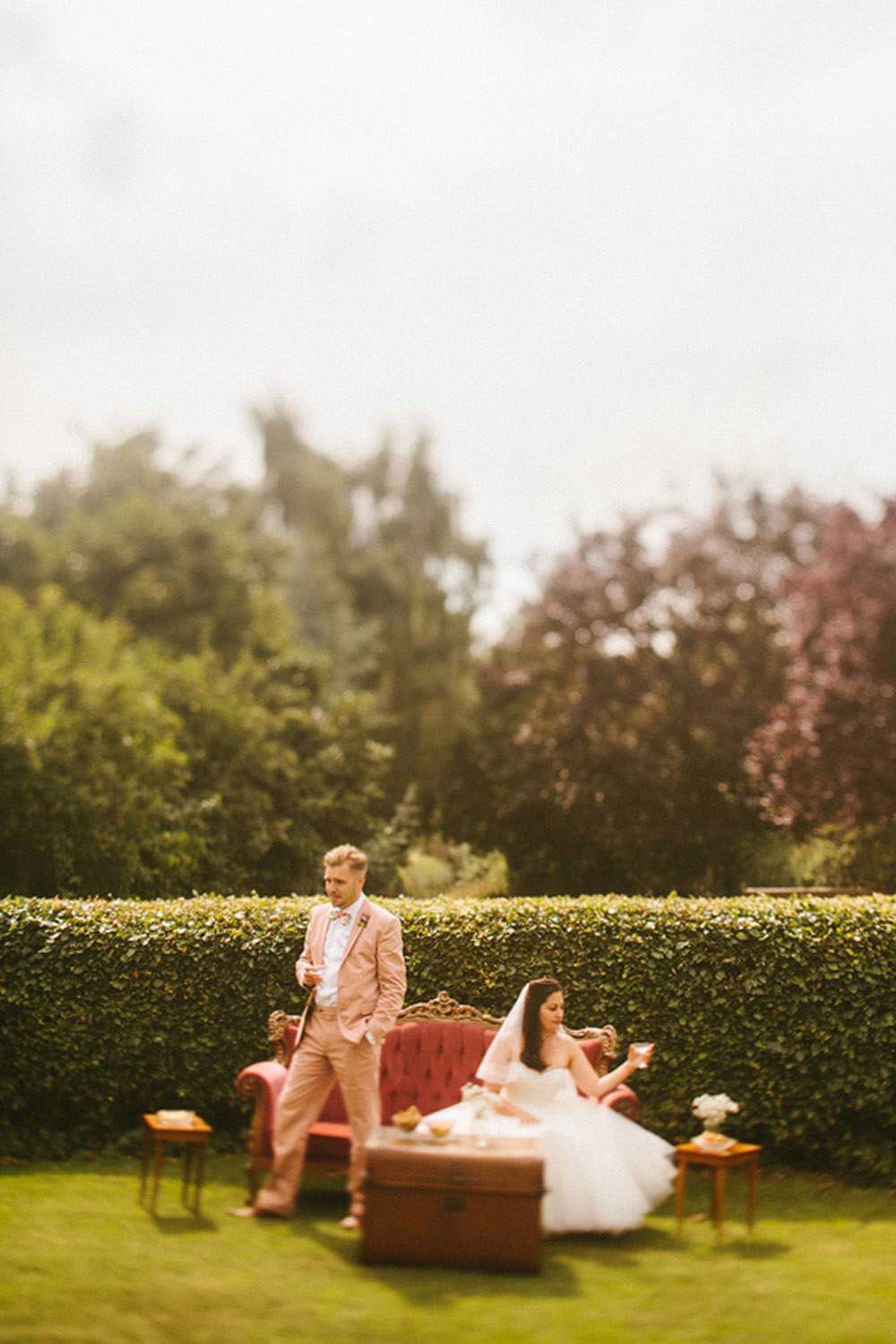 Tim and Scarlett were married on 8th August, their five year anniversary. They had a church ceremony followed by a tea party reception in the gardens of Baxby Manor, a gorgeous 705 year old Manor house. "We knew that we wanted somewhere beautiful, and Baxby ticked all the boxes", Scarlett began. "It even came with a glamping site down the lane for all our guests to stay over! Baxby isn't a wedding venue, just a luxury holiday letting, but the owners were amazing and let us create a beautiful day there, as if it were our own house."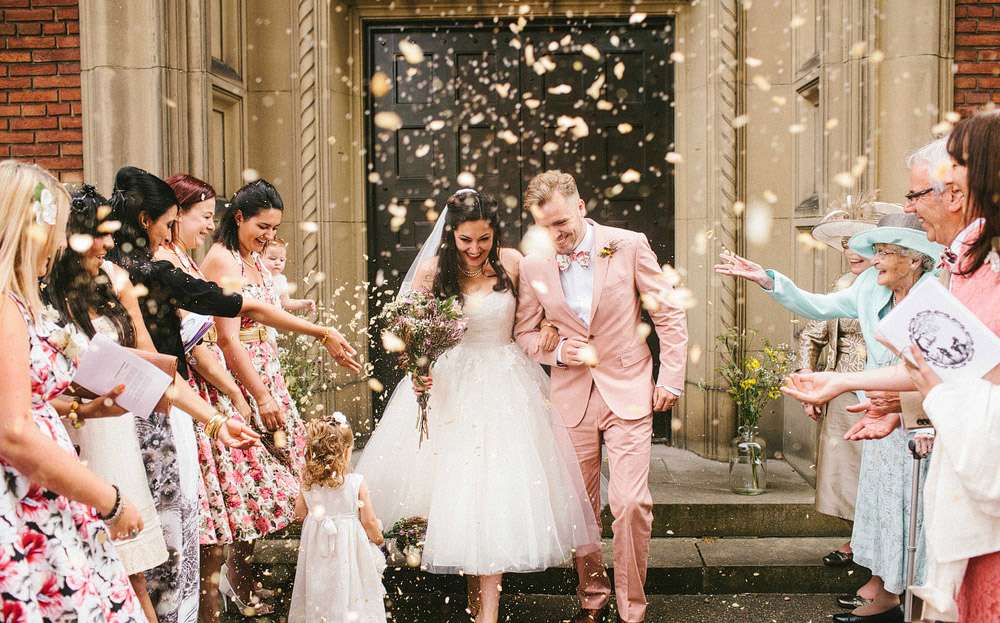 The bride used to work at a wedding venue so she had a strong idea beforehand about what she didn't want! Most of the wedding was DIY from the cake to the flowers and the stationery to the catering.
"I didn't want a theme. After working in a wedding venue where I saw the same style of weddings every week, I knew I wanted ours to be different. I also have quite a strong style. While I am not trying to claim I'm something so different, or so cool or anything, I know what I like and I don't care what other people think. Tim is a fashion designer and this drives him crazy – he wants to style me all the time!"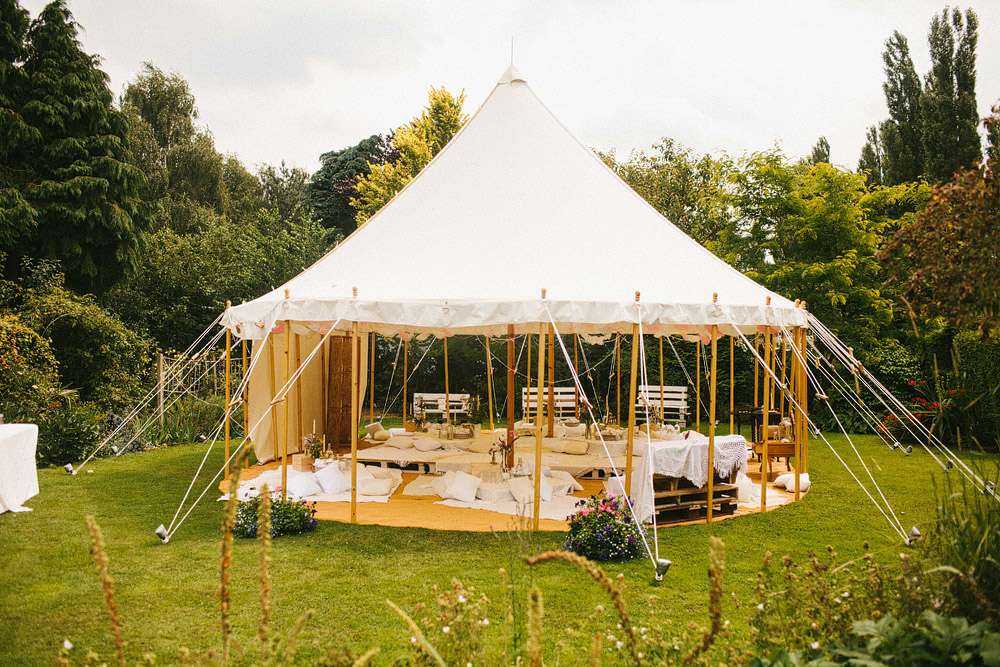 "I like a lot of vintage and antique things", she continued. "I like petticoats. If I could dress like Marie Antoinette every day I would! But Tim is completely opposite, in that he likes modern, masculine, minimalism, a bit of 80s. But in our home it all mixes together, and his modern minimalism tempers my vintage tastes so it creates something quite cool. So we wanted our wedding to be a complete representation of us."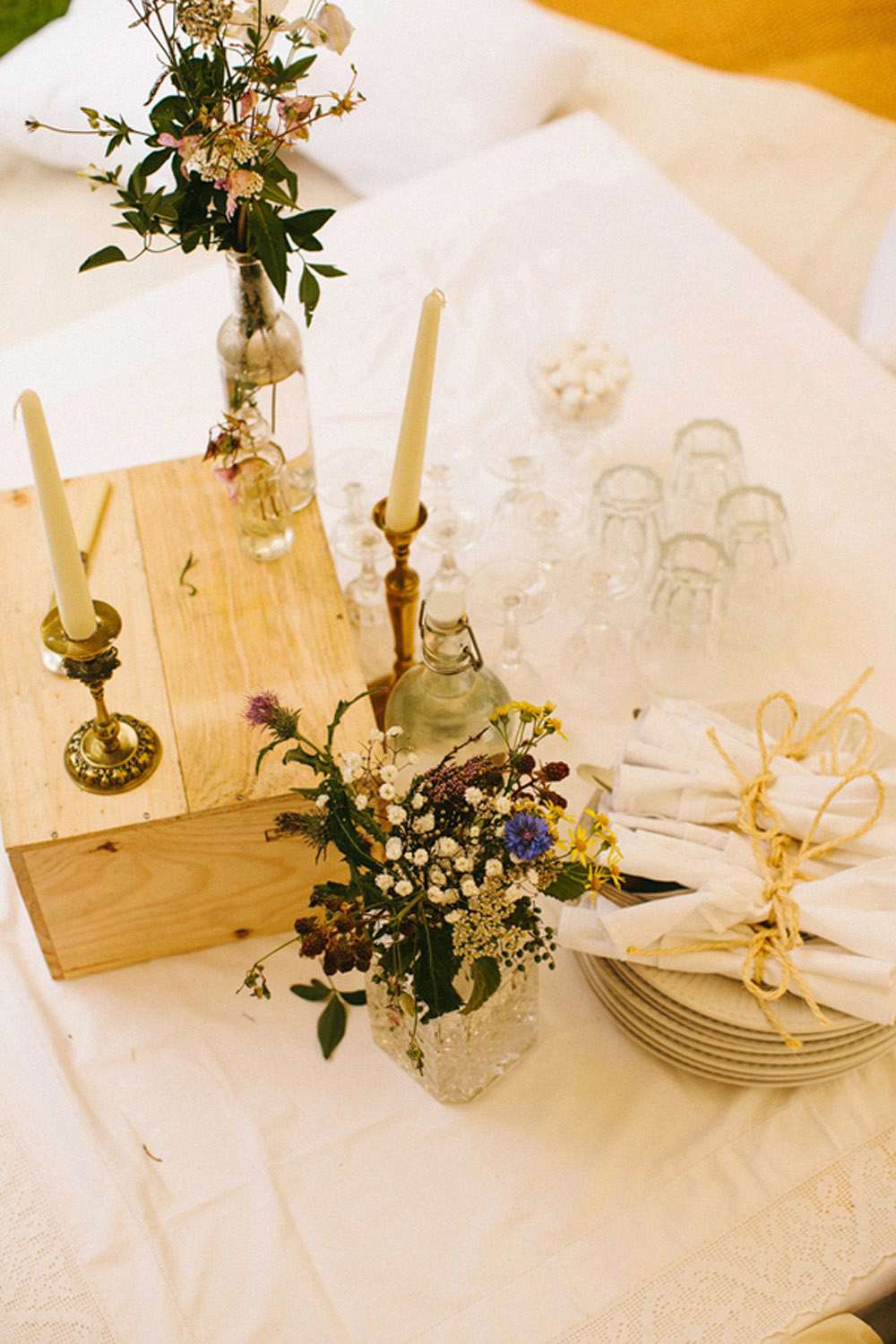 "After reading wedding blogs we decided that if we couldn't see 'us' in something, it wouldn't get included in our wedding. We use coupe champagne glasses at home, so we used them for the wedding; we use old wool blankets and crochet tablecloths, so we had them at our wedding. All the furniture and props were things from our flat. We hired a van to take everything up north to the venue. The few things we did buy, were things we wanted to keep in our flat after the wedding. If I had to describe it to someone to though it would probably be, very loosely, 'Marie Antoinette meets English country picnic'."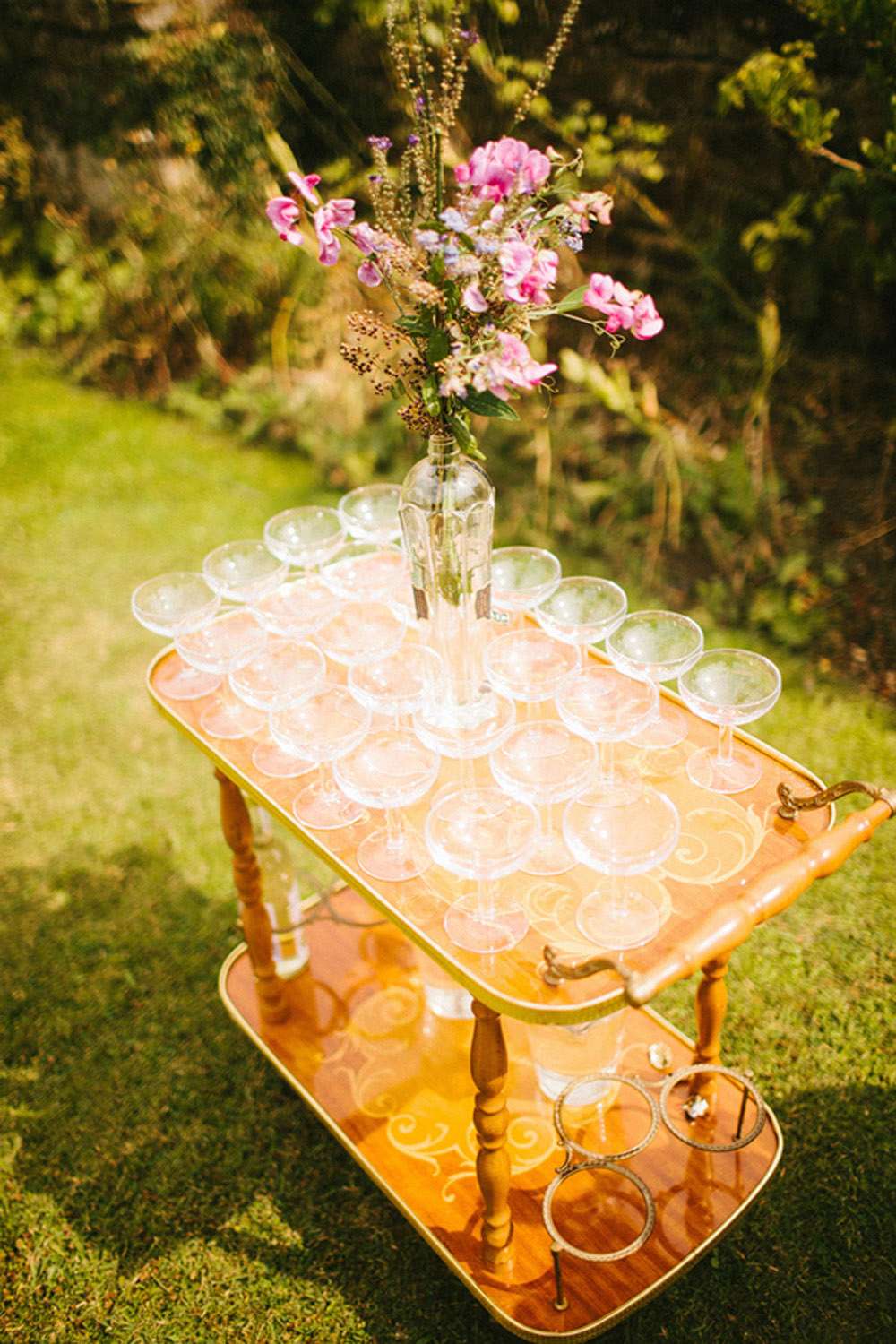 Tim proposed on their three year anniversary up on the North Yorkshire moors where they first got together. This was a special place for them so they wanted to somehow incorporate it into their day. The used heather from the fields everywhere – the buttonholes, bouquets and confetti.
"The only way we would have complete say over everything, was by doing everything ourselves", she explained. "We long to live in a beautiful country house with gorgeous gardens, so we found the most amazing house, and hired it for the whole week, living there as if it were ours. We drank prosecco instead of champagne because we have lots of Italian holidays, and Tim's mum and I pretty much only drink prosecco!"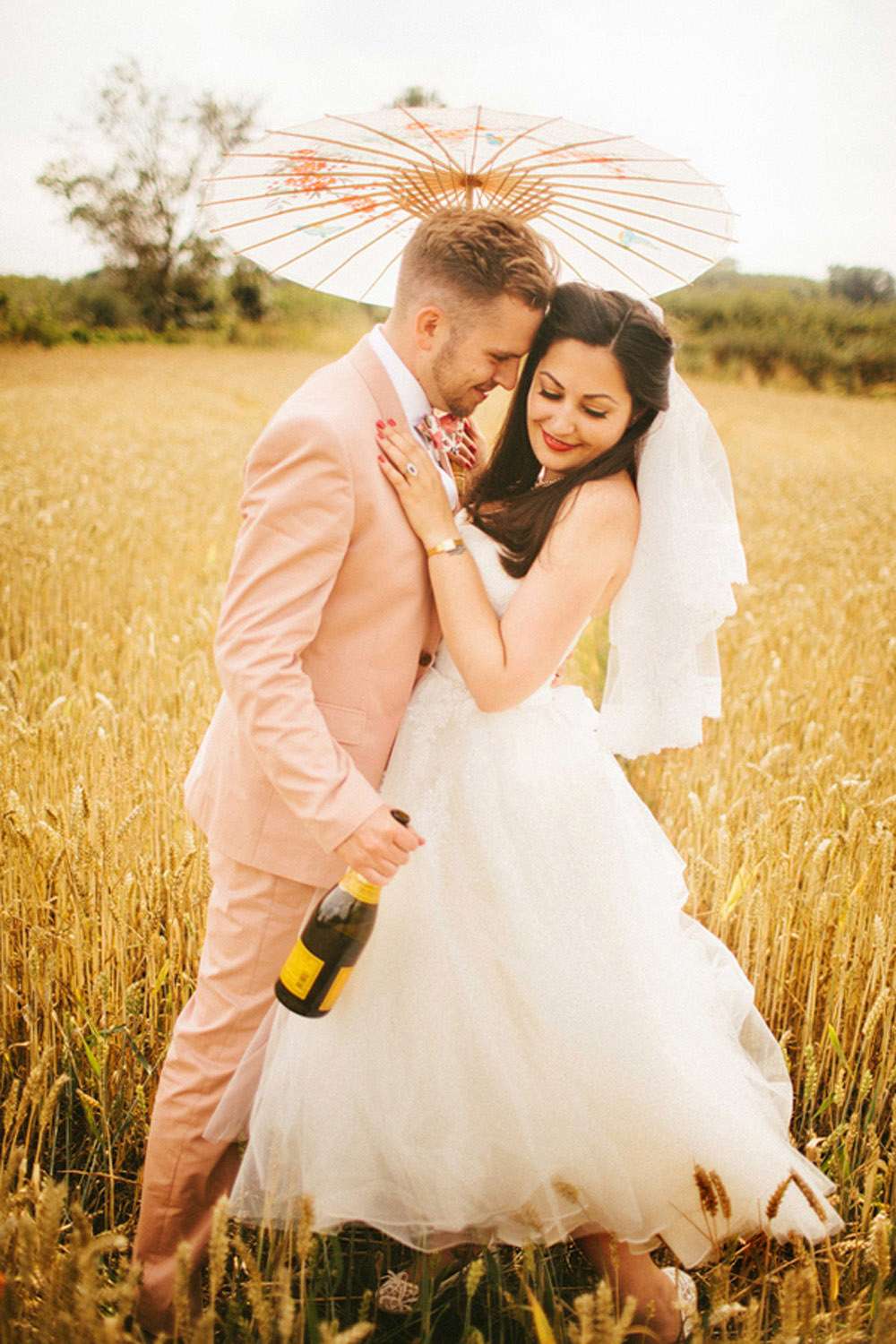 "We had a whisky toast because Tim likes a drink of whisky, and in remembrance of his grandad. We had a Victoria sponge wedding cake because we don't like fruit cake. We catered ourselves because we wanted to use tasty locally produced meats in our picnic pies. Our food was rustic to say the least, but it tasted good, and to get caterers willing to use our recipes and serve it exactly the way we wanted would have put the whole thing way above our budget."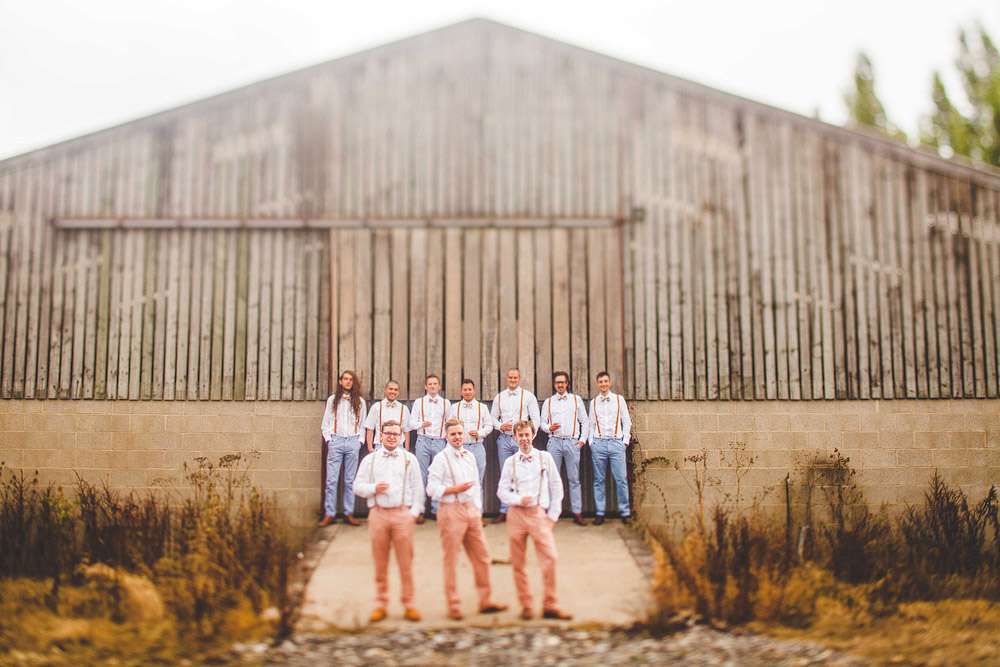 "We loved everything about our wedding", she concluded. "It was great seeing our guests reactions to what we had achieved. I guess when people think 'DIY wedding' they are thinking its going to not look very professional, but I am so proud of how it turned out. It was exactly how it was in my mind."