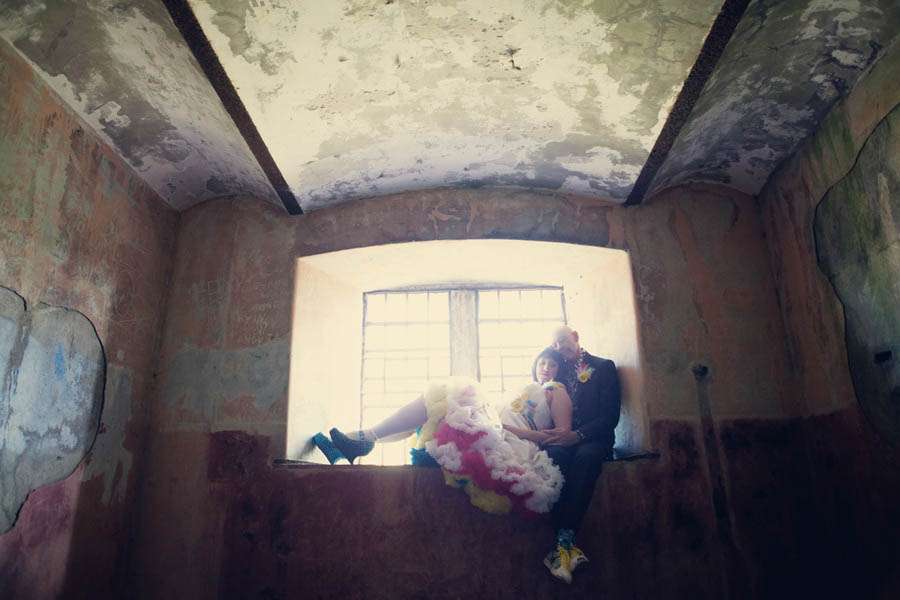 When wedding photographer Sassy of Assassynation told me she'd booked a wedding through a feature on my site last year I was super thrilled. However my excitement was pretty much quadrupled when she them told me the bride was wearing a short dress… with a rainbow petticoat… with glittery turquoise leopard print wedges and ankle socks… oh yes and that they were getting married in a cave. I think died and went to wedding heaven right about then.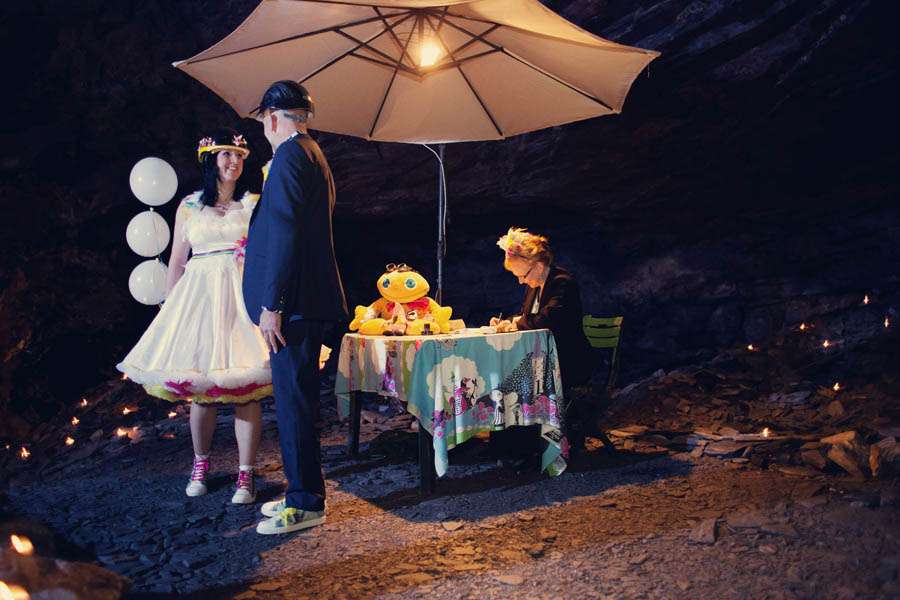 Caroline & Johnny were married on a Monday, on the 14th May this year. The ceremony was small – just the two of them, the celebrant and Sassy and her husband Ian, who not only photographed the event but acted as witnesses. The ceremony was at Carnglaze Caverns in Cornwall. "One fabulously weather proof venue!" the bride laughed. "Subterranean lake, 500 candles and really dangerous steps for the clumsiest bride. What could possibly go wrong?"
"We had to wear hard hats in the cave. Instead of using the ones provided we decided to make our own. We made ones for Sassy and Ian with their names and the date out of buttons, glitter glue, feathers and wiggly eyes. I think I described them as a 5 year old with ADHD being let loose in Hobby Craft. Johnny painted my hat black with a yellow rim for Button Moon. Johnny then made all the Button Moon characters out of Fimo – including the rocket, painted them and stuck them to the hat. He also made a Clanger which he stuck to the front. Johnny hand painted his own hat, again inspired by HR Giger. He then made a Fimo female figure from one of his own artworks of painted glass. It was just brilliant."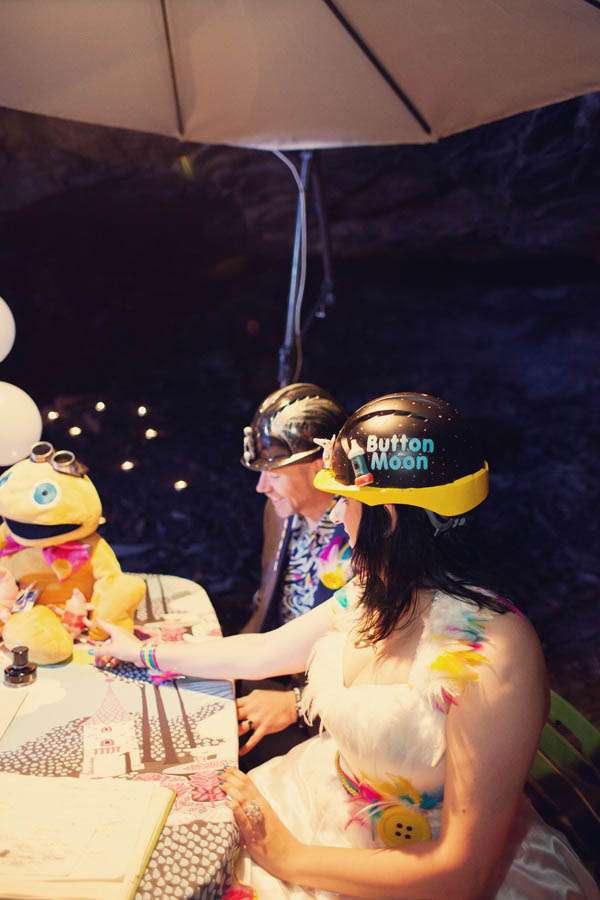 "As we had no best man or ring bearer we created one. I had bought Johnny a giant Zippy a while back and his mouth opened so we used him as a ring cushion! I bought Zippy a crazy bow tie for the occasion and we put our wedding rings into his mouth. He also wore Johnny's steampunk goggles we'd bought for our engagement shoot. Zippy took pride of place on the registrars table together with some Clangers and a Moomin. We even covered the registrars table with Moomin fabric we found online. We are now going to get a shirt made out of it for Johnny."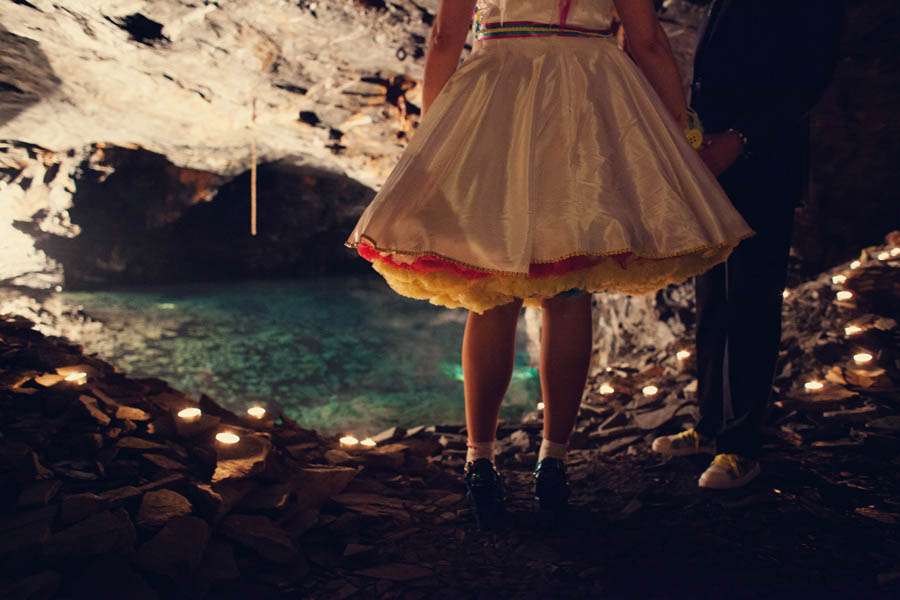 After the ceremony the couple and Sassy headed to Bodmin Jail for some portraits. "We knew that we wanted the pictures done in the dilapidated Naval Prison part of the jail," Caroline continued. "A mini trash the dress on the wedding day. Perfect. We booked a cab to be on hand all day to ferry us around as we were going to various places. Turned out to be the best idea we could have had. Barry the driver was brilliant. He suggested a bridge we might want to have a photo on. We weren't sure but went anyway and it was a really quirky little bridge giving us a photo with a slight optical illusion which we love."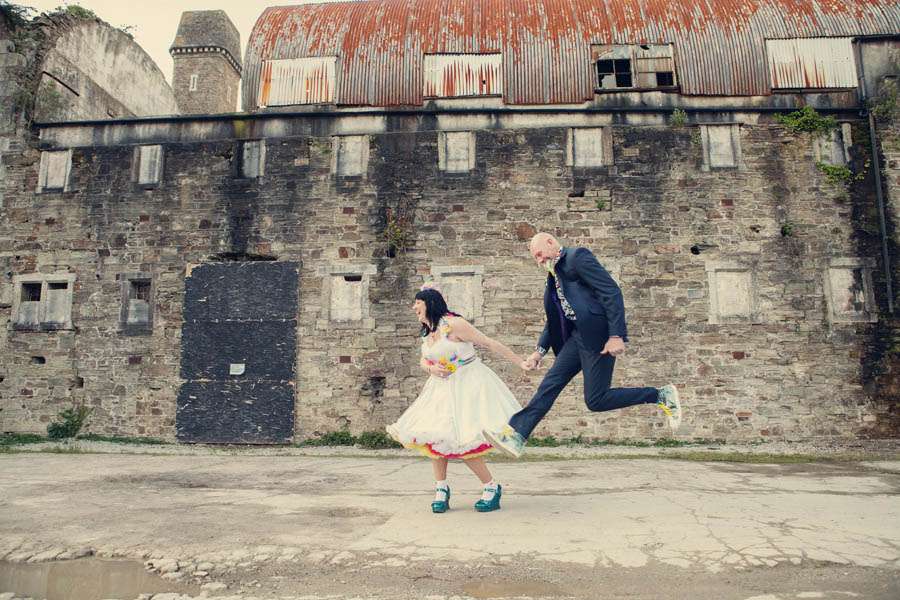 "We arrived next at East Looe Beach. Johnny and I live by the sea and knew that it had to feature in the day. I even bought a tide timetable booklet last year to see if it would be low tide so we could get some piccies in the sand."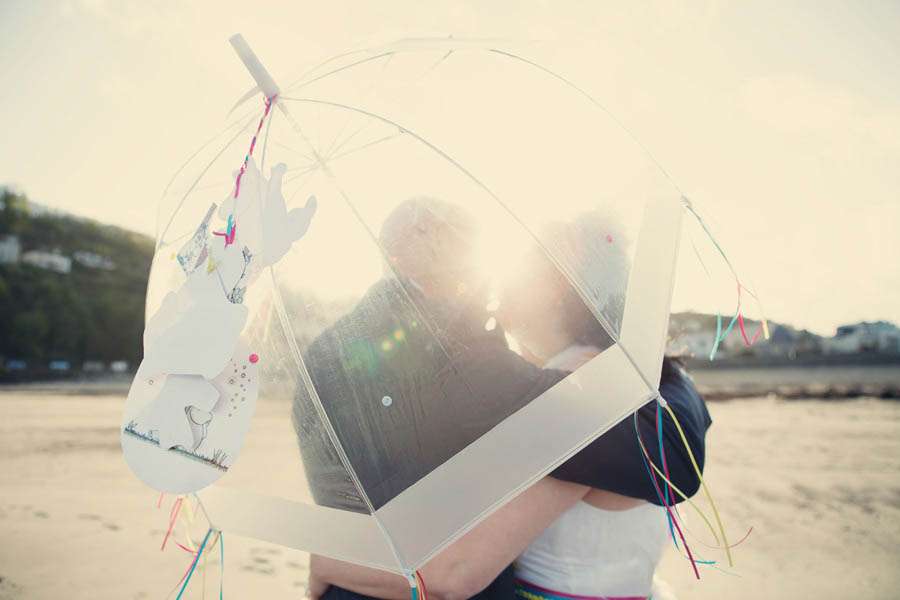 After the photo session came a small reception at Squid Ink Restaurant in Looe. "Johnny surprised me with a weekend away to Looe in Cornwall not long after we'd got engaged. We fell in love with it straight away. We found Squid Ink and we had just the best food and service in such a fabulous environment. When we'd decided to run away to Cornwall to get married, we knew instantly that we'd stay in Looe and Squid Ink was where we wanted to have our reception. Catherine and Warren who own the restaurant (and Warren is also the chef) were just brilliant. They really engaged with what we wanted to achieve – even our little nod to a Mad Hatters tea party from our original wedding ideas."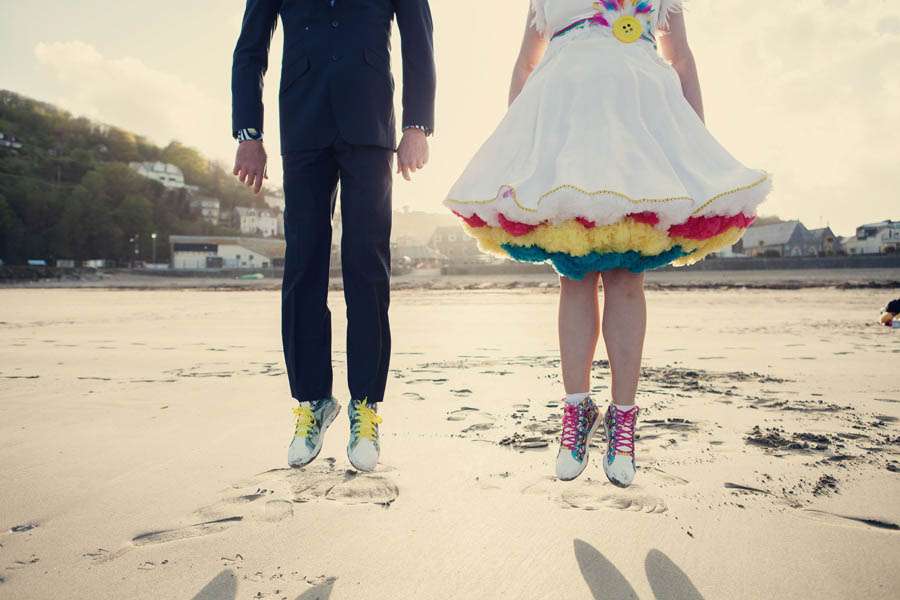 "Johnny and I made tea cup wineglasses and had our wine served out of a teapot. Catherine out did herself with decorating our table with the bits and bobs we'd brought with us. Instead of scatter crystals we had scatter buttons to tie in with the button moon theme. Moomin character napkins and our piece de resistance cake with buttons and Clangers. The food was amazing and the service impeccable. I can't recommend this place enough. It's just awesome."
"Our colour scheme came about from Alice in Wonderland. I've got an Alice mug and one day looking at it, Alice was there with her blue and white dress and bright yellow hair with a flamingo. That was it. Our colour scheme would be the brightest version – turquoise, yellow, fuchsia with white."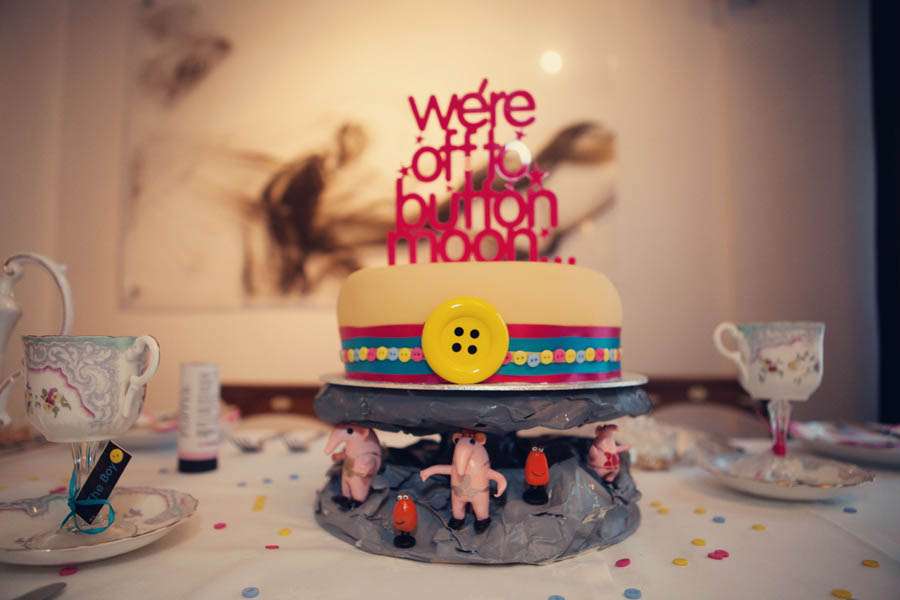 Caroline's dress was from Vivien of Holloway. She customised it herself with the multicoloured petticoats (bought from Vivien of Holloway and Swingtime) and the rainbow feather accessories. "I'd seen a wedding dress made completely out of feathers", she explained. "It was just stunning. This inspired the addition of feathers to my dress. It added texture and was just so tactile. Adding the coloured feathers to the neckline and to the fascinator just brought them alive. I also made the belt out of ribbons, buttons and feathers."
"Johnny and I have planned and compiled numerous budget spread sheets for countless weddings", Caroline concluded when I asked where their ideas and inspiration came from. "From a balloon over the Masai Mara to a full blown Alice in Wonderland extravaganza. From the Giger Museum in Switzerland to Central Park New York. I don't think there was idea that we didn't look at. Nothing was really us. I was envious of couples who just picked venues and sorted out their day. We just couldn't find us."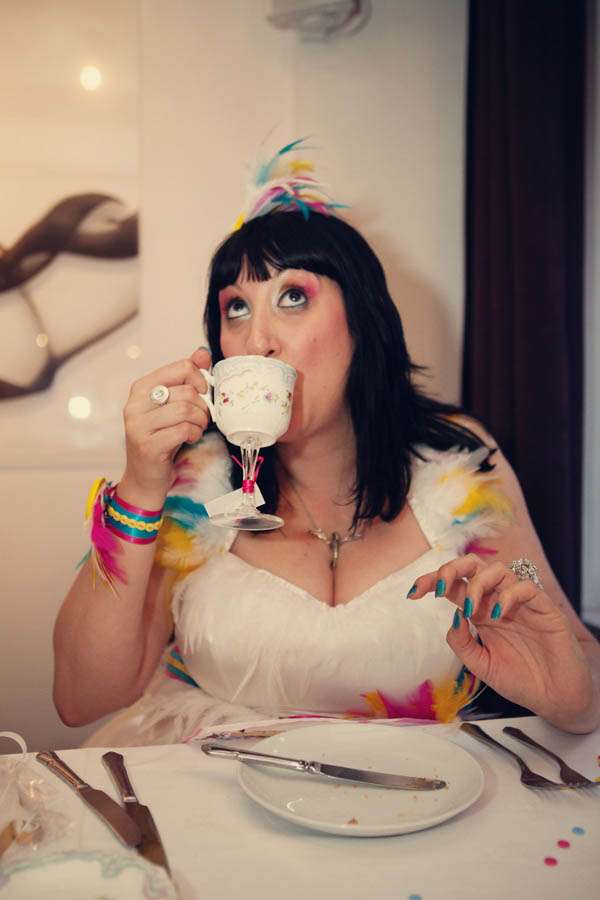 "Through the loss of loved ones and reality checks, the thought of putting our life on hold to try and save for a couple of years to afford one day, elopement was born. We really would have our day the way we wanted it. I know that everybody says that they want their day to be about them and ours really truly was. We got it to be about us to the ultimate. Every detail from all the crafty DIY bits to the readings and vows, the venues, the whole day in fact, everything had a reason or meaning to be included and reflected of us as a couple. Because it was just the two if us, we had carte blanche to do it exactly as we wanted without having to worry about anyone else. We can truly and honestly say that we really did marry our best friends. We know things about each other that only friends share not couples. We got it all."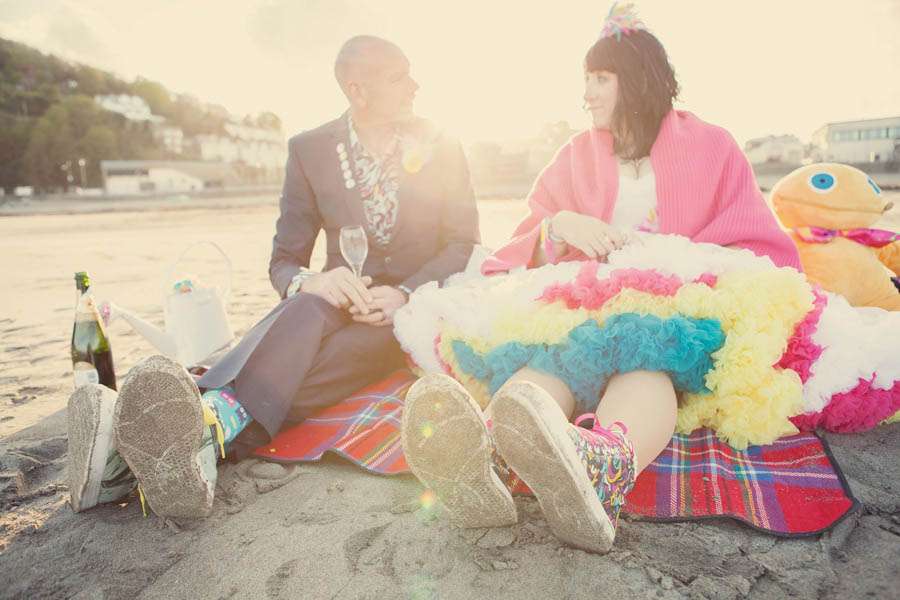 Lost. For. Words. Aren't these guys the best!? Thank you so much for sharing your incredible wedding with us today!
Supporting Cast:
Photography Credit: Assassynation
Ceremony Venue: Carnglaze Caverns, Cornwall
Reception Venue: Squid Ink Restaurant, Cornwall
Bride's Dress: Vivien of Holloway
Bride's Petticoats: Vivien of Holloway & Swingtime
Bride's Shoes: Alternative Footwear & custom designed through MES footwork
Bride's Headpiece: DIY
Bride's Bag: Pylones
Bride's Necklace: 'Guardian Angel' by HR Giger
Bride's Cuff: DIY
Groom's Suit: Marks & Spencer
Groom's Shirt: Chenaski
Moomin Badges: Moomin shop, Covent Garden
Cake Topper: Miss Cake