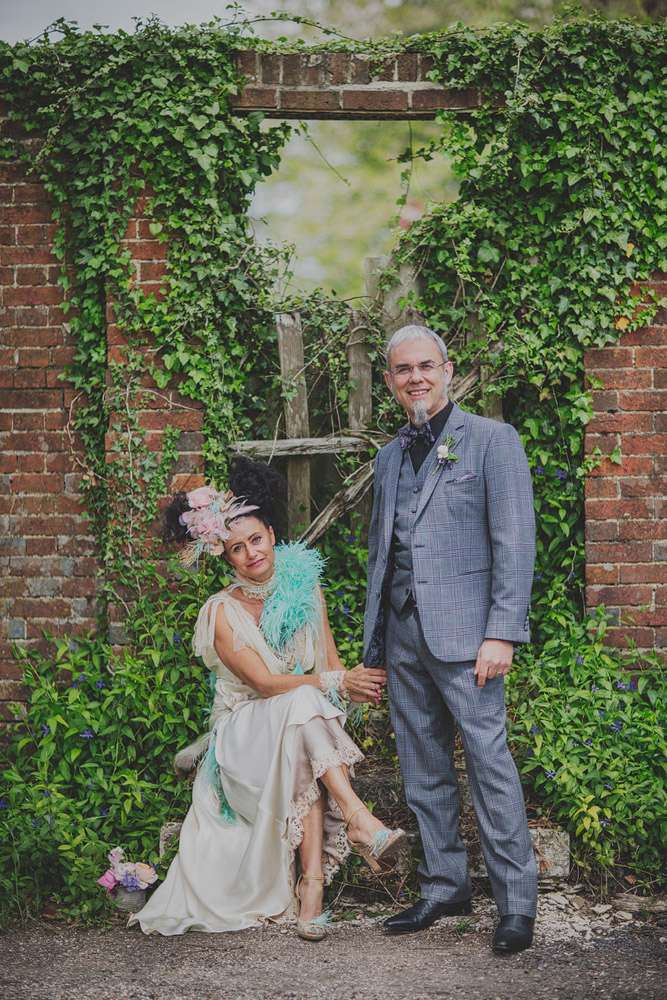 Six months after their legal ceremony at Brighton Register Office, Jen and Steve had what they would consider their 'real' wedding. "We wanted a spring weekend of celebration, filled with love, laughter and true meaning", Steve explained. "Having got the 'legal' bit out of the way we could design the entire day around what we really felt important to us, which was to be surrounded by like-minded souls having a relaxed weekend house party with a festival feel, centred around a Humanist ceremony that we wrote specifically for ourselves and witnessed by friends and family."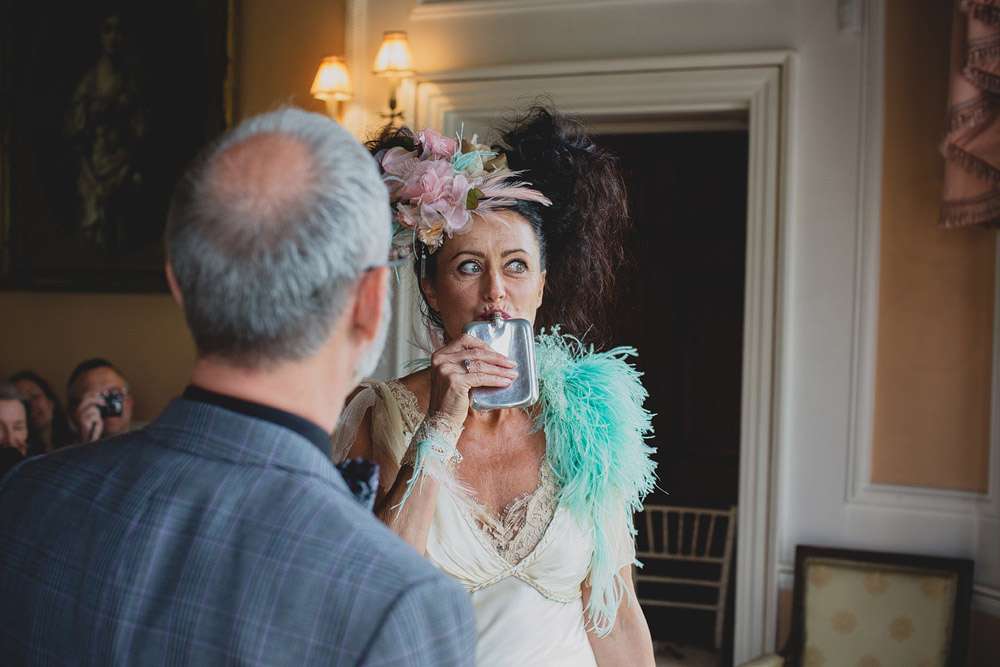 "We chose Hill Place as a perfect private setting where we could create our event as if it was our home for the weekend with a house full of guests. Some stayed in rooms, others camped in the gardens and some visited on the day. The owners of Hill Place, Rebecca and Will, are lovely people who have opened up their house and grounds to like minded people who can take the entire place over and treat it as their own, rather than a typical venue that has staff, restrictions and rules."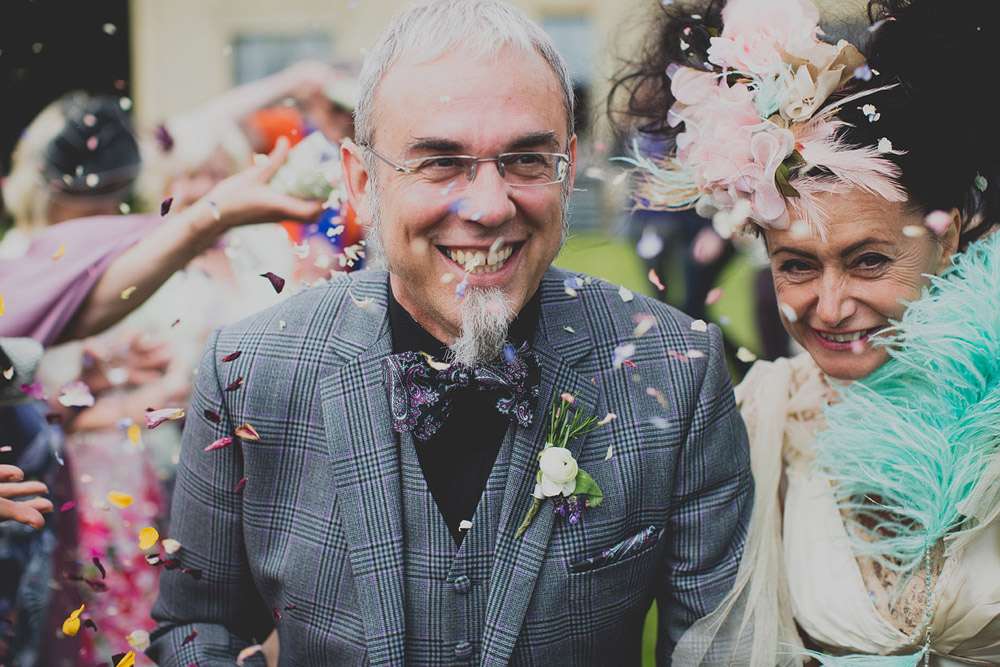 "Our chef and her team were fantastic 'a small piece of cake' who were more than just our caterers, they were also involved in helping to run the weekend", he continued. "It was a real pleasure to work with such lovely and professional people who really care, and to say we were pampered is an understatement."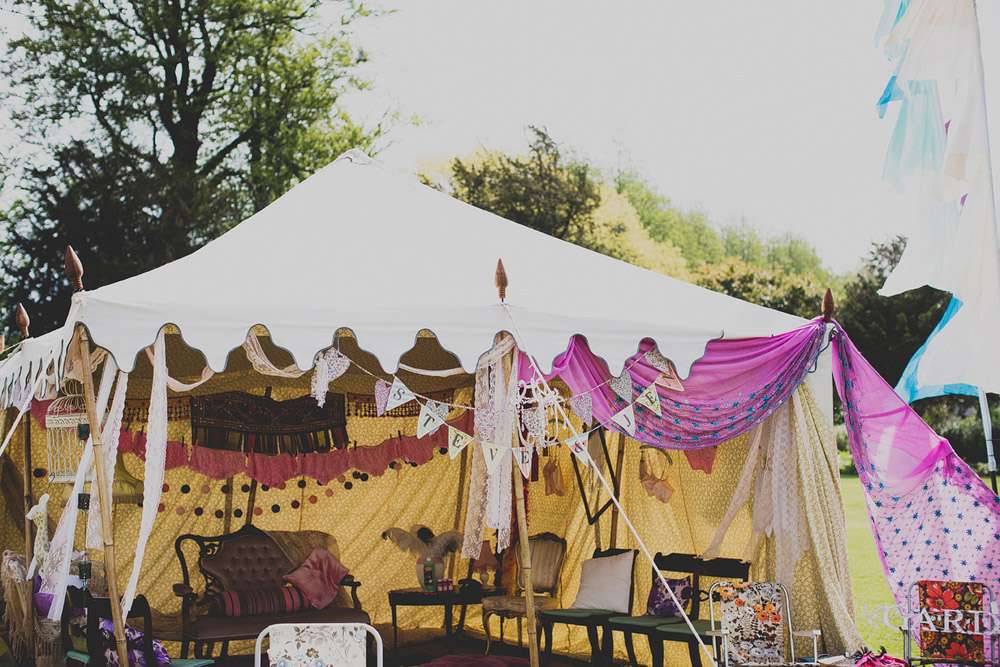 "The music for the day was provided by two DJs and they were both truly exceptional. Still Moving played swing records on genuine 78s on wind up record players. They also had all kinds of vintage dance music and it was all set up on an 'electric' tea trolley during the day. As night fell we had the most excellent eclectic banging dance music from all styles with a brilliant slant on early Jamaican dub reggae… and no chart music, it was banned!"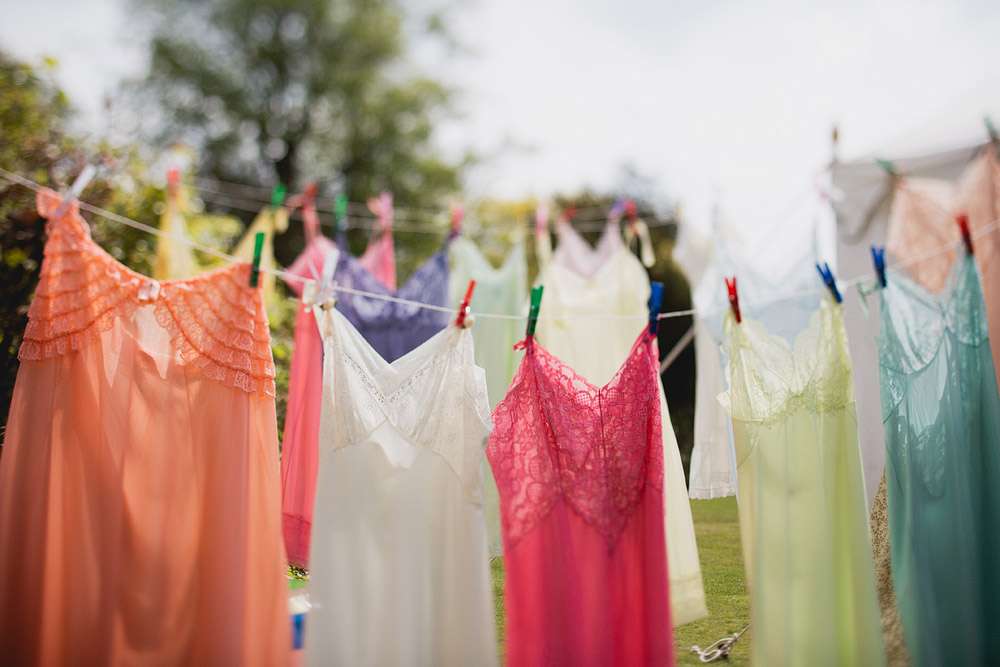 "Simon, our photographer, was exceptional throughout", Steve explained. "We are both in the creative industry and have worked with photographers professionally for many years, and are very, very particular. We did not want to use anyone we had previously worked with for our wedding day and hunted high and low for the right person. So when we say Simon exceeded our expectations on every level you can be assured he is one of the best out there."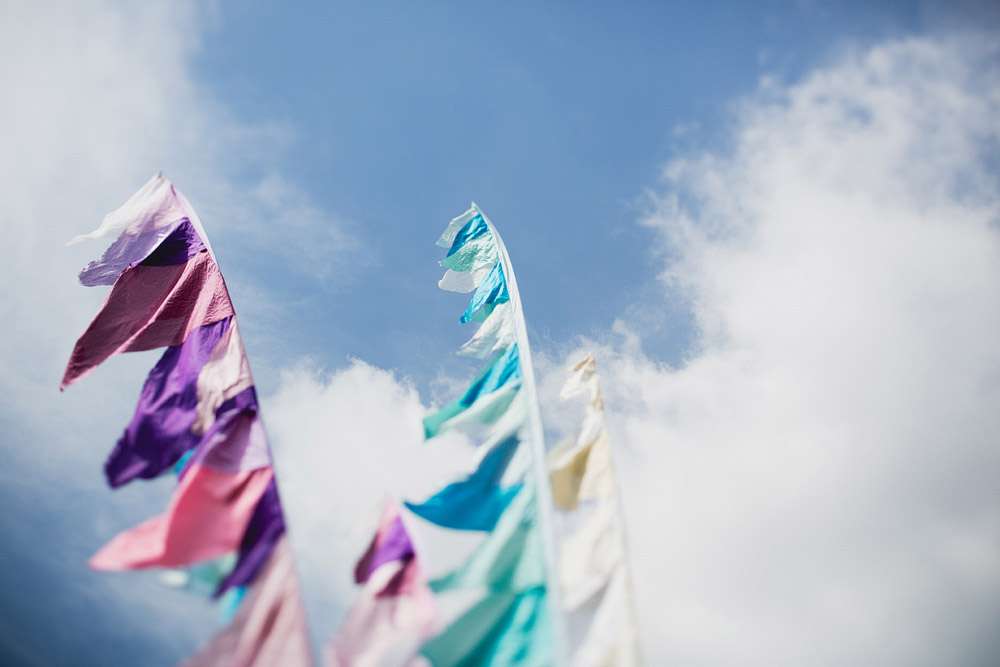 Jen has an eclectic taste in fashion and so an 'off the peg' wedding dress just wasn't an option. She designed her own dress alongside Joanne Flemming including vintage pieces from her own wardrobe. The dress had tassels, feathers and bells on it! Being a hair and make up artist she obviously did her own and not wanting a bouquet she completed her look by carrying a tiny vintage silver bag with a few David Austin roses popped inside.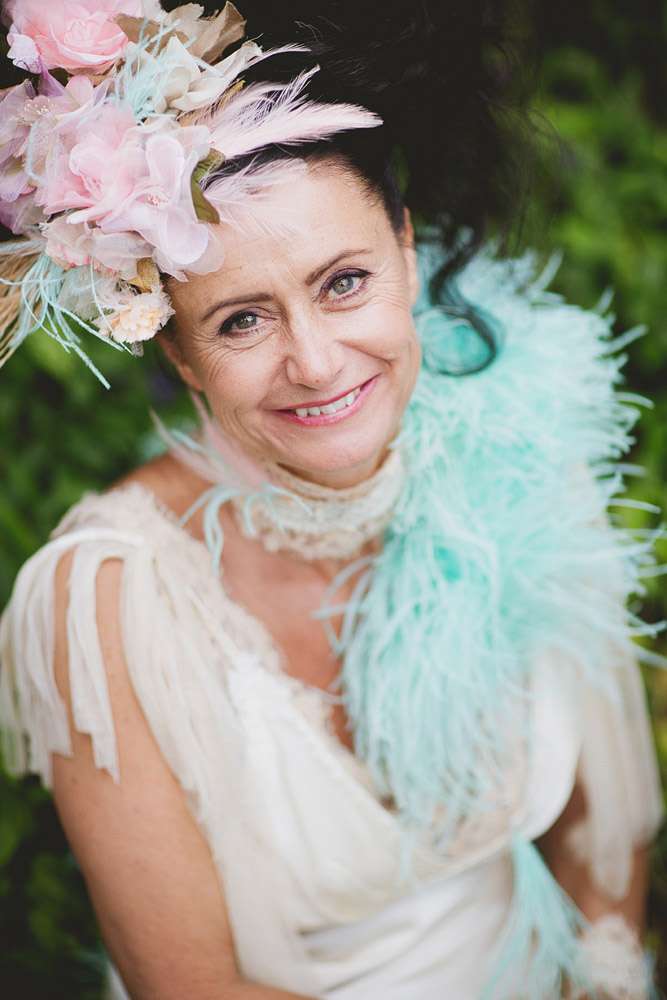 Not wanting to be outshone by his bride, Steve had a bespoke suit made for the occasion. "Hugo Morris in Brighton are the best around," he wrote. "There's nothing like a bold check three piece with a lilac stripe, hand made black shirt and bow tie to make one feel dapper. This was the first suit I had owned in decades and I am now a convert, especially with hand knotted bow ties, even if they are a bugger to tie properly. While you could say a hand made suit is a bit of a luxury, when you consider the price of expensive brands you can buy on the high street that is off the peg and frankly a bit shit, a suit made exactly for you is actually a real investment and a great price."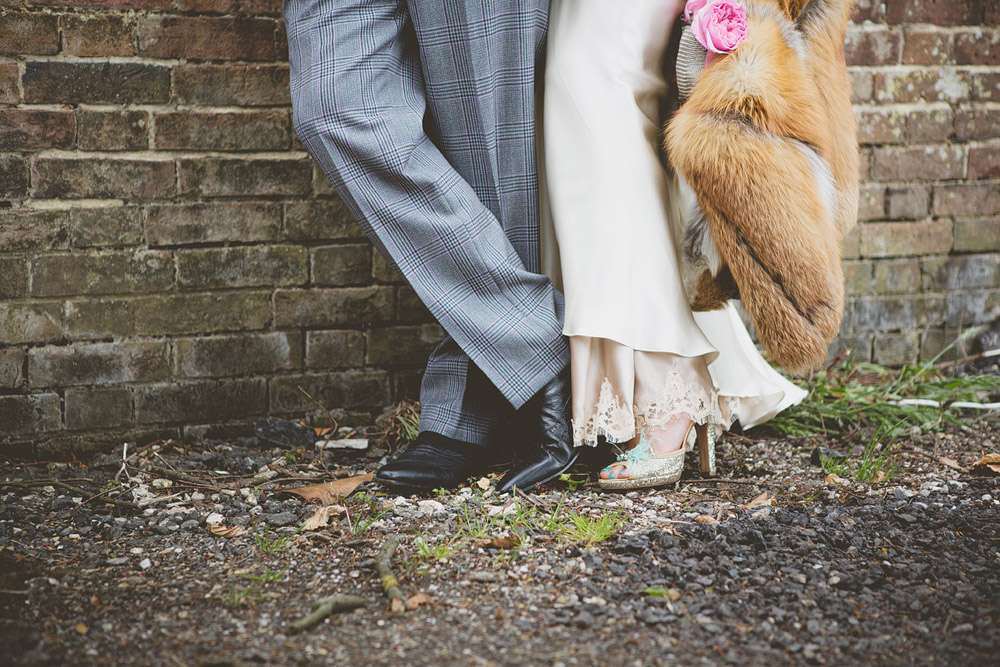 "Our wedding was a delight from start to finish", they concluded. "Having a weekend to play with rather than trying to cram everything into a day was brilliant. It meant we could start the party on Friday with everybody getting involved in helping to set the stage, put up and dress the tent and house, erect the flags and generally get involved and get to know everyone else. Saturday then started early and had a wonderful slow build up to a lunchtime ceremony and then moving through the day with heaps of food, games, music and fun to well through the night. Sunday was reserved for a chilled recovery and clean up and then heading off to the pub for a Sunday roast."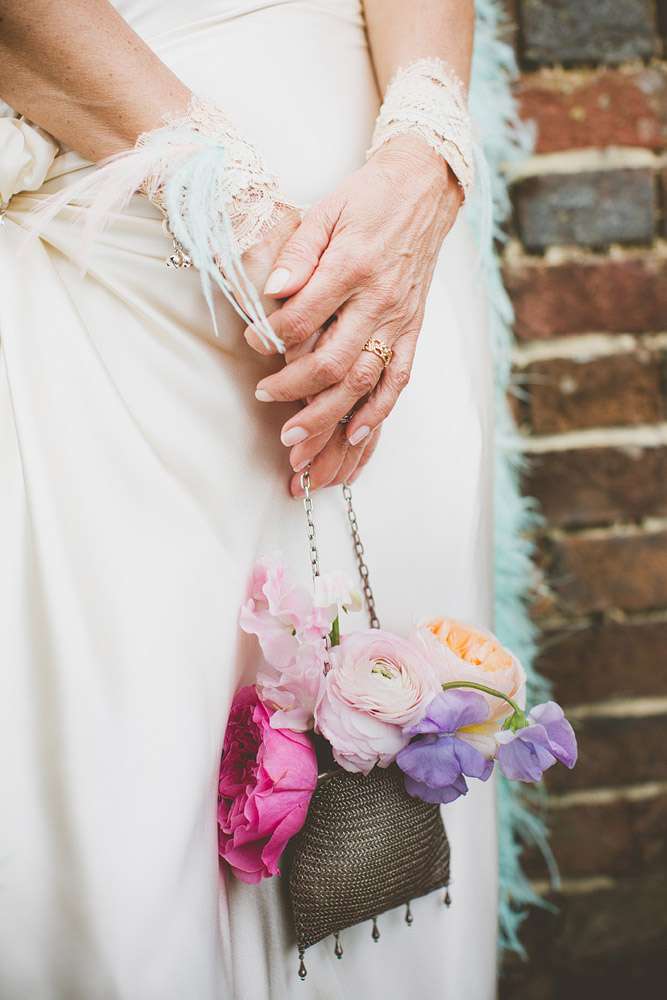 "Having the entire weekend in one location as a big house party was amazing, and to combine sheer luxury with festival fun and music all the way made our wedding perfect for us. Everyone could relax into the event and nothing was rushed. Having a festival theme in a country house gave us the best of both worlds, we could mix antiques with dressing up, reggae in the marble hall, frisbee on the lawns, camping and cocktails."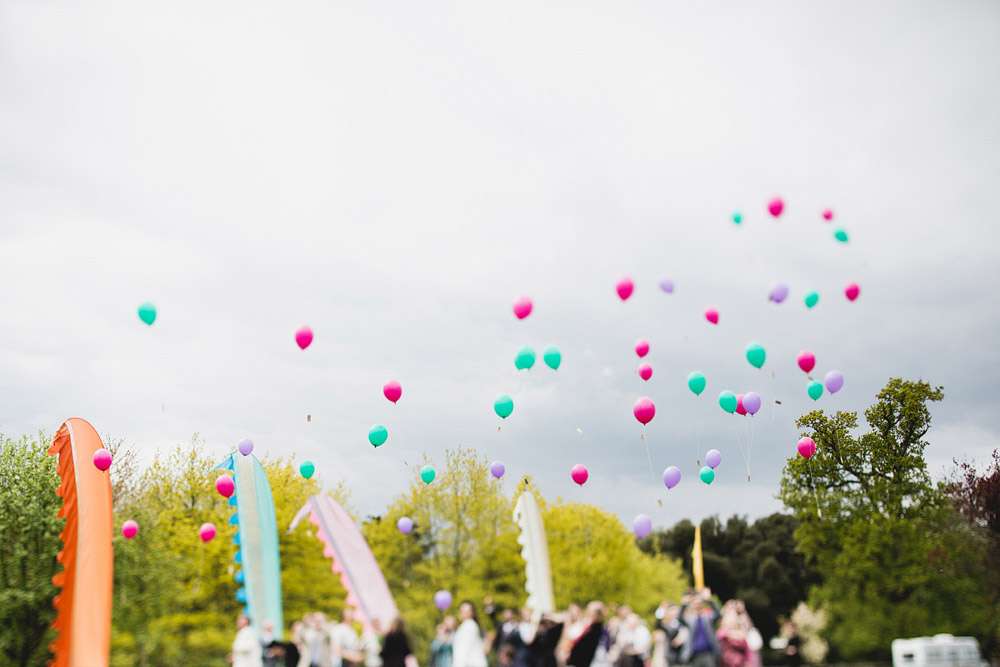 "We wanted to create a wedding that was true to ourselves and not to pander to convention even though a good part of it was clearly traditional. We were surrounded by love, not just our family and guests but everybody involved on the day. Every single one of our suppliers threw themselves into the wedding and we made sure that they too were part of it too, not as staff but as friends. This is a result of choosing people very carefully, great people usually have great talents. Our guests too had time to open up over the weekend and everyone gave back to the event rather than be static guests and this changed the whole dynamic of the wedding from a formulaic trudge into a celebration of love."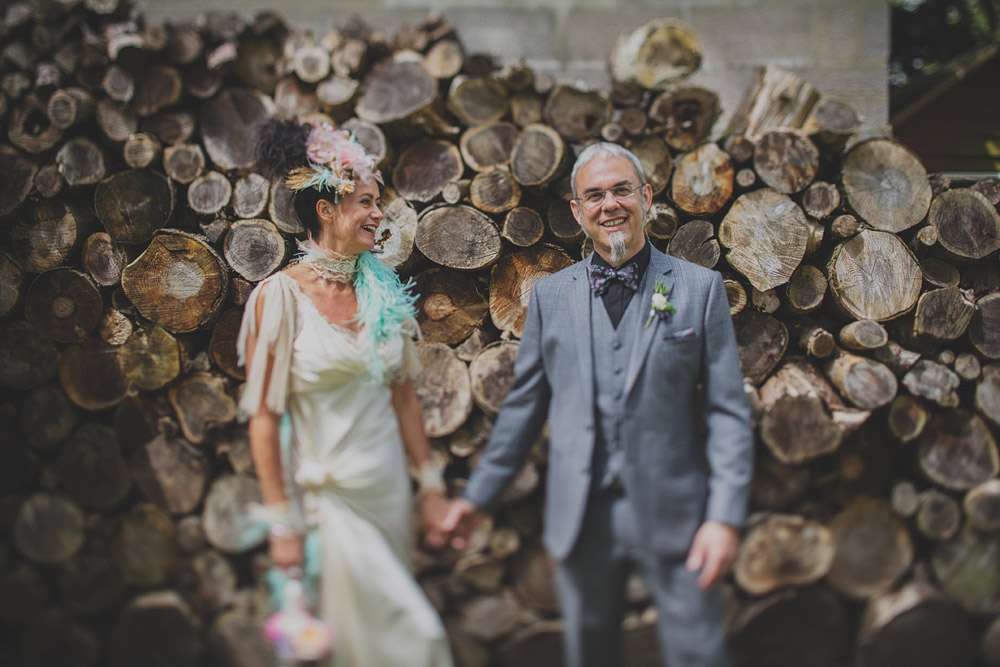 Amazing, right? If you missed part one of this fabulously quirky wedding then be sure to go and check that out right now!