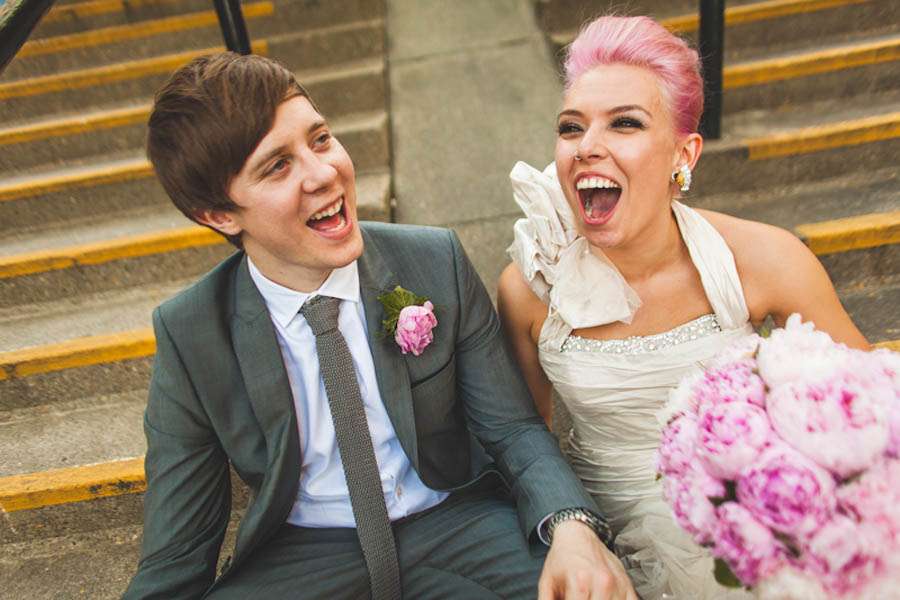 "I got married in August", said pink haired Blogcademy attendee Charlotte after the workshop was over. "Your blog was a huge help so thank you." "Amazing, I responded – make sure you send me your photographs!"
And she did, and oh boy am I glad. What a wedding!
"Our wedding theme was decided on a drunken weekend in Palm Springs in May when we were on a work trip", Charlotte told me. "We ordered 50 pink plastic lawn flamingos to be delivered to the Ace Hotel… then panicked when they arrived and we had to buy four huge holdalls to take them back on the plane! I was convinced customs would think we were smuggling drugs and cut them all open but they really made our wedding!"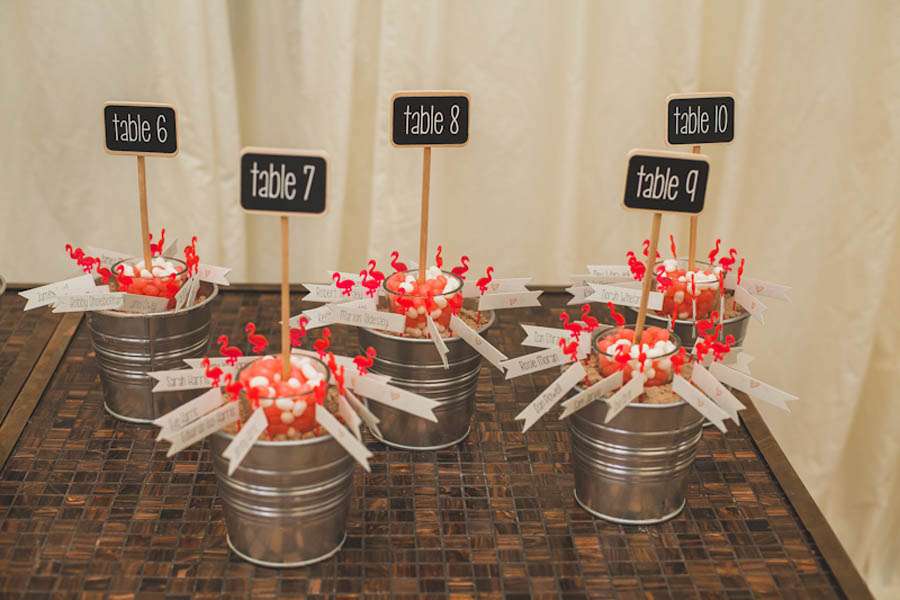 "Luke & I have our own custom printing business, Awesome Merchandise, so we made a lot of the stuff ourselves – very last minute! I wasn't the greatest DIY-er. I had ten skulls for my centrepieces turn up two weeks after the wedding because I was so last minute about everything! My hero bridesmaid Cat made about a million paper poms for me because mine looked a bit sad! I missed my manicure the day before the wedding because I was frantically pouring sand into little zinc pots for my table plan (that I'd only come up with about 3 days earlier) whilst being filmed by Choccywoccydoodah, who made our cake, for their TV show!"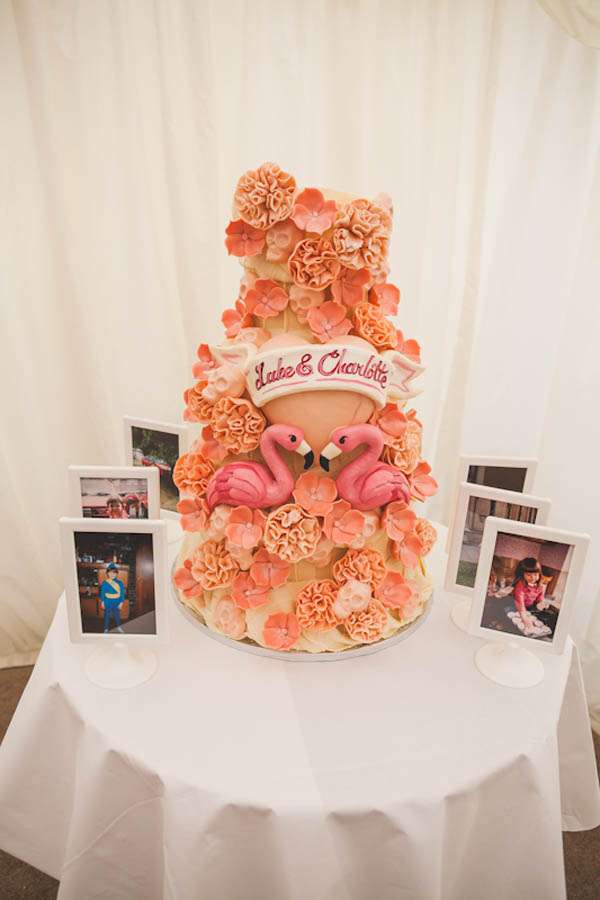 "I guess our theme was flamingos… and fun! I wanted a coherent look pulling everything together but I sort of hate 'themes'. I don't like tea cups, or butterflies, or birdcages but I do love flamingos and the colour pink so I used took those two things and carried them through to the flowers, decor etc."
"The most important thing for us was to make sure everyone had as much fun as possible and was well fed and looked after!" Charlotte concluded. "We've been together 9 1/2 years so pretty much all our friends are mutual so we really wanted to make them feel like they were part of the day. Our wedding certainly wasn't totally offbeat or wildly different to other weddings but it was just so US.  Obviously the karaoke rock band really brought it all together too!  They could've played all night & people would still have wanted more!"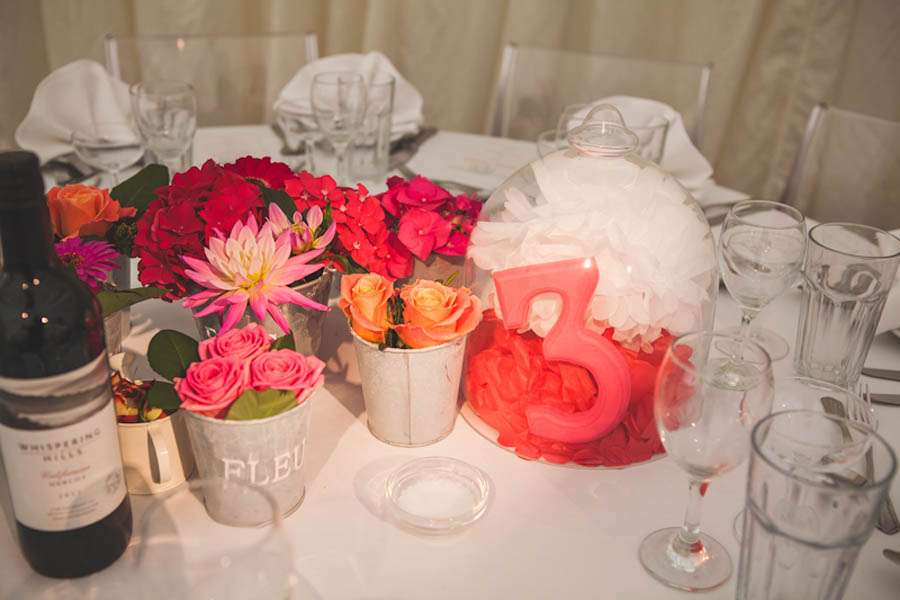 "Oh and don't feel bad if you haven't got time to spend every weekend making origami cranes, or sewing bunting, or making favours! I originally wanted to make my own cake and make flamingo shaped cake pops for favours!  But we were simply too busy.  I would have loved to have DIY-ed a bit more of our wedding but I simply didn't have the time.  So I just bought things, or paid for things, and I think sometimes that's a bit looked down on these days (like reverse snobbery!).  But it's YOUR wedding, and it's ONE DAY.  If you want to spend £1,000 on shoes then do it.  If you want to have a pot luck dinner and wear no shoes, then do it.  But your wedding isn't your life and I think some people forget that!. That's why I think blogs like Rock n Roll Bride are so important. Pretty much EVERY wedding is different!"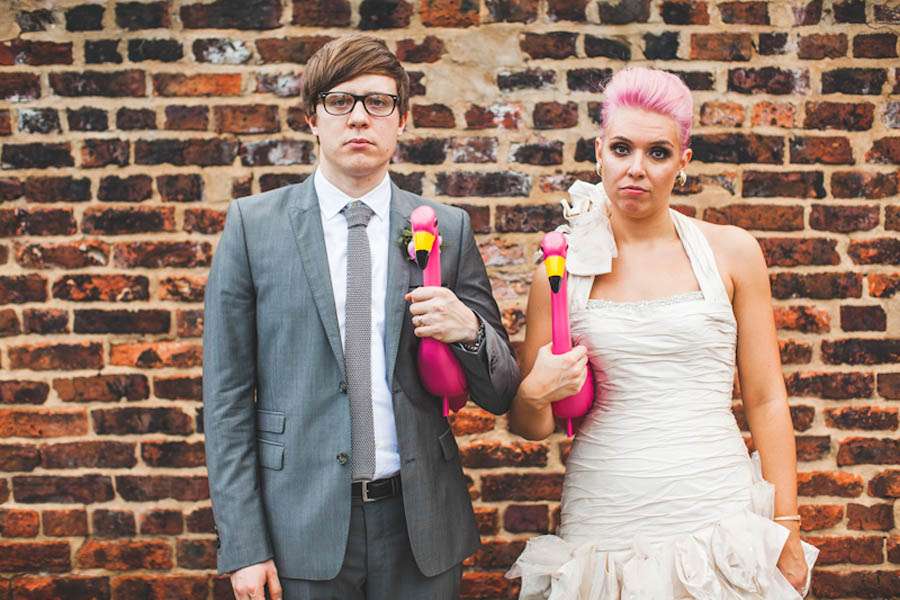 LOVE IT. Thank you to Charlotte & Luke and the awesomeness that is Chris Barber Photography for sharing his photographs.
Supporting Cast
Photography Credit: Chris Barber Photography
Venue: The Faversham, Leeds
Bride's Dress: Ian Stuart, 'Calypso'
Bride's Shoes: Sam Edelman, 'Georgina'
Bride's Earrings: Bete Noire Jewellery)
Groom's Outfit: The Kooples
Bridesmaid's Dresses: Two Birds Bridesmaids
Cake: Choccywoccydoodah
Flowers: Anastasia Flowers
Hair: Russell Eaton
Band: Rockaoke
DJ: Joss Bibby
Stationery: DIY & printed by Awesome Merchandise
Caterers: Chef Solutions