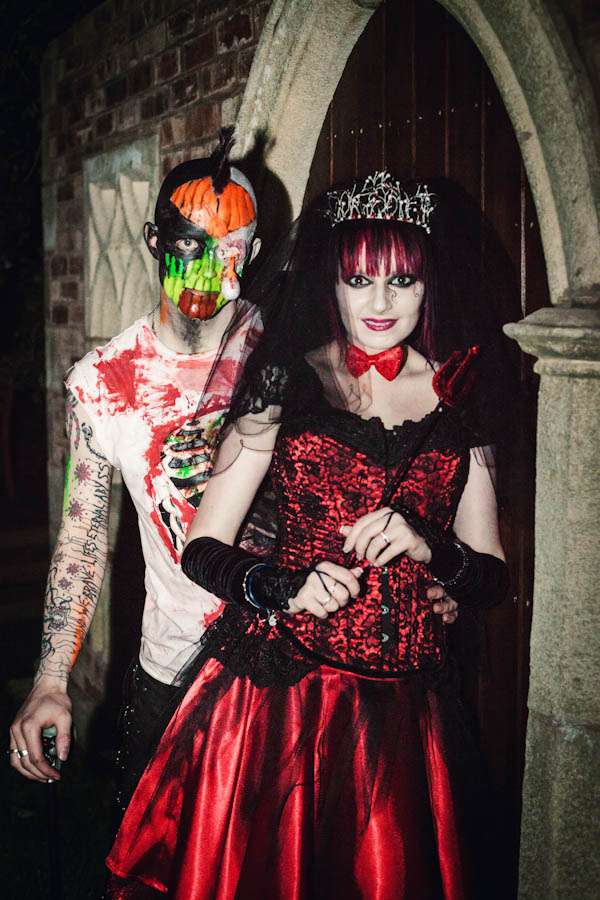 So we're in to October already so you know what that means… Halloween! And for Oddd & Elle, despite being married in August, their favourite holiday was the obvious choice of theme for their epic wedding.
"Anyone who knows us knew that our wedding was going to be a little different, as we've always done things our own way", began the groom. "After a chance meeting when we were both invited last minute to a day out, we have been inseparable, We got engaged on our first Christmas day in our first home and we set our wedding date for our 9 year anniversary on Friday 17th August 2012."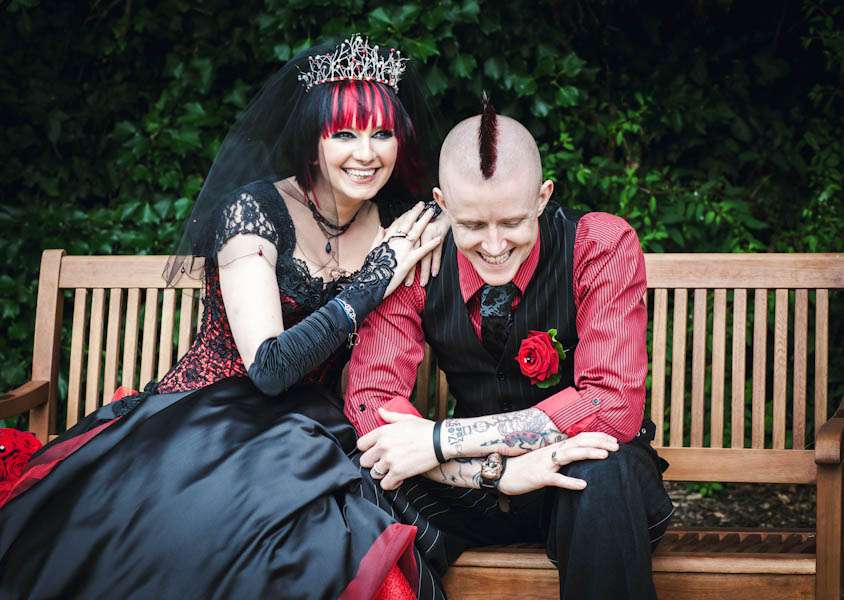 "We wanted a wedding that was personal to us and reflected our personalities by being fun, relaxed and quirky", he continued. "We designed our own outfits, wrote our own vows and worked closely with our suppliers. Amy of The Wedding House made our custom designed cake and I designed, carved and painted the cake toppers to compliment it. We were lucky to have close friends and family who were able to help out with hair, make up, nails, invitations, Elle's dress & my outfit, as well as the additional ceremony and reception decorations."
"I loved our ceremony", Oddd remembered."Elle looked incredible in her custom dress, truly my angel, as she entered the ceremony room to Siouxsie & The Banshees' 'Last Beat Of My Heart'. The ceremony had a very relaxed vibe with plenty of smiles and laughs (and happy tears once we began exchanging our personal vows) and suited us perfectly especially with having the Eels' 'Beautiful Freak' played as we signed the register. We lead the guests outside as husband and wife to The Cure's 'Friday I'm In Love'."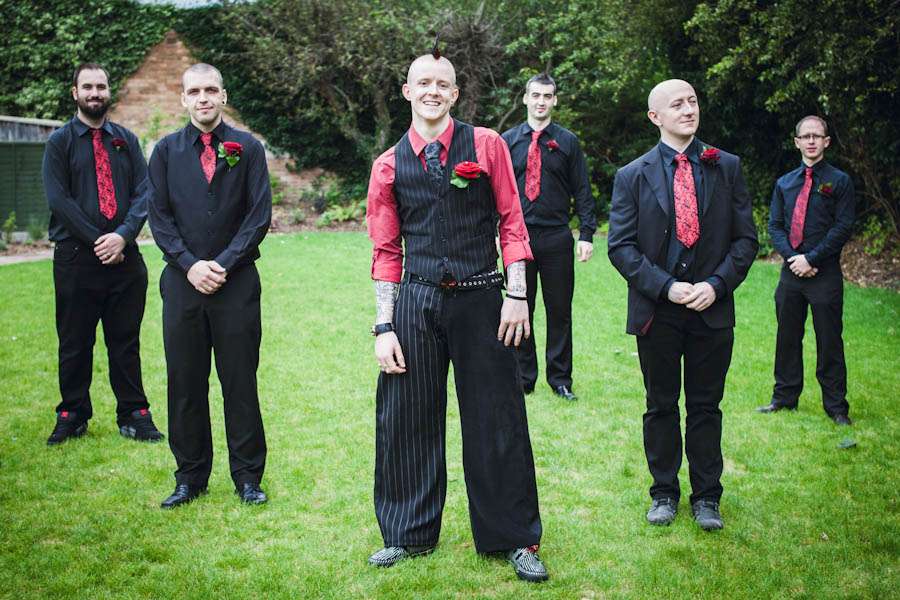 The reception was in two parts and it was important to this pair to keep it informal and fun! "We had decided not to have speeches as we felt they would be too formal. Instead we all watched a slideshow created in secrecy by Elle (so it would be everyone's first time viewing it, including me) containing funny captions and showing our childhoods (with plenty of 'aww' moments) up to us meeting and our crazy times since. It was received brilliantly, leaving people in emotional tears and fits of giggles. Everybody said that the slideshow of photos and songs said more about us as a couple than a speech ever could. So after the tears had been dabbed everyone went off to prepare for our evening reception."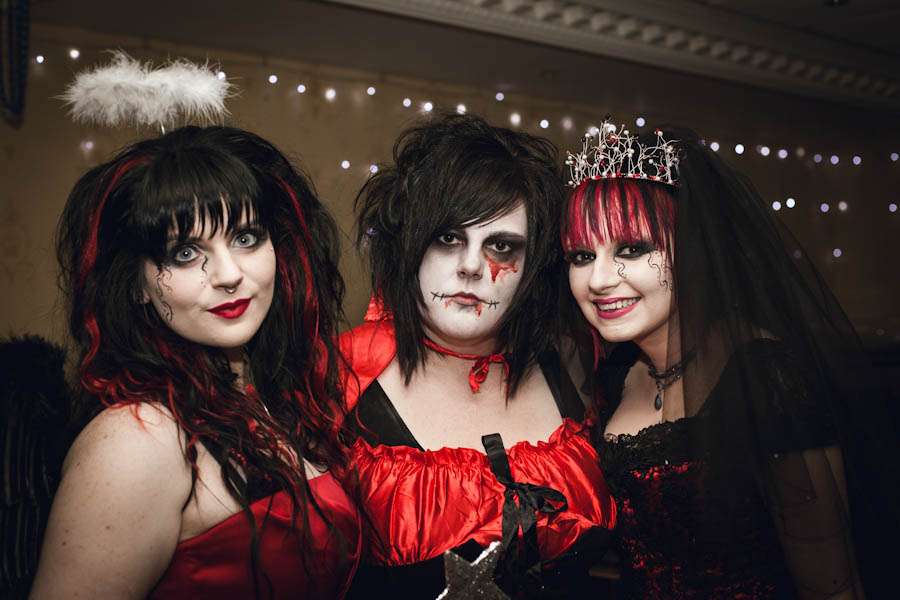 As the evening got underway the bride, groom and all the guests went off to change into their scary outfits! "For the evening we decided to have full on Halloween fancy dress. We are both crazy about all things horror and Halloween (many of the decorations and props used to decorate the room were from our own house, where they are used as permanent decorations). We were amazed with the effort that everyone put into their outfits especially as our wedding was in the middle of summer when Halloween outfits are hard to come by! We also chose all of the music ourselves, consisting entirely of rock, metal, goth, and 80s electro."
"The atmosphere was amazing and it was certainly something different seeing a Devil Doll bride, a glowing undead groom with one eye hanging out, a zombie best man & marvel wolverine. We also had an evil angel, red riding hood, Batman, Robin and Willy Wonka. It was really funny seeing them all dancing to The Cure! The Joker and Catwoman perform DJ duties and it was fantastic  –  the perfect end to a perfect day!"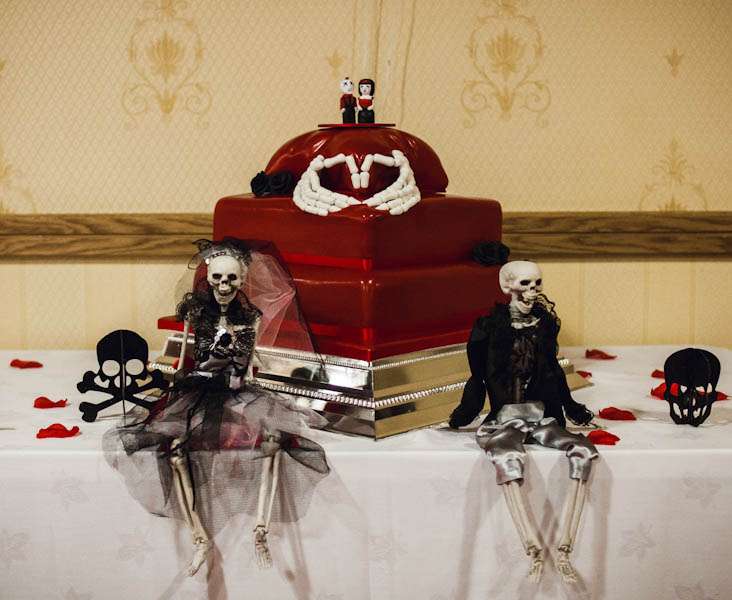 This has certainly got me in the mood for Halloween, anyone else?! Thank you to Oddd & Elle and their wedding photographer Samantha J for sharing with us today.
Supporting Cast:
Photography Credit: Samantha J Photography
Venue: County Hotel, Walsall
Bride's Dress & Headpiece: Psiclone
Bride's Shoes: Irregular Choice, 'Danger Paulys'
Groom's Outfit: Psiclone
Bridesmaid's Dresses: Debenhams (customised by Psiclone)
Cake:  The Wedding House
Flowers: Flowers By Design
DJ: DRMusic