Are you ready to partaaaay!? Well even if your answer is "er Kat, it's a Wednesday, who parties on a Wednesday?" I hope I might change your mind when you see Frances & Arianne's totally rad wedding. These guys make me wanna jump in a swimming pool and dance until dawn!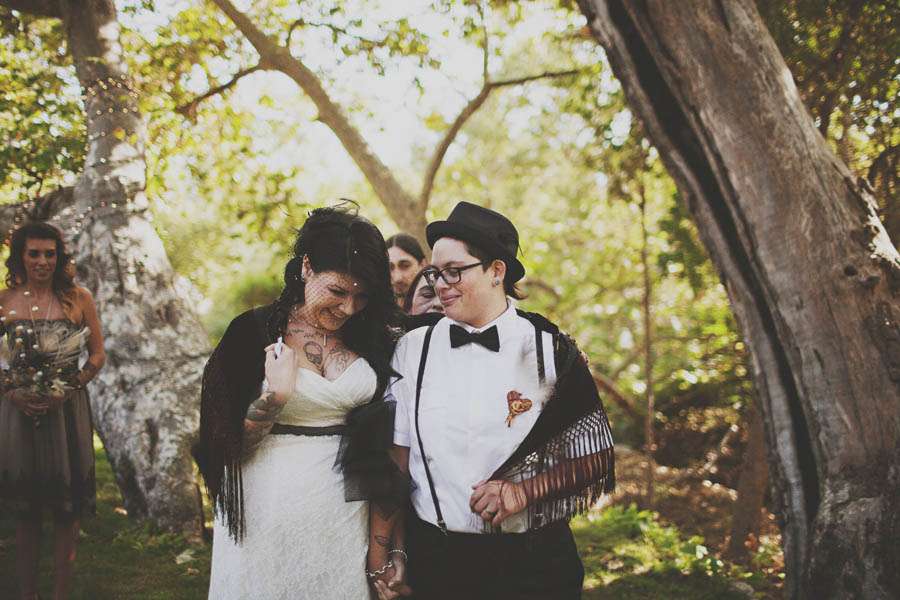 The wedding was held at Malibu Nature Preserve. "I'm not really sure what made us particularly Rock n Roll," wrote Arianne. "We just chose things that we loved. We picked things that reflected us even if it wasn't traditional. We used feathers instead of flowers, converse instead of dress shoes, and we walked down the aisle to our favorite songs. But I think the most unique part of our wedding was the give away. With Fran being Native American, in her culture it is customary to give all of your guests individual gifts to show your appreciation. We picked out things for everyone that reflected them as a person. It was such a pleasure seeing everyones face when they opened their gifts."
"We wouldn't have changed a thing about our wedding. While we were planning the wedding, there were times that we thought it might have been easier to go with a venue that was all inclusive, but after all was said and done, we are so glad we did things the way we did. Everything came together flawlessly! We were blessed to have so many friends help us with the details. We've known both our officiant and photographer for years and were lucky enough to have other close friends to help with hair and make up. If it weren't for them, it just wouldn't have been the same! We are so thankful!"
Utterly awesome. So who's jumping in the pool with me? Thank you Frances & Arianne for sharing your wedding and your story, and big love to the incredibly talented Jonas Seaman for sharing his photos.
You can also see  Frances & Arianne's engagement shoot on Rock n Roll Bride here.
Supporting Cast:
Photography Credit: Jonas Seaman Photography assisted by Mary Ellen Williamson
Venue: Malibu Nature Preserve, California
Arianne's Dress: David's Bridal
Frances Outfit: Nordstrom
Cake: Pastries By Nancy
Hair: Samantha Amieva & Helena Van Zandbergen
DJ: DJ Edrok
Caterers: Charlie's Trio
Event Coordinator: Carol at Craig's Crew