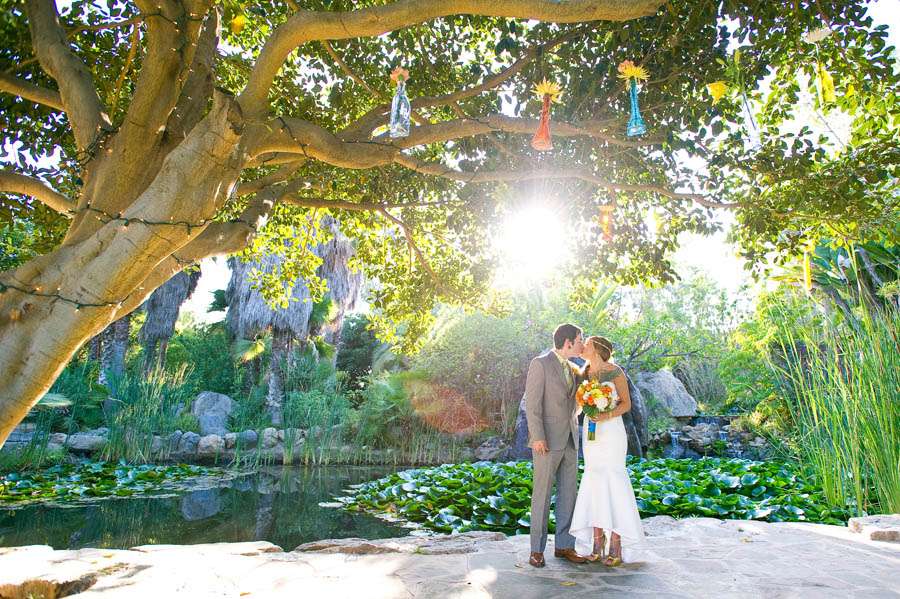 Linda & Tyler's wedding makes me yearn for long lazy summer nights and scorching beaches. I could drink up this wedding and be satisfied for days…And with the event taking place at a venue called Paradise Gardens, is it any wonder?
"Our wedding day was a wonderful accumulation of memories that we will embrace forever," Linda told me. "We're beyond grateful for the love we have for one another and the natural way it shone through onthat day. I feel that every aspect of the wedding screamed us – from the lotus field, to the sounds of Devendra Banhart wailing, to the venue bathed in tea land gold! Our venue was amazing and we were ecstatic to have found this exotic little gem tucked away in the hills of Oceanside."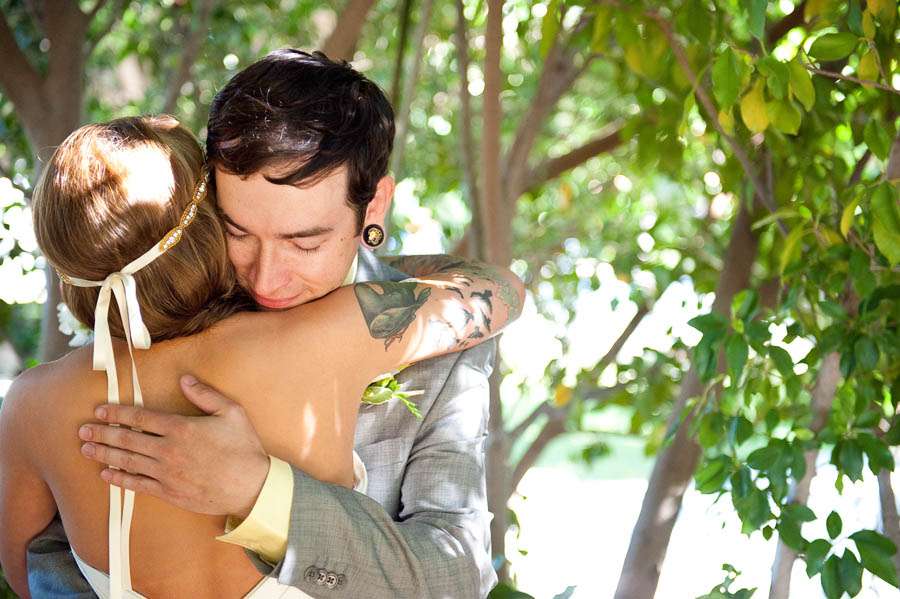 "It took months to manifest every little detail in a way that I thought would encompass us. I envisioned the vibrant bottles, vintage books and unique demeanor of the day to emanate a bohemian vibe. I had this idea in my mind that the months and months worth of compiled details would reflect us as a couple and set our big day apart and perhaps they did, however it wasn't the adorned venue that has nestled itself inside my mind, but rather the intimate moments that we shared as a couple. I gawked at gorgeous, DIY wedding blogs for months and had a blast delving deeper into the planning process but at the end of our day it was the happy tears that flowed as we opened one another's sentimental gifts, as we attempted to hang onto the moment of our first look, as we spoke our vows and as we smiled the night away with dripping faces."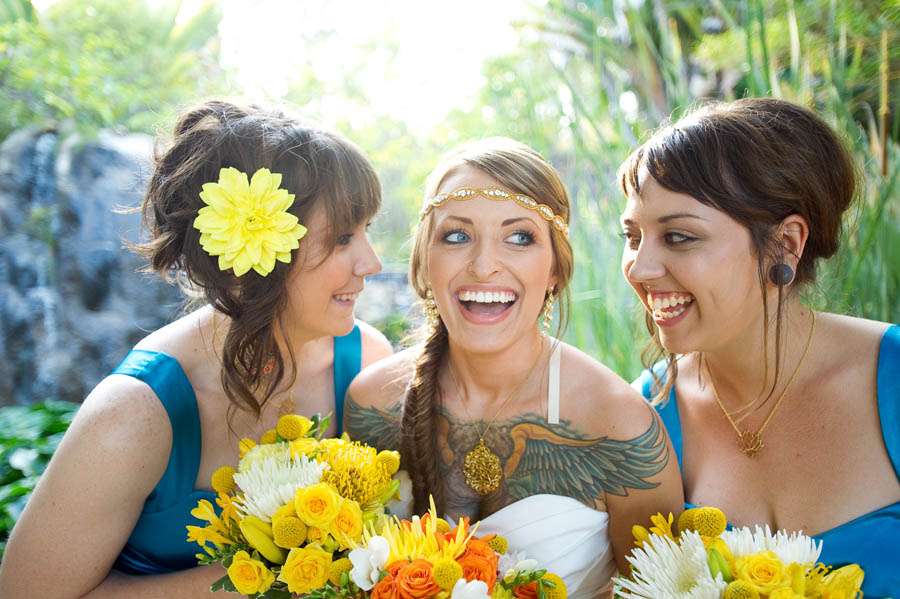 "I wouldn't change a thing about the way everything came together but it wasn't until later that I fully realized that all of the details faded away and my thoughts clung to the emotions that were shared", the bride continued. "I've relived the lingering moments in my mind many times already and as the trivial, little, pretty things disappear, the prettiest of all comes into perspective: the love we share."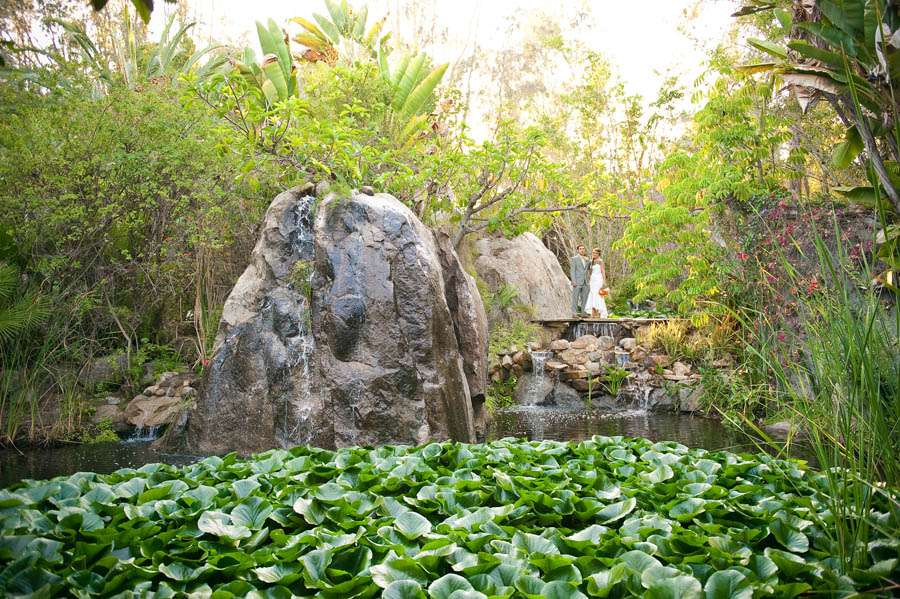 "The closer we got to the wedding, the more and more I began to let go of obsessing over the frivolous details. When it came down to it, the day flew by and there wasn't even enough time to absorb every wonderful moment, let alone gawk at books, bottles and bouquets. My advice to future brides: make sure to revel in each moment because they sure do fly by. Now is the time for new adventures and new memories to be created!"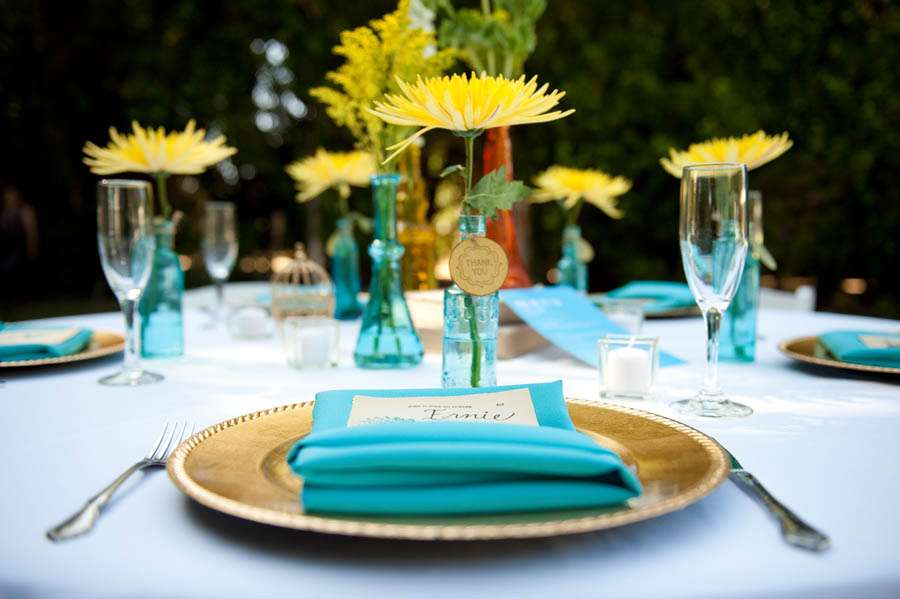 Oh I love Linda for writing this! Her story really came from the heart and doesn't it show in these beautiful images too?
Thank you to Linda & Tyler and their fabulous wedding photographer Jenna for sharing with us today.
Supporting Cast:
Photography Credit: Flutter Glass Photography
Venue: Paradise Gardens, San Diego
Bride's Dress: Jasmine Bridal bought from Suzanne's Bridal Boutique
Bride's Shoes: Chinese Laundry
Bride's Headpiece: Lucia Bella
Groom's Outfit: Alfani at Macy's
Bridesmaid's Dresses: JC Penney
Cake: DIY
Flowers: Nobutama Wedding Studio
Caterers: A Slice of Heaven Catering