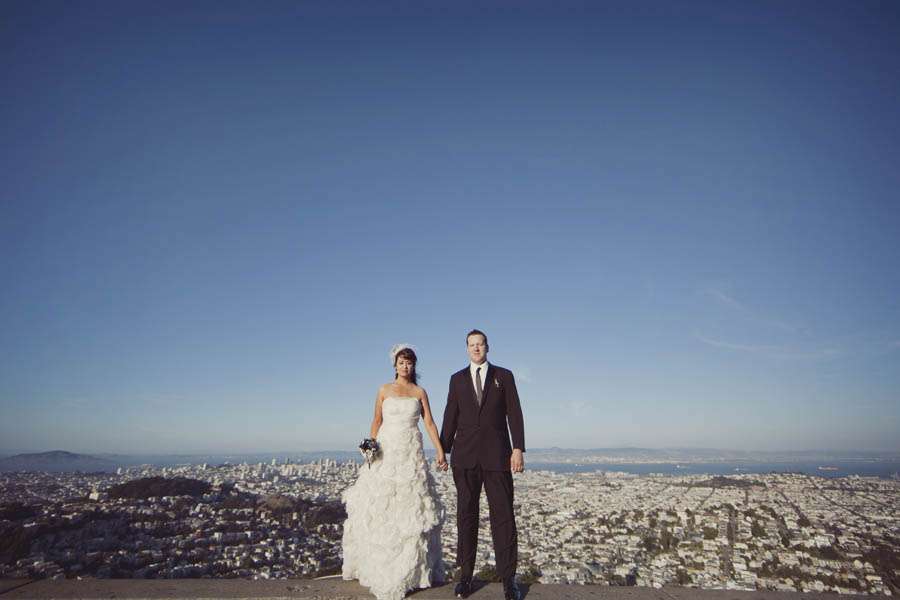 Our Labor of Love, Sharkpig, The Flashdance, Smilebooth.… oh boy did Kristi & Ben have the dream team behind their San Francisco wedding! With an Alice in Wonderland theme and a ceremony at the Golden Gate Park, they really did go all out to make their wedding day extra special. The reception was held at RF-80, a studio space in the city.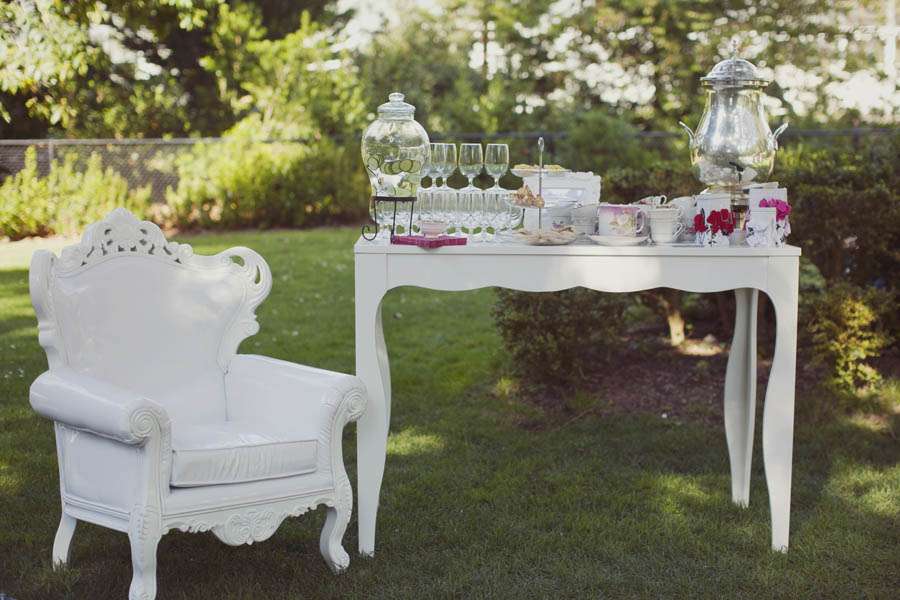 "Our inspiration was the eclectic city we live in combined with a love for all things imaginative", began the bride. "We wanted a wedding that wasn't cookie cutter and that reflected both of our personalities. There were a lot of DIY elements involved. I scoured wedding blogs for my ideas. I also got inspiration from magazines and store windows. I would recommend figuring out what is doable within your timeframe or it can all get overwhelming. Enlist your friends, buy or make some cake, pop open some champagne and get crafting. It saves you money and gives such a personal touch to your wedding. I'd also advise other no not listen to the masses, they will scowl at your ideas, mostly because they've either never seen anything like it before or can't get the proper visual. It's your day, do what you want."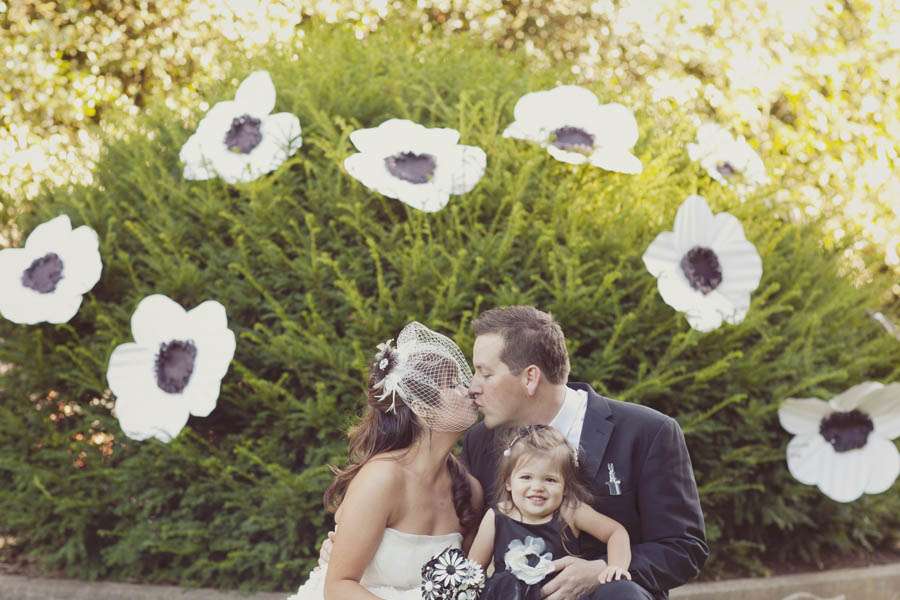 For the theme, the couple wanted an Alice in Wonderland motif but without it looking tacky. They wanted it to be elegant as well as quirky and fun! "I wanted to have an Alice in Wonderland inspired wedding that was whimsical without the kitsch", Kristi included. "Instead of the loud colors typically associated with an Alice theme, I went for black and white with pops of color. I wanted guests to have fun but still maintain the elegance without it feeling forced."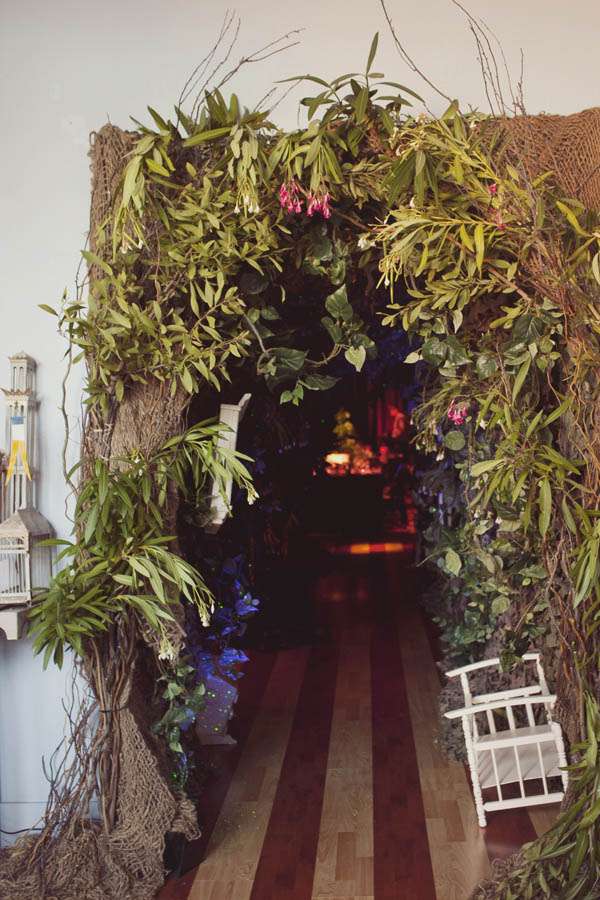 "Rock n Roll Bride is an amazing resource!" Kristi concluded. "I used DIY tutorials from the blog including my homemade bouquet. Also, look for inspiration everywhere. We got stuff from thrift stores, home stores and farmer's markets."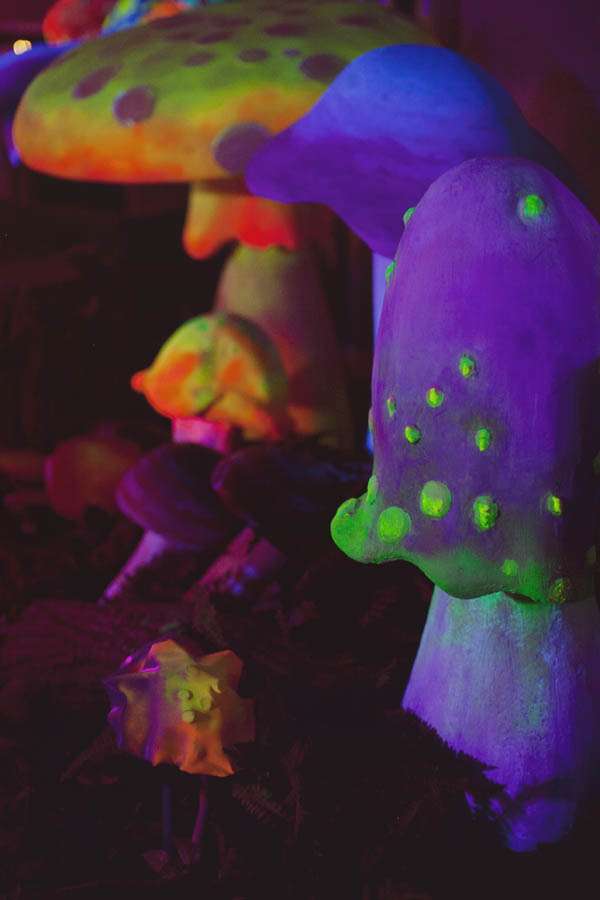 Don't forget to watch their (not one, but two!) wedding videos by the aaaamazing Sharkpig…
Just awesome! Thank you to Kristi & Ben and their wedding dream team for sharing today!
Supporting Cast:
Photography Credit: Our Labor of Love
Video Credit: Sharkpig
Ceremony Venue: Shakespeare Garden, Golden Gate Park, San Francisco
Reception Venue: RF-80
Bride's Dress: Ulla-Maija Couture purchased at Glamour Close
Bride's Shoes: L.A.M.B
Bride's Veil: Paris Connection Bridal
Bride's Jewelry: Juicy Couture, Stella & Dot
Groom's Outfit: Calvin Klein, Men's Warehouse
Boutonnieres: Mama's Little Babies
Bridesmaid's Dresses: Black & White Market, Macy's
Bridesmaid's Accessories: H&M, Forever 21
Cupcakes: Sweetiecups
Ceremony Cake: Susie Cakes
Flowers: DIY
Hair: Jessica Sikora
Make Up: Lindsey Richards
Stationery: A Printable Press
Caterers: Small Potatoes Catering
Reception Decor/Props: DIY, Rick Herns Productions, Hartmann Studios
Transport: Teacher with the Bus
Day of wedding coordinator: Liz Savage, Savage Celebrations
DJ: The Flashdance
Photo Booth: Smilebooth