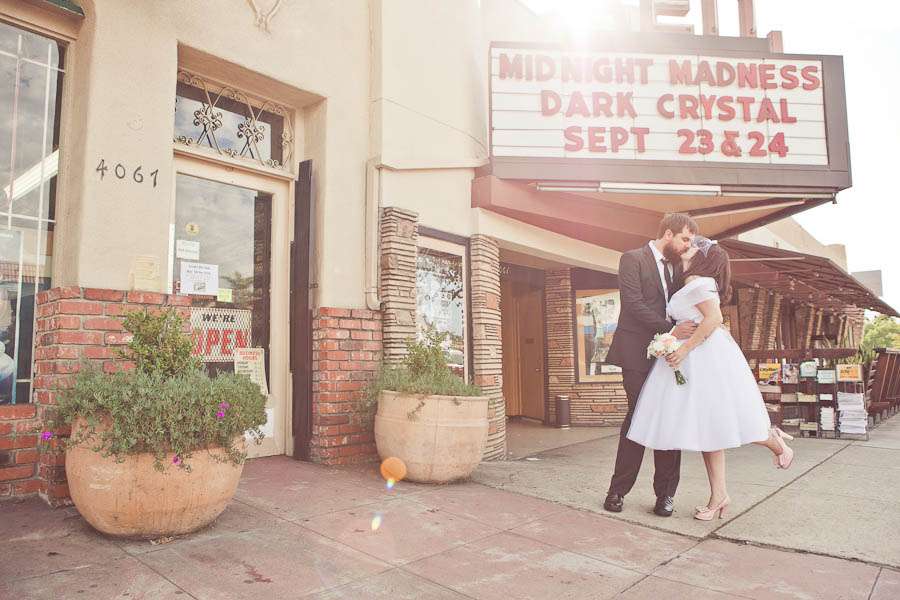 I need weddings like this is my life right now. Yes need. I hate to jump on the 'British summer, what summer?' bandwagon but jeez Louise where is the sunshine Blighty?! I do not approve. What I do approve of however is little rays of joy like Lynn & Nick's wedding crash landing into my inbox. Sunshine! Rainbows! Pastel pretty things! This baby has them all…
The wedding was held at an old movie theatre in San Diego. When the couple couldn't find a wedding venue they loved, Nick suggested this place. It really allowed them to let their creativity run wild and include things that were special to them.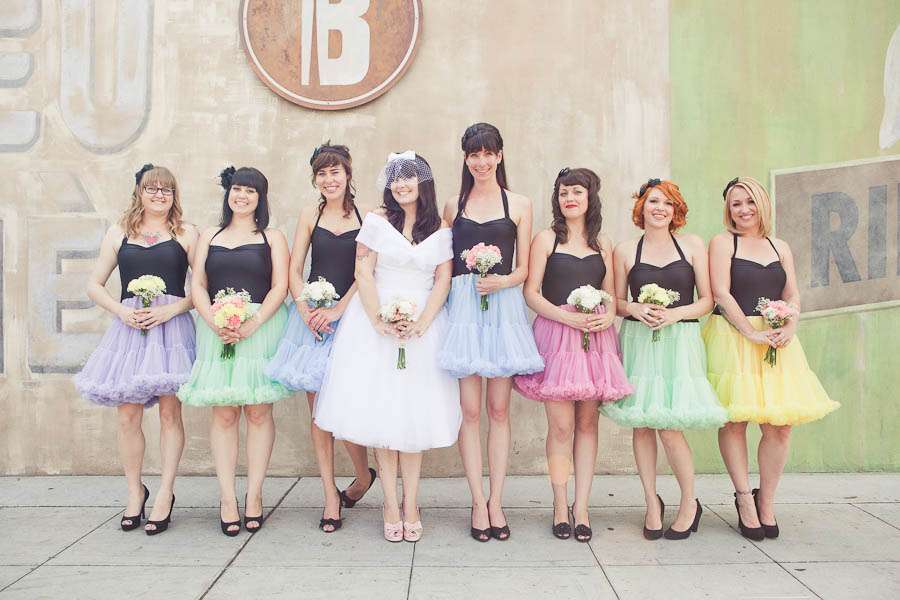 "I had to keep reminding myself that there is no right or wrong way to plan your wedding", began newlywed Lynn. "This day just had to fit our personalities, and be what we wanted. We mixed old with new and handmade the rest. Our friends took turns being DJ, our favorite restaurant catered. I'm a fashion designer so I made the bridesmaid dresses (the tutus came from etsy). The colors I chose for them set the color palette for the entire wedding. The band we chose were the ones that were playing when we first fell in love."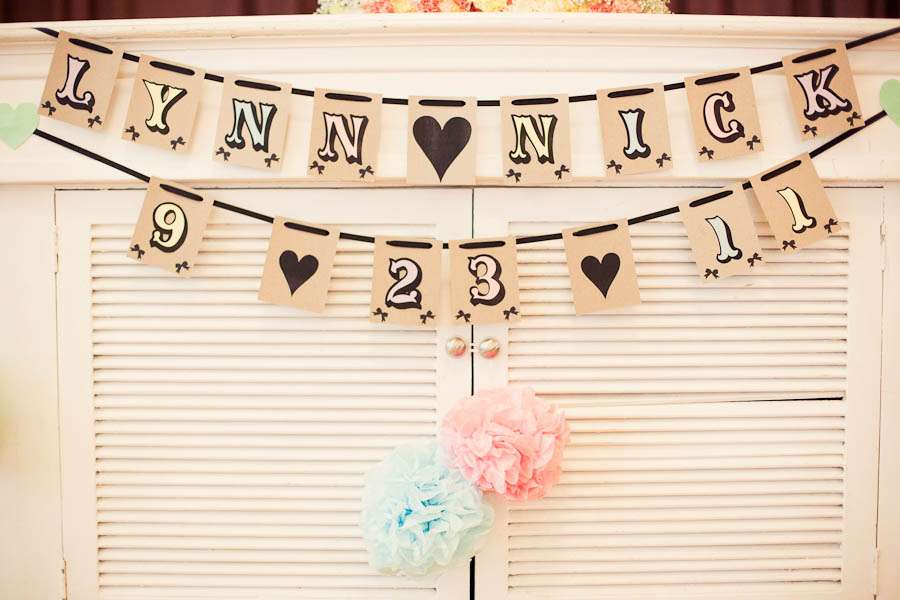 "We wanted our wedding to be fun and meaningful," she continued. "Mostly we wanted it to feel like 'us'. We LOVE movies and everything old, so we decided to get married at the vintage Ken Cinema which was built in 1912. Family was also a huge deal to us. Our invitations read, 'Please join us as we become a family'. My 7 year old son Owen became best friends with his new step dad immediately. We felt as though we were all getting married, so we included Owen as much as possible. He was the best man as well as the ring bearer and he wore a vintage powder blue suit. He said the words, 'you may now kiss the bride' and made a toast at the reception that consisted of a knock knock joke. He was even on the top of the wedding cake with us, depicted as a baby vampire."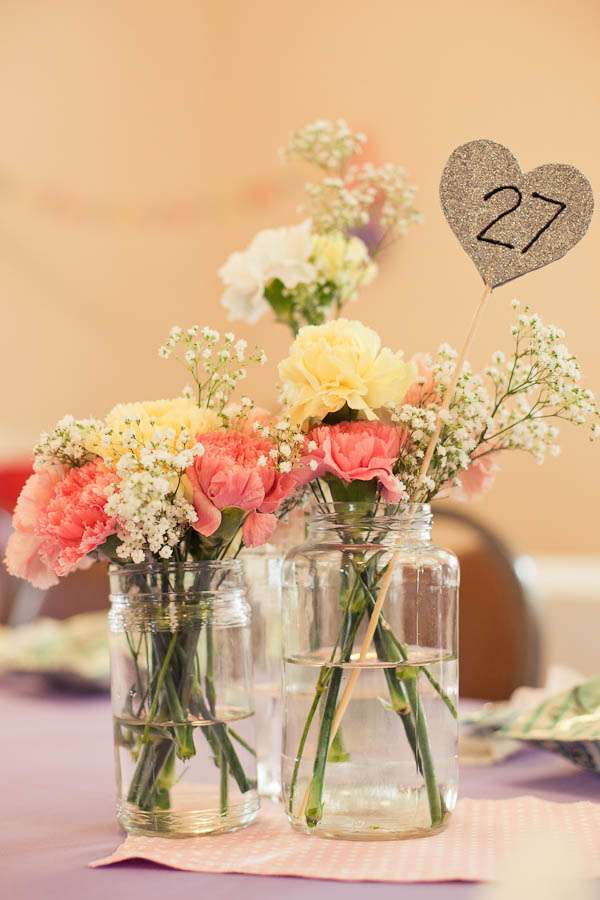 As well as the bridesmaid's dresses, the bride DIY'ed as much as possible. "I made my own tablecloths from pastel fabric I picked up while shopping in the LA Garment District – it was cheaper than renting and they added pops of color that coordinated with the bridesmaid dresses. I also recommend doing your own flower arrangements. We picked up our carnations and baby's breath at the local floral market the night before the wedding and I put the bouquets together. For table centerpieces, I collected miscellaneous glass jars for months prior to the wedding. My whole family was up in the morning filling old jars with flowers! It was much cheaper and so much fun to do. I dug into my scrap fabric bin and pulled a few pieces of coordinating vintage floral and polka dot. Some of the bigger pieces I sewed into hearts to place on the long tables and use a base for the centerpieces, and the smaller scraps were cut into strips for rag bows tied onto the glass jars and flatware."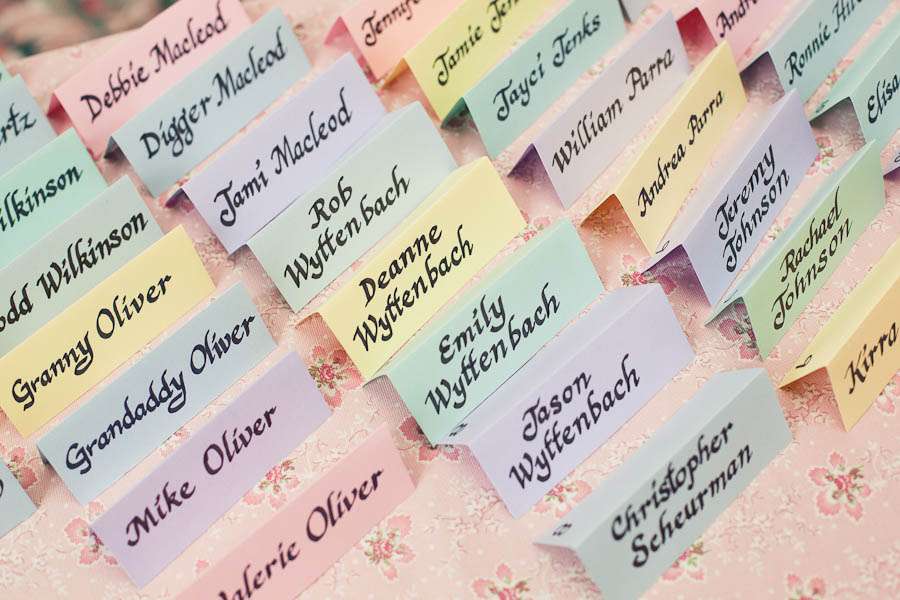 "Our favorite part of the wedding were these handmade decorations", the bride concluded. "The paper heart garland, the wedding sign and tissue puffs were re-used from my bridal shower. They were all so beautiful I wanted to get as much use as I could out of them."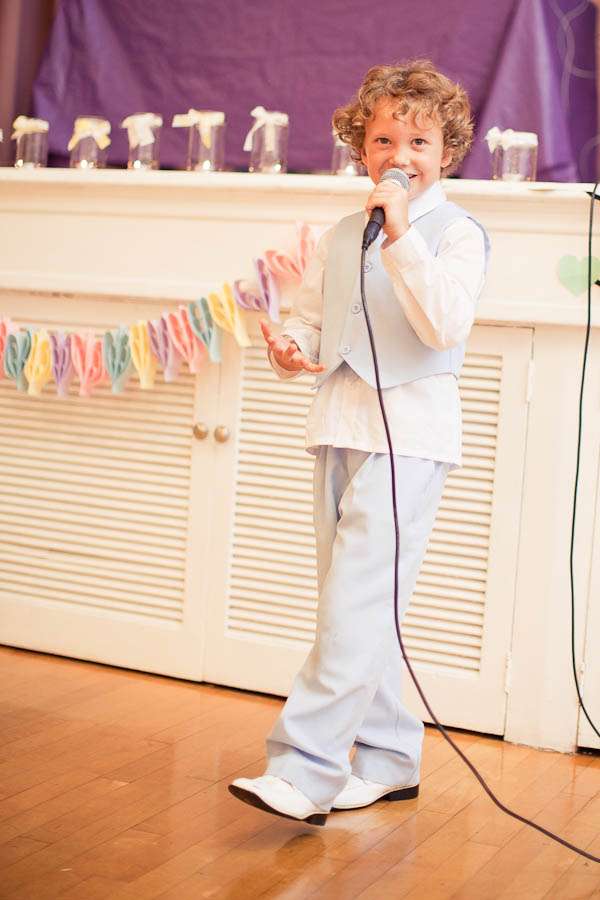 Stunning. Just stunning. I don't know about you but I feel cheerier just looking at these. Who needs sunshine?! Thank you to Lynn & Nick and photographers Tangerine Tree Photography for sharing.
Supporting Cast:
Photography Credit: Tangerine Tree Photography
Ceremony Venue: Ken Cinema, San Deigo
Reception Venue: San Diego Women's Club
Bride's Dress: Dolly Couture
Bride's Shoes: Re-mix Vintage Shoes
Bride's Headpiece: DIY
Bride's Jewellery: Vintage
Groom's Outfit: Men's Fashion Depot
Bridesmaid's Dresses: Lynn's Rags (the bride)
Bridesmaid's Accessories: Moncadeau on etsy
Cake: Flour Power
Flowers: DIY
Hair: Quinn Kerrigan
Make Up: Morgan Gates
Band: Bill Cardinal and the Canyon Band
Caterers: Pastabilities