Kim & Alex's wedding hit me like a steam train of epicness when I laid eyes on it. I'm pretty sure my incessant ramblings can't bring it justice so I think it's only fair I hand over to Kim with all the fantastic details. As usual, I'll be back with the eye candy.
"Originally our theme was "Halloween Town" from Tim Burton's "The Nightmare Before Christmas", but as time went on, our theme evolved beyond Tim Burton to include other geeky things we love as a couple such as zombies, toys, film and… well… Halloween!
We were mostly inspired by films (predominantly Tim Burton and Zombie flicks) and our own Halloween experiences. We just looked at the little things we loved most and used that to make our wedding our own."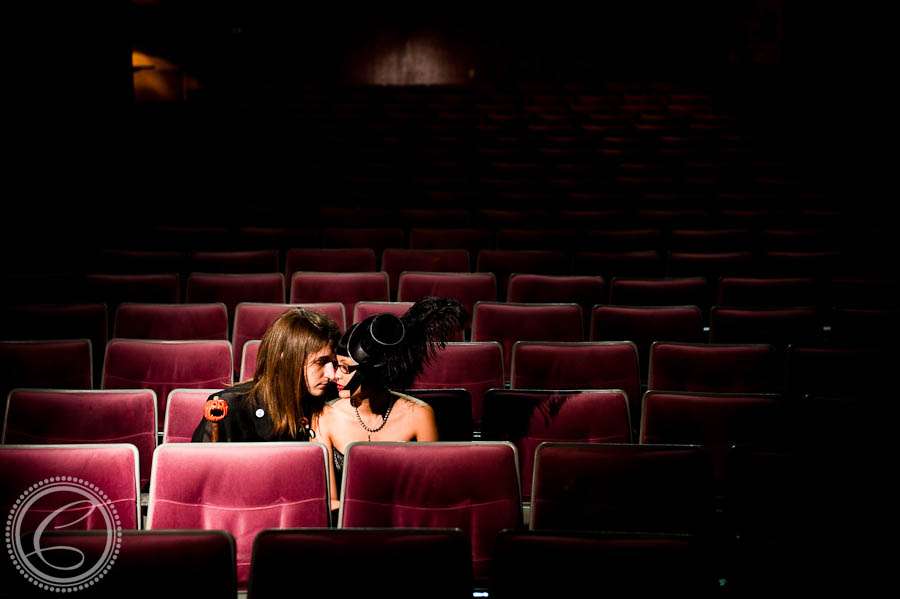 "I'm in love with Burlesque-wear and wanted to incorporate that whimsical, glam-yet-sexy look to my outfit. Instead of bridal magazines, my fashion designer friend and I looked through many burlesque photos and lingerie books to gather inspiration for my dress. For my shoes, I found the most awesome bright green zombie shoes designed by Iron Fist. They were out of stock in Toronto, so Alex and I sent out all our online Twitter friends on a mad hunt for them. We ended up getting them shipped from Ohio. A few months later, a friend of mine from Chicago found the flat versions of the same zombie shoes, which I was really thankful for. I cannot walk in heels!
The groom's suit was inspired by Jack Skellington. He didn't want to take the blatant replica route by getting a pin stripe suit. Instead, his plain black suit had black skeleton appliques all throughout. He even had a hoodie that had the skull on the hood! Since he almost always only exclusively wear Chuck Taylors, he wore black on black Chucks to the wedding. To add a sense of "badass" to his outfit, as well as his groomsmen/groomsgirl, our good friend, We Kill You made us custom pimp sticks for them to walk around with.
We were really lenient with our wedding party when it came to what to wear. They all had different body types and budgets, so we made it easy for them by telling them to find their own black outfit. It worked really well! They all looked awesome! To unite their look, they all wore black Chuck Taylors with orange shoelaces. They were quite thrilled because their feet were comfortable throughout the day.
For flowers, we commissioned Princess Lasertron because we knew that her flowers would really work the theme. Her products were such a hit! We highly recommend her!
Almost every aspect of our wedding was a DIY venture, either by our friends or by us. It was definitely ambitious, but it was such a great way for us to ensure that A: we save some cash and B: that our wedding was truly custom fit for us.
My favourite DIY project were the favours and programs. Since I am an illustrator (www.prettypoopie.com), I wanted to incorporate our own playful graphics to the wedding. Instead of the usual custom monogram of our names, I drew a cartoon graphic of Alex and I as zombies. We used this for EVERYTHING! A giant banner was made and we also made the graphics into pin favours for our guests. Everyone loved them, to this day I still see our family and friends wearing
them on their jackets and sporting them on their messenger bags. (Psst. I may start a little pin press business for all you couples thinking about custom pin favours!)
The zombie graphic also made it into the programs as the cover art. The programs were inspired by the indie zine aesthetic: modge-podged, mis-match collaged pages that were then photocopied into high contrast, black and white sheets. They were definitely far from a professional print, but that was their charm! In the program I also included a short comic I wrote and illustrated that was essentially a parody of Shaun of the Dead. Very geeky.
We also gave out favours during the reception. We took regular brown paper bags from the dollar store and turned them into trick or treat bags full of candy! Everyone loved them! It was a nostalgic moment for everyone.
Another favourite DIY project were the centrepieces for the tables. We bought old candlesticks and platters from various thrift stores and dollar stores and turned them into freaky Halloween centrepieces. We basically stuck mismatched candle sticks on the platters and spray painted them black. Since our reception venue didn't allow lit candles, we pre-lit and melted candles on the candlesticks to add to the creepy look.
Our wedding was rock n' roll because we just went ahead and made it our own. Every aspect about our wedding was personalized with something that best reflected our relationship. We didn't want our wedding to be this serious formal event. We wanted it to bring the kids out in everyone. This was exactly what we did, and it made all the difference in the world!
We were married at our favourite repertoire movie theatre in the city, The Bloor Cinema. It was the perfect venue because it was really our home away from home. Aside from seeing a ton of films here, this was also the place where we perform our monthly Repo! shadow cast in(www.reposhadowcats.com), the screen that played a film we worked on and most importantly, this was also where Alex proposed to me during the 2007 Toronto Zombie Walk (now you see why zombies was such a big theme in our wedding!).
Our ceremony was a playful one. Our officiant, Roben sat down with us and we talked about all the fun little things that made up our relationship. As a result, our ceremony included many jokes about our connection with the cinema, copious amounts of Tim Burton references (Alex walked down the aisle as Batman to the Tim Burton Batman theme, I walked down the aisle to "The Ice Dance" from Edward Scissorhands, our ring exchanges were executed while reciting a line from Corpse Bride, and our friend Mandi sang the last few lines from Nightmare Before Christmas), a unity jack-o-lantern and geeky technology (we went on Twitter on our iPhones during the ceremony and twittered "I do!" to each other!). Since our big connection to the cinema was our shadow cast, our ceremony actually included callbacks! People laughed, cheered and screamed "Everybody! Everybody make your fiance your spouse!" right before we had our first kiss as husband and wife! It was so quirky and perfect!
Our incredibly long day also ended at the Bloor Cinema, when we met up with a few wedding guests to see the Rocky Horror Picture Show. The Halloween Rocky show was especially big in Toronto, and we wanted to celebrate our union by dancing the Time Warp in our wedding outfits. We even got to play newlyweds Ralph and Betty in the beginning of the film!"
Friendors:
Bride&Groom outfits: Provocouture Studios
Groomsmen Pimp Sticks: We Kill You
Flowers: Princess Lasertron
Bride hat: Creepsuela Switchletto
Guest Gwin: October Toys
Illustrations: Me! Pretty Poopie
Incredible huh?! Thanks so much to Kim & Alex for sharing their day with us. Now go forth and enjoy these little beauties…
 
Credit: Calla Evans Photography