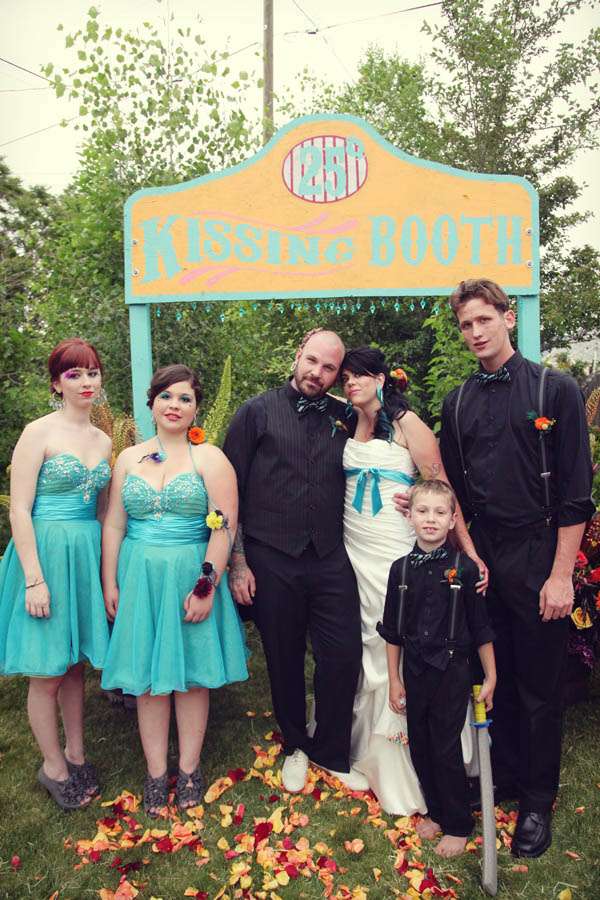 Well who doesn't love a carnival? Exactly… no one. Hence why I'm super excited to share Dustin & Tara's epic adaption of a traditional carnival theme into a totally non-traditional wedding.
The couple were married at home. They transformed their own backyard into the perfect carnival setting. They had a kissing booth 'altar', a bouncy castle for the kids (and big kids), a bell ringer, a snow cone machine, a popcorn machine and a photo booth! There was a paddling pool filled with rubber ducks and big carnival-style posters for everyone to take home with them. Carnival-style round lights were strung all around the garden and big wooden picnic benches, bales of hay and over 200 balloons decorated the space. They served old fashioned sodas and grilled hot dogs with tons of beer and cocktails. Even most of the guests dressed up to fit in with the theme. "We had a lion, a lion tamer, a ring master, someone on stilts and a ton of top hats and mustaches", Tara explained.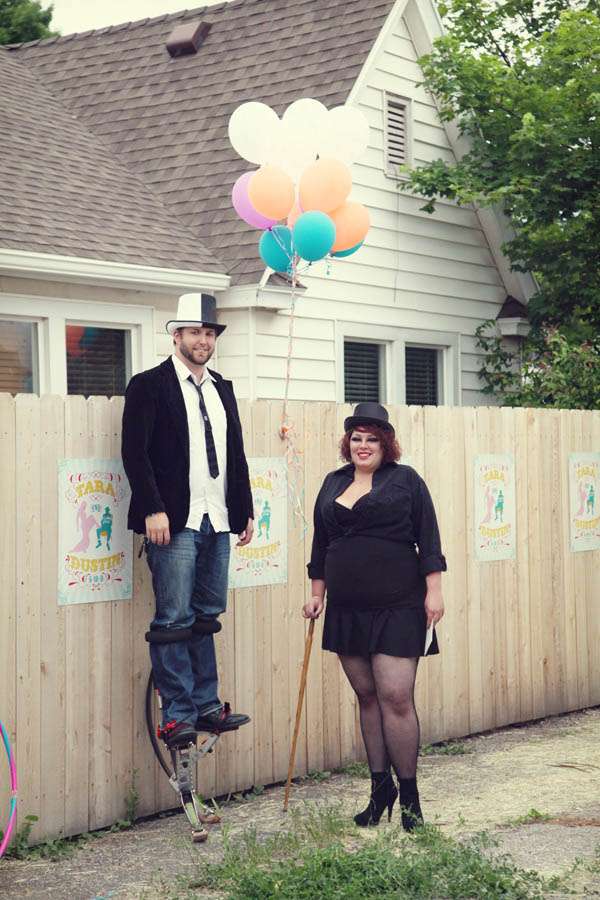 "Our wedding and the events leading up to and directly after it were all beyond ridiculous", Tara continued. "To start with at the bachelor/bachelorette party, a friend got arrested. Then, the day of the wedding, the cops came again… then during the wedding after party (at like 3am) our friends thought the bounce house was a good place to make whoopie (well who wouldn't?) and our neighbor caught them!"
"We got married in our backyard in good old Salt Lake City. We walked out to a Beats Antique song that is carnival sounding and a little bit creepy. The friend who was supposed to marry us had been waiting on his ordainment documents for a while, and with only a week to go, we were getting a little worried. We ended up asking my boss to do it last minute, because we knew she was ordained. She said she was happy to do it, and even dressed up as a ring master! Whip and all… She did a Celtic handfasting ceremony that she modified to fit in with the theme of the wedding. It was perfect."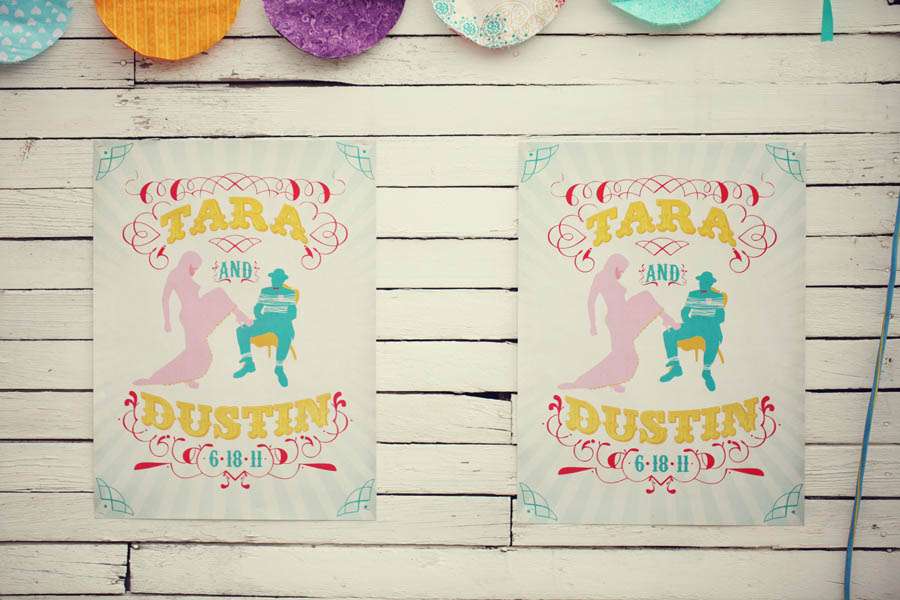 As the ceremony turned into the reception, the non-traditional elements continued. Instead of a wedding cake the couple opted for a doughnut tower and instead of an elegant wedding breakfast they had a buffet and a pie eating contest… as you do! "We were not into the idea of having a wedding cake, partially because neither my husband nor I like cake that much, plus I really wanted a cake made of tickets. I'd see the idea on a wedding blog and loved it. So, my husband and I ended up going on a great adventure one day, specifically to find delicious donuts. We ended up ordering a bunch of really, really yummy old-fashioned and chocolate cake donuts at a little donut shop called Donut and Deli and then about 6 different flavors of gourmet donuts from a place called Beyond Glaze. The flavors we had included chocolate bacon, maple bacon, peanut butter & jelly, blueberry pie and strawberry smoothie. They were so good. So good that when the cops were called on us at 10:05pm (because of the noise – whoops!) my husband offered the donuts to the police, and tempted them with bacon donuts! They were really nice considering the fact that it sounded like we were completely fabricating having bacon covered donuts just to mock them!!"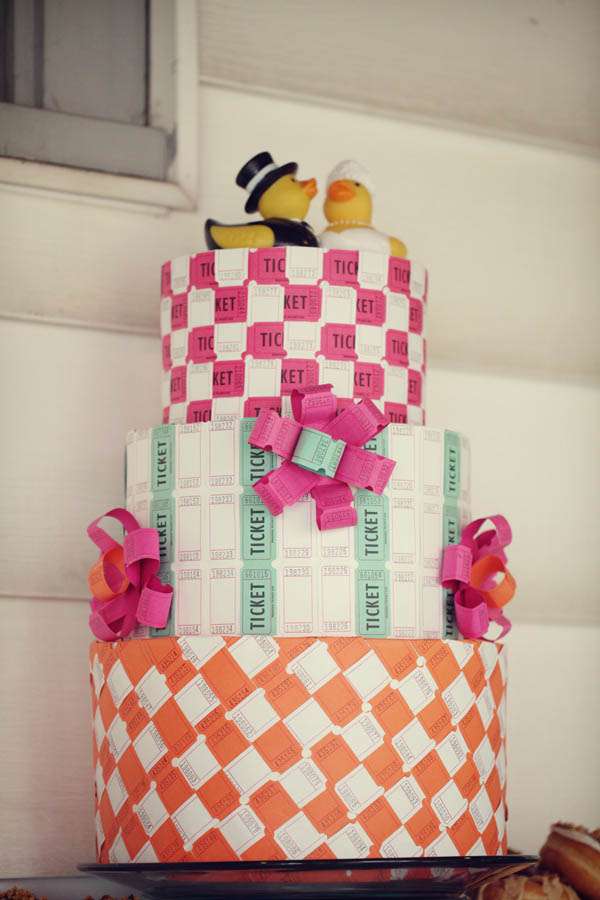 "We had our pie eating contest. Yes, a pie eating contest. It was just chocolate pudding and whipped cream in pie shells that my sister helped me make the night before but it looked like pie! I bought little ribbons and got a weird old 1992 Little League (I think) trophy from the thrift shop for the grand prize."
"At least half of what we used for the wedding came from a thrift shop", Tara continued when I asked her about their DIY projects. "It wasn't just because I absolutely love making and re-purposing things, but I figured it was also a good way to save money. Oh, and have you seen the cheesy carnival stuff they have at a party store? Ick."
"Almost everything was planned, put up, taken down, made, or done by myself, my husband, a friend, or a family member. We owe so many people so many big favors for everything that was done for us. We were literally still throwing hay bales, cleaning the living room and kitchen (which involved me throwing pretty much everything, including dirty dishes, into my son's room and shutting the door), and untangling balloons as people were showing up."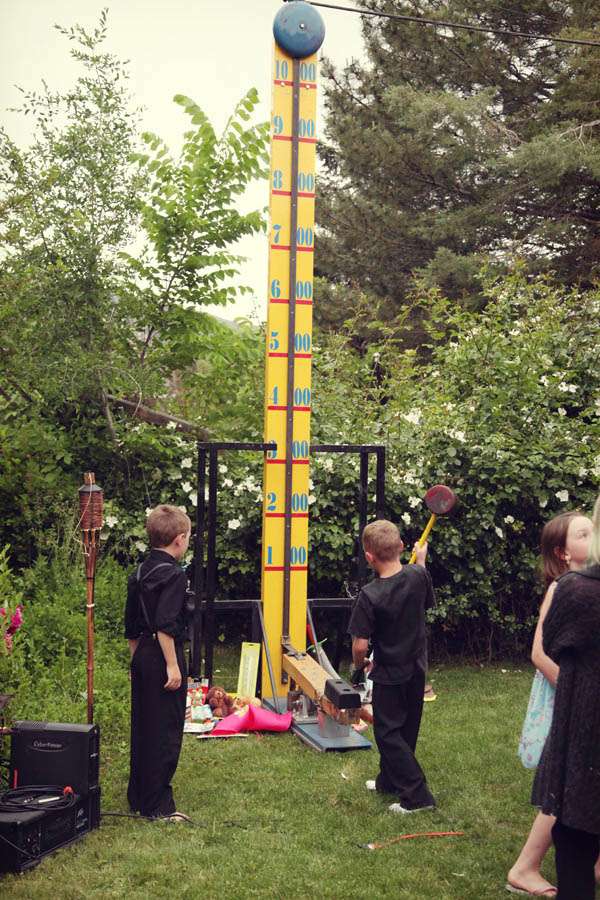 "We really wanted the wedding to look like a big, bright beautiful, old-school carnival", Tara concluded. "Almost every wedding I have been to has so much put into the ceremony and the boring clothes and venue and silly traditions, that it seems the reception is left out in the cold to fend for itself! We didn't want that. We wanted to have a great, big fun party! And that is exactly what we did. The amount of clothing and accessories found in our backyard the next day proved that we accomplished our goal! We still get compliments regularly (or yelled at by people who got married soon before or after) for having the best wedding anyone had ever been to. If someone tops us in the future, well then, I guess I'll have an even bigger job of planning a recommitment ceremony. At least the second time around I'll know what the hell I am getting myself into. Planning a wedding without help or any idea how to do it was a much bigger undertaking than I expected. I'm actually still in awe, looking back, that we managed to pull it off with how many things went wrong last minute. But we did. And I would totally do it all again."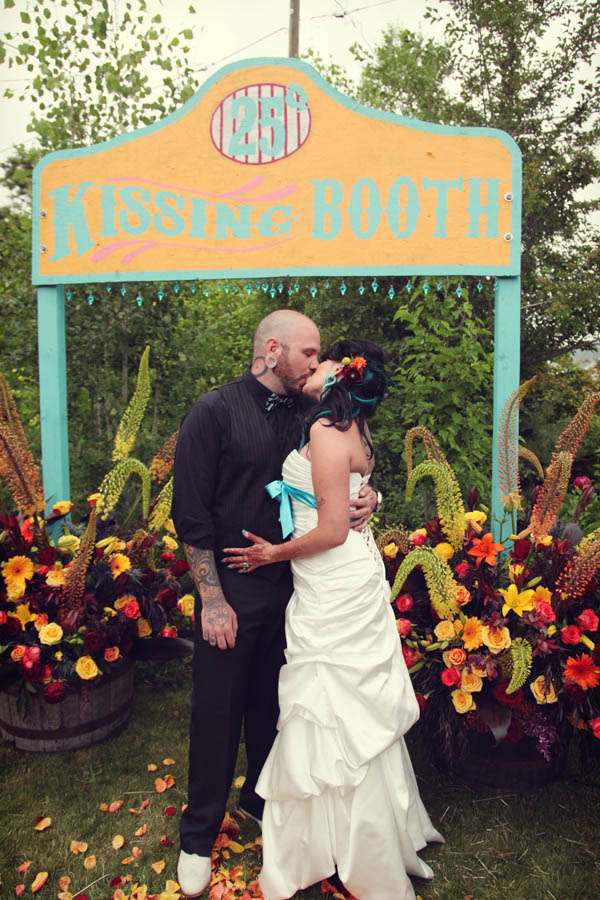 The couple's friend Jeff filmed some video of the day too if you fancy a nosy…
Just so awesome! Thank you to Dustin & Tara for sharing their wedding with us today. You guys rule!
Supporting Cast:
Photography Credit: Funny Face Photography
Venue: At home
Bride's Dress: Maggie Sottero
Bride's Shoes: Sam Edelman
Bride's Headpiece: DIY
Bride's Henna: Mountain Mehndi
Bride's Ring: Xen Jewelry
Bride's Earrings: Peach Treats on etsy
Bridesmaid's Dresses: Nordstrom
Cake: Doughnuts from Donut and Deli & Beyond Glaze
Flowers: Angela Dublino Sadler
Hair: Megan Linihan
Stationery: Paper Thin Designs