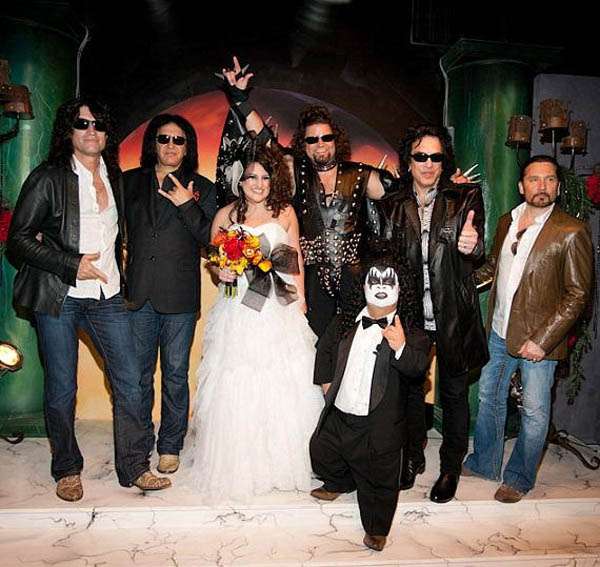 I'm pretty sure I've found the most iconically Rock n Roll wedding idea ever. Just over the road from the Hard Rock Hotel in Las Vegas is the KISS 'Hotter than Hell' wedding chapel! Many of my readers head to Vegas to wed and so I know a whole bunch of you are going to get seriously excited about this. You're welcome by the way!
If you've dreamed of a Rock n Roll wedding where your invitations are concert tickets and your bouquet is made of guitar picks; where you get married on the stage complete with lights, music and a smoke machine (!) and where your officiant is made up like The Starchild, The Demon or The Spaceman…well just contain yourselves for a second because you are going to LOVE this.
They say, "Our stage, fashioned after KISS' album cover for LOVE GUN, with theatrical quality lights, sound and fog machines that will set the tone for your concert wedding. Ladies, if you want to wow your Man on this special day take a look at our rentable wedding gowns. Whether you are looking for something simple or you really want to Rock it out, our packages can be designed for all levels of creativity, in fact you will be assigned your own Wedding Tour manager so…request away!"
"Whether it be a Wedding, a Vow Renewal, or Commitment Ceremony we have a minister for every need and personality."
The wedding chapel will seat 35 people with room for extra people to stand. But if your friends and family are unable to attend they can even live stream your ceremony on the internet! The video will even be available online afterwards for you to watch back at home.
So what are you waiting for? Book yourself a few nights in the Hard Rock and get married on stage by KISS! Could that be any more Rock n Roll?
"Basically our job is to make your wedding experience….  'Hotter Than Hell'!" they conclude. "Our website will also serve as a wedding registry for gifts! That's right, yes you can get your friends and family to buy you KISS gifts and wedding presents and we'll have the items here for you upon your arrival! Or ship them home to you free of charge! And after it's all done, you get to play 18 Holes of indoor glow-in-the-Dark KISS themed Mini Golf, shop for rockin' KISS gear all inside KISS by Monster Mini Golf. This place Rocks!"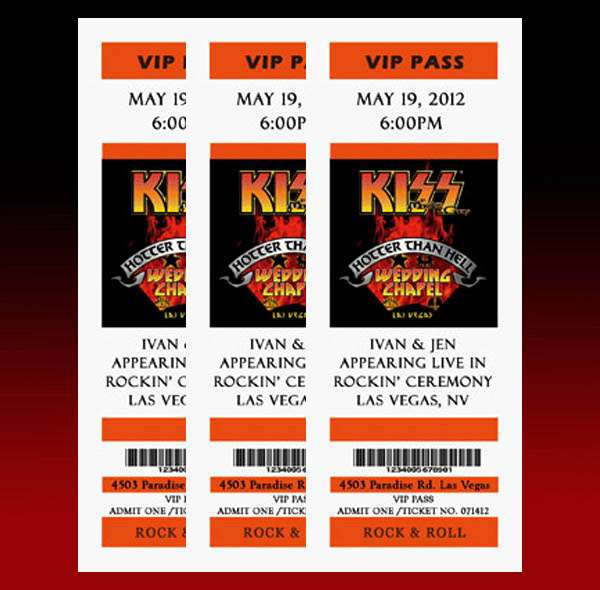 The KISS Wedding Chapel is located at 4503 Paradise Rd, Las Vegas, NV 89169 –  across from the Hard Rock Hotel. Enquiries and bookings can be made by calling 702-558-6256 or by simply logging onto their website.