Las Vegas is a popular location for rock 'n' roll brides and grooms to tie the knot, and for very good reason. With its unique chapels, speedy marriage licenses, and truly iconic photo spots, it's the perfect place for an unforgeable destination wedding or elopement. McKenzi Taylor of Electric Sugar Elopements, based in Las Vegas, is here today to take you through the process, every step of the way.
When it comes to epic wedding destinations, Las Vegas is up there with the best of them. Our historic wedding industry reputation coupled with The Strip's bright lights, world-class entertainment and breathtaking natural landscapes means Vegas knows how to deliver your heart's desires.
All sounds great. But how do you plan your dream wedding when you are thousands of miles away?
PLANNING YOUR WEDDING REMOTELY
Having the Atlantic Ocean between you and your wedding venue and vendors may sound intimidating, but it doesn't need to be scary or difficult. Email, video calling and messaging apps like WhatsApp make the process simple. You're involved with every decision and at every step. This is exactly how we plan the weddings of hundreds of couples every year, no matter where they are in the world.
Experienced wedding vendors do everything in their power to deliver the destination wedding you want. If either party needs a catch-up, then you're only a phone call or email message away.
So really, remote planning a wedding isn't so daunting. The real bonus, especially if you've never been to Vegas before, is that you have someone on your team who's on location and whose job it is to help you fix up the details.
Visas
Talking about visas and legal paperwork isn't sexy. But it's essential. Failure to get visas and a marriage licence can mean no wedding. Here's what you need to know.
If you and your partner are:
♥ Both British citizens (you have United Kingdom passports).
♥ Planning to be in the States for 90 days or less.
♥ Currently not in possession of a visitor's visa.
Then you can apply for an Electronic System for Travel Authorisation (ESTA). Applying for an ESTA is quicker and simpler than applying for a US Visa, which may involve attending an interview at the US Embassy in London.
At the time of writing, an ESTA costs $21 and is completed online. Full details on who can apply for an ESTA and how it works can be found on U.S. Customs and Border Protection.
When it comes to visas and entry requirements, there are always exceptions to the rules and laws change. You're responsible for finding out what visas you, your partner and any friends or family need. Do this before booking any part of your wedding or organising a marriage license.
We're not visa experts. If you have questions about entering America for your wedding, contact the US embassy or a legal practitioner in your country of residence.
Covid-19 entry requirements
According to the latest advice from gov.uk, you must be fully vaccinated against Covid-19 to enter the USA unless you are a returning US citizen or have an exemption.
Vaccinated travellers don't need to quarantine but are 'recommended to take a viral test within 3 to 5 days of arrival.' The exception to this rule is if you have documented proof that you've contracted and recovered from Covid-19 in the last 90 days.
As with everything Covid, the rules can change quickly. For this reason, we recommend:
♥ Speaking with your travel agent or airline about restrictions before booking any travel.
♥ Checking the CDCP website and Nevada Health Response for specific NV state guidelines.
♥ Keeping an eye on the latest from gov.uk.
Las Vegas marriage laws
Despite the city's 'Sin City' nickname, there are laws that you must follow to ensure your marriage is legal.
♥ Both you and your partner must be at least 18 years old.
♥ You should not be related to the person you intend to marry.
♥ You should not already be married to someone else. Polygamy is illegal.
A couple of other useful things to know when getting married in Vegas:
♥ LGBTQI+ marriages are legal.
♥ Blood tests aren't necessary to get a marriage license.
Getting a Las Vegas wedding license
You need an approved and valid marriage license authorised by the Clark County Marriage License Bureau. A license costs $102 and getting hold of this essential bit of paperwork is quick and easy.
♥ 1. Fill out the pre-application online form, which you can find on the Clark County Nevada website.
♥ 2. When you arrive in Vegas and before your wedding date, you and your partner must go to the Clark County Marriage Bureau (open seven days a week from 8am-midnight) and both present a legal form of ID. Accepted ID include: driver's license, passport, US or foreign county ID card and military ID.
♥ 3. As long as you've completed the pre-application form online you should head to the Express Lane at the bureau.
Your paperwork and ID are checked and upon approval, you'll get your marriage license. This is given to your officiant before your wedding service.
That's it. Three steps and you're all done!
Making sure your marriage is recognised in the UK
According to gov.uk, your marriage or civil partnership will be legal in the UK as long as it follows the processes according to US law (and state law). This means that if you are both British citizens, you shouldn't need to register your marriage once you return to the UK.
The only time you would need to do anything when you get home is if either of you are changing your name (either by taking your partner's, double-barrelling or making up a brand-new surname). You are legally entitled to change your surname to the one that appears on the marriage certificate and there are no extra fees like there would be if you decided to change your name by deed poll. You will need to send your marriage certificate along with a cover letter to any organisation who has an interest in your identity (the bank, your mortgage company or landlord, utility providers etc), explaining that you now want to be referred to by your new name.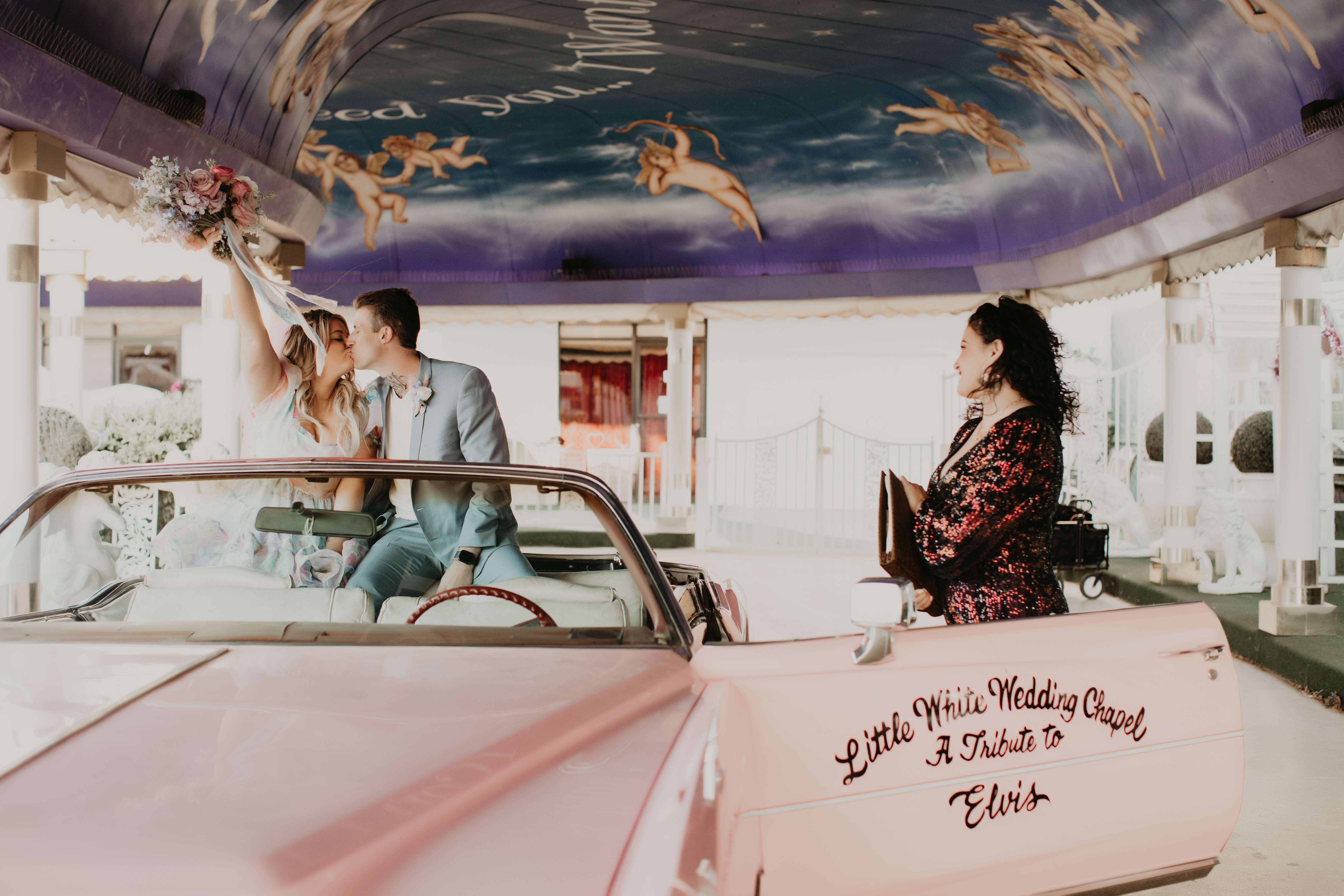 FLYING FROM THE UK TO LAS VEGAS
There are daily flights from the UK to McCarran International Airport, Las Vegas, making it a very accessible wedding destination. Flights depart from Heathrow, Gatwick, Birmingham, Manchester and Edinburgh and take between 10 and 13 hours.
YOUR OFFICIANT
The person conducting your ceremony must be registered to officiate weddings in the state of Nevada.
Most simple elopement services are 10-minutes long. They involve a welcome message, the exchange of legal vows and a few closing words. Extra readings and personal flourishes are easily added so you have what we call, 'a custom wedding ceremony.' Custom ceremonies involve extra organisation and more of the celebrant's time, meaning the cost goes up a bit.
CEREMONY LOCATIONS
The Vegas wedding scene caters to a huge range of tastes and styles. The most famous is the wham-bam, thank you ma'am services on The Strip. There are so many chapels in Vegas with a huge variety of different themes. Some of the most famous ones include Chapel of the Flowers, A Little White Wedding Chapel, Little Church of the West, Graceland Wedding Chapel and Viva Las Vegas Wedding Chapel. Most big hotels have their own chapel too.
While this suits some, it's not our focus. There are a lot of hidden gem wedding venues within the city and some diamonds waiting for you to discover if you travel beyond them.
Check out: Valley of Fire State Park, Cactus Joe's Blue Diamond Nursery, Red Rock Canyon, Eldorado Canyon, Dry Lake Bed, Floyd Lamb State Park, GreenGale Farms, The Neon Museum, Mt. Charleston Retreat and A Simple Affair.
GETTING AROUND
Transport is an easily-overlooked wedding detail. Whether it's just you and your partner, or the two of you and a group of guests, you need transport to get to your venue and then onto your reception.
For out-of-town locations, which many of ours are, we strongly recommend booking private transport. There are several options you can explore.
If it's just the two of you, you could hire a car and drive yourselves or hire a chauffeured vehicle. If you're bringing guests, book a minibus, party bus or coach to bring everyone to your wedding venue. This avoids the risk of someone getting lost and delaying the wedding.
WHERE TO STAY
Las Vegas has a HUGE range of accommodation styles that suits all destination wedding budgets. If it's your first time here search for accommodation on The Strip, Fremont Street and Downtown. These areas put the bright lights, shows, restaurants, bars, clubs and casinos on your doorstep.
If The Strip isn't your scene, consider nearby areas such as Summerlin, Henderson and Spring Valley. Here you'll find comfortable, quality hotels such as Red Rock Casino and Resort, the JW Marriott and Green Valley Ranch. All of these suburbs are a short distance from Red Rock Canyon (perfect if you plan on getting out amongst nature during your trip) and are residential, so they're quiet and relaxed.
Quiet doesn't mean dull. No matter what season you're here, you'll still find modern dining experiences, plenty of shopping opportunities, outdoor activities and local events.
Consider a hire car or check public transport links if you do choose to stay in one of these suburbs. Especially if you plan on visiting The Strip.
That's it! Getting married in Vegas is super easy and a relatively stress-free way to say your I dos… What could be more rock 'n' roll than that!?
Electric Sugar Elopements, based in Las Vegas, offer all-inclusive elopements. With one phone call, you get an officiant, venue, photography and flowers! If you want a stress-free, 'you-focused' wedding then we can't think of any better way to do it.
That's not to say you'll be tied into a restrictive package as they offer plenty of options for personalisation. They encourage their couples to suggest wherever they want, especially when it comes to location. While there are plenty of chapel options in Sin City, if you want a more alternative wedding venue they can suggest a plethora of awesome spots to suit your taste and wedding theme.