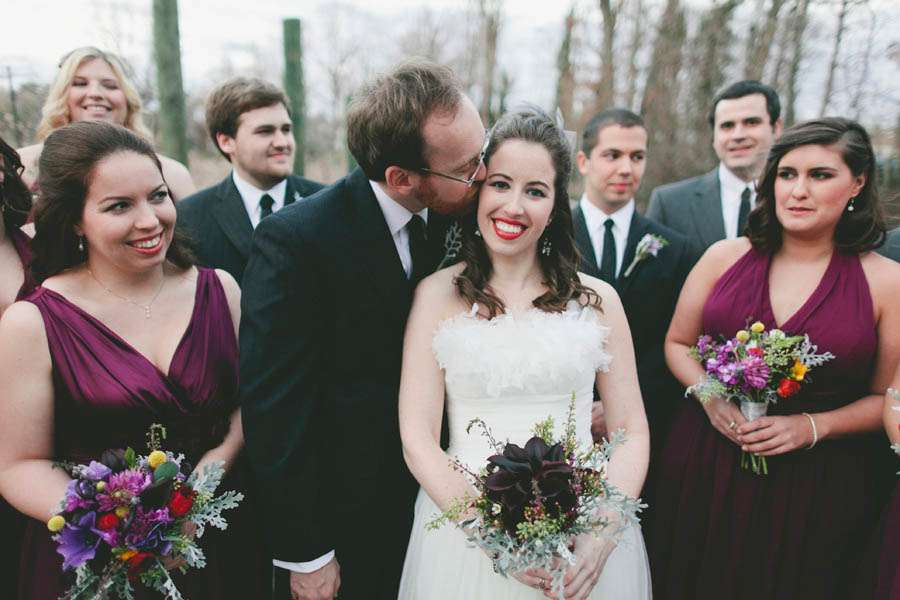 New Year's Eve might not cross everybody's mind as a date to get married, but for Tyler & Martin it couldn't have been more perfect!
"Martin and I are a little obsessed with The Flaming Lips," Tyler explained. "He introduced me to the band early in our relationship. He took me to my first show…it was New Years Eve, Halloween and pure happiness all in one night! I'll never forget watching another couple get engaged that night and telling Martin that would be a pretty awesome way to do it. Apparently he filed that information away. A couple years later during our yearly pilgrimage to Bonnarooo, Martin proposed to me under a shower of confetti and balloons while The Flaming Lips played 'Do You Realize.' It was perfect."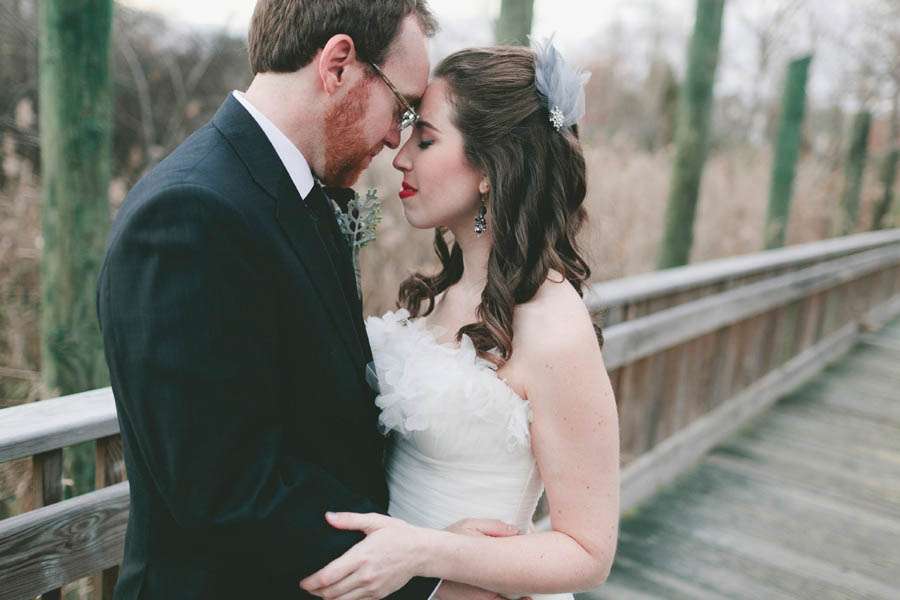 "We chose New Years Eve as our date because it would mark a new beginning for us and everybody else there", she continued. "We knew we were taking on a challenge by having a NYE wedding – Wayne Coyne even expressed his concern to us when we met him after a Flaming Lips show a couple months before the big day. Wayne invited us to come to Oklahoma City to be married onstage. He even gave us his phone number because he wanted our New Year's Eve to be perfect, an unbelievable proposal from a generous musician. While we declined his offer to be with our family and friends, we did our best to keep his spirit alive in VA Beach that night (the signed poster with Wayne's digits and message of 'I'm worried about New Years Eve' will always hang in our home!)"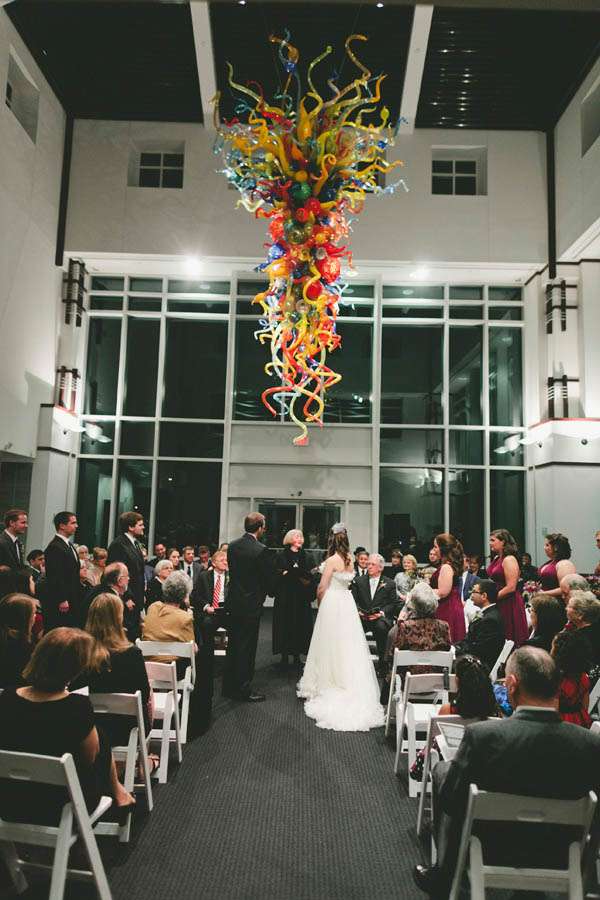 The wedding was held at Virginia Museum of Contemporary Art. "We chose a venue that not only embodied things we love – modern architecture, education, theater, art – including an amazing hanging colored glass sculpture by Dale Chihuly, but also served as a very spiritual setting for two artists to join their lives. We embraced the day, our love for music, and the joy of creating – making our decor full of paper goods we designed ourselves and NYE staples like party horns, streamers, hats and sparkly things like disco balls everywhere!"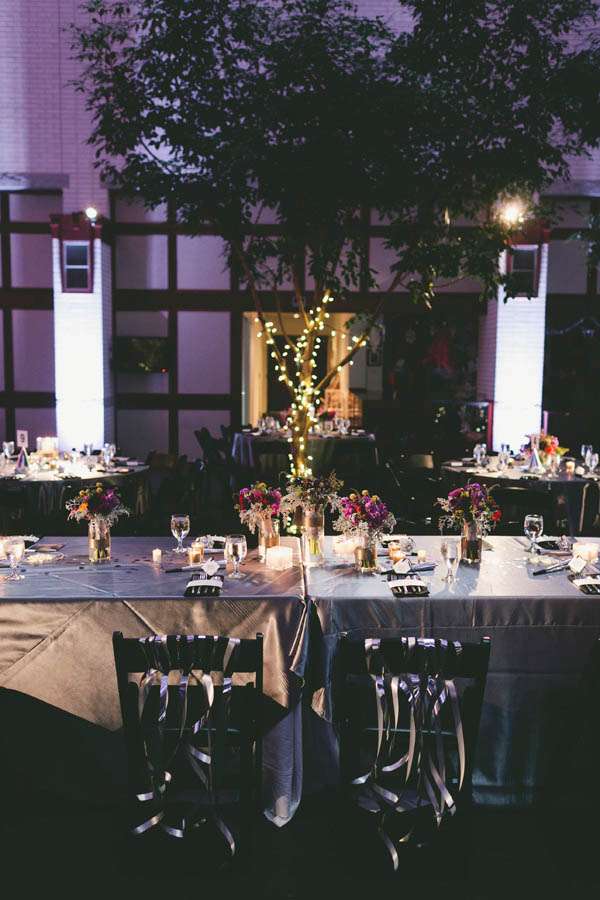 "I know neither of us will ever forget our ceremony. When we saw the amazing Chahuley sculpture housed in our ceremony space, we knew we had to get married right underneath its colorful explosion. To do that meant re-configuring the norm and creating a ceremony space 'in the round.' In addition to shaking up the layout, we also decided to make the ceremony itself our own – drawing from unconventional prayers, writing our own statements of intent, selecting wooden wedding bands and even choosing music by Phish and The Beatles."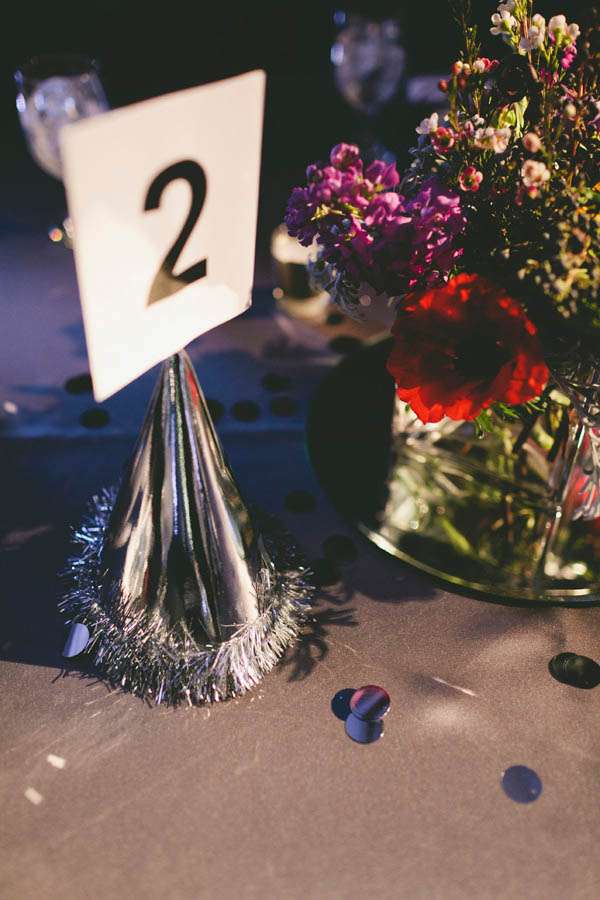 "On New Years Eve it all came together and was amazing. As we stood in the center of our family and friends, we were overwhelmingly surrounded by their love and support. I cried as I read my promises to Martin (no one was surprised there) and then looked up to see my brother-in-law shedding tears too. It was then it hit me, not only was it a powerful moment in our lives but one that truly touched those we shared it with that night."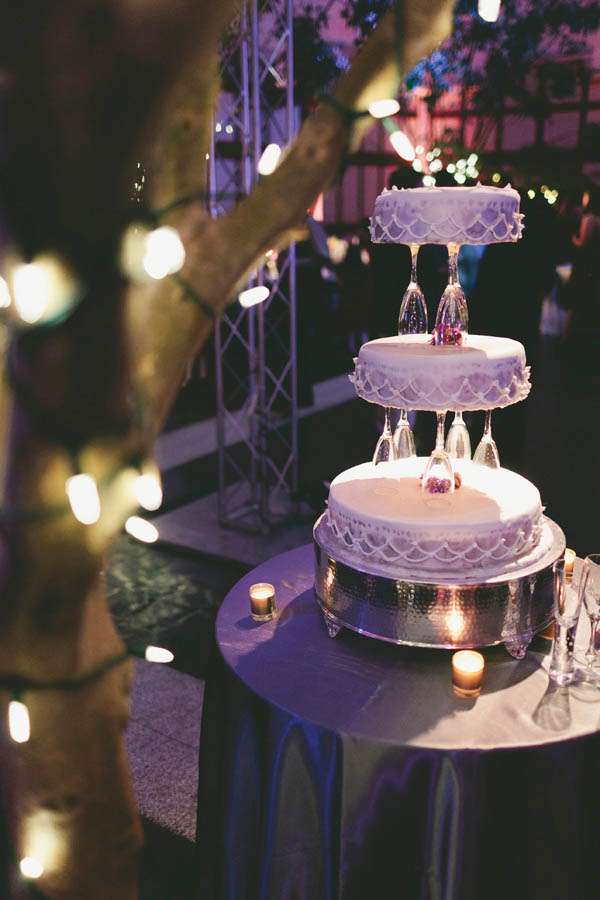 Tyler works in the wedding industry herself as a designer and wedding photographer, so she was keen to make their wedding scream 'them' as much as possible. In particular, she designed and created all of their stationery and paper goods herself. "We knew it had to be funky, artsy and Rock n Roll from start-to-finish. I poured over album design and episodes of Mad Men to get my creative juices flowing for our vinyl-inspired invitation designs. It was the ultimate challenge for someone who does the same for others as their job!"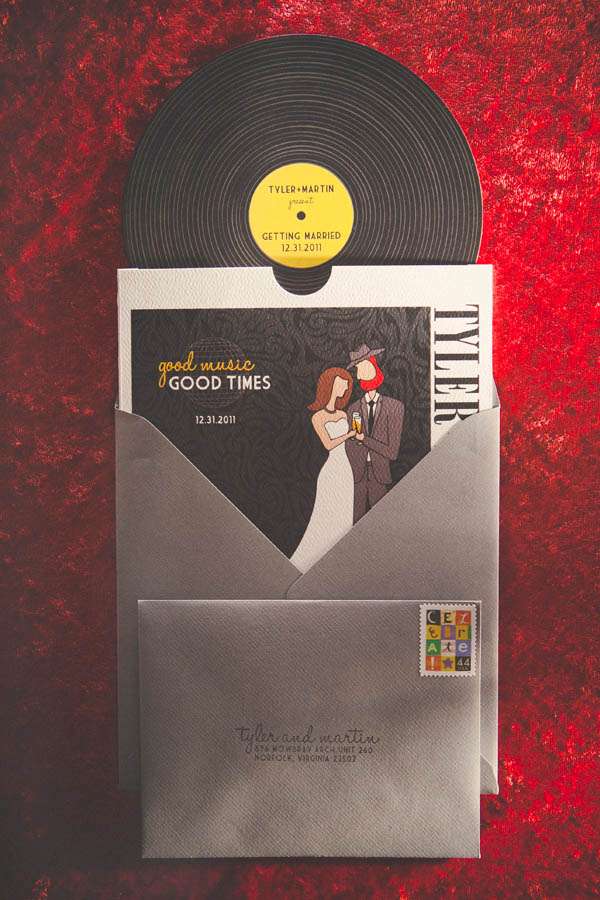 Having such a musical story, the entertainment was also really important to this couple. "We hired a band, The Jangling Reinharts, because what's better than putting on a concert for friends and family? Plus, they already had our song 'Do You Realize' along with the rest of our favorites (Phish, The Beatles, Mark Knopfler) on their set list. We topped it all off with completely vegetarian fare (we both are), signature drink of hot rum cider (our New Years tradition) and a video installation!"
The night concluded with said video installation, "Our venue had a theater so we knew we had to take advantage of it!" Tyler explained. "Martin took on the task of creating a video to share with our family and friends. He scanned thousands of photographs from childhood to present and logged hours of footage to create a piece entitled 'Copyright 1983'. We deemed it a life collage."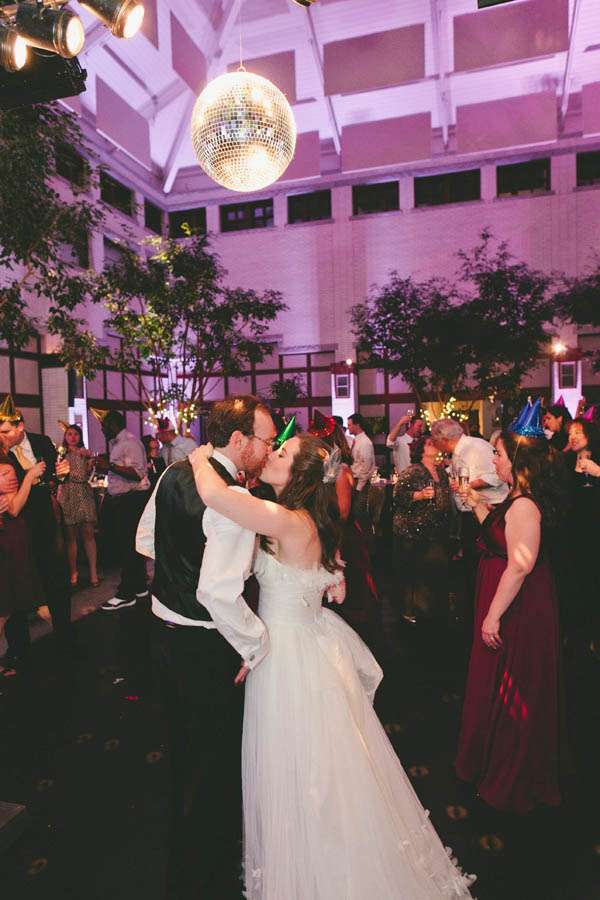 And you can watch the video online here. They also made a book of the video slides for their parents to keep. What a thoughtful touch!
Just gorgeous! Thank you to Tyler & Martin and their photographer Echard for sharing this with us today.