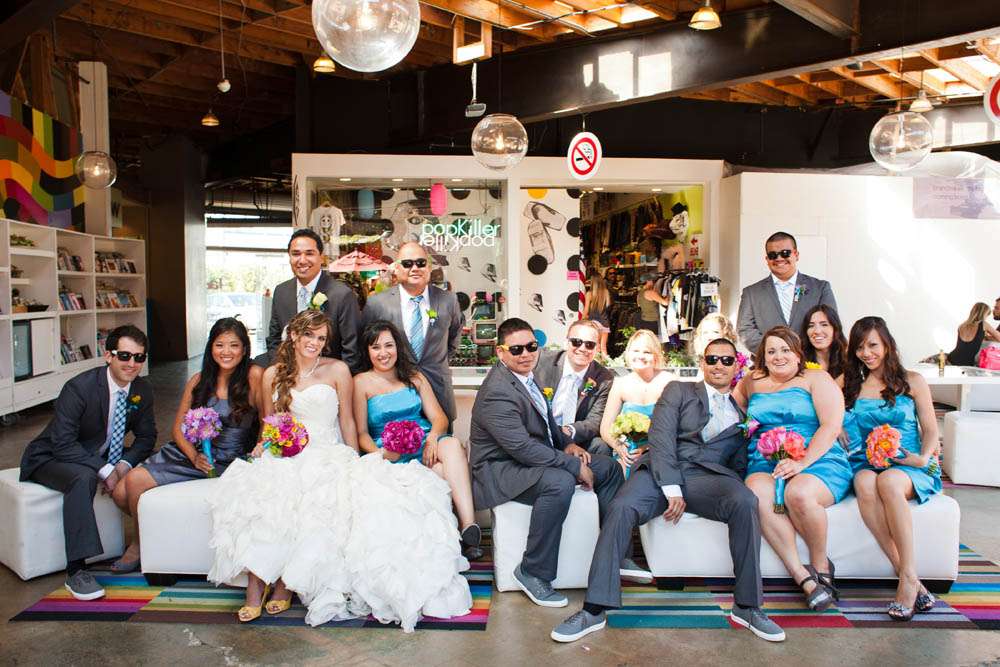 Manny & Rachel were married in an art gallery in California. Describing themselves as an artsy couple, they knew that they wanted their wedding to be different, quirky and to have some personality. The Orange County Center for Contemporary Art in Santa Ana was the perfect place.
"Manny & I are kinda artsy, but definitely not artists, and over the course of our relationship we shared lots of drawings, silly books and creative gifts", explained the bride. "On top of that we love the modern look so we thought a downtown art gallery would be the perfect venue to showcase us! We put ourselves to work and came up with an entire exhibition of gifts to each other, along with some gifts from family. Every last detail was DIY. Needless to say it was more amazing than we had ever envisioned. And in many ways was the most unique, kick-ass wedding our guests had ever seen!"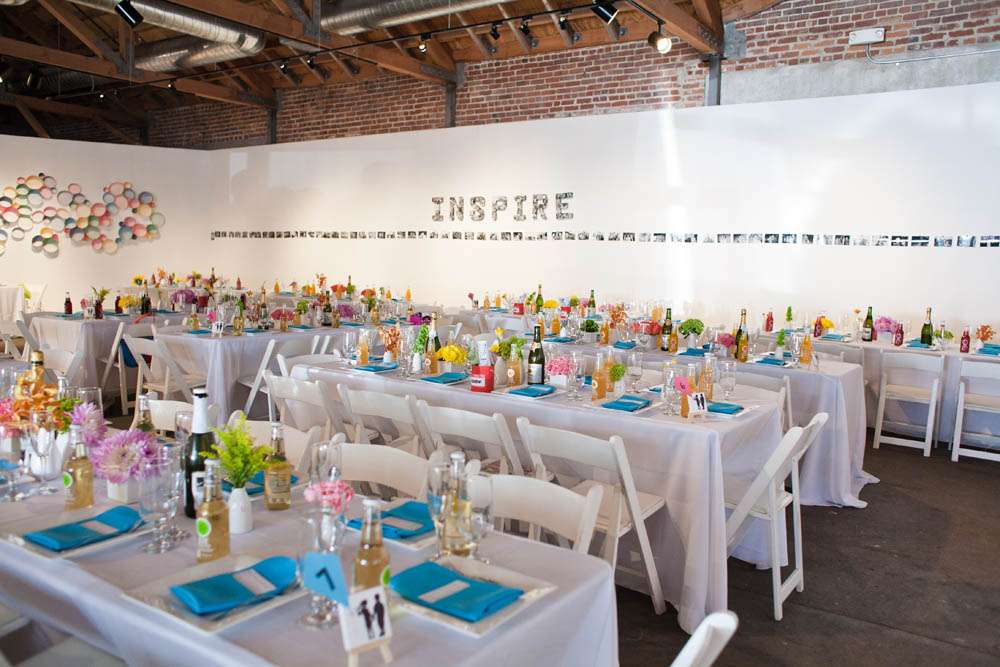 This wedding was certainly a DIY affair with the creative pair hand making as much as they possibly could themselves. "One of my favorite pieces was our seating chart. We hemmed and hawed over what to do for a really long time. With over 200 guests, we needed a lot of names, and we weren't about to just post a plain old list. Then the kite idea popped into my mind! After all, we did build and fly a kite when we first started dating. The same artist, Olivia Guzman, that designed the head table backdrop, sketched the drawing of the kids flying the kite. We shrunk the image for the cute little artist easels for the table numbers, and enlarged the sketch for the wall! We used Sharpie marker to color in 20+ little canvases, and bought and cut some vinyl for large image. Then, I color coded everyone's table assignment and wrote their names on the mini-kites! Color-coded seating? Awesome and time-consuming all at once! But I absolutely LOVED the final product!"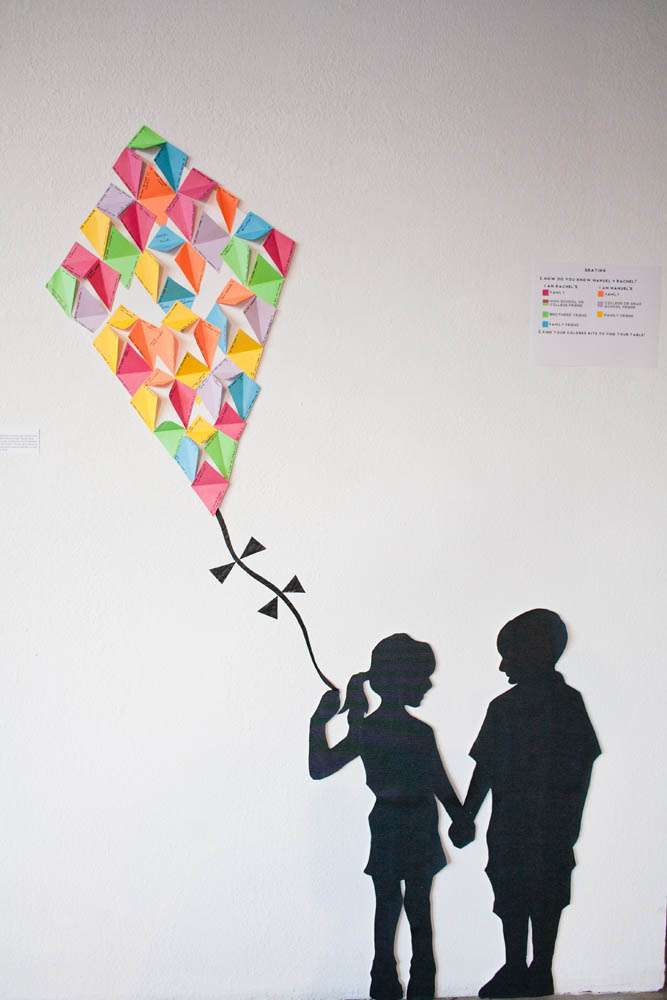 "Everything we incorporated needed to have a special meaning to us. We love owls so our guests signed owls instead of a guest book. We flew a kite when we first dated so that became our seating chart. We work with kids so we had them paint some of the art. We love snowboarding so we had a custom designed snowboard as an exhibit. We love our family so we covered an entire wall with photos of them. We love donuts, cookies, and milk so we had hundreds of each! You get the idea!"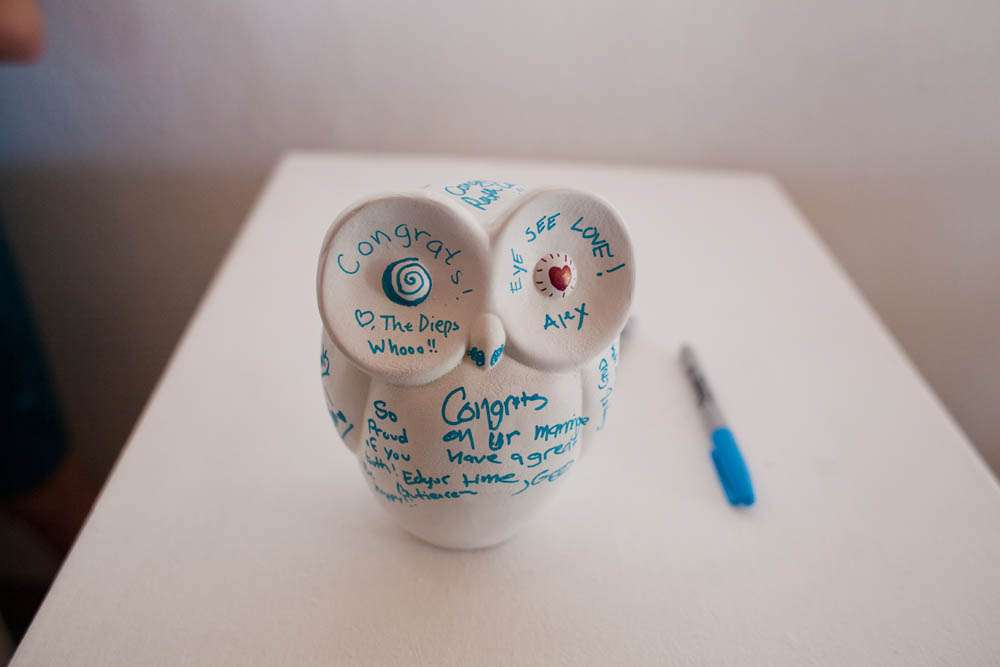 The couple both come from huge families, so this was a big wedding with over 200 guests. Although the crafty pair were able to keep costs down by DIYing as much as possible and utilising their friends' talents rather than using professionals for everything. "We wanted to invite a ton of friends and we both come from huge families, but we made it work!" Rachel explained. "We cut costs as much as possible and did everything ourselves. But it wasn't all about the costs – we wanted to design our own wedding, and we did! Our families were also a HUGE help. From the mass production of favors, to set-up, to break-down, our families made this wedding happen!"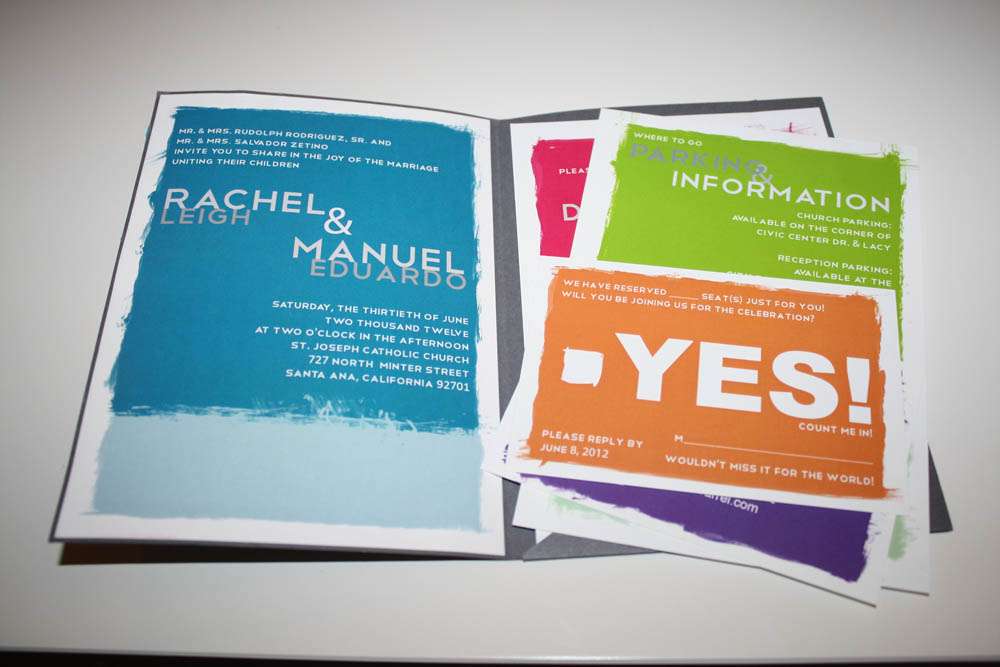 Check out their video too… I love it!
Gorgeous. Thank you to the Rachel & Manny and their wedding photographer Jenn King for sharing with us today.
Supporting Cast
Photography Credit: Jenn King Photo
Video Credit: Cloudless Weddings
Wedding Coordinator: Cherie Monk
Ceremony Venue: St. Joseph Catholic Church, Santa Ana
Reception Venue: The Orange County Center for Contemporary Art
Bride's Dress: Maggie Sottero
Bride's Shoes: Anne Klein
Bride's Headpiece: DIY
Groom's Outfit: Theory
Bridesmaid's Dresses: David's Bridal
Cake & Cake Shooters: Torrance Bakery
Mini Donuts: Winchell's
Hair & Make up: Beauty and the Beach
Stationery: DIY