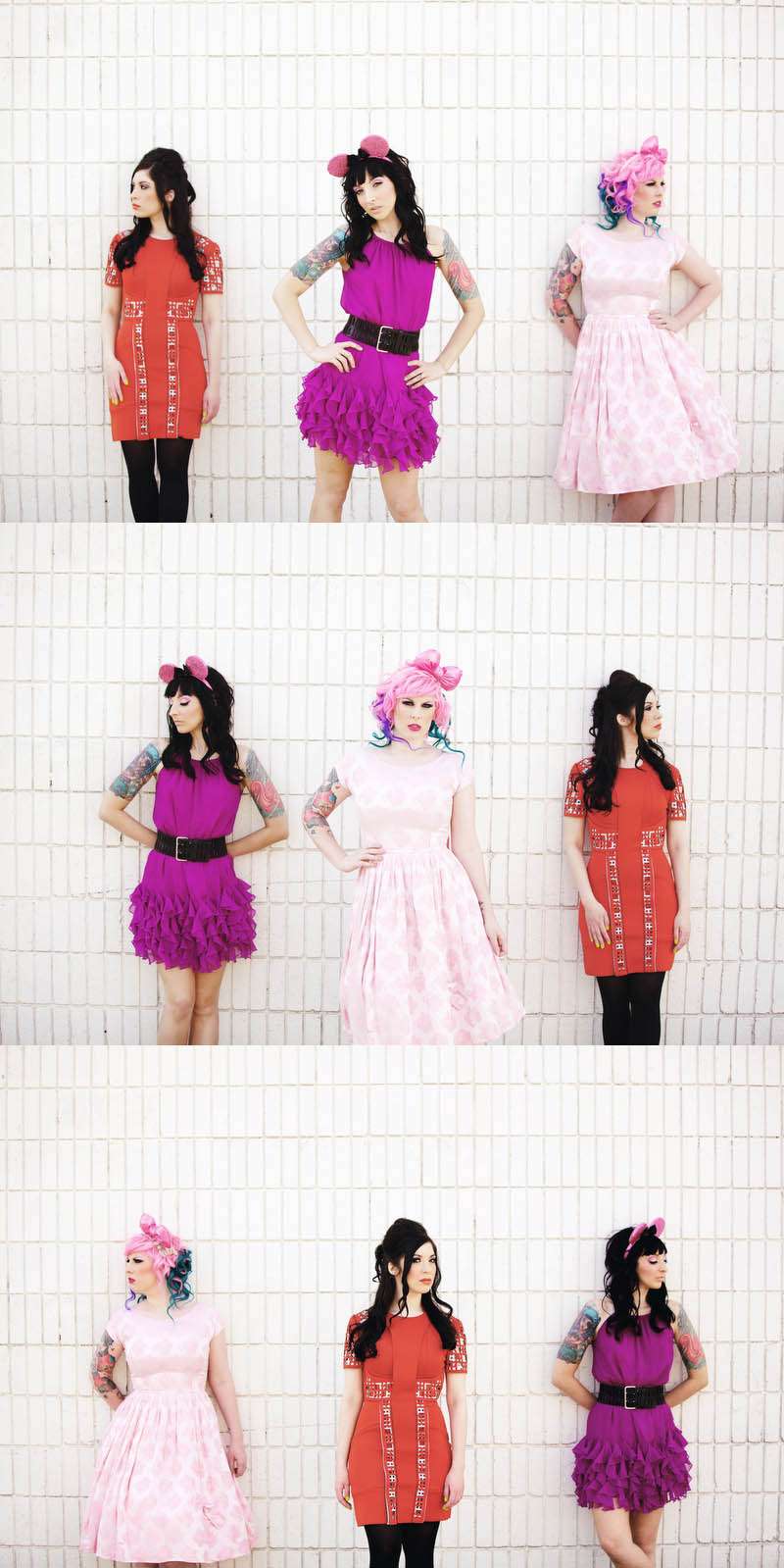 The next big girl band?
Finally it's here, the shoot I've been mercilessly teasing you with!
When Gala & Nubby told me they were going to be in Las Vegas at the same time as David, Lisa & I, I just about jumped at the chance for us to all shoot together. Although this shoot wasn't going to be at all wedding-related, I really couldn't wait to get my pose on with these gorgeous girlies.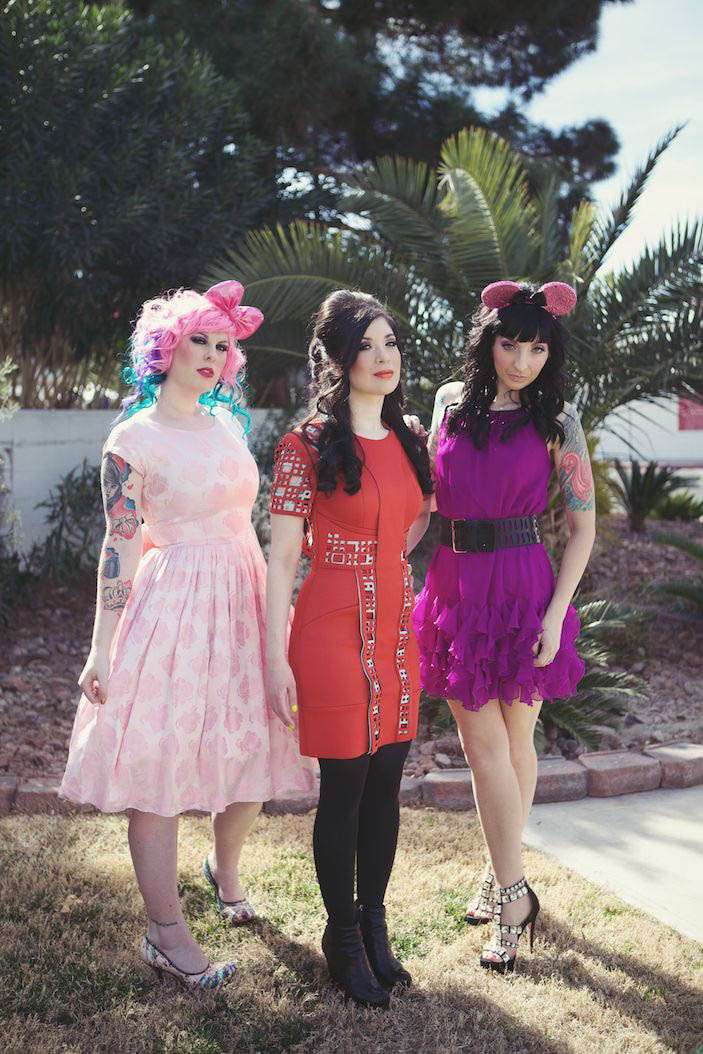 Organising photo shoots is hard work at best, but when you're doing it with a team scattered all over the world it can be darn right stressful. But with emails flying back and forth between England, New York, Portland, Vegas and India (David was there for 2 months and only flew back to London the day before we left for Vegas!) I think we managed to pull something pretty awesome together.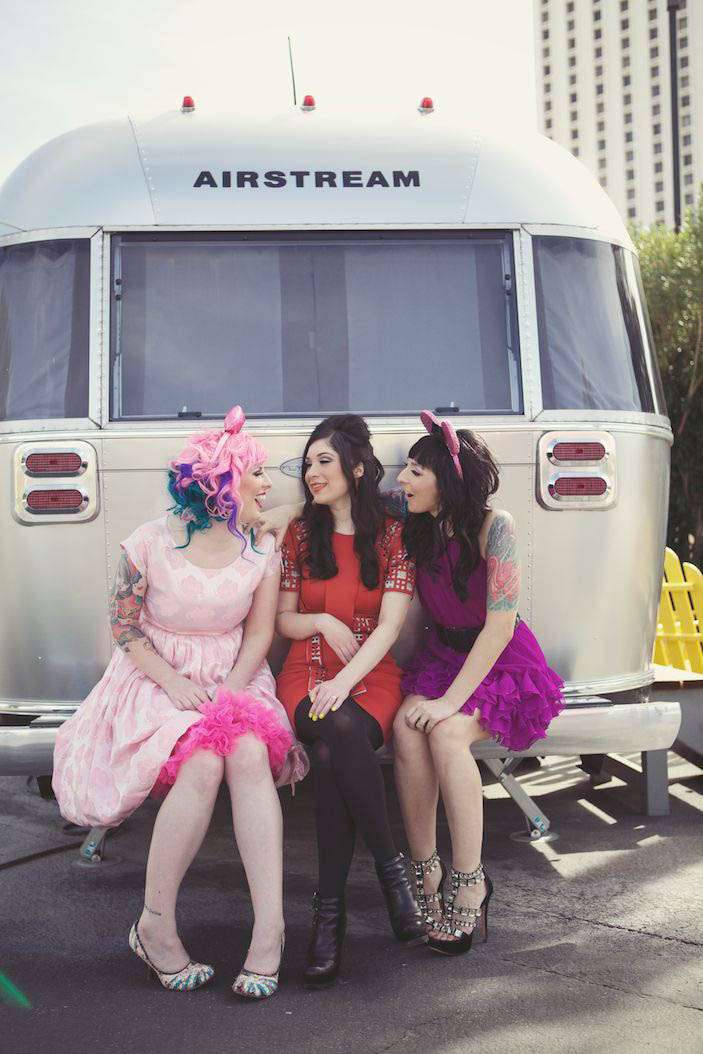 We wanted three distinctive locations to show three different looks, and after having no luck securing the Neon Graveyard, Gala found this amazing RV park behind the Circus Circus hotel. The owners were so accommodating and sweet and really excited to have us there (Hi Bob!)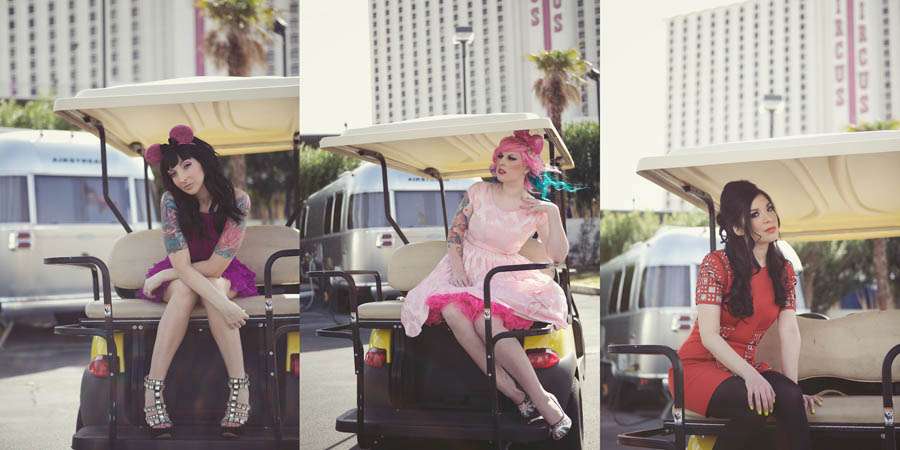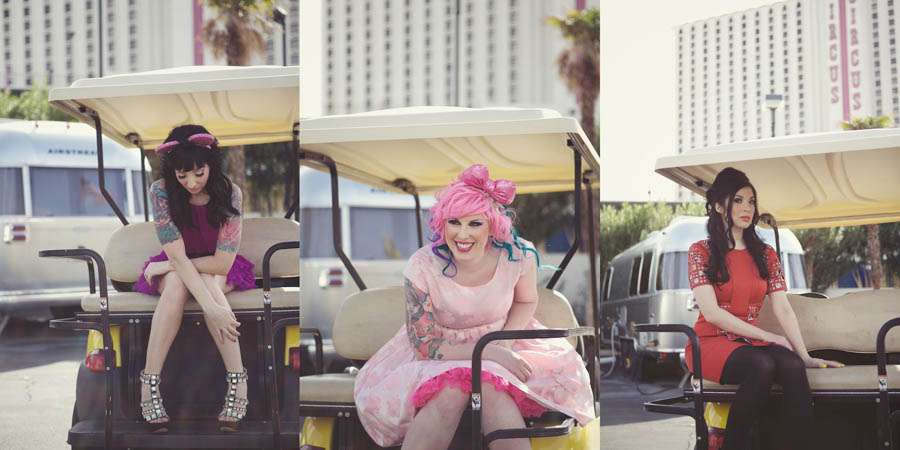 Who knew that posing on a golf cart could be so much fun!?
I wore
♥1950s pink vintage dress from Frock and Roll Vintage
♥ Vintage pink petticoat
♥ Irregular Choice 'Patty' shoes
♥ Chubby Bunny hair bow (Gala's) and 'Vivien' headpiece by DC Bouquets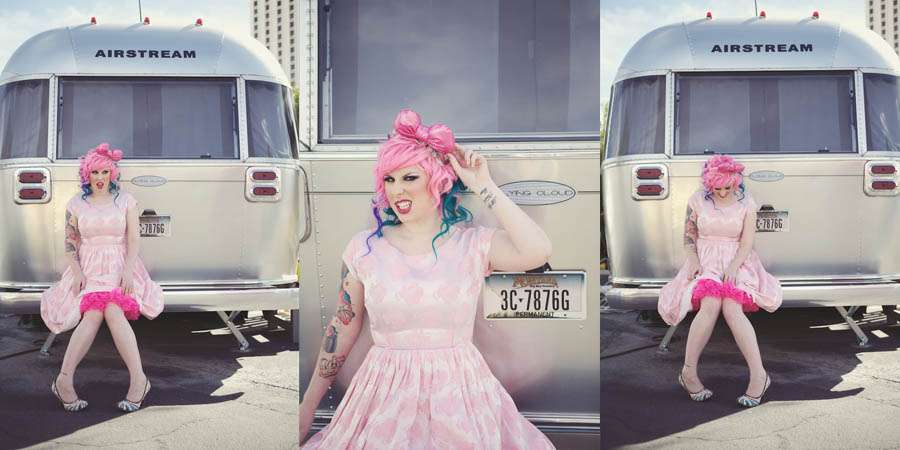 Gala wore
♥ Bedazzled Mickey Mouse ears by xoerikamarie on etsy
♥ $20 purple dress
♥ Betsey Johnson belt
♥ Chinese Laundry shoes
♥ Bedazzled glasses by Tequila Star on etsy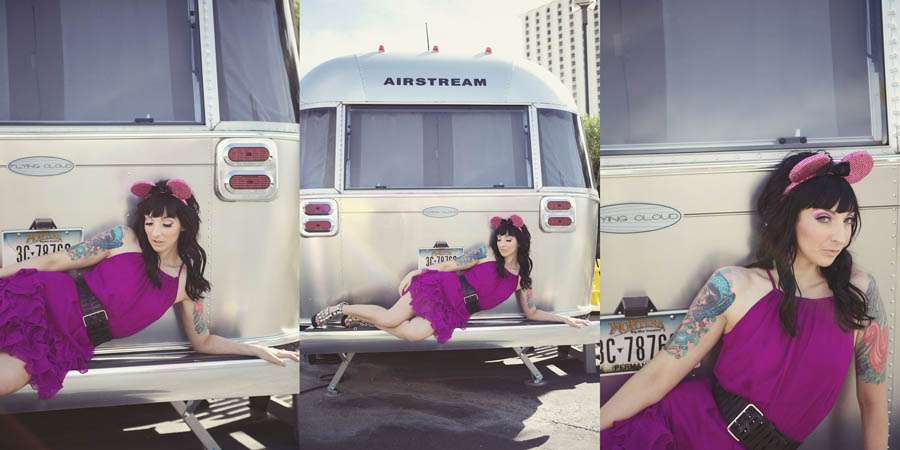 Nubby wore
♥ Dress from ASOS
♥ Tights from H&M
♥ Boots from Camilla Skovgaard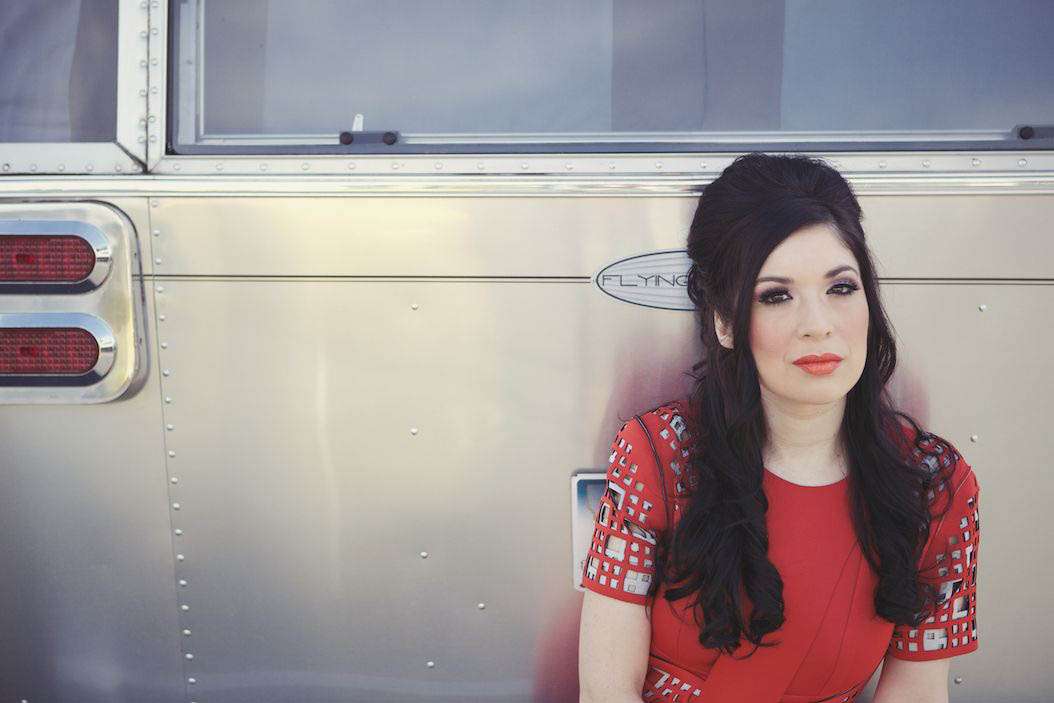 I also need to give an extra special shout out of love to Janine & LaVey of Your Beauty Call for our incredible hair & make up. Jeez Louise these girls know their stuff! With a client list boasting The Kardashians, Paris Hilton, The Pussycat Dolls, Kelly Osbourne…and now Rock n Roll Bride, Gala Darling & Nubby Twiglet of course ha…we were thrilled beyond belief when they agreed to work with us!
I don't think any of us wanted to wash our make up off or take our hair down…like, ever.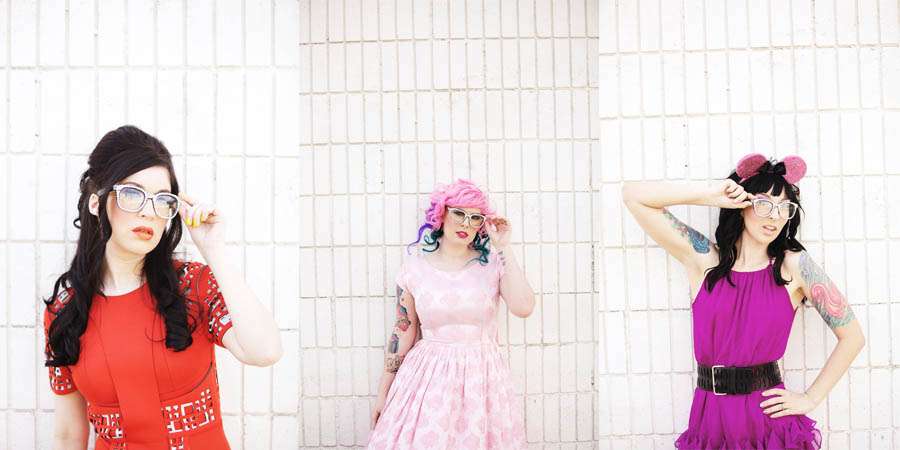 Nubby, Kat & Gala – bringing the sparkle back to geek chic
If you're getting married in Vegas I can not recommend Your Beauty Call enough. Seriously incredible. It was hot and we were shooting all day but our make up didn't budge…even the lip stain (LaVey used this amazing product, Lip Sense, on us which blew my mind with it's staying power!) We also slept in our hair and rocked the same styles the following day while out shopping! These girls are worth their weight in gold and I have so much love for them.
Oh yeah these girls too..!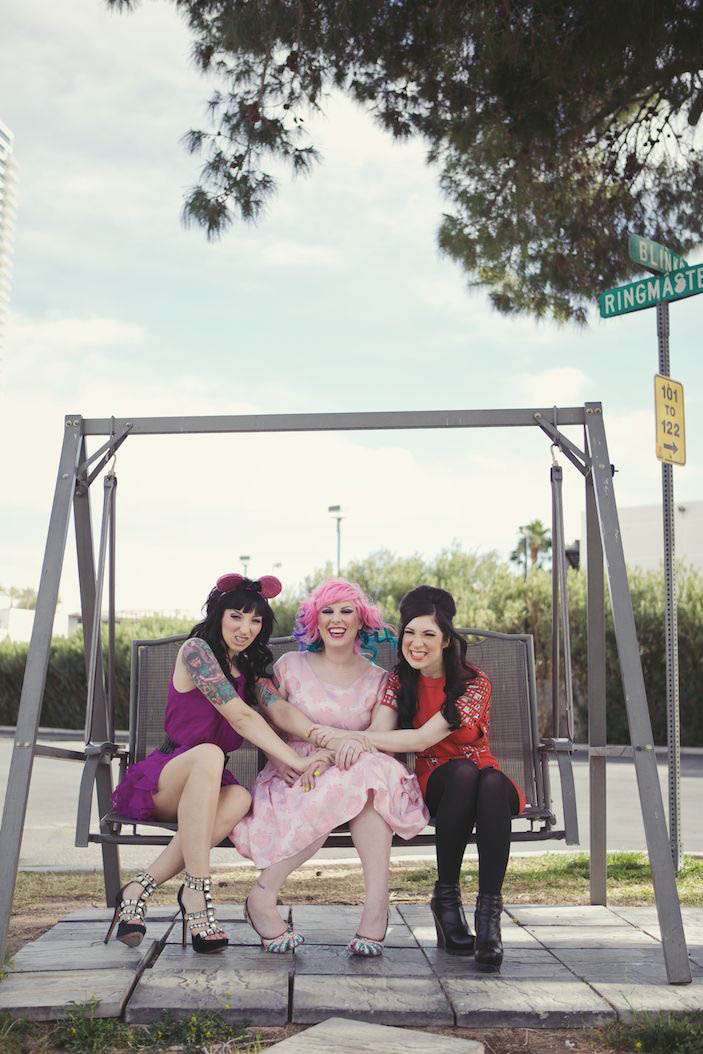 Taking photo shoots seriously is totally over-rated
I hope you've enjoyed Part One of our Las Vegas Lovers shoot. Remember for more photos go check out  Gala & Nubby's blogs and be sure to pop by on Thursday for Part Two, Ghost Town Glamour Girls!
Supporting Cast:
Photography: David McNeil Photography & Devlin Photos
Photography Assistant: Amy Bartlam
Hair & Make Up: Your Beauty Call
Flowers: Enchanted Florist
Location: Circus Circus RV Park, Las Vegas