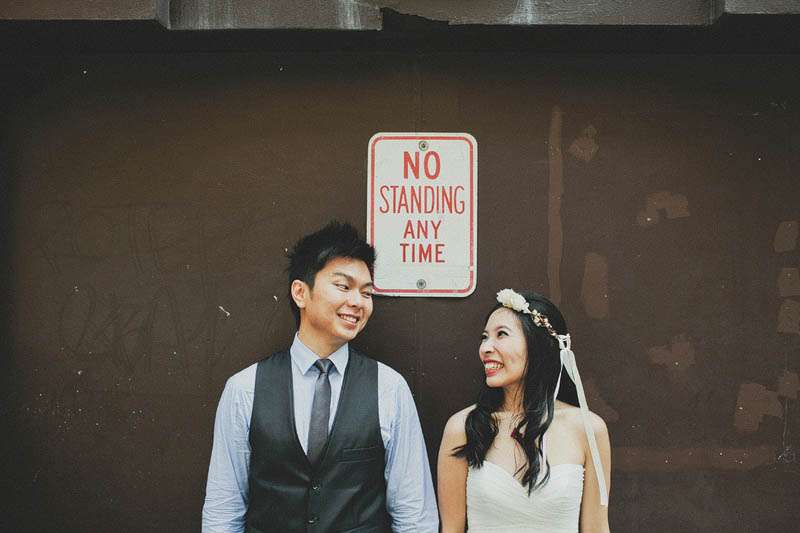 I've known about Julie & Jaques' wedding for a long time because the bride's sister and maid of honour is one of my best friends, wedding photographer Shell de Mar! I've been hearing all the exciting details of the wedding plans for so long and now I'm thrilled to not only see the results but to share them with you guys too.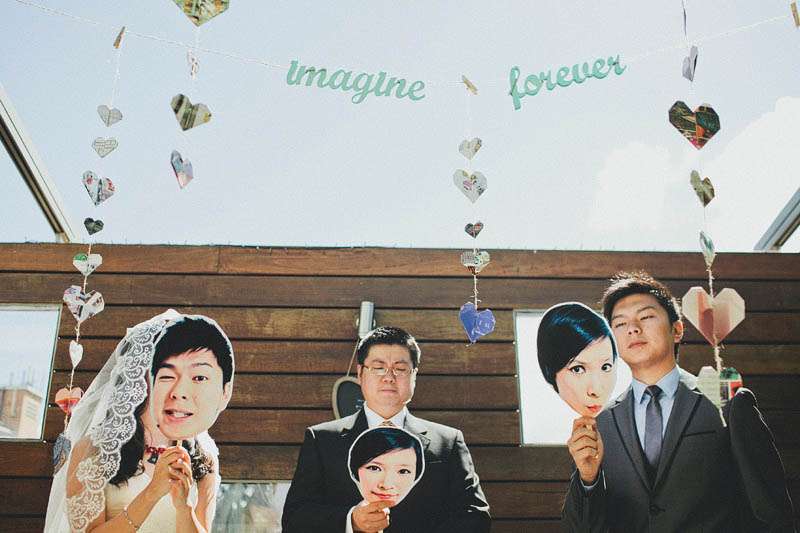 The wedding took place in Melbourne. The ceremony was held on the rooftop of the Arcadia Hotel and the quirky and cute reception was at Garage Cafe, Carlton.
"We started with a simple ceremony, focusing on just us and our love toward each other. In fact, we love 'us' so much that we had our faces everywhere in the crowd, as part of the ceremony program," Julie laughed. "We decided on a fun fair theme for our reception from quite early on. Before we planned on anything else, we knew we wanted something über fun. And nothing screams fun like a fun fair! So we turned Garage Cafe into a carnival and we were the hosts!"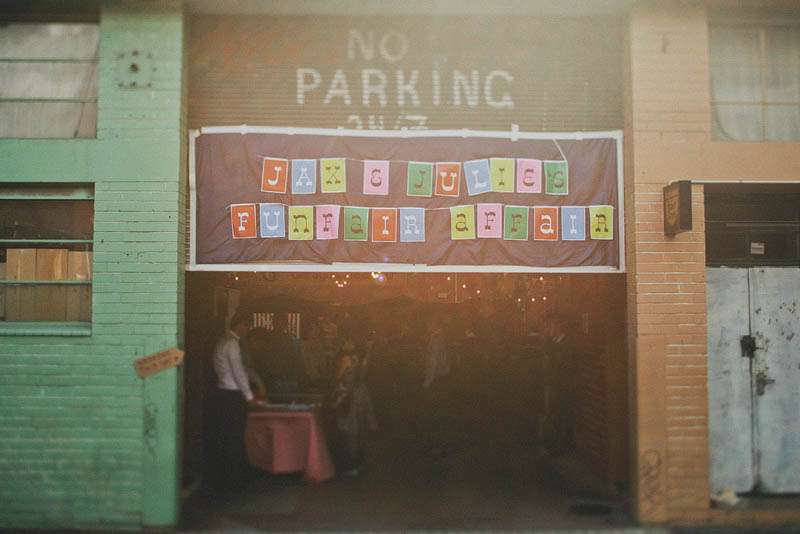 The couple put a lot of work into their wedding details with personal touches and fun treats for their guests at every opportunity! "We had a candy bar buffet with take-home lolly jars, cupcakes with a big top as the top cake, big tops as table centrepieces and a seating plan and festoon lights and bunting. An ice cream van arrived during dessert time with music on."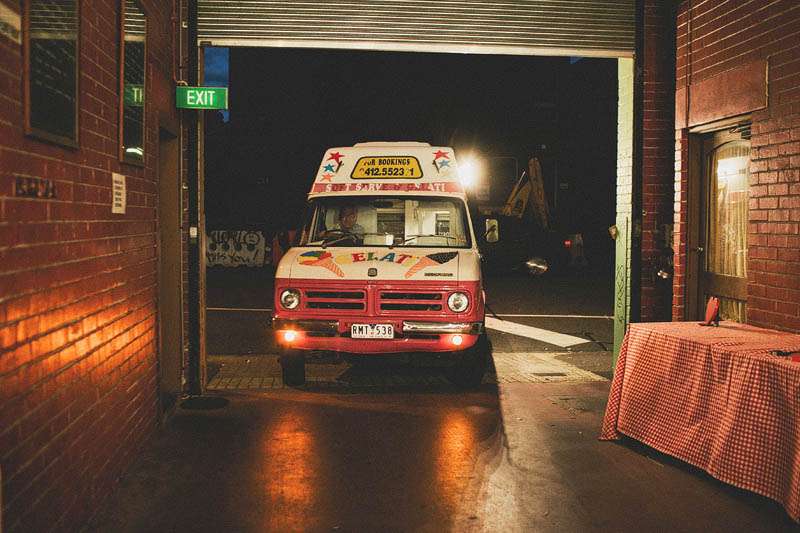 "We also had a photobooth with silly props. Supposedly we are both quite vain (!) so the very first thing that we booked and paid for was the photo booth! We chose In The Booth as our supplier and it was the perfect choice! Our guests had heaps of fun taking silly pictures with fun props. It was definitely one of the highlights for many of our lovely guests."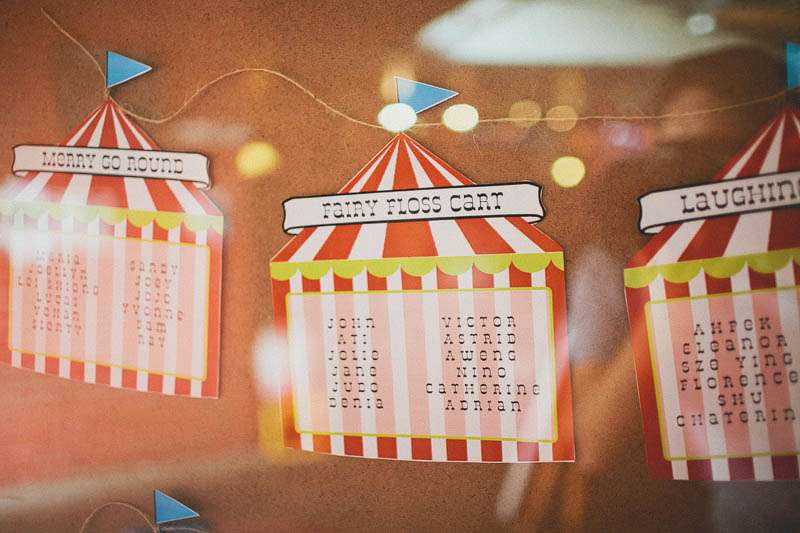 DIY and crafts a-plenty was also the name of this wedding planning game, with the bride, groom and their friends and family getting stuck in to create as much as possible themselves. "We did pretty much everything ourselves, with the help of a multitude of friends," Julie continued. "I designed most things from name tags to bunting patterns to invitations but Jaques came out with awesome ideas once in a while, such as the photo program fan. Many of my girl friends helped fold origami hearts out of colourful wedding magazines donated from previous brides. Jaques and the boys set up festoon lights and other decorations few days before the big day."
"We wanted to throw an awesome party to celebrate our big day with the awesomest people in our lives," the bride concluded when I asked about their wedding theme and inspiration. "It was really as simple as that. We love the fact that every wedding is unique, and so we tried our best to show who we are through our own wedding. This meant a fun filled day with heaps of things to keep everyone entertained."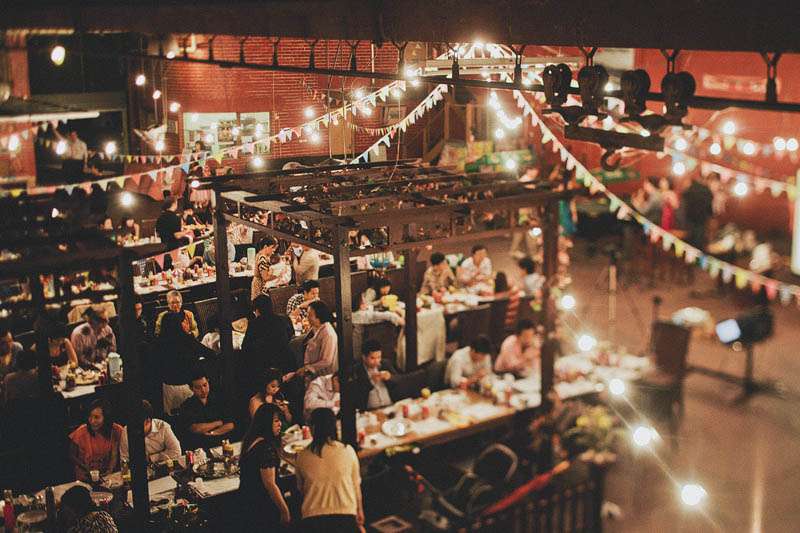 Gorgeous! Thank you so much to Julie & Jaques and their fab wedding photographer Julian Beattie for sharing today!
Supporting Cast:
Photography Credit: Julian Beattie
Ceremony Venue: Arcadia Hotel, South Yarra (Melb, AU)
Reception Venue: Garage Cafe, Carlton (Melb, AU)
Bride's Dress: Pronovias
Bride's Shoes: Online for $10
Bride's Headpiece: FourLetterFashion on etsy
Bride's Jewellery: SculleyDesign on etsy
Bride's Lollipop Bouquet: DIY (lollies from Luna Park)
Bridesmaid's Dresses: custom by ohmplayground on etsy
Cake: Close friend made this (BakingBee)
Hair: Agape Hair Design, North Melbourne
Make Up: Mirna Leonita
Band: Friends Sam Hersusianto and Bob Soh
Stationery: DIY
Transport: Smart car from Blackman Hotel
Photo Booth: In The Booth