Katie & Patrick wanted a local wedding, one that reflected how they live their lives. They love Stoke Newington and so wanted to use local suppliers and to keep the wedding as close to home as possible. After proposing on Waterloo Bridge, Patrick presented Katie with a beautiful piece of costume jewellery from Kat and Bee. Katie always said she didn't really want a wedding ring, as she explains, "I'm not keen on having a ring that I have to wear every day for the rest of my life, I wasn't sure about the whole wedding ring thing. I did say though, that I would absolutely love a suffragette ring and, whilst I might not wear it everyday, I would definitely only want a wedding ring if it was one of those. They are about as rare as hen's teeth. But Patrick has a reputation for resilience! And he managed to find one..well, actually, he managed to find two! So I am now the proud owner of two suffragette rings, one of which is sort of my wedding ring."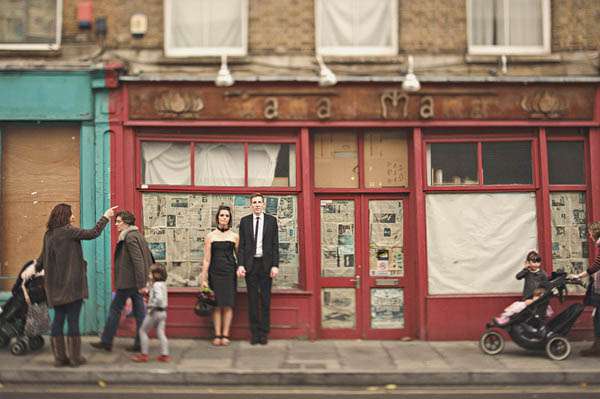 An unconventional couple, their wedding was always going to be anything but traditional. This continued when, as a wedding gift, Katie bought Patrick a neon sign (amazing!) "We had spent ages choosing songs that meant loads to us for walking down the aisle, signing the register, first dance, etc, and I knew that, a long time ago, Patrick had said he would love a neon sign. The two things just sort of came together in my head and I sketched something out on a piece of paper and sent it to a few companies for a quote. Southern Neon were so lovely and really got what I was talking about. The quote is from the June Carter Cash song, Time's a Wastin' (they use it in Walk The Line) and we walked back down the aisle to it, newly married! I pre-arranged with our photographer Ed that we would 'call in' to the house as we walked around Stoke Newington snapping photos (another advantage of getting married around the corner from your house) and then took Patrick upstairs to show him. Luckily he loved it!"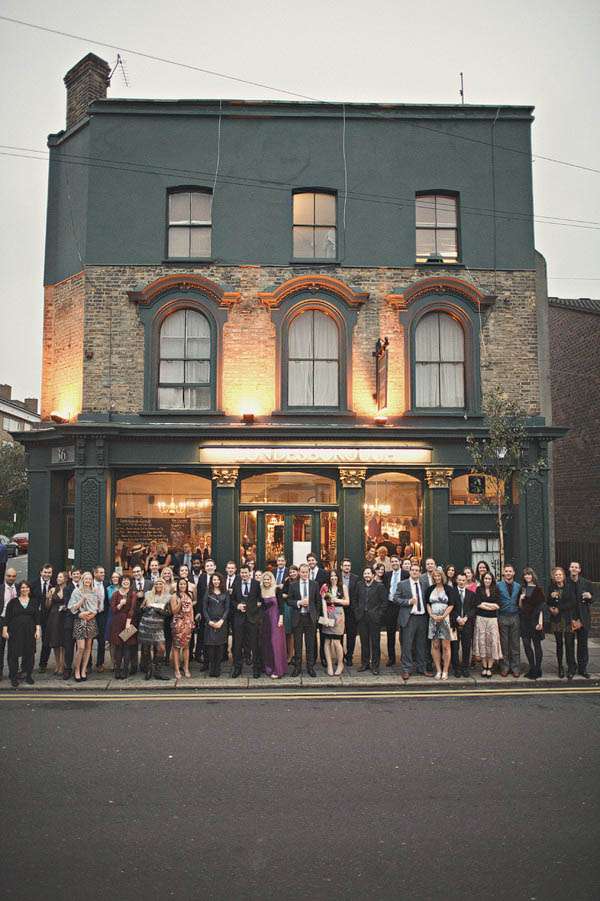 The wedding reception was held at The Londesborough. The couple wanted a chilled out party with no pressure or tradition and the pub provided the perfect atmosphere for that. They made the bunting themselves and hired candelabras to put on the tables.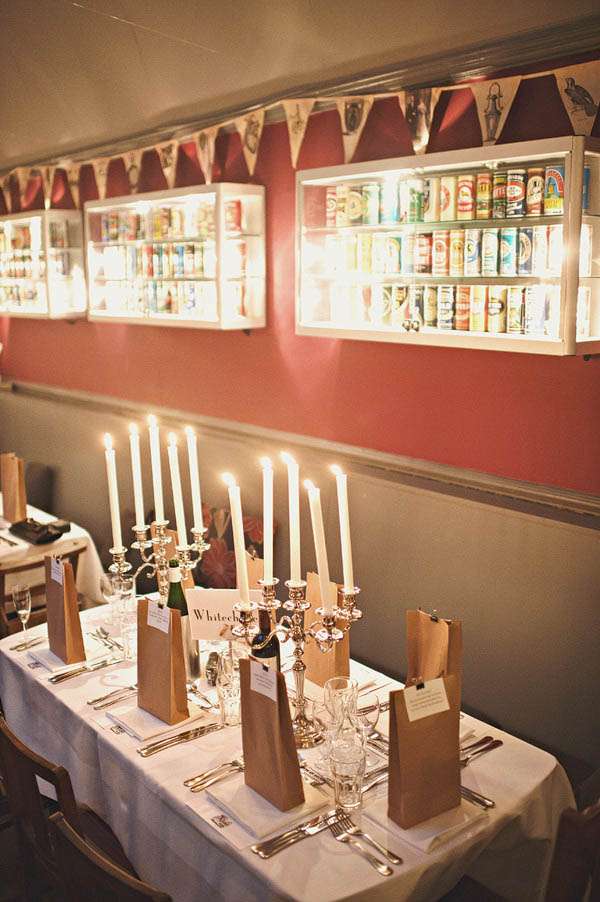 "We just didn't want a day that was about subscribing to the norm," the bride continued. "We thought about each and every thing that is supposed to happen at a wedding and considered whether those things meant anything to us or not. For example, we really wanted really cool photos and we definitely wanted a first dance. We weren't fussed, however, about wedding cars or formal suiting or white dresses. So we spent all our budget on the important things and made them exactly how we wanted them, and we ignored altogether all the things we weren't fussed about."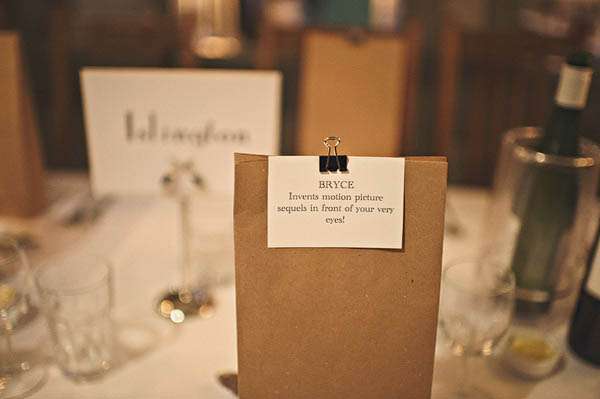 "We definitely didn't want to pick one best man or select bridesmaids (my friends would not have forgiven them for putting them in bridesmaids dresses) so we got almost all our friends involved somehow, from making cakes for the table, to doing a short speech, almost everyone had a part to play. My Mum probably had one of the toughest jobs – the favours were bags of old fashioned sweets with one 'surprise' present in each, ranging from a plane kit to (drum roll) stuffed moustaches on sticks. My Mum made and stuffed 20 moustaches! They took 2 hours each! That is love…I bought her a stuffed moustache brooch from the Brick Lane Craft Fair to say thanks!"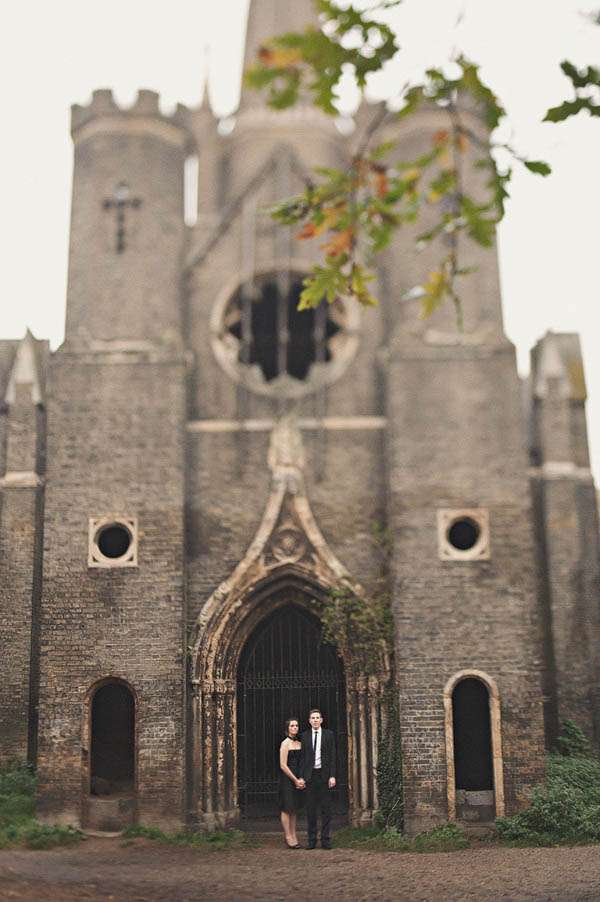 Katie wore a black Prada dress which she found, amazingly, in TK Maxx. It was reduced from £2400 to just £600! She also carried a black Vivienne Westwood bag (oh I love this bride!) "I was working just down the road from TK Maxx Fenchurch Street which has a sizeable gold label section in all the rich city workers!" Katie laughed. "My desk was in an open-plan office, right next to a good friend of mine, Aylin. She knew I was on the lookout for a dress for the wedding and one lunchtime I turned to her and said 'We need to go to TK Maxx, I have a good feeling about today.' She said 'Weird, I was just about to say the same to you.' We dutifully set off and when we arrived, laying on top of the racks was a black silk dress by Prada, with no size or anything in it. I could tell just by looking at it that it was almost definitely my size! I tried it on, she got emotional and said it was great and that I should go for it. One dress purchased, one personal shopping session at Selfridges cancelled, and one very happy TK Maxx bride!"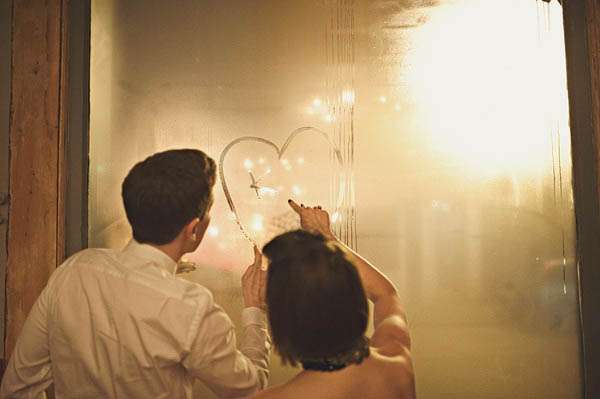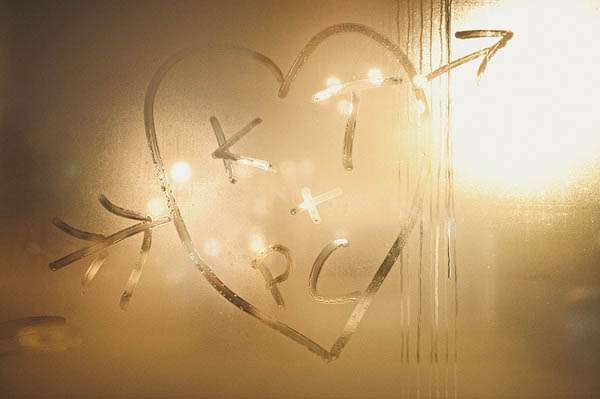 Gorgeous. Thank you so much to Katie & Patrick and their photographer Ed for sharing this with us today.
Supporting Cast:
Photography Credit: Ed Peers Photography
Ceremony Venue: Stoke Newington Town Hall Council Chambers
Reception Venue: The Londesborough
Bride's Dress: Prada (from TK Maxx)
Bride's Shoes: Nine West
Bride's Headpiece: Aurura Adornments via Folksy
Bride's Jewellery: Sheena Bulsara
Flowers: Rebel Rebel
Cakes: DIY
DJ: Darrien Bold and Peter 'The Hat' darrienbold@googlemail.com
Stationery: DIY
Candelabras: Deluxe Hire
Neon Sign: Southern Neon