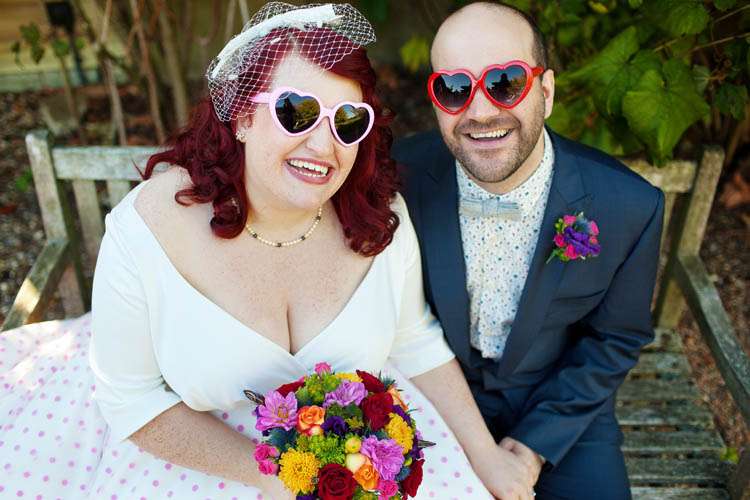 As a regular Rock n Roll Bride reader, Amy booked some of my ultimate favourite wedding suppliers for her October wedding to Andy. Annamarie Stepney photographed the day and the bride wore a Candy Anthony wedding dress with the gorgeous 'cherry' Vivienne Westwood/Melissa shoes. She also dressed her lucky bridesmaids in Vivien of Holloway dresses.
"We looked at lots of wedding blogs to find a photographer and saw lots of examples of some beautiful and really cool photos but when I saw some of Annamarie's work on Rock n Roll Bride we just loved them," Amy explained. "After meeting her knew she'd be great. She made the day go really smoothly too so it was a good choice!"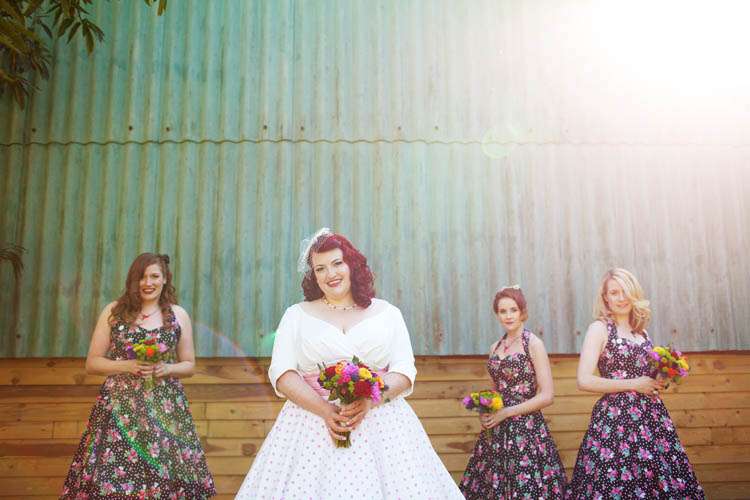 "I also knew I wanted a Candy Anthony dress from the start, they're such beautiful dresses and I knew would be best to compliment my curves. The thought of trying on or wearing a traditional full length dress was scary, it's just not me and I don't think it would have been very flattering for my shape, and I wanted something fun! I knew I didn't want a plain white or ivory dress and I love pink so I chose the polka dots and sash and the MASSIVE raspberry petticoat which was amazing, it made me feel like a princess! People couldn't stop touching it and making me twirl!"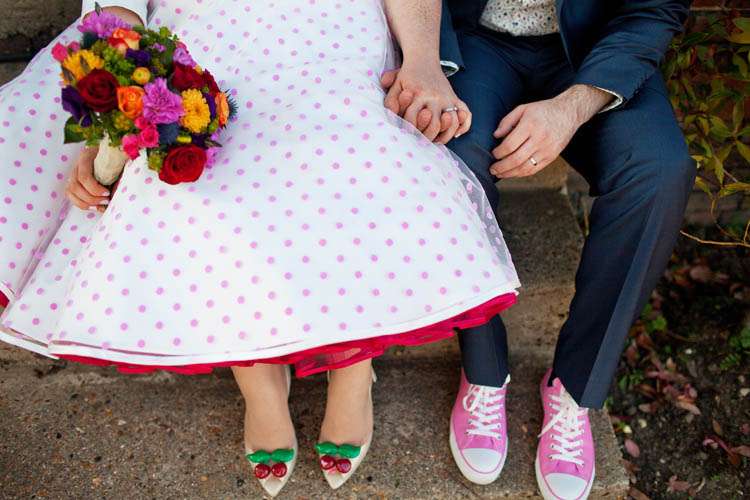 The wedding was held at Gate Street Barn, Surrey "We wanted a relaxed, pretty venue with space to drink and dance so this was perfect," the bride continued. "I looked at lots of wedding blogs and magazines whilst planning but my favourite was always Rock n Roll Bride which I looked at every day. I picked up lots of tips and inspirations from it, but mostly the idea that we could have our wedding, our way, whilst keeping a few nice traditions in there too."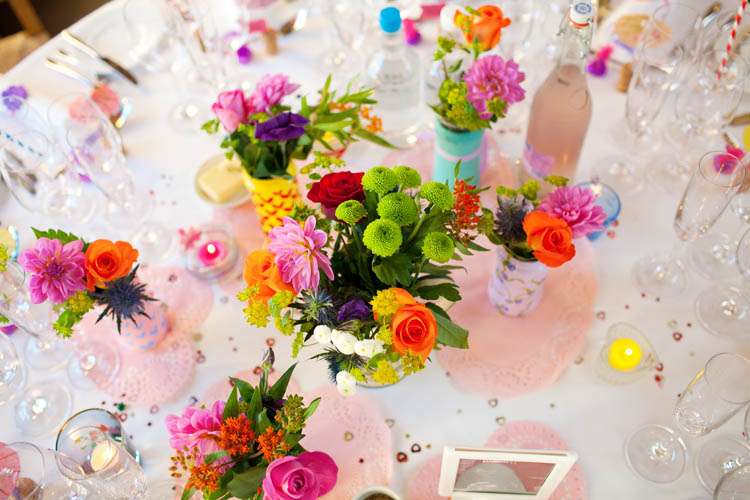 The couple decorated their colourful reception space themselves. Many items were found on eBay or Amazon and Amy painted all the jam jars herself. Her Mum also handmade the napkin rings and the embroidered hearts that hung on the back of the chairs.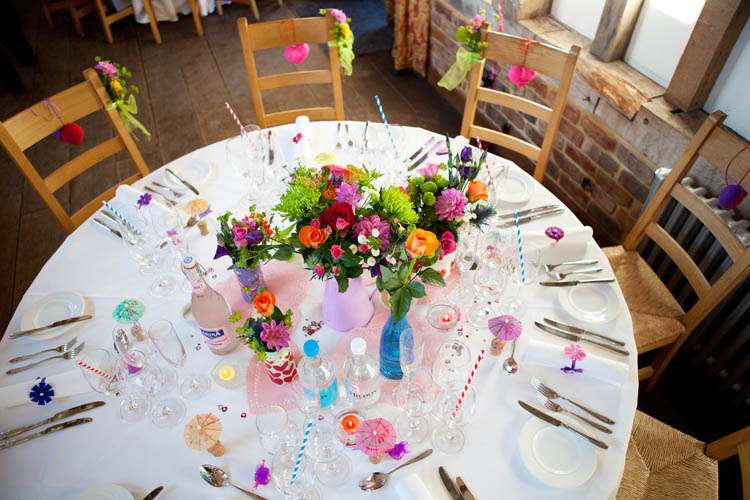 "The jam jars were really easy to decorate, I made them all different because I wanted a riot of colour and didn't want anything to 'match'," Amy explained. "I painted flowers, polka dots, stripes etc in lots of different colours. I used acrylic paint and a varnish so they're waterproof. Quite a few friends took them home at the end of the night, otherwise I would be overrun with them now! Making the favours was really easy too (if time consuming), we put some chocolates in some pink and purple netting (from John Lewis haberdashery) and tied it up with a ribbon.. it saved such a lot of money as favours can be really expensive!"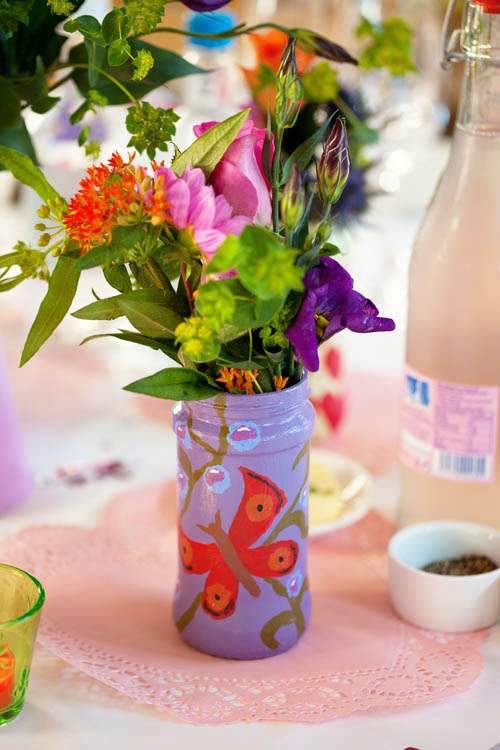 "We wanted to add our own twist onto everything including the invites, decorations, readings and clothes.. it was just everything we wanted rather than trying to be refined and classic like a lot of (admittedly beautiful) weddings. Everyone said the wedding was very 'us' which was lovely as we did want it to feel personal. There was lots of laughter during the ceremony and then the speeches and the dancing. We had the best day, to me, being Rock n Roll is all about having fun and doing things your own way, so what could be more Rock n Roll than that?"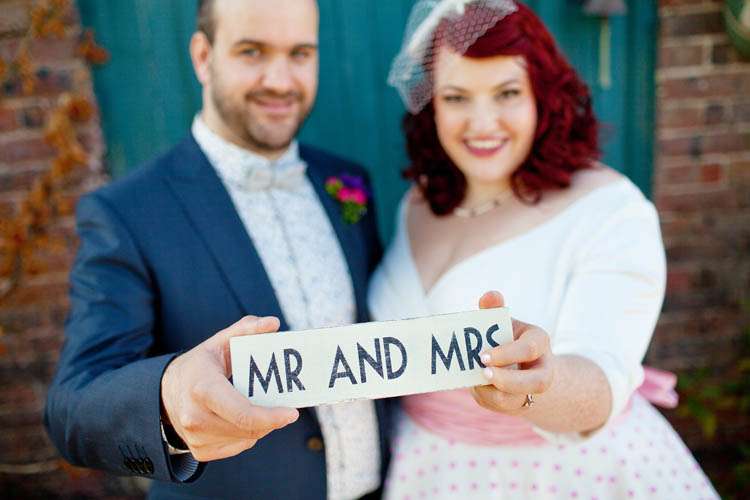 I'm with you on that one Amy! Thanks so much to Amy & Andy and their photographer Annamarie for sharing these with us today.
Supporting Cast:
Photography Credit: Annamarie Stepney Photography
Venue: Gate Street Barn, Surrey
Bride's Dress: Candy Anthony
Bride's Shoes: Vivienne Westwood/Melissa
Bride's Headpiece: Candy Anthony
Groom's Outfit: Marks and Spencer
Bridesmaid's Dresses: Vivien of Holloway
Bridesmaid's Accessories: Tatty Devine
Cake: DIY
Flowers: Flowers by Rosemary, Godalming
Hair & Make Up: Kaz Fernando
DJ: Chess Disco
Stationery: Eyemelt Productions (Friend)
Caterers: Kalm Kitchen