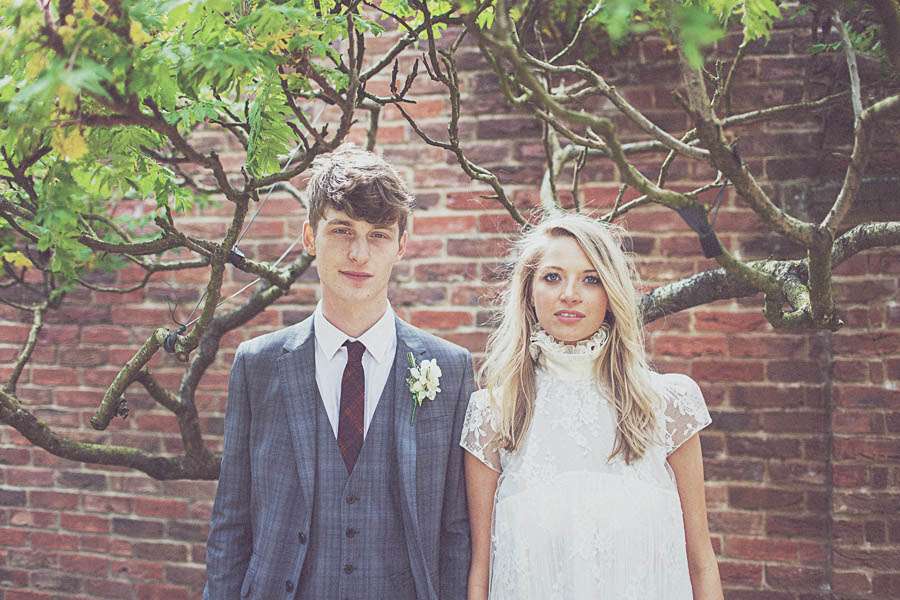 Oh Anna Hardy you do have a way with that camera of yours. A way that makes everything dreamy and beautiful and cool all at the same time… although to be fair, I think you had it pretty easy with Beth & Jonny, like, how totally smokin' are these two!? And Beth's second dress by the epic Delphine Manivet is AMAZING. I love me that high collared cape thingy!
The wedding took place in Yorkshire in June. They had an informal registry office wedding in the morning with just a handful of their nearest and dearest, then got changed and had a big Glastonbury themed ceremony & reception with all their friends and family. As devoted Glastonbury goers, Beth & Jonny chose the weekend that the festival should have been on this year so that all their future anniversaries can be celebrated there!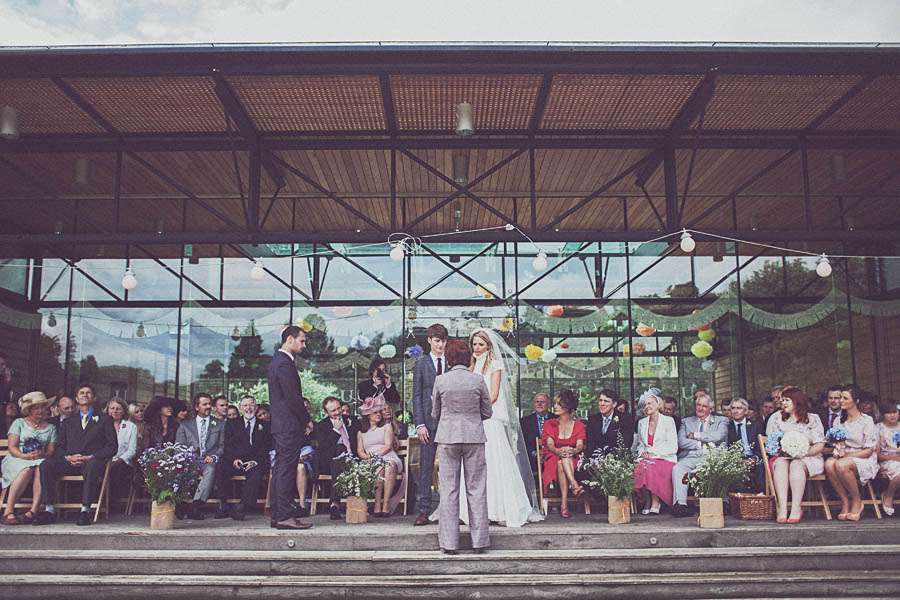 "Originally we wanted to marry in the woods, and have a tipi reception in a field", began the bride. "This turned out to be seriously and surprisingly expensive, and finding a field for rent in the north of England was pretty much impossible. When we went to see the venue at Broughton Hall it was a miserable day to say the least, but even in the rain, the place looked awesome."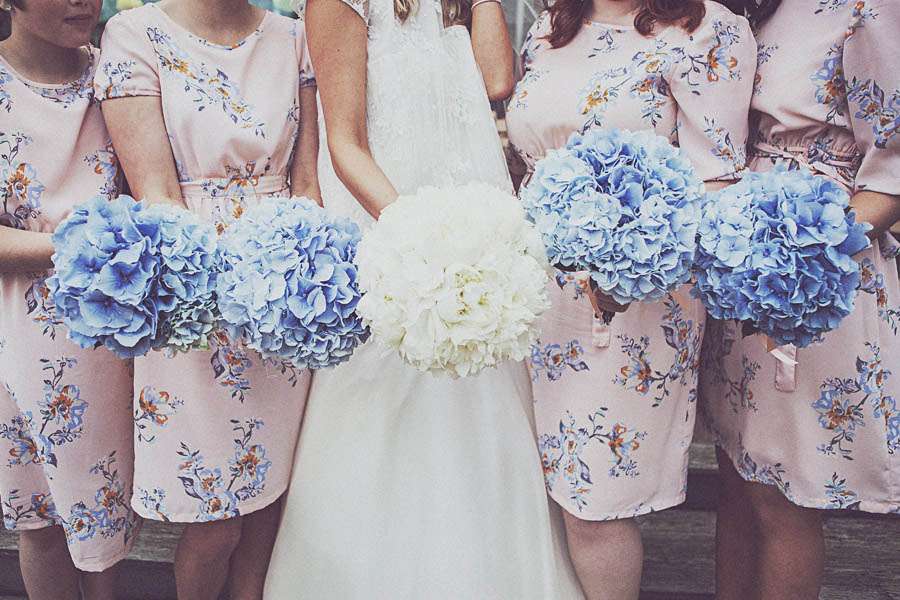 The couple were legally married at noon at the local registry office, with close family and friends. Beth wore a short white dress from Hobbs NW3. "We had planned to have an outdoor blessing in the afternoon under the trees on the Broughton estate but less than 24 hours before the wedding, one of the main roads to the venue had flooded, and the temperature was significantly un-summery. Although Jonny's mum had stocked up on umbrellas for our guests, we resigned ourselves to the fact our wedding was going to be a wash out. I texted our guests reminding them to bring wellies, and we moved the ceremony under cover in anticipation of rain. As it turned out, the sun came out as our guests took their seats. I don't think we have ever been so happy."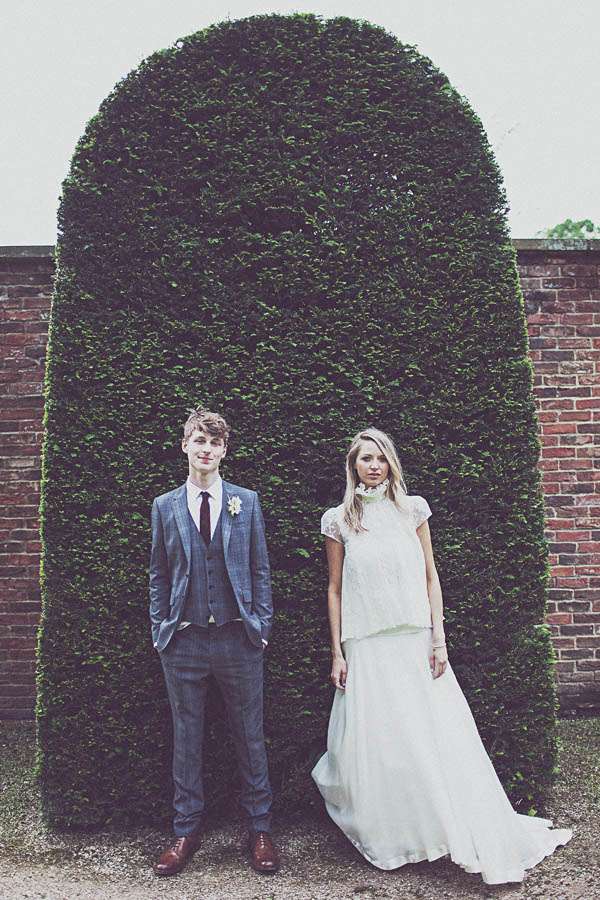 For the reception, the couple wanted a retro festival feel and so alongside their talented friends & family, they set about crafting and making as much of the decor as possible. "We're lucky to have a very talented bunch of friends and family, so the decor was a team effort", Beth continued. "What seemed like hundreds of friends and family descended on the venue the night before the wedding. With them they brought poms, bunting, jam jars, ribbons and enough flowers to give Elton John a coronary. I envisioned a kind of 'retro festival' vibe for the day, but really wanted to try and keep things as laid back as possible, so our guests felt like they were at a (bloody awesome) party. We wanted the day to be personal, so we brought a lot of things from home, and tried to include as many of our favourite things as possible. Rock n Roll Bride was my source of inspiration throughout the whole planning process. I can't tell you how many times I got told off at work for sneaking on for a quick fix of wedding loveliness when the afternoon was dragging!"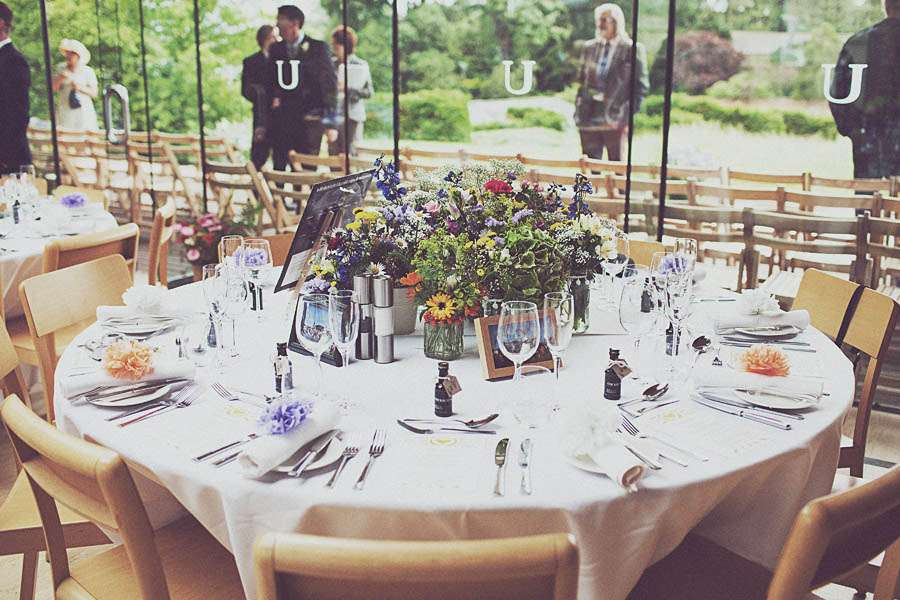 "I actually found our photographer Anna on Rock n Roll Bride, pretty soon after we got engaged in 2010". Beth concluded. "I remember when I first saw one of Anna's weddings and I was in floods of tears. I was absolutely blown away by how beautiful every single image was. Anna's one of the coolest people we've ever met, and has been a star from start to finish. We love her!"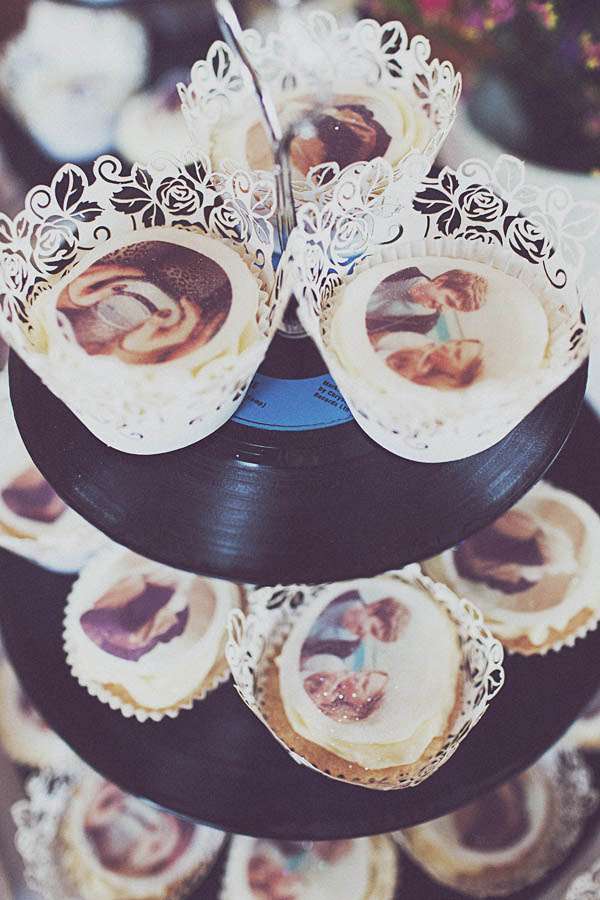 Utterly gorgeous… I bet they'll be a few brides-to-be out there in floods of tears over your beautiful wedding too! Congratulations to both Beth & Jonny and huge love and thanks to Anna hardy for sharing her wonderful images with us today.
Supporting Cast
Photography Credit: Anna Hardy Photography
Venue: Utopia Pavilion, Broughton Hall
Bride's Registry Office Dress: Hobbs NW3
Bride's Reception Dress: Delphine Manivet
Groom's Outfit: Paul Smith
Bridesmaid's Dresses: H&M
Cake: M&S (customised)
Cake Topper: Miss Sarah Cake
Edible Cupcake Photos (photos from their engagement shoot!): www.caketoppers.co.uk
Table Flowers: www.flowers4florists.com
Other Flowers: The Flower Shop, Clitheroe
Make Up: Catroina Jones Make Up
Band: Uncle Frank
Poms: Paper Macaron Studio