So you're probably sick of hearing about The Designer Vintage Bridal Show (I have banged on about it somewhat) but I've just received the official show photographs from my bestie Emma Case and I wanted to share them soon as… I know some of you will want to see my tutu at least!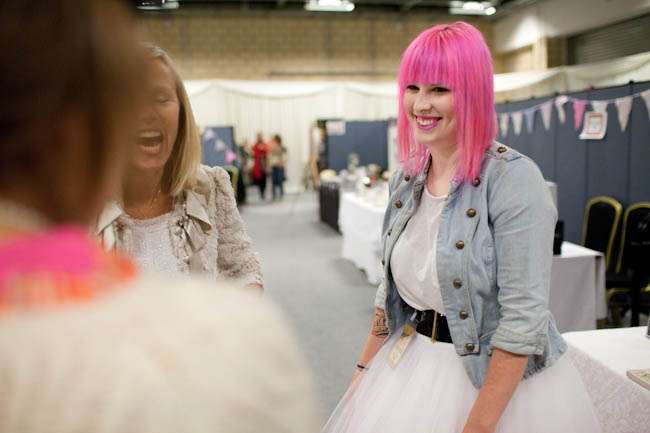 You've read all about the Rock n Roll Bride Magazine that we were handing out, but I thought you might like to see our stand too…cute huh?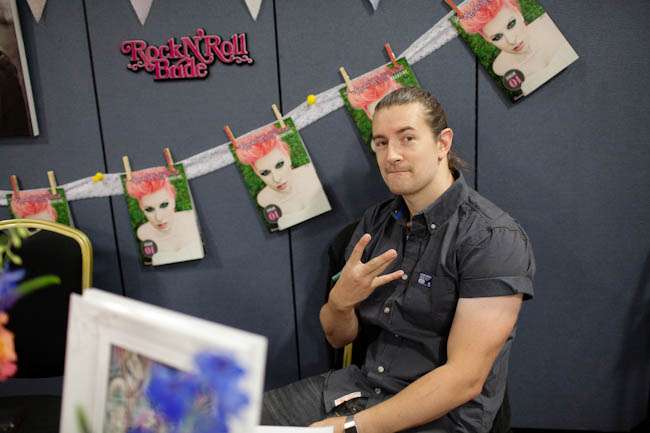 (and no I'm not just talking about my husband…although he totally is)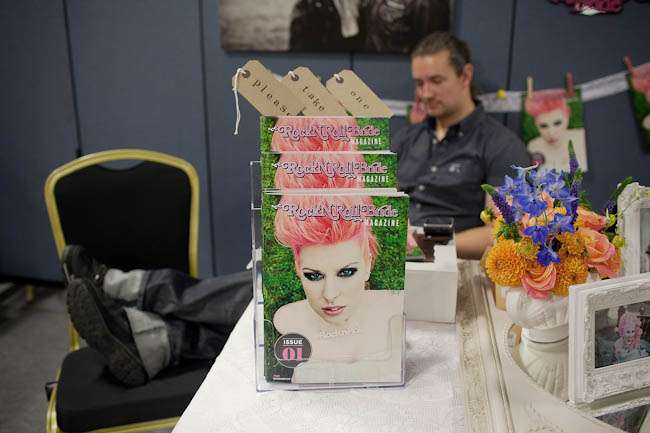 All the love and adoration must go to Gareth who organised most of it, Ava Event Styling who helped me source my 'props', Sugalily for the little price tags and the incredible Cutture who made our logo into a beautiful perspex creation. I love it!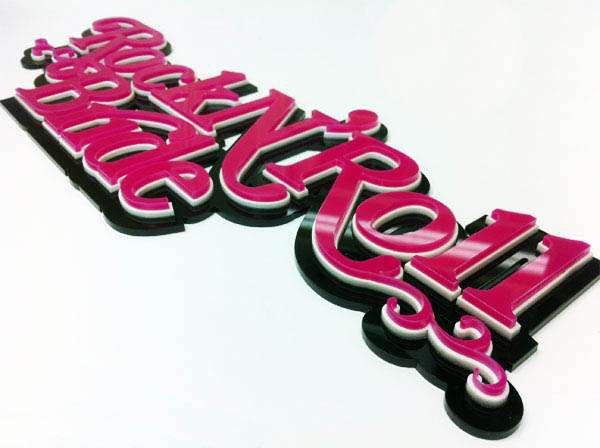 Photo by Cutture
As promised, I wore a massive tutu all weekend. You could always spot me coming! Thanks to the AMAZING Monique of Ouma Cothing who made it for me. It was perfect.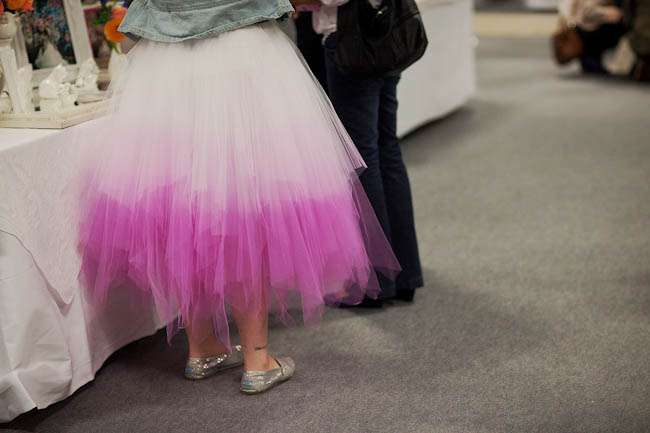 A blogger's work is never done…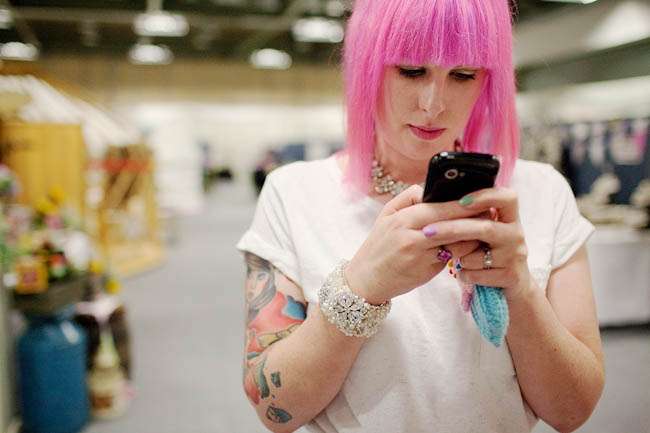 At the catwalk show with the other UK wedding bloggers. Alexis of OMG I'm Getting Married just couldn't put the magazine down, Kelly laughed a lot and Amma wore a giant hat for most of the weekend.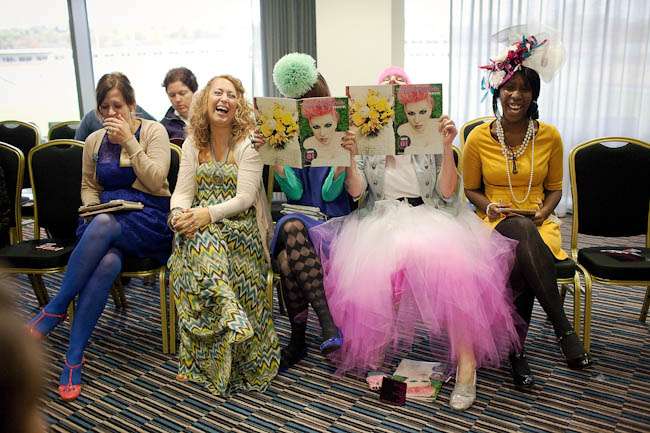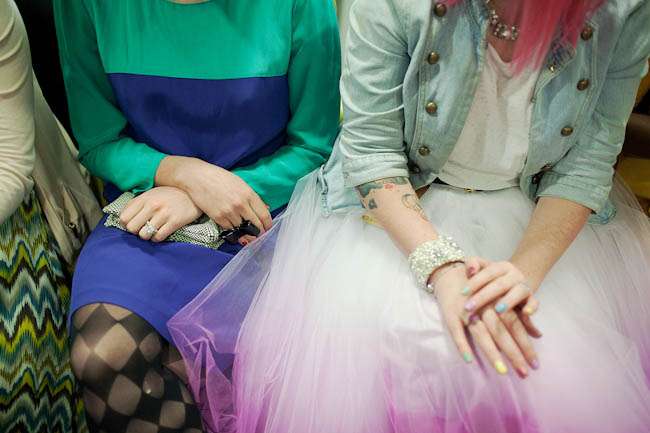 Spookily, Kelly of Boho Blog and I had almost the exact same rainbow manicure!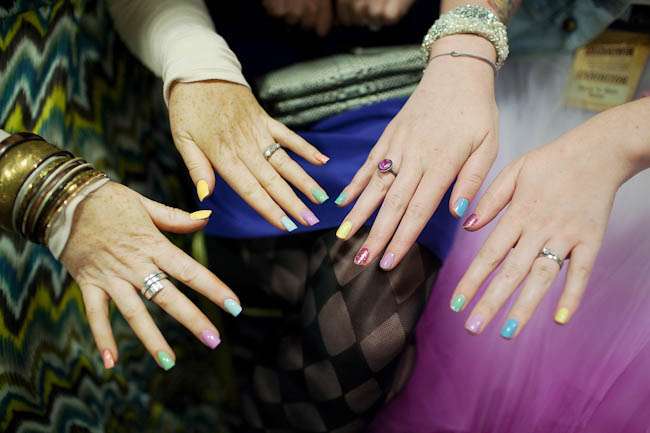 A big part of the show was showcasing some amazing bridal dresses by British designers. Luckily for you lot, Emma and the models did a mini-shoot during the show. I die…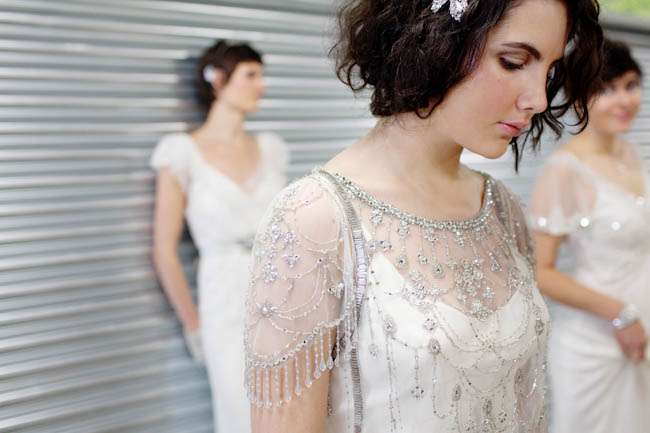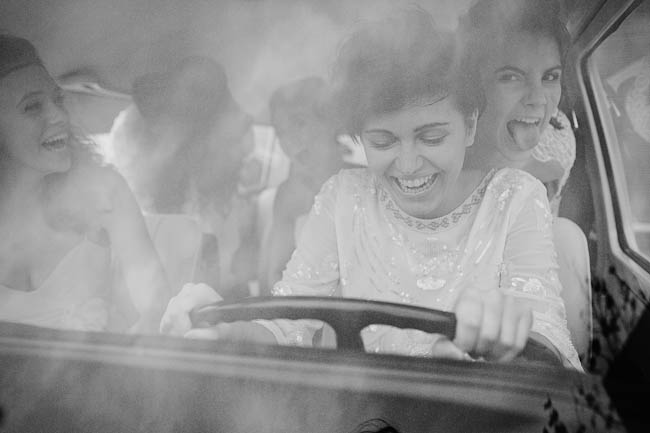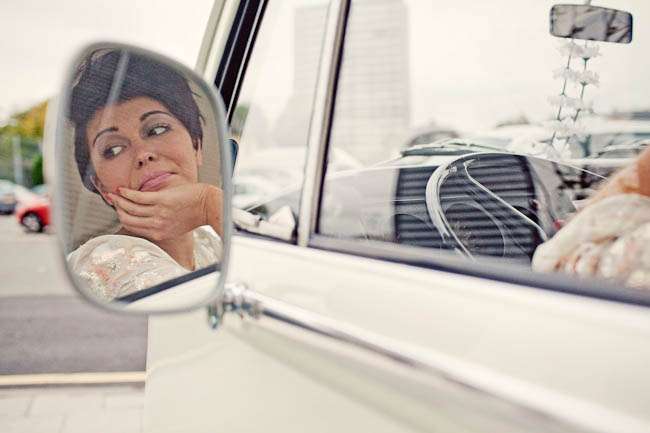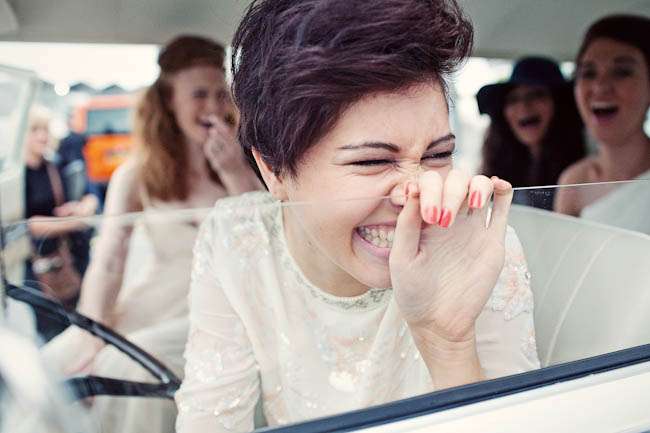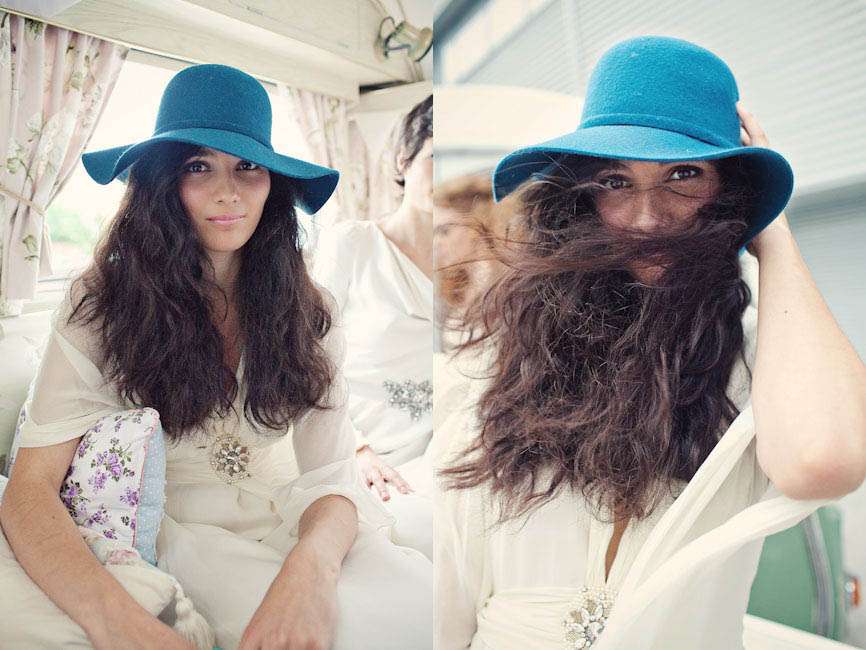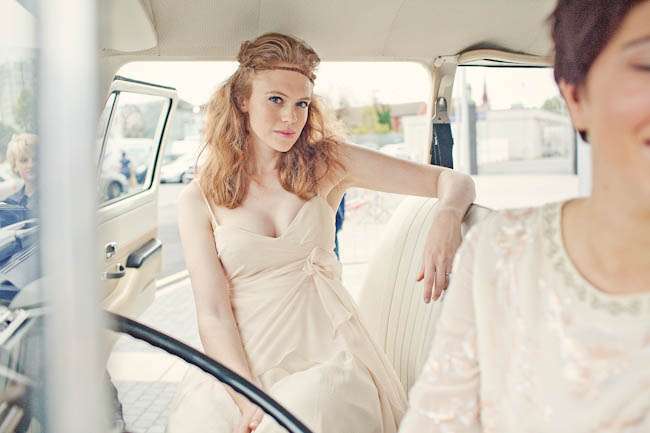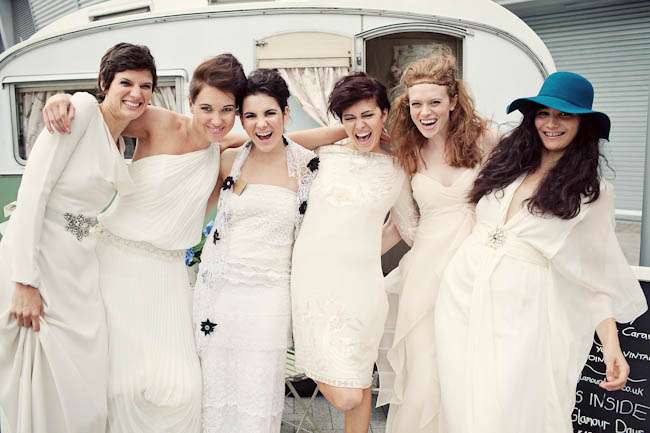 Dresses shown by Charlotte Casadejus, Matthew Williamson, Tobi Hannah, Jenny Packham, Temperley London & The Wedding Club 
And after their shoot, the model's had a break to catch up on their Rock n Roll gossip…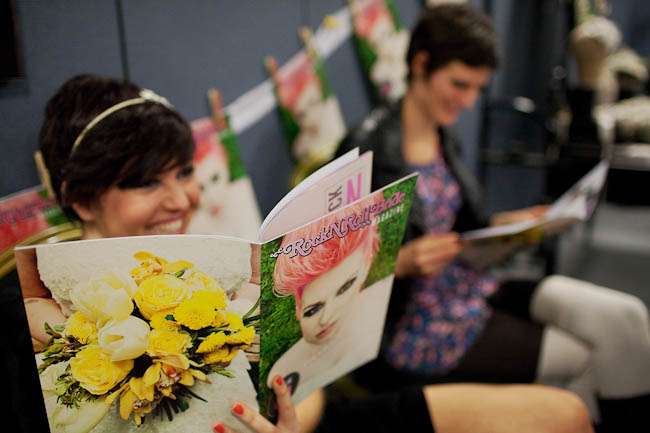 Oh and finally…our poor boys. Gareth (Mr Rock n Roll Bride) and Pete (Mr Emma Case) definitely descended into madness by the end of the weekend. Two full days of being surrounded by wedding-ness – what troupers! Although I personally think they both pull off the 'pimp daddy' look rather well!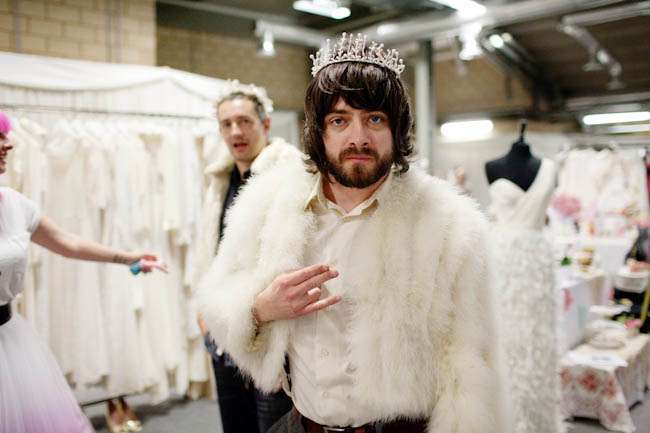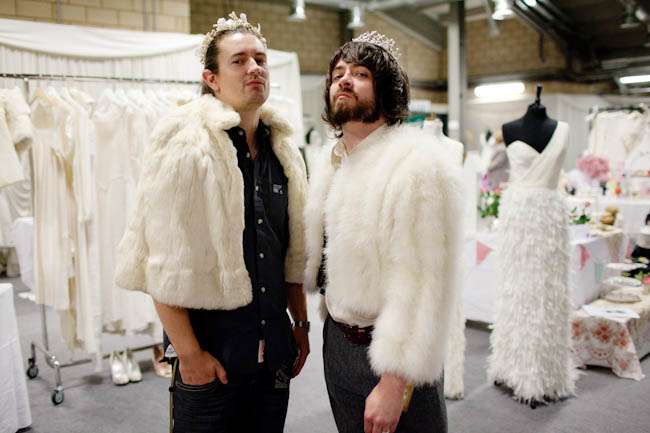 The show was so much fun and I can't wait for the next one. It will be running again in February 2012, so keep your eyes peeled to Rock n Roll Bride for exact date announcements!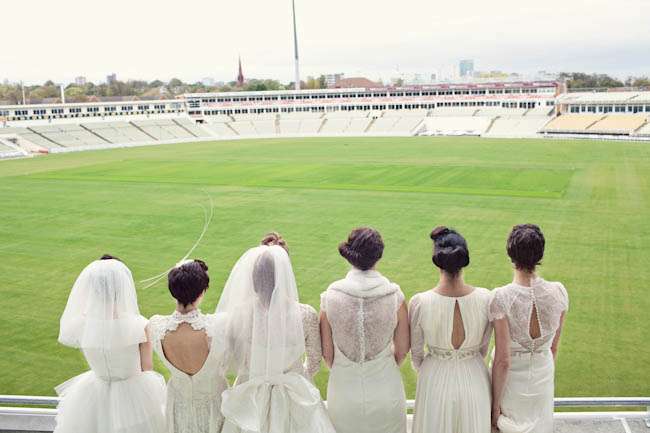 Photography Credit: Emma Case Photography