This Week's Love List…
♥ this ♥ spending a day with Shell ♥ spending a day with Charlotte ♥ vintage bargains ♥ sparkly glitter brogues! ♥ Mexican food ♥ new beauty treats ♥ MoroccanOil ♥ being able to wear tights and jumpers again ♥ furry slippers ♥ mocktails ♥ drinks with cucumber ♥ chai spiced lattes ♥ Gareth making me laugh uncontrollably ♥ clearing out old clothes and buying lots of new ones ♥ knitted mid-length skirts – cute and practical ♥ making exciting plans for a trip to Paris with my best girls next spring! ♥ early morning tweetathons with Megan & making plans to meet up in NYC next May! ♥
Bets of the Rest…
Check out this fab video filmed at the Cosmopolitan Magazine blog awards. You can see me collecting my award and being interviewed afterwards!
And if you want to see another video from the night, here's Adam, Charlotte & I in the photo booth. I'm sure they don't hate me really…
Thanks to photobooth.co.uk for that one! You can see more photo booth photos from the event here.
Cosmopolitan.co.uk also posted some photos from the event here. Here I am collecting my award…I knew it would be a shocker of a photo!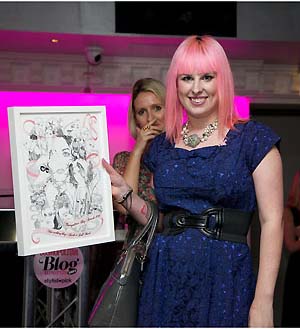 The gorgeous, Ros Shiers, who designed the artwork for the award that's now adorning my office wall, would like to offer all readers of Rock n Roll Bride 30% off anything in her online shop. I'm utterly smitten with her cute illustrations, so be sure to go check them out.
Simply enter discount code ROCKNROLLBRIDE30 at the checkout to qualify. Offer valid until midnight next Sunday (5th November).