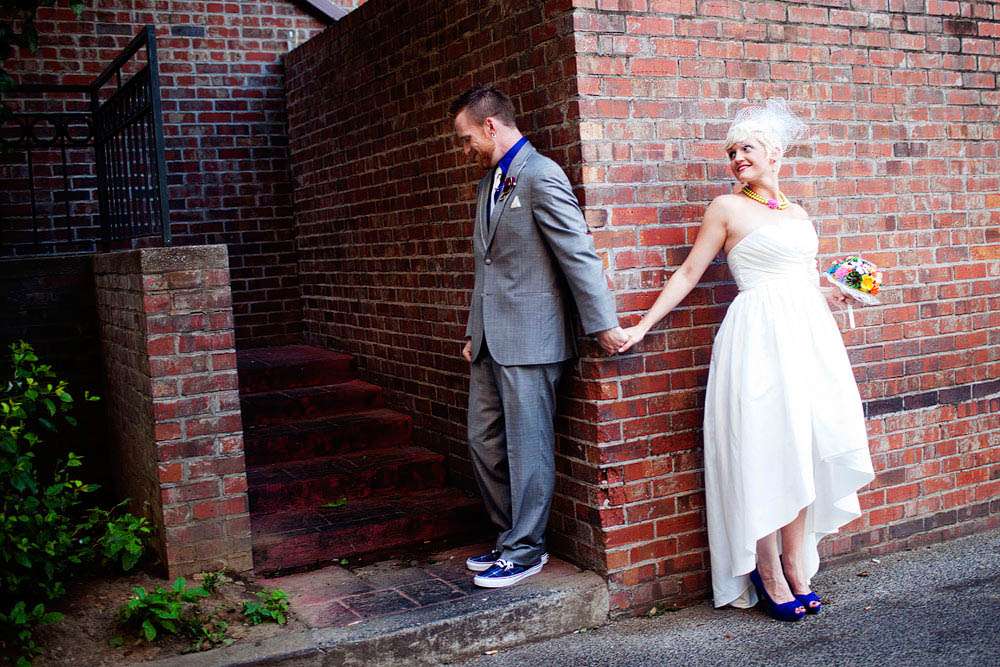 April & Christian's rooftop wedding was held at Aerial in Nashville and from the sounds of things it was a fun-packed wedding from start to finish. "The ceremony was on the rooftop in downtown Nashville right beside all the honkey tonks," photographer Alex Bee told me. "The bridal party DANCED down the aisle to live music played by the bride & groom's brothers. They really got into it! The bride's entrance had the most tension/energy/anticipation that I have ever experienced at a wedding. The bride entered the ceremony to rising beginning guitar solo of  "She's the One" by Bruce Springsteen. Did I mention that they passed out tambourines & eggshakers & encouraged the guests to play along? It was really amazing! The reception was an epic rooftop dance party + karaoke."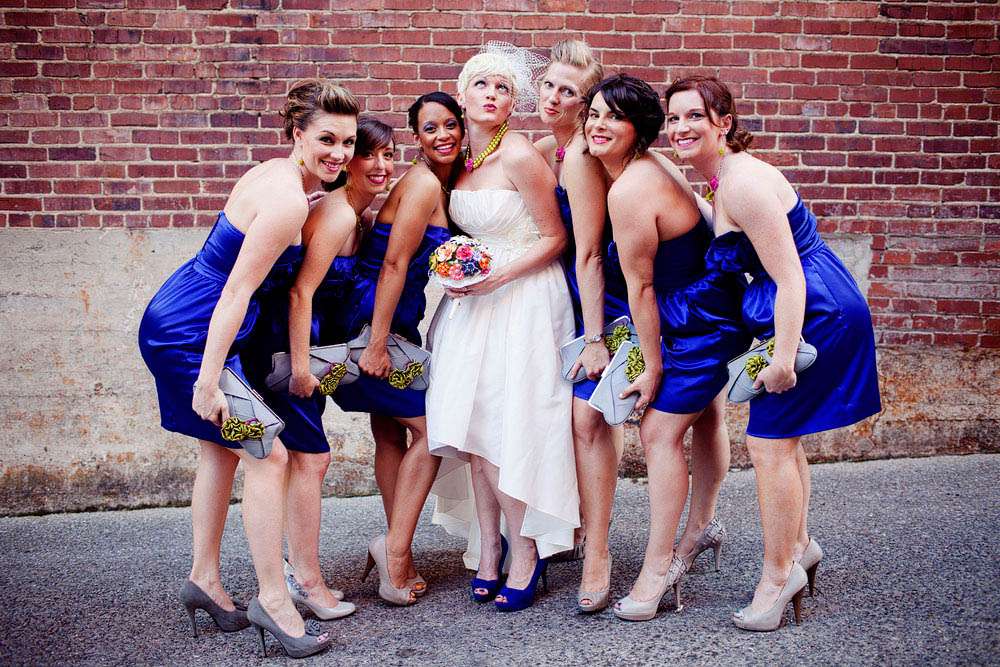 April's dress came from Watters, but with the help of a clever dressmaker, she customised it to create her perfect gown. She also worked closely with designers to create her bespoke headpiece and jewellery items. The bride's Mum even made the beautiful (and awesome!) bride's bouquet, bridesmaid clutches and all boutonnières.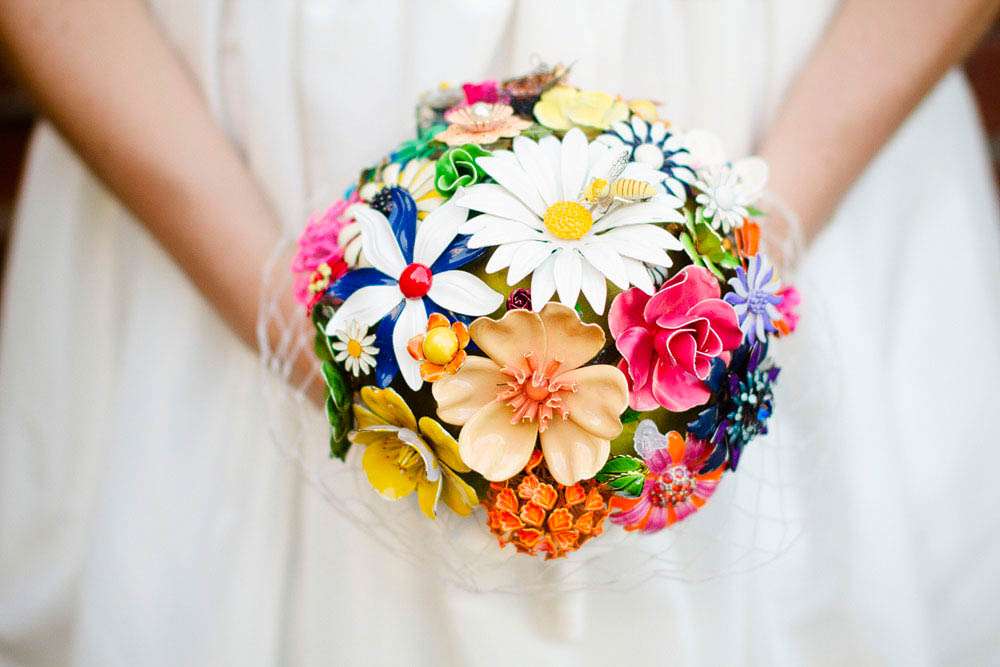 "I had a vision from the beginning that I wanted something wildly eclectic, but with a Nashville-esque retro vibe," the bride told me. "I was a terrible shopper for dresses, etc. Nothing in any bridal store felt like "me", so I ended up starting from scratch with artisans all over to put it all together. I have Etsy to thank for a lot of it!"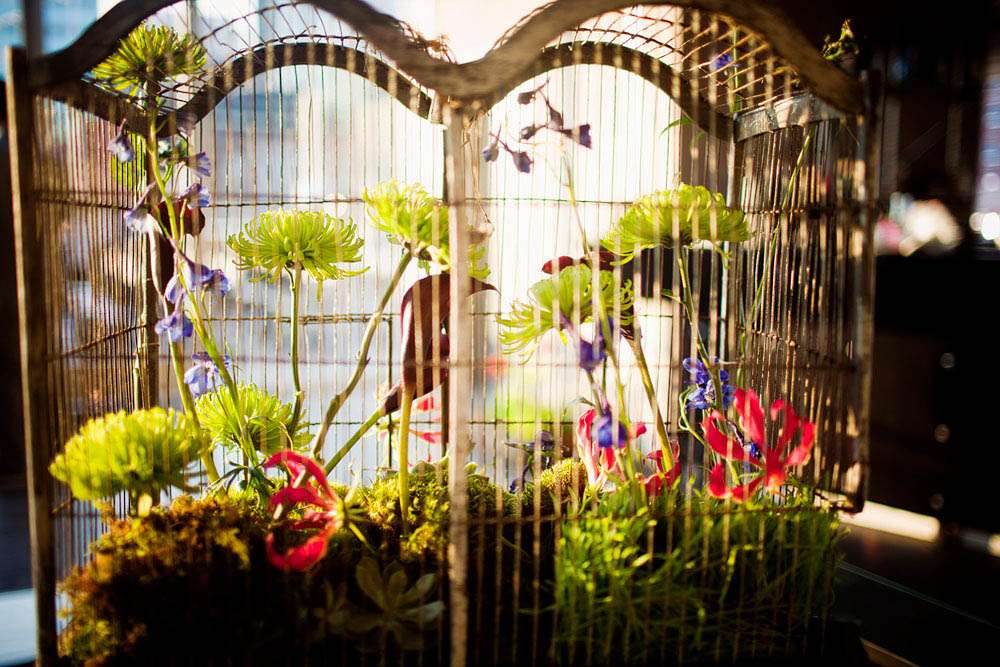 "For the decor, we wanted the rooms to feel homey – like a great vintage condo you never want to leave – but with the small twist that the interior of the venue have an outdoor/back porch feel (birdcages, grass, etc), and the outdoor space feel like the heart of the house (cake platters with overflowing flowers, a bookcase altar, and photo wall created with vintage curtains and antique frames). That vibe, mixed with a meticulously crafted playlist, and the special touch of karaoke, made our wedding just the kind of Rock n Roll house party we were looking for!"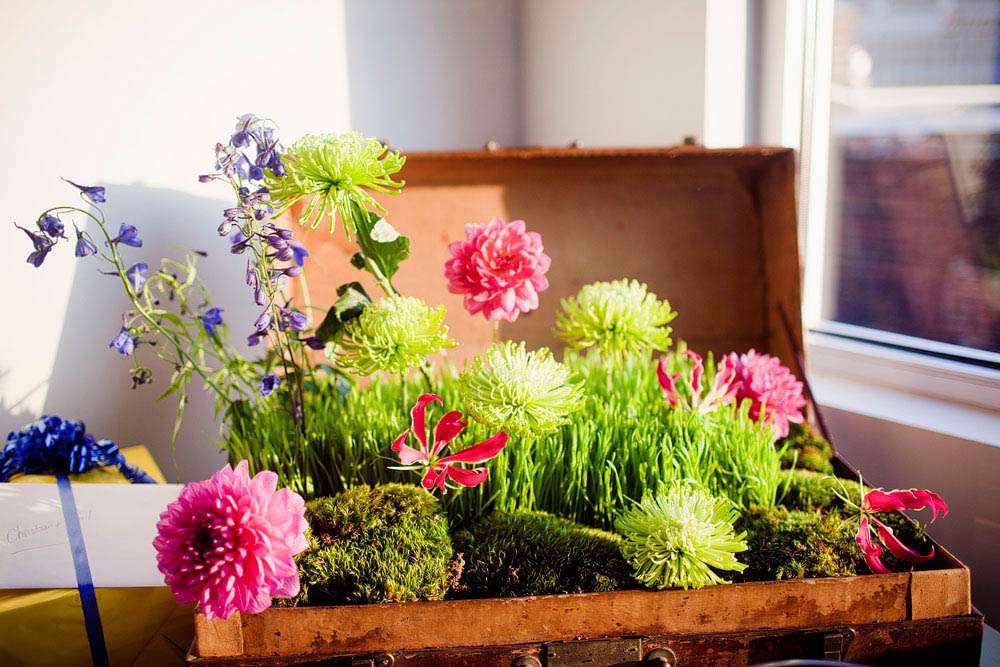 "My top tip would be to work with people you know whenever possible, get ideas from everyone, and dont ever be afraid to ask – whether its about price, or some cooky idea you have floating around in your brain – there's someone out there on your wavelength, or who wants to get there and just needs a little help! And whatever you do, make the wedding YOU. Embody yourselves in the event, and your guests (and you) will have an unforgettable time!"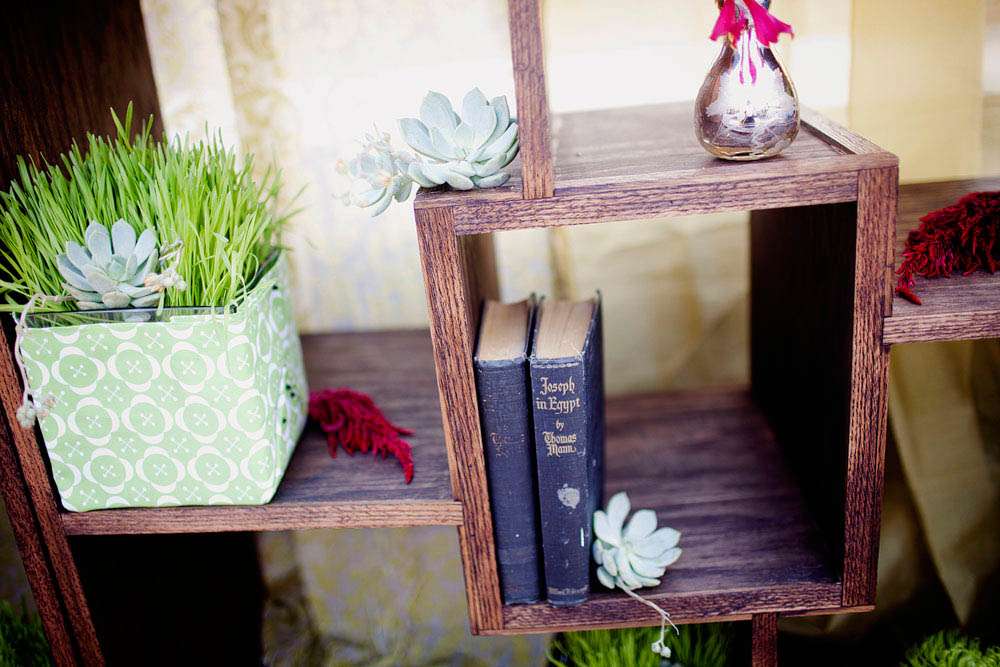 Thank you so much to April & Christian and their photographer Alex Bee for sharing this colourful wedding with us today. You can see more about this wedding on the couple's wedsite here.
Photography Credit: Alex Bee Photo
Venue: Aerial in Nashville
Bride's Dress: Watters
Bride's Shoes: Qupid
Bride's Headpiece: FascinatingCreations on Etsy
Bride's Jewellery: CalistysCreations on Etsy
Groom's Outfit: Men's Warehouse
Bridesmaid's Dresses: Nostalgia on Etsy
Cake: The Cupcake Collection
Flowers: Village of Flowers
Planner: Adrienne Lupo-Kloock of Embellished Events
Hair & Makeup: Say Crockett of Studio Green
DJ/Karaoke: DJ Bob at REM Entertainment
Catering: Chef's Market