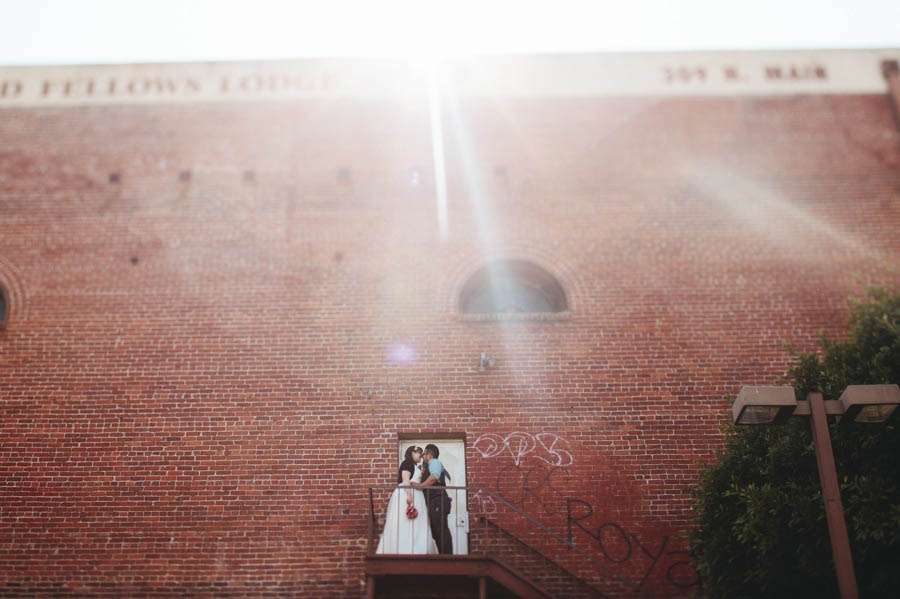 One of the things that bums be out about living in the UK is that we can't get married anywhere we like – of course many couples these days opt for a humanist ceremony at the spot of their choice with the 'legal bit' taking place a few days before or after, but it's not really the same. And when I see ceremonies as gorgeous as Candice & Nathaniel right in the heart of Downtown Santa Ana, I'm even more envious!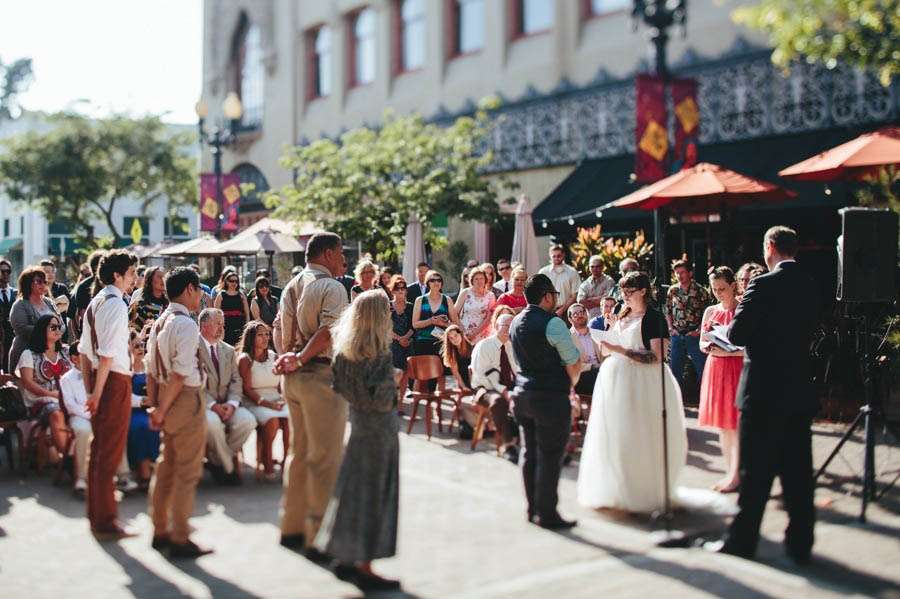 The wedding took place on June 3rd. The couple organised everything themselves and did so for less than $5000. The ceremony was held on 2nd Street Promenade, and the reception was at Memphis at the Santora, just round the corner. The couple met online and had their first date in the area, and Nathaniel proposed on New Years Eve at Memphis at the Santora,. Basically it was the obvious location for them to have their wedding too!
"Nate & I met online through the most unlikely dating site, OK Cupid", explained Candice. "Our first date was spent in Downtown Santa Ana, where I was living at the time. Most of our first dates were spent hopping around the bars and restaurants in that neighborhood. We got engaged at midnight on New Years Eve at Memphis at the Santora. All of our friends were there, the bar bought us a bottle of champagne, and I couldn't have asked for anything more romantic and loving. We celebrated the rest of the night with our friends, and even called our families at about 1am. It was fantastic."
"We had a very limited budget. I knew we couldn't spend more than $5000. Our plan was to get married, ask for cash and move to Portland, OR. The only way we could do that was by spending as little as possible. The limited budget was really to our advantage actually. It made us get crafty and use our resources wisely. I can't stand traditional weddings that have no personality. We wanted our friends and family to know this was our wedding, and it certainly screamed US. We chose to just do things our way, like designing and producing all our invites. No one will ever have the same invitations as us, and that was so important."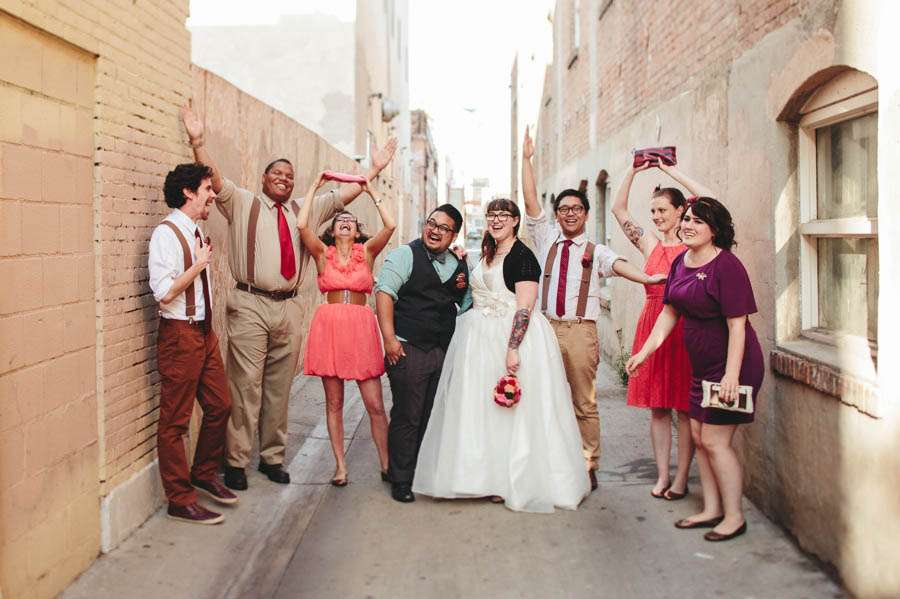 "Our friend Johnny Sampson married us", she continued. "He's not only been a long time friend, but he has been my bartender for many years. He really knows me a lot better than some people, and really saw the development of mine & Nate's relationship. He made our ceremony so personal, it definitely brought a lot of tears not only my eyes but a lot of our guests as well. We wrote our own vows, and no one heard them until the ceremony. It was really special, and I couldn't hold back tears. We both promised to always have dance parties, and Nate called me the Duchess of Brunch which is pretty accurate. Most of our weekends are spent making brunch and drinking mimosas, while he plays music. I always call him my Breakfast DJ. Nate's only request for the wedding was a mashed potato bar. Memphis was fantastic and put together an amazing spread. We had a variety of awesome toppings including 3 different kinds of cheese, 2 different gravies, bacon, and they even got some veal chorizo just for us."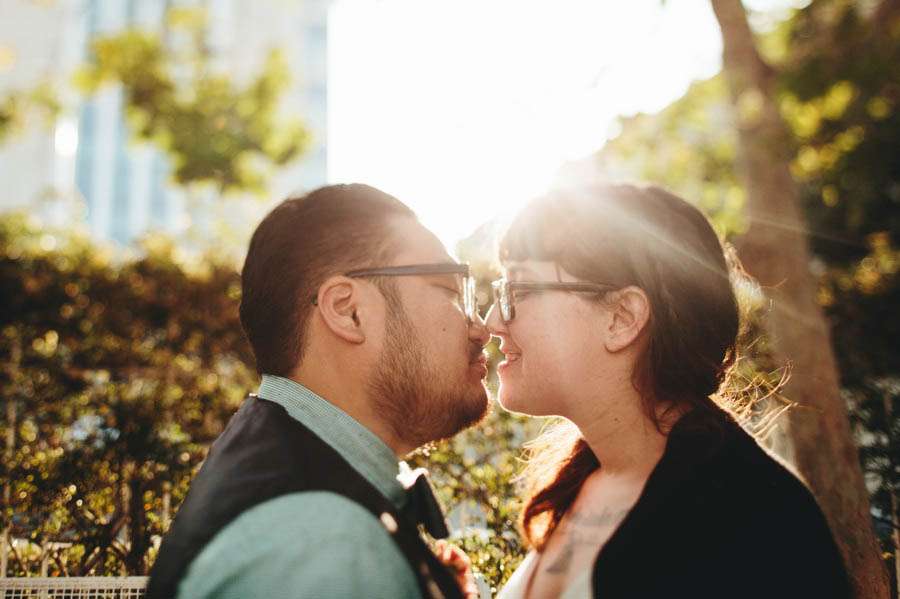 I'm even more thrilled to share this wedding today because Candice was an avid Rock n Roll Bride reader throughout her planning. "We really tried to DIY as much as possible for the wedding. I used the fabric flower bouquet tutorial from Rock n Roll Bride to make the base of my bouquet. I then made a ton of felt flowers and went crazy with my hot glue gun. I then made boutonnieres  or all the guys, and my bridesmaid Nicci helped me make the felt flower headbands for the girls."
"My advice for all brides-to-be would be to enter any and all wedding contests! I won my dress from a contest on Rock n Roll Bride, so I only had to pay for it to be tailored and have the bustle put in. We also won an engagement shoot, and even got to go to a wedding DJ workshop where we learned to spin. These were all really awesome and memorable activities throughout our engagement."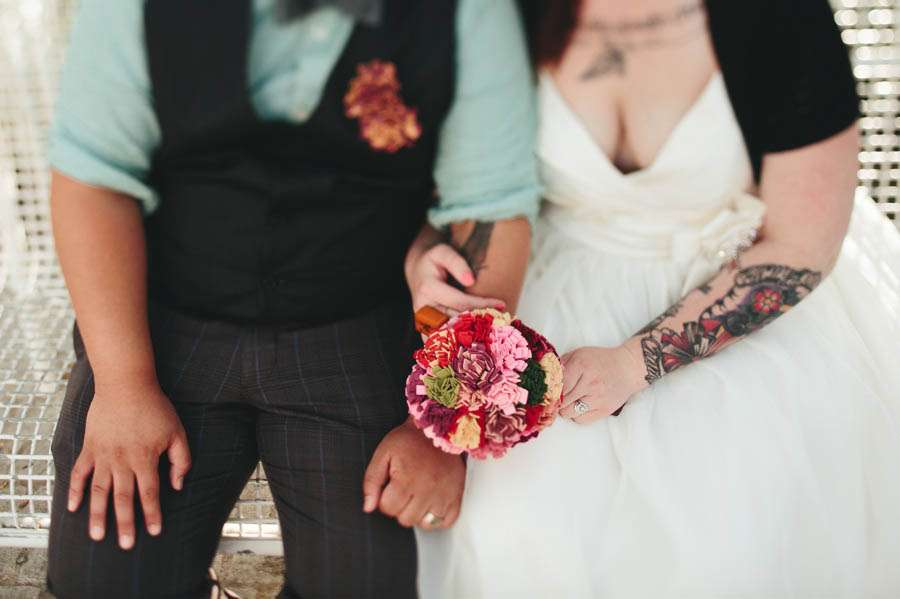 AMAZING! Thank you to Candice & Nathaniel for sharing their wedding with us today.
Supporting Cast
Photography Credit: John Robert Woods Photography
Venue Memphis at the Santora
Bride's Dress: Simply Bridal, tailored & bustle added by Janet Brunton – janetbrunton@gmail.com
Bride's Shoes: Bakers
Bride's Headpiece: Giant Dwarf
Bride's Jewellery: Le Modern Trinket
Groom's Outfit: Originial Penguin Clothing
Bridesmaid's Dresses: Various
Cake: Beverly's Best Bakery
Flowers: DIY
Hair: Nicole Simon
Make Up: Patty German
DJ: Steve Fisch & Brian Maul (friends, regular DJs at Memphis)
Stationery: DIY
Photo Booth: All Smiles Photo Booths