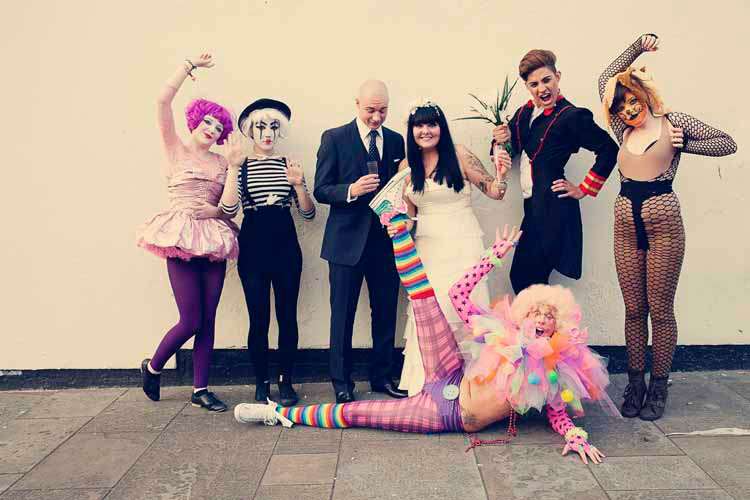 Ant & Lou were married in Chianti, Italy but had a massive reception party at The Kazimier nightclub in Liverpool on their return. "We wanted to get married abroad and bring with us all of the people we love dearly," Lou told me. " It was important to both of us to have our friends and family there, but to also have a very personal wedding, something that was exactly us.  We found a beautiful castle in Chianti, Italy and started our wedding process from there.  Everyone came on different flights at different times on different days and even though there was an ash cloud, an unexploded WW2 bomb found in Pisa airport and severe winds causing planes to be diverted, everyone got there eventually.  One group of friends were travelling for 26 hours just to get from Liverpool to Tuscany! but they made it and their positivity was beautiful."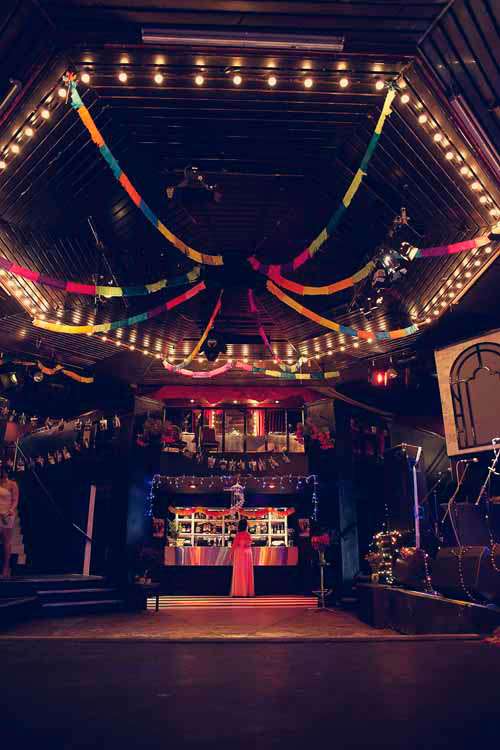 The couple asked photographer Assassynation to photograph their reception in Liverpool. I'm actually really good friends with Sassy and she emailed me the day after this wedding to excitedly tell me all about it and that I was going to love it…and she was right!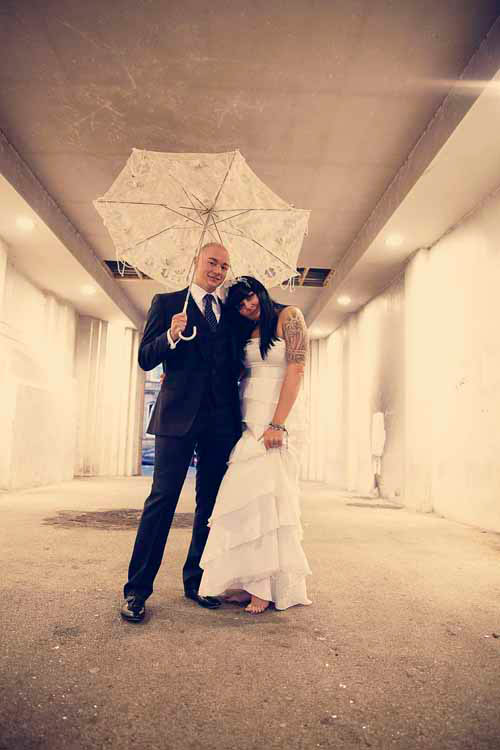 "We knew we wanted to have a party at home to be able to invite all of out friends and family that couldn't make it to Italy," continued the bride. "We also knew we had to have it in the The Kazimier – what an AWESOME venue. We took our inspiration from everything we love… I think that was why it was so eclectic.  We didn't have a specific theme and we probably wouldn't have stuck to one anyway as I'm a bit scatty. We wanted our wedding to be enjoyable for us and for everyone we love whilst still maintaining our personalities. An off the shelf wedding was definitely not for us."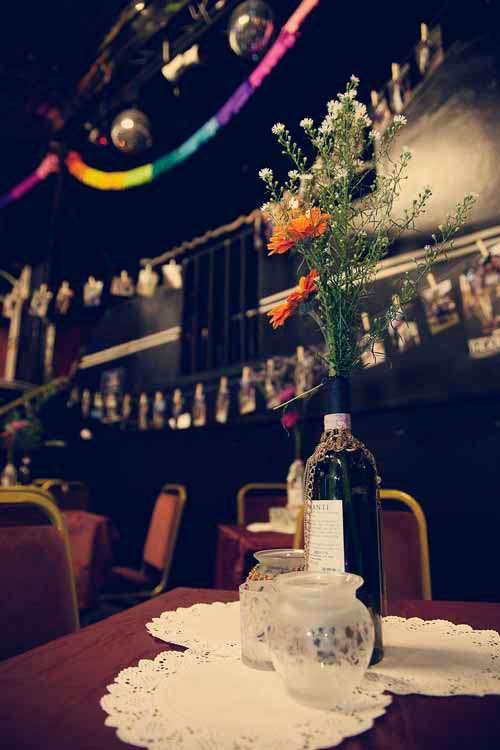 "Everything was so natural, nothing was contrived, we just arranged things that we would enjoy and tried to make it as fun as possible. A friend at the reception actually said 'If you could get inside Ant and Lou's heads, this is what it would be like!'"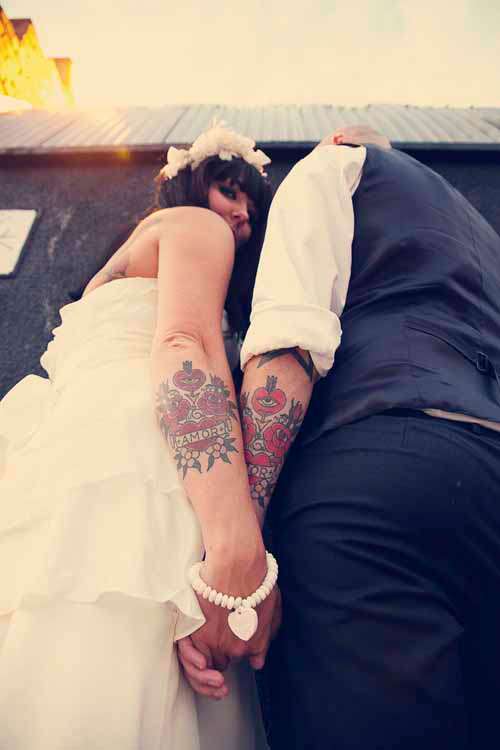 The couple set everything up at the venue themselves the day before. Their DIY decor included a kissing booth; countless sets of fairy lights, tea light holders, lanterns and a collection of jam jars and Chianti bottles (collected over a year) to house wild flowers and candles; a washing lines with photos from the wedding pegged to them; a gypsy caravan; a 'big fat gypsy wedding' cake; a huge shark's head bursting out of the venue into the garden; an old popcorn cart. They even employed an entertainment team comprised of a clown, a circus master, a ballerina, a mime artist and a lion to greet the guests. They also gave out roses, champagne and canapes as well as made for some pretty incredible photographs!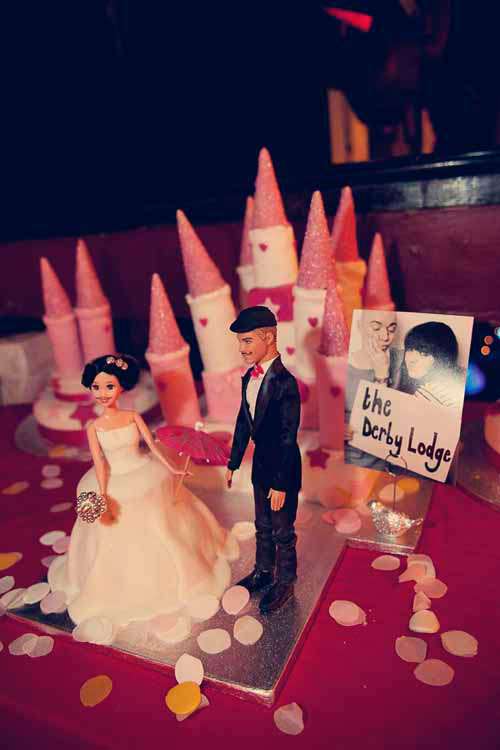 Lou wore a dress from Monsoon and a vintage veil from the 1980's which she found in a charity shop. Her bridesmaids also all wore Monsoon dresses but they were told to pick any one they liked and felt most comfortable in.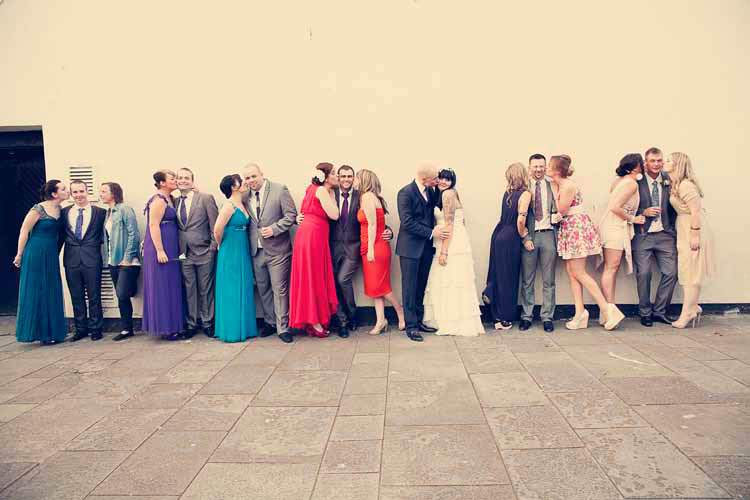 Whoa visual overload! Don't you just love Ant & Lou? Now this is a Rock n Roll Bride….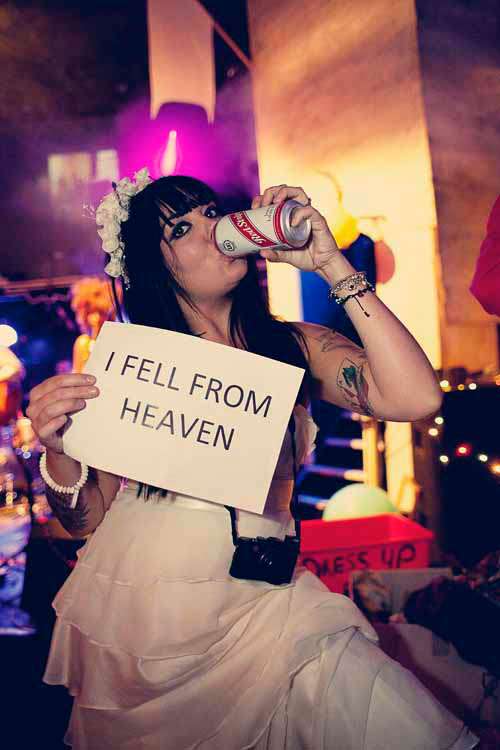 Huge love and thanks to Ant & Lou and their photographer Sassy of Assassynation for sharing this killer wedding with us today.
Photography Credit: Assassynation
Ceremony Venue: Villa Fabbroni, Italy
Reception Venue: The Kazimier, Liverpool
Bride's Dress: Monsoon
Bride's Shoes: Faith & Dune
Bride's Headpiece: Vintage
Bride's Lace Umbrella: DIY
Bride's Vintage Brooch Bouquet: Posy & Lace
Groom's Outfit: Ben Sherman
Bridesmaid's Dresses: Monsoon
Cake: DIY
Flowers: DIY
Band: We the Undersigned
DJ: George Rix from Liverpool based band The Ticks