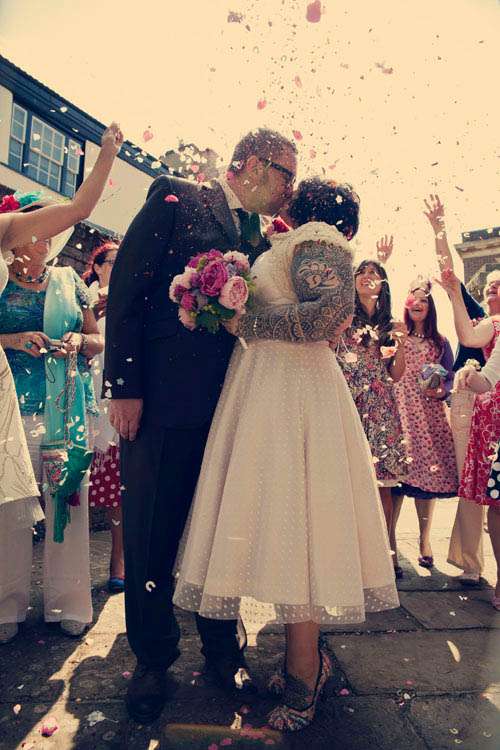 OK so I am one lucky wedding blogger. My friend and photographer Assassynation sends me the very best weddings to feature! It helps that so many of her brides are readers of Rock n Roll Bride anyway (yeey!) but I just have to say that her work and new video project (with cinematographer Frank) is on FIRE right now. Today's little gem comes in the form of the adorable backyard wedding of Nic & Mike.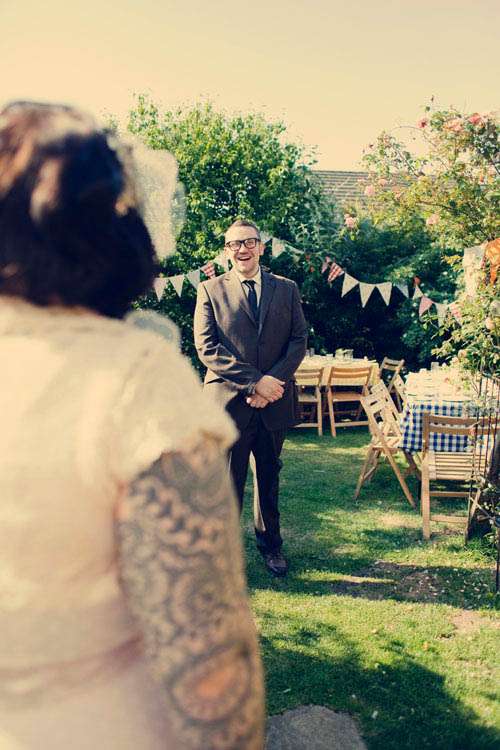 After getting ready at the home they shared, Nic & Mike were wed at Exeter register office – which they travelled to together in their own car. After the ceremony and some portraits in and around the town, the couple and their guests headed back to their house for a casual and gorgeous reception in their back garden.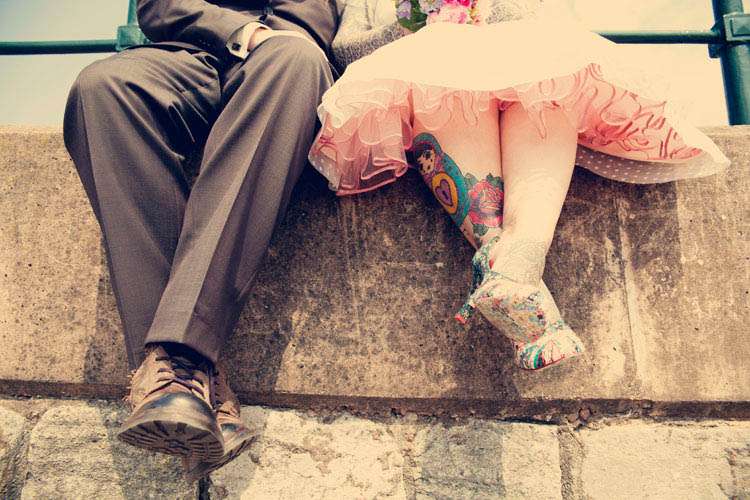 "Being true to ourselves was really important," the bride told me. "The main thing was always that we did things our way, with the people we love (for who we are) around us to share the celebration. If that's Rock n Roll then ace but truly that's just us being ourselves. We're both pretty creative people and I'm not especially good at delegating so it made sense to do it ourselves, that way we made sure we got what we wanted but we tried not to be too precious about anything."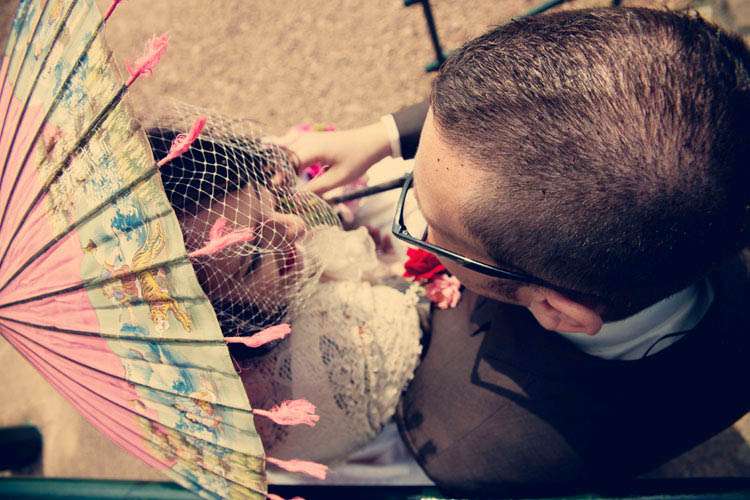 "In our humble opinion being Rock n Roll isn't something to aspire to, or something to try to create-it's about being true to yourselves-whatever that may be. Don't try to do things for your wedding to please others or because it's what you think you ought to-do what you want and enjoy being yourselves."
The bride wore a dress which he bought online at Unique Vintage. "It was a scary optic white when it arrived but I soon sorted that by first tea staining it and later coffee staining to get the vintage finish." With this she wore a bolero House of Fraser (which she again tea stained herself) an old scarf as a belt and Irregular Choice shoes.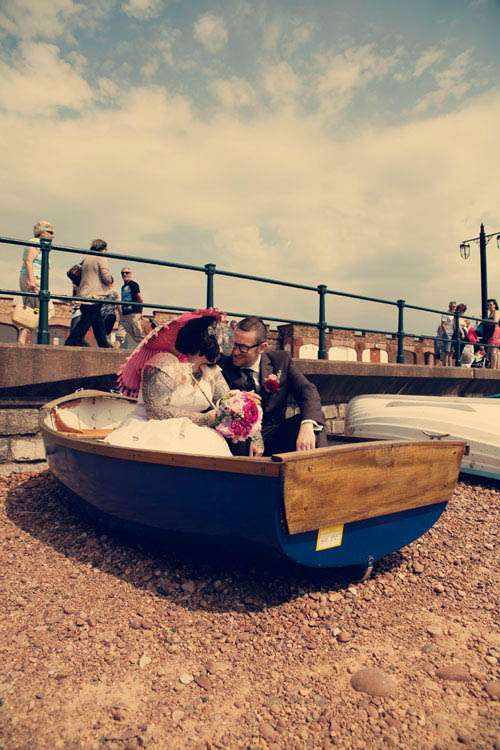 "You'll recognise my shoes Kat, as it was on Rock n Roll Bride that I saw them first, on that shoot you did on Whistable beach" Nic explained. "They were my first wedding outfit purchase, I kinda worked upwards from the shoes!  I knew from the outset that I wanted a fifties inspired dress and for it to be tea length. Our budget was tight plus there was no way even if we had the money that I wanted to spend over £150/£200 on my outfit, so I searched online for something."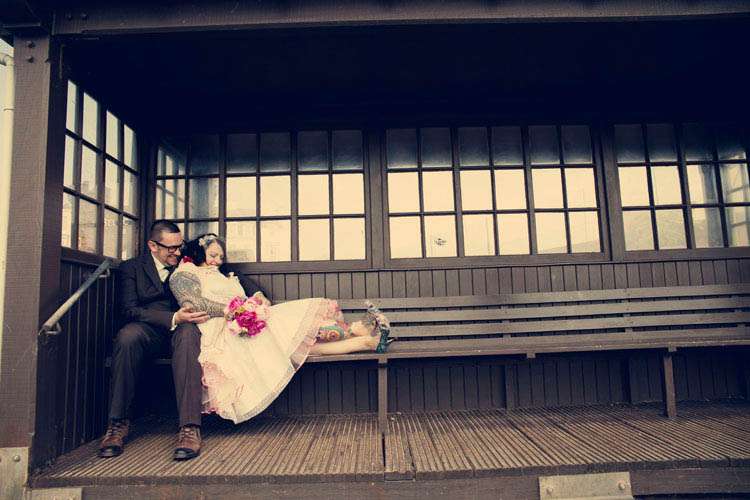 "I saw some gorgeous Candy Anthony dresses so used those as a reference point. I saw Kat feature this dress by Unique Vintage on another bride in America so I checked them out and when I saw this one there on the screen again I knew it was right. I was a bit shocked at the whiteness of it when it arrived but I soon sorted that out. My eleven year old daughter thought I was mad dunking my brand new wedding dress in the sink full of Earl Grey but it didn't really surprise her!"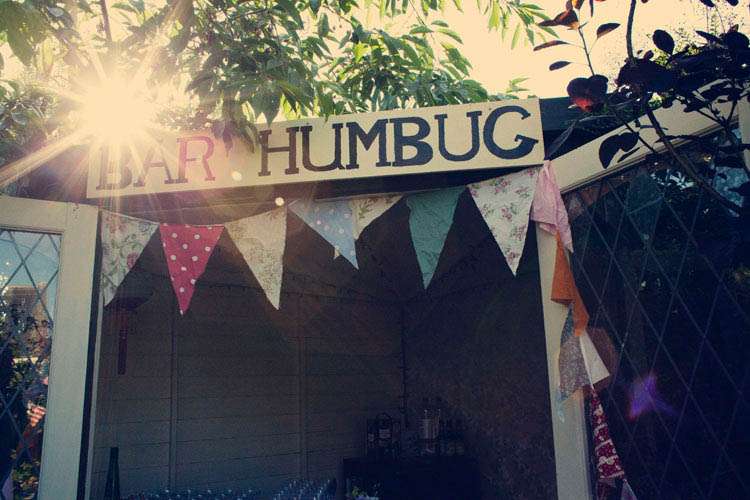 As you can imagine, the majority of this wedding was homemade. The bride made all the cupcakes, and she bought all the flowers beforehand and put them together, in jam jars, herself.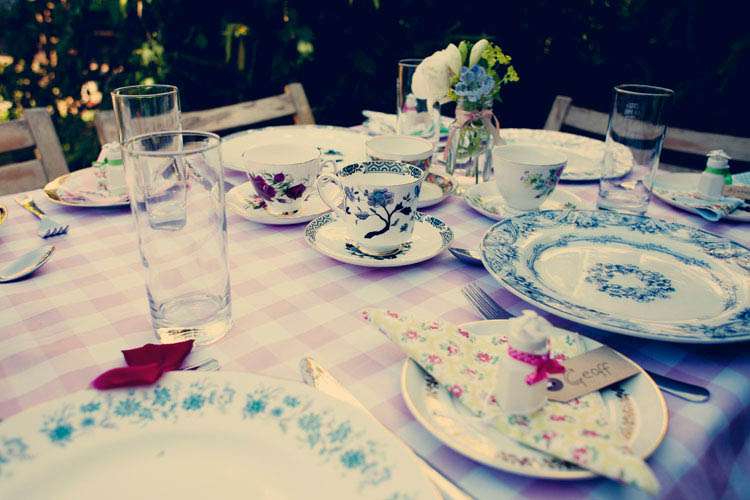 "We collected all of the vintage china in the months before the wedding, from our local recycling centre," Nic continued. "I made the cake stands myself and the tablecloth were bits of fabric from eBay. We colour-coded the ribbons on the frames with the table plans in them to the tablecloths. The old suitcase cost £14 from a local junk shop which we then used for our cards to be put into. We had said on our invites that we'd rather not have gifts as we have all we need in our home, but if people wanted to contribute to our honeymoon then that would be lovely."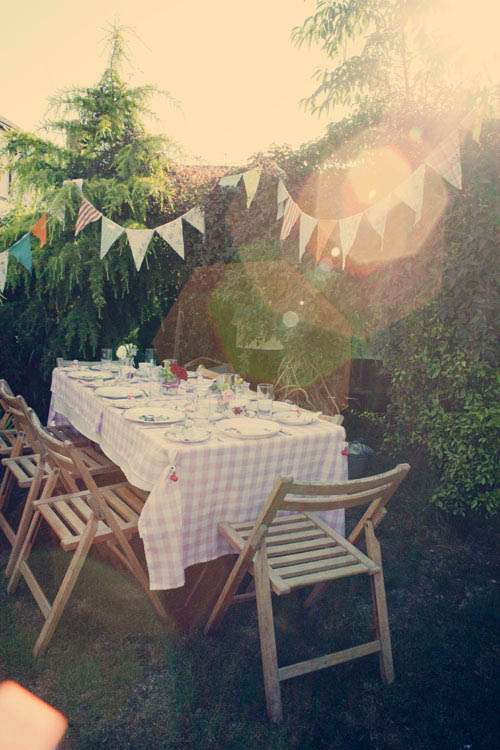 Don't forget the video! How could you really when it's as stunning as this?
Huge love and thanks to the gorgeous Nic & Mike and their photographer Assassynation & videographer's Sassy 'n' Frank for sharing all this awesomeness with us today. I die…
Photography Credit: Assassynation
Videography Credit: Sassy 'n' Frank
Ceremony Venue: Exeter register office
Reception Venue: Home
Bride's Dress: Stop Staring from Unique Vintage
Bride's Shoes: Irregular Choice
Bride's Headpiece: DIY
Groom's Outfit: Austin Reed
Bridesmaid's Dresses:
Cake: DIY
Flowers: DIY
Band: DIY (a friend)