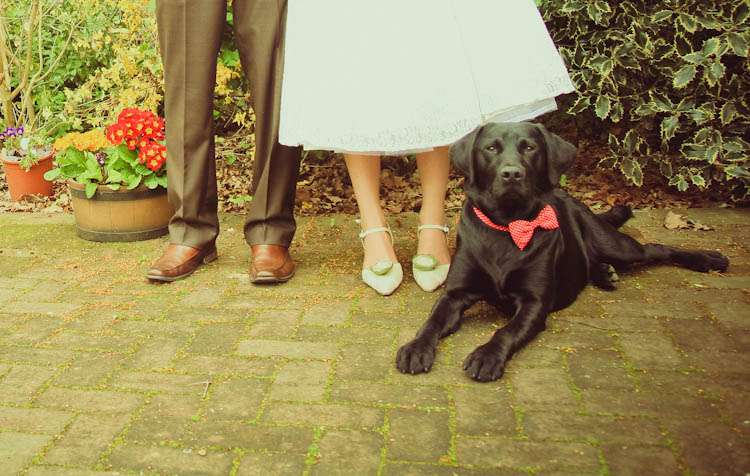 Laura & Rich's classic English themed wedding had some super quirky and personal touches. The couple were legally married at Merton Register Office, London and a few days later had an outdoor blessing ceremony and their reception at Tilford Institute, Surrey. "People were confused as to why we had two days, but why not?" Laura told me. "I wore my dress twice. I was driven in a posh car twice. The first day with my dad, nervous; the second with my new husband, brimming with excitement at seeing my friends! I'd recommend spreading out the love to anyone."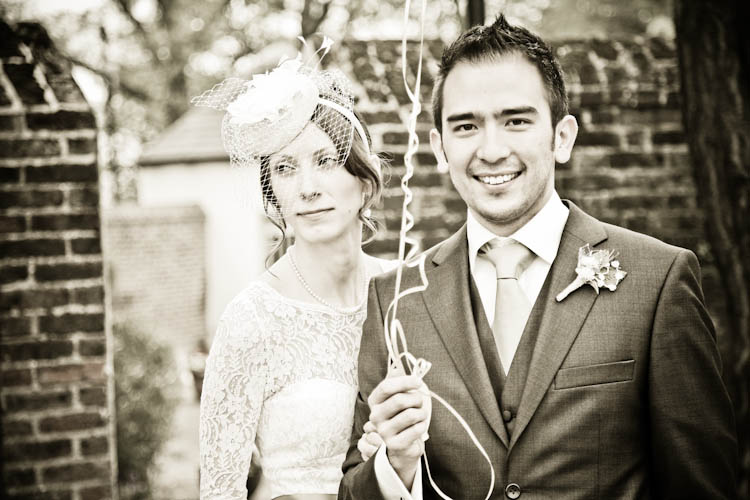 The bride wore a second hand dress which she found in Oxfam, which she customised with some fabric flowers. "My dress was donated by a recently widowed man," Laura told me. "It had been his wife's wedding dress many moons ago. I've always loved charity shops and so it was only natural for me to find my perfect wedding dress in one too! On the day of our register office ceremony, I walked in the door and the registrar choked on her words. She stood in shock as apparently she had worn something very similar on her wedding day in 1959. Her marriage was still going strong and she wished us as much happiness as she had had. It was a very special moment for both of us. I found a green satin flower sash to go accessorise the dress from ProjectU on Etsy."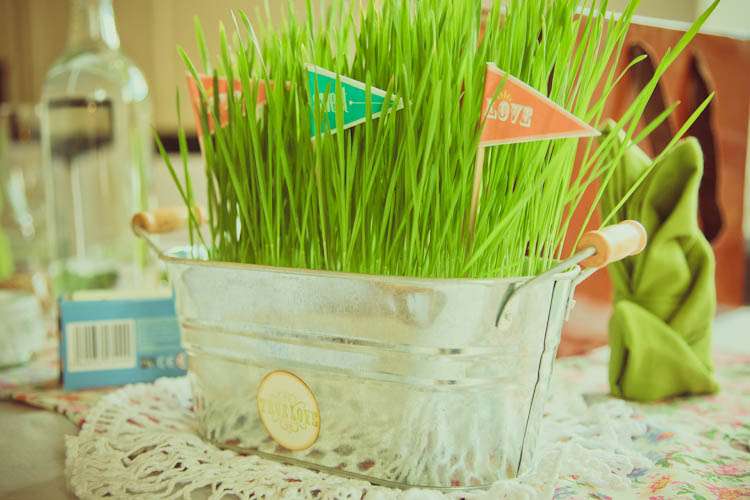 The DIY elements really made this wedding stand out, and kept the day super personal. Laura continued, "I don't know if Rich or myself are particularly Rock n Roll (in fact, he wouldn't let me have a live band, thinking it was too try-hardy 'cool') but we just did our days how we wanted.  Putting together a DIY wedding was stressful though, don't get me wrong. But we could not believe how generous friends and family were with their time and energy. My mum and Rich's mum did all the food: good, heart portions of homemade curry, chilli and fishpie. The 'waitresses' were all neighbours who donated their time to make sure the booze didn't run dry and the plates were cleared away. Richard's Mums are Buddhists and so our outdoor ceremony was influence by that and also humanism."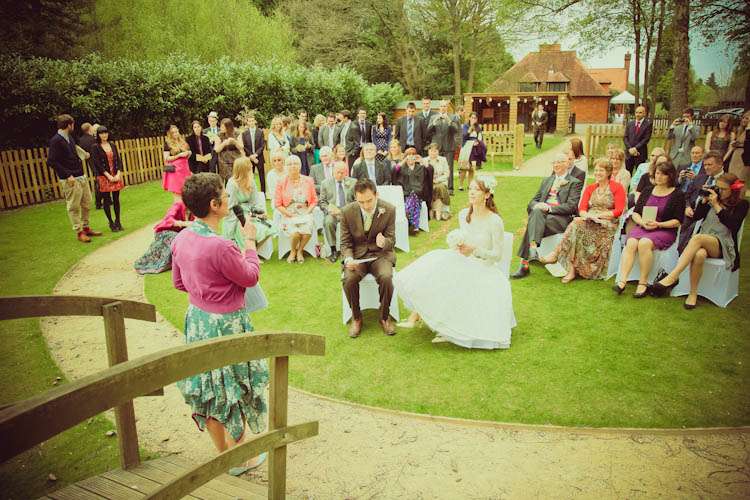 "I made all the table decorations in the months leading up to the big day. I read online somewhere that pretty wallpaper was a cheap way of doing table runners so the buffet tables had those. Elsewhere, I found a garish 1970's flower print duvet set in a Red Cross charity shop and so simply cut that into two pieces and draped them in diagonals over the cake tables. I was surprised at how good it looked! Then, I use the two pillowcases to make a matching runner for another table. If you cut the pillowcases open into a strip and sew them together, they end up long enough for a top table!"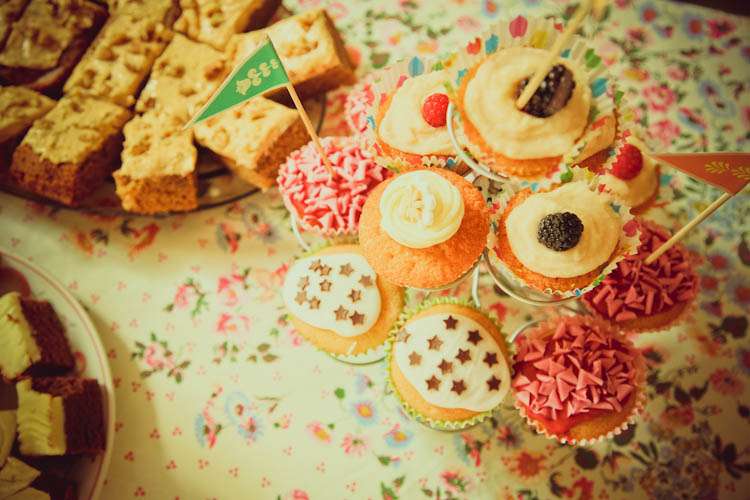 "For the daffodil pots I collected jam jars and clear bottles for months and then glued strips of lace, hessian and ribbon to them. I collected lavender from my neighbours' gardens to dry and then drop in to the bottles. I found some even brighter 70's fabric that I used for the backdrop to our photobooth. Nice.
I bought muslin bags online from Papermoon on Etsy and then filled them with mini eggs as part of the favours (it was the week before Easter). I also made heart-shaped bird seed feeders with veggie gelatine & silicone cake tins, putting them in cornstarch plastic bags (trying to be eco-friendly!)"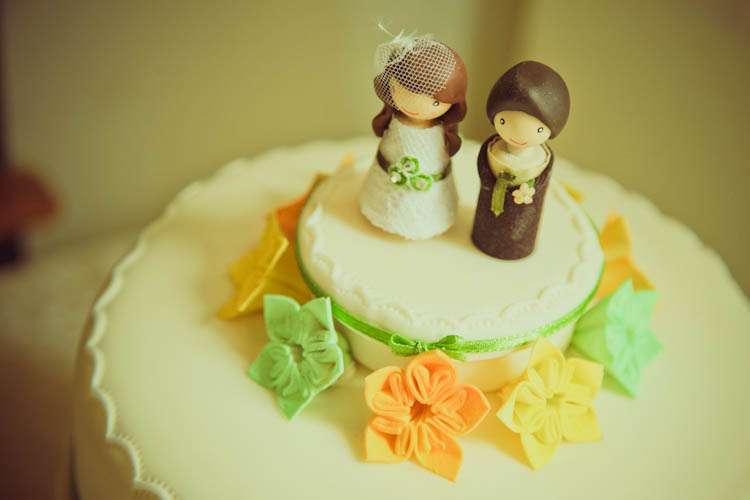 Thanks to Laura & Rich for sharing their beautiful day(s) with us today.
Photography Credit: Daria Nova Photography
Ceremony Venue: Merton Register Office, London
Reception Venue: Tilford Institute, Surrey
Bride's Dress: Oxfam – customised with flowers from  ProjectU on Etsy
Bride's Shoes: BHS – customised with flowers from  ProjectU on Etsy
Bride's Jewellery: ShopShabby on Etsy
Groom's Suit: Anthony Formalware, Billericay, Essex
Groom's Boutonniere: FlortiniDesigns on Etsy
Groomsmen's Origami Boutonnieres: Lunatiger on Etsy
Cake: DIY
Reception Décor: DIY
Cake Topper: Samyii on Etsy