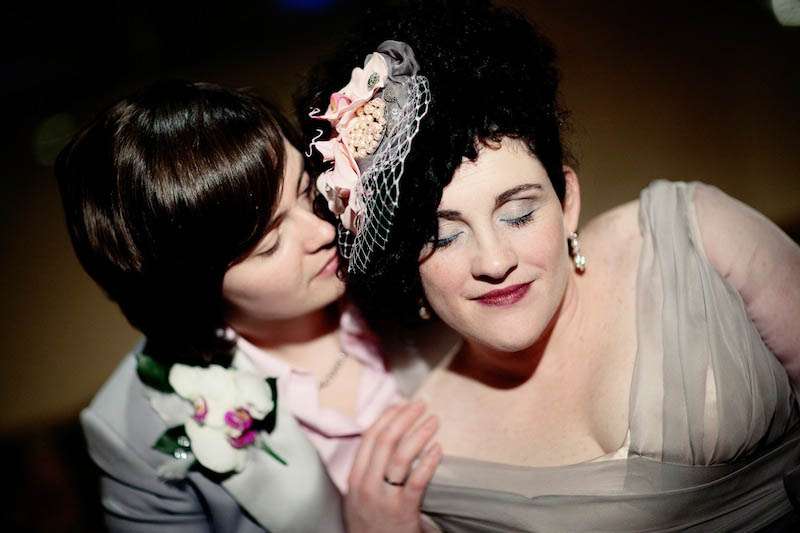 The eagle-eyed amongst you might remember Ashley & Ray. Ashley was the lucky Rock n Roll Bride reader that won all that lovely booty for filling out my reader's survey over the Summer. Needless to say I was pretty excited to then see how it was all used in their wedding!
The couple were married in January and had their photographs taken by friend of the blog Kim Hawkins. The venue they chose was The Mayfair Hotel in London and their theme was old school glamour. Ashley was keen to tell me all about their big day and I'm thrilled to share it all with you here – especially as a lot of the suppliers they used are my friends!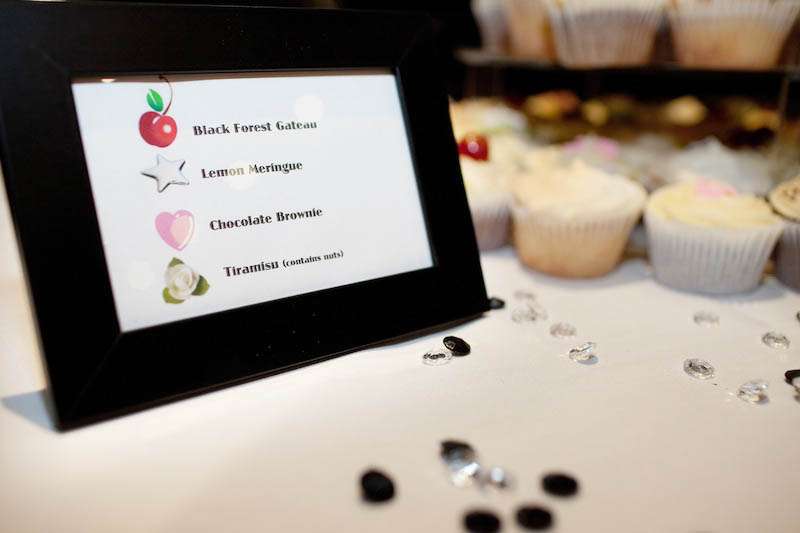 "I suppose what made us Rock n Roll was that we had to think on our feet. There are no rules for civil partnerships; there's no tradition and no etiquette to follow. It sounds liberating but it can also leave you a bit 'at sea'. We wanted it to be an occasion but the last thing we wanted was to end up mirroring a 'straight wedding'. With gay weddings there is such a risk of turning one person into the bride and one into the groom and then just applying all the rules of weddings thereafter. No thanks. I was always going to wear a dress and Ray was always going to wear a suit but we both got our walk down the aisle and neither of us wore white. We also wanted it to be about more than me and Ray committing ourselves to each other. I have an 11 year old daughter, Edie. Marrying me means that Ray also makes a commitment to Edie and we wanted that reflected in our day. After Ray and I had made our promises to each other the registrar asked Edie to come forward. Ray promised to love, encourage and care for Edie and gave her a charm bracelet with a charm representing each of those promises on it. It was a beautiful way of saying that not only were we committing ourselves to each other as a couple but that we were all committing ourselves to this new family. People cried. I cried."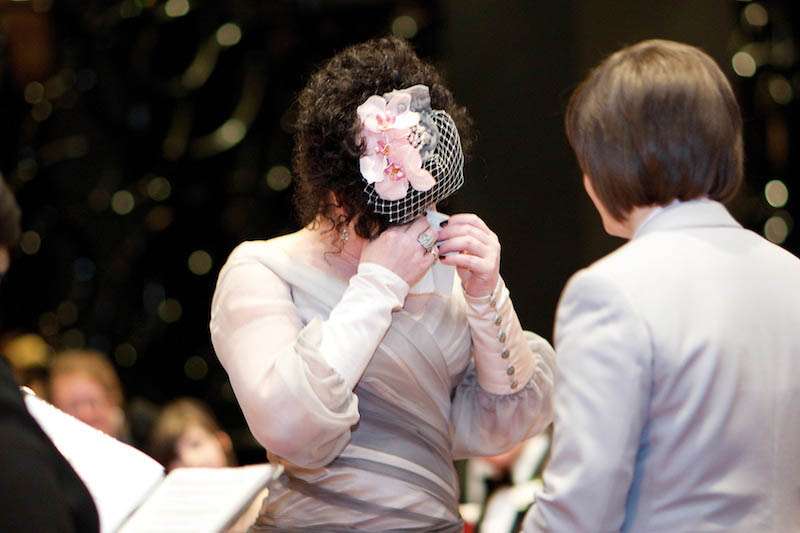 "In terms of the style of the day we decided what we really wanted was a ball. We both LOVE getting dressed up and going to black tie dos. We love the formality and the glamour and we loved the idea of giving our friends the opportunity to dress up to the nines and spend the evening in the type of hotel most of us would never get to go to. We wanted old school glamour with a bit of old library thrown in.  We also wanted to make sure there were a few elephants around. Years ago I asked Ray out for dinner by sending her a note and a small plastic elephant in a jiffy bag to her work. She was a journalist on an online news site at the time and her editor thought she was being stalked and was going to call the police. From then on we found that wherever we went there was always an elephant somewhere. I found a bag of 10 tiny grey elephants on ebay and we scattered them about the tables for people to find."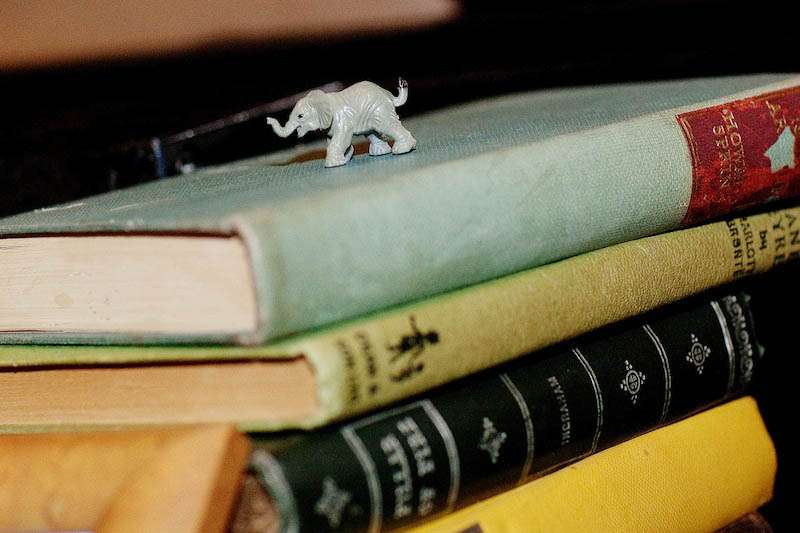 "We actually had TWO wedding days. We wanted a huge posh wedding but the budget wouldn't allow it so we had a medium sized posh wedding in London and then a week later we had a massive party at
The Kursaal
in Southend with live music and a DJ. We had to make sure all the flowers and decorations would last the week in between and cart them all back from London in our Ford Fiesta so we could use them again. I also had to bake another 120 cupcakes!"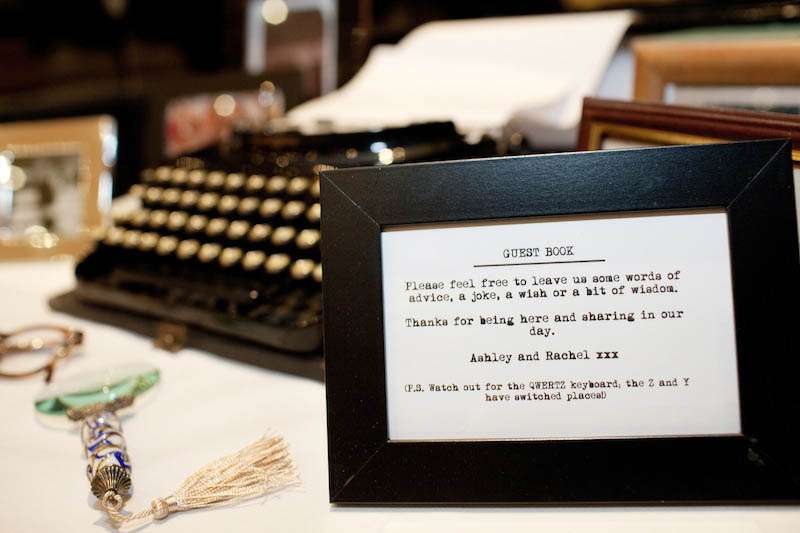 "So how do you get a fancy dan wedding that looks like it cost an absolute fortune without spending a fortune? You call in the favours and you DIY like mad. That's how!  We splurged on the things that were most important to us: The venue and food, The clothes, the photos and the music. Having won the amazing Rock n Roll Bride giveaway it was an absolute Godsend to have a whole pile of beautiful things that we could use for the wedding.""We gave the pearl and marcasite necklace from
The Vintage Sparkle Company
to my Mum and gave earrings from
Chain of Daisies
to Ray's Mum and Alfie our bridesmaid. All the female ushers got cupcake soaps from
Naturally Made Soaps
and I wore the
Silver Sixpence in her Shoe garter
and
Luella's Boudoir knickers
under my frock! We used the
Lucy Ledger Designs
'Rock and Romance' caption board
in our engagement shoot
and I wore the stunning
Rachel Simpson shoes
and the
Victorian Bridal Mini Top Hat
by Two Back Flats  on my hen do. We are using all the thank you cards as well to thank people for their gifts to our honeymoon fund."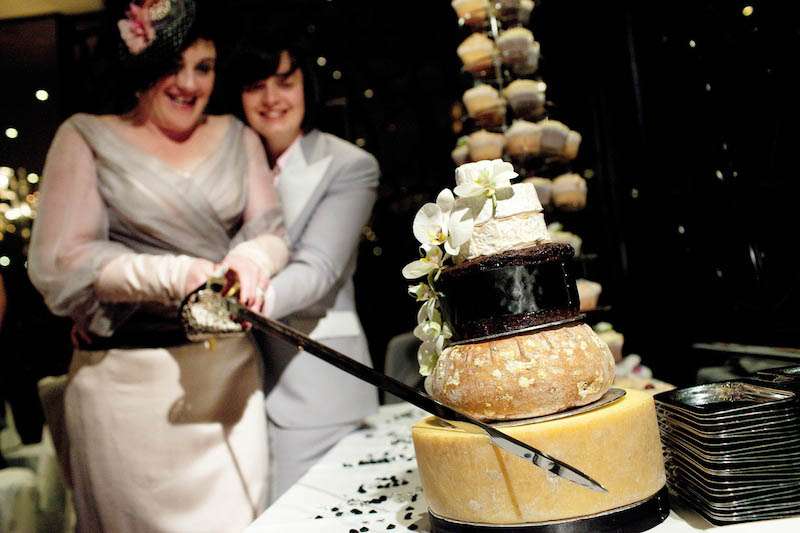 "Everything else was DIY; The invites, orders of service, menus, the orchid table centres, the cakes, the decorations, everything. I am also an utter control freak so I HAD to do all the DIY myself. I got a 1929 German typewriter for the guest book off ebay for £13 which delighted me no end.  Everyone thought I was mad. 'So do you get to relax before this wedding or do you just scrape the icing sugar out from under your nails and walk down the aisle?' As it turned out doing almost everything ourselves was indeed chaotic. We were so rushed on the day I didn't even have time for a bath. I had to have a stand up wash on my own wedding day! It was worth it though. Friends helped out and decorated cheese and laid out ikea vases with candles in and stuck silk orchids back onto willow sticks with double sided sticky tape and it all looked like perfection to the naked eye! Never mind that we had to pile it all back into a Ford Fiesta and drive it back to Essex ourselves afterwards."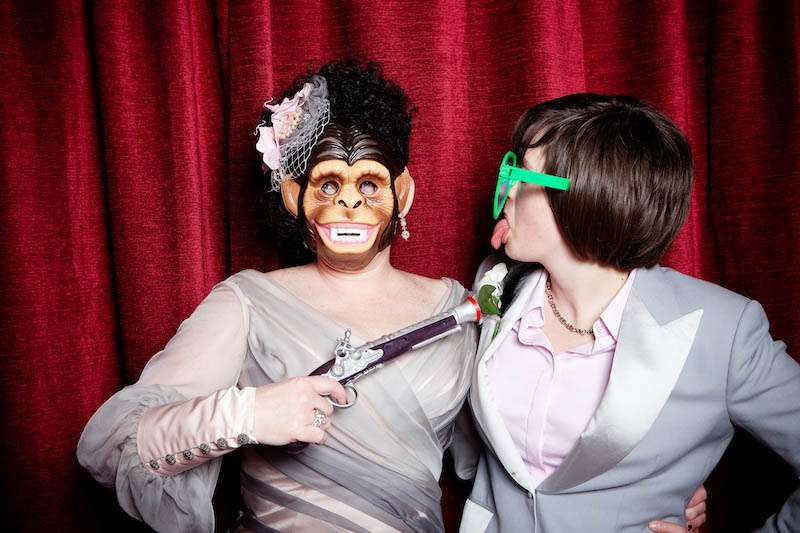 Aren't these guys just stunning? Huge love to Ashley & Ray for sharing their fabulous Rock n Roll Bride-inspired wedding with us today and to Kim for providing the photographs.
Photography Credit: Kim Hawkins Photography
Venue: The Mayfair Hotel
Ashley's Dress: The State of Grace
Ashley's Shoes: Irregular Choice
Ashley's Headpiece: The State of Grace
Ashley's Jewellery: The State of Grace
Ray's Suit: John Deboise at Castle Tailors
Ray's Shoes: Schuh
Ray's Shirt: Thomas Pink
Cake: DIY
Cheese Cake: DIY
Flowers: DIY
Band: The Phil Dando Big Band