Spring may be on it's way (apparently!) but I'm still lusting over the prettiness of snowy winter weddings…although would you believe, there was actually some snow in parts of the UK this weekend!? Ridiculous.
There was quite a bit of  snow-induced drama surrounding Peri & Ryan's wedding. The ceremony was supposed to start at 3pm, but due to the weather the bride didn't arrive until 5pm. Also, a lot of guests couldn't make the day for the same reason and after the ceremony they couldn't physically get from the church to their reception because of the snow dump and road closures. However a lovely local pub opened their doors to the couple and provided an impromptu reception to remember! I have to say, from these gorgeous shots by Shell de Mar I'd like to think they made the best of it (and I personally LOVE the pub venue – what great 'art' on the walls!)
"I can't really say I am really a quirky person because I'm not but I have always liked to be a bit different in the way I dress," explained the bride. "Nothing to crazy but just not like most of my friends, I don't do brands and If I like something I will wear it! I love all things vintage and always have done! When we were planning I had originally wanted a vintage bunting, candy floss, ice cream type wedding in May but Ryan bless him couldn't get his head around it so when he said how about a winter I thought it sounded lovely. However I still really wanted all the polka dot and vintage feel to it, so instead of doing the traditional long dress and winter colours we went for red and white colours."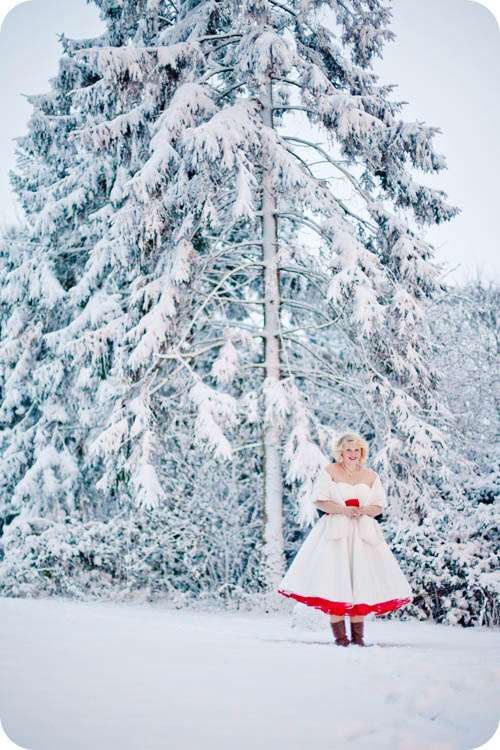 "Our centrepieces were red and white xmas baubles with led lights going through them with polka dot doilies on the tables and silver baubles as place name holders. Sadly no one got to see any of that due to the snow but it look stunning and transformed the room. Ryan's Mother had made a 3 tier polka dot wedding cake that no one saw either, but we did enjoy it after the wedding!  We had chosen Delilah the Beetle to transport us because we own a 1970's green 1300 Beetle ourselves, but is at the moment being lovingly restored by Ryan so we knew that we had to have one as our wedding car. However again it don't turn out like (in the end we were transported in a Land Rover! The good news is that we get to use him again for our Summer blessing! Similarly the lovely vicar and the church where we were married will also perform a blessing for us later this year…so in the end I'll get to have the summer bunting, candy floss, village hall wedding I wanted in the first place!"
Thanks to the lovely Peri & Ryan for sharing their day. I know you said you felt that your wedding was ruined by the weather, but I have to say I think it looked beautiful…and plus you get to do it all again this Summer! I can't wait to see how that one turns out! Also, big love to photographer Shell for sending over her images.
Photography Credit: Shell de Mar Photography
Ceremony Venue: Herne Church
Reception Venue: Queen Vic Herne Bay (emergency venue!)
Bride's Dress: Dolly Couture
Bride's Shoes: New Look
Bride's Veil: Lilybella
Bride's Jewellery: Topshop (necklace was only £4!)
Groom's outfit: Moss Bros
Bridesmaid's Dresses: Kushi
Bridesmaid's Petticoats: Honeypie Boutique
Hair/Make Up: Laura Rigden
Car: Kent Beetles (to be used in the Summer blessing!)