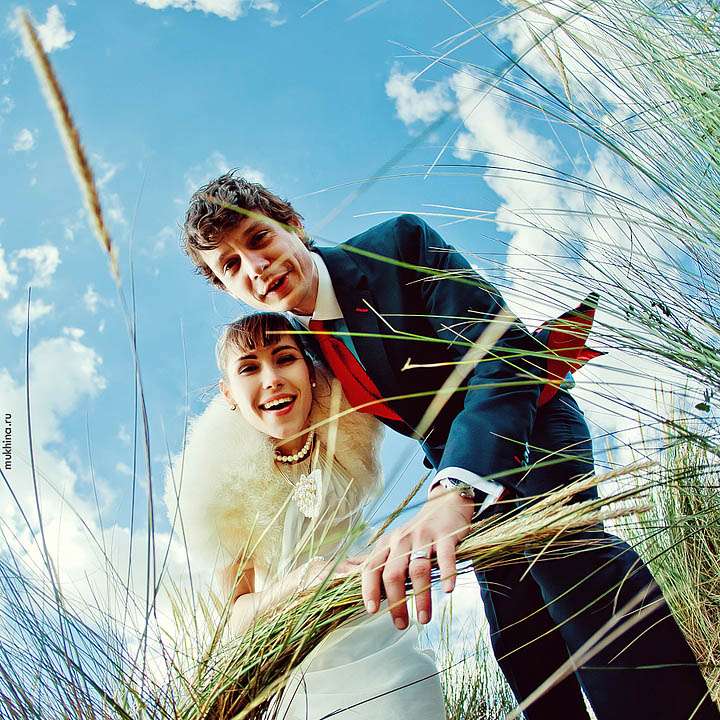 Olga & Jo's Rye wedding makes me super happy! I chatted to the bride all about it – their style ideas and how they integrated both their cultures, Russian and English, into their super cute wedding.
She explained, "As soon as Jo and I had moved to Brighton, we knew we wanted to mark our wedding day by celebrating it by the beach. It is a Russian tradition to celebrate a wedding over two days so that with family and friends, and their children, there can be one formal and one informal day. With my family being from Russia we wanted to keep to this tradition and felt an English seaside was perfect for catering for both days and the number of people who would be travelling far for the occasion."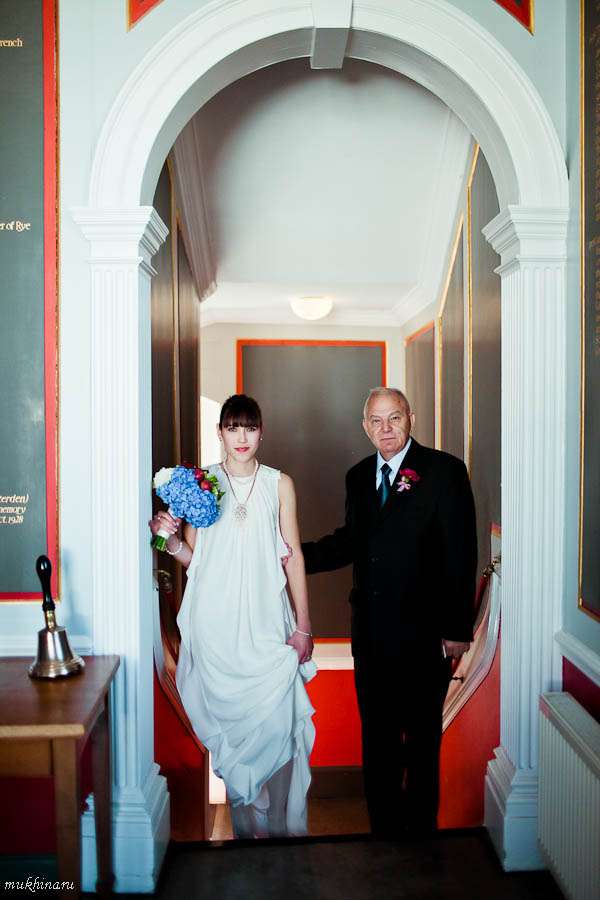 "Having searched unsuccessfully in Brighton for our perfect location, we stumbled across 
The Place At The Beach Hotel
in Camber Sands which looked just right. Having visited the venue and seen the beach across the road, the accommodation for our families and friends and a spacious garden with a BBQ, we knew it had everything we wanted for our two days."
"As a theme, we chose 'mods against the rockers on the beach', not only for our love of the 60's style and music, but with the mods logo being red, blue and white, this perfectly symbolised the colours of Jo and I – the colours of the British and Russian flags. Having been influenced by rockabilly Brighton since we'd moved there, we had to add a bit of rock to our special day!"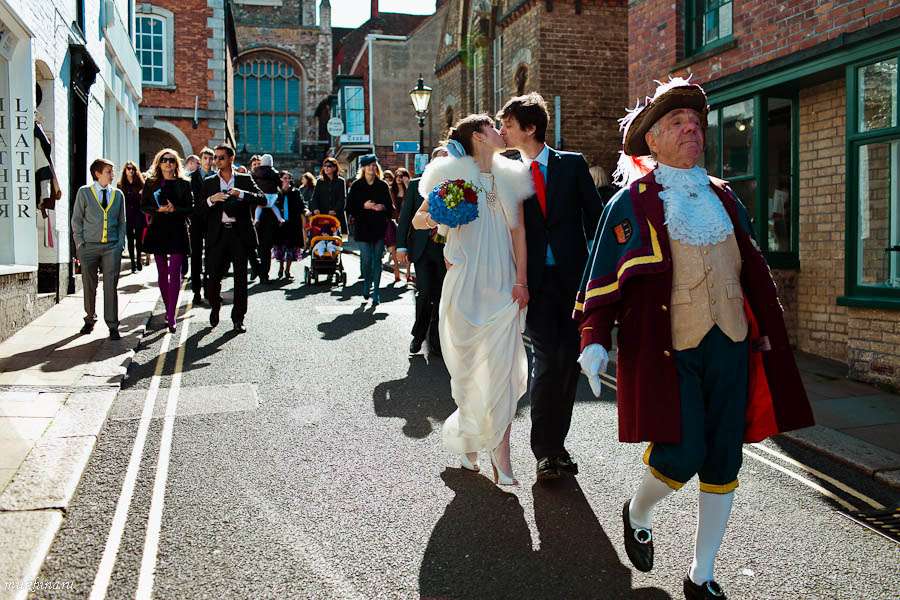 "The marriage ceremony took place in the beautiful and historical Rye Town Hall. Following which guests were encouraged to walk around Rye's old town centre headed towards the traditional London routemaster and our beautiful car Chevrolet Bel Air. Transported by bus, the party headed to the beach to enjoy the glorious weather and a picnic on the dunes. Guests ate blinis with caviar, oysters and scotch eggs, all accompanied by Pimms and beer from our friend's brewery – Meantime. The delicious food was seasonal and locally sourced, highlighting what a special spot everyone was in. After the beach, everyone moved to the half-opened marquee, set up outside the hotel, where in accordance to Russian tradition there was a selection of platters for starters, and main courses, for guests to share and enjoy together. Of course lots of bottles of Russian vodka were on hand, and consumed, to toast the new bride and groom!"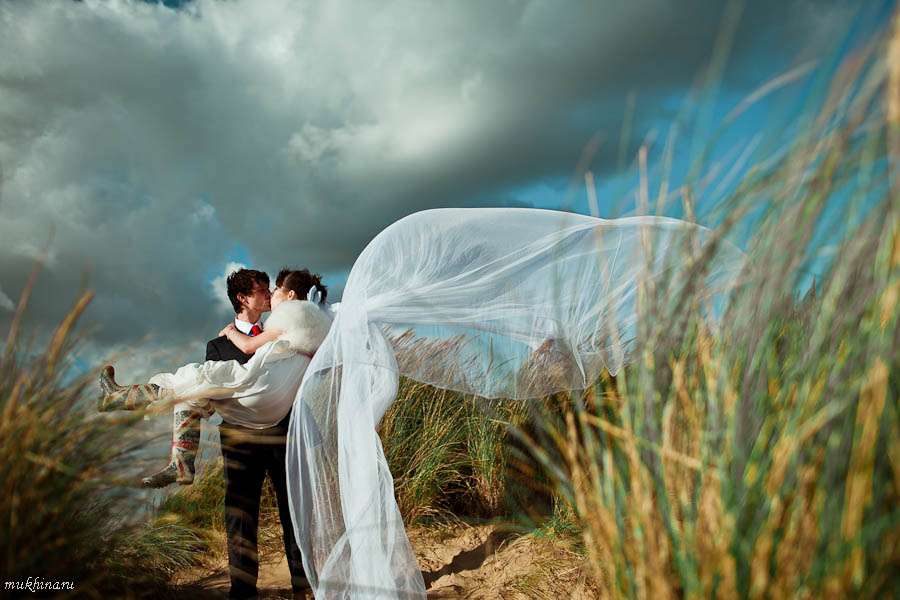 "Throughout the venue, the decorations were subtle with the hotel already suited to our English-Russian wedding beside the British seaside. Flowers were designed by my Mexican friend, a florist, who perfectly arranged the colourful table decorations in popcorn boxes with a corn on the cob sticking out of each arrangement as a feature. My wedding bouquet was made up of beautiful blue hydrangeas, red dahlias, white freesias and little red apples suggesting the autumn season on the horizon.Tables were named after English seaside towns, with the table plan revealed on a framed vintage map of the UK that had been bought in Brighton. The name places were marked by a collection of pebbles collected by Jo and me from Brighton Beach which each person's name marked in English and Russian. As wedding favors we had rock sweets with personalised labels as a memento of our special day."
"As speeches commenced, my English friend Lieran, who speaks perfect Russian helped to translate and then explain the silly, but highly amusing, games that guests played in keeping with the Russian tradition.
As the evening set in, the American style surf 
Bikini Beach Band
commenced, playing some of the famous music from the 1950's and 1960's, getting everyone on their feet's to dance. Anyone not on the dance floor was distracted by the nearby cardboard cutout of a seaside couple, with guests putting their heads through the holes in order to have a photo taken on Brighton Pier! The first dance was to the Beach Boys song "God only knows" and then the bride sang Johnny Cash "Ring of Fire" with her friend to surprise the groom. The party continued into the night with the famous 60's hits played off vinyl records Jo and I collected over the years.
For those who weren't tempted by the four flavors of homemade ice-cream, out came the cake, ordered from the very special Brighton cake shop – 
ChoccyWoccyDoodah
, which was a rockabilly themed skull with the appropriate sign 'Till death do us apart'."
"The second day was a traditional English BBQ and afternoon tea party with garden games available like croquet, darts, giant domino, skittles and tumbling tower! So many factors of our wedding we found by chance but perfectly fitted Jo and I and what we wanted from our wedding. Every part was rooted in the traditions of both England and Russia and brought our Russian and English family and friends together to have fun throughout the weekend, even though for most of the day they couldn't understand each other!"
Huge love and thanks to Olga & Jo and their photographer Ekaterina for sharing this gorgeous day with us today. Did you see their super sweet engagement session that I posted earlier today too?
Photography Credit: Ekaterina Mukhina
Ceremony Venue: Rye Town Hall
Reception Venue: The Place At The Beach Hotel
Bride's Long Dress: 3.1 Philip Lim
Bride's Short Dress: Manoush
Bride's Shoes: (3 pairs!) Chloe & Luella and Harriet Wilde
Bride's Bag: Luella clutch
Bride's Headpiece/veil: Two silk bows (beige and baby blue)
Bride's Jewellery: Hope and Harlequin & Vivienne Westwood
Groom's outfit: Nino's
Cake: ChoccyWoccyDoodah
Tattooed cupcakes: Angel Bakery in Brighton
Flowers: DIY (Friend)
Band: Bikini Beach Band
Wedding favours: The Rock People