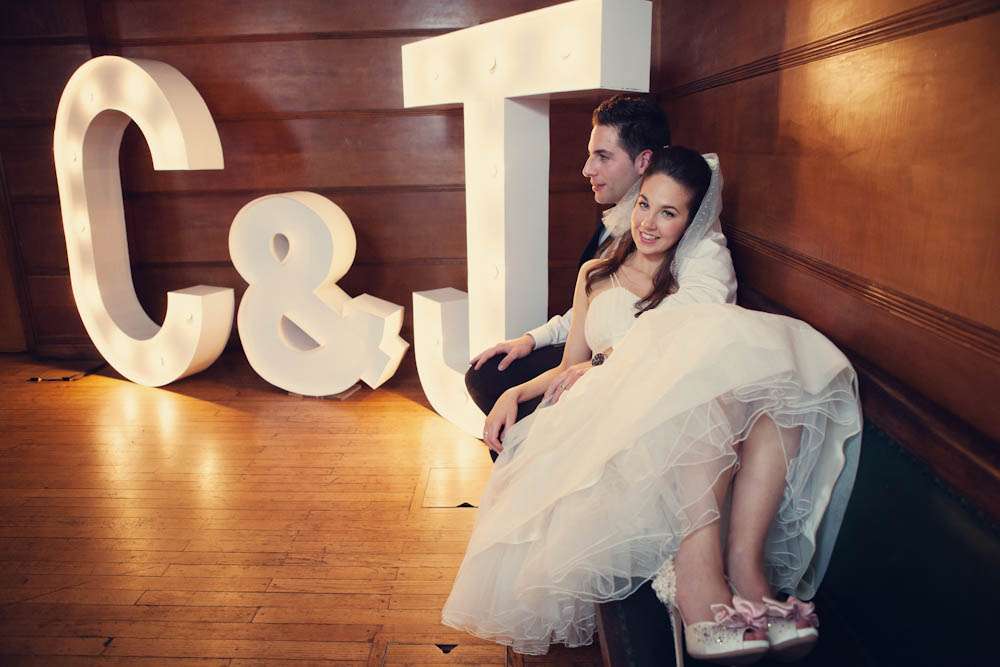 When the bride is an in-demand fashion stylist you just know the wedding is going to be incredible right? Well Charlotte & Jonathan certainly put their own stamp on their day, with Charlotte's expert knowledge and uber cool credentials coming in pretty darn handy for all the pretty bits.
The wedding was held at Town Hall Hotel in London's vibrant East End. The deco decor suited the theme of the day perfectly, which was also echoed by the bride's gorgeous genuine 1960s vintage wedding dress from Elizabeth Avey.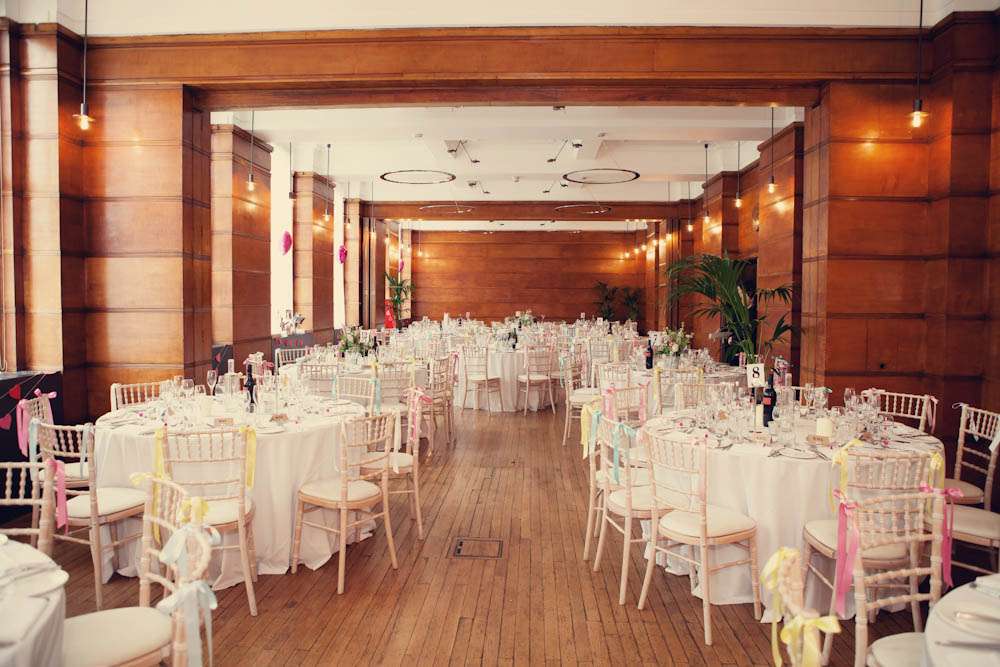 "I'm a fashion stylist I wanted our wedding to be a bit personal to us both and for it not to be too stiff and formal", Charlotte told me. "It was important for everyone just to have fun! Jonathan is Jewish and I'm not so we had a civil ceremony in the amazing Courtroom at The Town Hall Hotel and then Jonathan's Dad did a little Jewish blessing afterwards so Jonathan could smash the glass! We also played the 'Hava Nagila' song later and were lifted up on the chairs for the Jewish dancing. Before the service started the music playing was acoustic versions of Rihanna and Beyonce songs! The Town Hall Hotel has loads of cool features too as a venue, lots of work is featured from East London artists which is a really nice touch. We live in East London too so wanted it to be local! I love that the venue was really amazing and beautiful but then there's a council estate opposite and it's still the original town hall building."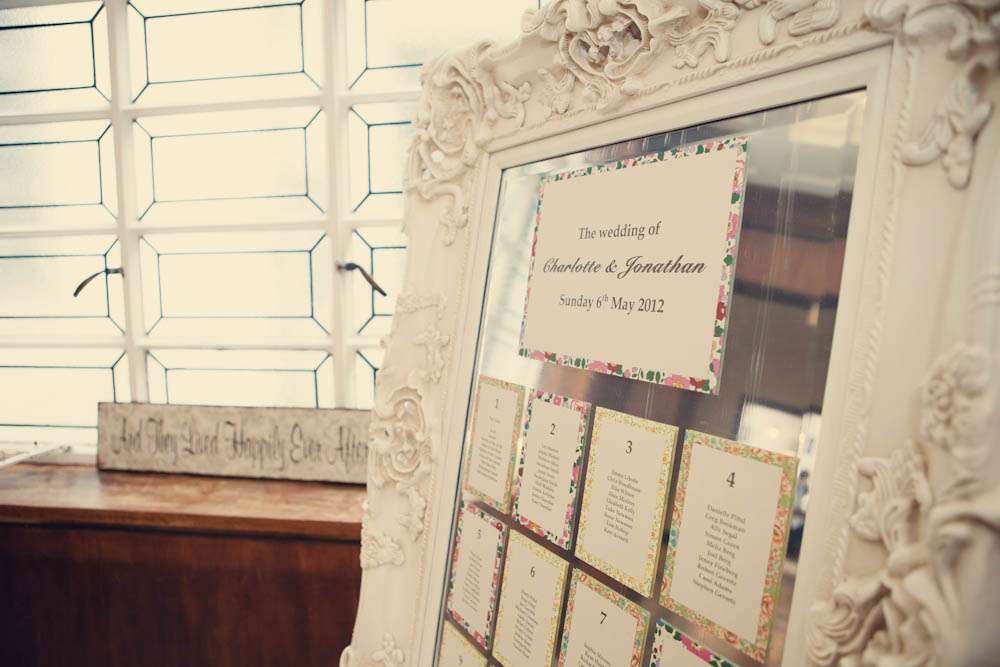 Being a creative couple DIY was an inevitable part of their day, as Charlotte continued, "We (my Mum and I) made the cards and stationery. We made the table plan using an old rococo mirror and Liberty print wrapping paper and we are going to hang the mirror in our house afterwards."
"I think the main drive for our wedding theme was that we didn't want our wedding to be boring!!" Charlotte laughed. "I wanted it to be pretty, cool and fun – loads of flowers, candles, hearts and nice touches, not to traditional but not try hard/flashy. I didn't want a long dress either as I wanted to be able to dance and for it to set the tone of the day.  The music in the evening was just like a big party – no normal cheesy wedding songs!! I think we wanted to keep it real."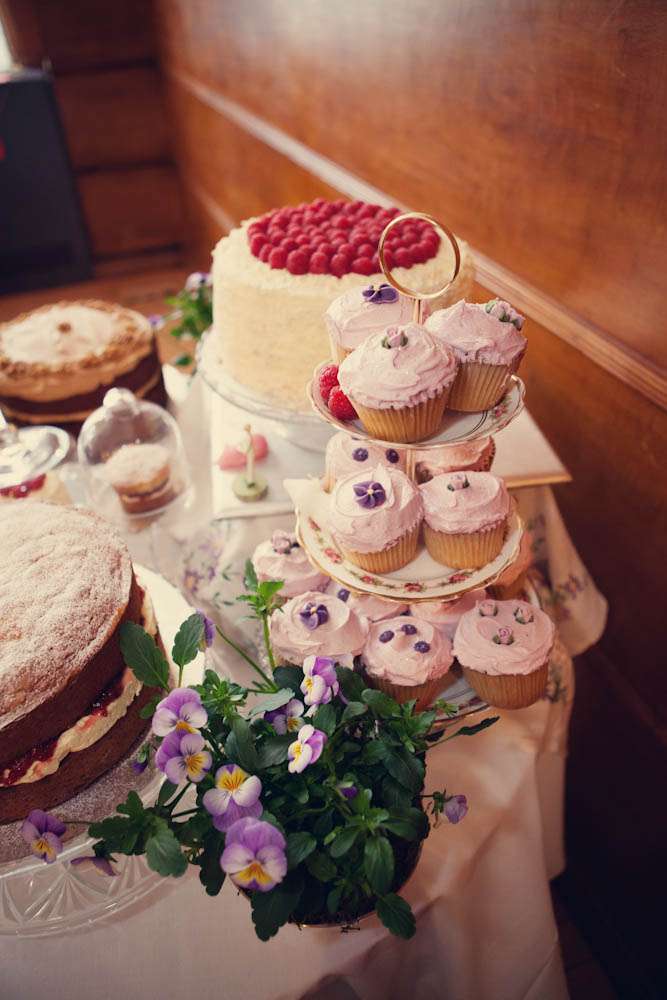 "I also hate traditional wedding cakes but love big old proper cakes! We liked the idea of it being a bit of an English, springtime, fun version of Marie Antoinette 'Let Them Eat Cake'!"
"I think words I'd use to describe our wedding would be fun, modern vintage romance and pretty", she concluded. "The dress code was black tie and pretty dresses… I also didn't want a proper colour scheme – everyone kept asking us about colour schemes and we just wanted all lovely Spring, pastel, sherbet colours, nothing set in stone. And we had colourful ribbons tied in bows on the backs of chairs instead of chair covers (I hate chair covers!)"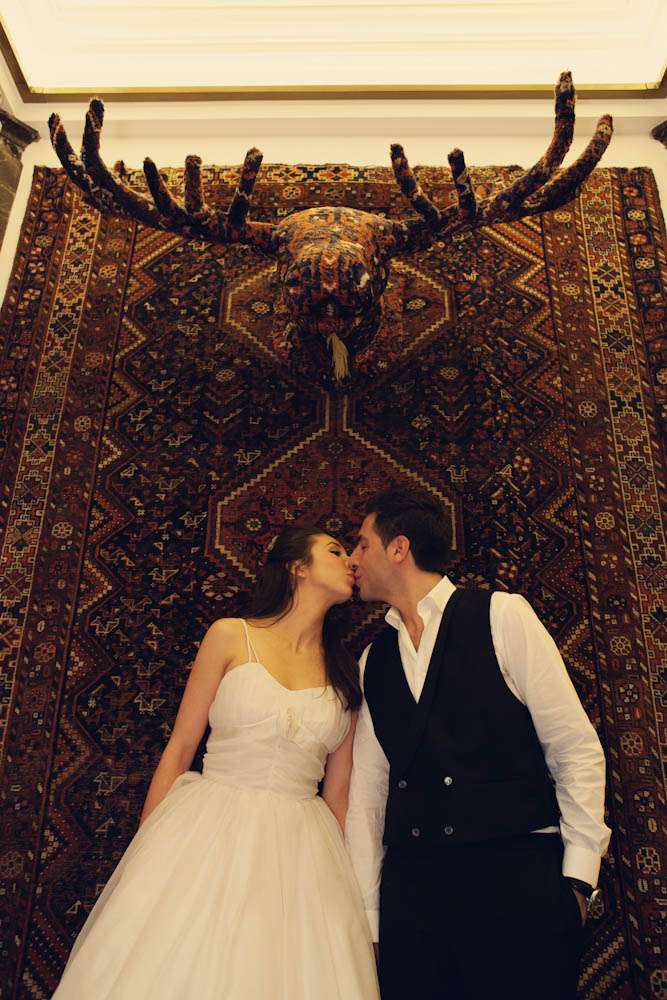 Beautiful! Thank you so much to Charlotte & Johnathan and their photographer Sassy of Assassynation for sharing today.
Supporting Cast:
Photography Credit: Assassynation
Venue: Town Hall Hotel, London
Bride's Dress & Veil: Elizabeth Avey
Bride's Shoes: Gianmarco Lorenzi (white) & Miu Miu (silver)
Groom's Suit: Spencer Hart
Bridesmaid's Dresses: Oh My Honey
Cake: Cakehole Cafe at Vintage Heaven
Flowers: Indeco
DJ: The Wedding Smashers
Giant Letters: Vowed & Amazed