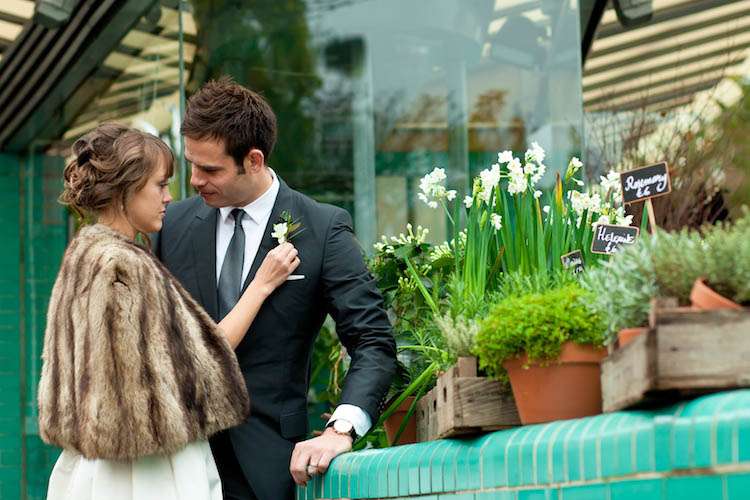 Jazelyn & Darren's modern vintage wedding took place in London in November. Their inspiration came from the fact that they are a young city couple, who somehow fell in love in London through chance.  "He's originally from Nottingham, England and I'm from the other side of the pond in Seattle, WA USA," explained Jazelyn. "Our invitations had a London skyline and the top of it read: "Northern Lad and West Coast Lady". Darren bought my engagement ring from Bentley and Skinner. And it's a beautiful old-cut platinum solitaire from the 1920's. Very vintage and unique. So that really was the start. We wanted a wedding that was very "us". We planned it ourselves, down to every detail. Even the guest book… We wrote down personal questions on index cards and had friends answer them (ex: where do you see us in 10 years? what's your favorite memory of us?) We wanted a mix of vintage and modern, mix of British and American, because that is us!"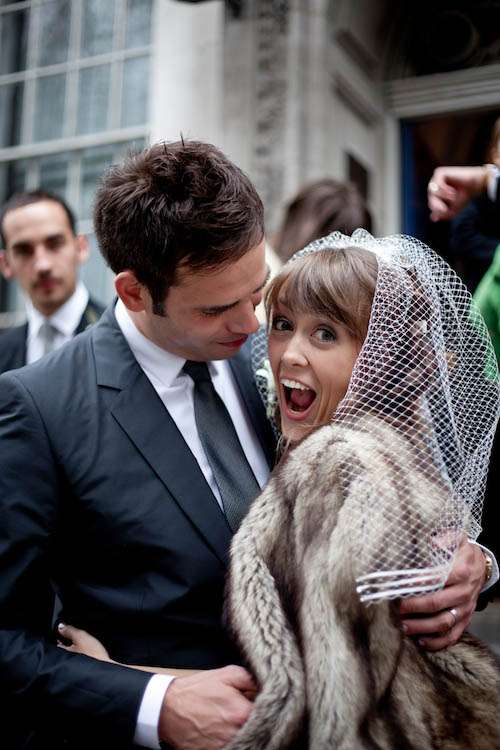 The wedding day started at Chelsea Old Town Hall to sign their legal papers, they then moved to their religious ceremony at our Kingdom Hall off of Westbourne Grove. The reception was held at The Commander Porterhouse and Oyster Bar.
"I had two dresses," continued the bride. "My first dress, a short Oscar De La Renta inspired dress (custom made by a seamstress I know) was used for our registry appointment and a photo shoot with Lauren straight after. And then I changed into my long dress for our religious wedding and reception. The long dress was made from 2 vintage dresses (circa 1920's) I had bought on a trip back home to Seattle, WA USA from a charity shop. I brought them back to London and had my amazing seamstress put them together!"
"I wanted a really sweet fur cape or jacket and looked everywhere. I found such a sweet vintage fox cape in the Portobello Market (just around the corner from our house), for such a bargain! And I still wear it when we go out sometimes! It's gorgeous. I found amazing Jimmy Choo (super sparkly) shoes that were perfect and just what I had been looking for for months (and my amazing fiancé bought them for me!). Can you believe it was actually HIS idea to go into Jimmy Choo to look? haha! Good man. But I wore my trusty uggs while tromping around the street hailing cabs."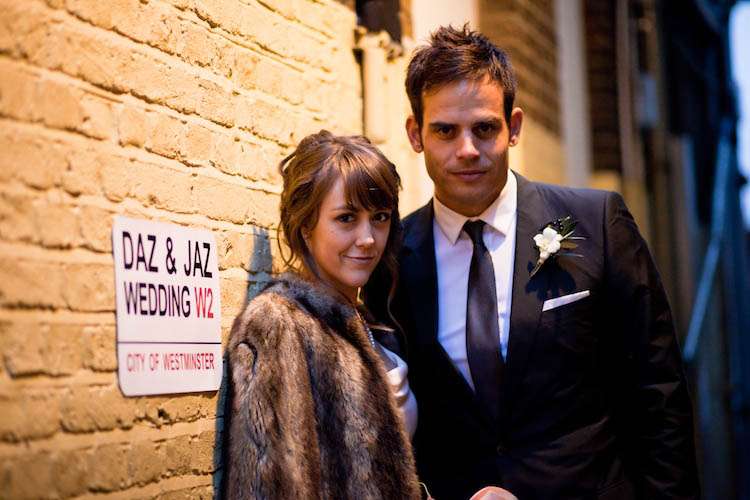 Huge thanks to Jazelyn & Darren for sharing their beautiful day and to photographer Lauren for sending over the images.
Photography Credit: Lauren Keogh
Ceremony Venues: Chelsea Old Town Hall, Chelsea, London & Kingdom Hall, Westbourne Grove, London
Reception Venue: The Commander Bar, London
Bride's Dresses: Custom made by Hidden Workshop
Bride's Shoes: Jimmy Choo
Groom's Suit: Dior
Umbrella: Paul Smith
Cupcakes: Hummingbird Bakery
Flowers: DIY (stems bought from Chelsea Flower Market)