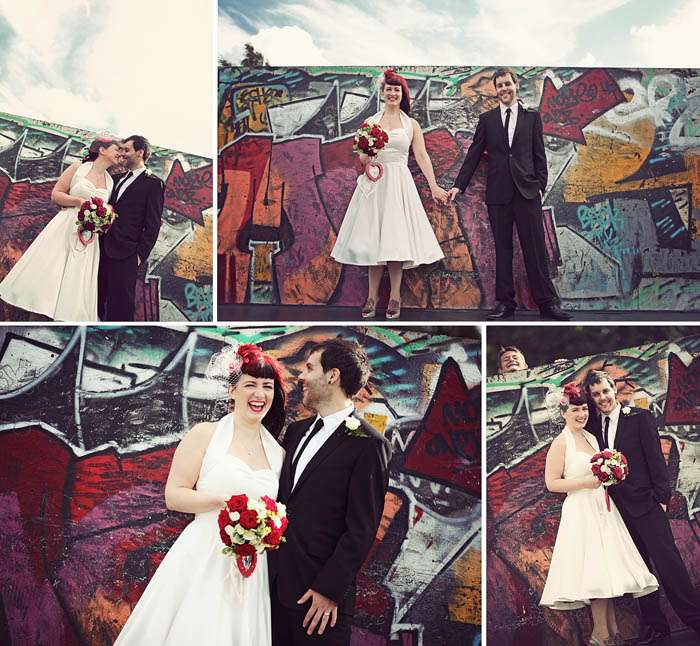 Photography Credit: John Day Photography (you can see the full wedding on this blog)
Hey Kat!
My name's Rachel & I just want to start by saying your wedding blog is awesome!
Also, I need your help! My fiance and I live in Australia and are planning to go to Vegas to get married in the little white chapel. I wanted your opinion and advice on wedding dresses. I wanted something stylish & Rockabilly but also not extravagant as it will be pretty low key.
Do you have any advice on what i should be taking into account when choosing a dress? Also could you recommend me any websites on where to find alternative wedding dresses?
Thanks so Much Kat!
Love Rach
xoxoxo
Dilemmas like Rachel's land in my inbox every day but sometimes I'm not always the best person to help out. However, luckily for you guys, I have a strong and willing force of wonderful wedding experts on board as regular Rock n Roll Bride guest writers, eager to swoop in and save you! For Rachel's question, I called upon the expert eye of newlywed Anna of Anna and the Ring fame, to see if she could offer some dress-hunt advice. And she did…in spades!
♥ ♥ ♥
Dear Rachel,
Congratulations! Firstly, how exciting getting married in Vegas. It just sounds like so much fun! I am assuming you want to buy your dress in Australia and take it with you to the US? Yet just in case you fancy buying your dress abroad I have a few other ideas. Yes your dress may only be ever worn once (although personally I shall be ignoring this rule!) but that does not mean you cannot wear something spectacular for a great price. It is all in the details. It is all in time you spend looking. Think about your body shape and what suits you. If your wardrobe is filled with halterneck tea length dresses there is a reason. You they make you look good but more importantly they you feel good. That's how you want to feel on your wedding day. Or if like mine yours is filled with sleeved v necked creations you know what will make you happy!
I remember when I first started to look for dresses. It felt like a uphill struggle. I knew I didn't want a super traditional wedding dress. Some girls are just not destined to wear a strapless meringue! You mention Rockabilly and for me that conjures up visions of glamour, tea length dresses with oodles of pearls and the sweetest little gloves. For me this is the archetypal Rockabilly Rock n Roll Bride. Fabulous hair, fabulous accessories, fabulous style.
So I guess we should start by looking at white dresses?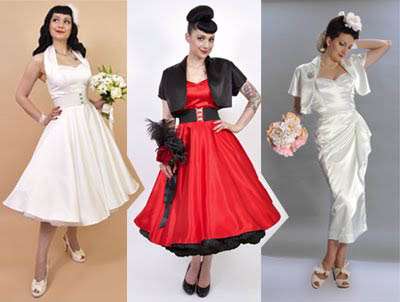 via Vivien of Holloway
The first dress is from the same maker as the dress at pictured at the top of this post . What do you think? They are London based but excitingly now have a finger in the Australian pie in Melbourne.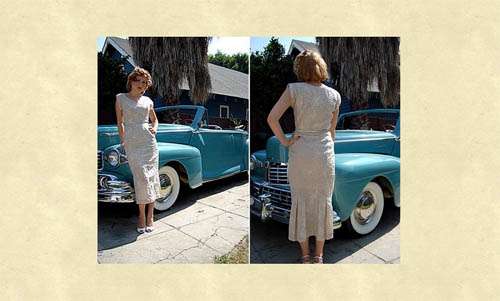 via Ozone Clothing
Perhaps my favourite white dress, I love this dress by Tarantula. It is just so glamorous but understated. Fabulous embroidery detailing for that extra vintagey feel.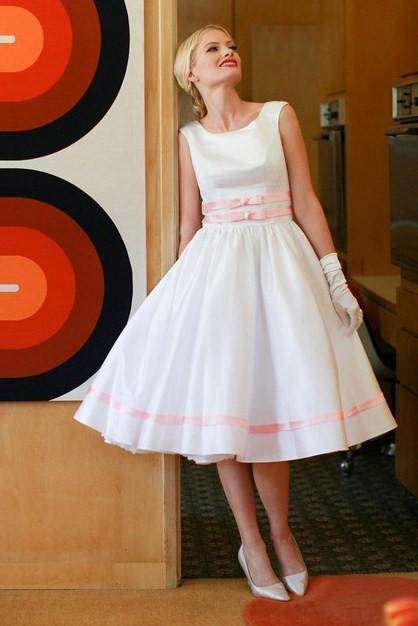 via Dolly Couture
Oooh Dolly Couture. Yummers. Based in LA but ship worldwide. Just look at the cuteness of the satin trim!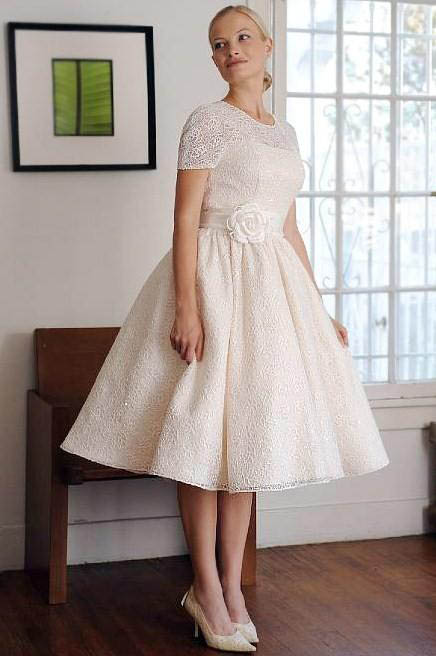 via Dolly Couture
This dress is spectacular and from Dolly Couture too. Just look at the lace, apparently it has the slightest hint of sparkles. Just as if you had taken it from your grandmothers attic.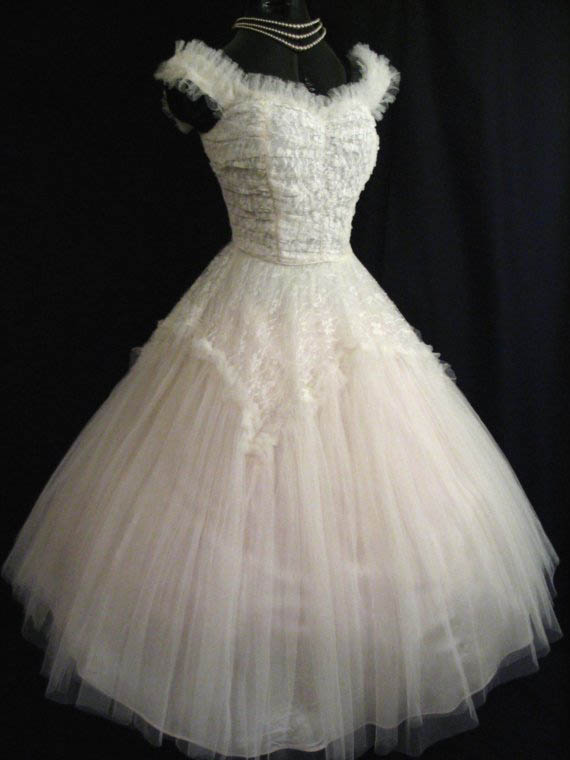 via Vintage Vortex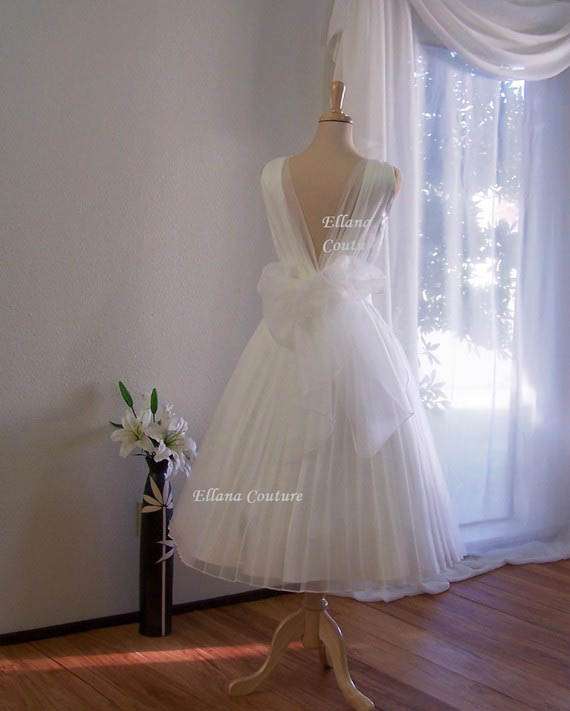 via ellanacouture
When looking for fabulous dress one should always look at Etsy. I know searching can be frustrating at times but it is always worth it when you find such gems as these two dresses.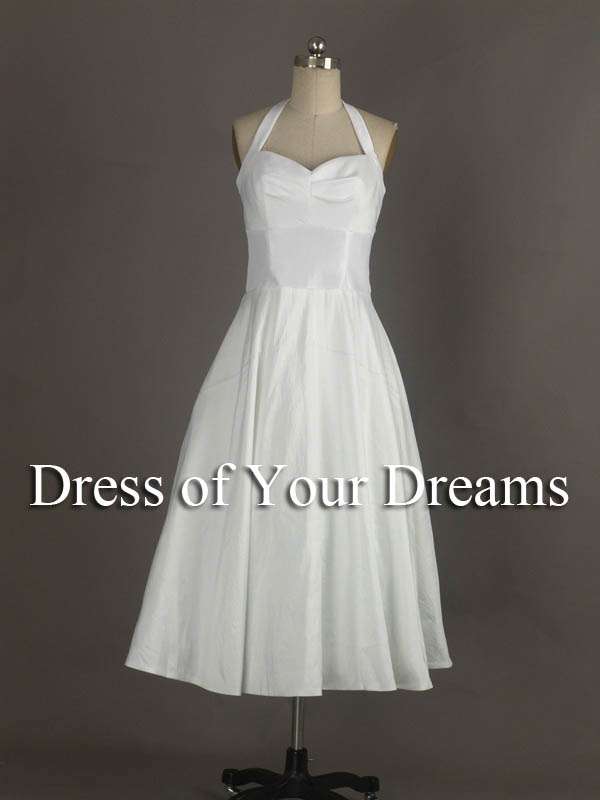 via Dress of your Dreams
Finally for white dresses I stumbled upon the website Dress of your Dreams. I have no idea the quality of their dresses but they do have some sweet simple designs.
Yet why should you stick to white for your wedding day? Oh Queen Victoria you caused so many problems!
The best part of wanting an alternative dress is the fact you can play around with colours and textures. Indeed you can even find the most beautiful dresses that may have only been worn once and have been kept hidden away for the past 50 years. Just think of how special wearing such an old dress would feel? However if you are after new dresses I have a few other ideas too!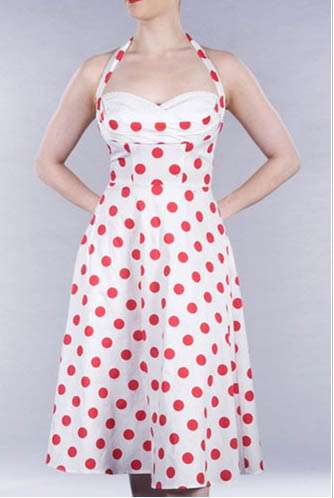 via Pin Up Boutique
This for me is the quintessential Rockabilly dress with a teeny twist. Just look at those cute polka dots. If they do not make you want to dance all day on your wedding day, I'm not sure what will?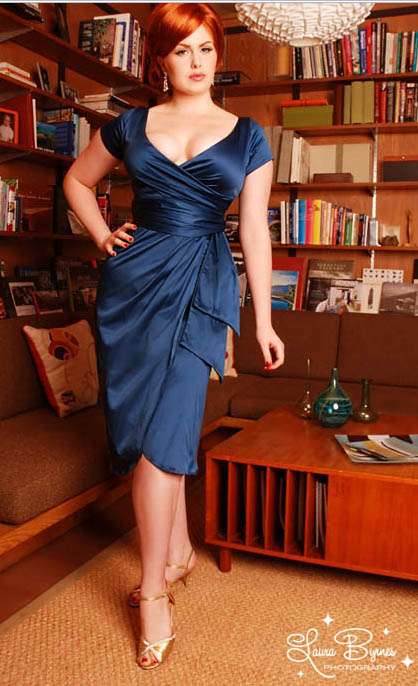 via Betty Jane Boutique
If you are feeling like a completely different colour how about this beautiful dress from the Betty Jane Boutique which is based in Adelaide. Hello sexy!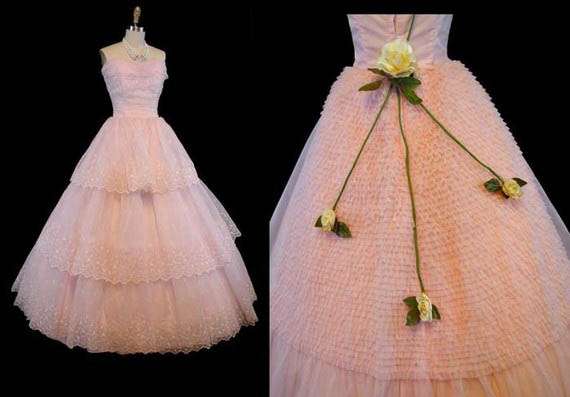 via jumblelaya
How about a sweet pink Etsy choice? I am in love with the rose shoulder detail which falls down the back of the dress. Are you?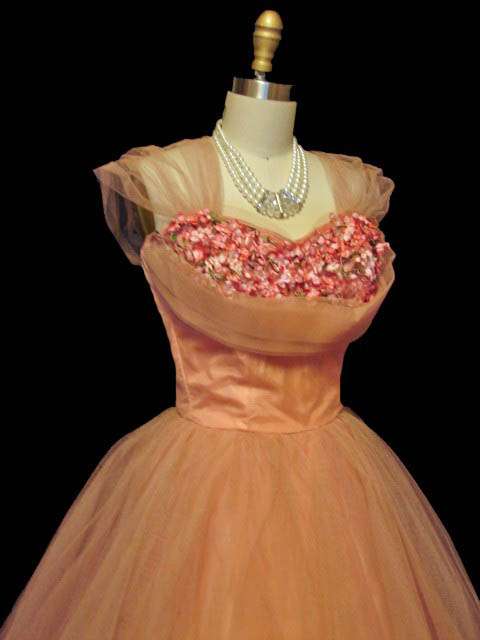 via jumblelaya
Gosh the sweet detailing on the bust. The colour. I imagine it makes the most amazing sound when you walk.
via Pin Up Boutique
This is perhaps my most outrageous choice? However I love it! The leopard print is adorable and just so damn exciting! I say go for! It is from the Pin Up Boutique which is another Australian site for prettiness!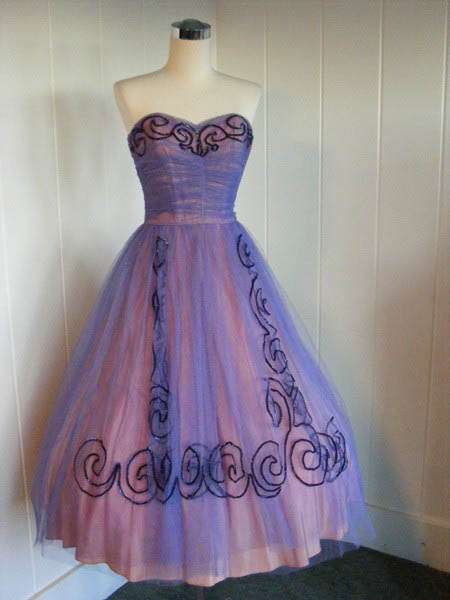 via vintagebluemoon
Finally a sweet wild card. I do love my purples!
So my final advice would be, if I have haven't found the right dress for you use these photographs as inspiration and find a fabulous seamstress to whip up the perfect dress for you! To have complete control of how your dress will look is very satisfying! That's what I did and it was not traditional and it was not white but it was fabulous. Any excuse to show my beautiful dress!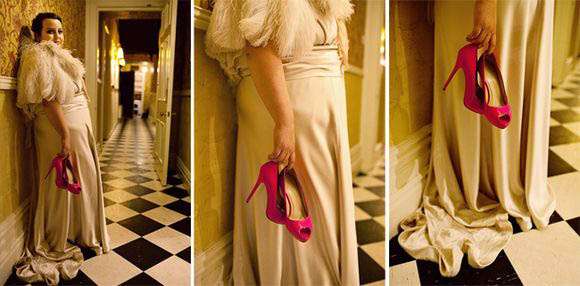 Credit: Emma Case Photography
Good luck and have the most wonderful wedding, Rachel. Will you let us all know what you decide?
Love Anna xx
♥ ♥ ♥
Thanks to the lovely Anna for sharing her words of wisdom with us today. Be sure to also go check out her cute blog as well as some more photos from her lovely wedding right here.