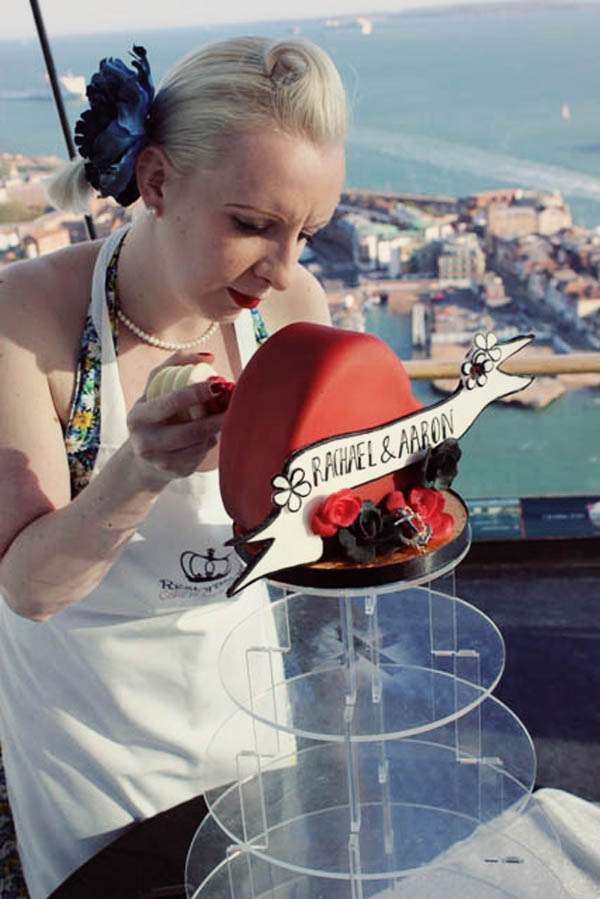 "Well, it doesn't really have anything to do with cake. Shouldn't it be something a bit more 'cakey'?" he said.  I was really excited to be sat in my first proper 'grown-up' business meeting, up until this moment.
It was my first year as Restoration Cake and I was trying to get to grips with the concept of charging strangers for my creations. The afternoon was to be spent with a colleague who knew all the financial stuff. I went to the meeting with a website, a Twitter account, a growing list of orders, and a name.
"Restoration doesn't really say 'cake'," he said.
The name Restoration Cake came to me in early 2009, as I sat at my dressing table (yes, I am totally spoilt) putting on my make-up to go to work in an office I absolutely hated. My boss didn't like me and didn't really attempt to hide this fact. I had just bought a house with the man I love and there was also this big thing looming called a 'recession' so I kept calm and I carried on.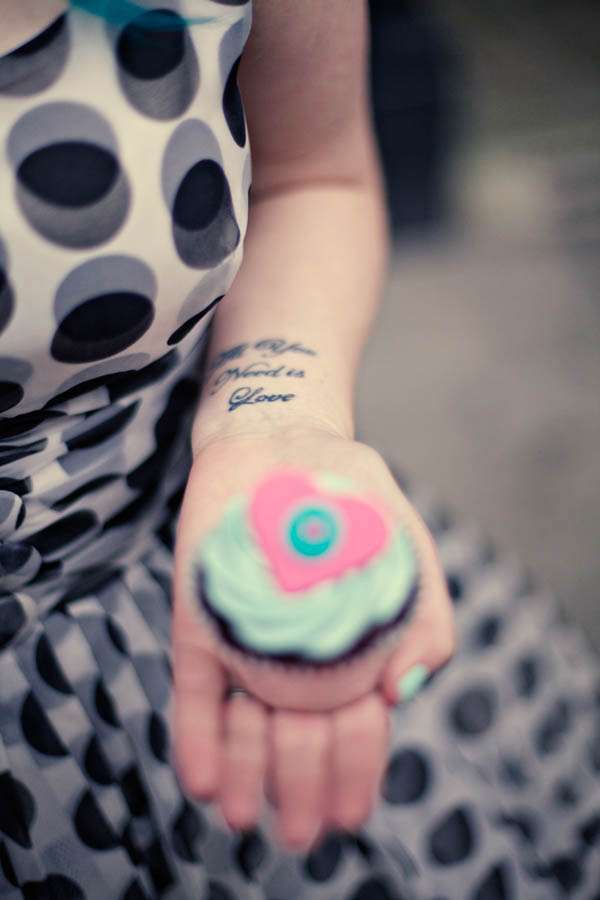 Photography Credit: Sacco & Sacco Photography
I spent a lot of time daydreaming and, as I applied another coat of mascara, I looked at my bookshelf laden with history books and thought about how awesome the Restoration was. I have studied various aspects of 17th Century History from the age of 18 and am always collecting new books to read on the subject. For me, the Restoration was the moment that the world went from brown to rainbow colours and an age of oppression, puritanism and general dullness came to an end. Probably doesn't take an awful lot of pop psychology to figure this lot out!
So while the word 'Restoration' may have very little to signify 'cake' in itself, it speaks volumes about the cake maker.
"How about 'Charlotte's Cakes' or what about 'RocknRoll Cakes', you love RocknRoll!" he said.
I cringed.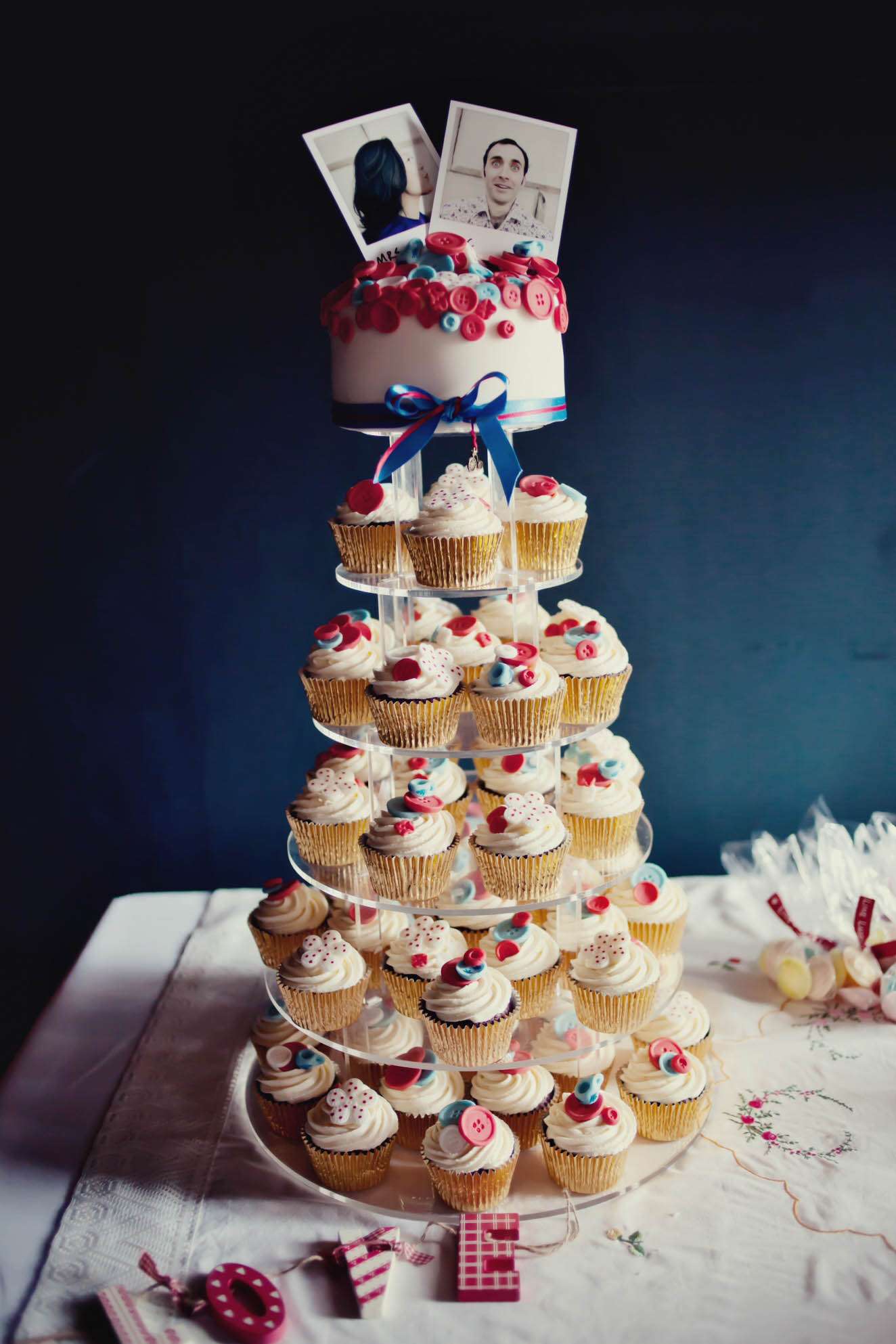 Photography Credit: Lisa Jane Photography
Kat has discussed the issue of putting your own personality into your business many times before and I cannot express how strongly I feel about the absolute necessity for any entrepreneur to put their personality 100% at the centre of any enterprise. The beauty of a small brand that is built around an individual is that it becomes easier for clients to relate to and easier for the business owner to keep authentic. I'm not a big corporation with a mission statement, drawn up by men in suits; I would hate that. These days more than ever, brides & groom's value the personal touch, the attention to detail and the individual attention they receive from small businesses like mine and yours. Unless you're Starbucks or McDonalds, your business should be a reflection of you – your hopes, dreams, beliefs and eccentricities. Never forget that. It is what will make out stand out from the crowd. And that crowd is getting bigger everyday.
You need to love what you do, right? If you are going to work for yourself, it is going to be a truckload of hard work (believe me, I know) so if your heart is not in it, you will probably just give up. Chances are that there will be other companies offering similar products and services to you. They may even be undercutting you on price. So how do you set your company apart? How can you differentiate your company to convince clients to book you over the cheaper guys down the road? Well why not try being yourself? Use your individuality and build your brand identity around it. There's no one else like you just like there should be no one else with a business quite like yours.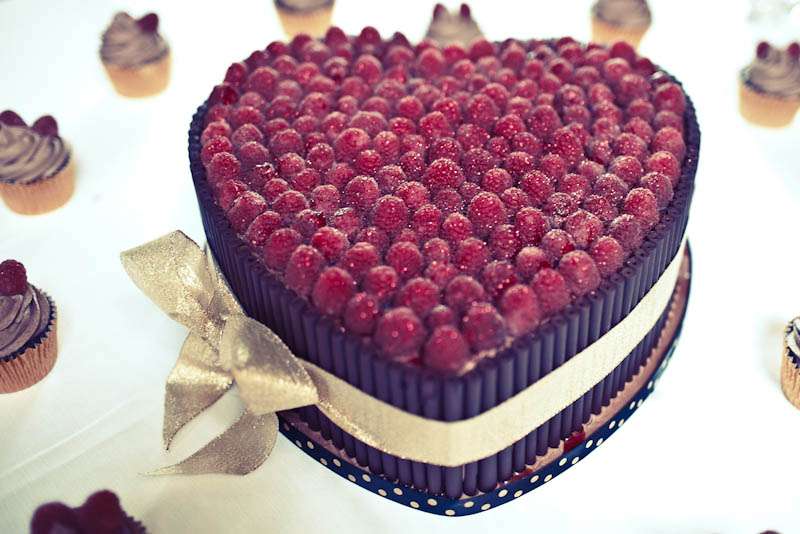 Photography Credit: We Heart Pictures
For example, I am a massive history geek and I have a portrait of King Charles II in my downstairs bathroom. At the same time, I am a bass-playing rock chick type and have wanted to be Marilyn Monroe since childhood. You try and bring this all together into a brand! It's impossible unless the brand is essentially one person who incorporates all of the above. It sounds like a weird combo but it works because it's me.
This was rather beautifully illustrated to me by a friend who told me that, in business, you need to be the purple cow…
Imagine that you are on a train, travelling at high speed through the countryside. You will pass a field of cows and another field of cows and another. You will probably find it hard to tell one cow from another or even see one cow individually in the herd. Now imagine that one of the cows was purple. You would spot that one. You might even do a double-take and want to go back for another look. You would certainly remember it.
In business, it is essential to make yourself stand apart from your competition in order to be noticed. Be the purple cow. Be yourself because no-one else can do this.
Photography Credit: Lisa Jane Photography
So I resisted the calls for a change in my company name because it is my name. It exists as a little call to arms for anyone who, like me, just wants to be that crazy little person that they really are.
No I won't be naming my company after any part of a posh house, anything French, any flowers, any small birds or insects, or anything massively girly sounding because none of this appeals to me at all. Besides, I love it when people ask me about the name because it means that I get to bore the pants off them for at least five minutes explaining it!
Thanks for listening! Now go and be the purple cow.
About the Author
Charlotte White is the cake queen behind Restoration Cake. She specialises in non-dairy and vegan wedding cakes and cupcakes but loves to get her teeth into anything. She has a penchant for wedding cakes with a flair for the dramatic. She teaches regularly at The Make Lounge and is a regular contributor to Vintage Life Magazine and Unique Bride Magazine. She is based in the South of England but will travel nationwide to deliver her delicious creations. She can be contacted via email on info@restorationcake.co.uk.